This article may contain affiliate links; if you click on a shopping link and make a purchase I may receive a commission. As an Amazon Associate, I earn from qualifying purchases. 
Whether you are starting a new job, changing offices, or beginning an internship on the Hill, it's important to start your new position on the right foot. While it is important to be yourself, there are some things you just should not wear the first week on the job, no matter where you are working. While the individuals who interviewed you may have seemed creative and open-minded, that doesn't mean the rest of the office or your clients have the same opinion. Before you start showing off your sartorial chops, it's important to get a lay of the land, and let your work speak before your clothing. Here's some things you should hold off on wearing until you fully understand your new office culture:
Satin. Today I saw a freshly-scrubbed young woman walking from Starbucks carefully carrying two drink holders full of lattes. She looked nervous, not just because she was walking quickly with eight hot beverages, but probably because she is a new employee at a nearby firm.
While she may impress with getting all the bigwigs' coffee orders correct, she may lose some points for her dress. Lately, there is a trend of dresses that are made to look like two pieces – what may appear to be a button-down shirt and belted pencil skirt is actually one garment. She was wearing one of these, a black high-waisted pencil skirt with wide patent-leather belt, and a hot pink satin blouse with rhinestone buttons and puffed sleeves. She looked like a cocktail waitress, even with her scuffed faux Tory Burch flats.
If this dress had a cotton or even silk top, it would have been far more acceptable. However, satin catches the light in a manner than no other fabric can replicate – maybe that's why it is the fabric preferred by dancers, prom attendees, and pageant queens. True Fashionistas may know how to make satin appropriate for the workplace, but the rest of us should leave such a fabric for After Five.
Patterned Hosiery. This is a travesty I see on a regular basis. A woman in a conservative suit and classic shoes decides to jazz up her ensemble with a pair of black lace tights. I understand the thought process behind this – patterned and textured hosiery has come back en vogue and it's a budget-friendly and dress-code friendly way to add personality, femininity, or trends to your boring work suit. The problem is that such hose creates the same effect as satin – it cheapens the look and stands out in a non-professional manner.
Again, True Fashionistas will know how to make such hosiery work for the office, and there is many the tutorial on how to make textured tights workplace-friendly. However, don't try this the first week of your job – get a lay of the land, and have the uptight conservative CEO get to understand you and your role before you flash the lacy gams his way.
Denim. I don't care if your new job's dress code says denim is fine, it's not a good idea to wear as the newbie. As an old supervisor told me and I still believe – dress for the job you want, not the job you have. Even if the president of the corporation shows up in jeans and a golf shirt, find business casual outfits that don't include dungarees. Cropped twill pants, regular trousers with a knit top, a simple cotton dress with cardigan and sandals – these are casual ensembles that won't have you sticking out like a sore thumb yet show you're serious about your position.
Short Skirts with Opaque Tights. A pair of super-thick black tights does not make that micro-mini Modcloth frock more work-appropriate. You still end up looking like Zooey Deschanel (who may be adorkable, but doesn't dress for the corporate world). We'll still see that curve of your thighs that some may find alluring, but shouldn't see the light of day in an office. I'm not saying wear the dress sans tights – instead keep the dress in the closet and wear it to the next party or concert on your schedule.
Black Bra with Anything But Black (or a super-dark color). In the light of your bedroom, you may not see your black bra under your red blouse, but once you are under the fluorescent lights of an office, your lingerie is out for all the world to see. Fashionistas may purposely rock the contrast bra, but that doesn't mean the CFO knows about this trend. Visible lingerie in Corporate America is a no-no; invest in a skin-colored smooth bra that will be invisible even under knits and lighter-weight blouses.
Trendy Makeup Colors. Neons are hot, orange has come back en vogue, and thanks to Jenna Lyons everyone (myself included) is wearing NARS Heatwave on their lips. However, such colors should be kept off your face until you are established at your workplace and understand it's unique culture. Stick to subtle shades and neutrals – soft pinks, mauves, and browns are best not just for your lips but your entire face. Once they know you and you know them, you will know if it's okay to wear Tangerine Tango lips or teal lids.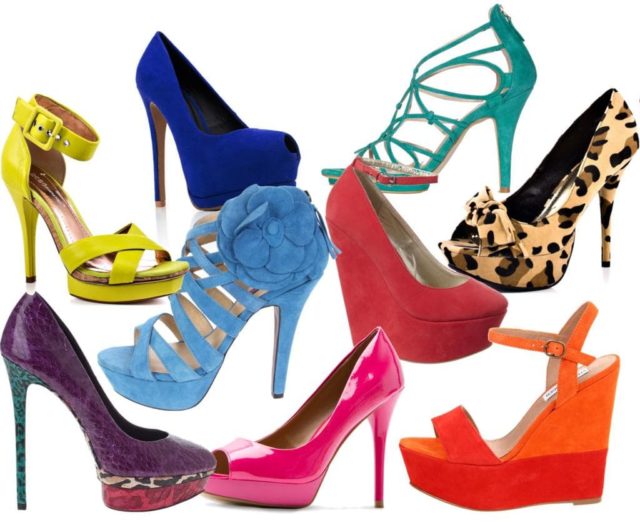 Sexy Shoes. Platform stilettos, caged sandals, sky-high wedges, anything metallic… such shoes will not make the best first impression at standard places of work. Stick to shoes with classically-shaped heels and toeboxes, day-friendly finishes (leather, patent in a subtle color, snakeskin), and standard silhouettes until you get to know the company and its higher-ups better.
Final Tips:
As I mentioned before – dress for the job you want, not the job you have
Consider not just your direct supervisor, but also the upper management – not only how they dress but how do the people below them that they respect dress.
Remember you are a representation of your company. Even if you don't meet with clients, they may pass you in the hall as they head to a conference room, see you in the restroom, or even share an elevator with you.
If you're unsure, leave it on the hanger. Better to start off a new job in a conservative manner than to shock people with your fashion sense.
Fit is more important than style or fashion. A well-fitting 10-year old suit makes a better impression than a too-tight or too-long trendy suit bought last week.