This article may contain affiliate links; if you click on a shopping link and make a purchase I may receive a commission. As an Amazon Associate, I earn from qualifying purchases.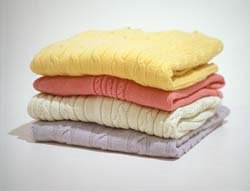 Reader Joyce Asked:
I invested in a few nice wool, silk and cashmere pieces over the fall and winter, and now that it's almost time to put them away, I am worried about keeping them in good condition until it's time to wear them again. Any suggestions on storing these garments during the warmer months?


Hey Joyce:
Perfect timing! I know here in the Nation's Capital it was warm enough the past two days to go without a coat so it's time in many parts of the world to start storing away the heavy winter garments and pull out the cotton and linen pieces! I'd be happy to share my steps for storing out-of-season garments:

1. Clean Everything Before Storing. Even if it doesn't have a stain, you will want each garment cleaned to remove any perspiration or invisible stains. Body odor and perfumes attract bugs, and invisible stains can set over the months and become quite obvious come the fall when the garments are pulled out to wear again. When cleaning, avoid the use of starch or fabric softener as that these too attract moths and other pests.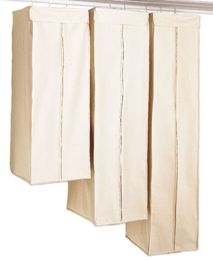 2. The Right Place for Everything. Sweaters and knits do best by being folded instead of being hung. A few months on a hanger can cause your beautiful cashmeres to be misshapen. If they are folded and stored in a cedar chest (I have one that has been passed down the family) or a plastic box (use acid-free tissue or even old pillowcases to protect garments inside the box), they will keep their natural shape. Be sure to not pack too tightly so the items can breathe; if packed too tight they may crease or even begin growing mildew.
Dresses and blouses are usually best on hangers. Use sturdy plastic or wooden hangers, and make use of every hanging loop inside the garment to ensure it stays on the hanger and also hangs the right way so it doesn't get misshapen. To keep them protected, store hanging items in a fabric garment bag (I found some great canvas ones at Marshall's for a fabulous price – they have rod hooks of their own and a bar inside and a zipper for easy access to the contents of the bag). As with the items in a box, don't cram garments together – letting them breathe will keep them in the best condition. An inch between each hanger is a good guide.
Coats should be stored in the same fashion, but the heavier the garment, the sturdier your hanger should be. A few months on a thin plastic hanger can cause what my husband calls "tumors" on the shoulders of your favorite garments. Invest in proper wide coat hangers and your clothes will be ready-to-wear when the cooler weather returns.
Never use paper bags or cardboard to store your clothes – buggies adore cardboard and paper and will eat straight through to your silks.
3. Treat Your Clothes Like Your Spices. This means keep them in a cool, dry place. Attics seem like the best place, but they can often be way over 100 degrees even on the most pleasant June day. Basements can often be damp, so use a plastic box and try to store on a shelf above the floor and consider a dehumidifier. Before storing in a closet, give it a damp dusting, a vacuuming and a chance to settle and dry out before adding your clothes. This will help get rid of any bug eggs that may be hiding in corners.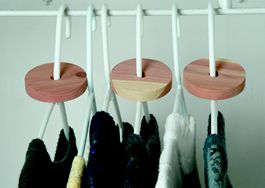 4. Moth Balls are Passé. Your grandmother may have used moth balls, but they aren't the best choice in this day and age. Yes they stink to high heaven, but the chemicals can also be damaging to delicate fabrics and decoration. To keep pests at bay, consider cedar blocks, or even sachets made from natural rosemary and/or lavender. However these aren't guaranteed ways to be moth-free, so ensure you always store in a clean area.
Hope this helps! There's no point in purchasing quality garments if you don't treat them well enough to last a long time. Most materials can be found at shops like The Container Store, or even your local Target or discount Big Box retailer.