This article may contain affiliate links; if you click on a shopping link and make a purchase I may receive a commission. As an Amazon Associate, I earn from qualifying purchases.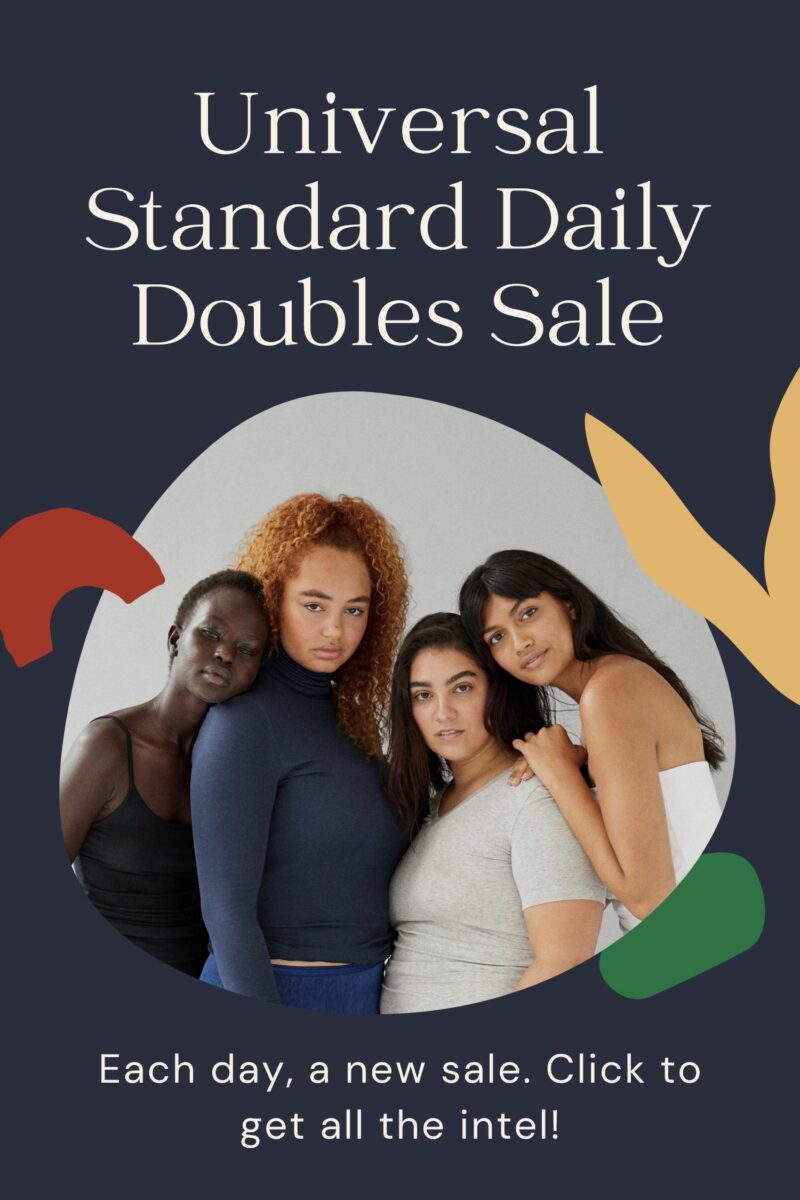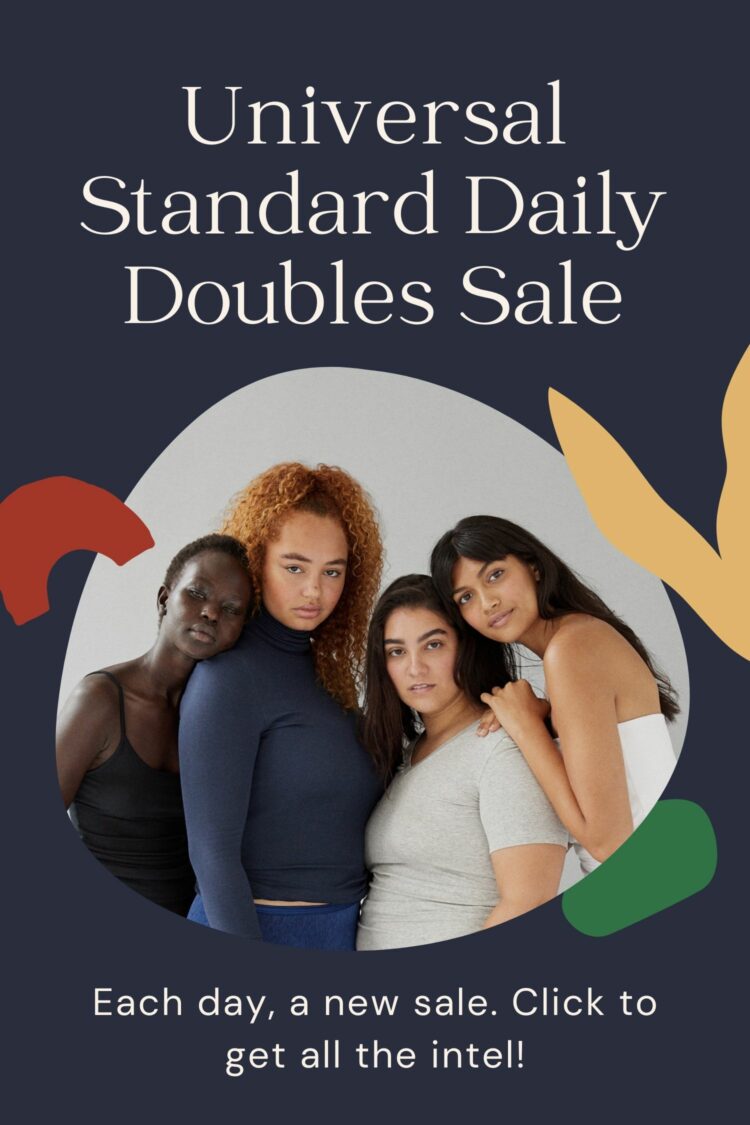 Through October 31st, Universal Standard is having a Daily Doubles sale. What this means is each day two different sales will drop. There is a day sale and an evening sale (called Happy Hour). For example, for the Universal Standard Daily Doubles Sale yesterday, the brand offered their polished and professional yet comfy ponte pants at great prices.
The important part to understand about this sale is EACH SALE IS ONLY A DAY LONG. Don't think you can show up the following day and get the same great deals. Also, this isn't just old merch they're trying to get rid of; my intel shared it will be new, old, all sorts of apparel from Universal Standard included in this week-long sale!
What is Universal Standard?
Universal Standard is an apparel brand that provides high-quality clothing in sizes 00-40. Universal Standard's goal is to erase the invisible fashion line separating "straight" and "plus" sizes and give all women the same level of style, quality, and respect, and to have the same shopping experience. Unlike many apparel brands that use one fit model for multiple clothing sizes, Universal Standard cuts pieces to work for each size, and often you'll find bodies of every size the brand carries, modeling the clothes on their site, helping you envision the pieces on your own figure. The Universal Standard website also has plenty of detailed customer reviews to help you make the right purchase.
Universal Standard Daily Doubles Sale
Below I am sharing looks from Universal Standard featuring pieces I own that may or may not be part of the Universal Standard Daily Doubles Sale. Universal Standard reached out to me to promote this sale on Instagram; I am only promoting it here because I think it's a GOOD sale and worth your time. Because of this contracted collaboration, I became aware of this sale in advance and a list of items that should be part of the same, but cannot guarantee they will definitely be part of it, what days they will be on sale, or what their sale price may be.
Clearly, I am not trying to break any contracts with my vague language above, but I do think the items below from Universal Standard that I am modeling are worth checking out this week in particular! Be sure to check in at Universal Standard each day; your favorite may be the next item at a fab rate during the Universal Standard Daily Doubles Sale!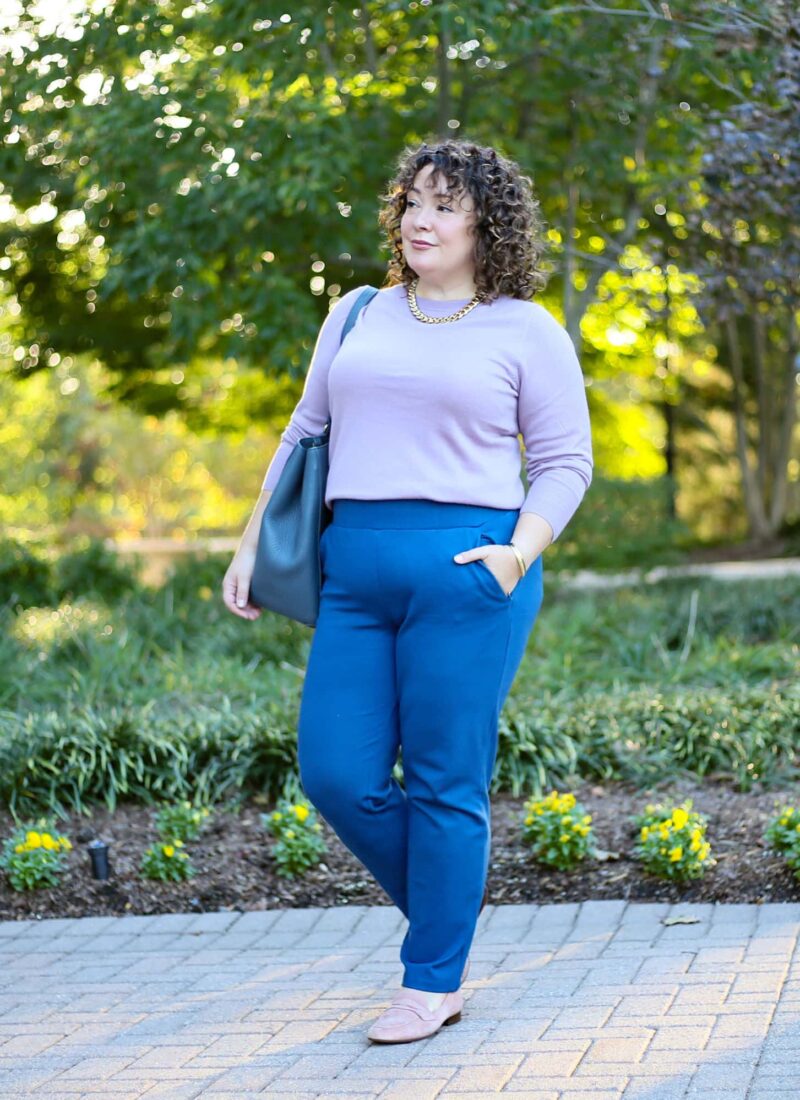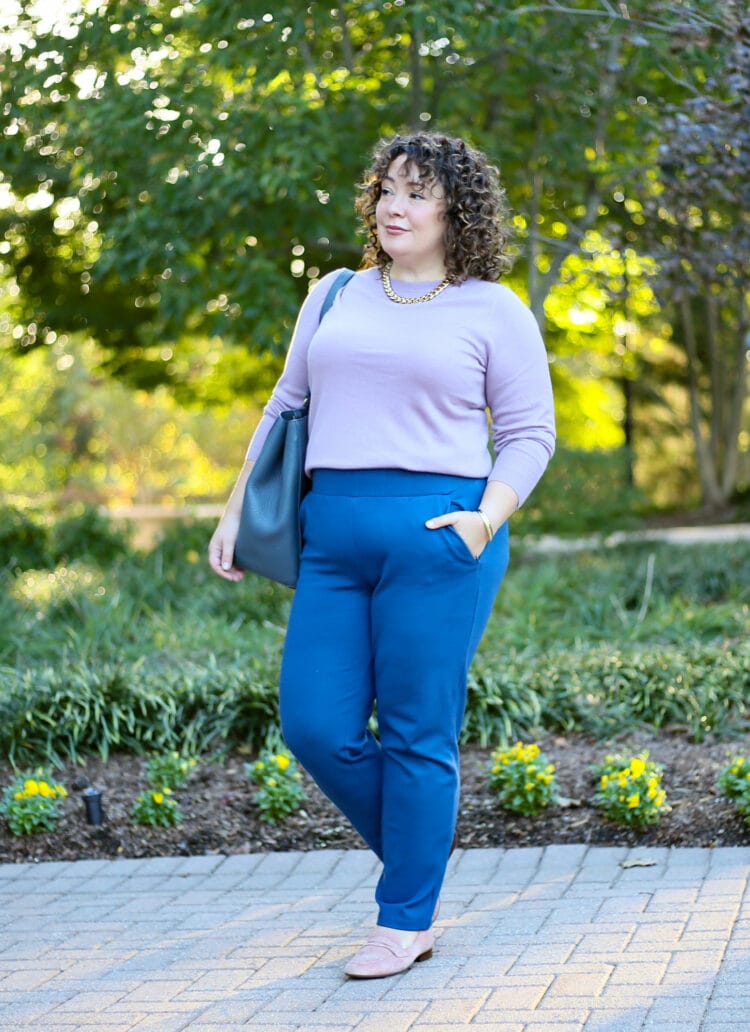 Here I am wearing the Universal Standard Smart Signature Pants in size XS in blue with the Universal Standard Shauna Merino Sweater also in size XS. The pants were part of Monday's Universal Standard Daily Doubles sale, offered for $58 when usually $88. The sweater… stay tuned.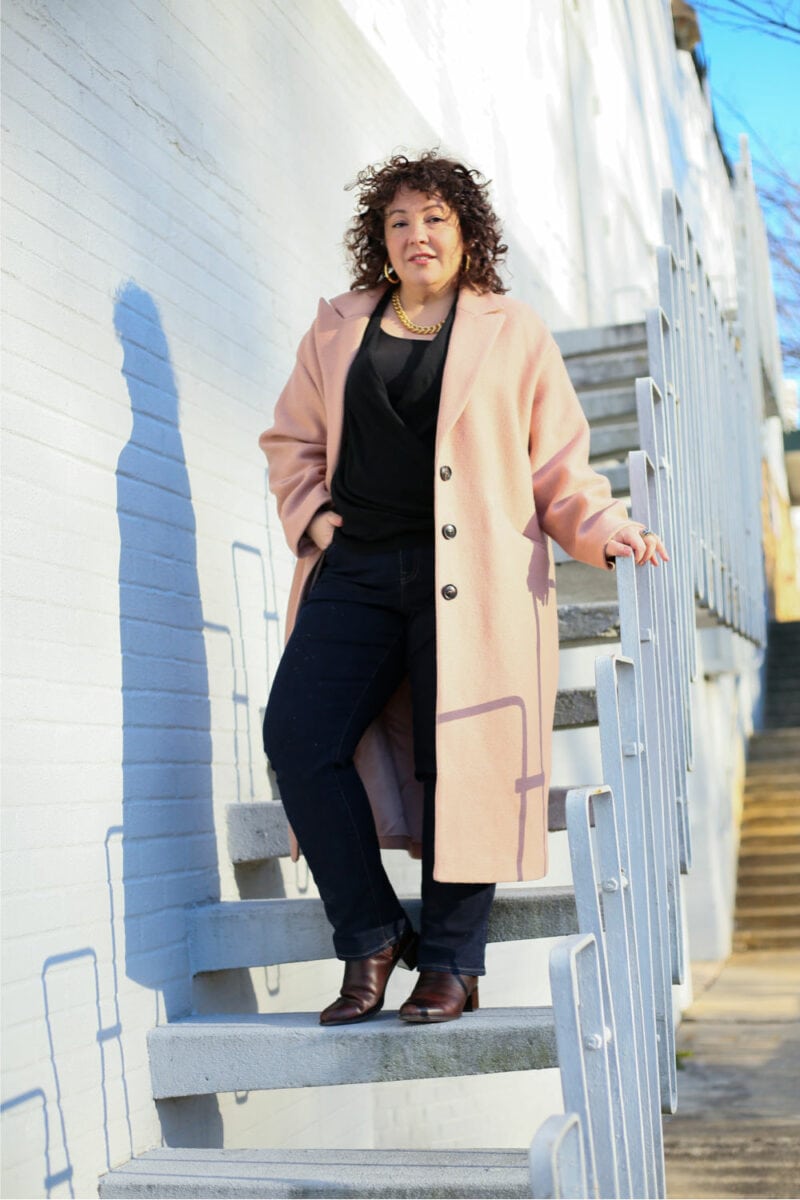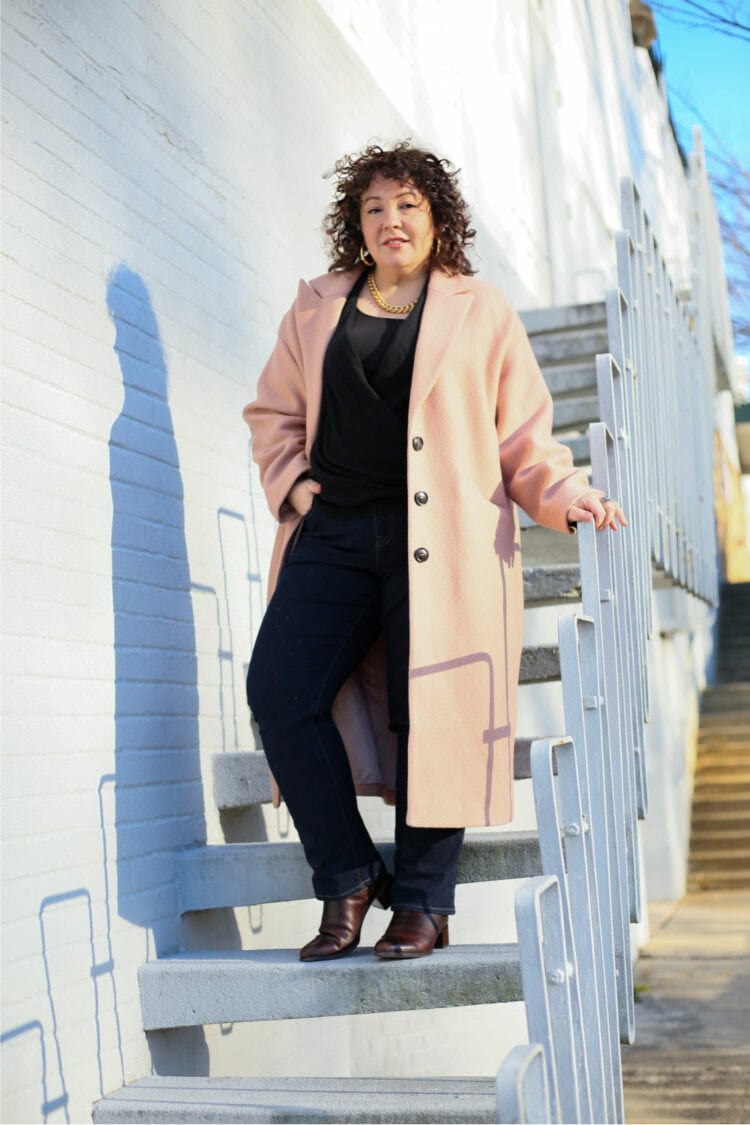 Here I am wearing the Willow Wool Cocoon Coat, also in size XS. This coat comes in four different colors and is one of my favorites for fall, early winter, and early spring. If you live in a milder climate, this could be a coat you wear all winter long. I like how it fits so easily over chunky sweaters and fleeces without looking bulky. A little birdie told me this coat may possibly be part of the Universal Standard Daily Doubles Sale. Click here to read my Universal Standard Willow Coat review.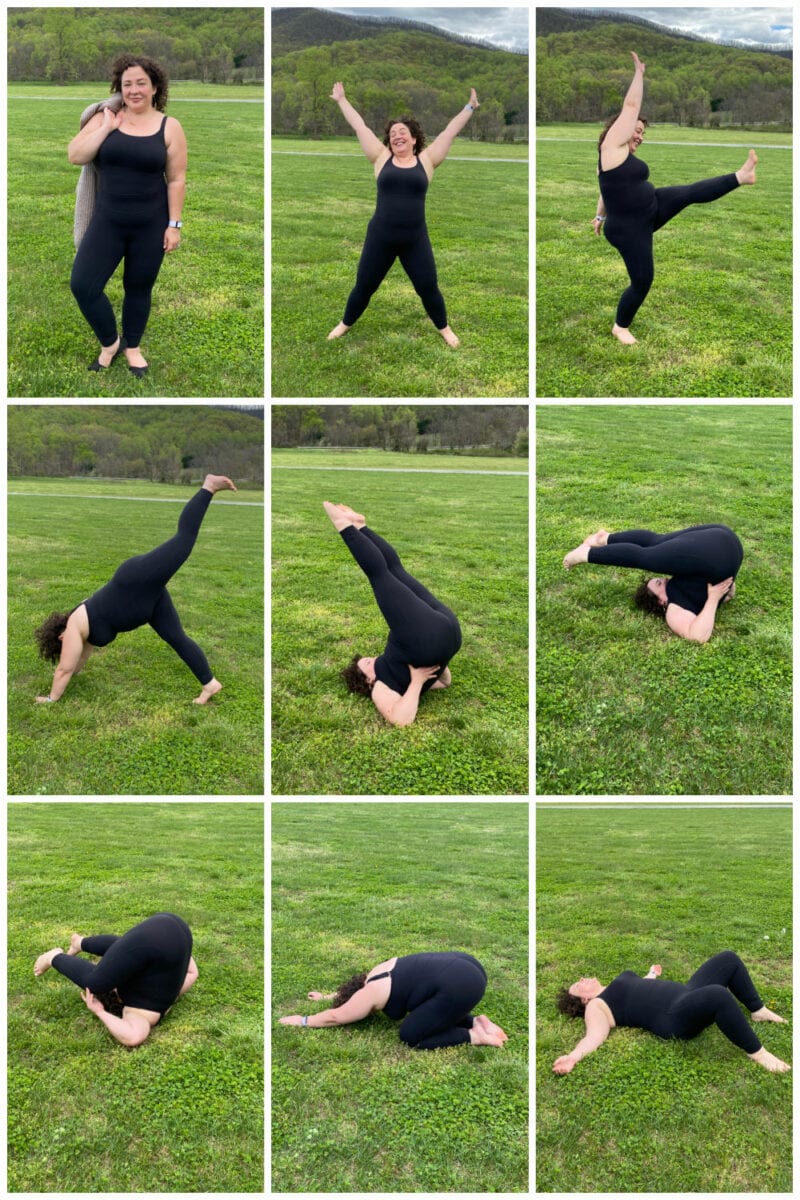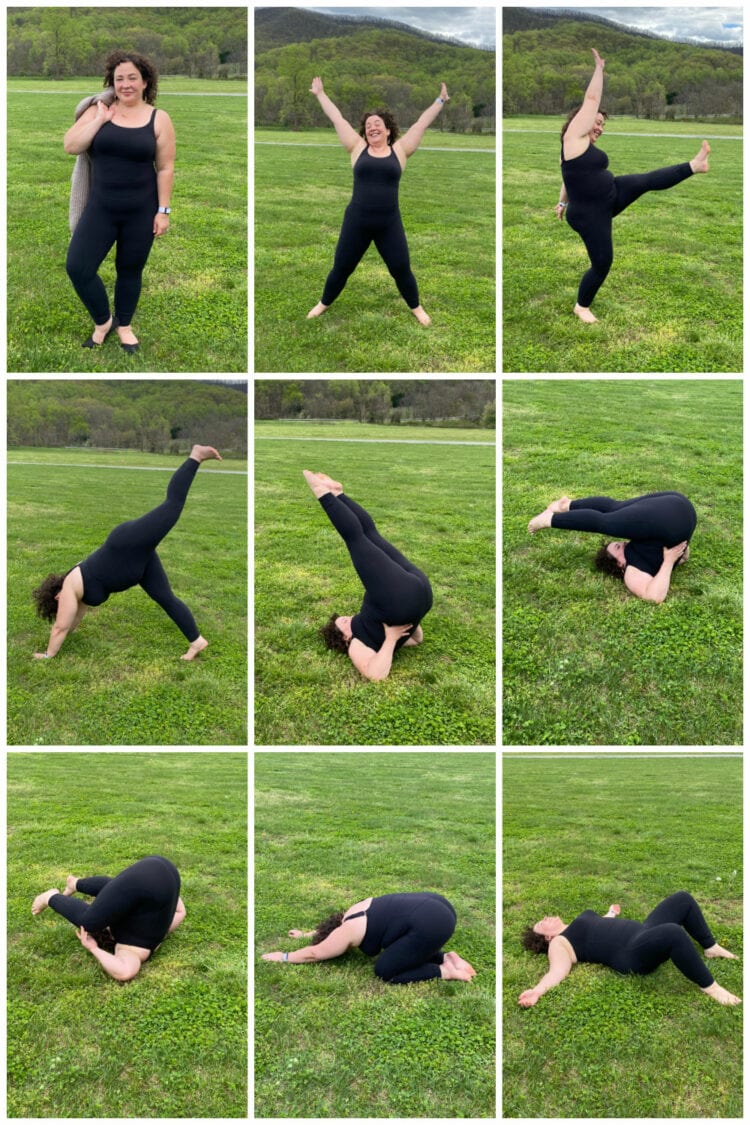 Here I am rolling around in a field in one of my favorite items from Universal Standard: the Next to Naked Bodysuit. Again, I am in size XS which is a perfect fit. This is so comfy and flexible but has a magical way it seems to smooth everything, offer some support, but no restriction. The straps are adjustable for a great fit; I am wearing a standard bra underneath. Here is my Universal Standard Next to Naked Bodysuit review and here are tips on how to style the Universal Standard Next to Naked Bodysuit.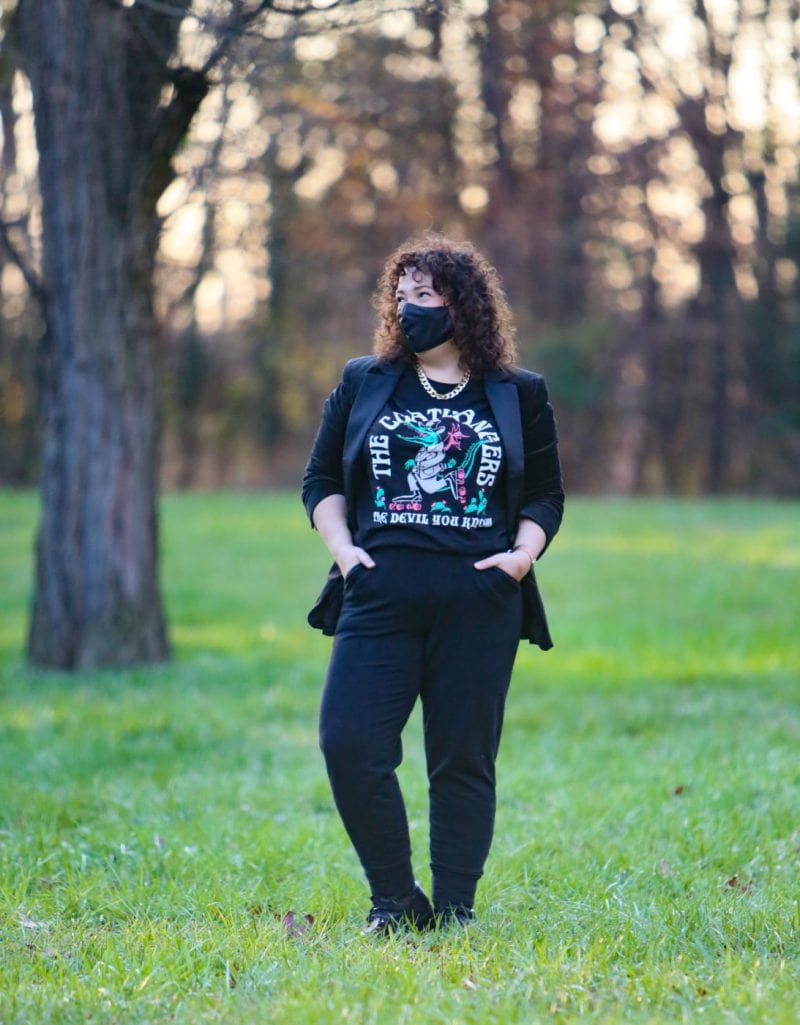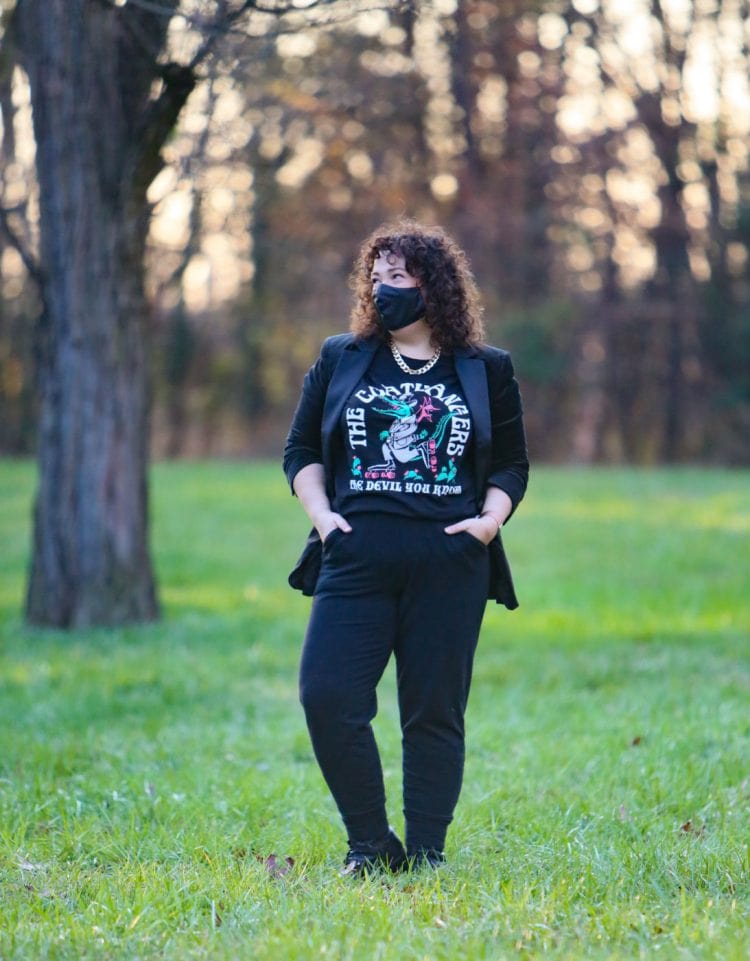 These are the Universal Standard Hathaway Joggers, which are a favorite in the Wardrobe Oxygen Community. They come in seven different colors and the Universal Standard website has 90 reviews to help you determine if these knit joggers are a good choice for you and your wardrobe.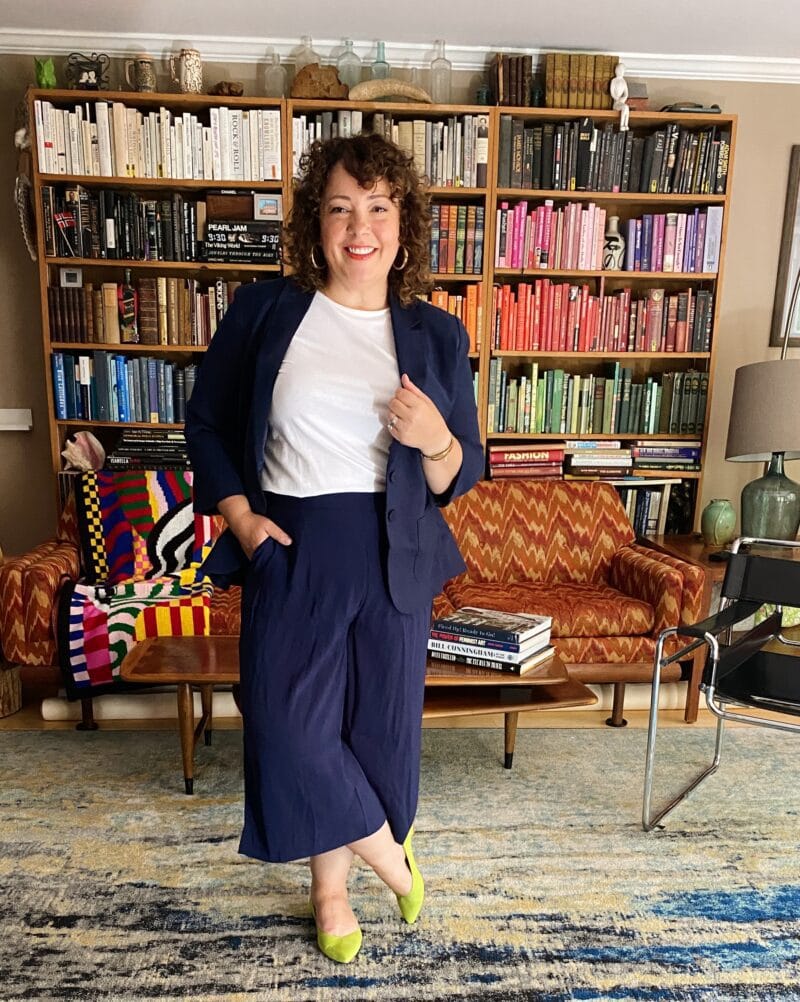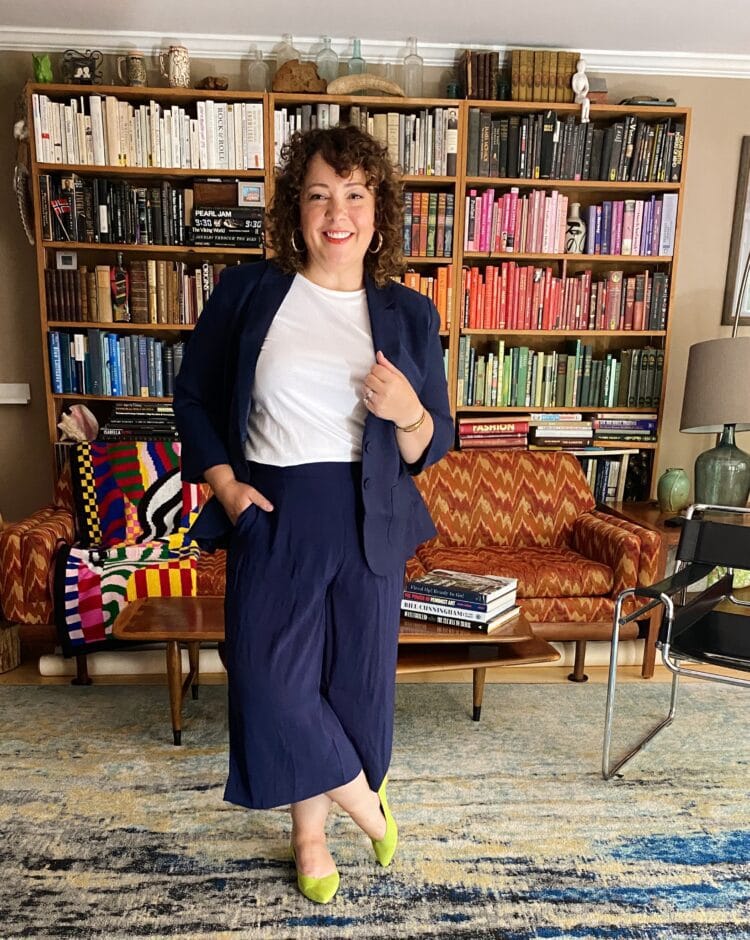 Here I am wearing the Meg Short Blazer and the Elvo Culottes from Universal Standard. The Universal Standard Meg blazer is a great choice if you usually find blazers too stiff and boxy for your curves, or struggle to find a professional looking blazer in your size. It is lined, well made, but more of a "boyfriend" or relaxed fit with bracelet-length sleeves. If you are looking for something with a bit more length in the torso as well as the sleeves, check out the Universal Standard Megan Blazer.
The Universal Standard Elvo Culottes are not the same fabric as the Meg Blazer, but they work well together to make a modern comfortable suit option. They're made of a polished crepe that can dress up or down, have an elasticized waist and a side zipper for ease and comfort and hello pockets! They come in two colors. You can see both of these pieces styled on me in my Universal Standard Capsule Wardrobe.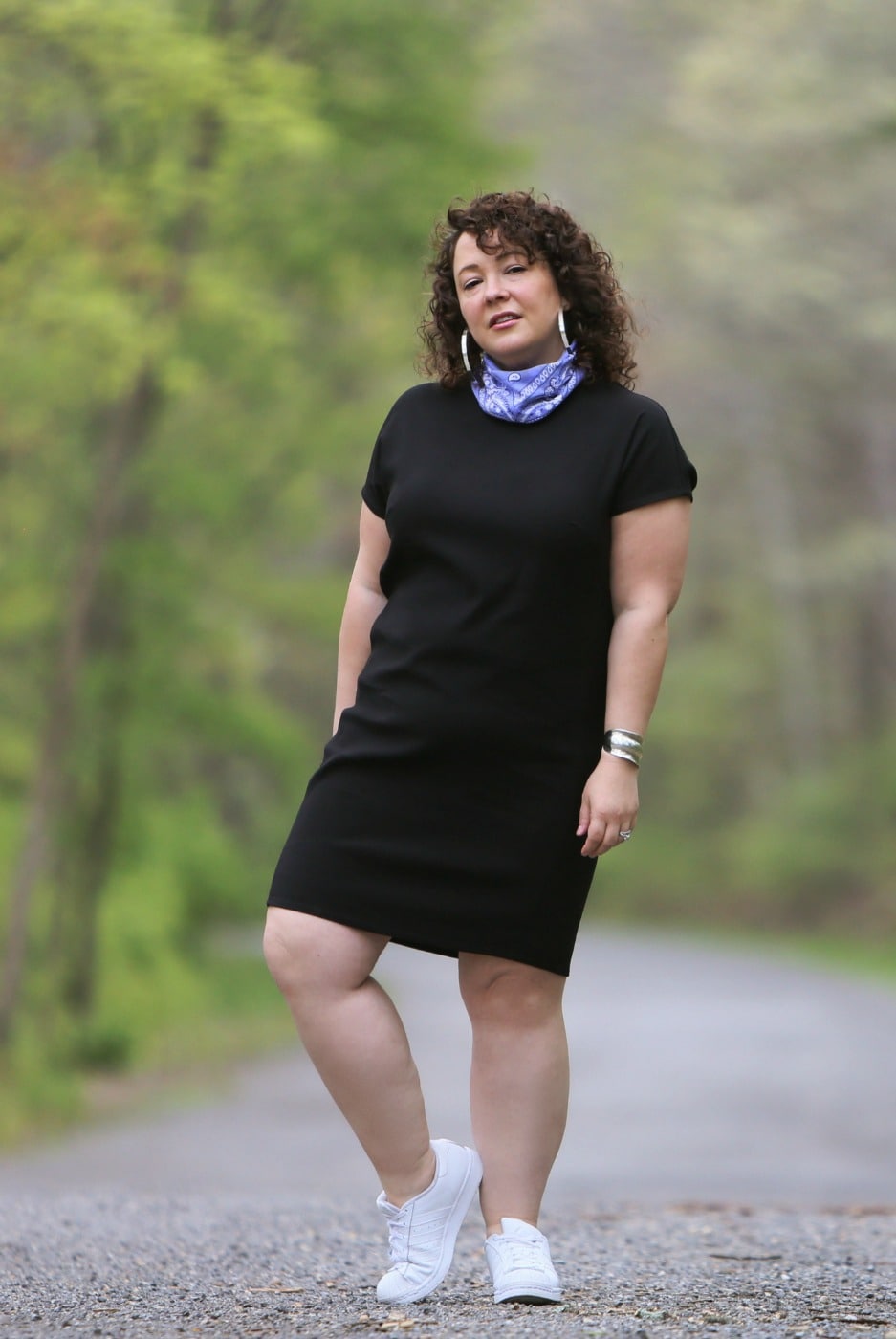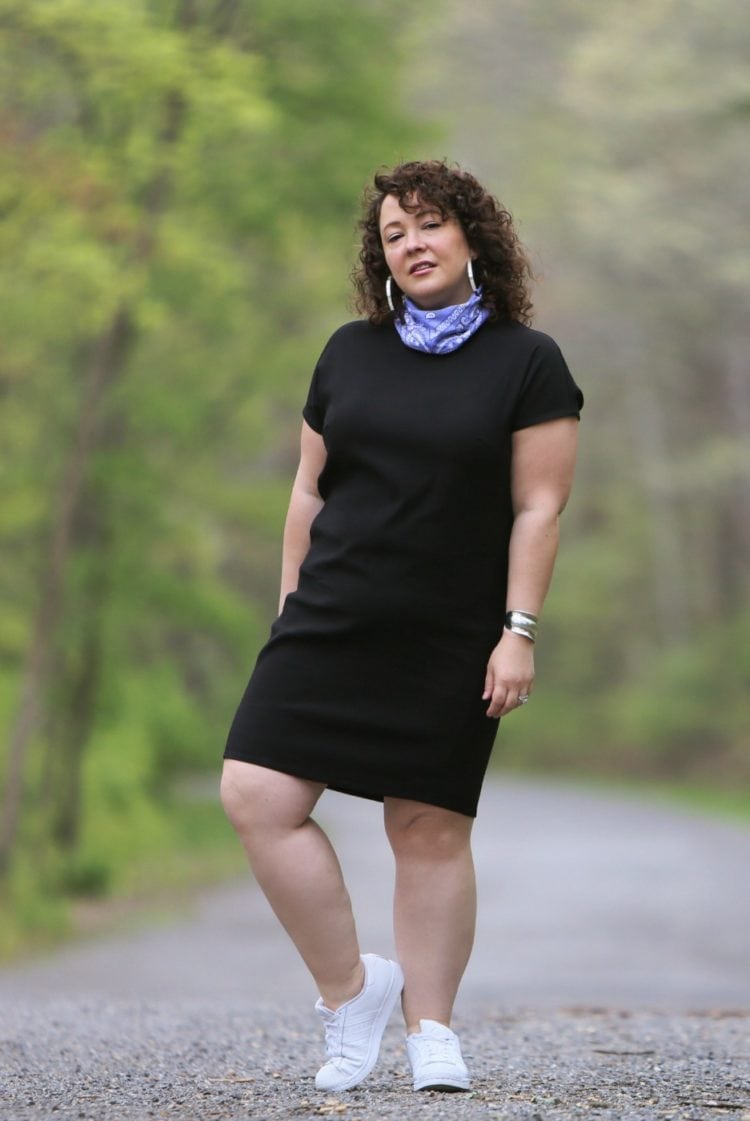 This is the Isabelle Luxe Twill Sheath Dress which is such a wardrobe staple. It looks basic, but it's a satin-backed twill that looks like suiting fabric and feels amazing against your skin. This is the kind of dress you can wear with sneakers and a denim jacket, a blazer and boots, a cardigan and flats, or glam it up with heels and sparkly earrings. I am wearing it in XS; it is available in black as well as Sangria which is a dark red color perfect for the holidays as well as all year long.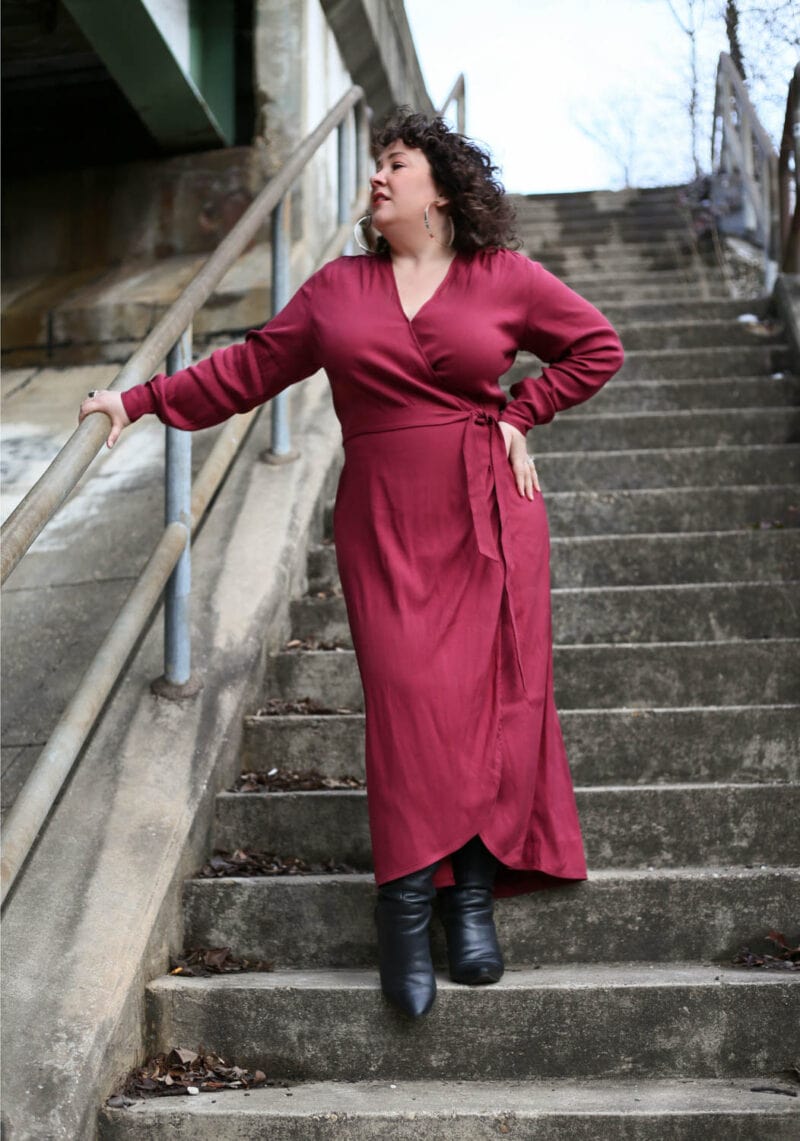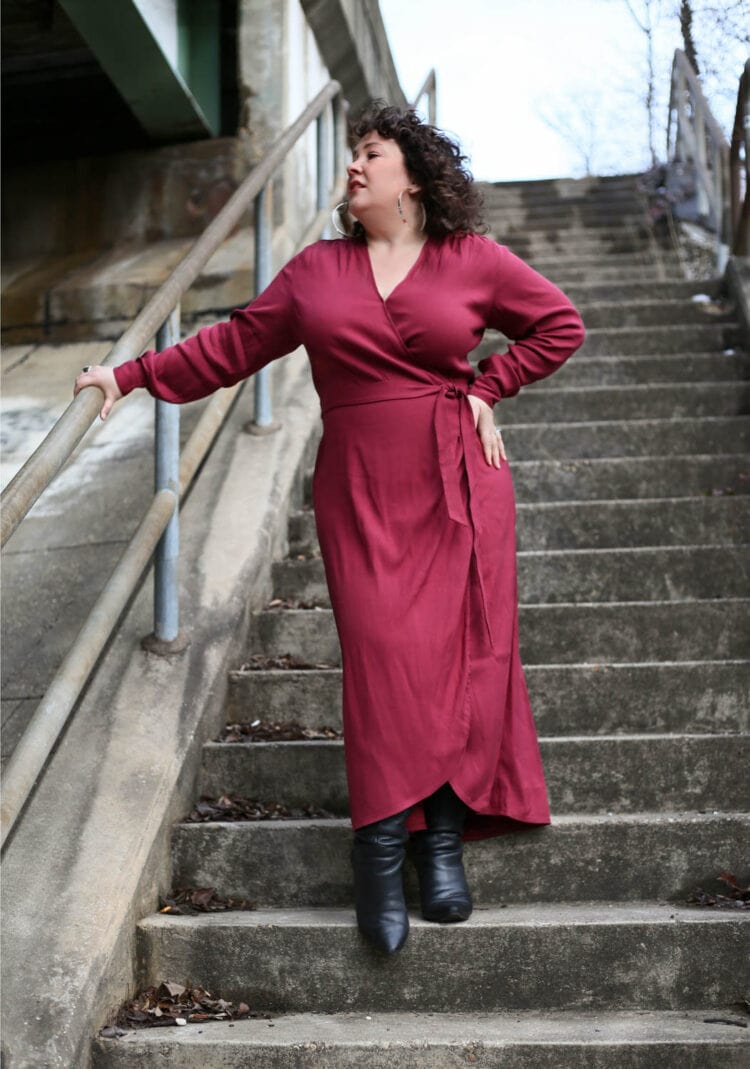 Here I am in the Universal Standard Rivers Wrap Dress. I'll be honest, I found this dress too long in the torso, length, and sleeves for my 5'3″ self. And that's a shame because this is a really gorgeous and versatile dress. It comes in this red as well as black and is that go-to dress you can wear to work, on a date, to a cocktail party, for a nice dinner, a day wedding, and much more. AND it's machine washable!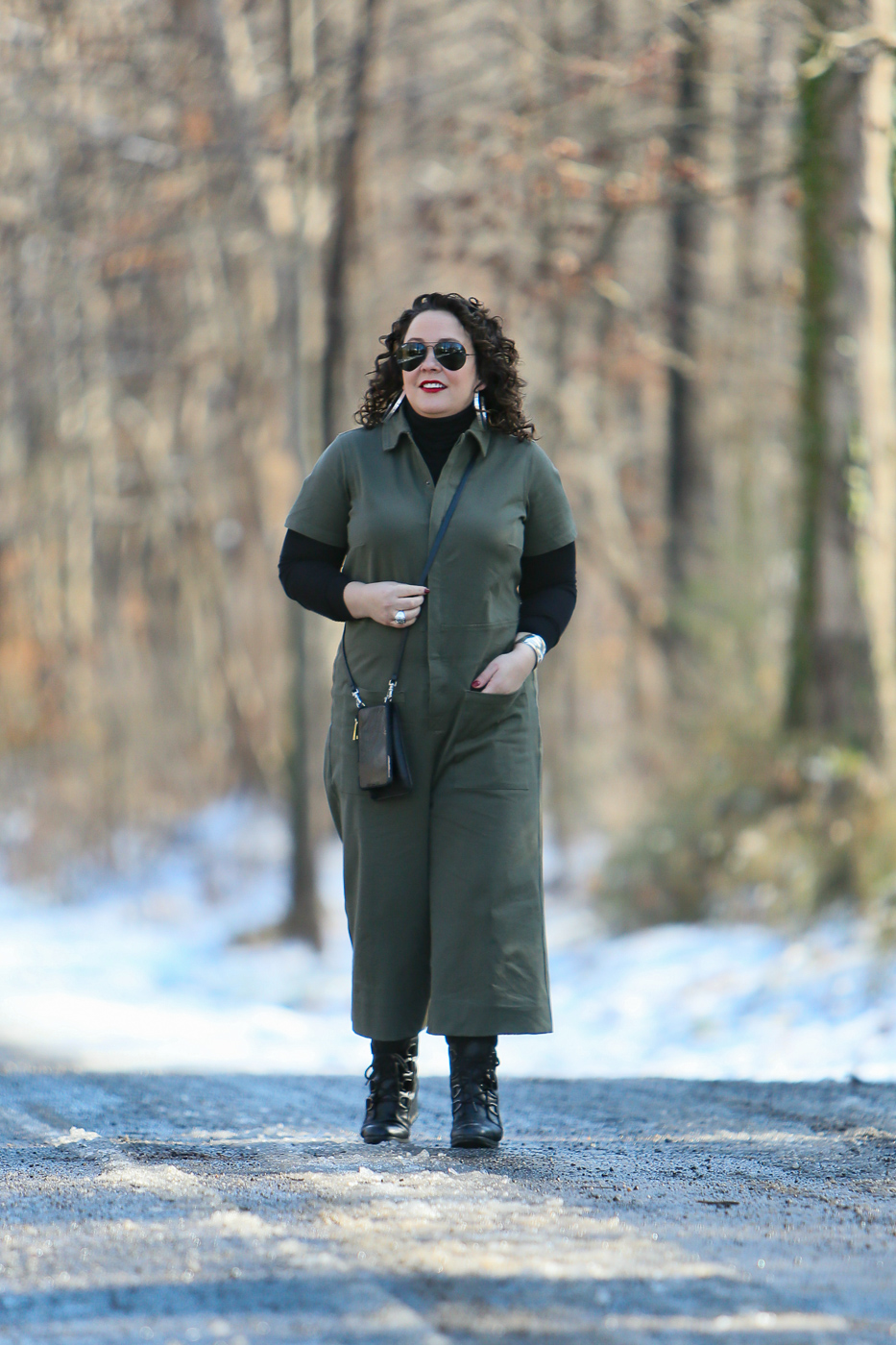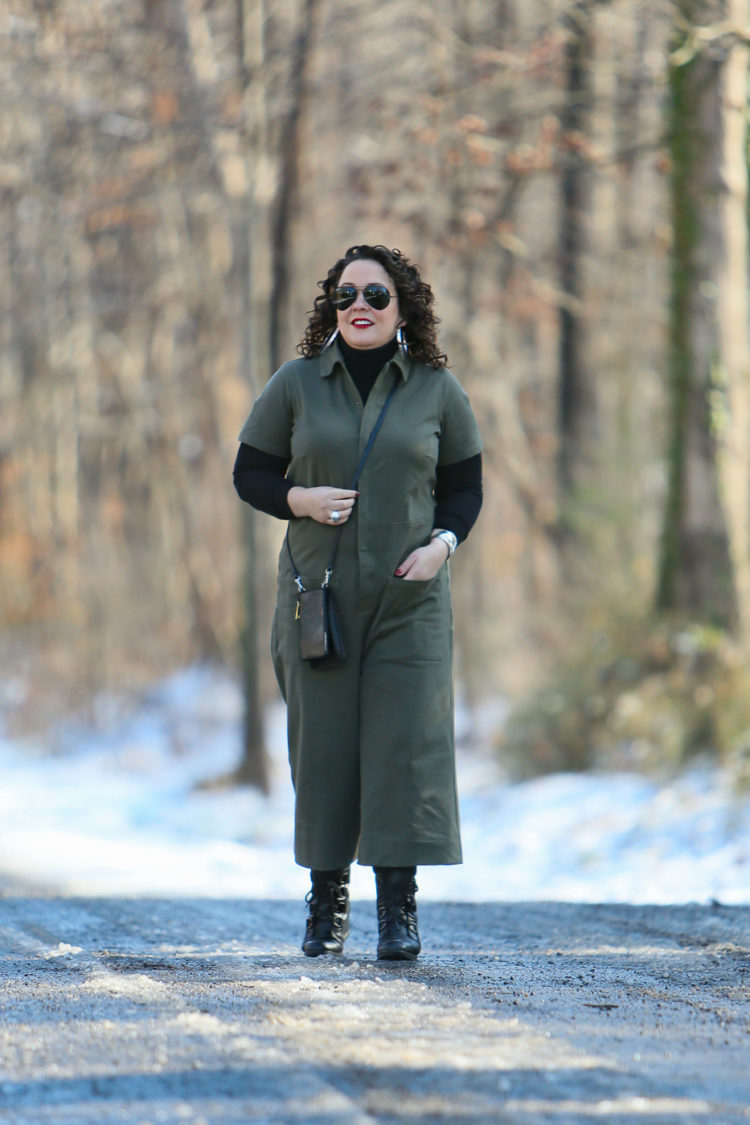 Here I am in the Universal Standard Kate Twill Jumpsuit. I am wearing size XS and I used Stitch Witchery to shorten it a bit for my petite frame. This jumpsuit is currently available in black and tan. In this post, you can see how I styled it for winter and in this post you can see how I styled it for the summer.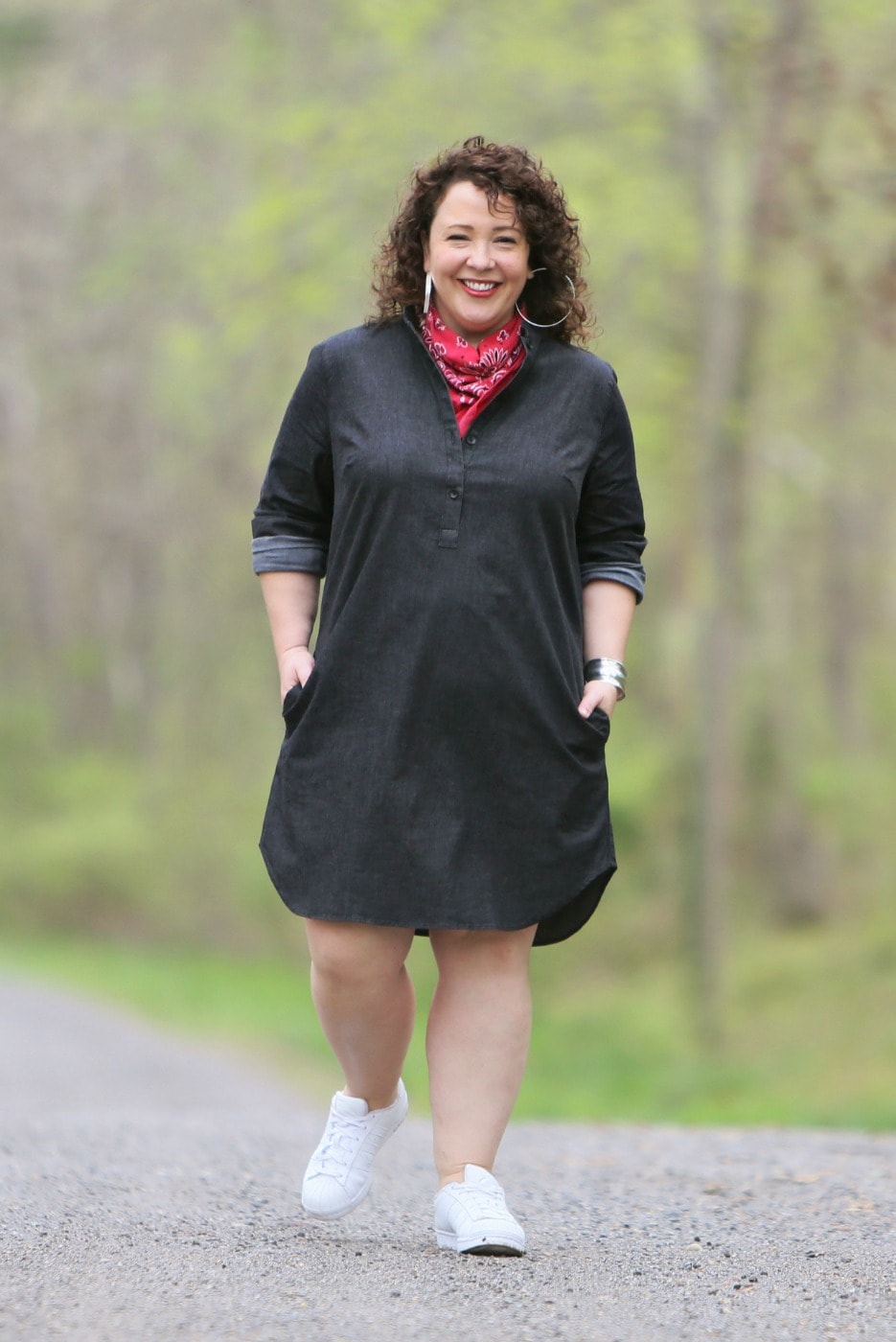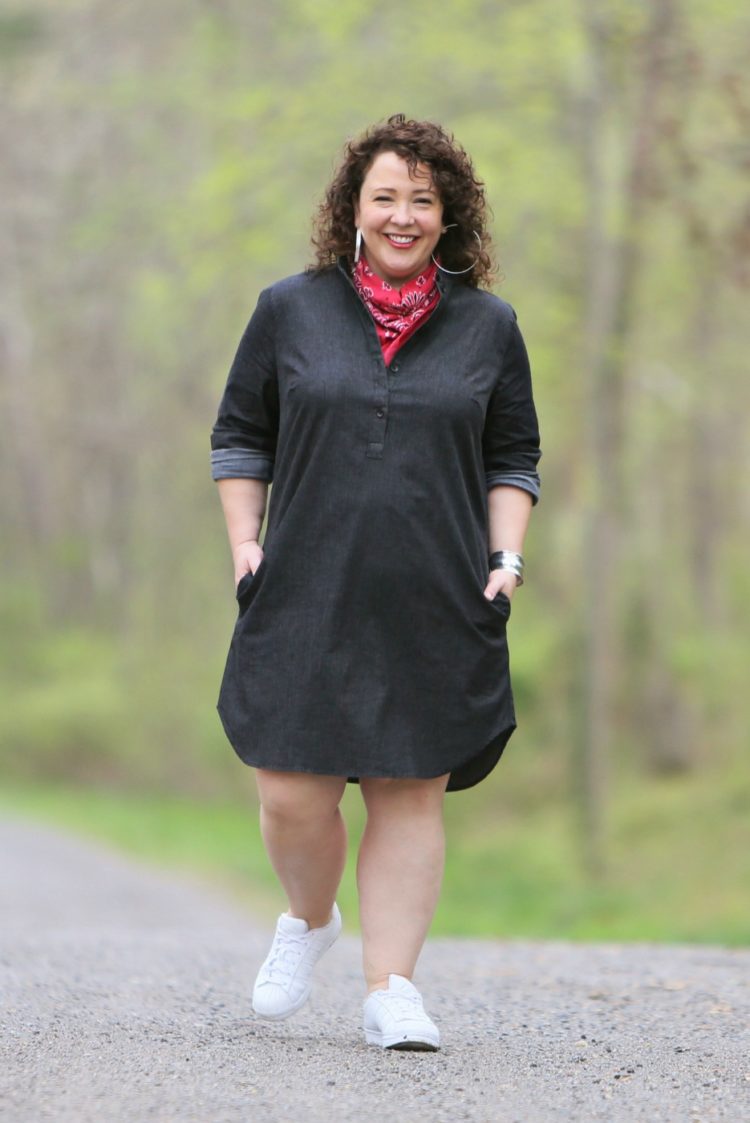 This is the Hannah Denim Shirt Dress, which comes in this color and blue. This is the kind of dress that is cute alone, but also great over leggings. A head's up, don't think you can pop this in the dryer because it may shrink from a dress to a tunic (been there, done that), but if you machine wash and line dry it's a great piece!
Shop the Post:

I hope this helps you navigate the Universal Standard Daily Doubles sale. Feel free to share your thoughts on the sale and different Universal Standard items part of this sale in the comments. Your feedback will assist other Wardrobe Oxygen readers in updating their wardrobe!