This article may contain affiliate links; if you click on a shopping link and make a purchase I may receive a commission. As an Amazon Associate, I earn from qualifying purchases.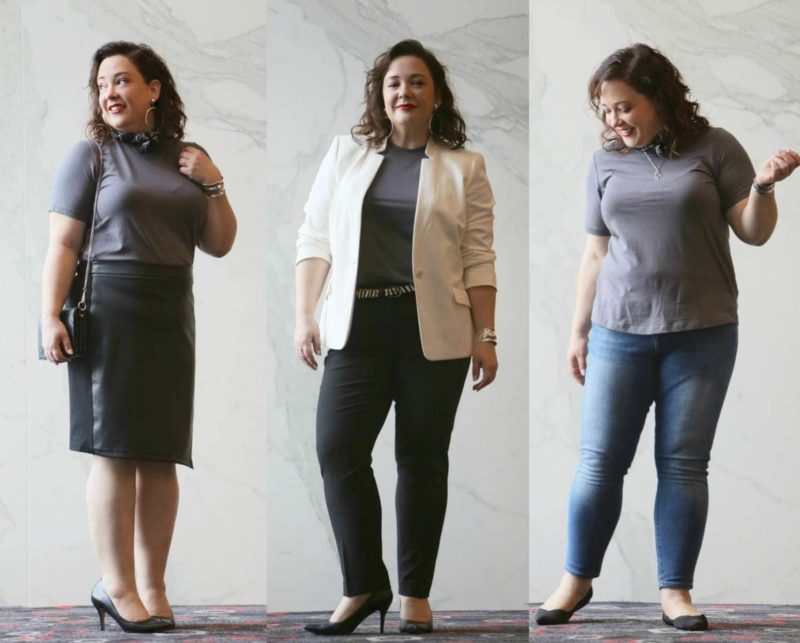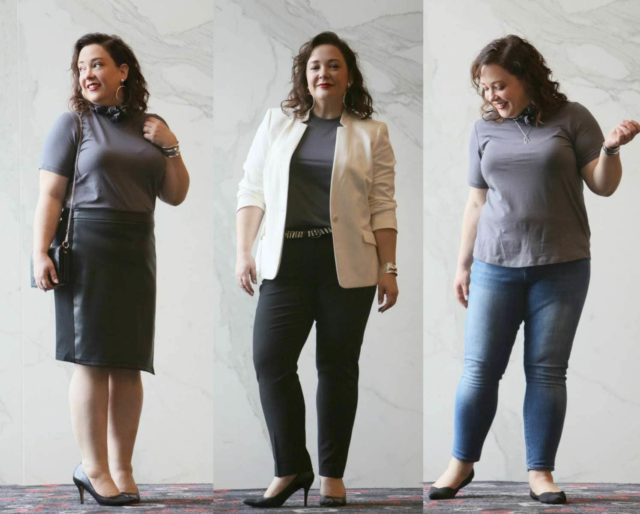 Not all t-shirts are created equal. There's the stiff square ones you get free for being part of a fun run, the lightweight v-necks you pick up at Target and wear with everything from sweatpants to ankle pants and a cardigan on Casual Friday, there's ones of silk and linen and those $200 ones that look an awful lot like the one you have from Target… and then there's the refined t-shirt. This is a shirt that is usually a blend of fabrics, usually containing a bit of stretch and a fabric called Modal, which is a type of rayon. Modal is what gives a t-shirt beautiful drape, a smoother, almost silky touch and look, and refined finish. This is the kind of t-shirt you can throw on with a pair of jeans but also slip under a blazer or style with a skirt and heels. Its versatility is what makes it a great addition to any capsule wardrobe.
In my real-life capsule wardrobe I added the T-Rex crewneck t-shirt from Universal Standard. It's available in variety of colors and sizes and has become a favorite in my closet because of its weight, how well it holds up after laundering, and how nicely it fits curves. As you saw in yesterday's post about the ivory blazer, I also have a refined t-shirt from Halogen. It's a lighter weight but also works in just as nice of a way. These are shirts that bridge between a blouse and a t-shirt and the looks below will show its versatility. For my real life capsule wardrobe a non-black and non-white color was a necessity to break up the neutrals. I chose grey because it can dress up nicely and works with most every color under the rainbow. However, this is a place in a capsule wardrobe where you can add a signature color to show your personality, or a non-neutral that acts like a neutral (blush pink, teal, plum, indigo).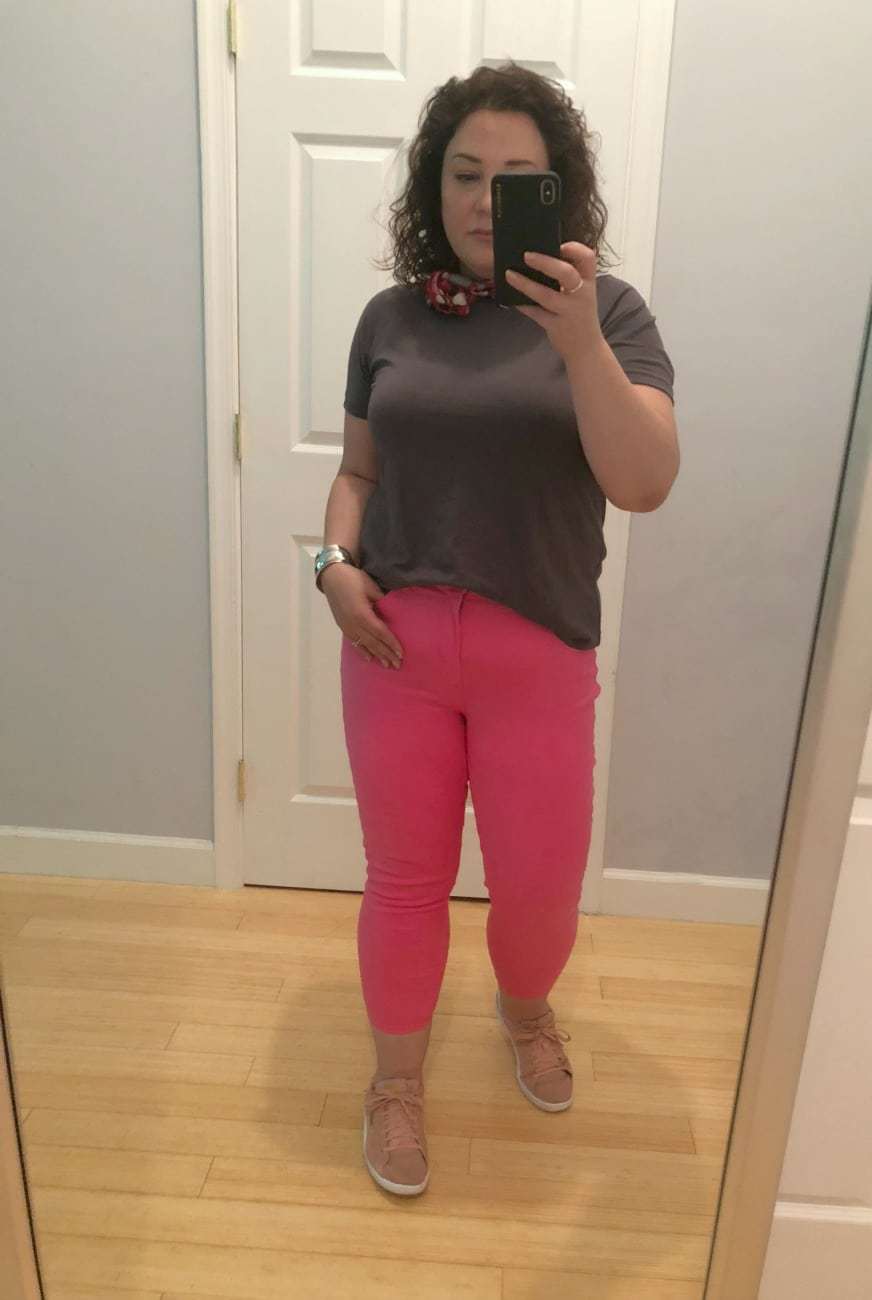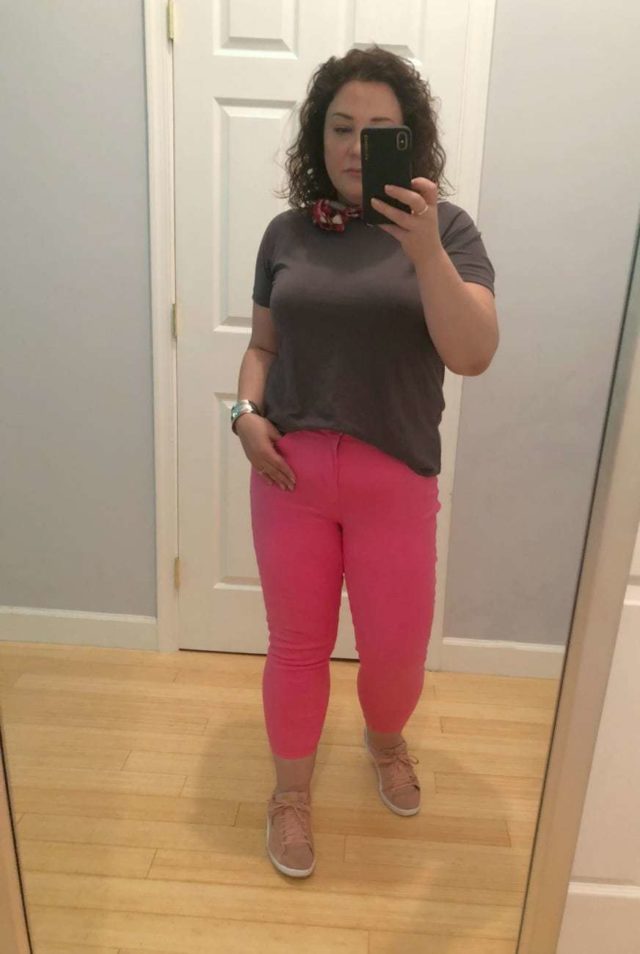 t-shirt | jeans | scarf (old; similar) | sneakers
A plain t-shirt and jeans can look unfinished and too casual; switch to a colored jean and a refined t-shirt and you suddenly have an outfit. I added a scarf to pull separates together into an ensemble; a scarf can do a lot to elevate a look without losing comfort or ease. I wore this running errands, though this would work for a community meeting, coffee with a friend, or other casual social situation.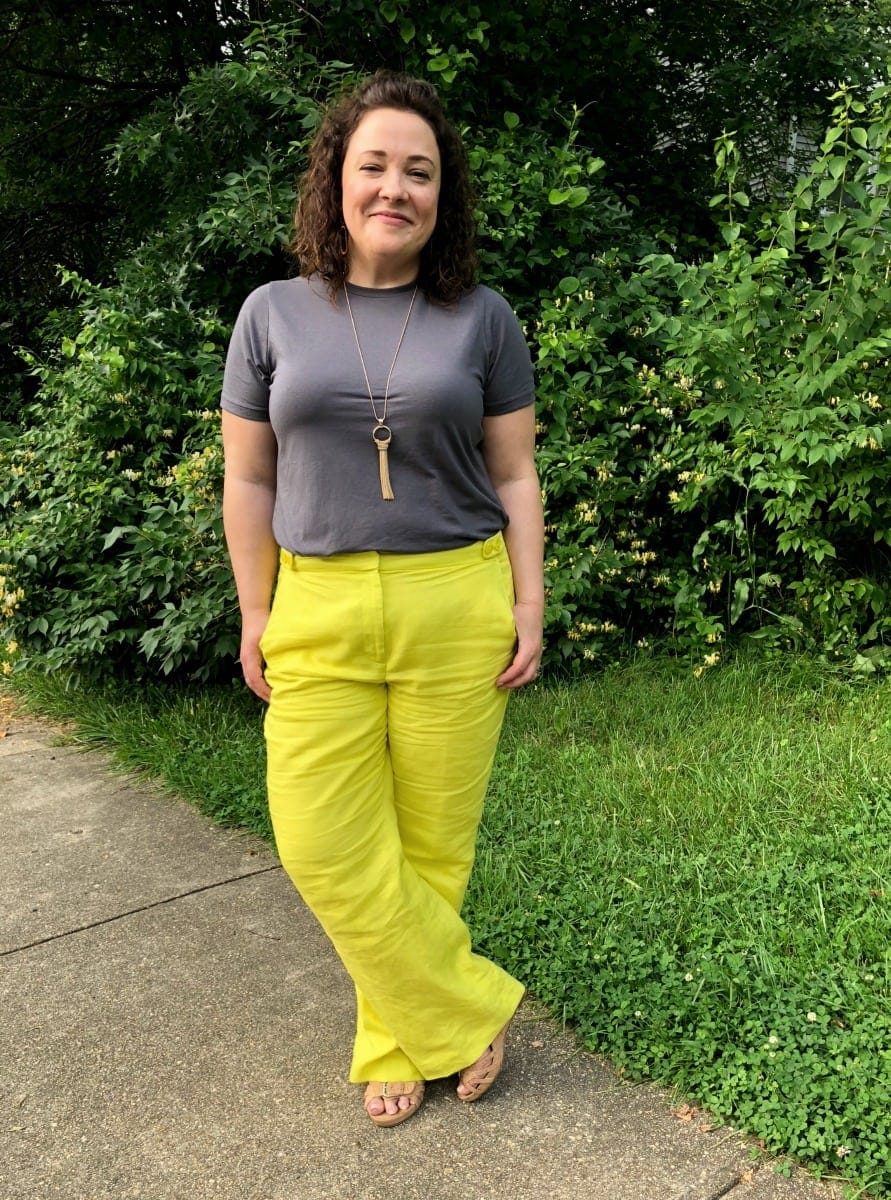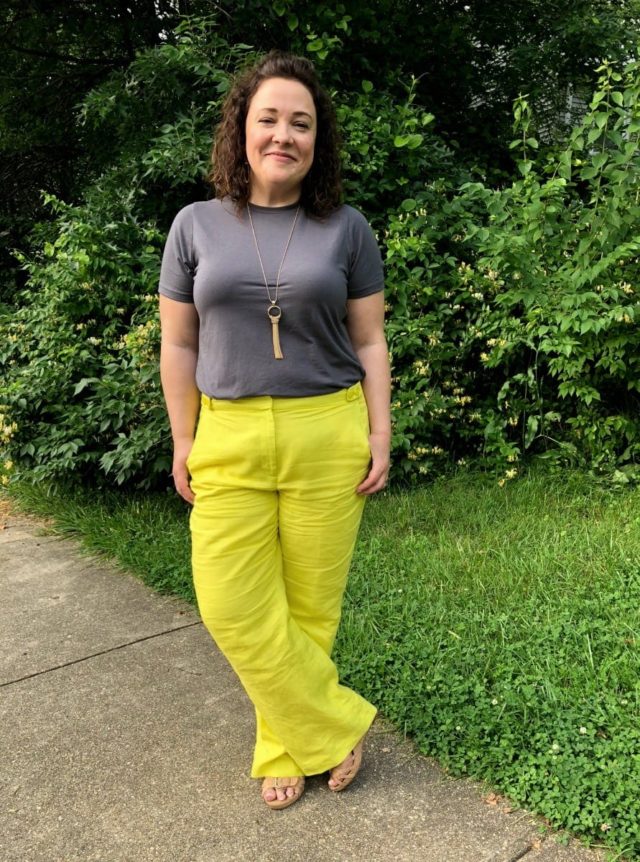 t-shirt | pants | shoes | necklace (old; similar) | earrings (a gift from reader Chris; old, more from the artist)
When wearing linen and other rumpled fabrics, they look more purposeful when paired with a refined fabric. I love these bright yellow linen pants (previously seen on the blog in this post), but find when I pair them with black, white, or a color it looks too cartoonish. Not only is this t-shirt a nice polished fabric that looks nice with linen, the grey color balances the brightness. I wore this look for a day when I worked at a coffee shop and then had a coffee date with a neighbor who wanted some business advice.
For the real life capsule wardrobe, I styled it three more ways to show its versatility.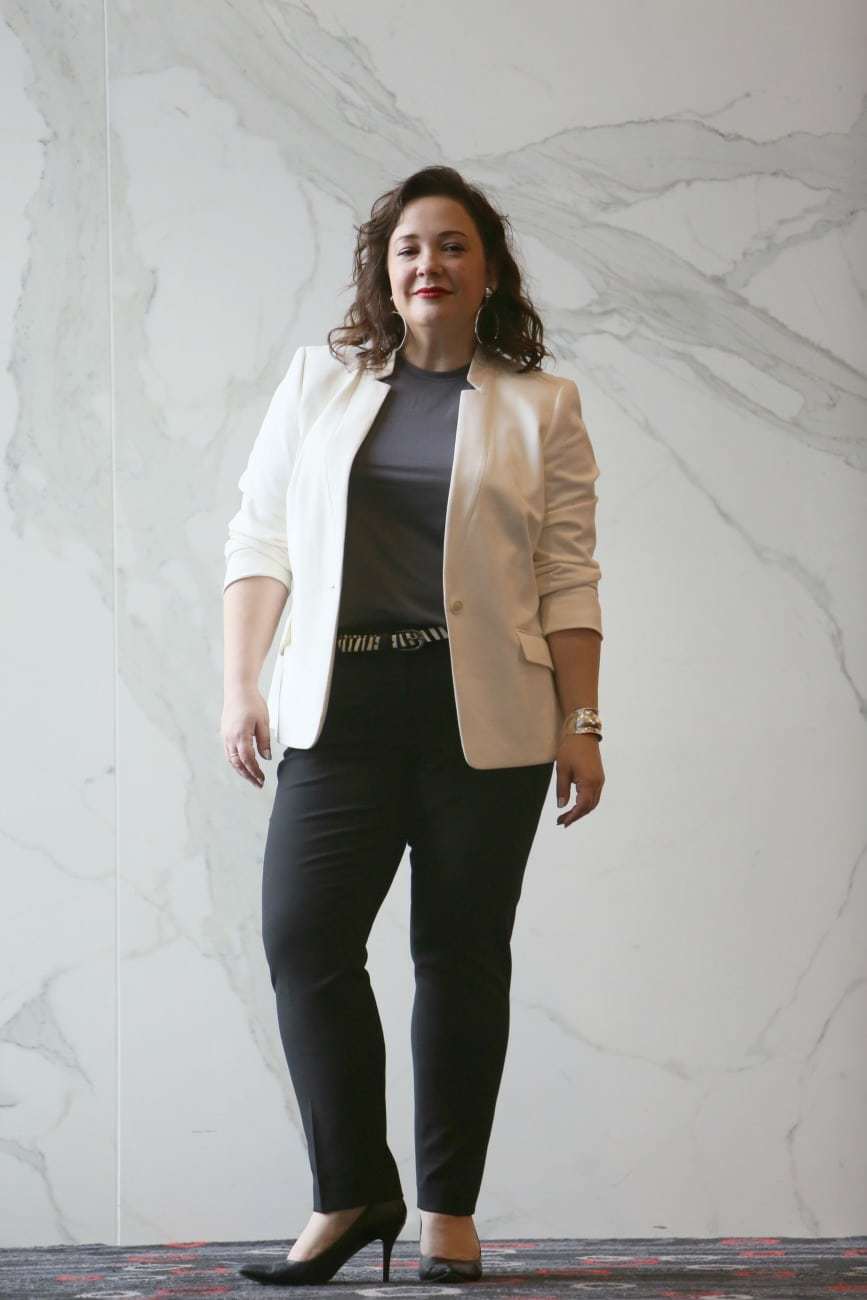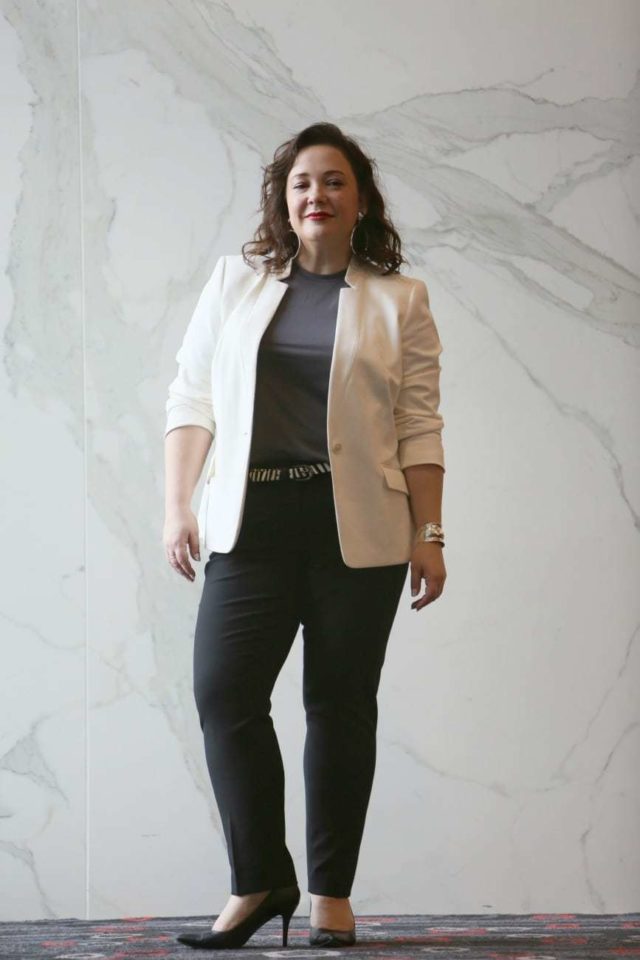 blazer | t-shirt | belt | pumps | earrings | bracelet
This was an outfit that could have been in yesterday's post too! Gotta love the versatility of an ivory blazer! This look is pretty simple, and appropriate for business casual office settings. The pants and jacket could be in the boardroom, but switching out a blouse for a refined t-shirt you look more relaxed and relatable. This is also a way to transition your work pieces outside of the office: by switching out a blouse for a refined t-shirt or trousers for jeans, corporate separates can live a second life on the weekend or after hours. Using an accessory like a statement belt, scarf, or larger necklace pulls the look together.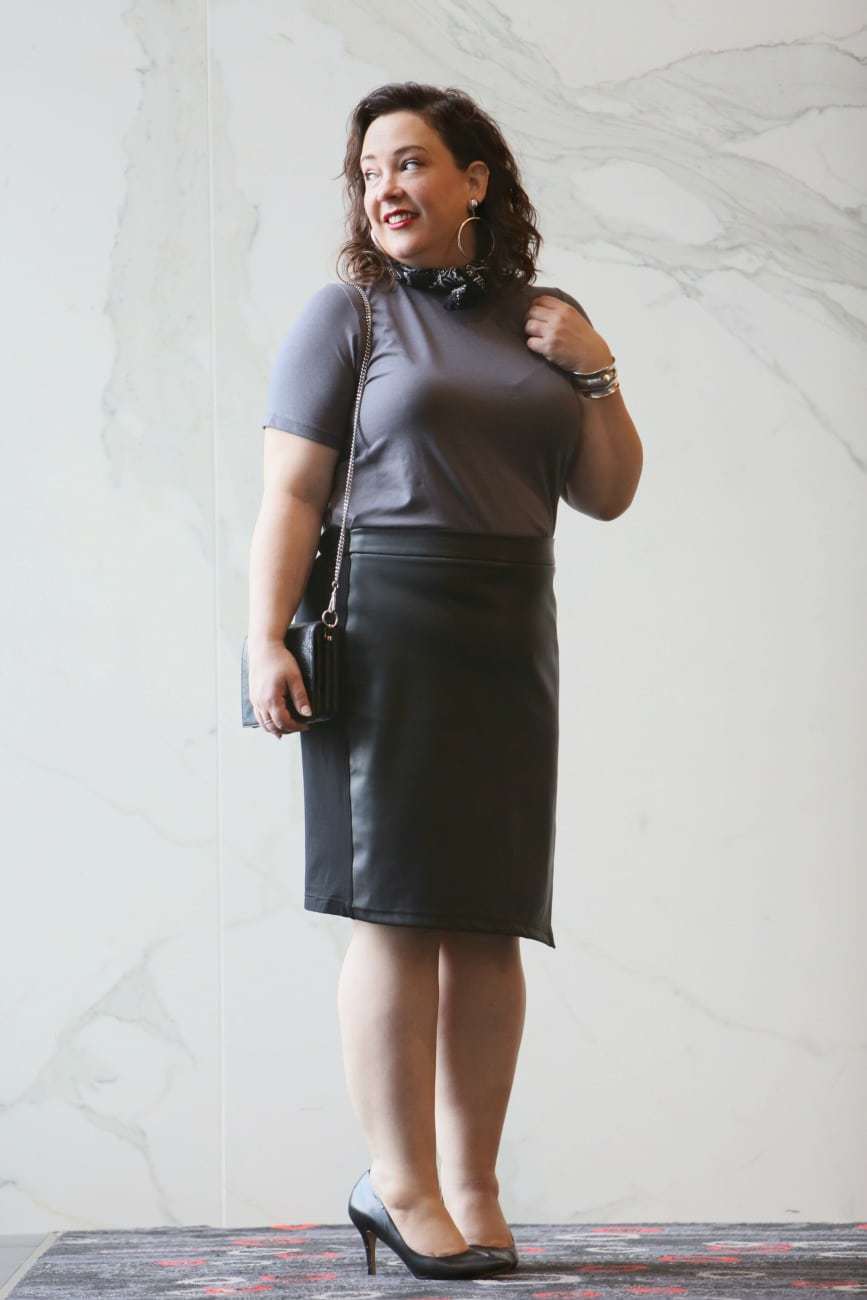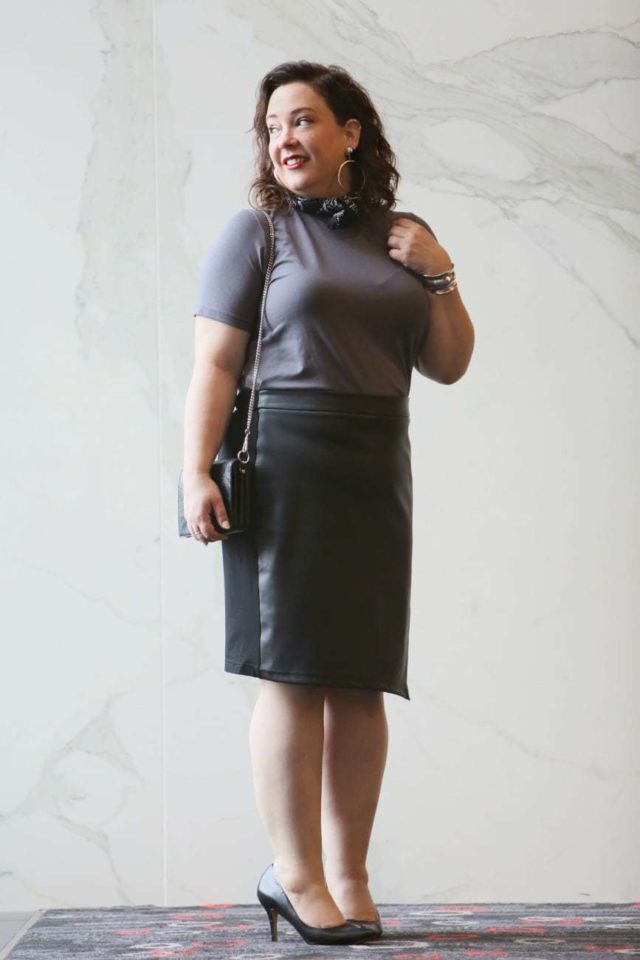 t-shirt | skirt | bandana | pumps | bag | earrings
A leatherette skirt can go from concert to corporate depending on how its styled. If it was paired with a band t-shirt, it would read rocker. Pair with a Breton t-shirt and a denim jacket, and it's weekend. But with a refined t-shirt, the skirt can head into the office during the week without looking out of place. All three outfits incorporate t-shirts, the difference is the type. The silky finish, rich color saturation, slightly longer sleeves… these are details that make a t-shirt wearable in a business casual office environment.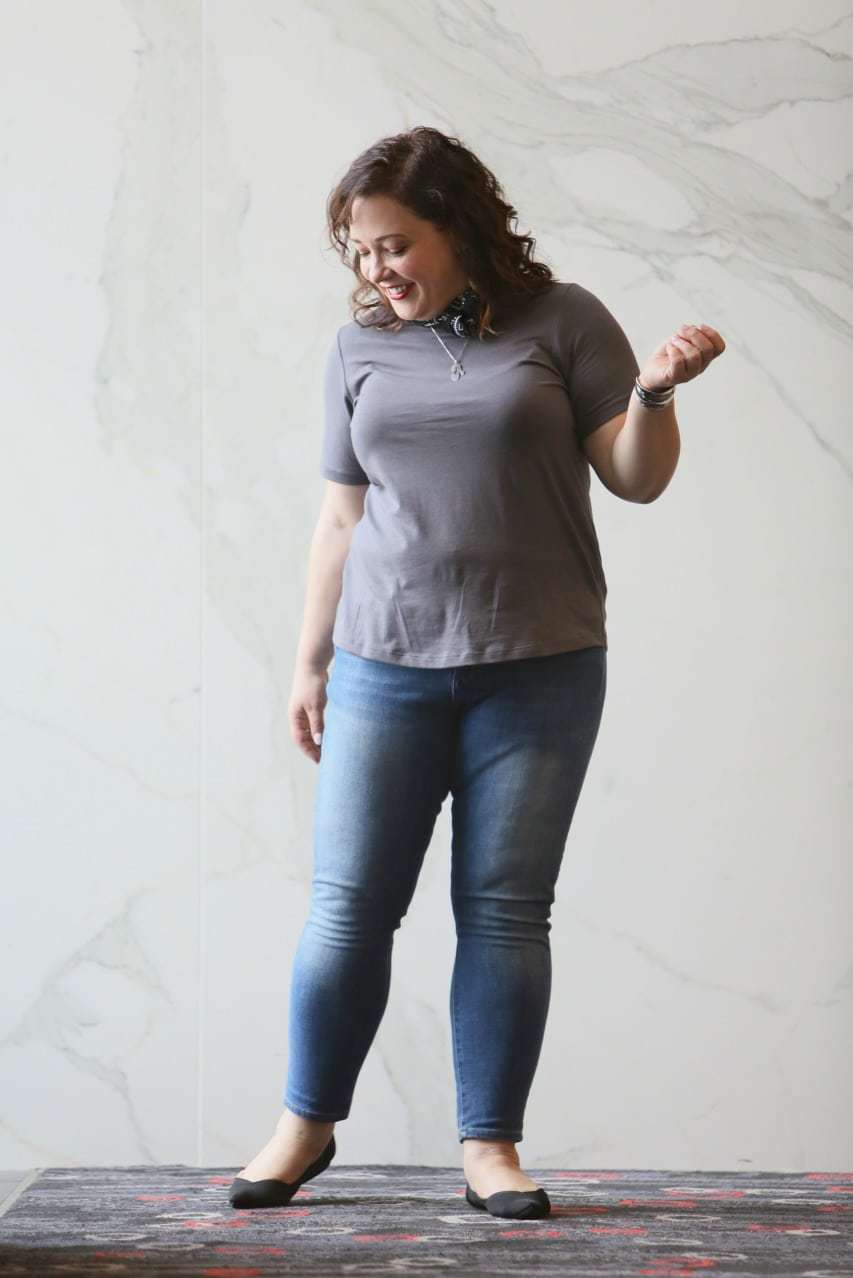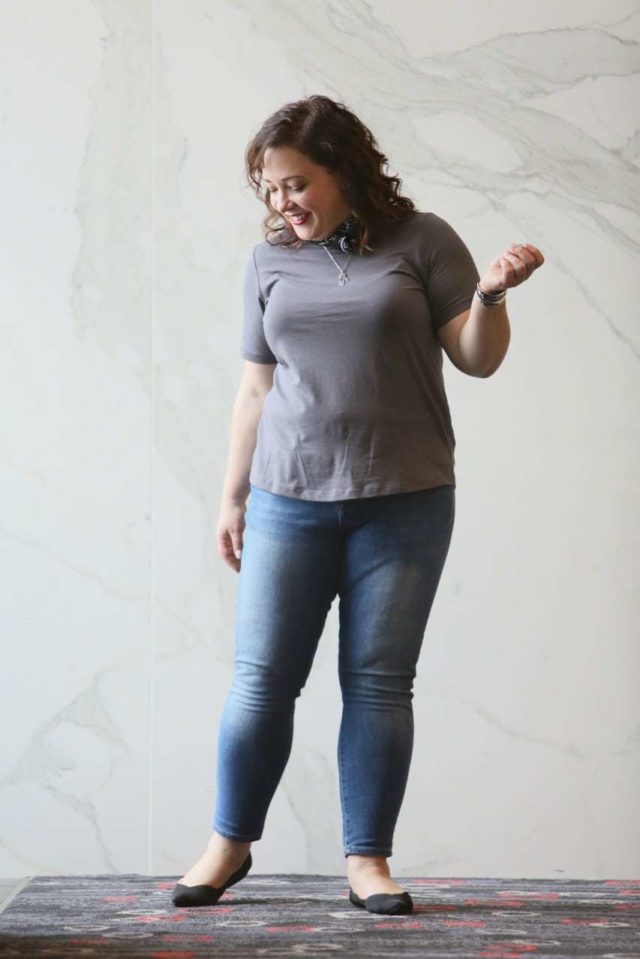 t-shirt | jeans | flats | bandana
And then well hey, this is how most t-shirts are worn, amirite? However, as stated above in the look with the pink jeans, the look is a bit more polished when the t-shirt is refined. Again the addition of an accessory (I actually planned on wearing a long necklace but forgot it at home so added the bandana) is what elevates the look from something you wear around the house to something you can wear for a casual social situation. This could easily be elevated further by adding the ivory blazer or a cardigan. Switch out the skinny jeans for a wide-leg style and add the belt; this would also work great with a pair of colorful ankle pants.
I'm so glad this real life capsule wardrobe resonated with so many of you. Thank you for your comments, your emails, and your shares on social media. It's a lot easier to sit on my laptop and make collages, but seeing a body in the clothes makes the concept of a capsule wardrobe that much easier to digest. I hope to do more of these in the future and appreciate all feedback and social shares and pins of this content!
The t-shirt and skirt were gifts from Universal Standard, the pants a gift from WHBM. However, all items were included in this capsule because I actually love them and wear them.