This article may contain affiliate links; if you click on a shopping link and make a purchase I may receive a commission. As an Amazon Associate, I earn from qualifying purchases.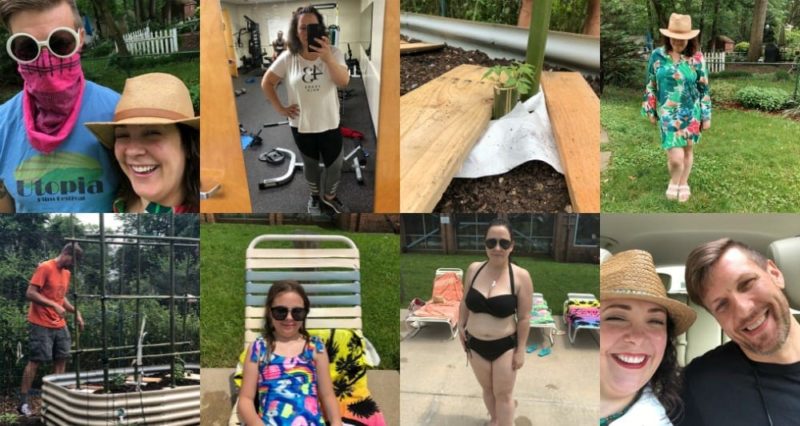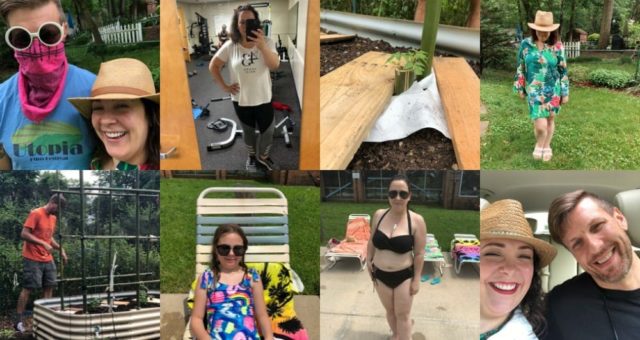 I mentioned in a previous Weekend Reads how I am working on a contract associated with my old job. It's been a blast working with old coworkers and on a project that addresses such an important topic. However, it's crazy to spend five hours writing about capsule wardrobes and then switch gears and edit a Powerpoint dealing with recovery. But I feel so lucky to be able to be doing both. This weather has also been crazy; so much rain and humidity and you can't trust a weather app. It said Friday would be thunderstorms; I'm writing this at 2:30pm and it's one of the prettiest, sunniest days we've had in a while. I should have scheduled photo shoots today instead of the days when Karl was getting a crook in his neck holding an umbrella over his camera while I'm laughing to myself in a drizzle!
My personal trainer went on vacation for a little over a week. My body started getting creaky from lack of use so Memorial Day I went to my local Planet Fitness and signed up. It's $10/month (plus an annual feel of around $35) so I can go there and hop on an elliptical or use some machines when I can't visit the gym. This is a major mind shift for me, I never liked gyms and would never think of going to one like this. But going to a trainer gave me skills and security where I feel comfortable in a big gym setting, and know how to use it. I've only been twice so far, but I love that it's 24 hours and only two miles from my home. I went to the pool Memorial Day weekend and wore a bikini (this top and this bottom) and felt pretty great. I'm not a lot smaller, but working out has just changed my relationship with my body while also firming it up.
If you're not part of the Wardrobe Oxygen community on Facebook, come join us! Great conversations about where to find tall plus size pants, no-show socks that don't slide down, swimsuits for large busts, skincare, and more. It's a community of intelligent, kind women who support one another and I learn from them every day. We'd love to have you! And with that, my links for the week…
If you received this post in your email inbox and didn't want it… I am SO SORRY. There was a glitch with my email subscribers and you may have just been signed up for the Style File (which is on pause and these emails are replacing it). Please just click unsubscribe at the bottom of the email. The last thing I want to do is spam you and I apologize for it. But for those who have told me in the past two weeks you stopped getting daily email updates, at least I think this will have resolved it!  Ack!
Historic Ellicott City, Maryland has been on the national news for the severe flooding that took place this past weekend. What's even worse is they experienced a similar flooding just two years ago. It's so devastating, these independent restaurants and shops have been spending the past two years rebuilding to have it literally all washed away. I can't imagine how these small businesses will handle the costs, future insurance, and rebuilding.  This is a Go Fund Me for a mother-daughter owned boutique in Ellicott City that just opened a few months ago. When I worked in nearby Elkridge over a decade ago, we'd sometimes go to La Palapa for happy hour and I often met friends there for dinner; this is a Go Fund Me for the employees of the restaurant. This article lists all the Go Fund Me pages for the independent businesses. Ellicott City Partnership is a non-profit relief fund that started after the last flood. Unlike the Red Cross and United Way which focus on humanitarian efforts, this fund can give money to businesses devastated by the water and all donations are tax deductible.
This week I completed Educated: A Memoir by Tara Westover. Wow, what a powerful story. This was a book I could NOT put down.  I have no idea why people are comparing it to Hillbilly Elegy; I read that as well and there's nothing similar except that both authors came from families who hadn't gone to college. This is the book to read if you feel that your past is holding you back. I finished it inspired.
Speaking of books, I'm looking forward to reading Number One Chinese Restaurant once it comes out next month.  With such positive reviews, and growing up with a couple friends whose parents owned Chinese restaurants in towns near Rockville, Maryland, I couldn't resist preordering it for my Kindle!
I love when you all recommend items and brands to me, I get the best tips from you! Reader Susie told me about the bag brand Quavaro and they look fantastic.  The Washingtonian reminds me a lot of my ALLSAINTS bag but for a much nicer price. Have you tried this bag brand?
If you haven't read this piece in The Cut about grifter Anna Delvey, grab a cup of tea or coffee and settle in. It's a fascinating read.
A few of you have DMed me on Instagram asking about my iPhone cover with a strap. It's from Bandolier and it's amazing. It also has a pocket for a couple cards so you can go without your heavy purse for a concert or festival. I have this one specifically, I had this one for my old larger phone (saving if I get a iPhone plus again in the future), but all of them are fabulous.  Here's a variety on Amazon, and a bunch of different styles at Nordstrom.
You know when you see a blogger wearing an outfit and you can totally see yourself in it? Yeah, I felt that when I saw Beth wearing this look in Siena. I love everything about it.
Like I really need another striped shirt… but this one is super cute and different from every other one I own!
Millenial pink isn't going anywhere, though everyone swore this year would be the year of yellow and lavender and maybe lime green?  An interesting piece about color trends.
Instead of another to-do list, how about a not-to-do list? I need to practice this one myself; many smart tips that when I do them I do feel better and I'm more productive…
Have you ever stopped to think how much time you're spending on social media? Instagram will be rolling out a feature to inform you of just that and they're hoping it will encourage healthier habits and improve well-being.
When the event and the influencer are a perfect match… I loved reading about Brenda's part in Stand Up for Heroes with Chico's and Lee Woodruff.
And for your listening enjoyment… when you email me asking for a Rothy's flats promo code and have your name in the domain of your email, I'm going to check it out. Bora Yoon, your art is genius and I hope you love your shoes!