This article may contain affiliate links; if you click on a shopping link and make a purchase I may receive a commission. As an Amazon Associate, I earn from qualifying purchases. 
I have made some recent purchases from Ann Taylor, here's my reviews of the pieces!
As soon as I saw this dress in the store I HAD to have it! Unfortunately they didn't have my size in the store. However the next day, Ann Taylor had 40% off and free shipping so I got it online. I ordered a 12 Petite, since that seems to be my standard size with this company.
The dress is exactly in person as it looks on the model – intense cobalt shade, nice weight of ponte, cute hip pockets, exposed back zipper. However, it runs small in the arms and bust. If I had a smaller chest (we're talking a B), and therefore smaller arms, as 12 Petite would have fit – it looked great everywhere else. So I exchanged it for a 14 Petite, which I love and have now worn twice. I think it looks cute with bare legs, will look great with black opaque tights or boots, and come spring will still look sassy.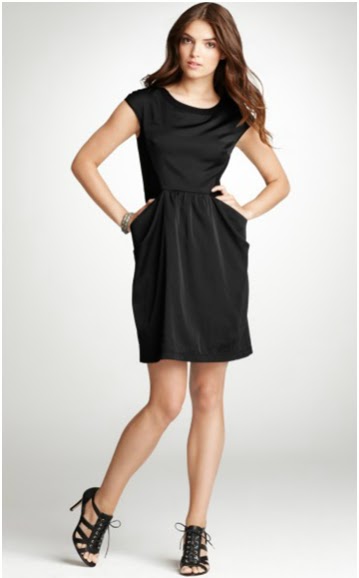 I wore this dress here and I really like it. It has an unusual silhouette, is stretchy and comfortable, and can dress up and down with ease. I wore it with a wide belt, but also think it looks great (and more dressy) without a belt, or could use a skinny belt for a pop of color or shine.
I got this dress in a 12 Petite and almost considered trading it for a 12 Regular – it runs a bit short in the waist. However, I stuck with petite because it fit so well in every other location.
I got this in a 12 Petite and had to struggle for several minutes to get it zipped up, Once on, it looked ridiculous – too tight in the body, gaping at the armholes, waistband a hair too high on the waist yet the length was still to the top of the kneecap. Would be cute maybe on a straighter figure. I also found it to be a bit too casual – I thought it would be a pretty dress for a wedding, but on the fabric looked more work-appropriate (though the silhouette really isn't).
Not sure what I was expecting with this skirt, as I already own a blue ponte skirt from Halogen (here). This skirt is a gorgeous cerulean blue – different from my cobalt ponte skirt. It is also shorter – same length as my orange Ann Taylor mini skirt. The waistband is invisible – a band of wide elastic inside and a back zipper. Cute… but a very simple thin ponte skirt free of lining, details, or anything making it more special than the one I have from Halogen. I also find the $78 pricetag to be a bit ridiculous – again, there is no lining, no fancy silhouette or details. You could find a similar skirt at any other retailer for around $50.
It doesn't shed glitter everywhere, and like all my other belts from Ann Taylor it is well crafted. Fits true to size, is sparkly without being too blingy for work. Would be cute with a simple black shift or in the beltloops of gray tweed trousers.
Returning because… well I just don't need it. I got it at 40% off, but still don't see the need for such a belt in my wardrobe at this time.
Have you taken advantage of the recent Ann Taylor promotions? Any great purchases?
Follow Me | Twitter | Facebook