This article may contain affiliate links; if you click on a shopping link and make a purchase I may receive a commission. As an Amazon Associate, I earn from qualifying purchases.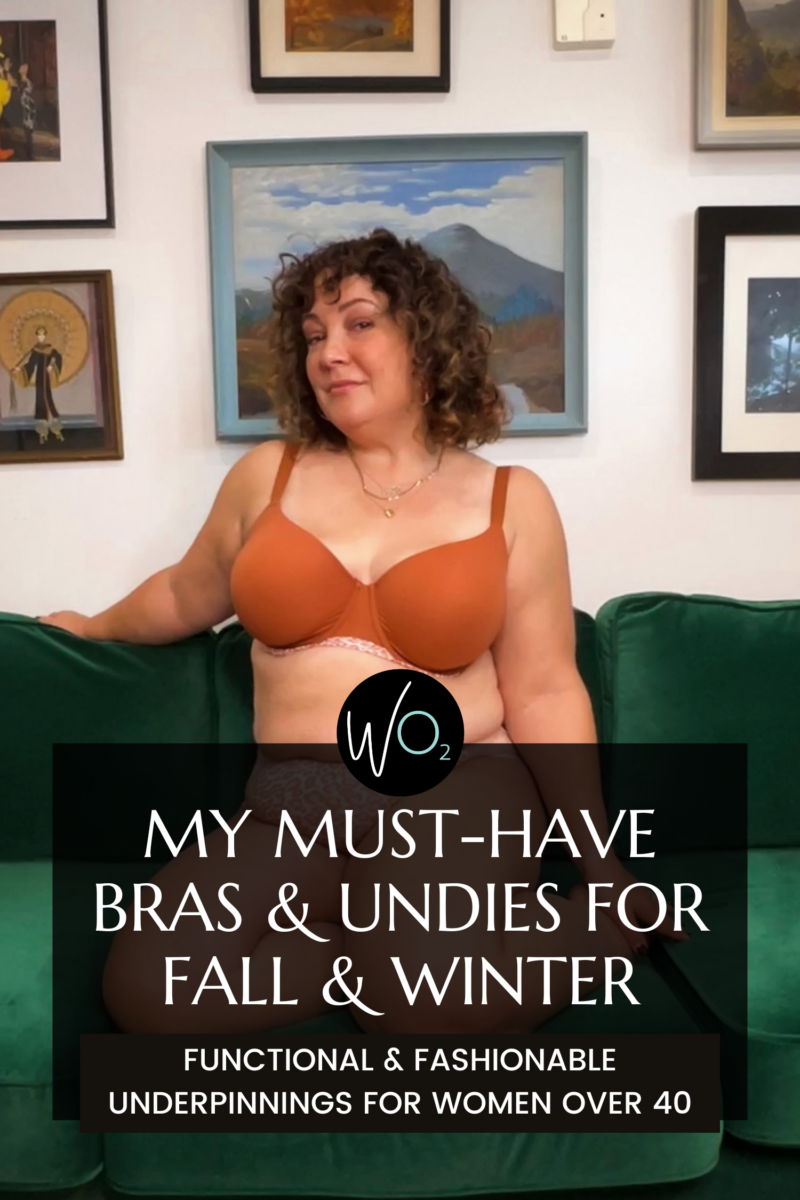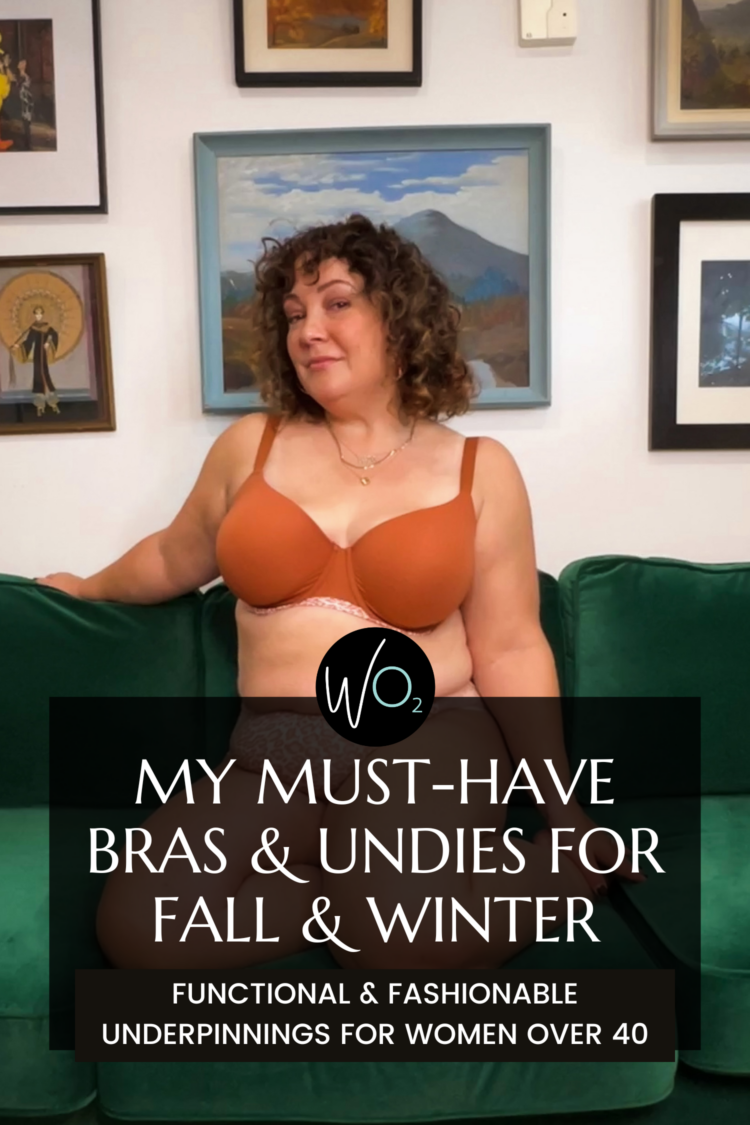 As a grown woman with a large bust and soft curves, I know that the right underpinnings make allllll the difference. A good bra can transform my body, increase my comfort, make my clothes fit better. And the right underwear can have me go from underbelly roll/segmented torso/wedgie-ville to undetectable, hardly notice I'm wearing everything looks better-ville. I know not all bras are created equal but price doesn't always equal quality, fit is personal, and that if I am looking for a good range of quality intimates available for my size and shape, I'm just going to head over to Bare Necessities.
I know I have discussed a lot of intimates brands over the years, and some I adore for specific things, but I have been shopping Bare Necessities for over a decade and it's my go-to for a great range of sizes, styles, brands, all with an amazing number of detailed customer reviews and painless shipping and returns. Bare Necessities also started a new loyalty program that's free and offers perks like free shipping and birthday gifts.
This is not a sponsored post, it's just a love letter to a retailer I have relied on for so long, and a PSA for those of you looking for a reliable intimates retailer that will offer the tools to help you make the best online purchase from one of the hardest categories to shop online. However, do know affiliate links are used and Bare Necessities has gifted me product in the past.
My Must-Have Intimates for Fall and Winter
T-Shirt Bras (one in skintone, one in black)
I wear a t-shirt bra more than any other bra. A t-shirt bra is smooth, usually slightly padded or a molded cup, free of lace and decoration so it virtually disappears under t-shirts and lightweight knits. I find a t-shirt is a good everyday bra. It disappears under light colors, doesn't have texture under thin fabrics, sweaters slide over them easily, and if you get the right fit they're comfortable too.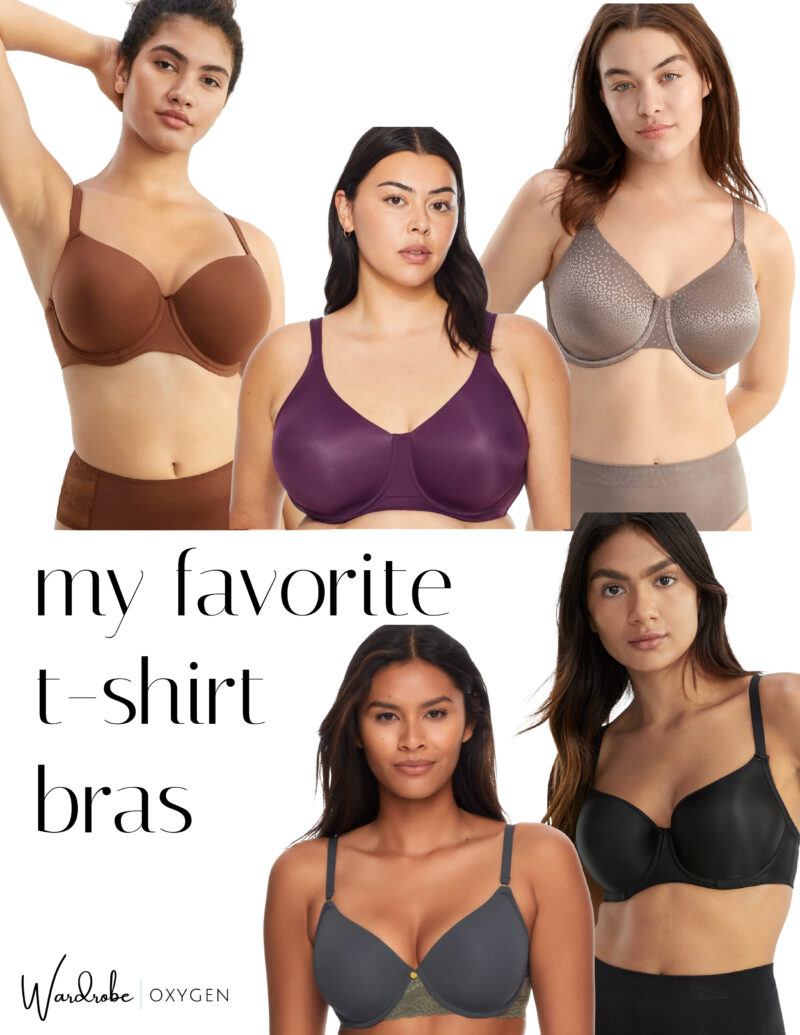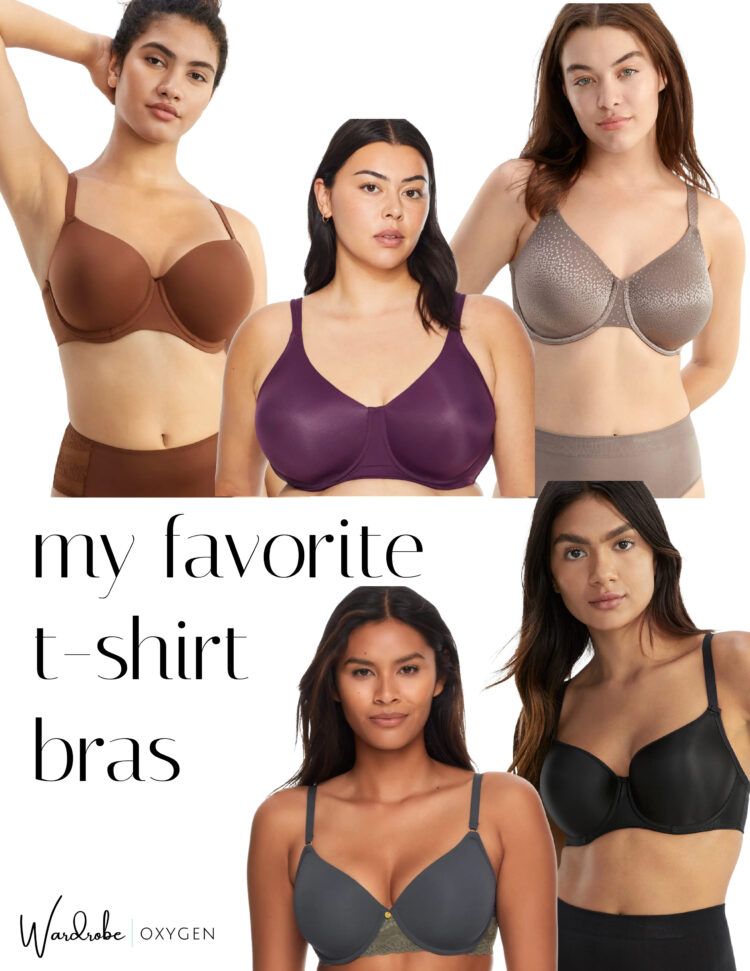 I have bought the Fantasie Smoothing T-Shirt Bra for eons. It's pretty perfect, in my opinion, having a molded cup that isn't too padded and spongey, a clean design that looks chic if peeking through sheer blouses or under a blazer, lower cups and plain straps so it works with a broader range of shirt and dress styles.
If you desire a comfortable t-shirt bra that gives a smooth finish in front and back, the Wacoal Back Appeal Seamless Bra is pretty awesome and has a broader range of colors. Bare Necessities sent me the Bare by Bare Necessities The Favorite T-Shirt bra a couple of months ago and it's a comfortable and stylish option I find disappears under clothes. If you want pretty with your practical, the Natori Bliss Perfection T-Shirt Bra has gold hardware and lace trim while still disappearing under lightweight knits. And if you're looking for a great range of band sizes, the Leading Lady Brigitte Smooth T-Shirt Bra comes in bands 36-54 with cups A-G
I always have at least one t-shirt bra in a color that is close to my skintone. While I am pale enough to find the beige color works for me, I've also learned that non-skin colored bras can also virtually disappear. While I haven't found red bras to disappear under white for me, I do find that mauve, gray, and terracotta colors do. For darker skintones, check out maroon, plum, and navy as alternatives. I then have a solid black one to wear when peeking out of clothes, and to wear under black knits so there's no show-through.
Wireless Comfort Bra
Especially when the weather encourages heavy knits, layers, and loose silhouettes, I'm all about a comfort bra. Even with a great fit, a traditional bra can feel restrictive when relaxing at home or running errands.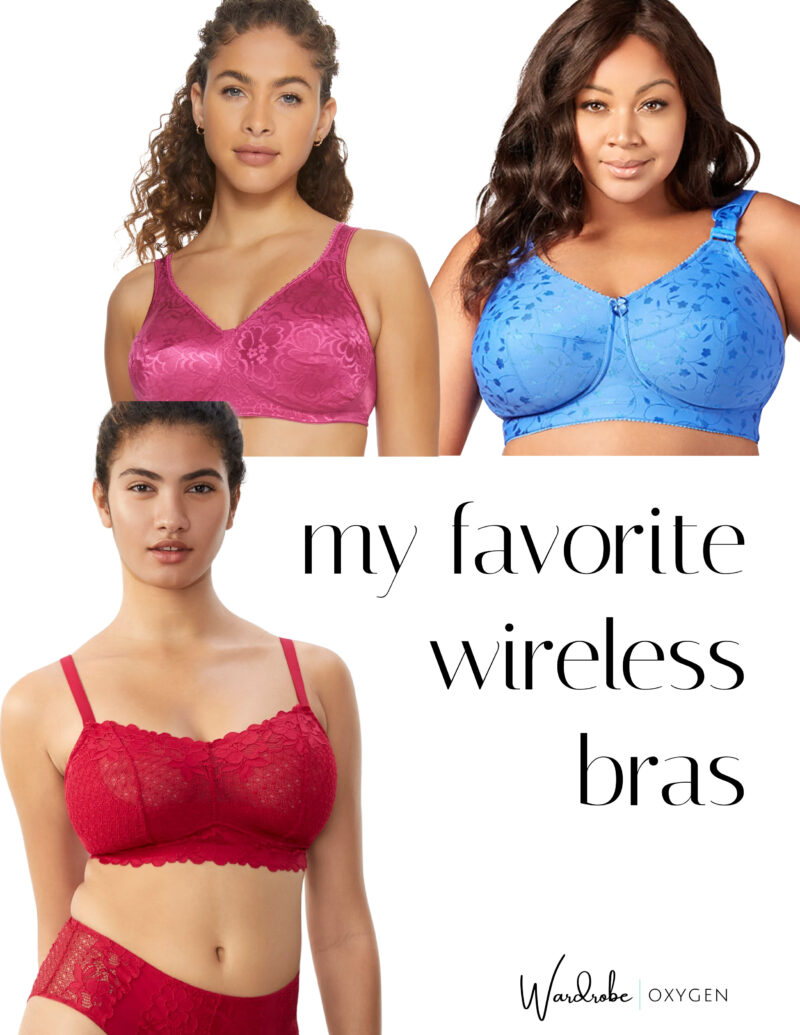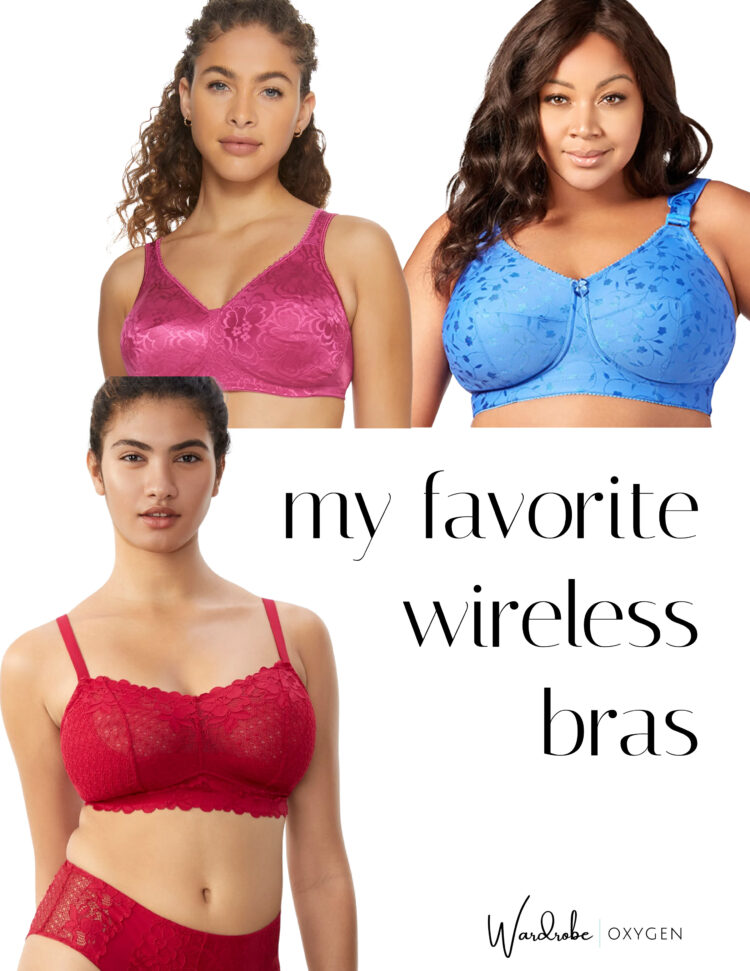 I am pleasantly surprised by the Playtex 18 Hour Ultimate Lift and Support Wire-Free Bra. I hadn't thought of this brand in years but saw it at Bare Necessities and decided to give it a try. I was impressed by the shape I got from it while it also being quite comfortable. I find it is a lot of coverage; I can't wear this with a v-neck or a tank but it's great under fall and winter sweaters and sweatshirts.
For comfort and a fantastic size range for a wireless bra, check out the Elila Sidney Jacquard Wire-Free Bra which comes in bands 34-52 and cups F-O. For a pretty lacy bralette that can support slightly larger breasts (it was cute on me but I wouldn't leave my home in it) consider the Bare by Bare Necessities The Essential Lace Curvy Bralette.
Strapless Bra
When you find a great strapless bra, baby that thing. So many are uncomfortable, don't stay up, don't provide good shape… and did I mention they're uncomfortable? But a good strapless bra extends your wardrobe and provides confidence in more complicated outfits. Especially in fall and winter, I love the drama of a bare shoulder or a creative neckline that doesn't work with a classic bra.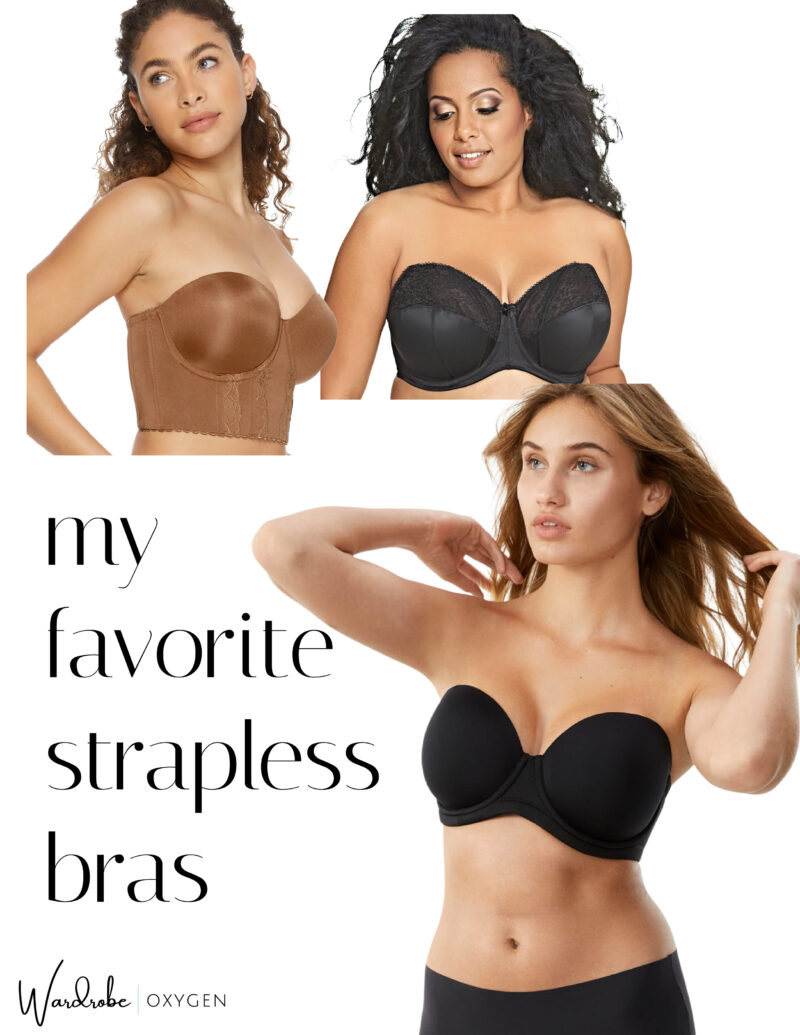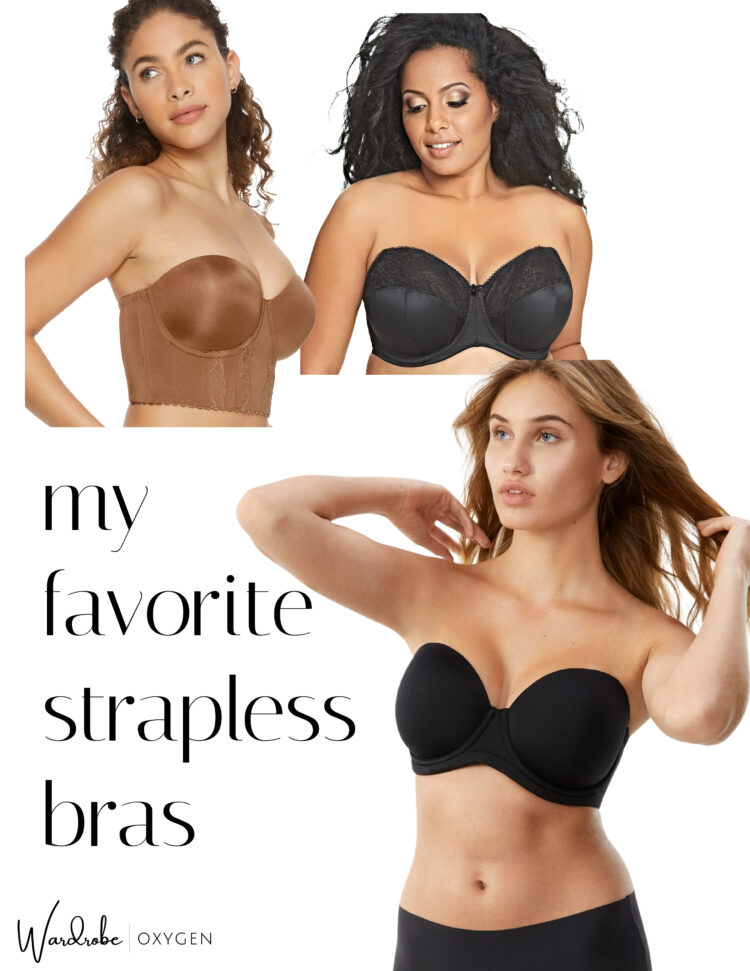 The Wacoal Red Carpet Strapless bra is a classic for a reason. Wacoal managed to create a strapless bra that doesn't weight a ton, doesn't feel like armor, yet can lift and separate even larger breasts. Bands 30-44 and cups B-I means this strapless bra can fit a broader range of bodies than most.
If you prefer the added support of a longline bra, the Parfait Elissa Longline Strapless Bra is a customer favorite for a reason. And for those looking for a broader size range, the Goddess Adelaide Strapless Bra comes in bands 32-44 and cups DD-L.
If choosing a single strapless bra, I recommend black unless you're wearing something light-colored. More than once my clothes have shifted to have a hint of my strapless bra peek out and it looks far less lingerie-like to have a sliver of black than a sliver of beige or brown.
Sports Bra
For those of us with heavy breasts, we know not all sports bras are created equal. We need a bit more hardware, our athletic gear looking more like other items in our intimates drawer, and some smart design to reduce bounce. On Bare Necessities, they have Bounce Test videos where you can see models jumping in the bras to see how they perform.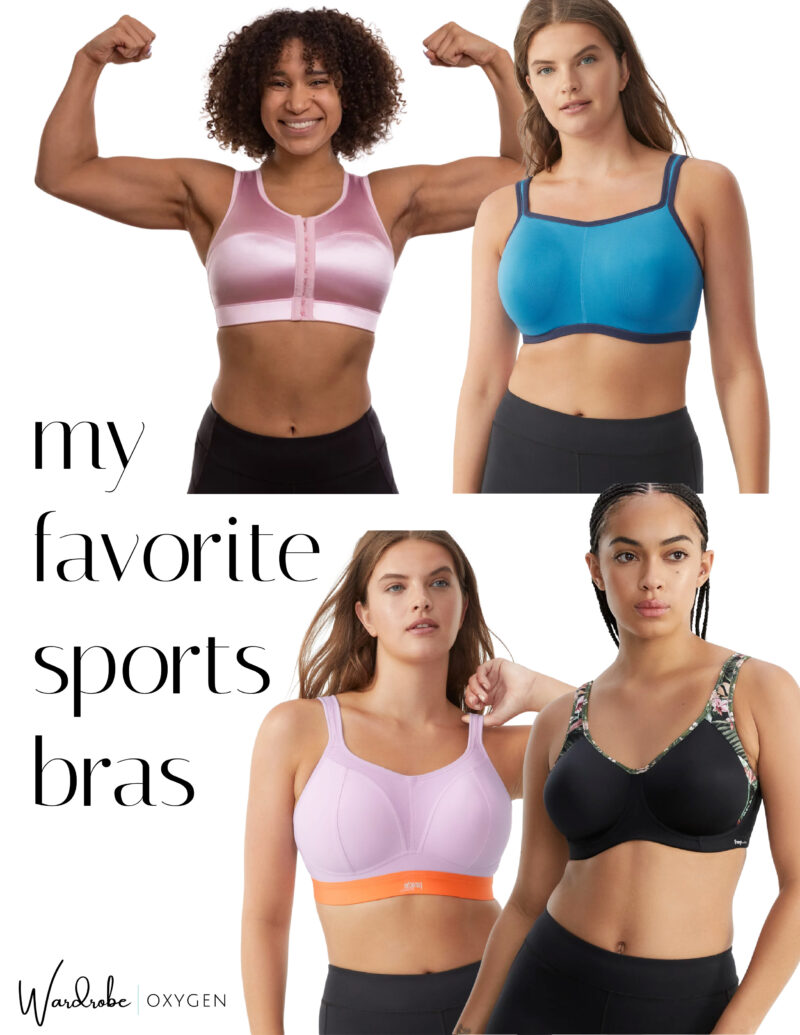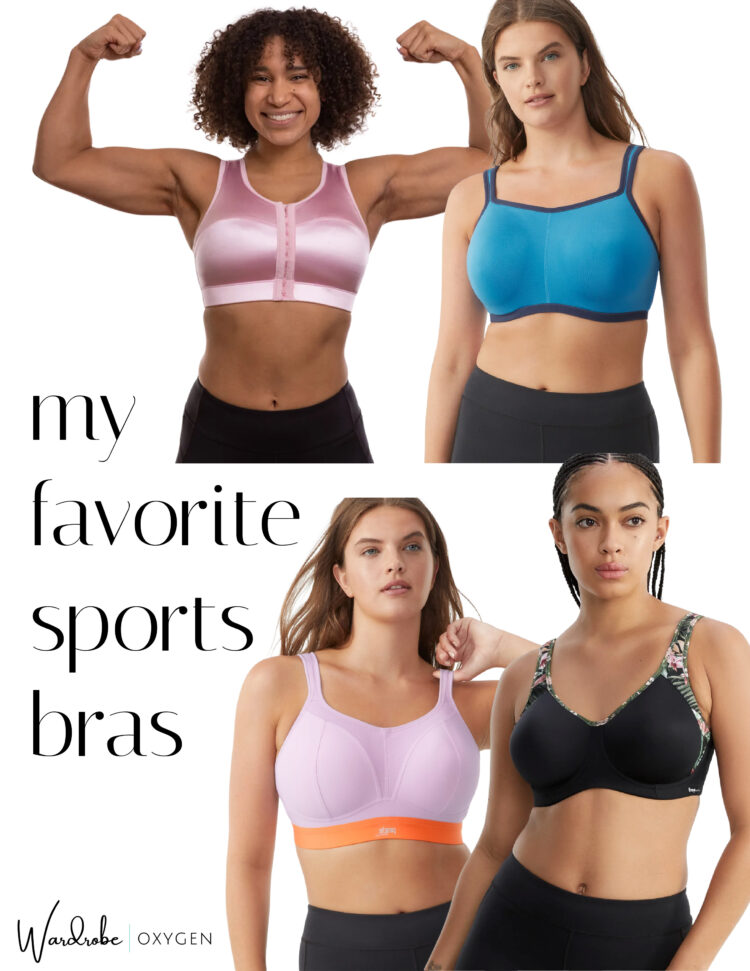 My personal favorite sports bra is the Freya Sonic High Impact Underwire Sports Bra. I no longer buy any other style because this one is comfortable, supportive, and still gives me great shape. I wear them for all activities, and anytime I may not need the bounce support but want a bra that I don't mind getting sweaty in. I love that they have the function of an underwire bra but color combinations that look sports bra enough that it could be worn without a shirt over it.
For a wire-free sports bra that still offers plenty of support for large busts, check out the Panache Medium Control Wire-Free Sports Bra which looks good and performs great. For those who desire the least amount of bounce, you can't go wrong with the Enell High Impact Wire-Free Sports Bra which is a serious piece of hardware, but disappears under activewear and will help you survive running, jumping, or most any activity. The Natori Yoga bra is a popular one with the Wardrobe Oxygen community for it's jiggle reduction and looking like a "normal" sports bra.
No-Show Underwear
In fall and winter I wear a lot more pants and tailored bottoms, and I do not want VPL (visible panty lines) but I do want comfort and a smooth finish. While I find the Soma Vanishing Edge to be the G.O.A.T. I also have some winners from Bare Necessities
The Bare by Bare Necessities Everyday Lace Hi-Cut Brief is lightweight and comfy while pretty and a seamless back that stays in place. I have a couple of pairs I like for everyday. The Easy Everyday No Show Full Brief from Bare by Bare Necessities is also pretty great; a lot of brands sell similar but the sizing is so weird (one size for 0-14?) but these come in XS-3X and in a cool range of colors and prints. The same undies also come in a hipster cut.
Shapewear
Gone are the days where I'm shoving myself into two pair of Spanx to try to look a half size smaller, but I'll admit some outfits just look better with foundation pieces that smooth the figure without being so tight as to cause gas pains. I don't wear it often, but these are the pieces in my intimates drawer:
TC Fine Intimates makes this open bust bodysuit with shorts and it is amazing. No seams so it's smooth under clothes. The legs have silicone strips to prevent rolling, there's a gusset so you don't have to remove it to use the bathroom, and it works with whatever bra you wear. The shoulder straps mean a seamless effect from bra band down and you don't have to worry about a waist rolling or shifting. I find it comfortable to wear and it's my go-to under dresses and skirts.
Spanx has a similar open bust bike short bodysuit that I also like. It's thinner in some places like the legs, more controlling in others, but relatively comfortable. This is the link to sizes S-L; this is the link to plus sizes.
For pants, I like the Maidenform Tame Your Tummy High-Waist Lace Brief. Available in S-2X, this goes all the way up under my bra band and has lace leg openings that don't show even with unlined trousers.
Leakproof Underwear
I still have my period; I rely on a menstrual cup, but at night I like leakproof underwear. I bought a Saalt menstrual cup earlier this year and liked it so much I bought their period underwear. So I was psyched to see that Bare Necessities carries Saalt leakproof undies. Saalt is a woman-owned sustainable B-corp company that gives back with every purchase.
Currently, Bare Necessities only carries Saalt in S-XL; the brand carries XXL on their website. I wear an L with Saalt and find these to be comfortable but also reliable. Having soft curves, I've found such underwear either digs in at the leg openings or is loosey goosey accomplishing little. I am partial to boyshorts for sleeping.
Bare Necessities also carries leakproof underwear from Proof, Le Mystère, and Bali. I have no experience with those other brands.
Why I Rely on Bare Necessities
I know I am pretty average; even though I am the average height of a woman in the U.S. I am considered petite and find most brands are too long to fit. I am the average clothing size of a woman in the U.S., yet I constantly encounter brands that refuse to create for those my size and larger. Hell, even the average age of a U.S. woman is in her 40's yet intimates brands seem to think only young firm people are shopping for bras and other intimates.
I appreciate how at Bare Necessities, reviews can include a person's age range and body type. I know Bare Necessities curates their collection to quality brands and products, even if that brand isn't trendy or premier. Yet at the same time, I know I'm going to find the newest styles and quality brands. I feel Bare Necessities "gets" that their customer base is varied in age and offers a good range of items that could work whether you're 22 or 72.
I dig that if I see something at a department store not available in my size, I can usually find it in my size at Bare Necessities (and in a better color range). And I dig that when Bare Necessities decided to come out with their own line, they had the bras available up to 42H and 3XL. The company offers assistance in measuring yourself, a tool to help you find the right style for your needs, and a page of guides and glossaries to help you be an informed consumer.
Shipping is free for orders $70+. They do international orders with an updated site that shows items in your currency. Returns are within 60 days; mailing labels are $6.95 but the process is very easy. Items come carefully packaged, usually in a box instead of a bag so molded cups don't get smashed.
Yes, I still love Soma Vanishing Edge undies, and Bravissimo is amazing and I am wearing one of the brand's bras as I type this. I regularly wear my Evelyn & Bobbie Defy bras (I now have three) and am not immune to trying the newest product or brand on the scene. But Bare Necessities continues to be my favorite place to go for a great range of swimwear, bras, underwear, and shapewear available in my size.