This article may contain affiliate links; if you click on a shopping link and make a purchase I may receive a commission. As an Amazon Associate, I earn from qualifying purchases. 
As you Instagram followers know, this weekend I went to Rehoboth Beach, Delaware for our annual Girls Weekend. Each August, me, my mom, my sister, and Emerson head to the shore for a weekend of sun and fun and created many traditions and memories over the years.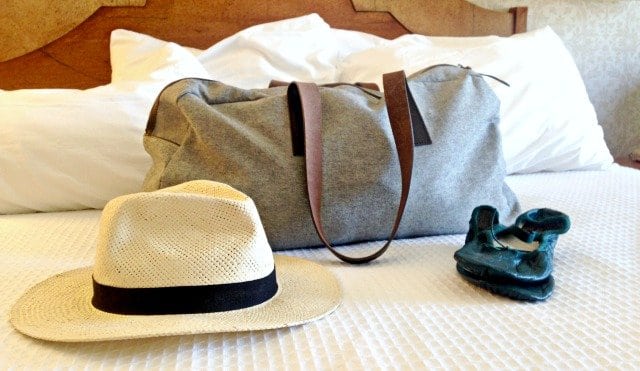 What I Packed:
Each year we stay at The Avenue Inn, which becomes a better and better hotel each year we stay. The price is extremely reasonable for the amenities. Underground parking, pool and hot tub with sundeck, only a block from the beach, onsite day spa and lounge, wine and cheese happy hour and homemade chocolate chip cookies in the evening, and a free hot breakfast.
The past couple of years we have chosen a suite that has a pocket door to a small room with pull-out couch; we'd have Emerson sleep there so it can be dark and quiet while the caregiver can watch TV in the other room. This year, the hotel was out of suites by time we booked so we got a room with two queens and the pull-out couch. Now that Emerson is five, this wasn't an issue and I think we'll stick with this sort of room from now on.
We got to Rehoboth around 1pm and our room wasn't ready yet. They gave us a permit so we could park in their garage and we went to get lunch. We didn't want anything fancy so we stopped at the Seafood Shack which was right on Baltimore Avenue for some good people watching in the shade. Once our room was ready, we unpacked and headed to the pool.
I'll admit, the most upsetting part about still having this cast was thinking of going to Rehoboth with it. I couldn't go in the pool or the ocean, sand would get in it, and I couldn't enjoy all these fun moments with Emerson. I ordered most every waterproof cast cover on the market and have tried them over the months and most aren't very reliable. However, I ordered the DryPro and while it's INSANE looking (those of you who follow me on Instagram got a preview) and heavy and huge and hot, it did survive a bath and several showers without leaking. I wore it in the pool Friday afternoon and was able to play with Emerson for a bit (before I got paranoid, felt moisture and went out into the sunshine to dry my cast – still not sure if it was sweat or a leak).
What I Wore: Freya black and white polka-dot halter underwire bikini top, dark indigo Lands' End Swim Mini

After the pool we went to Adriatico, where we go for dinner every Friday night. Our table wasn't ready so we went to the beach until we were called. We ended up with a table outside and the weather couldn't be better. We ordered a bottle of wine, Emerson had a pepperoni pizza and I enjoyed, just like last year, steamed mussels and spinach sautéed in olive oil. After dinner my mom took Emerson back to the hotel to go to bed and my sister and I went out on the town.
What I Wore: Blue knit dress c/o Kika with silver Birkenstocks. This dress was perfect because it's casual fabric (jersey on top and French terry on the bottom) so it looked pulled together but not too fancy for the boardwalk.
I haven't drank much in a while, and after wine at dinner and a cocktail or two at a bar I was… well having fun. It was a fun evening but it always is at Rehoboth; the people are super nice and chill and the bars are never pretentious. I believe we were back by midnight.
Unfortunately, my drinking made me a late riser. No morning walk for me, and we ended up having a late start for the day. After breakfast in the hotel lobby, we packed up for the beach. The Avenue Inn loans out beach chairs and towels and has a 10-seater golf cart to shuttle guests to and from the beach. We got to the beach around 10, rented an umbrella, and set up camp.

I couldn't go in the water and Emerson didn't want to go anywhere near it, so we mainly stayed at our chairs. The weather was again spectacular, not too hot with a lovely breeze. We made sand castles and dug holes and buried Emerson's bottom half and my sister shaped the sand like a mermaid tail.
What I Wore: Lands' End Paisley Bikini, Gap shorts, J.Jill white big linen shirt as a coverup, My Morning Jacket tee there, J. Crew Factory panama hat
For lunch, we went down the block to the Rehoboth Ale House because it was close, no line, and we knew they'd have kid-friendly food. We had no idea how kid-friendly it was. Kid menus were on the backs of Etch-a-Sketches, and they had a bunch of pub games like tiki toss and rubber darts. There were several kids in the bar having a blast together playing games until the meals arrived. I had a Crab Louis salad with balsamic vinaigrette but my sister's burger looked divine.
After lunch, Emerson was DONE. She was head to toe sand and tired, so we went back to the hotel to hose her off, all of us shower, and cool off. We wanted to get to dinner a bit early to have time for Funland, so leaving the beach was actually a good thing. Once we were all cleaned up we headed to Claws.
What I Wore: Black LOFT sundress (worn the same night of my Rehoboth trip last year – see here), silver Birkenstocks
If you get to Claws before 6pm, there's a lobster special. My mom LOVES lobster, and loved that though there was a wait for tables we were seated just in time! My sister and I shared a dozen crabs and the three of us shared a bottle of Sauvignon Blanc. Emerson has become quite the Maryland Girl and loves crab, I think she likely ate an entire crab all by herself!
Crabs take a while to eat, and though Emerson was trying to be patient she was getting antsy. Debbie and Emerson left for Funland while my mom and I stayed to settle the bill. We left as the sun was setting, the sky was all purple and everything seemed to glow. A band was performing Motown hits in the gazebo and people were dancing. We slowly walked through the crowds, remembering why we love Rehoboth.

And then Funland. Wow. Seriously, don't go here is you can't handle large crowds, loud noises, bright lights, or crying children. But if you're a kid or a kid at heart Funland is AMAZING. We found Debbie and Emerson and Em was grinning from ear to year, fresh off a ride on the teacups, showing off the stuffed cupcake she won at a game. Em and I went on a plane ride and a mini Ferris wheel and played a couple games where she won a little soccer ball hackey sack that might as well have been a diamond ring, she was so thrilled. Around 9:15 it was way past Emerson's bedtime so we slowly walked back to the hotel. I did indulge in a small Kohr Bros. orange/vanilla twist but passed on the cookies in the lobby.
I think we figured my mom would stay and watch Emerson while Debbie and I went back out, but after reading Emerson her bedtime story, I curled up next to her to kiss her goodnight and next thing I knew it was midnight and all four of us were in bed asleep! I got up to take out my contacts and brush my teeth and went back to snuggle with Emerson.
The next morning my body woke me at 5:30 so I got up and went for a walk. I did an hour on the boardwalk and through the streets admiring the fancy beach houses. I came back to the hotel to get a cup of coffee to take to the beach, but stopped up at our room to see if anyone was up yet. My mom was up and she dressed, got her own cup of coffee and we went to the beach to watch the waves and chat.
What I Wore: My Old Navy athletic shorts, a pink Old Navy Vintage v-neck, my New Balances, and a little reflective fanny pack/waist wallet I picked up at TJ Maxx (similar) to hold my phone, room key and ID.
By time we got back to the hotel, Debbie and Emerson were up so we got dressed and went to breakfast. After breakfast we returned to the room to gather our things and pack up the car.
What I Wore: Navy and white striped boatneck from Lands' End (years old, similar), my Target distressed denim shorts (seen here), silver Birkenstocks
We left the car in the garage and roamed around the Rehoboth boutiques. Emerson got a stuffed owl and I bought a cute dishtowel. We then drove to the nearby outlets where my sister got a Kate Spade bag and my mom scored some deals in Chico's and Talbots.  Before we left Rehoboth, we stopped at the Surfing Crab for lunch.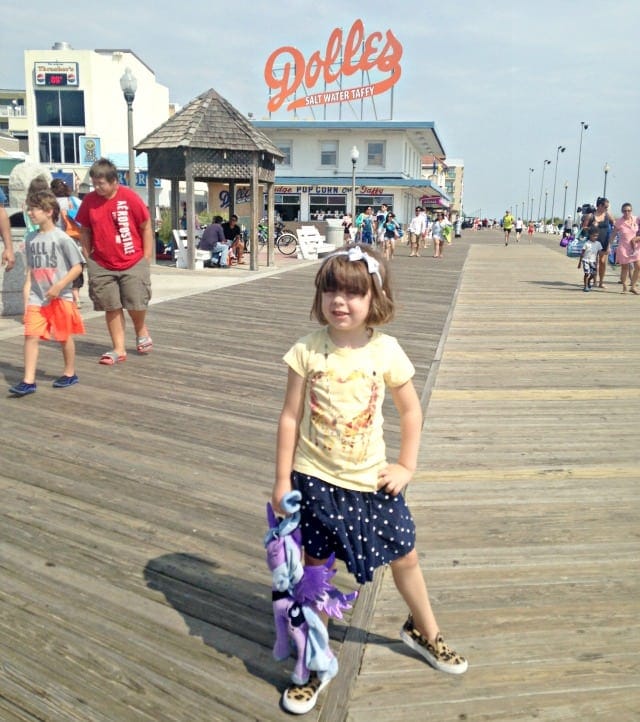 I think next year we need to arrive earlier and plan to stay a bit later. With Emerson being an individual with her own interests, it's hard to fit everything into one short weekend. But even though it was short it was quite sweet and I can't wait to go back next year!