This article may contain affiliate links; if you click on a shopping link and make a purchase I may receive a commission. As an Amazon Associate, I earn from qualifying purchases.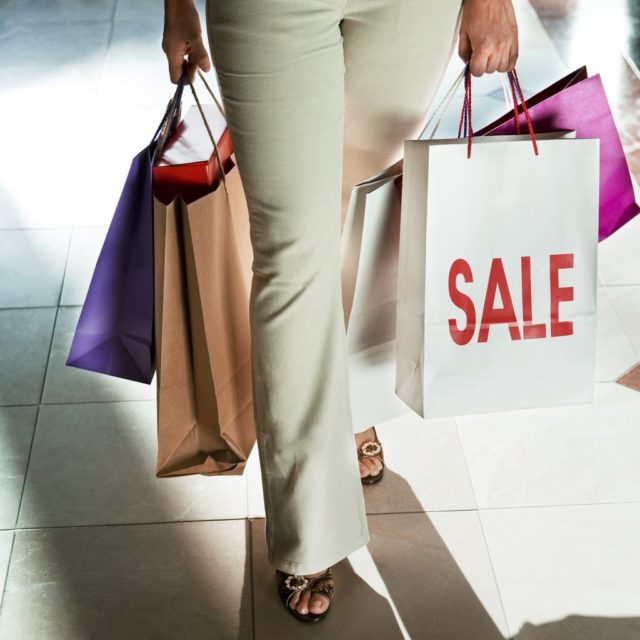 I am a huge fan of shopping online. Many women hate it because you can't try before you buy, but I love it because it helps me keep on track.
Lately I have been shopping in stores to find proper clothes for my upcoming vacation. It will be hot so I am trying to find lightweight sundresses. I will be attending a music festival, so I have been looking for hippie-esque florals, embroidery, gauzy fabrics. This isn't my norm. To add to this, my figure is still in flux after having a baby last year. The breasts are a different shape and size, the arms are smaller and firmer from hoisting a toddler, but the tummy has yet to return to its original size. Shopping outside my favorite online brands and retailers, trying on in fluorescent-lit cramped fitting room and searching for a style outside my personal norm is making me feel a bit like a fish out of water.
And it is making me get very close to a couple retail mistakes.
Today at lunch, I stopped by Filene's Basement. I grabbed a handful of sundresses, a few pairs of Bermuda and city shorts, and a couple breezy summer tops in fun prints. I got into the cramped, smelly, dirty fitting room and tried on their first top. Hideous – too tight in one place, gaping in another. I looked at myself in the reflection, and hated what I saw. This morning (and even in the office rest room before heading out) I saw a pretty woman with beachy waves in her hair, soft pretty makeup, a feminine figure. In my own white trousers, but paired with this wardrobe monstrosity, I felt old. And fat. And saggy. My shoulders slumped.
I tried on a navy jersey tunic with embroidery at the wrists and neckline. The colors were a bit subdued, but it didn't make my body look terrible. The embroidery was dark red and ivory; I don't own any ivory pants to make it a nice work outfit. Guess I could pair with jeans. I don't need any tops to wear with jeans but it's kinda cute and only $19.99. I put it on a separate hook, planning to purchase it.
Next, I tried on a purple jersey dress – it had a surplice neckline, elastic at the empire waistline. It sort of looked like a night gown, and actually resembled the silhouette of my navy dress that I wore in this post. However the shoulders rouched and had ties which added interest. The purple color was not my favorite, but it was flattering. I could pair it with a wide belt over the elastic waistband… it's only $29.99. I could wear it on the drive down to the music festival and be comfortable in the car. I could wear it to work with the belt and some heels. I could jazz it up… it was put on the hook with the navy tunic.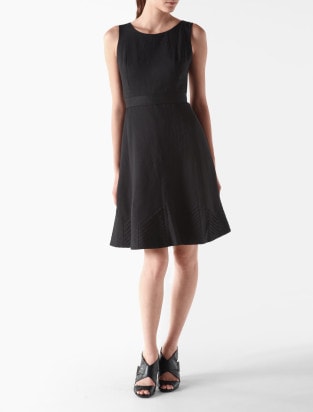 Then I tried on a dress from Calvin Klein. It was black with a round neck. Sleeveless, fit and flare with a self belt and origami-like folds at the hem which added interest and a bit of stiffness to enhance the fit and flare silhouette. The fabric was a slightly textured cotton, the dress fully lined. It was one size too small – I could zip it up but it was way too tight. But this dress… it was me. THIS is my style – clean, simple, modern, classic with a touch of interest. I am not a faded navy bohemian tunic with jeans. I am not a grape-colored nightgown that I struggle to make sassy.
I should have known – I have other pieces from Calvin Klein in my wardrobe that are just as flattering to my figure as well as my personality.
I returned every item to the fitting room attendant. I went back and searched for the Calvin Klein dress in the next size, but it wasn't there. But that too-small dress reminded me of who I am.
Don't get lost in the sales, and remember that crappy lighting and poorly fitting clothes do not mean you are any less beautiful. There is nothing wrong with having some brands or retailers that you shop at exclusively. It's better to have a small collection of pieces that love you, respect you, and tell your story correctly, than a large collection of pieces that require work to fit you – be it your body, your lifestyle, or your soul.
There are clothes out there that can work for you. Don't settle. If things are almost right, consider a tailor or seamstress to get them to perfect. Buy that item and then try it on at home in proper lighting with proper undergarments and footwear. Variety is not the spice of life when it comes to a hard-working and reliable wardrobe. Style comes from knowing yourself and your body, not from having a rainbow in your closet. If you don't know who you are, take a friend or relative shopping with you. Search online for celebs or fashion bloggers who have similar figures to you. You can also refer to this post for some help in finding your personal style.
Don't sacrifice yourself for a sale; don't choose quantity over quality, and never forget who you are inside.