This article may contain affiliate links; if you click on a shopping link and make a purchase I may receive a commission. As an Amazon Associate, I earn from qualifying purchases.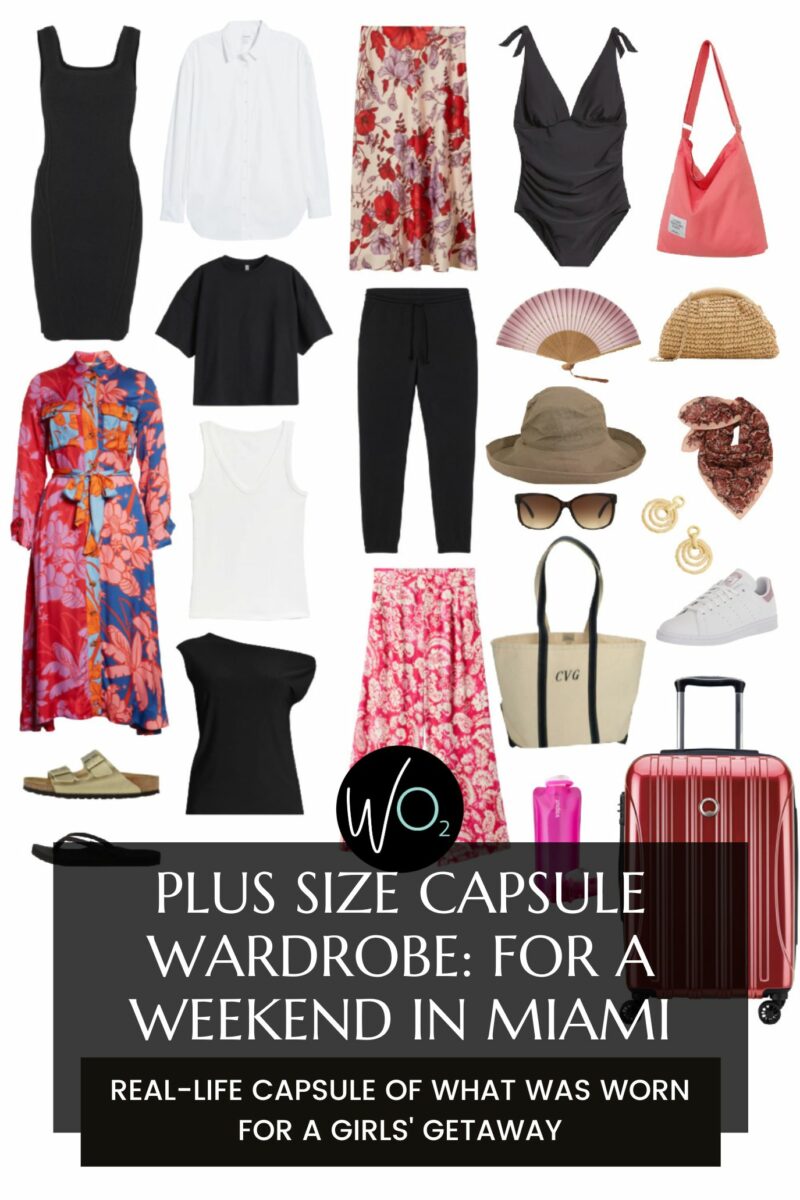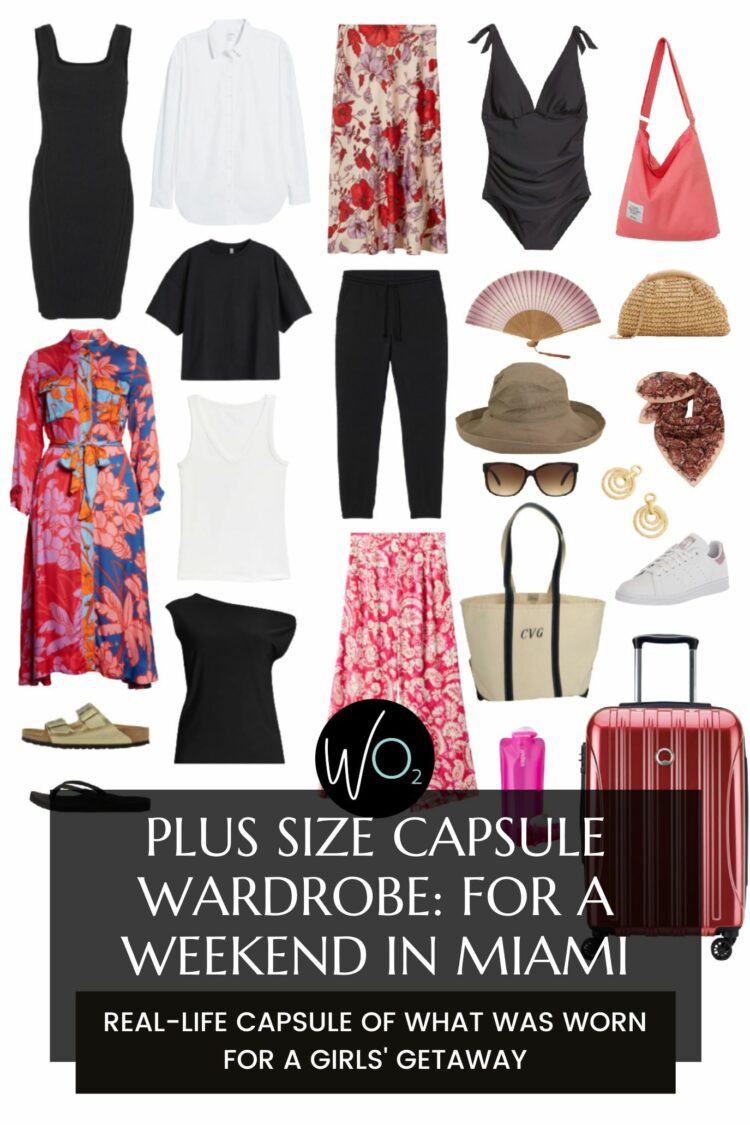 My sister Debbie recently went on a weekend getaway to Miami, Florida. She shared that without even planning, she created a capsule wardrobe. I invited Debbie to share what was in her weekend capsule wardrobe for Miami, thinking it may help others who are planning weekend getaways and looking to have everything fit in a plane carry-on bag!
Capsule Wardrobe for a Weekend in Miami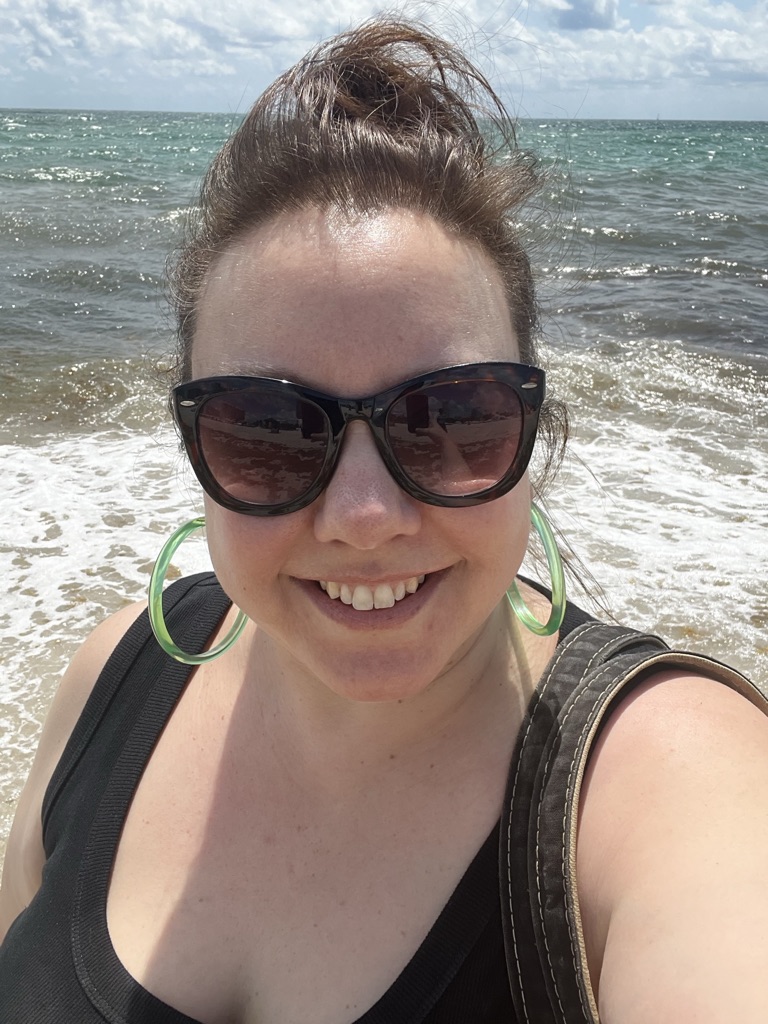 Is it ridiculous to bring two black ribbed tank dresses for a 2-night trip? After last weekend, I'd say no.
I just got back from a spur-of-the-moment weekend trip with a friend to Miami. It was originally going to be a solo trip, but when the hotel I wanted only had a room with two queen beds left, I took it as a sign. I had tentative plans to do a trip with this friend in May and asked if she wanted to move things up a month (with a week's notice) and she said yes!
I had a goal of fitting everything into my favorite carry-on bag. I'm a chronic over-packer and while I do usually wear everything I bring, after every trip I always think, I could have re-worn more items. And then as I was going through my summer clothes, I realized that I didn't really like much from last year. Do you ever have that feeling where you can't believe you were ever able to dress yourself? But I had just ordered a few things and luckily everything came in before I left. Between all of this, I ended up with a capsule wardrobe for my weekend in Miami without even planning on it!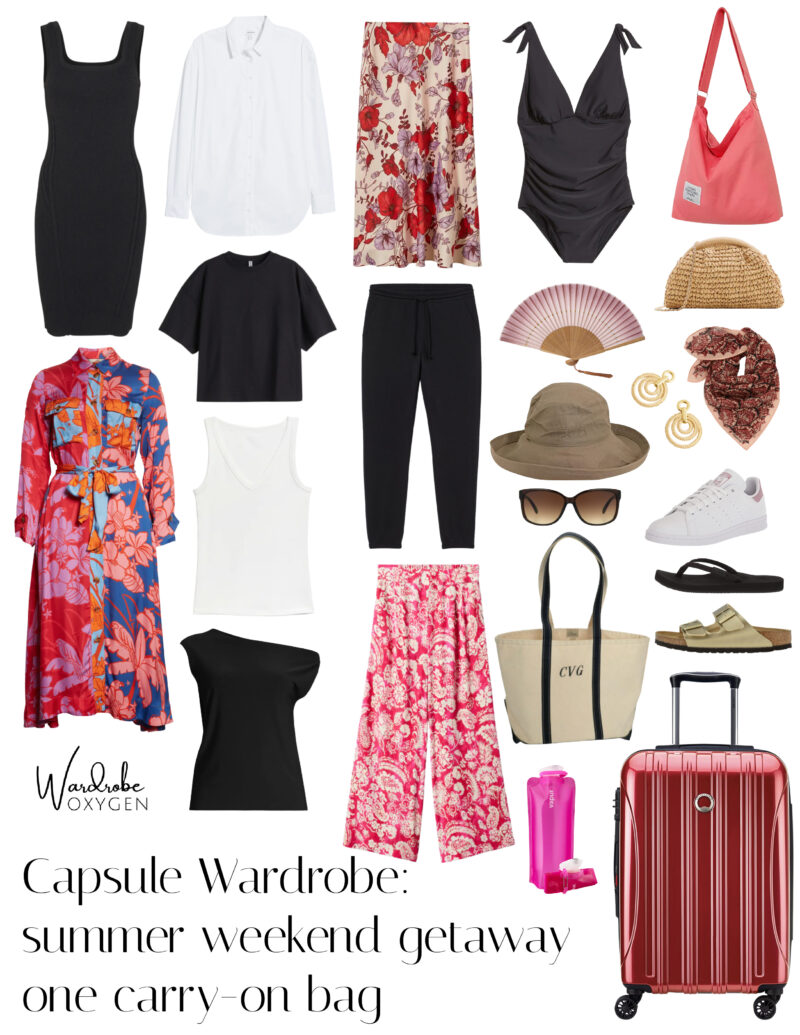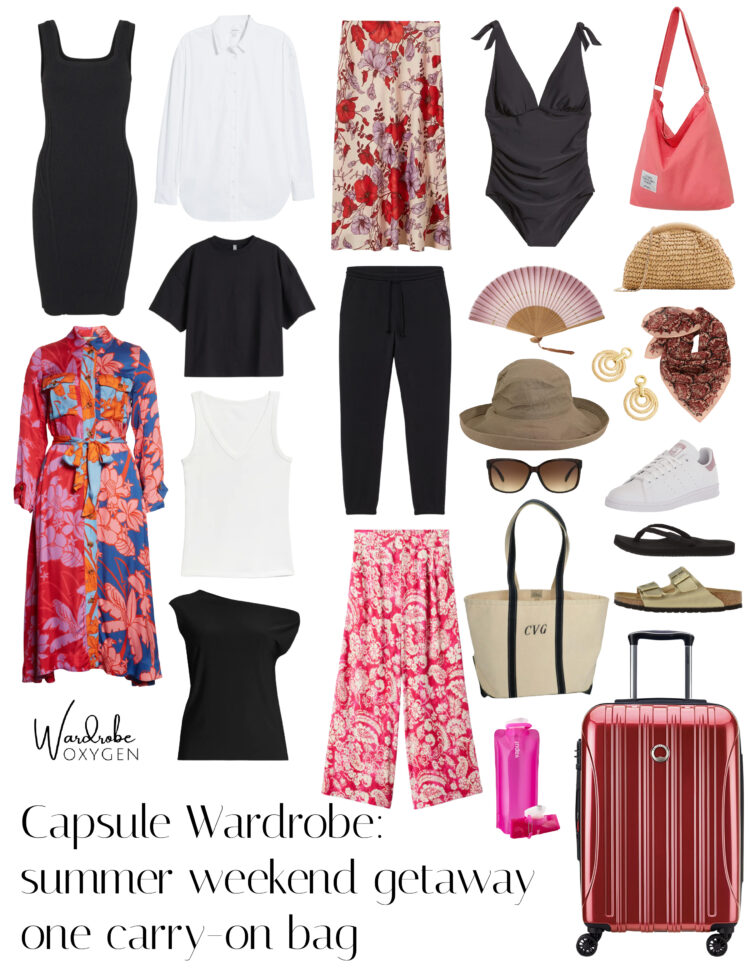 Shop the Capsule Wardrobe:
black tank dress | print dress | white linen shirt | black t-shirt | white tank | black off the shoulder top | floral skirt | black joggers | print pants | black swimsuit | fan | olive sunhat | sunglasses | canvas tote | folding water bottle | pink tote | raffia clutch | cotton bandana | statement earrings | white sneakers | flip flops | gold Birkenstock sandals | carry-on suitcase

Building My Capsule Wardrobe Around a Dress
I ordered the black ribbed tank dress from Target and loved it but thought that it was maybe a hair too big, so I immediately ordered the next smaller size. And turns out I like both. And I brought both, with the plan to use the bigger one as my bathing suit cover-up. I did the same with the white linen shirt. I bought two sizes and kept both for different situations, but I only brought one of those with me. This dress ended up being the foundation of my weekend capsule wardrobe.
Capsule Wardrobe Color Story
My capsule wardrobe color story was a combination of white, black, and pink. The items I brought outside these colors I either didn't wear or regretted wearing so have removed them from this weekend capsule. For example, I wore a green button-up on the plane with the smaller black dress. I was worried about wearing my white shirt on the plane down, thinking it would get a spill on it. However, the shirt was never again worn as everything else worked so effortlessly with one another.
What Bags I Added to My Weekend Capsule Wardrobe
I brought three bags with me: the L.L.Bean tote as my plane/daytime bag, the small raffia clutch as my evening bag, and a watermelon pink canvas tote to use as a pool bag, or just in case I bought stuff and needed an extra bag on my way home.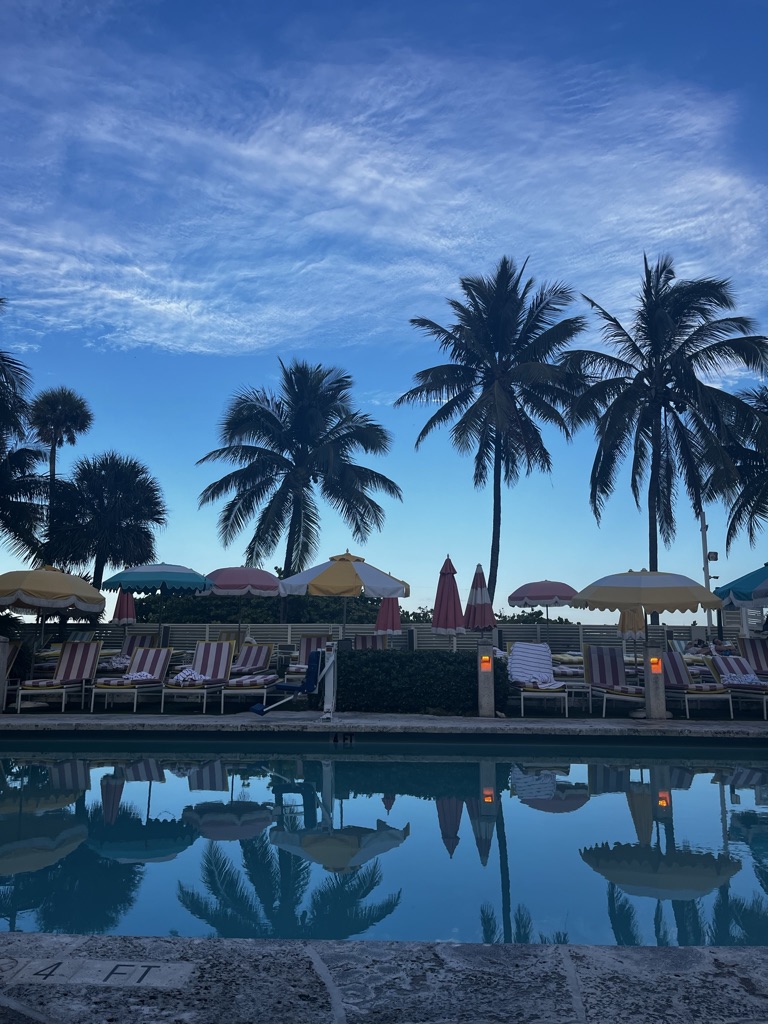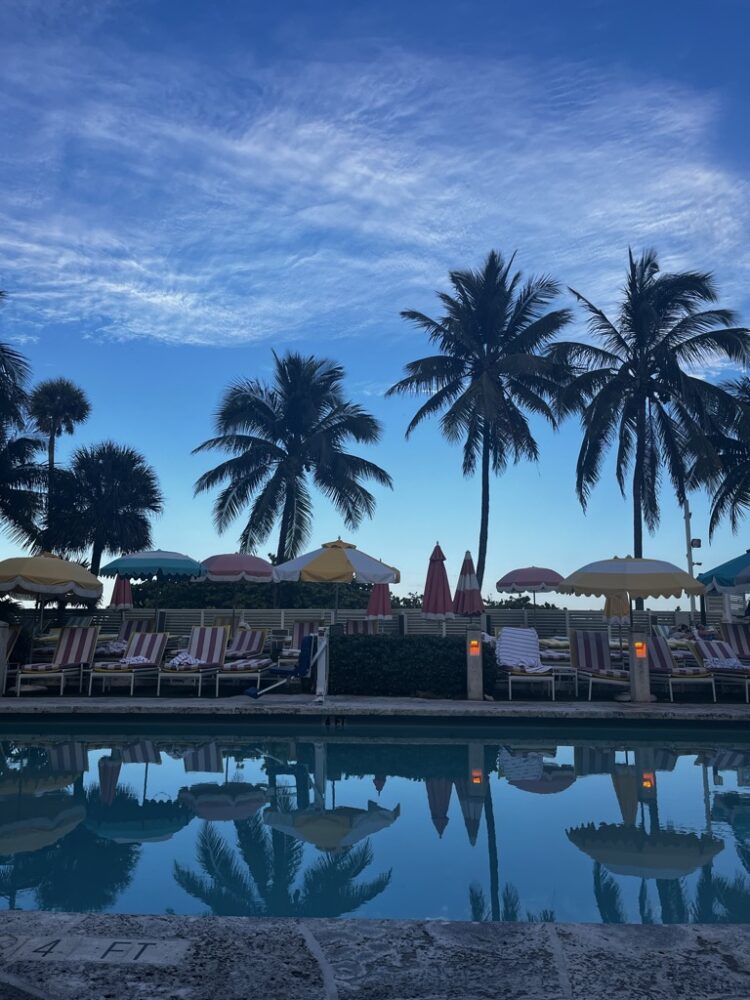 The pink tote ended up being super useful the last day, as after we checked out of the hotel, we left our bags at the front desk and spent the whole afternoon by the pool. I put what I wanted to wear on the plane in the L.L.Bean tote, and my pool essentials in the pink tote. The pink tote bag comes in lots of colors and has a rather large patch on the front, but it's easily removed with a seam ripper.
I loved using the L.L.Bean canvas tote as my daytime bag. I carried the medium size and chose the longer straps. It was the perfect size to hold all my plane essentials, and I was able to throw in some flip flops while wandering around the city. Because sometimes after a day of walking, even the most comfortable sneakers start to pinch my toes. Plus, the L.L.Bean canvas tote is cute.
A Weekend Worth of Looks from this Capsule Wardrobe
Nine different outfits were worn over my weekend in Miami. However, I created a few more that would be possible with this mix of garments. To see the looks larger, click on any of the thumbnails. Use the arrows or swipe to scroll through all the looks. To return to this screen, click the "X" or anywhere outside the image.
The first look shows this pair of clear green hoops I own. They were a bright pop of color when i first arrived in Miami, but once I realized I had a pink-based capsule wardrobe they didn't work with most of the other outfits.
Details on my Weekend in Miami
I've been to Miami a few times before, but never feel like I gave it a fair shake. This time, I fell in love with the city. We visited the beach, but spent most of our lounging time around the hotel pools (we stayed at two hotels, The Plymouth and The Confidante, both I'd highly recommend), drinking frozen cocktails, talking, and reading.
One morning we went down to the Art Deco district, checked out the Welcome Center and Museum's exhibit on the Golden Age of Radio before walking along Ocean Drive and looking at all the cool architecture and ended up at this very random little Italian restaurant with the most delightful waiter, who hooked us up with free limoncello and tiramisu for dessert.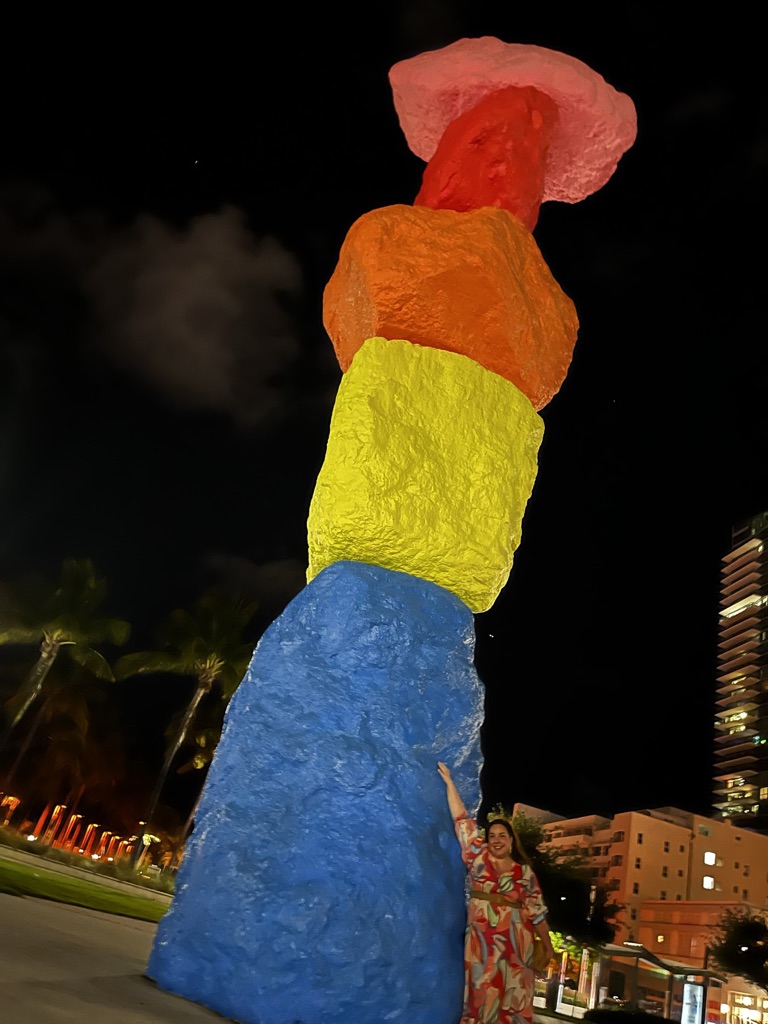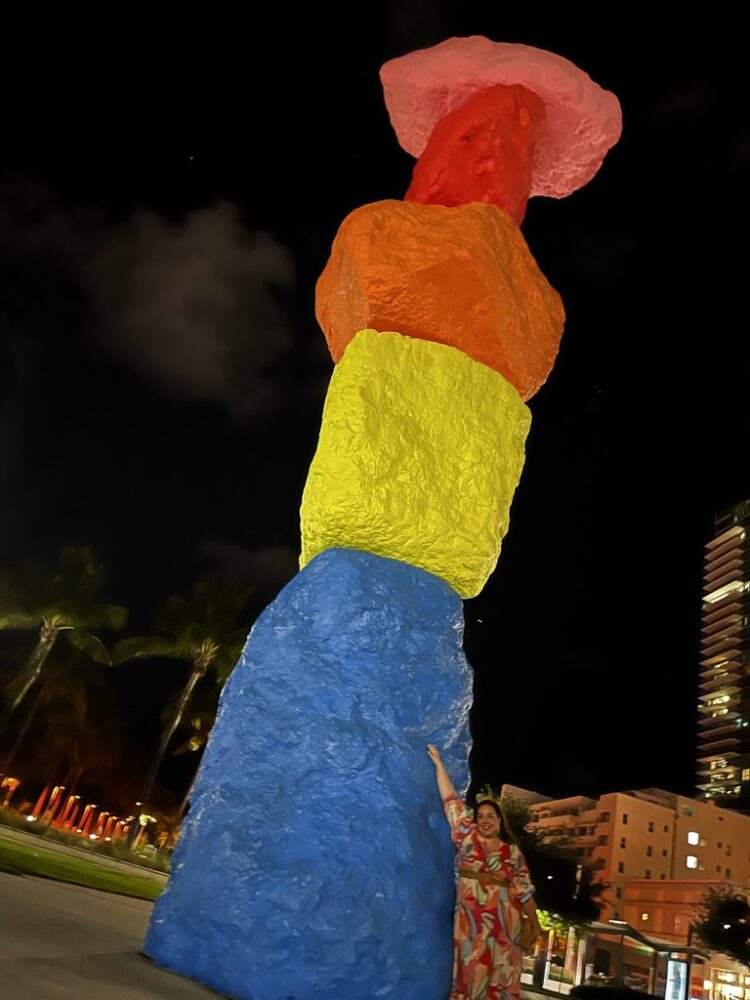 For dinner one night, we went to Gitano Miami, where we had one of the BEST meals, and then afterward, went up to the rooftop bar that even managed to have an outdoor disco ball. The other night we ended up wandering around Collins Park, looking at the sculptures in the dark.
Alternatives to Items in the Capsule Wardrobe
Not everything in this capsule wardrobe is new. The skirt I was able to find a photo online (and it was used in this spring to summer capsule wardrobe from 2022); this skirt is a good alternative from the same retailer with the same size range. The black off-the-shoulder top I took is a very thin sweater from RACHEL Rachel Roy, which is years old and no longer available. The one I linked above was the closest I could find.
The shirtdress that was actually taken is a few years old. The Farm Rio shirtdress in the capsule is similar in being a bright print, which was a great choice for going out in Miami. If I didn't already own this dress I would consider one of the dresses in the carousel below:

Travel Must-Haves in This Capsule Wardrobe
There are a few things I bring with me on all trips, but especially beach trips. First, a hand fan. I definitely run hot, and having one of these in my bags means I always bring my own breeze with me. Then a hat is always a must, I love this hat because it's highly packable, but also fabric so I can wear it in the water without worrying about ruining it. But then if I don't want to wear a hat, I can put on a bandana to protect my scalp from the sun. Or to dab off the sweat as I wander about town.
I like one that's a bit small and really soft with a fun print, and I am always happy with these bandanas from Madewell. I always have several bandanas in my suitcase. And then a folding, reusable water bottle is so handy. This folding water bottle is so lightweight and comes with its own carabiner, so I can attach it to my purse strap if it doesn't fit inside my bag. Plus it comes in such fun colors.

What I Brought that I Didn't Wear
I also brought last year's Universal Standard linen wrap dress in mustard (link to same one in this year's color options), which is one of my favorite things. I never wore it. I even tried it on for dinner one night, but it wasn't right. Maybe if we had gone to brunch another day, I would have worn it, but I could have just as easily worn the smaller black dress and felt as cute.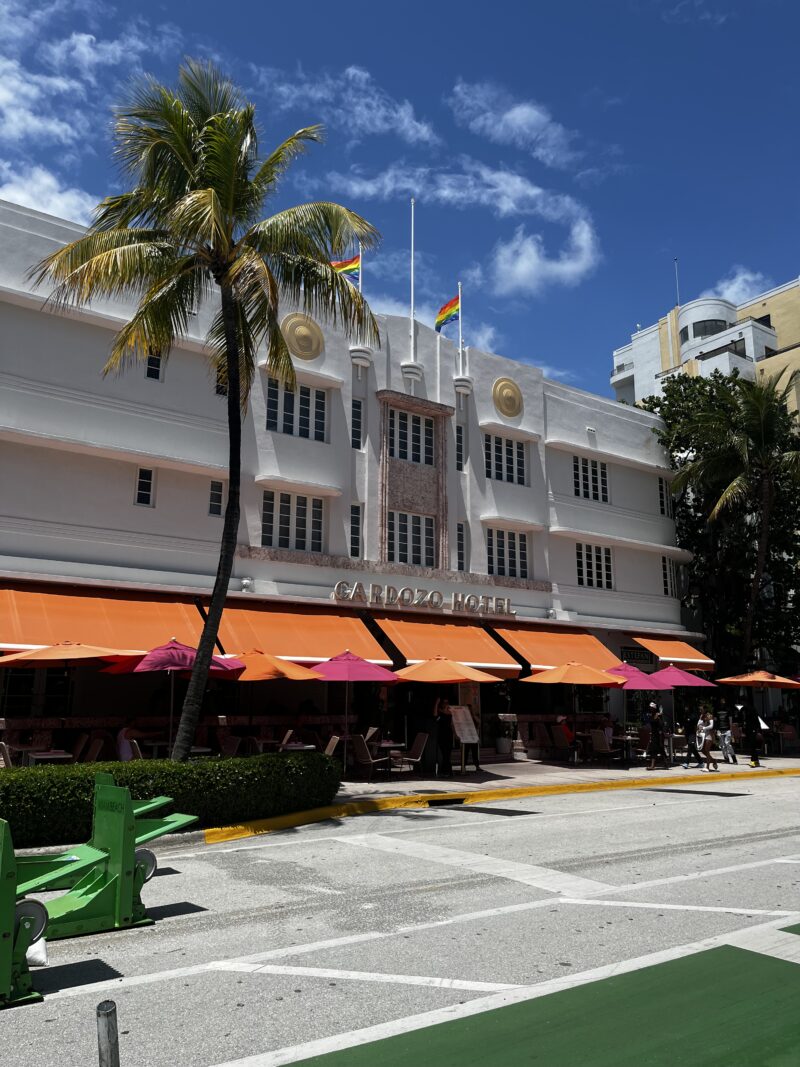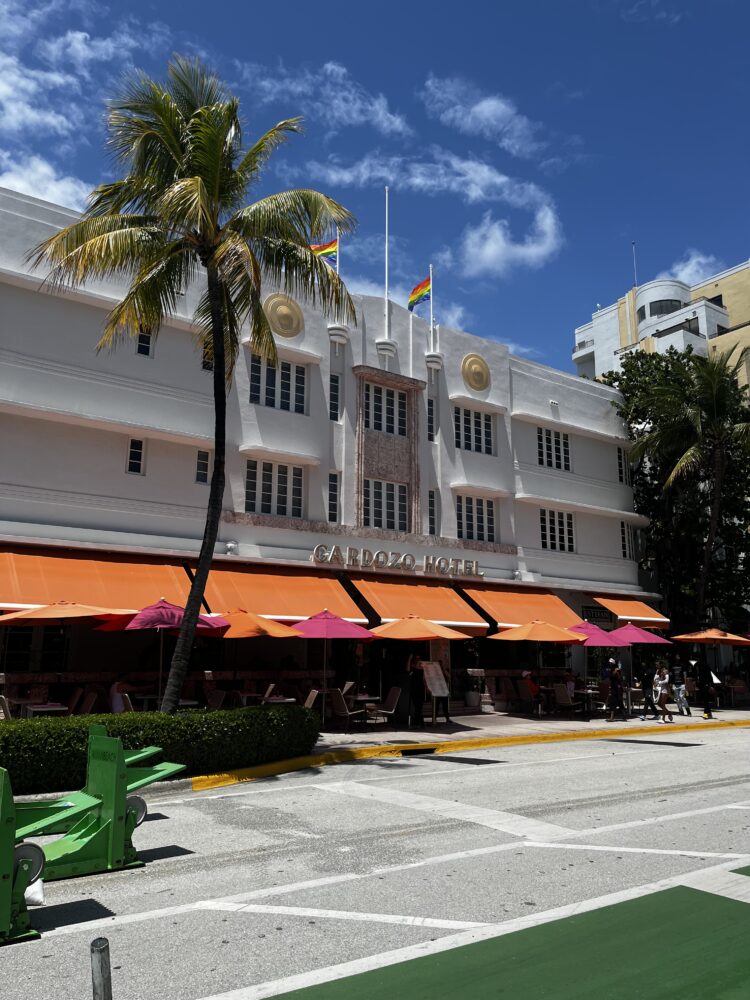 I also brought a navy long-sleeve top to wear with the pink pants for morning beach walks, but it was too hot for that top. I would have been better off with this t-shirt that also would have fit with my color story. The collage for this capsule wardrobe reflects what top I wish I brought instead.
What I Wish I Brought for My Miami Weekend
I do wish I had brought a second bathing suit. The one I brought was fine, and I knew it would dry quickly so I wouldn't actually need a second suit, but once I was down there, I wished I had brought a two-piece. I have a simple black high-waist bikini bottom that I pair with whatever cute top I might find. This top would have been very fun for Miami.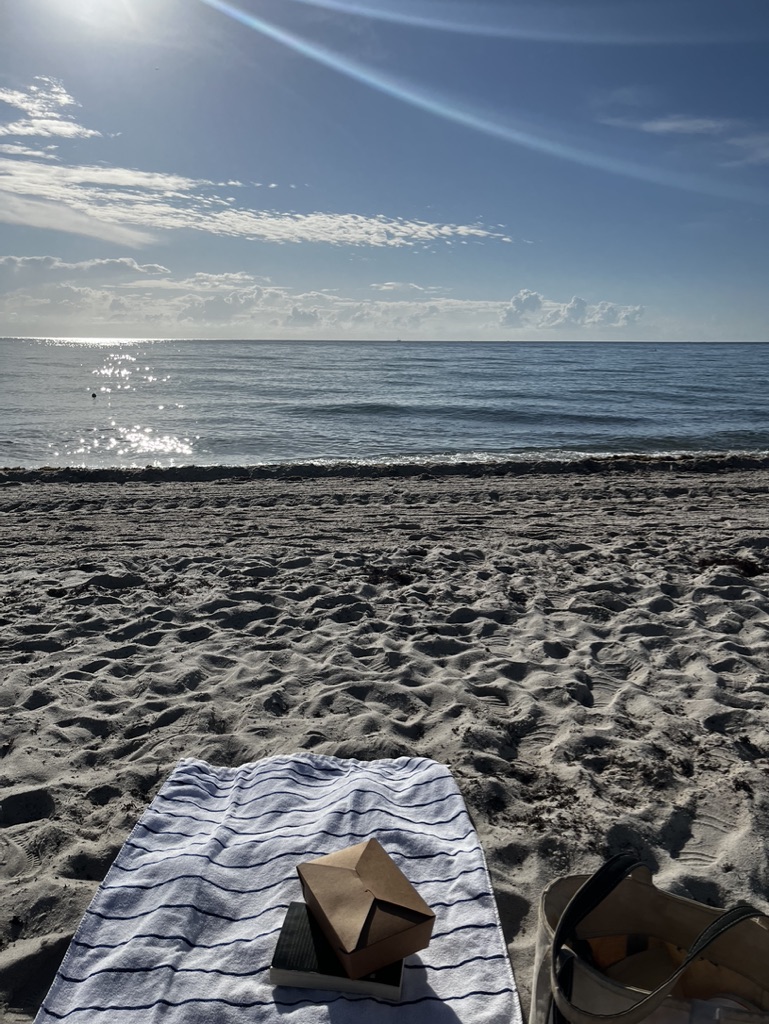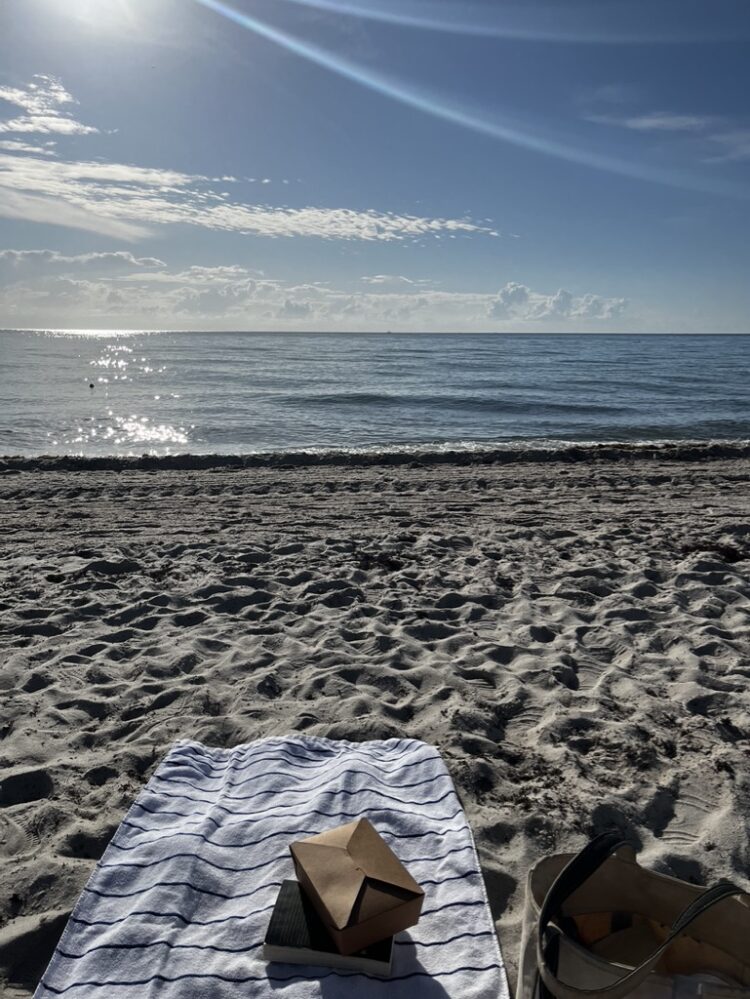 Fitting a Capsule Wardrobe into a Carry-On Bag
All of my clothes fit in a medium packing cube – I had just seen a TikTok of a woman who swears that packing your clothes the exact size of the packing cube helps more fit, and I'm a believer! I didn't even need to have the compression-style bags the TikToker had.
One side of my suitcase had two medium packing cubes – the one with my clothes and the other had my bathing suit, underwear, Jockey skimmies, socks, etc. The other side had my shoes, toiletries, umbrella, blow dry brush, charging cords, purses, etc. I ended up having enough extra space so I offered some to my friend whose bags were overflowing!