This article may contain affiliate links; if you click on a shopping link and make a purchase I may receive a commission. As an Amazon Associate, I earn from qualifying purchases. 
The other week I was watching American Idol with my sister and mentioned I wanted Randy Jackson's shirt. "Why is it so hard to find a crisp white cotton sweater with navy or black stripes? I want the classic French sailor look, stripes starting at the arms and chest." She told me L.L. Bean carried what I wanted.
I know, I know, I have a lot of striped knit shirts already. The thing is, none of them were classics, and I wanted a classic. Something that would be stylish now, and a couple years from now. I envisioned such a top with jeans on weekends, tucked into my yellow pencil skirt for work, or with hot pink ankle jeans come spring. Something heavier weight than my basic cotton tees, something with heft, that could stand on its own and not look like some run-of-the-mill tee shirt.
And this shirt from L.L. Bean seemed to be it. Boatneck, bright navy stripes on a crisp white ground, stripes starting at the right place, spaced just so. The price of $39.95 was also appealing, as I saw similar tops from trendier brands starting at $75.00 and going up to $150.00.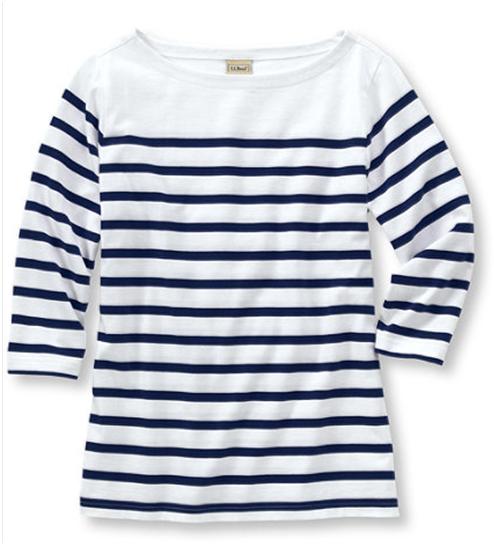 As always, L.L. Bean shipped quickly, and the item in the bag looked just like the item on the web. Nice heavy cotton knit – not a sweater, but not your typical tee. Well crafted, stripes lining up and the right length of sleeves. The only problem is that this shirt is cut like an L.L. Bean shirt.
Don't get me wrong, there's nothing wrong with L.L. Bean, but their line isn't known for being slim, trim, and trendy. This top has a very straight cut… and looks best untucked.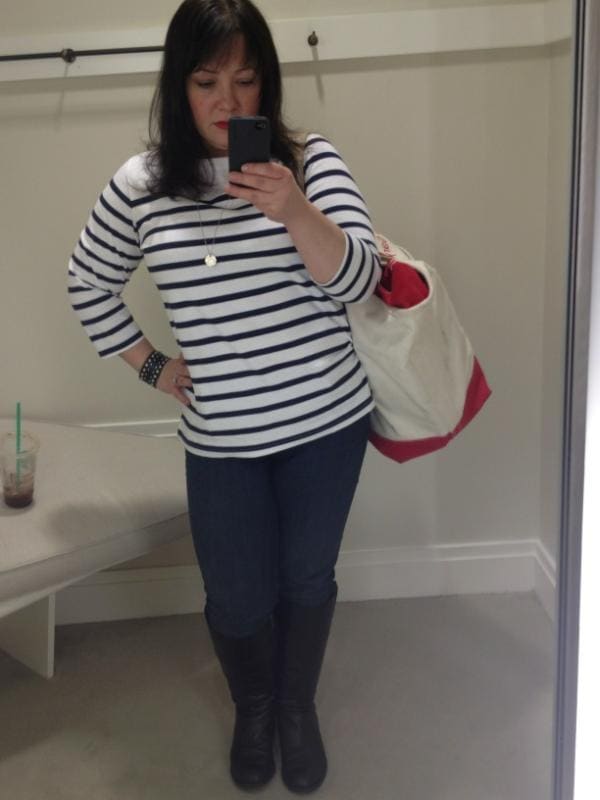 Thank you Talbots for the use of your fitting room for this picture
At first I considered returning it, it looked lumpy and dumpy tucked into my yellow pencil skirt, boxy with my red cropped pants. The stripes start right at my largest part and make me look like a linebacker. Then last weekend I threw it on in haste with a pair of jeans and my riding boots… and liked the effect. I wore it to the mall, the perfect experiment for the quality of a knit item. At a mall a shirt is yanked off in a fitting room, tossed into a pile on a bench, yanked back on in haste to head to the register or next shop. This shirt held up beautifully, maintaining its shape. I threw it in the wash with other knits, tumble dry medium and it came out looking exactly as it did from the shipping package.
Today I am wearing the Summer Boatneck Pullover again, and still loving it. It's not shaped for modern styles, it's not really that sassy tucked in, but it's a wardrobe classic at a reasonable price with famous L.L. Bean quality. And I still think it will look pretty sweet with hot pink ankle jeans come spring!
Fit: I purchased a Medium Regular, knowing that L.L. Bean's knits run large and don't shrink in the wash. If it came in Petite, I think that would have been a better choice for me and more versatile/tuckable. This top is available in regular and women's sizes, and along with this classic navy on white choice, it also comes in navy with white stripes, or light blue or pink with white stripes.
Follow Me | Twitter | Facebook