This article may contain affiliate links; if you click on a shopping link and make a purchase I may receive a commission. As an Amazon Associate, I earn from qualifying purchases. 
I have a pretty standard beauty wardrobe – some days I do a thin line of black liquid liner with a darker lip, other days I do a stronger eye and a soft glossy pink lip. Not too dramatic of changes, and pretty much the two same looks I have rocked for a decade.
This fall when bright red lips came on the scene, I decided to figure out how to rock the red. I have always felt that a true red lip was too strong and clown-like on me, but I was seeing women of all ages and skintones wearing it quite well. If they could do it, so could I! Along with red, I tried some brighter and stronger pinks. Below are my reviews – I tried to take the pictures in natural light with minimal makeup on so you can get a true feel of how the lipsticks work with my personal skintone.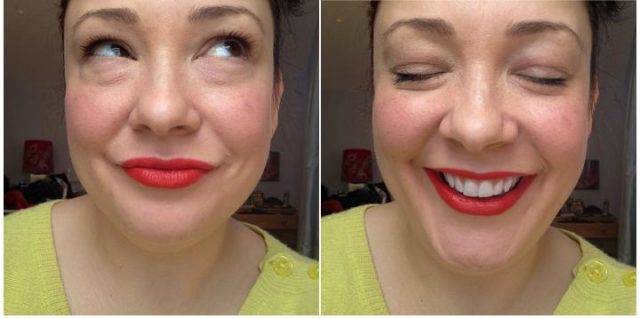 This has been a hot red lipcolor for many seasons, thanks to Jenna Lyons. I figured it could never work on me, as I look far better in cool tones, and this is a very orange red. Then I saw a friend who is a true Winter wear this lipstick and it looked amazing – a real contrast, an accessory more so than a beauty product. I decided to take a chance and have liked the result.
This is not a red for a shy violet – this is a lipstick that announces itself before your ensemble. However like a statement accessory, it can really complete a look. When I wear Heatwave, I hardly wear any other makeup – a touch of concealer and blush, a few coats of mascara, and that's it. If I wear more makeup I can quickly look as though I am performing in a play, keeping the skin fresh really balances the intense pigment.
And speaking of pigment, this lipstick is a wonderful formula – long lasting without being drying, very rich, opaque pigment, doesn't bleed, wears nicely through the day without leaving a weird line around the lip edge. This is a lipstick that is worth the pricepoint, and I have felt this way about every NARS lipstick I have owned.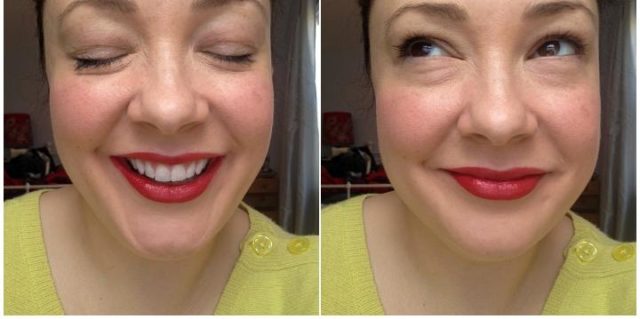 I have used long-wearing liquid lipcolors like these in the past and despised them – extremely drying, weird line around the lip edge, sticky, unnatural finish. However, this lipstick got great reviews online and I have found in the past that Revlon does long-wearing better than most other brands.
This is my first red that I bought, and still the one I wear the most. Like "Heatwave," "Top Tomato" has an orange base, but it's not as strong. Like other long-wearing lipcolors, this product is sticky and drying, but with a layer of balm on top (I use Burt's Bees Tinted Lip Balm in Rose), it maintains its longevity while looking soft and feeling comfortable.
I have found it's best to put on a thin layer, and while still damp apply a second layer – this keeps it from creating a weird line, being clumpy, or strange in finish. By putting a balm over it, it does keep it from lasting 12 hours, but I only need to apply once in a workday, and it fades away nicely.
Honestly, I can't recall how I acquired this lipstick – I think my sister loaned it to me once when we dressed up to see Rocky Horror. I can remember it being a really intense costume-like red, but with red lips coming back en vogue, I tried it again… and liked it.
Unlike the reds above, this is a more… elegant red. It's dark, brick red with a velvety matte finish. It glides on nicely, feels good, wears nicely. It doesn't last as long as NARS, but has a luxurious feel and finish. This looks great with a matte powdered face for a vintage feel, or with a fresh face – today I wore it with little foundation, a touch of blush and just mascara.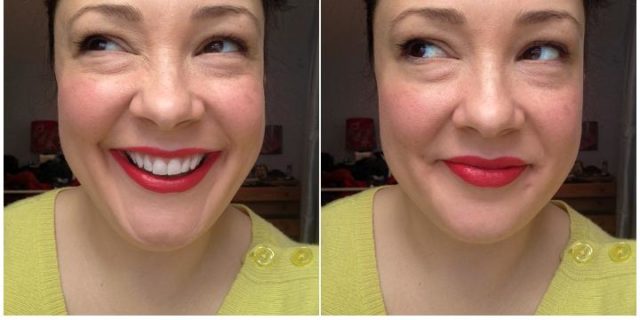 This is the type of red that looks amazing in the tube, and dreadful on me. These pictures are a bit deceiving, this is a very cherry red, almost looks pink, and quite false with my skintone. It's the type of color that requires me to alter my blush color and use a ton of concealer to not look off, and I don't have enough time or patience for such beauty routines.
However, it's a very creamy formula that feels good on the lips and stays on nicely even through a cup of coffee. If you have very fair or a darker complexion you may like this color because it is a cheery pop of cherry red, and would be a lovely complement to this spring's fashion colors.
I bought this thinking it would be a dark wine red, but sheer and more wearable for daytime. In fact, this is a great alternative to Clinique's Almost Lipstick in Black Honey – a color that looks like your lips but darker, richer, and shinier. The more you layer, the deeper the shade, but even with a thick application it just looks as though I ate berries, not that I drank wine. This has become a mainstay in my makeup bag – I can apply it without a mirror, can even use it as blush in a pinch. It's an easy wear like Burt's Bees Tinted Lip Balm in Rose, but a darker, more sophisticated color. It also layers nicely over other colors to make a pinky lipstick more subdued, a red more berry. It's hydrating, soft, natural shine, pretty darn fabulous. I keep thinking I should try this product in another color, but none of the other colors have appealed to me… yet. This however is a drugstore winner.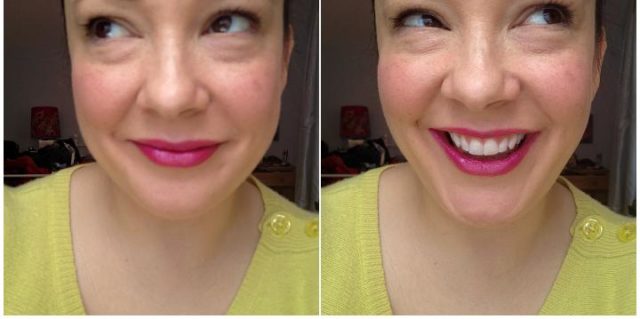 This was 99 cents on Drugstore.com and I needed a bit more for free shipping. The lipstick arrived, and I was sure I would toss it in the trash. Instead, I found myself wearing it almost weekly.
The lipstick is cheap – it's a bit greasy, the lipstick broke off the tube and got smooshed in the cap, it doesn't last more than a couple hours… but it's the darn coolest looking color. Metallic without being too flashy for daytime, a deep blue undertone that you can only see in certain colors, and it really brightens my face. I love wearing it with cool toned clothing for a real pop. If I powder my lips first, the color lasts far longer – I'll fill a retractile lip pencil with the color for touch-ups away from home. I like enough that I am planning on finding a higher-quality brand that has a similar color because I think it's super fun. Best 99 cents I have spent in a long time!
Note: I also got Nouveau Pink from Wet n Wild and wear it often but couldn't find the tube at the time of this review. It's very very similar to Fuchsia With Blue Pearl, but without the pearly blue part. In daylight, they look almost exactly the same.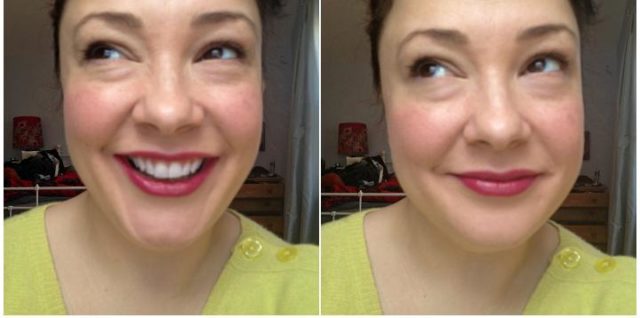 Thanks to BlogHer, MaryKay recently sent me a few pieces from their makeup line to check out. I was thrilled to get another tube of their amazing mascara (review here), but felt the shadows and lipstick they sent me were a bit too intense for my style. Then one day, I decided to try out the lipstick and have worn it many times since.
This is not a quiet color, it's dark, intense. A mature fuchsia, but one that really complemented the bright bold shades of fall and winter. I liked that it wasn't too candy pink – that helped it look great with cobalt blue as much as it did with pumpkin orange. Unlike some of the bold reds, I feel this color looks better with a polished face – not a lot of color, but a finished look with defined lashes and brows. I don't think I would buy this again, and find it a bit too dark/gloomy for my skintone come spring, but I think it could be quite lovely on a very fair face or one with a very dark complexion. The formula is nice – almost rivals NARS for being creamy, high pigment, and long lasting without being drying. I would try another Mary Kay lipstick in a different color after experiencing this tube.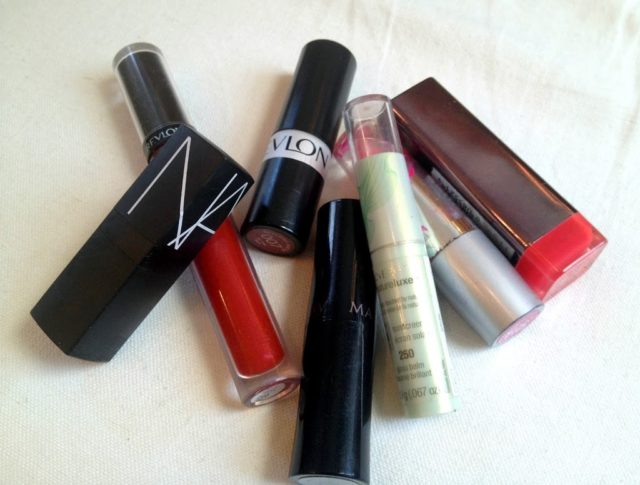 Final verdict? Not only am I glad I am not a beauty blogger (major props to you folks, it's not an easy job!), I have become a bright lip convert. As I have gotten older, I find a dark eye is aging, and a bright lip makes my teeth look whiter, my skin looks brighter, and it distracts the eye from dark circles, wrinkles, and such. A more matte or creamy formula feels good and looks best, and it has been really fun getting outside of my cosmetics comfort zone!
Note: The Mary Kay lipstick was given to me by the company, all other lipsticks were purchased by me (except maybe the Revlon matte, which may have been purchased by my sister). I was not asked to do a review of these products and none of the companies are aware that I am doing this post.
Follow Me | Twitter | Facebook