This article may contain affiliate links; if you click on a shopping link and make a purchase I may receive a commission. As an Amazon Associate, I earn from qualifying purchases.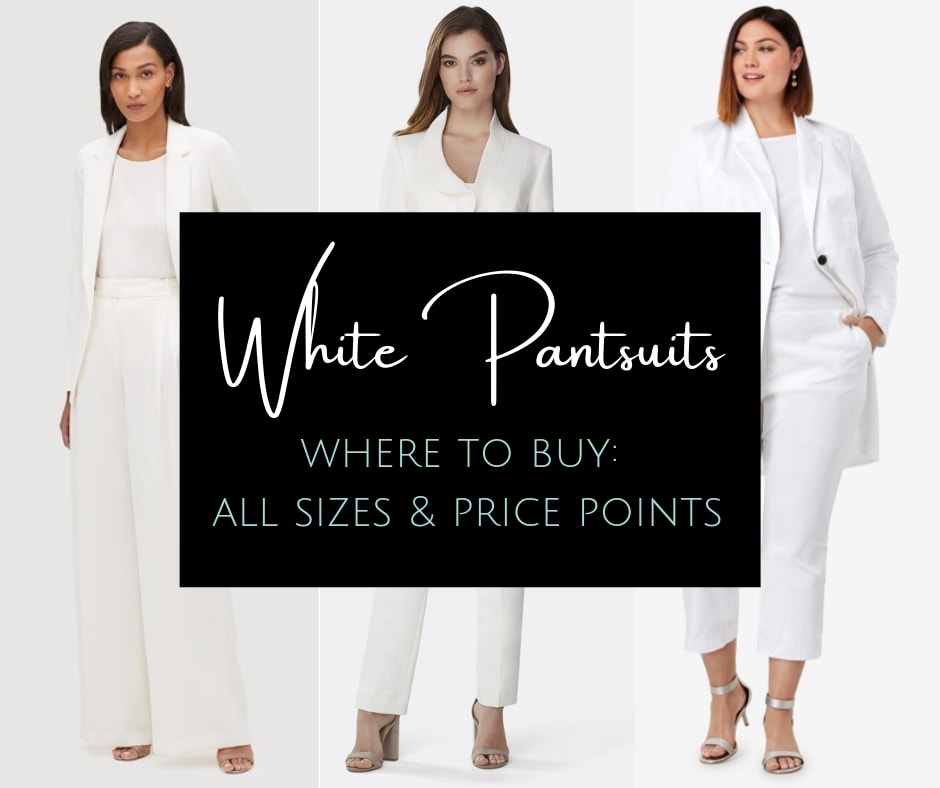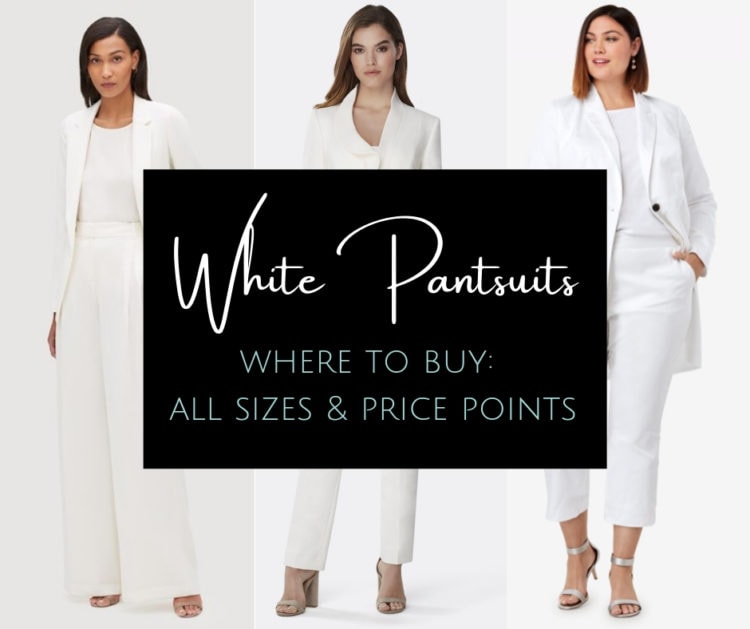 If you're desiring a white pantsuit after this week's State of the Union you're not the only one. I've received several emails and DMs requesting where to find a white pantsuit and have seen several people find Wardrobe Oxygen with search terms that include white pantsuit for women. Well my fellow women, I have you covered with a variety of white and almost white pantsuits in all sizes and price points.
Why White Pantsuits for Women?
Hillary Clinton wore a white pantsuit when she accepted the democratic presidential nomination in 2016. Prior to Clinton, in 1984, Geraldine Ferraro donned a white suit to accept her nomination for democratic vice president. And prior to Ferraro, in 1968, Shirley Chisholm wore white when she became the first African American woman elected to Congress. Just this past month, Alexandria Ocasio-Cortez wore a white suit for her swearing into Congress. Sure, wearing white looks polished and has you stand out in a crowd of dark suits, but white has an historical significance.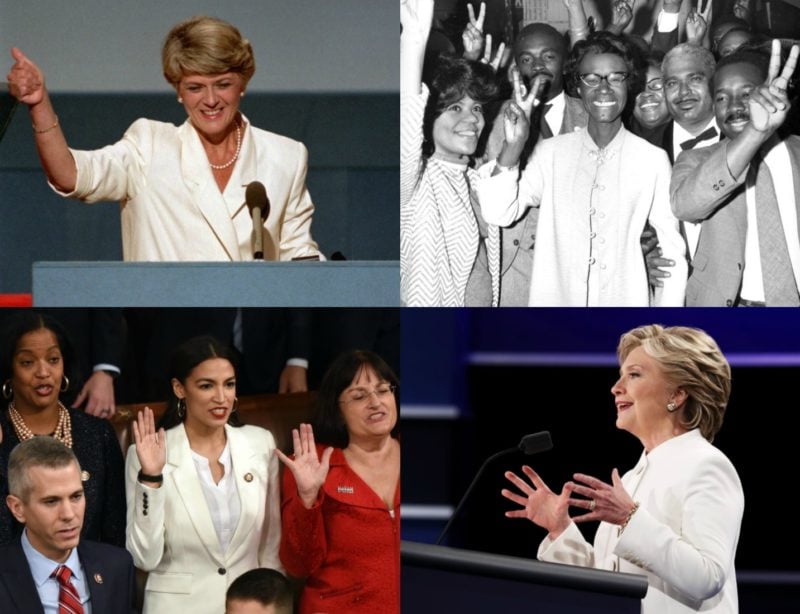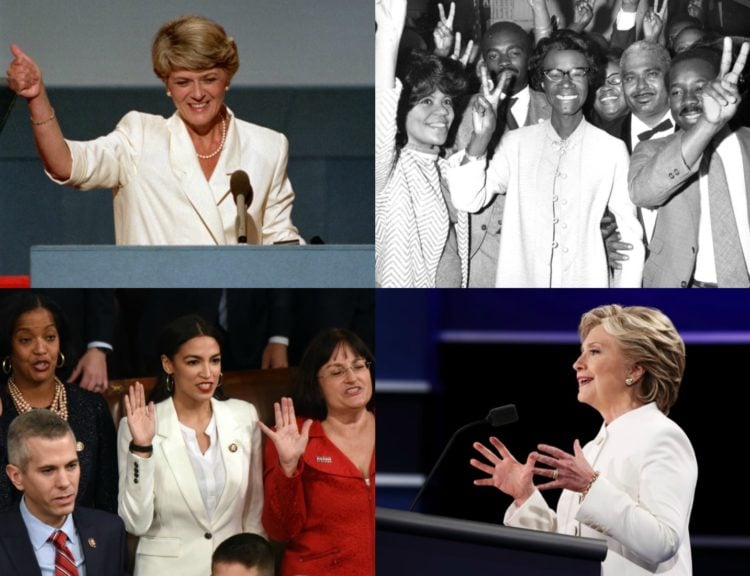 Suffragettes were known for wearing white. They stated they chose it because, "White, the emblem of purity, symbolizes the quality of our purpose; and gold, the color of light and life, is as the torch that guides our purpose, pure and unswerving." They knew it would make an impact in photographs and they felt the color would help them not be criticized as aggressive, masculine, or threatening. In 1978 women again wore white as they marched on Washington in support of the Equal Rights Amendment. Initiated by Representative Lois Frankel of Florida, the chair of the Democratic Women's Working Group, dozens of woman donned white for Tuesday's State of the Union. Frankel stated, "Wearing suffragette white is a respectful message of solidarity with women across the country, and a declaration that we will not go back on our hard-earned rights." You may recall many women also wore white for the 2017 SOTU.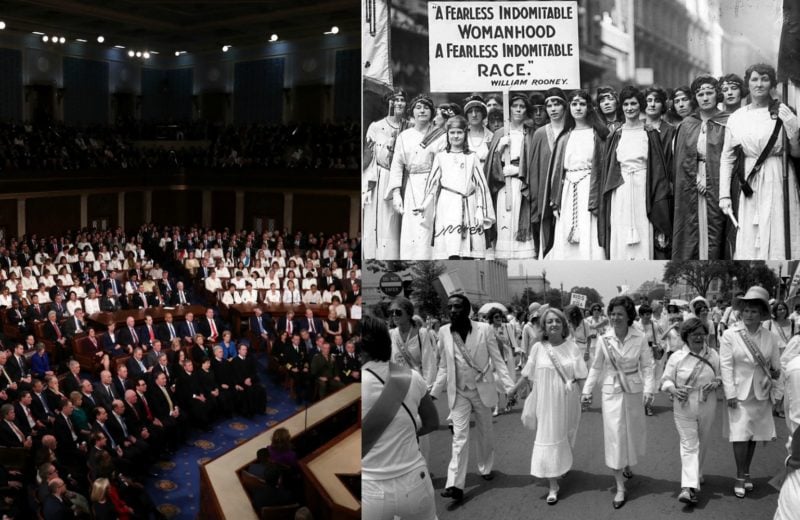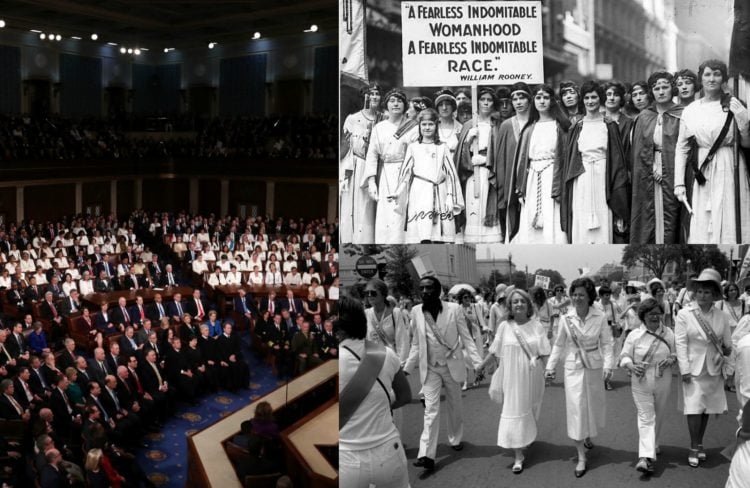 During the 2016 presidental election, many who supported Hillary Clinton joined a Facebook group called Pantsuit Nation; the organization continues today focusing on immigration reform, racial justice, religious freedom, and women's reproductive rights. Clinton became famous for her many pantsuits. While not all women at Tuesday's SOTU who wore white were in pantsuits, white pantsuits have become a symbol of strong women standing up for what they believe in.
Where to Find White Pantsuits for Women
White, ivory, eggshell, winter white… with spring right around the corner it's becoming easier to find white pantsuits. I've searched the internet and found the best white or almost-white suits for you:


Tips for Shopping for White Pantsuits for Women
When I went to vote in 2016 I wore what looked like a white pantsuit, but it was actually off-white separates from two different retailers. As long as the colors are the same and the fabrics aren't drastically different (don't try to pair silk with twill and think it will look like a matched set) it will look cohesive. White and near-white colors work like black in that minute details sort of disappear. When searching white pantsuits for this post, I found several retailers who offered only jackets in plus sizes but not the matching pants. However, all retailers offer fabric composition on their sites. Use that to search for coordinating bottoms from a different brand or retailer. They don't have to be exact, but if one piece is primarily polyester and viscose, there's a good chance another poly/viscose blend piece will have a similar sheen and drape.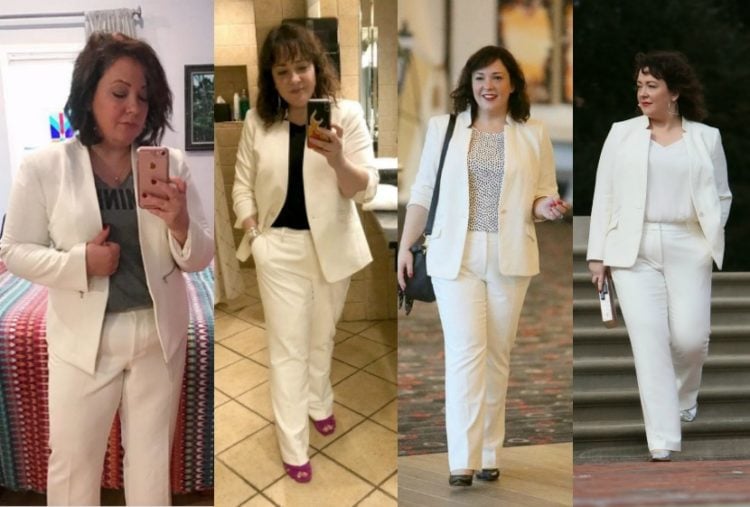 White can be transparent, even when lined. I recommend unless it fits perfectly off the hanger to size up and visit a tailor to alter to fit you. A suit that isn't tight will be more opaque. There is a difference between a slim fit and tight, and a tailor can assist you with that. A tailor can also make the pants the perfect length for your body and your favorite height of shoe. If you don't have a tailor, check out your local dry cleaner who may be able to do the alterations. If she is unable, she may be able to recommend someone. Also check out local bridal salons, community theaters, and pageant organizers who may know of a tailor or seamstress in the area. Visit your neighborhood's Facebook or NextDoor group for reviews that are usually more balanced than what you may find on Yelp.
Even after tailoring, underpinnings can assist with opacity. A brief or boyshort free of lace or adornments in a color matching your skin is a smart choice; look for terms like vanishing edge, invisible, or seamless to prevent VPL (visible panty lines). I'm a big fan of Soma's Vanishing Edge; their microfiber high-leg brief comes in five skin colors as well as many neutrals and patterns. For a bit of control, Bali's Seamless Firm Control Brief is virtually invisible under clothing and comes in sizes up to 3XL.
As spring collections continue to hit stores, the selection will increase. I also wouldn't be surprised to see many brands jump on the white pantsuit trend especially after all the excitement after the SOTU. If you've found a great white pantsuit and it's not listed here, do share it in the comments!
Shop the Post: