This article may contain affiliate links; if you click on a shopping link and make a purchase I may receive a commission. As an Amazon Associate, I earn from qualifying purchases.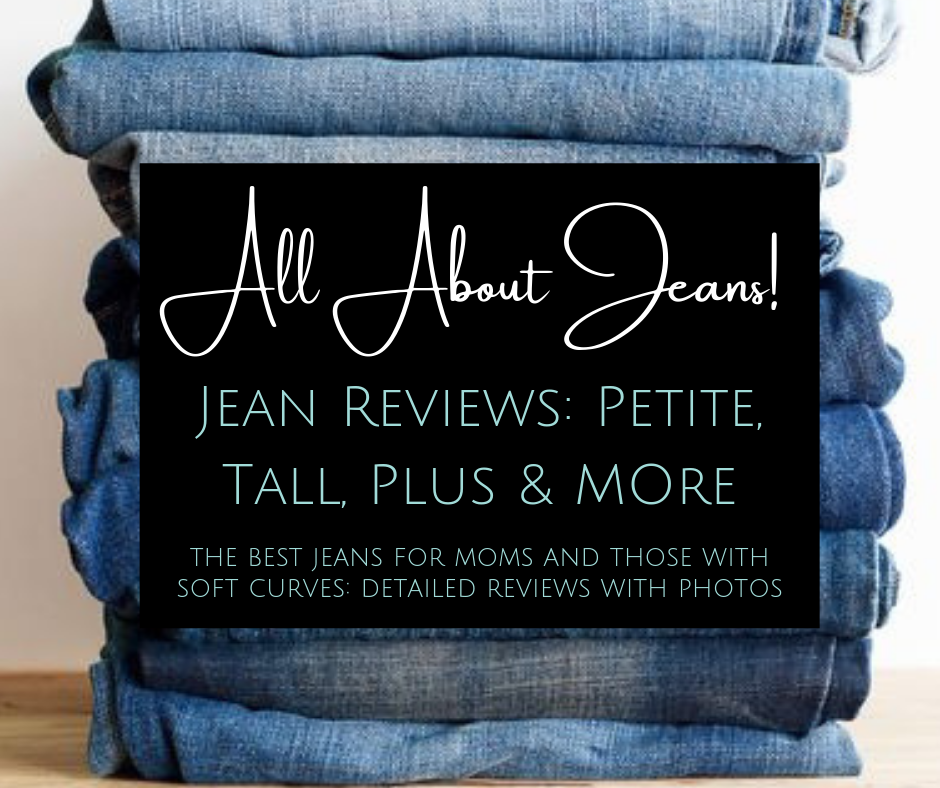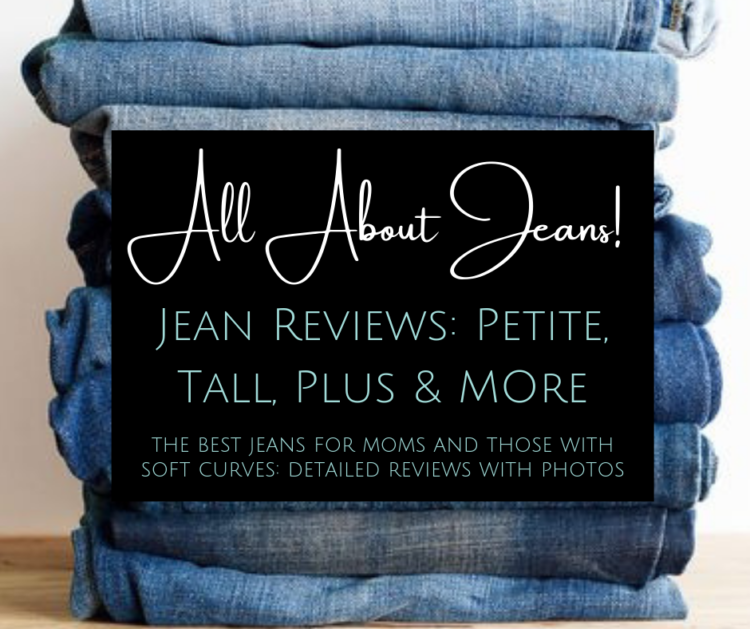 I recently was interviewed by a major publication to find out my thoughts on the best jeans for moms. I was not able to pick out the jeans, I had to offer my thoughts on the selection of denim they already chose for the article. I decided to write a post on what jeans I think are best for moms, using what I have learned from almost a decade in apparel and over a decade writing fashion advice for women. The average American woman is 5'3" and a size 16. Most moms, especially new moms, are looking for jeans that are kind to soft curves and an ever-changing figure. If someone is looking for the best jeans for moms, they're likely looking for a style that is comfortable, versatile, easy-care, stylish but not so trendy that they will be passé after one season, and a style that works with not against their figure. So I am going to share my picks for the best jeans for moms. Many of these I own or have owned, have tried, and have received rave reviews from readers. All of the styles go up to at least a size 16, though most have a broader size range and many come in lengths. I'm also putting in a good mix of price points as quality and style are available for every budget and we all deserve to have fab fashion in our wardrobes!
What Are The Best Jeans for Moms?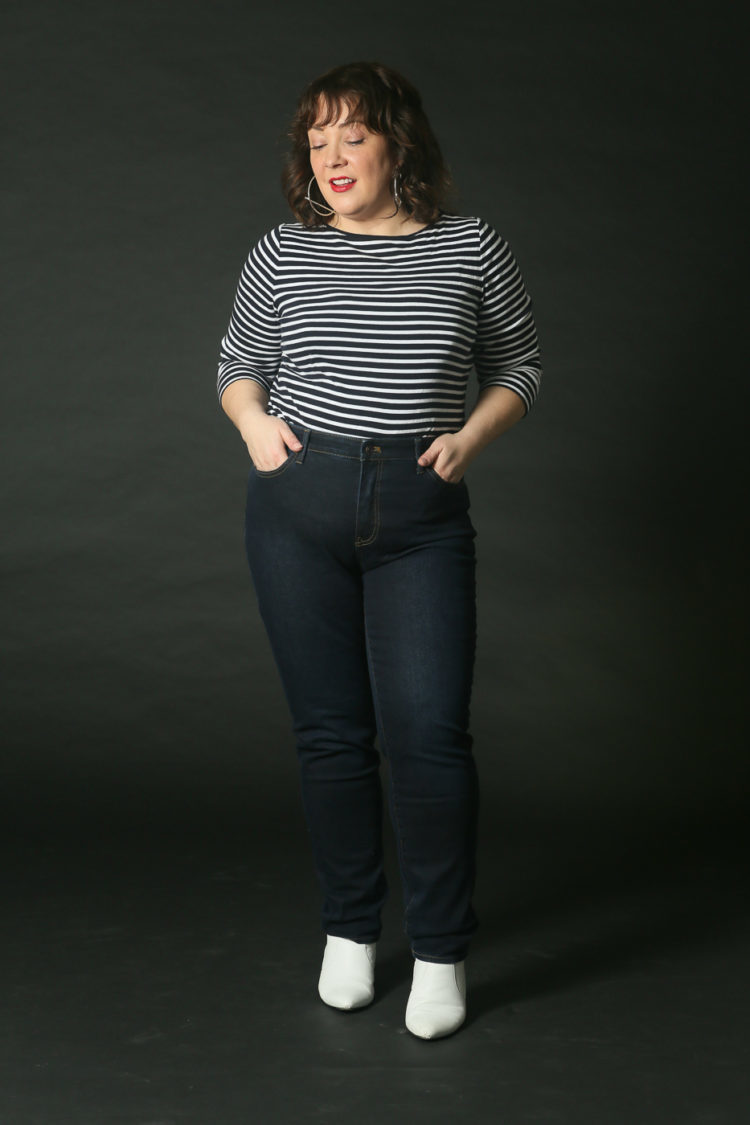 Talbots Slim Ankle Jean
Dismiss all the stereotypes you have about Talbots; they have some of the best-fitting, highest quality jeans on the market and one of the most diverse size ranges out there (hello petite plus size!). Year after year, I rock the Talbots Slim Ankle Jean because it's near perfection. Not too high a rise, not too low. Not straight, not skinny. The ankle length is perfect for flats, sneakers, ankle booties, but can also glam up with a heel for a night out with the girls. The denim is thick enough to hold everything in and smooth the figure, but there's the perfect amount of stretch for comfort and to prevent the jeans from stretching out throughout the day. I like their Indy Wash, which is dark but not rinse, on-trend for this fall but classic enough to look chic for seasons to come. The jeans come in regular, petite, and long lengths up to size 18 at this link, plus size and plus petite up to 24 at this link, and they even have a curvy cut in regular and petite sizes up to 18 at this link. $95 for straight sizes, $99 for plus sizes.
See me wear the Talbots Slim Ankle Jean in blue, and at this link, I wear and review the Talbots Slim Ankle Jean in white.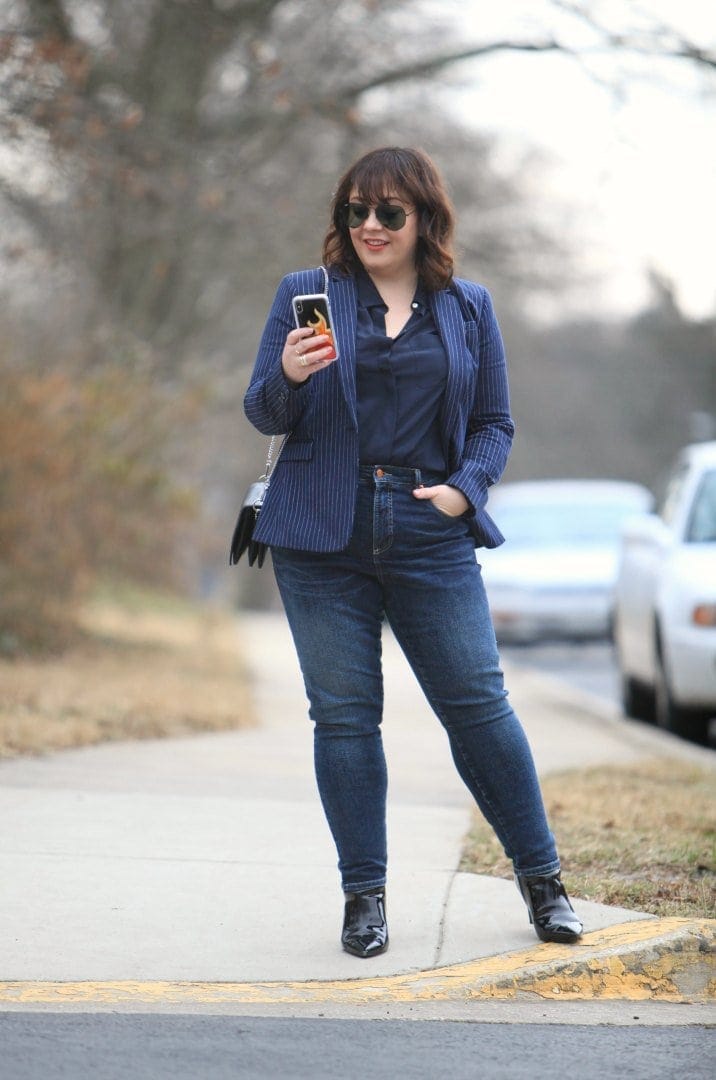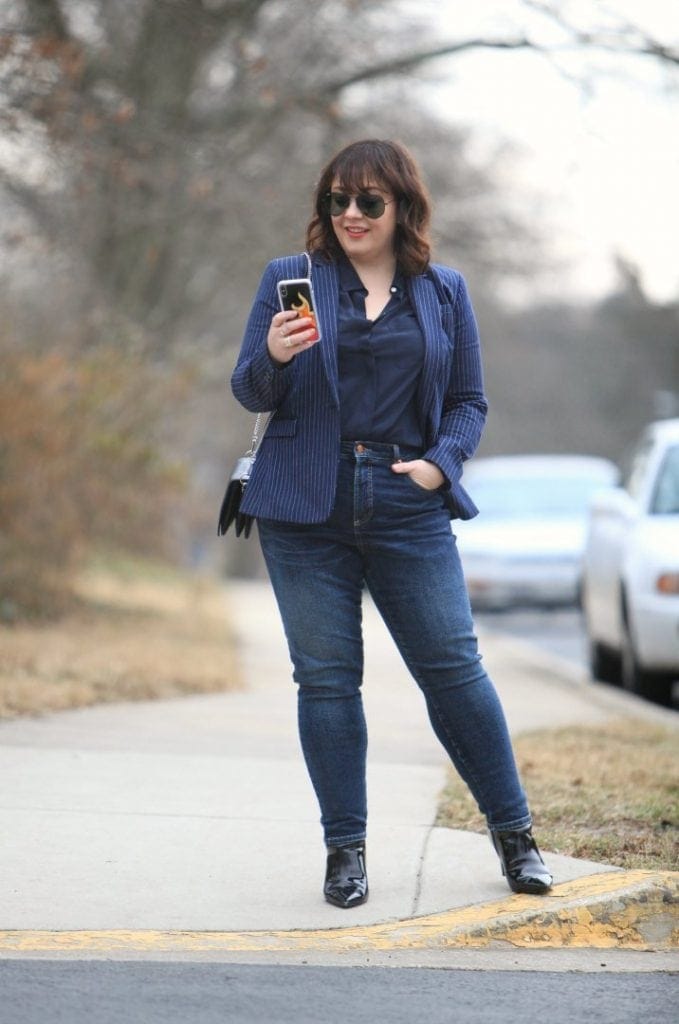 Universal Standard "Siene" High Rise Skinny Jean
As a petite woman, I feared the return of a high rise jean. They'd go up to my ribcage! However, I found that a high rise is actually quite flattering for "mom" figures as it doesn't segment the body (AKA no chance for "muffin top" or "plumber's crack") and the fly, whether it is button or zipper, works to hold in the midsection creating a sleeker silhouette. Universal Standard makes amazing denim that is rigid enough to hold you in and create a smoothing effect but stretch in the right places for all-day comfort. These are a skinny jean, a favorite of mine with blazers or cardigans and tees or sweaters and untucked knits. The washes and colors are super chic, the jeans come in two lengths for regular and one length for petites, and they are the most inclusive-sized brand in this post offering their jeans in sizes 00-40. On top of that, Universal Standard has a program called Fit Liberty – if at any time over the year your size changes, let Universal Standard know and they will replace your jeans in your new size for free, no questions asked! How awesome is that? This is the link to shop the jeans. $90 for all sizes.
You can see me wear the Universal Standard "Siene" jeans in this post, this post, and this post.
Kut from the Kloth "Diana" Skinny Jeans
Some skinny jeans are just too skinny; these jeans from Kut from the Kloth are pretty perfect. Still slim enough to tuck into tall boots and wear under tunics, but loose enough that they don't look or feel painted on. The denim is so soft, you won't want to take them off. And not only is the denim comfortable, it holds its shape for multiple wears. I regularly recommend Kut from the Kloth denim because the quality, fit, and the size are all excellent. This is the link for the regular and petite jeans up to size 18; this is the link for the same jeans in plus sizes up to 22. $89.50 for straight sizes, $99 for plus sizes.
If you don't see your size or you don't love the wash, no worries. The "Diana" from Kut from the Kloth is a popular silhouette and comes in a great range – here is a link for all the washes and sizes available at Zappos; you can also find discontinued colors of this jean at a great price at 6pm (click here for the selection currently available) and Nordstrom Rack (click here for the selection currently available).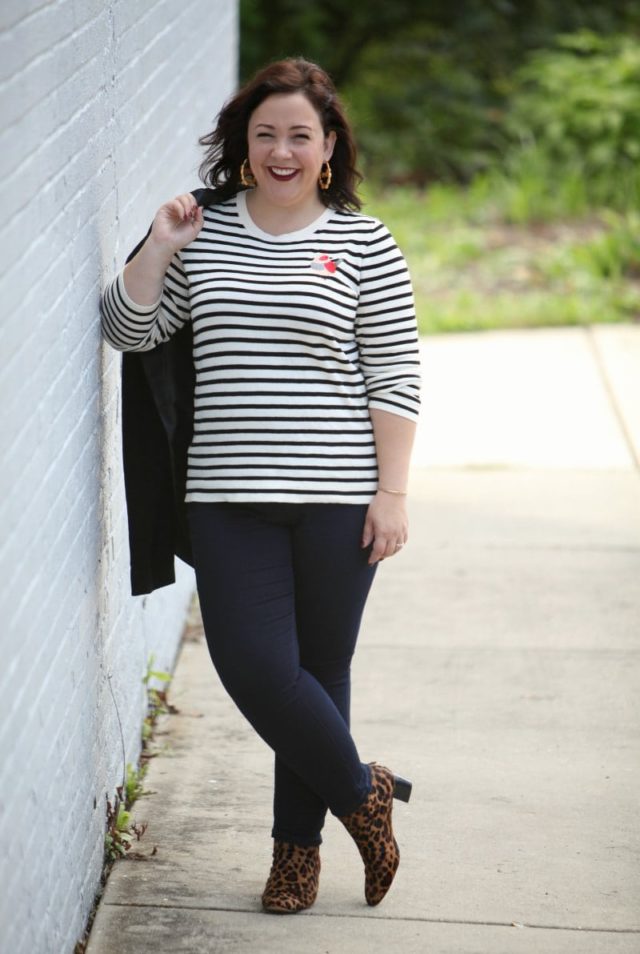 JAG Jeans "Peri" Pull-Up Straight Jeans
Remember how comfy your pull-on maternity jeans were? Heck, maybe you're still wearing them! Well, you can retire them and replace them with a pair from JAG. These jeans are uber comfortable, and have the pull-up waistband which is kind to a postpartum tummy, less likely to create "muffin top," and is smooth under untucked knits. I've worn JAG Jeans for years and like the quality of the denim, the pricepoint, and the variety of styles and washes. I am focusing on this cut because it's the most classic and looks great with everything from sneakers to heels but you can go to this link and find an amazing variety of cuts, washes, and sizes of JAG Jeans. This link is for straight sizes up to 16, go to this link for petite sizes up to 16, and this link is for plus sizes up to 24. Regular and straight sizes are $74, plus sizes are $84.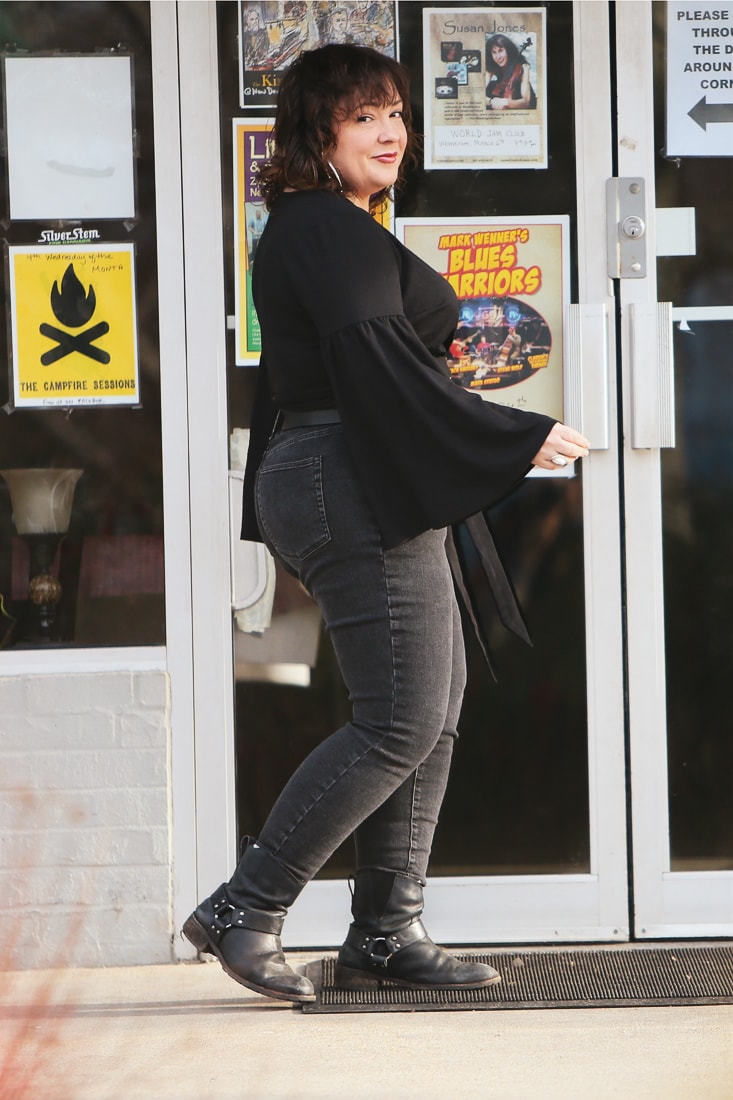 Everlane Authentic Stretch High-Rise Skinny Button Fly Jeans
I am obsessed with these jeans. I own a lot of jeans, they're all okay. I tried these on a whim expecting to despise them and fell madly in love. So in love, I have a backup pair in case these get damaged in any way! The color is amazing – it's a dark gray that is surprisingly versatile and wearable all year long. The button fly works like a pair of control undies, sucking in and smoothing at just the right place without constricting. In fact, these are jeans you can wear all day and the next day without discomfort or them stretching out. The jeans come in two lengths. Everlane is an ethical clothing brand with a very transparent manufacturing process and reasonable pricing. The only negative is these jeans only go up to a size 33, which is the equivalent of a 16. You can shop these jeans at this link. $78
You can read my initial Everlane jeans review and also see me wear these jeans at this link.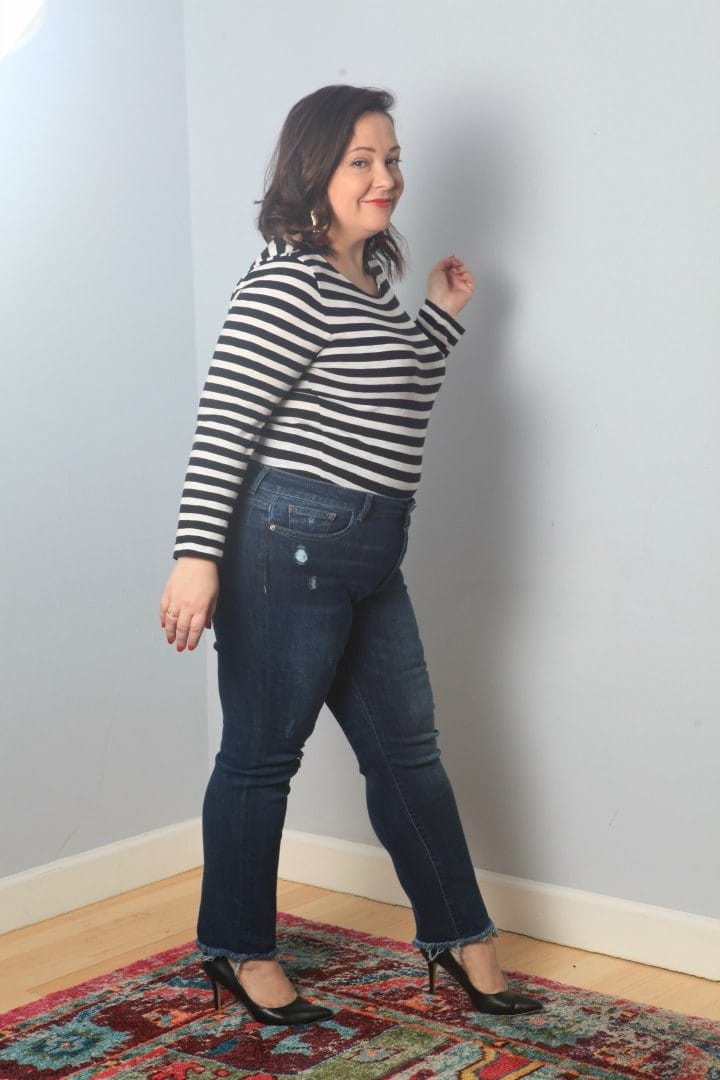 DL1961 "Florence" Mid Rise Skinny Jeans
There are many jeans out on the market that are crazy expensive and not worth the pricetag. Then there are DL1961 jeans. These are some of the best-fitting jeans I have ever worn. The quality of the denim is amazing – tightly woven, just the right amount of stretch, gorgeous washes, and colors. The fit is fabulous; I am more of an "apple" and they seem to hug my curves in all the right places and the same holds true for my "pear" shaped friend. I don't know what kind of witchcraft makes that possible, but it helps justify the pricetag. The denim truly seems to "sculpt" the body while also smoothing the figure, hiding lumps and bumps. DL1961 sells a lot of styles, but their "Florence" jean is one of their bestsellers because it's a pretty perfect rise, a skinny leg that isn't too tight, and comes in an amazing assortment of colors to choose from. This is the link for the jean in straight sizes up to 34 (which is a size 18), this is the link for the same jean in petite sizes up to 34, and this is the link for the same jean in plus sizes up to 26W. $179 for all sizes.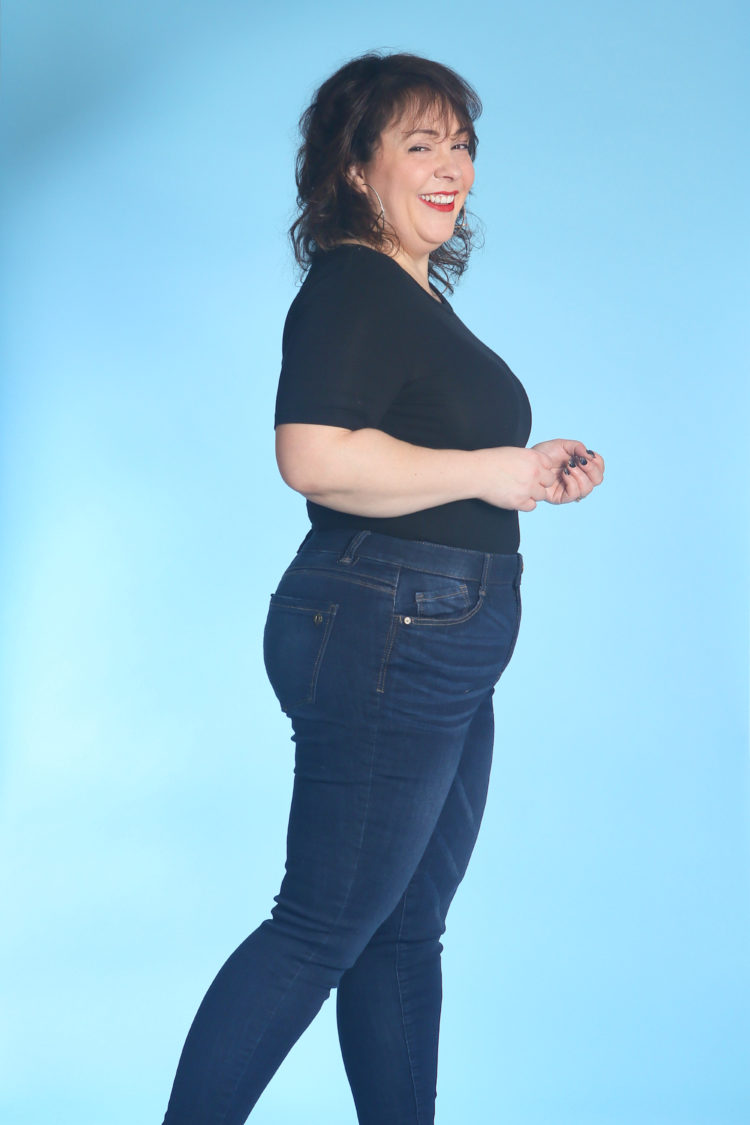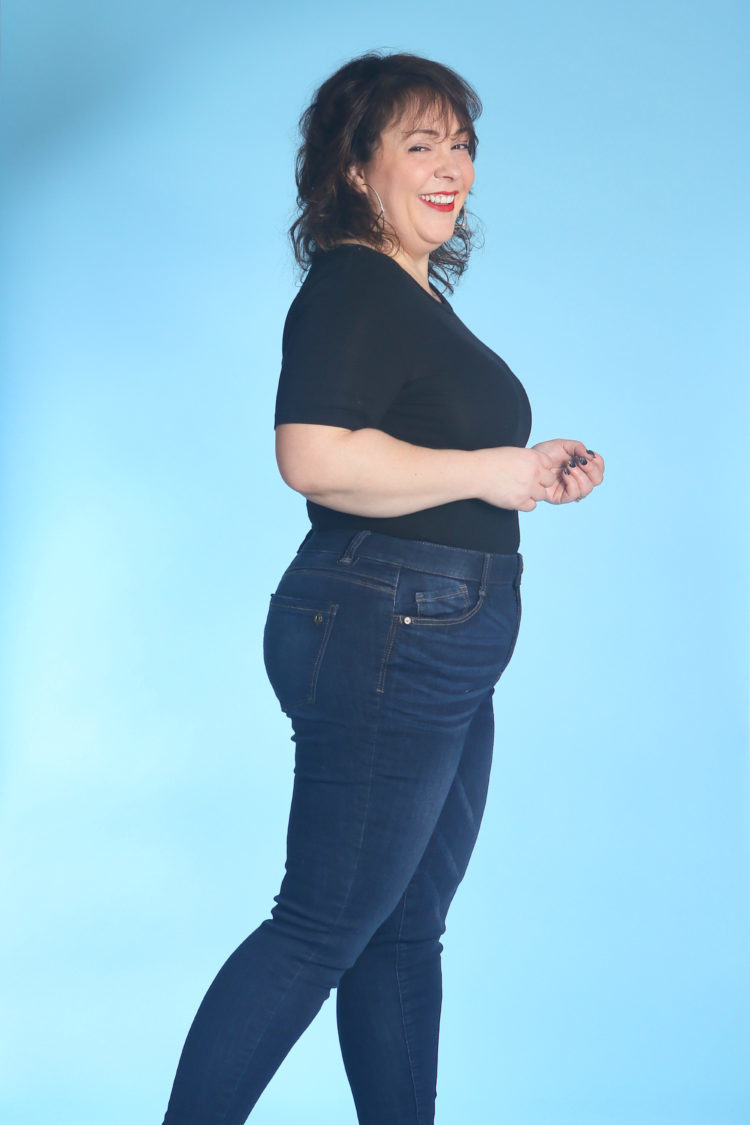 Democracy "Ab"Solution Jegging
For years, readers had been telling me to try Democracy Jeans. They were so comfy, they were so flattering, and the price was so great. I finally tried the jeans earlier this year and I have to agree with them all – these jeans are pretty fantastic! While Democracy has a broad range of cuts of jeans, I am focusing on the Jegging as it is not only the one I found best for my figure, but the one most popular with the Wardrobe Oxygen audience. While this jean is called a jegging, it fits more like a skinny jean and can look quite nice with shorter or tucked-in tops. What makes Democracy Jeans unique is the super-soft denim that retains its shape along with a waistband that is elastic on the inside. These are the kind of jeans you will reach for again and again, and not only will they be comfy they will not slide down, bag out, or segment your figure. This link offers the jeans in several washes up to a size 16. $68
However, if you love the idea of these jeans or try them and find they fit you great, I recommend you search for a lower price. Like JAG Jeans, you can often find Democracy for a lower price online. You can find them for around $35 at Amazon (which is an authorized retailer for this brand), and places like Costco and Boscov's often have discontinued styles and colors for less.
You can see me wear these jeans and do a complete review at this link.
Wit & Wisdom Ab-Solution Skinny Jeans
I may be saving the best jeans for moms for last, as Wit & Wisdom jeans are pretty fantastic. Like Democracy Jeans, Wit & Wisdom jeans have a wide elastic band on the inside of the jeans that keep them from stretching out or sliding down while remaining comfortable. They also have power-mesh panels in front that subtly smooth the belly. They say their denim has "mold and hold technology" and I believe it as this denim sort of molds to your body without stretching out. The sizing is consistent from cut to cut and year after year and they are quite durable. While Wit & Wisdom offers a great variety of styles, I chose their skinny jeans which are a classic that look great with so many different kinds of tops and on a broad range of body shapes. This link is for the jeans in regular and petite sizes up to 18, and this is the link for the plus size jeans up to size 24. These jeans are $68 for straight sizes, $78 for plus sizes.
Shop the Jeans Featured in this Article: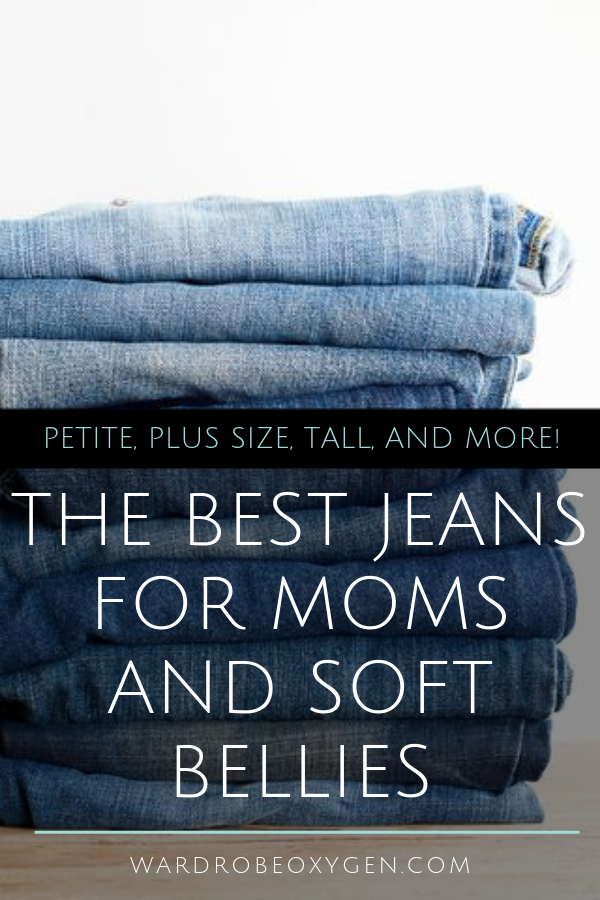 And now I would love to hear from you! What do you think are the best jeans for moms? Are there jeans that you love that are missing from the list? Have you tried these jeans and have a differing (or similar) opinion? Share in the comments! Your feedback may make the dreaded jean shopping easier for a fellow woman!