This article may contain affiliate links; if you click on a shopping link and make a purchase I may receive a commission. As an Amazon Associate, I earn from qualifying purchases. 
This post is sponsored by Samsung. Thank you Samsung for this opportunity!
When I found out I was pregnant, I got pretty "back to basics" with a lot of our lifestyle. We switched to natural products – eco-friendly dish detergent, lots of castile soap and vinegar. We cut out paper towels and even cloth diapered Emerson. We swore we'd never be "those parents" who "had a tablet babysit their children." Well if I wasn't a blogger and Karl a digital photographer, we wouldn't be spending all day on a laptop with a family, we'd never be so tied to technology.
And here it is eight years later. We still don't use paper towels and we still go through a lot of white vinegar and castile soap. But technology is a part of our life, and one that in many ways improves it. I just quit my day job to focus on this blog full time. I chose a profession that is dependent on speedy internet. Quite often on a Saturday morning, I will be in my office on my computer, Karl will be in the kitchen streaming Spotify on his Bluetooth speaker, and Emerson will be upstairs in her room or in my office with me, watching YouTube or downloading a movie to watch later. On top of internet, my job relies on prompt receipt of packages at our front door and feeling at ease when traveling for the blog. All of this requires technology, but this technology allows me to be home with my family while I pursue my dream.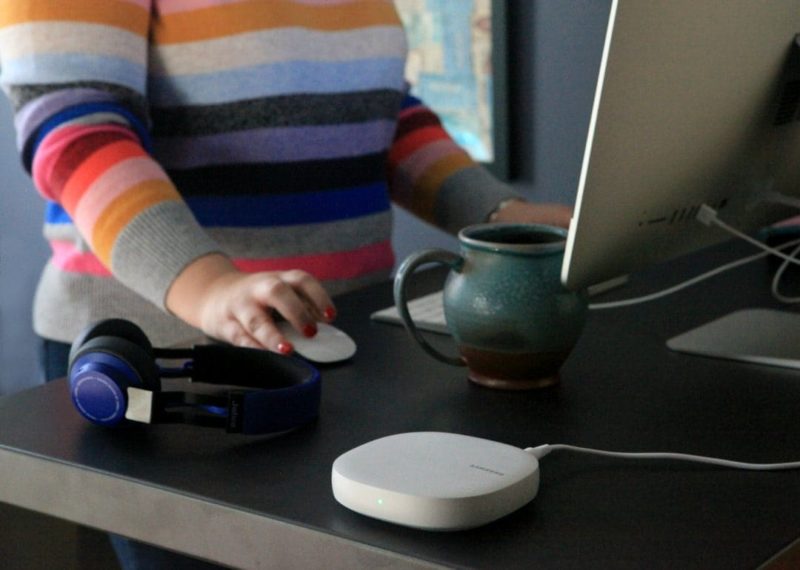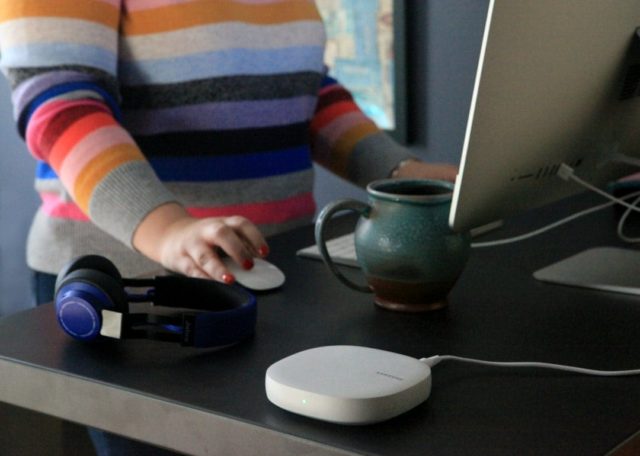 A cool thing about having a blog is being able to share cool products with you. I'm totally the one at the party when receiving a compliment on her shoes goes into a long discussion of the great price, how I found the great price, and where to buy them. Makes sense that I'm a blogger, eh? Well take a sip of your sparkling water with lime and let me tell you about Samsung Connect Home. It's Samsung's new mesh wi-fi system that gives you corner to corner coverage – from down in your basement to the top floor in your home office. And with using the Connect App, you can manage all the smart technology in your house that makes it a home, the same home with a rain barrel and a composter.
Samsung reached out and asked if I would be interesting in partnering to test out Connect Home. For such a lifestyle-related brand, the decision to partner is made by the whole family. And there was no question about agreeing to this, in fact Karl was pretty psyched to check it out and had researched it and considered us getting it prior to me mentioning the partnership. We deal with spotty Internet and Wi-Fi, it's pretty common in our New Deal-era row homes. We also have the Ring.com system in our home and appreciate the ability to connect it (and tons of other smart home products) through the Connect App and be able to check on it when on travel or even when a raccoon in our recycling bin sets it off at 2am. In short, we all were excited to try it.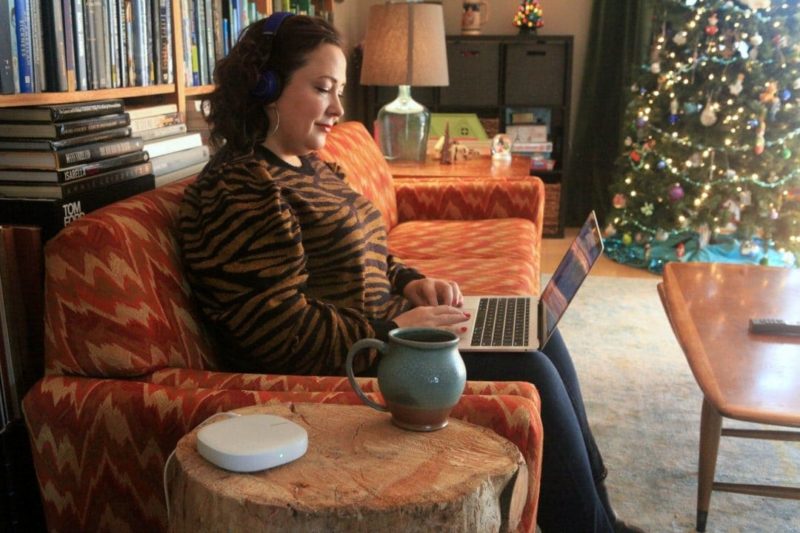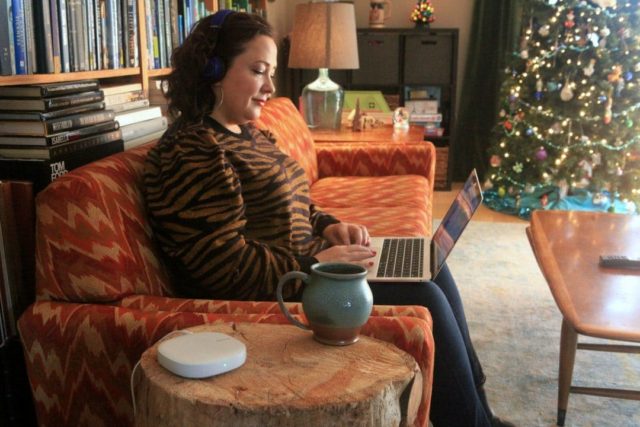 One thing great about Connect Home is how sleek and unobtrusive it is. We don't have a techy looking home, and the devices blend in nicely and are small. They look nice even sitting out in the open (not like the standard routers with multiple antennas). But these small white hubs pack a mighty punch, and consistent Internet for getting rid of those annoying dead zones. Each router can extend your Wi-Fi 1,500 feet; you can wirelessly connect up to five Samsung Connect Home routers for mesh network coverage of 7,500 square feet.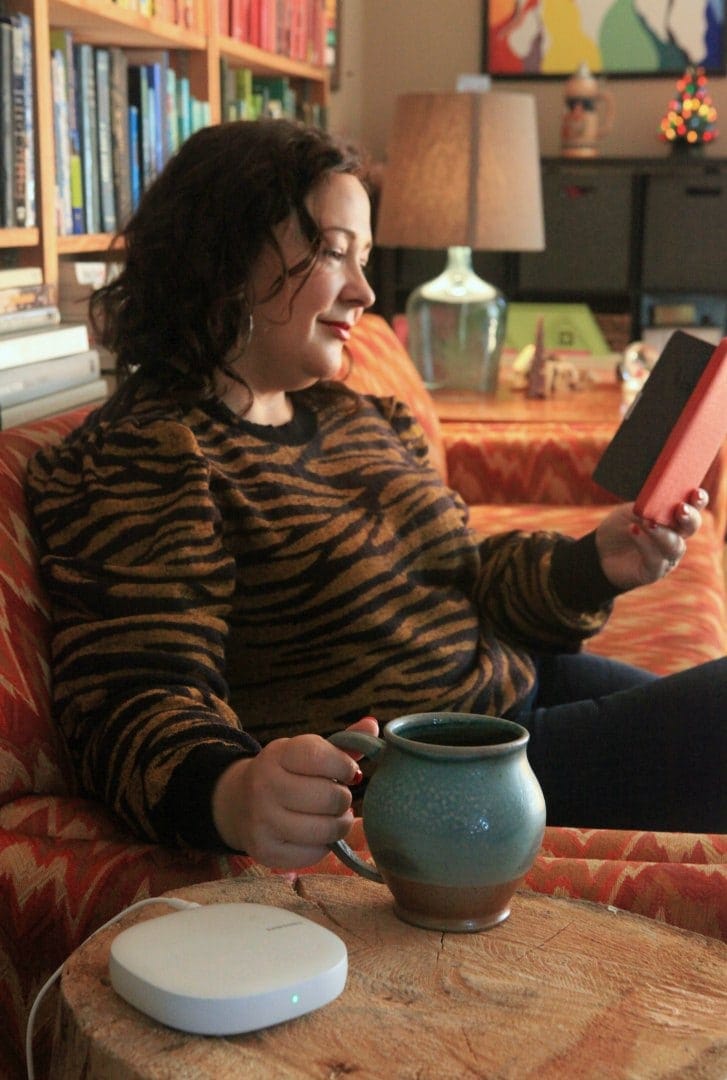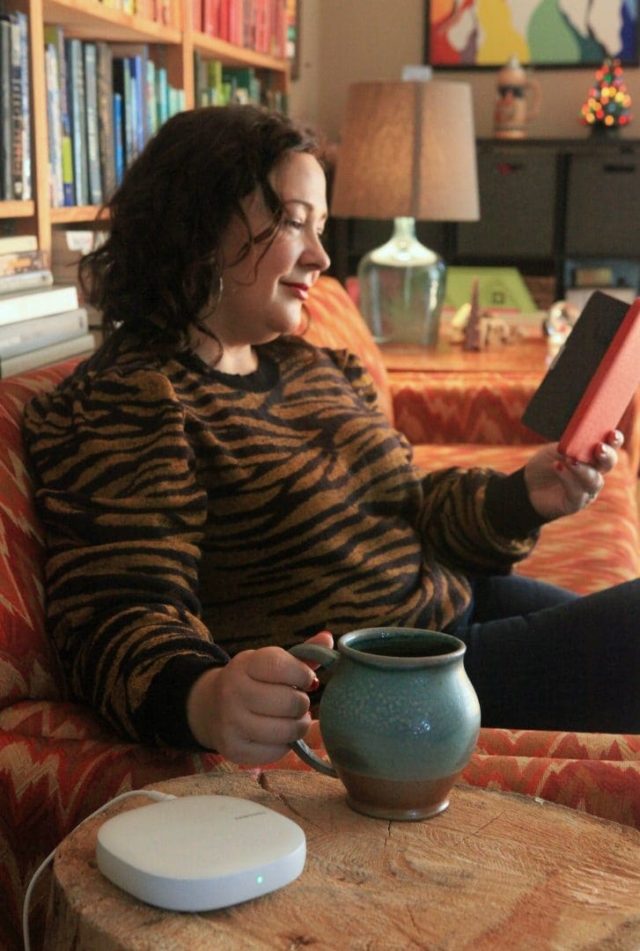 Samsung Home Connect is the only whole-home Wi-Fi system that also works as a SmartThings Hub for all your "smart" home devices. With no monthly fee, Samsung SmartThings makes it easy to automate and manage your smart home, and gives you the flexibility to expand your smart home with lights, door locks, cameras, voice assistants, thermostats and more. Connecting with SmartThings via the Connect App is really user friendly, and from it we can check on our Ring.com cameras. We've been discussing trying Phillips Hue lighting and now knowing it also works with the Samsung system, we're more interested in it. The ability to control our smart home products through one intuitive app is life changing. We don't have a Nest thermostat, but we have friends who do and they also work with Samsung Home! The app will also help you set up your hubs in the perfect locations in your home, as well as easily see and manage connected devices, set parental controls and allow guest access. Speaking of guest access, our old Wi-Fi name was something really random and the password even more random and hard to remember. With the Samsung Connect App, we were able to easily rename our Wi-Fi and choose a new password – and with its security technologies and automatic firmware updates, we know that it's helping to keep our smart devices secure.
Samsung describes Connect Home as the connective tissue of a home… and they're right. It's all easily managed in one place on the app, and all the tools you use are working better and have stronger Wi-Fi. Gotta say, the whole family is a fan of Samsung Connect Home.