This article may contain affiliate links; if you click on a shopping link and make a purchase I may receive a commission. As an Amazon Associate, I earn from qualifying purchases. 
Saturday during the day was spent mainly recouping. I did wash curtains and bedding and the dog bed and bathroom to create a well-person retreat, but mainly hung out on the couch, took cat naps and chilled. Saturday night we went out to celebrate my dear friend A's 30th birthday.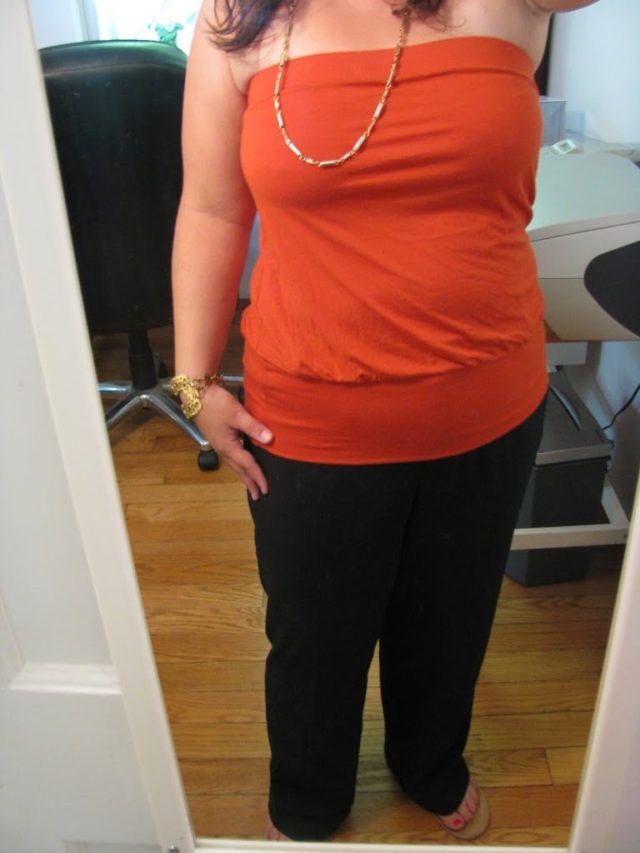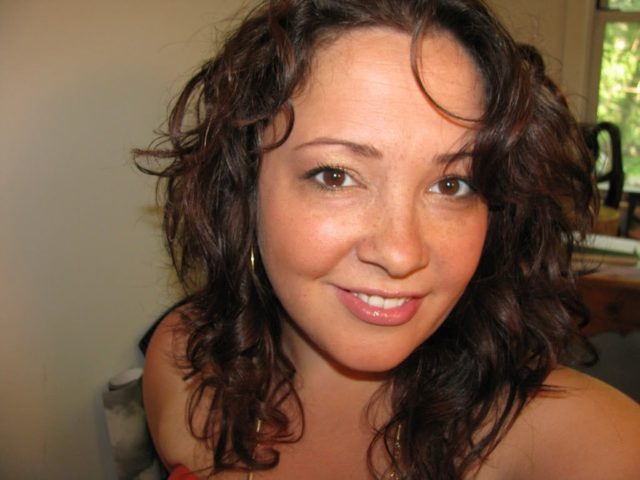 Attire:
Victoria's Secret: Dark orange blouson tube top
Ann Taylor: Black tropical weight wool trousers
Lands End: Gold Sandals
J. Crew: Gold necklace
Twisted Silver: Gold bracelet
Misc: Gold hoops
Hair:
Second day
Added a bit of Matrix Curl.life Contouring Milk while dry to revitalize curls
Hit frizzy spots with curling iron
Set with matrix Sleek.look hairspray
Beauty:
Benefit: Pink to Please the girl, Gold to Get the Guy palette – the darker gold shadow on lid and along lash line, Her Glossiness in Next Question Please
Cover Girl: Smoothers tinted moisturizer in Light/Medium, LashBlast waterproof mascara in Black
Maybelline: Brow powder in Dark Brown
Philosophy: The Supernatural color correctors in Light
Body Shop: Eye Definer in Slate, Eye Color in Golden Khaki in crease and along lash lines, Shimmer Cubes in Warmth – Chocolate along lash lines and outer crease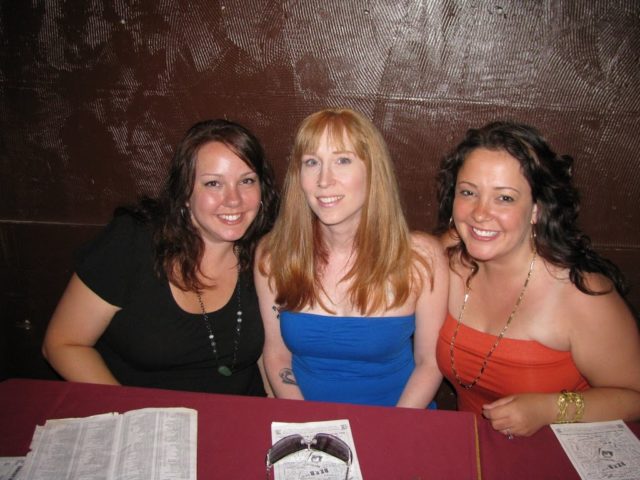 Nine of us went out to celebrate. We started with dinner, hit two bars, then had dessert and coffee. Plans were to continue the evening, but we were all feeling pretty pooped (four of us were still recovering from Bonnaroo and one had recently injured his neck and was on meds). It was a lovely evening and we had perfect weather to enjoy dining and drinking al fresco. I of course enjoyed water, but still had a wonderful time!
Somehow I have no picture of me and A from the evening, but here is a pic with my sister and dear friend B from the evening.
Sunday, we took my mom and father-in-law to our favorite Greek diner for breakfast and then I went to my mom's to help her with some computer issues. After that hit the local market for some groceries.
No real need to dress up and I took the chance to wear my new maternity tank that I won off the great blog, Mom Most Traveled. The shirt is from the company [bump] and they have some really cute sayings on their tees and tanks for moms and dads to be. Considering my body is at the changing, yet not obviously pregnant stage, I loved the "I'm not fat!" shirt! Quite appropriate since I have had so many comments (most not published and some in person) commenting on how I am getting fat and how my body just looks lumpy and bumpy, not "with child." Sort of sucks when you know you have only gained about 5lbs and it's for the good of the little fig (grown from kumquat!). 🙂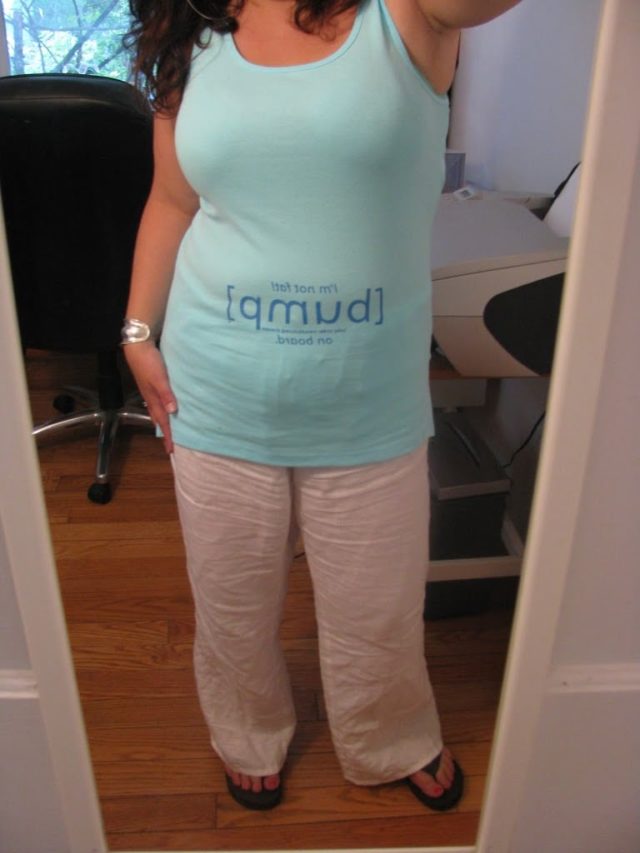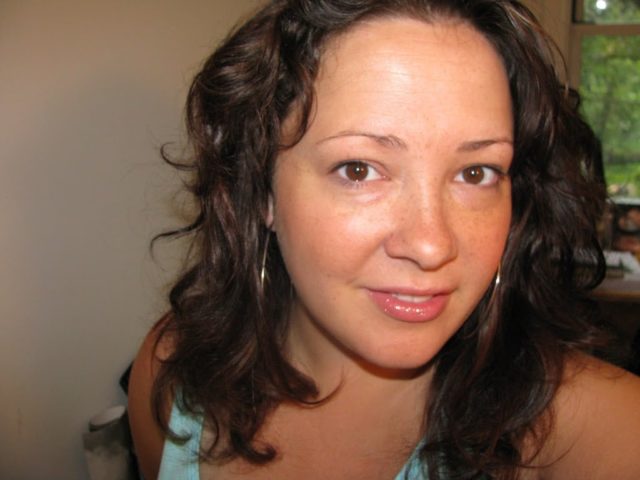 Attire:
[bump]: Aqua tank
Victoria's Secret: White linen drawstring trousers
J. crew: Brown wedge flip flops
Silver cuff and hoops
Hair:
Third day
Brushed out
Beauty:
Cover Girl: Smoothers tinted moisturizer in Light/Medium
Imju Fiberwig: Mascara
Revlon: Super Lustrous lip gloss in Pink Afterglow
Now I am watching soccer with my husband and his friend and will probably soon go and take a nap. Not too exciting, but I want to be able to survive the coming week and not be sick any more.