This article may contain affiliate links; if you click on a shopping link and make a purchase I may receive a commission. As an Amazon Associate, I earn from qualifying purchases. 
So a bit late… sorry for the lack of postings for almost a whole week – baby's not even here and life has been getting hectic!
Thursday I took off because my mom had foot surgery and I was her chauffeur/nursemaid. She's totally fine – hobbling around with one of those boots but not feeling any pain which is excellent. That day I wore my black, pink and white print matte jersey dress from Motherhood Maternity.
Friday, I was all dressed and ready to go to work and my car wouldn't start. It's old, it gets crotchety in the rain, it happens. Luckily I had my work laptop with me so I worked from home. I did have on jeans and my light green cashmere tank, but quickly switched to some Old Navy cropped yoga pants and a tee shirt for the rest of the day! That night we had a quiet night at home with movies and homemade stir fry.
Saturday, we started by going to breakfast with my mom and her boyfriend to our favorite Greek diner. My husband went to man the yoga studio's information booth at the town Labor Day festival and I worked on cleaning the house. I have been a real slug lately and had a sudden burst of energy so got to hard core cleaning – we're talking curtains, dust ruffle, flipping the mattress (yes waited for hubby to do that), closet gutting, you name it. It felt really good and it was a gorgeous day so I had all the windows open.
Saturday night we had a few friends over, grilled out on the deck and then went to the town's Labor Day festival (carnival rides, live music, funnel cake… the usual). I wore a black jersey dress from Old Navy and flip flops.
Sunday, we made breakfast and had it out on the deck, then went back tot he festival with a different set of friends. We then walked home, got changed and headed to a friend's pool party. Didn't get home until late and I was POOPED!
Monday, caught the town's Labor Day parade, then had a couple friends and family members over for grilling and hanging out. I ended up spending a large portion of the day napping because all that walking, sun and long days really took a toll on me! Pregnancy is finally catching up with me and I don't have the stamina I did five months ago! 🙂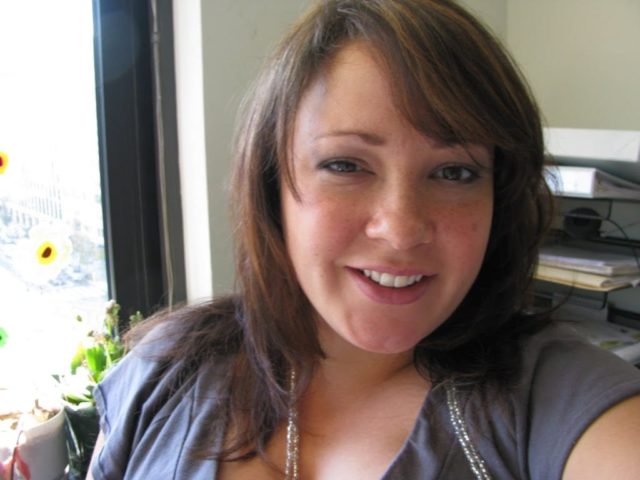 Monday:
No full-length picture as that I was running super duper late this morning – my husband was taking me to the Metro and he had to also pick his dad up from the auto shop so I was in a dress-and-dash situation. Picture taken in my office around 4pm.
Attire:
Old Navy: Gray jersey maternity dress
Callisto: Tan heeled sandals
H&M: Two silver necklaces
Silver cuff
Hair:
Washed and conditioned
Straightened with Croc Wet-to-Dry flat iron
Beauty:
L'Oreal: True Match foundation in C3
Cargo: Matte BeachBlush in Tenerife
Maybelline: Brow powder in Dark Brown, shadow quad in Mocha Motion
Pop Beauty: Shadow palette for brown eyes – the balck in crease and along lash lines
Cover Girl: LashBlast mascara in Rich Black
Victoria's Secret: Lip color in V.I.P.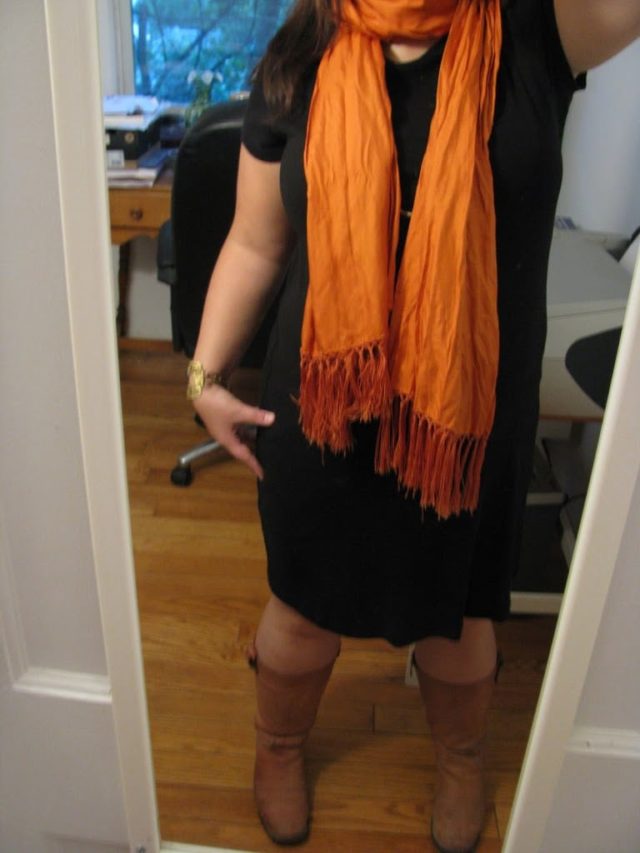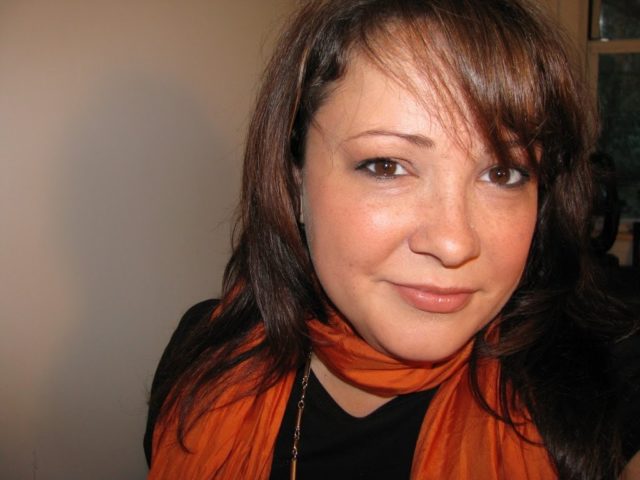 Tuesday:
Attire:
Jones New York Sport: Black tee shirt dress
Banana Republic: Orange crinkle silk scarf
Duo: Bern Boots
J. Crew: Gold necklace
Twisted Silver: Gold bracelet
Ann Taylor: Gold hoops
Hair:
Day 2, used dryer and round brush to smooth out bedhead
Beauty:
L'Oreal: True Match foundation in C3
Cargo: Matte BeachBlush in Tenerife
Body Shop: Eye Color in Taupe on lid, Granite in crease and along lash lines
Avon: Luxury Eye Liner in Black
Victoria's Secret: Lip Gloss in French Kiss
Knew I would be trekking all over DC today for work stuff so was sure to wear the most comfy shoes in my collection. I have been feeling pretty swollen and bloated lately, but glad to know that the boots still fit these calves! 🙂