This article may contain affiliate links; if you click on a shopping link and make a purchase I may receive a commission. As an Amazon Associate, I earn from qualifying purchases. 
I bought a pair of silky track pants. I wore them out with a camisole and heels but I'm wondering how I can wear them work for work, I work in a business casual office.
Someone recently commented (sorry could NOT find, if you're the one who did it let me know so I can give you credit and link appropriately) that if a garment uses an outdoor or athletic term for its description, it's not appropriate for the office. In general, I agree with this rule. No yoga pants, no hoodies; such garments are fab but not for the workplace. However, track pants have received quite a makeover the past few seasons and are now available at most any retailer in luxe fabrics, cool prints, and are expected to be styled in a dressy and luxe manner.
I love a silky or crepe track pant with heeled sandals and a camisole or drapey tank for cocktails with girl friends. Add a blazer and switch the sandals for heeled booties for a cooler temperature version. Dress them down with gladiator sandals and a ribbed cotton tank or leather booties and a biker jacket come fall. It's wonderful that current pant trends are comfortable after years of skinny jeans and leggings, and how they can dress up and be a comfortable alternative to skirts. It's also a great way to break away from black trousers and bring some color or print to a wardrobe.
Does this mean I think everyone should incorporate track pants into their workweek wardrobe? Nope. They are still a very relaxed style that may look chic from the front, but the whole effect (especially the back view) isn't terribly professional. However, if you work in a creative field or casual office track pants may be completely acceptable and no one will bat an eye at your pajama bum or athletic-inspired pants.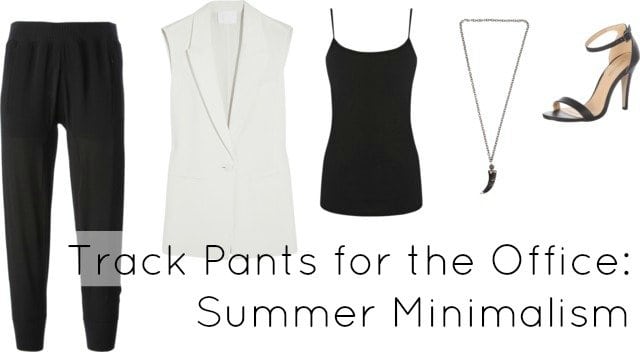 shop similar: pants | vest | camisole | necklace | shoes
With this look, you can keep your cool during the sweltering summer without looking half undressed. A sleeveless blazer or vest is a popular trend this summer, and its length covers much of the rear reducing the track pant look. Having a continuous color from blouse to shoe adds a level of professionalism; a simple pendant necklace adds a needed touch of personality and shine to keep it from looking too uniform.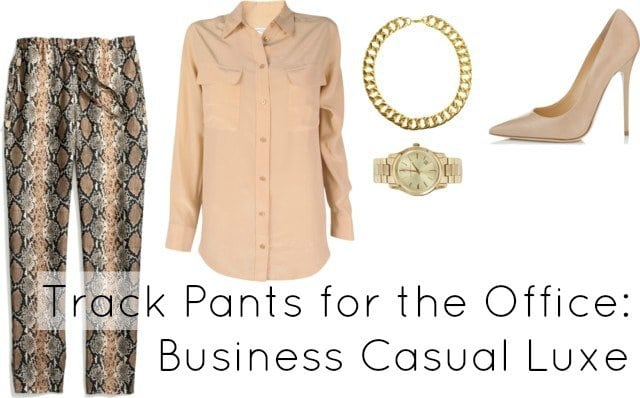 shop similar: pants | shirt | necklace | watch | shoes
This look takes advantage of the silk fabric of the dressed-up track pants to create an ensemble that relaxed luxe. Half-tuck a silk shirt in a traditional cut to downplay the track pant look but give an effortlessly cool vibe. Bold gold accessories and pointed toe nude heels add polish and make it clear these are not your pajamas.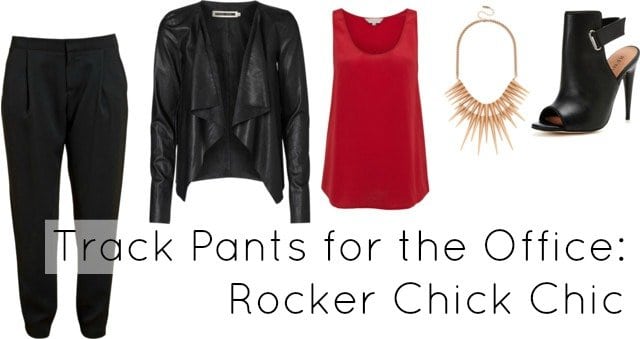 shop similar: pants | jacket | tank | necklace | shoes
Pairing drapey trousers with an equally drapey jacket makes the pants look more purposeful and the look cohesive. A silk tank in a bold color or print adds personality, a tough metal necklace and bold leather booties give a rocker vibe but are still creative office appropriate.
When considering slouchy or track pants for the office, it's important to consider fabric. Jersey and gauze fabrics are far too casual; check fabrics in bright light to ensure opacity. A crepe or silky material is your best choice. Also note details; track pants with knit ribbed ankles and waistband cancel out any formality of the main fabric. A track pant with a standard, non-elasticized ankle will look more office appropriate, as will one without a drawstring. Though these pants are called track pants, if they look too much like their athletic sibling, they shouldn't be considered for the 9-5.