This article may contain affiliate links; if you click on a shopping link and make a purchase I may receive a commission. As an Amazon Associate, I earn from qualifying purchases.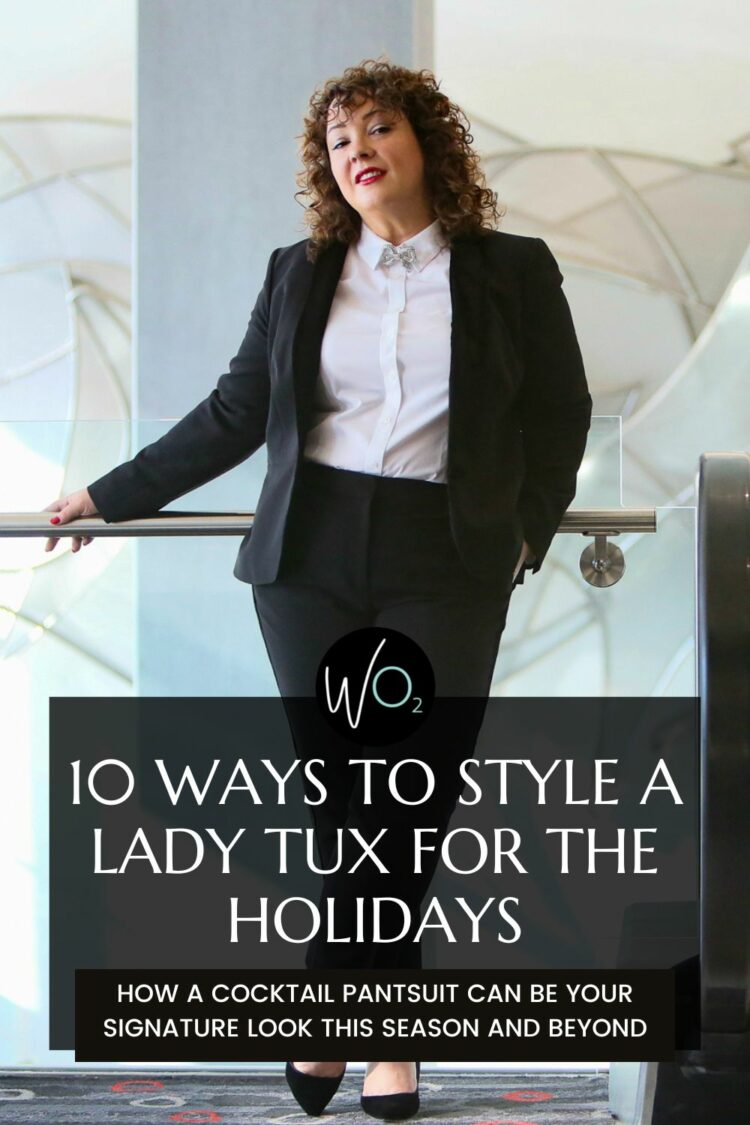 I've been raving about a lady tux for years. Able to go anywhere a cocktail dress would, a lady tux (also known as a Le Smoking) is oftentimes more comfortable, warm, and versatile. It looks chic with flat shoes, it doesn't require special underpinnings, and the jacket and pants can separate to increase the number of looks you can create from it. Below I share 10 ways to style a lady tux, focusing on the holiday season since it's right around the corner.
10 Ways to Style a Lady Tux as a Grown Woman
So I saw this jacket and these trousers at Talbots and I was so excited I bought them immediately. I already own a lady tux from Talbots (see here and here) and have worn it so much over the years. However, it's a very trim silhouette and after 2020, I am drawn to more relaxed fits and pants that look good with comfy flat shoes. The lady tux hasn't arrived yet, but it already got me thinking of different ways to style this lady tux as a grown woman. How is it different as a grown woman?
Fashion AND Function: As grown women we know we need our clothes to look good and be functional. Working pockets, fabrics that can handle being worn (and cleaned) multiple times. Buttons that work, quality that will maintain style and structure for years to come.
Chic AND Comfortable: I want to be able to sit and not be cut in half, be able to button my jacket without buttons straining, raise my hands above my head and bend my arms without straining the seams of the sleeves. I want to be able to rock a lower-heel or flat shoe without it looking awkward. I need to be able to wear a "normal" bra with straps, and underwear that covers in back.
Versatile: I don't want to have a look I can only wear once or will be out of fashion after a single season. I want versatility, and especially when it comes to occasion dressing, I want signature pieces where it's cool to wear over and over. Also, I'm not attending galas every weekend; I want something that can dress up or down a bit depending on the occasion.
So here are ten looks I created inspired by the Talbots lady tux, with the focus on this holiday season: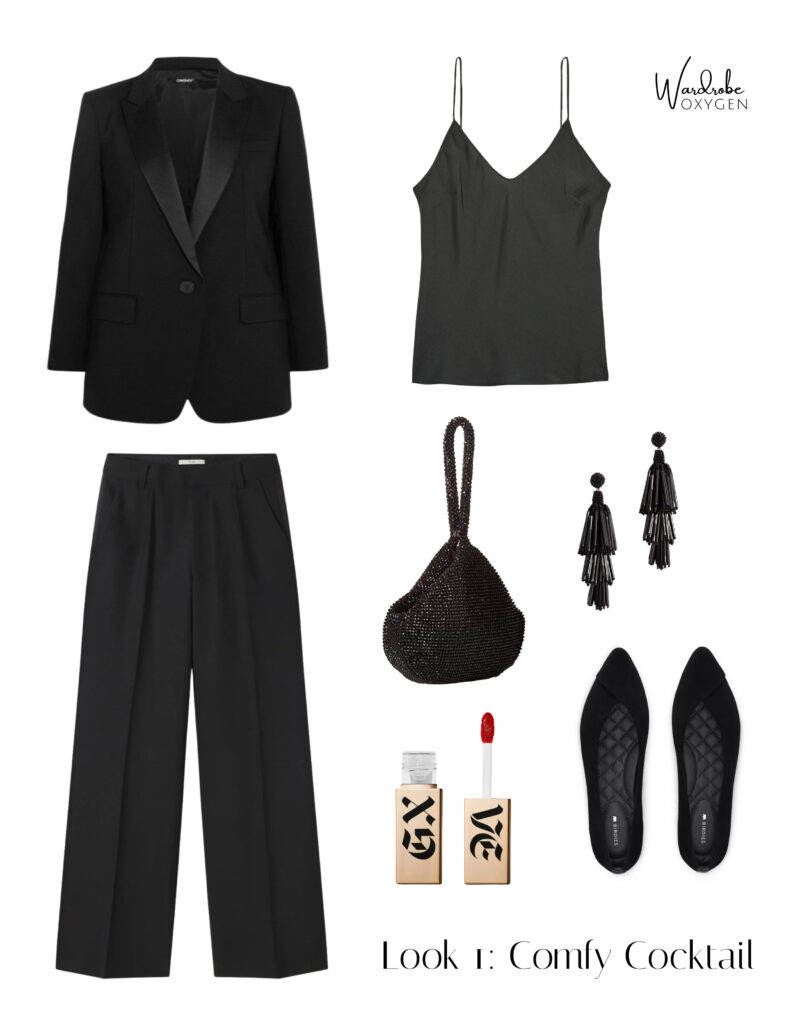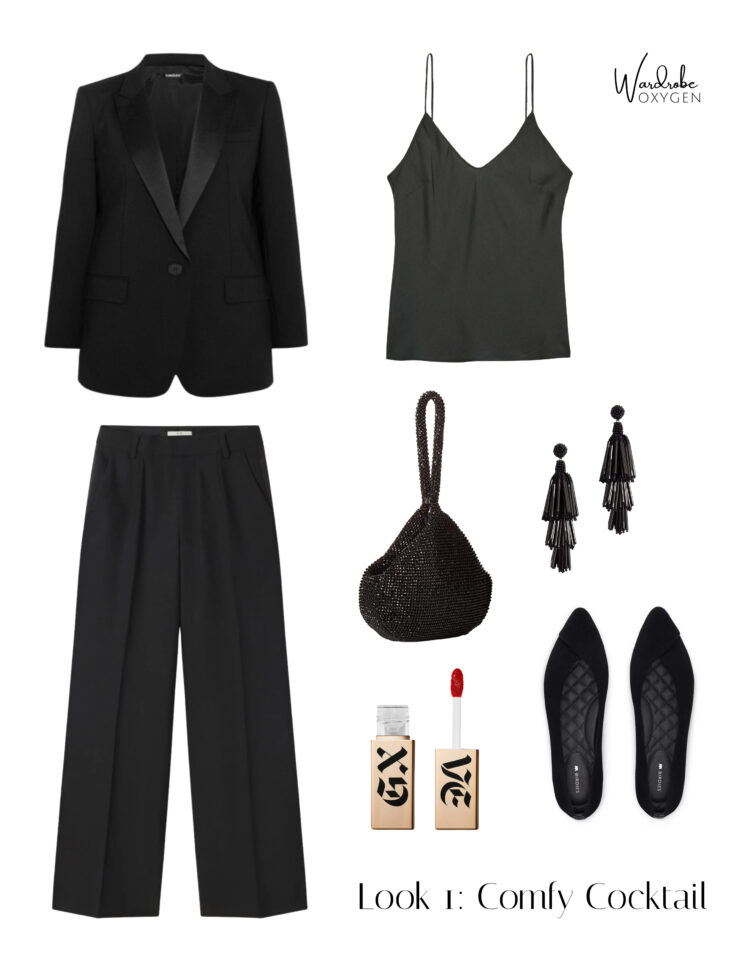 jacket (2-24) | pants (2-24) | camisole (XS-XXL) | earrings | bag | shoes | lipcolor
A classic look for a lady tux, made comfortable for us grown women. Switch out those heels for a pair of dressy flats; I received this pair from Birdies and they feel like slippers while looking polished and refined (and yes they fit my wide feet!). Add some sparkly accessories and a red lip and you're ready for the next gala, a night at the theater, a fundraising event, or an evening wedding. If you prefer more coverage than this camisole, choose a tank or t-shirt in silk, satin, or that is beaded.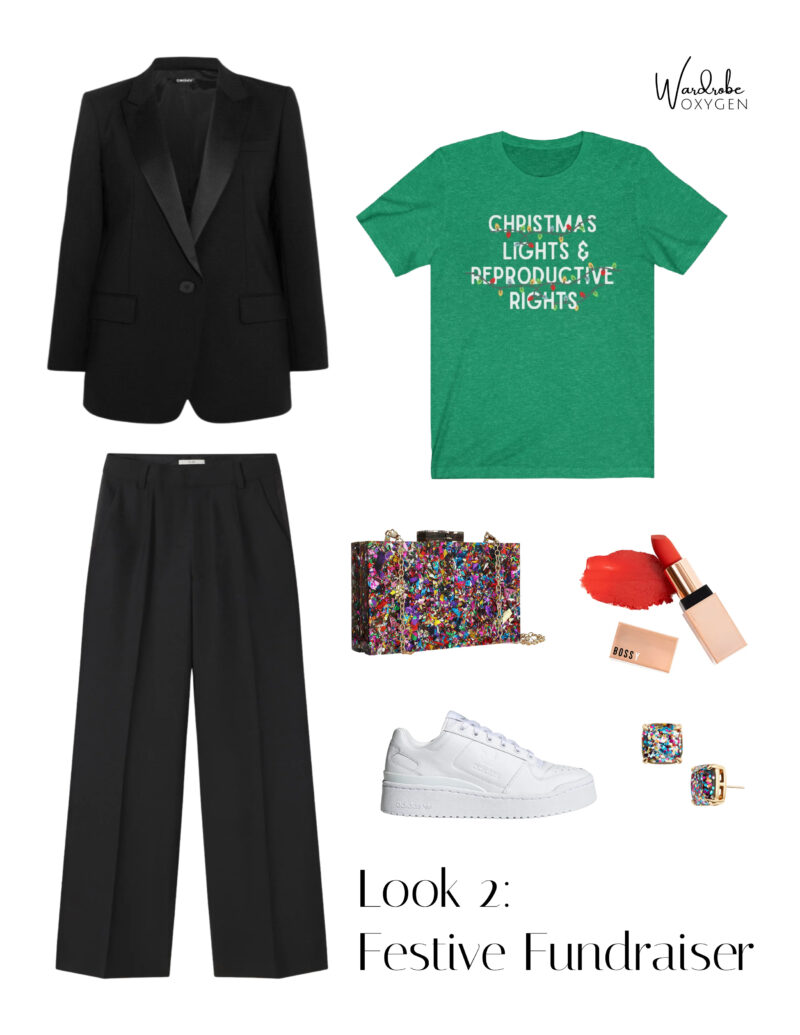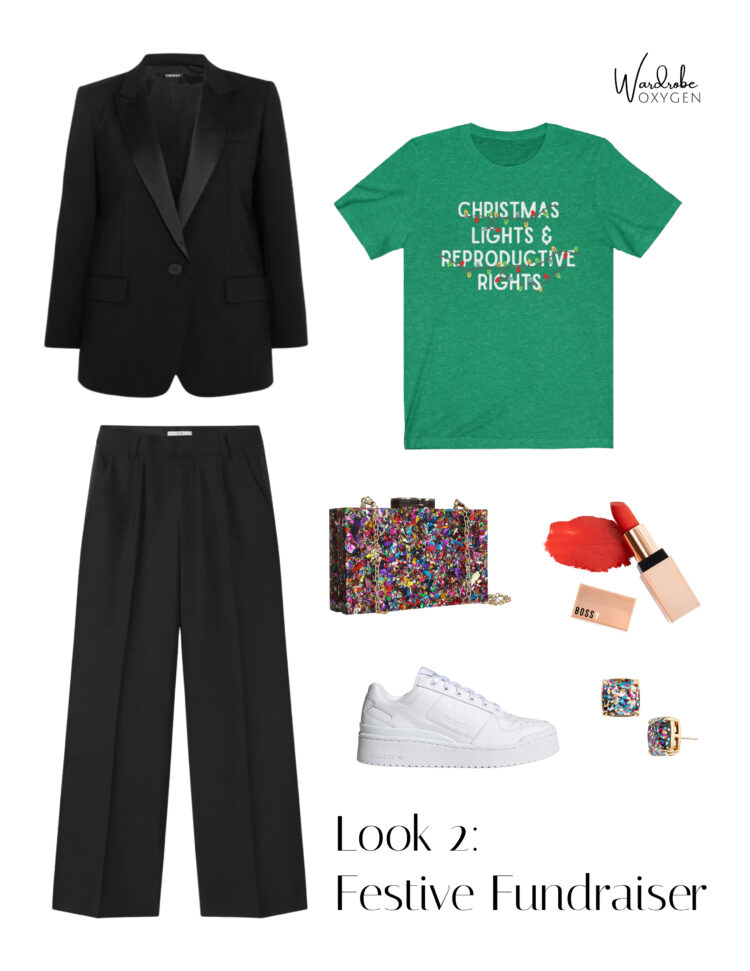 jacket (2-24) | pants (2-24) | t-shirt (S-3XL) | bag | lipstick | earrings | sneakers
Invited to a fundraiser that's at a nice location but you feel that little black dress is too prim and proper but you don't want to be underdressed? Balance the glam of your lady tux with a graphic t-shirt showing what you stand for. Also fun for a party at one's home, this mix of elevated and casual feels modern and comfortable. Keep it fun with a confetti-inspired bag and earrings. And these sneakers I own and find them comfy on my wide feet and cool looking too. If you want to see an example of me wearing a dressy suit with sneakers, check out this post.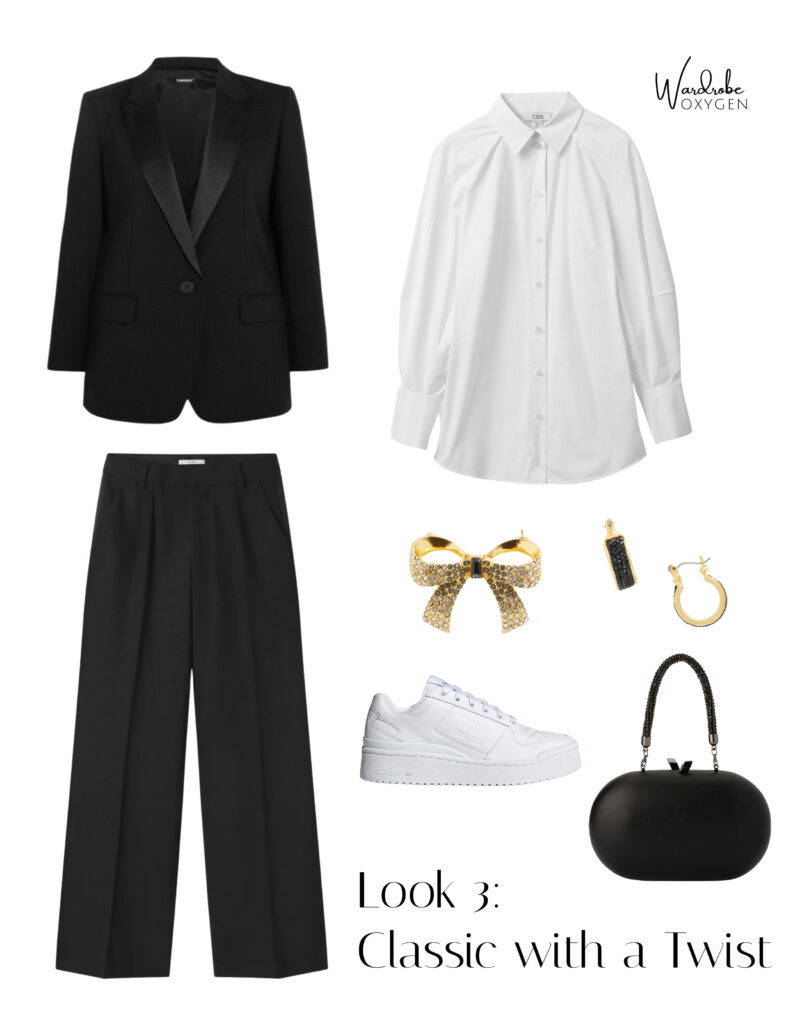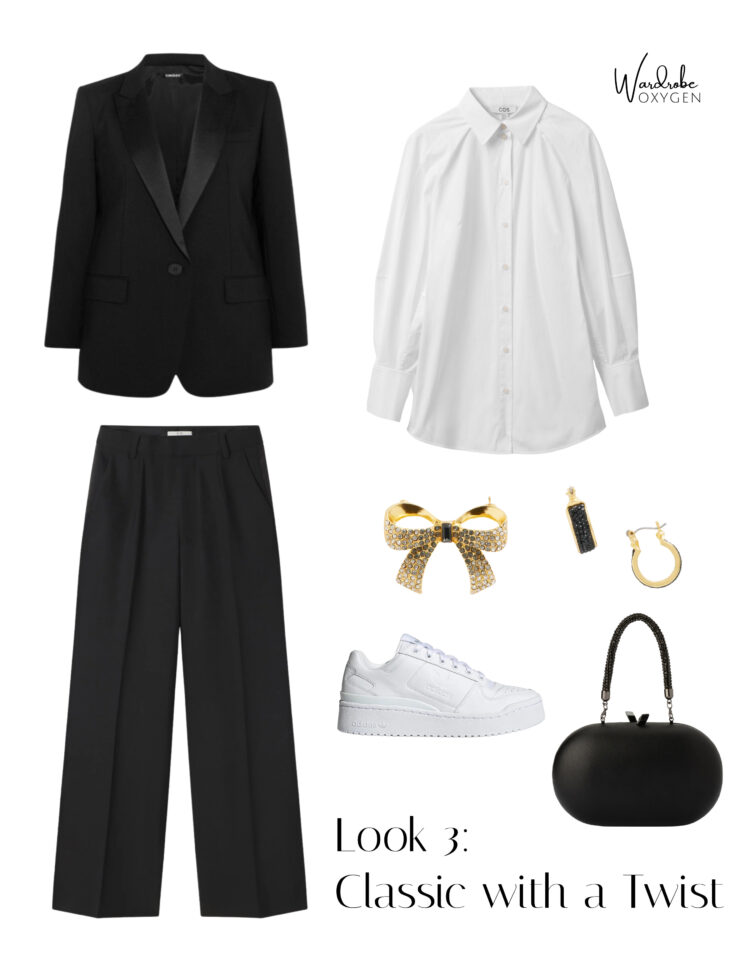 jacket (2-24) | pants (2-24) | shirt (00-22) | bow brooch | earrings | bag | sneakers
This look is totally inspired by a Talbots Lady Tux look I wore back in 2019. I love the play on the bowtie but instead using a sparkly brooch. As a grown woman, why not wear some comfy sneakers in place of heels? If that's not your jam, a pair of patent or velvet loafers, flats, or brogues would be quite chic.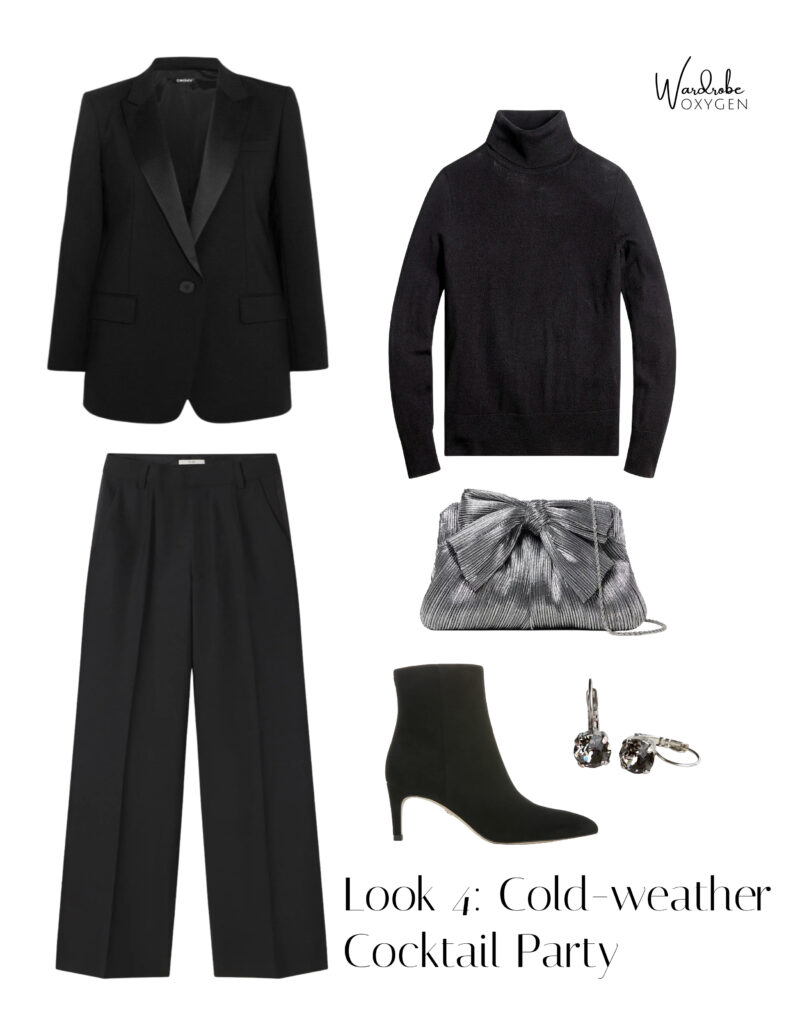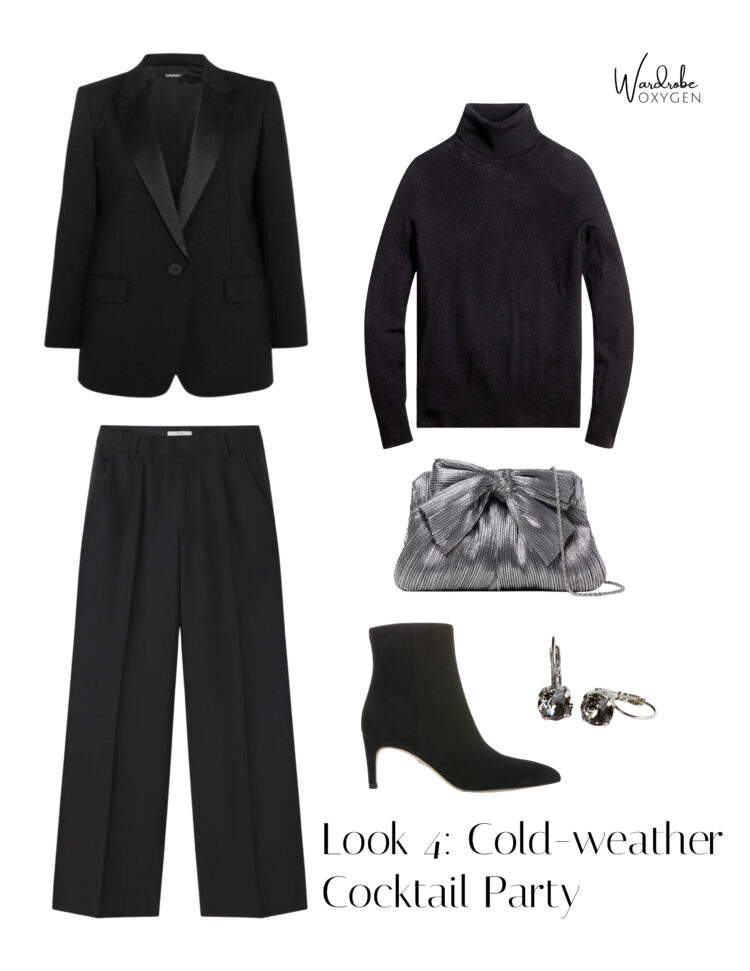 jacket (2-24) | pants (2-24) | turtleneck (XXS-3XL) | bag | boots | earrings
This look is also inspired by a look I created in 2019 where I paired the Talbots lady tux with a turtleneck. It's a perfect way to look elegant while staying warm during a winter event. While I styled it this time with some heeled booties (no bare ankles), you could choose a microfiber, patent, velvet, or suede bootie that is flatter, as long as it is a streamlined silhouette (consider an almond or pointed toe).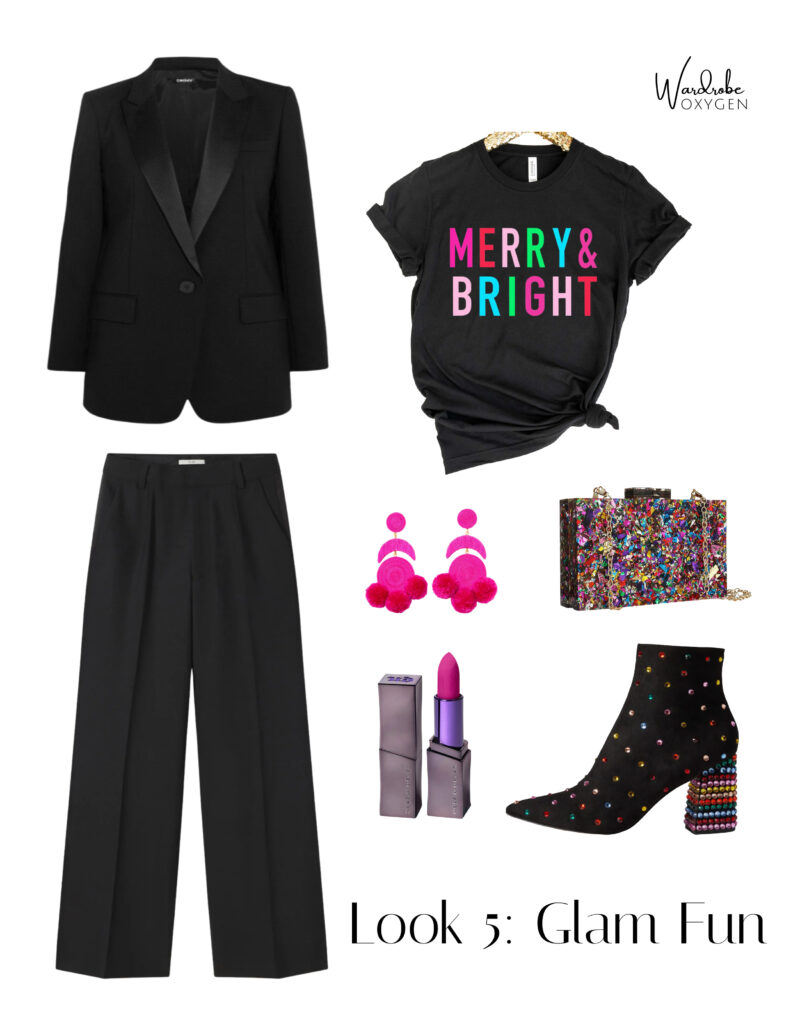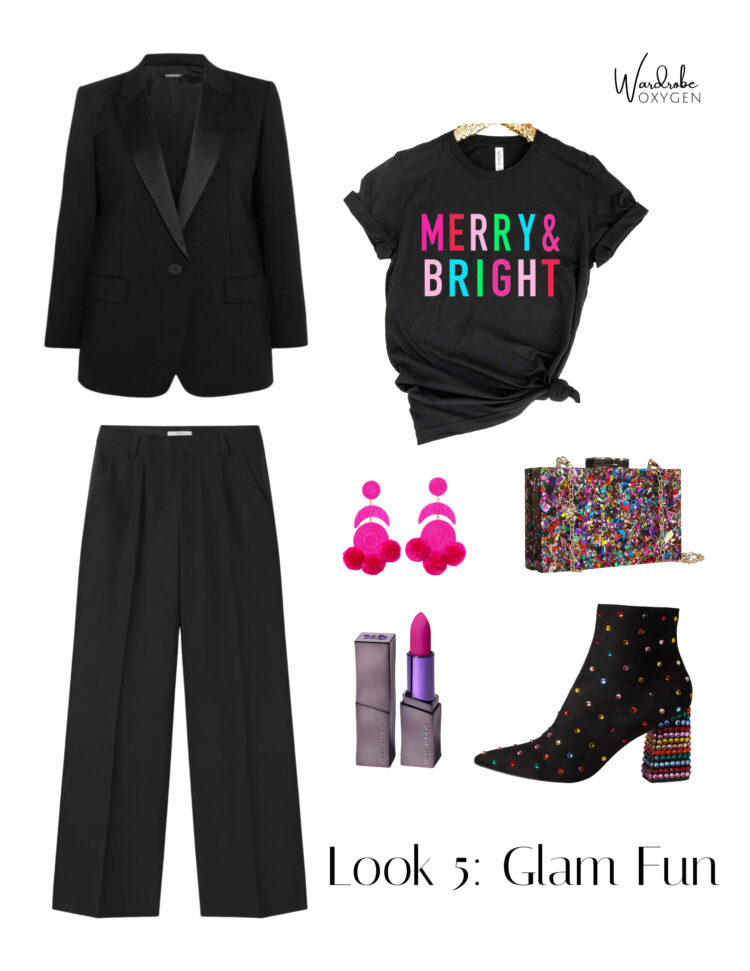 jacket (2-24) | pants (2-24) | t-shirt (XS-5XL) | earrings | bag | lipstick | boots
Who says black has to be boring? Who says a suit needs to be conservative? Take that lady tux and glam it up for a super fun occasion. Here I have a holiday-themed t-shirt, but you could switch it out for your favorite band, the team shirt for your girls' getaway, a bachelorette, or a different holiday. The black base gives you room to be a bit bolder with your accessories. I couldn't resist sharing these super fun boots, and love the idea of switching out typical red lips for the holidays with a bold pink that matches these adorable earrings that will be fun to wear all year long.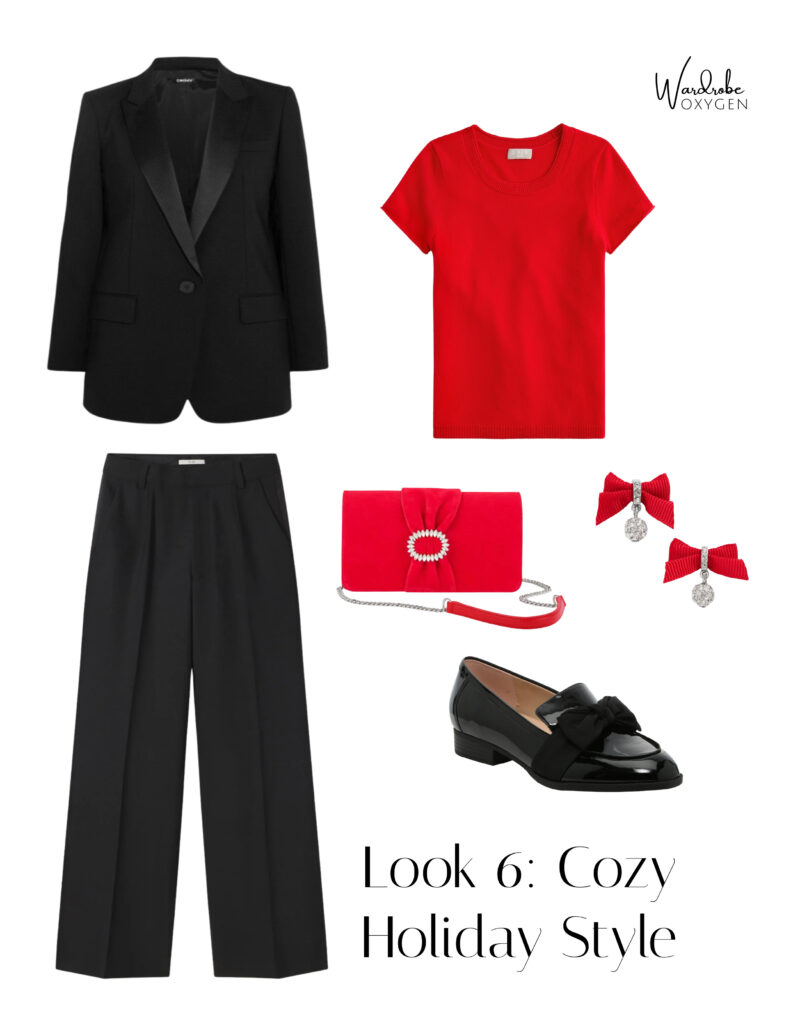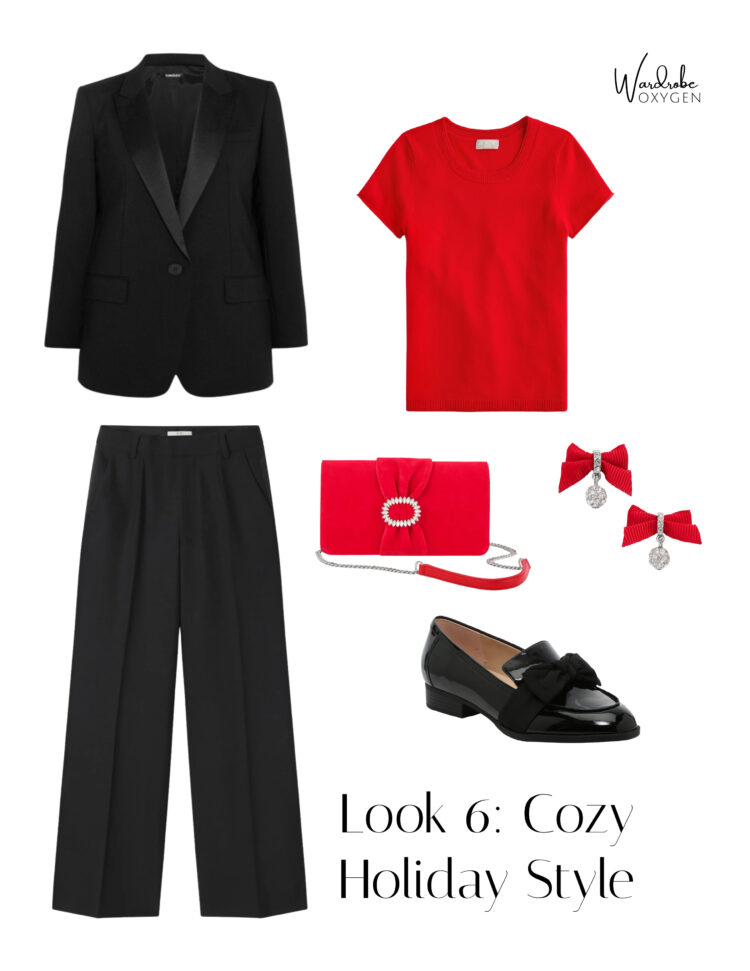 jacket (2-24) | pants (2-24) | cashmere tee (XXS-3X) | bag | earrings | shoes
Cashmere is a luxe textile that plays nicely with a lady tux. I used the festive red color and classic yet elegant accessories for a look that would be chic on a woman of most any generation. This could easily be switched with a silk t-shirt, a lace blouse, a different color.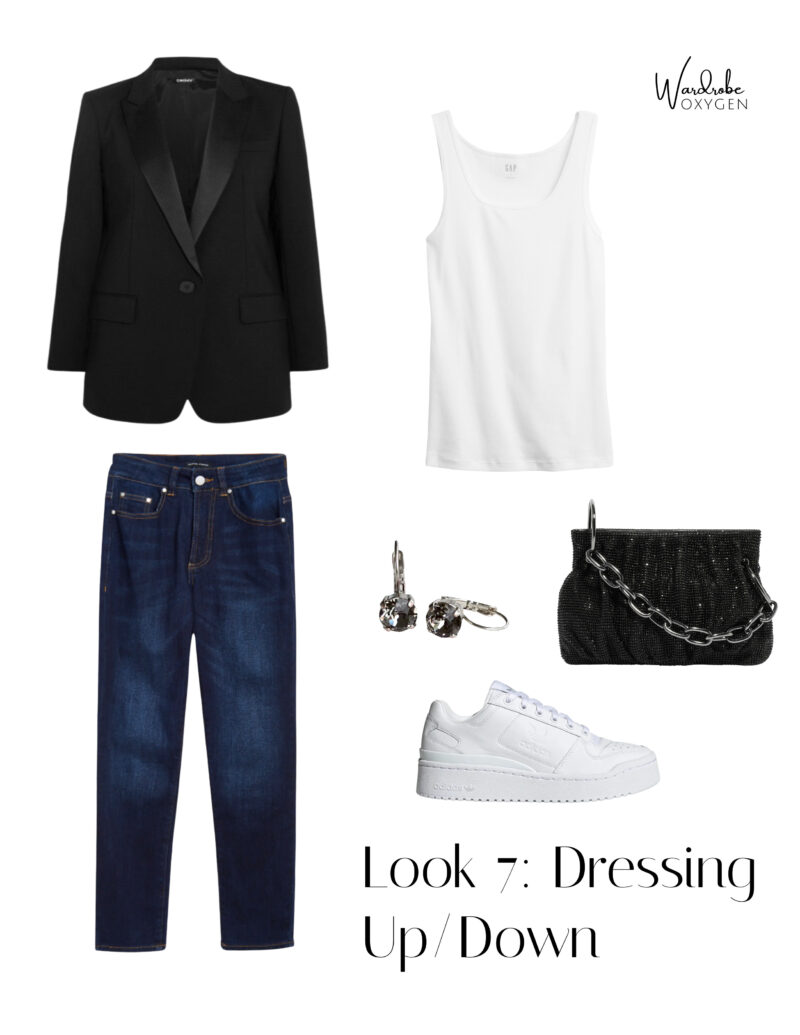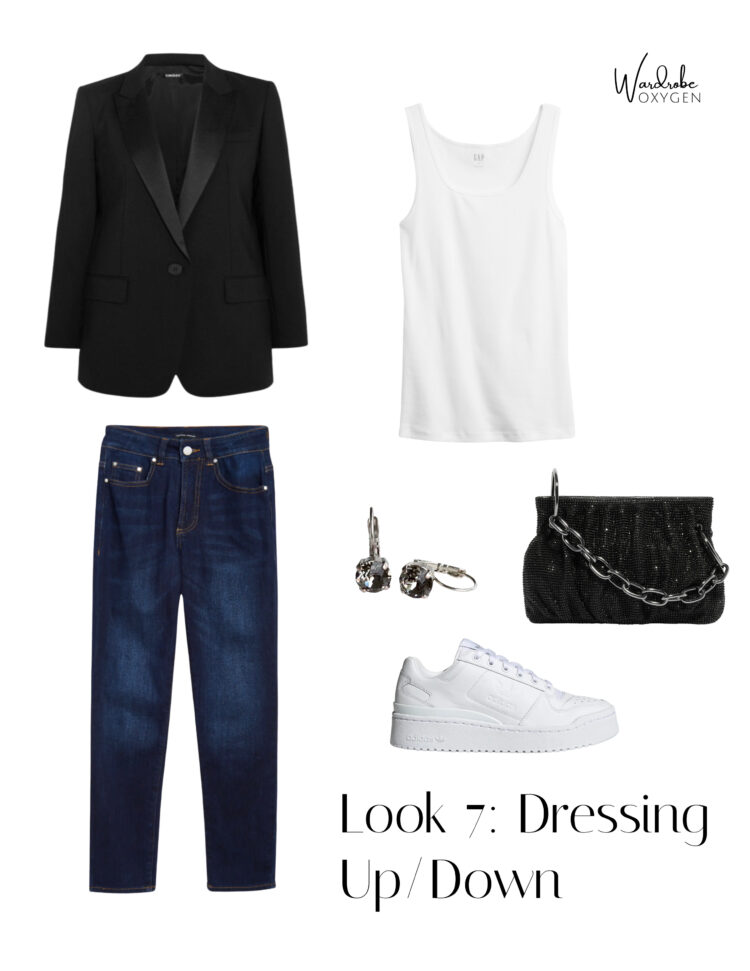 jacket (2-24) | jeans (00-40) | tank (XS-1X0 | earrings | bag | sneakers
I've been rocking a tank or cami with a dressy blazer and jeans for eons, and likely you've worn a variation of this look as well. To modernize it for current times, the jeans are slim but not skinny, I updated it with a white tank which is very on-trend this season (and this tank I own and find it thick/opaque, sort of smooths the torso, and not too low-cut. If in doubt size up). Add some on-trend white sneakers and pewter accessories that can morph with the formality of the occasion for a look that is a modern version of the classic.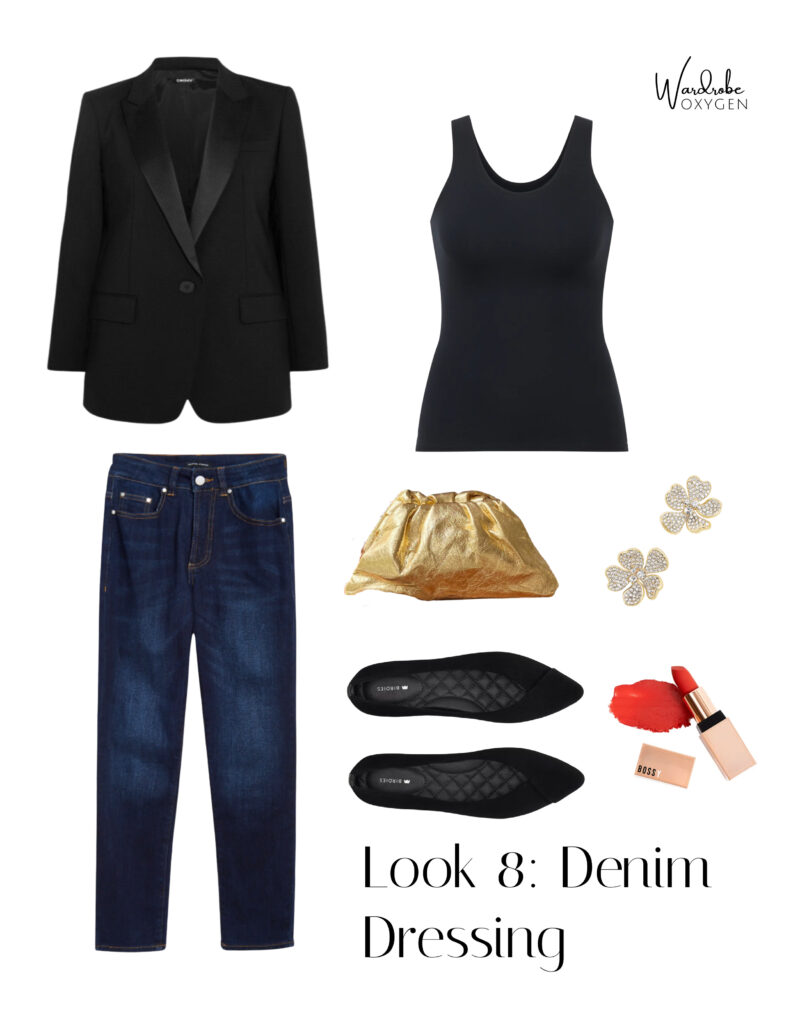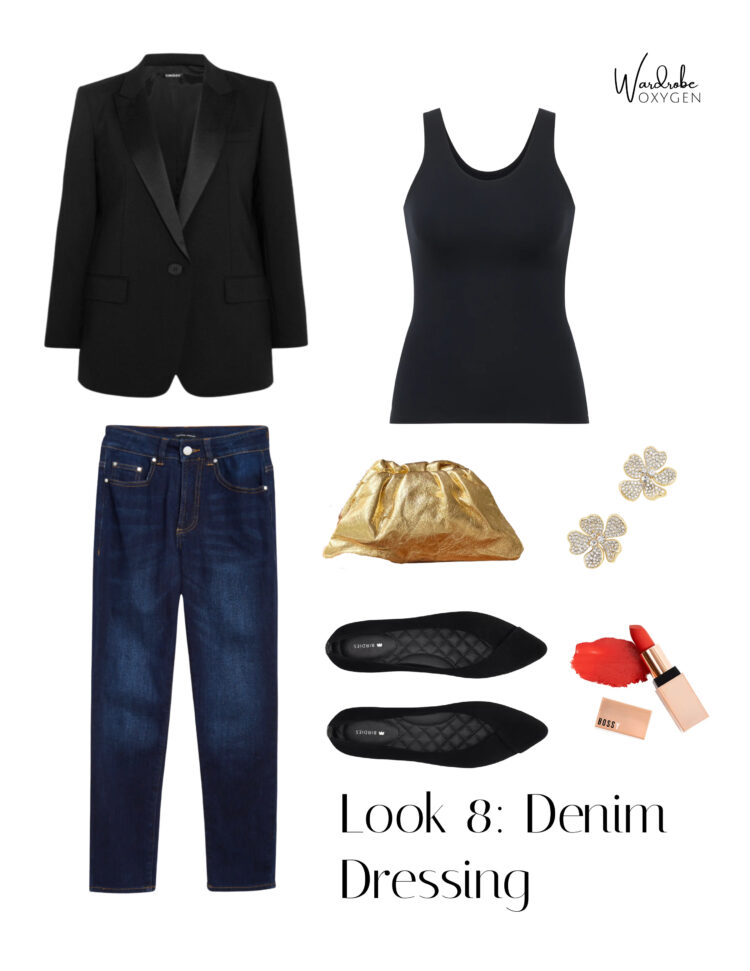 jacket (2-24) | jeans (00-40) | tank (0-22) | bag | earrings | lipstick | shoes
Amazing how different the vibe is with a subtle switch of some pieces! This tank from Chico's is amazing; I know a bunch of you have it and also find it to be elevated, easy care, and so versatile. With black flats and an of-the-moment bag, this look is perfect for night out with the girls, a date, the theater, and situations where a dress seems too much but jeans alone seems to be not enough.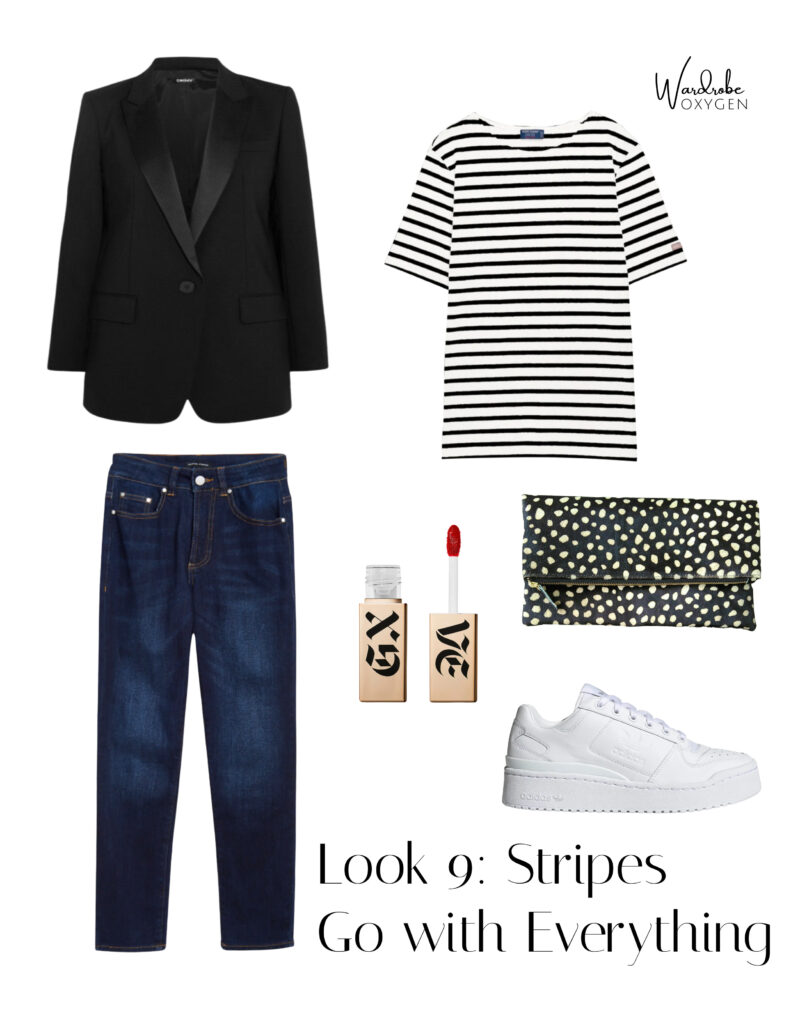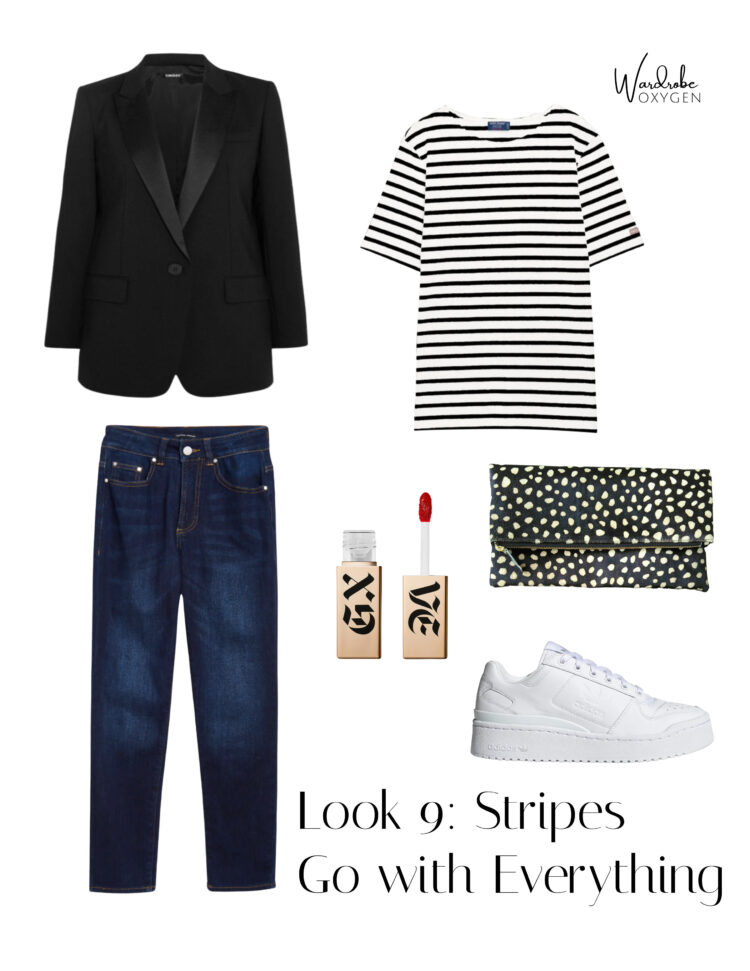 jacket (2-24) | jeans (00-40) | striped shirt (XS-3X) | lipcolor | bag | sneakers
See, stripes really do go with everything! I was inspired by a tux jacket I got at Ann Taylor about a decade ago. It had a satin lapel that was edged with lace and I wore that jacket with everything. One time I styled it over a Breton top for an evening in DC and you wouldn't believe how many compliments I got… far more than when I wore it over a graphic tee or silky camisole! Fashion right now is all about mixing high with low, dressy with casual, sporty with elegant and this look sort of mixes all of that together!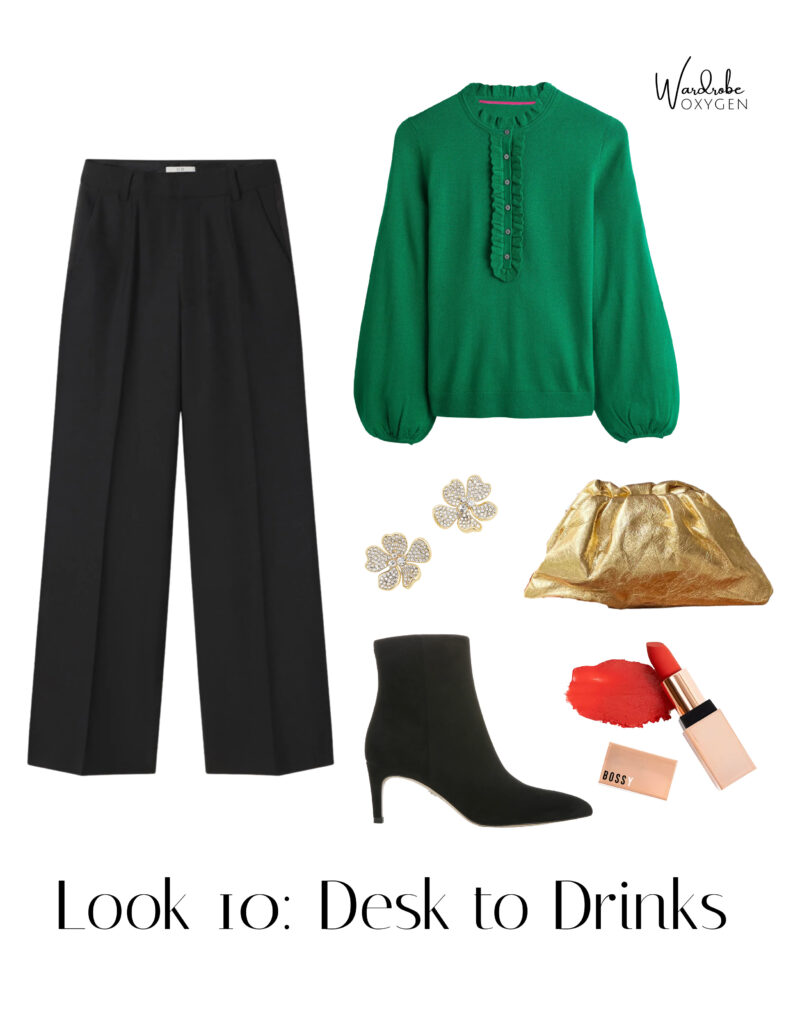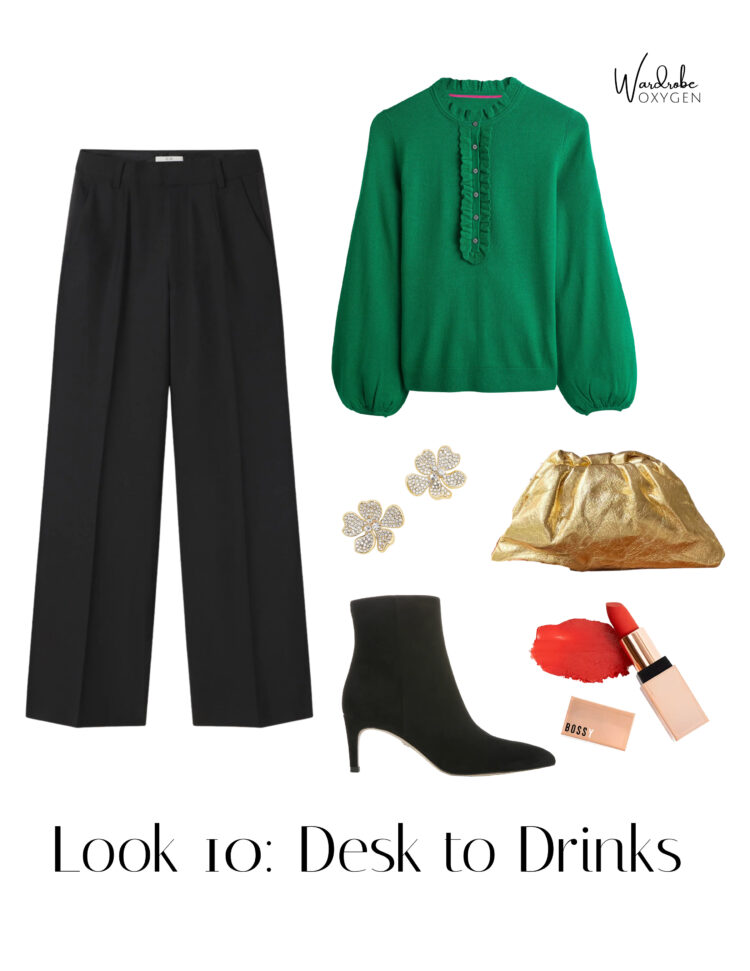 pants (2-24) | sweater (2-22) | earrings | bag | lipstick | booties
I only made one look with the pants alone because I think it's far easier to create looks with pants than a blazer. Essentially any piece that can be tucked in (half tucks are included) or is short enough to not hit the mid-hip area so you have some shape is a good option to wear with these wider-leg pants. A turtleneck, a cropped cardigan over a camisole or shell, a blouse, a graphic t-shirt and leather moto jacket… these pants are begging for you to get creative. Here I kept with the holiday theme with festive green, a bright red lip, and accessories with shine.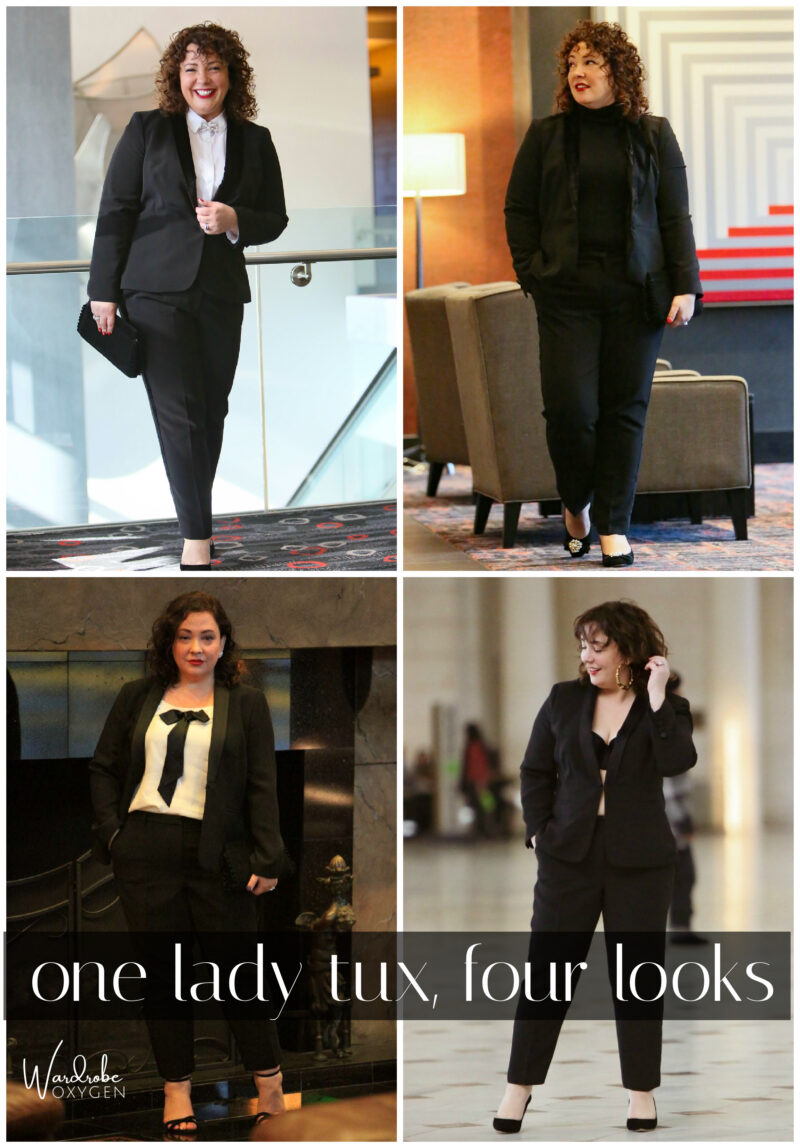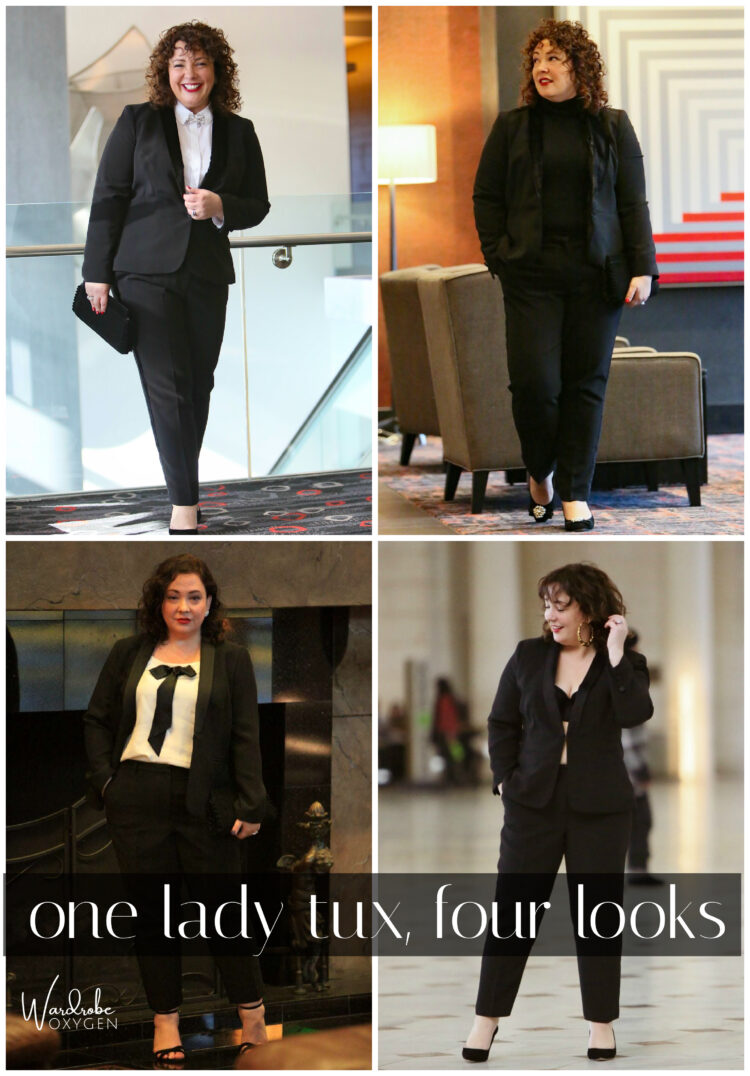 Where to Shop for a Lady Tux
As I mentioned, Talbots has this jacket and these trousers; each year they seem to have a version of a lady tux that is classic, versatile, and well made. But I found some others:
A black pantsuit can work, as long as the fabric reads more formal (less Ann Taylor triacetate or Express Editor pants, more crepe or silk blend or seasonless/tropical-weight wool). Velvet, shantung, taffeta, and brocade can also work but will be more memorable. For buttons and hardware, it needs to be tonal or sparkly. Horn, wood, clear plastic, contrast color, statement buttons, or snaps all ready daytime/more casual. You want a suit that is well-tailored, no cuffs, no elaborate details which will make the suit look more casual or cheap.
As a grown woman, you deserve to be comfortable. We've done the double layers of Spanx, the 4″ heels, the control-top hose, the push-up bras, the duct-tape bras, and even some of us (myself included) have resorted to diuretics and week-of diet plans to try to squeeze into that little black dress. No more. We can be hella chic while being far more comfortable. We've earned this right.