This article may contain affiliate links; if you click on a shopping link and make a purchase I may receive a commission. As an Amazon Associate, I earn from qualifying purchases. 
Thursday night I had the pleasure of seeing Stacy London speak at Sixth and I Historic Synagogue in DC. Her book, The Truth About Style came out this past Tuesday and after seeing the book trailer I knew I had to be at the speaking engagement.
I met Stacy London a few months ago
when she was at a local mall promoting the partnership between her company
Style for Hire
and
Westfield Malls
. The experience made me a London fan for life – she's so real, and she truly cares about helping women feel beautiful and comfortable in clothing. Thursday night, I realized that she cares even more so about women feeling beautiful and comfortable in their own skin.
I don't want to give much away about what she discussed or what the book is about because I truly think this is a style book that you should read. Borrow it from the library, loan it from a friend, sneak into a nook of Barnes and Noble or splurge on a copy – you won't regret it. I can just say that Thursday night gave me such motivation regarding this blog.
When I started this blog, I wasn't terribly happy about my body. I had a lot of opinions about fashion and style, a lot of rules, and a lot of snark. Through blogging, I got to know so many readers – you weren't pageviews but people. I saw that I wasn't alone in not liking the body I was in, and I saw that my snark wasn't benefiting anyone. What's the point of a fashion blog (or book for that matter) that dismisses those who don't "get" fashion, that pigeonholes all women into one lump who needs a white shirt, tan trench, and a strand of real pearls?
Through blogging and through changes in my life (hello new awesome job and new awesome child) I began loving this body.  It's not perfect… but then no one has a "perfect" body. I came to terms with it, and decided to work with it. And I also changed my voice on this blog – women don't need another person telling them what they're doing wrong, we need voices to give us food for thought and tips on how to feel comfortable, feel ourselves, and recognize our beauty.
I still have strong opinions on fashion and style, but now when I write I don't just think about me and my little patch of Earth, but I try to make it more universal, more accepting. And Thursday night I learned that through her ten years on What Not to Wear, Stacy London has had the same experience. Dealing with real women has made her more sympathetic, sensitive, and understanding to others and also to herself. And her book The Truth About Style is about just that. This book won't give you a list of ten must-have items in your closet, or tell you how to hide your hips or tummy. It won't tell you what color to wear if you're a brunette or redhead, and it won't inform you of what items should be purged from your closet. But it will help you realize how fellow women have learned to find personal style… and may help you find yours along the way.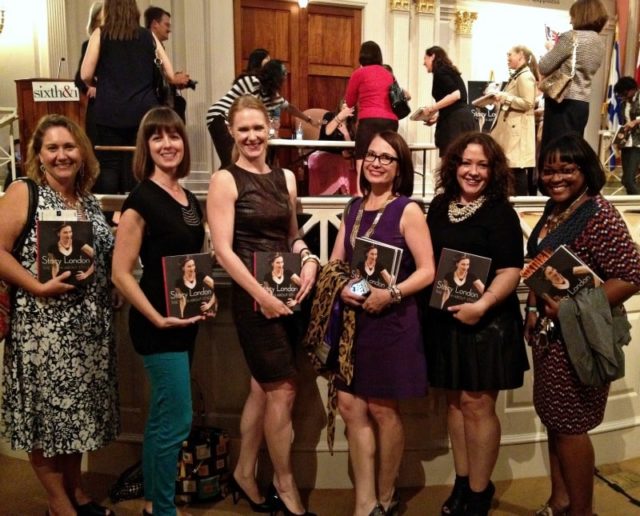 And if Stacy London's book tour is coming to a city near you, I encourage you to get a ticket to attend. She is funny, she is raw, she is honest, and she is inspiring. And she may just renew your faith in fashion, style, and yourself.
Follow Me | Twitter | Facebook