This article may contain affiliate links; if you click on a shopping link and make a purchase I may receive a commission. As an Amazon Associate, I earn from qualifying purchases.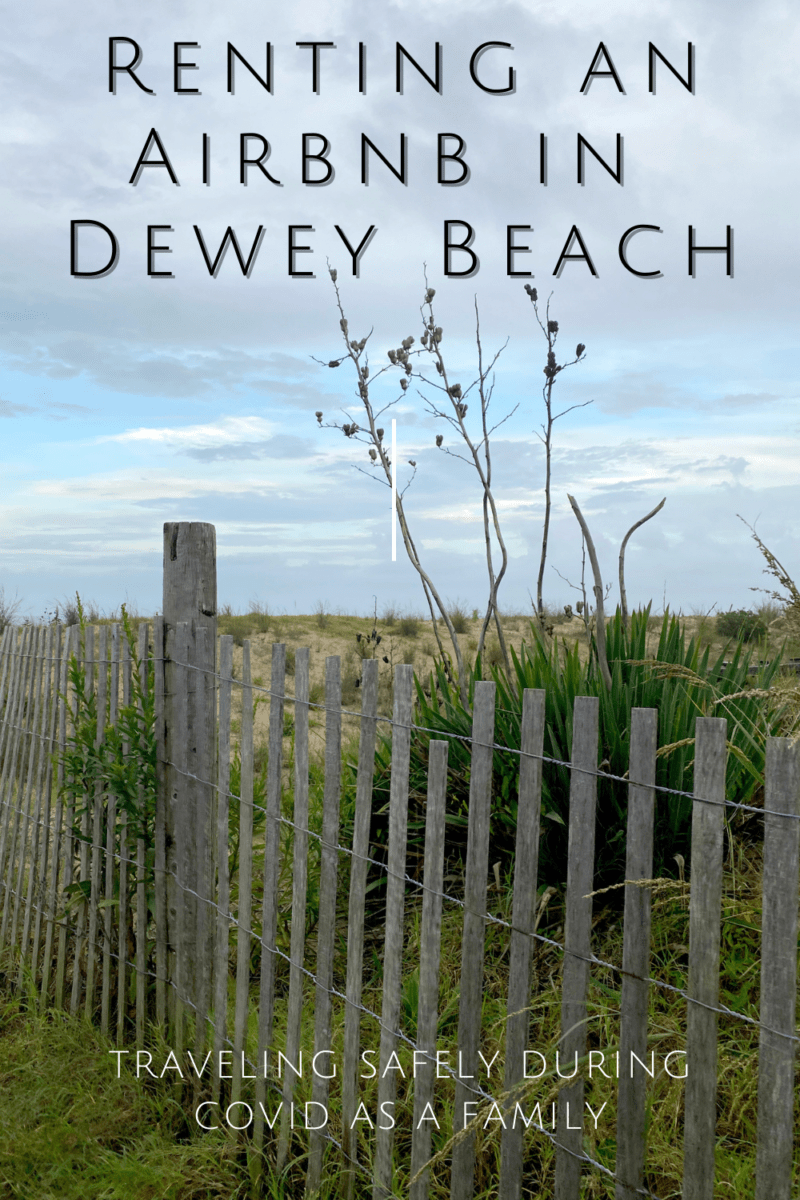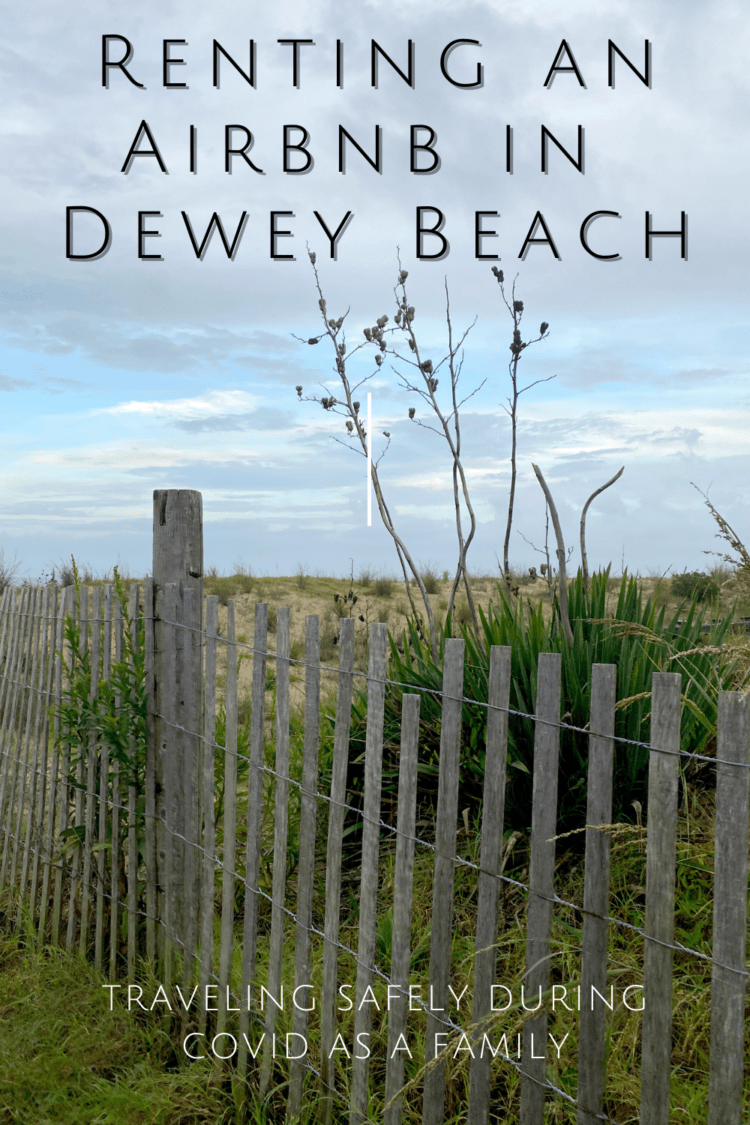 Every summer for over a decade, my mom, sister, and I have gone to Rehoboth Beach, Delaware for a long weekend. When my daughter came on the scene, she joined us. We always stay at the same hotel, we go to the same restaurant Saturday after being at the beach for crabs (though my mom gets lobster), we always look forward to this tradition. But this summer, the idea of staying at a hotel and dining at restaurants and visiting a busy beach did not sound appealing. My family and I had the month of July open, thinking this summer we'd do another road trip. Last summer we did one up part of the East Coast, stopping in Philadelphia, New York, and Boston and ending with a week in a cabin in the Northeast Kingdom of Vermont. Early on in 2020 we saw that there would not be any road trips in our future.
We accepted the fact that there wouldn't be any vacations. No 4th of July festivities, no Labor Day festival, no community pool to visit. We knew it was necessary to stop the spread and to stay safe. But our four walls started getting to us and I began researching a safe and reasonably priced vacation and visiting the beach seemed like the best idea. We live just a couple hours from the Delaware beaches – no need for a rest stop or to refuel the car. The beach is open and outdoors which is the safest place to be right now. And if we got a rental house we could make our own foods and have our own bathrooms and be able to sanitize and all that stuff.
Why We Chose Dewey Beach, Delaware for Our Family Vacation
I started looking for a rental house in Rehoboth Beach at the end of June and realized that everyone else had the same exact idea. Houses were booked through Labor Day, or else prices were jacked up so high they were expecting $800 a night for a dilapidated shack six miles from the beach. I expanded my search from Rehoboth Beach to other beaches in Delaware that were a reasonable drive away.  I chose Delaware over Maryland (where I live) because I had seen videos and photos of the crowds at Ocean City and I didn't want any part of it. Back when I was a bachelorette and newlywed, Dewey Beach was my summer home away from home.  While it's known during the summer months as a party town, I had visited Dewey in the off-season and found the atmosphere to be drastically different.  After Labor Day, it is quiet and slow-paced and the beach is dog-friendly.  While Dewey isn't known as a foodie town like Rehoboth, we didn't plan on dining in restaurants and instead cooking ourselves or choosing takeout, which could easily be picked up from Rehoboth right down Coastal Highway and still be hot by time we got back to our Airbnb.
This is such an unusual year, I decided not to be tied down to the school schedule and expanded our possible vacation dates beyond Labor Day. Whether or not our county decided to have 100% distance learning or a hybrid, I felt it was in my kid's best interest to get her out of the house and having a getaway. And when I opened up our calendar it opened up more houses and lower weekday rates and many of them were in Dewey Beach, Delaware.
Finding the Right Airbnb in Dewey Beach, Delaware
While it was just me, my husband, and our tween, we had specific desires for a comfortable Airbnb experience for our beach getaway. What we desired in a beach house:
At least two bedrooms
At least one and a half bathrooms, preferably two full bathrooms
Central air conditioning
Wifi
An area that can be a workspace and be closed off for our kid's distance learning
A roomy living area where we could enjoy a movie together but also have space for yoga or other exercises.
A short walk to the beach (four blocks or less so we could easily carry chairs, boogie boards, and such)
A complete kitchen to cook proper meals
Dog friendly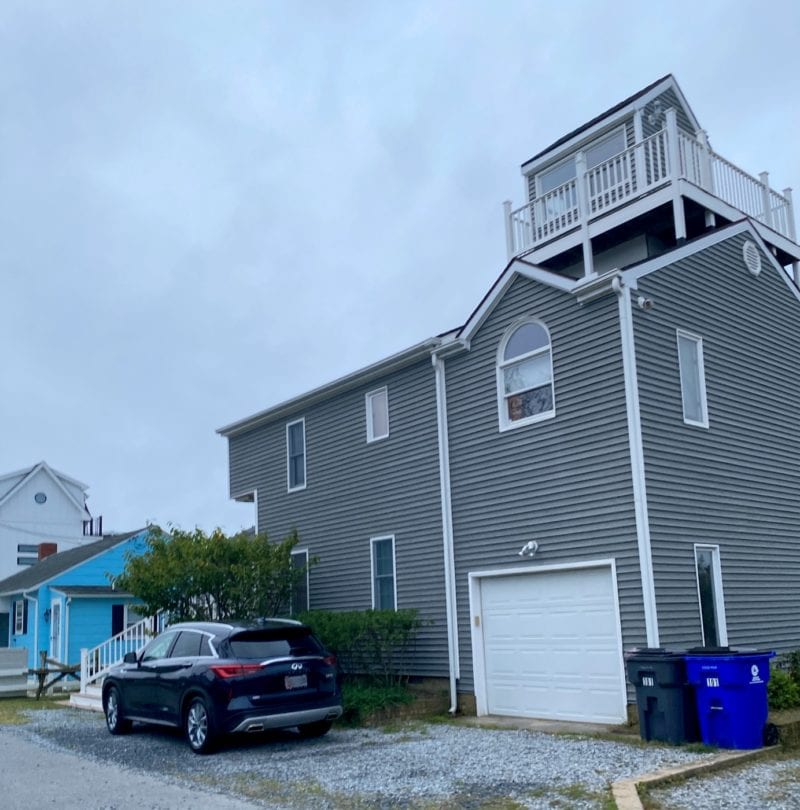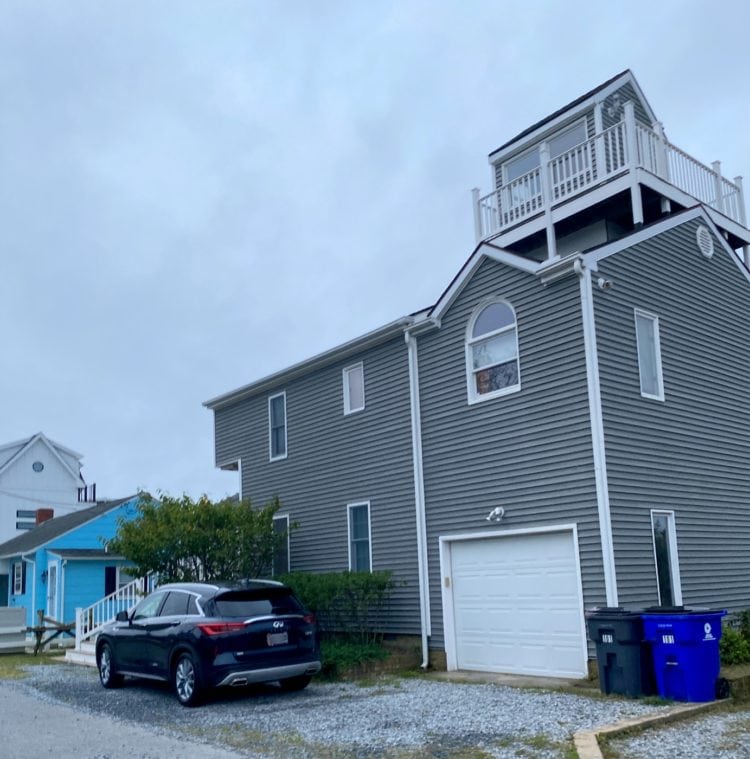 We realized most homes were booked weekends but not weekdays, and the weekdays were a far lower price on many Airbnbs in Dewey Beach. We chose this house from Airbnb from Monday, Labor Day, until Friday, September 11th. The house was bigger than we needed but the price right on budget and a great location. We booked it so early we thought possibly we could bring another family or members of our extended family if things improved in our country, but by the time we were planning our trip, we knew it was safest to go alone. While the house says it is not pet friendly, I contacted the owner through Airbnb and shared photos of our dog, his weight, and temperament and they said our dog would be fine for an additional pet fee and if we would keep the dog crated when we weren't in the house with him.
Preparing for a Road Trip during COVID
We did not want to have to stop on our trip for gas, food, or the facilities.  Our goal was to be in contact with as few people and surfaces as possible. We filled our gas tank in our neighborhood using precautions, packed snacks, and chose to leave after rush hour to make our drive as short as possible. We used the facilities before we left, but I also packed a PStyle in case nature called so I could take care of things on the side of the road instead of at a gas station.
Traveling on Labor Day was genius; we were going against traffic the entire way and the trip was just a hair over two hours in length.  I would highly recommend doing this if your schedule permits, the bumper-to-bumper traffic from the Bay Bridge all the way onto 404 was a painful reminder of summer beach vacations past. Even once we reached Coastal Highway, traffic was quite light.
We brought our own pillows, bedding, towels, and even brought our own dishtowels and cloth napkins. We also packed cleaning supplies and sanitizing wipes so we could do our own wipe-down upon arrival.  In the car, we had latex gloves, disposable masks, and a bottle of hand sanitizer.  We brought enough cloth masks to have two per day per person and each of us had our own bottle of hand sanitizer to carry with us when out and about.
Our Family Getaway to Dewey Beach, Delaware
Dewey Beach is so easy to get to from the DC area, and the town itself is very small so it's hard to get lost.  We arrived at our house and with the code our Airbnb host supplied us, we got the key from the lockbox, and let ourselves in.  My sister had scored a few tubs of Clorox Wipes earlier in the summer when by chance she was at Target when they refilled the shelves and we had kept one just for this trip.  We used them to wipe down most surfaces from front door to bathrooms to bedside lamps, then washed up and went out to get our luggage.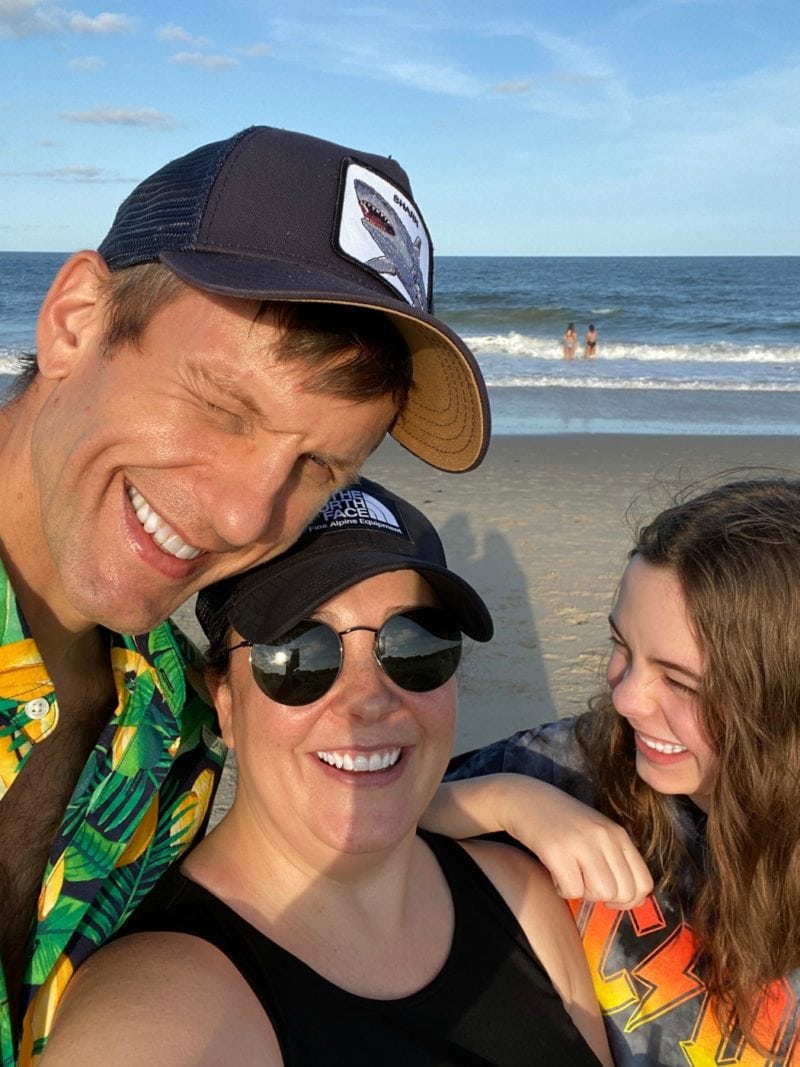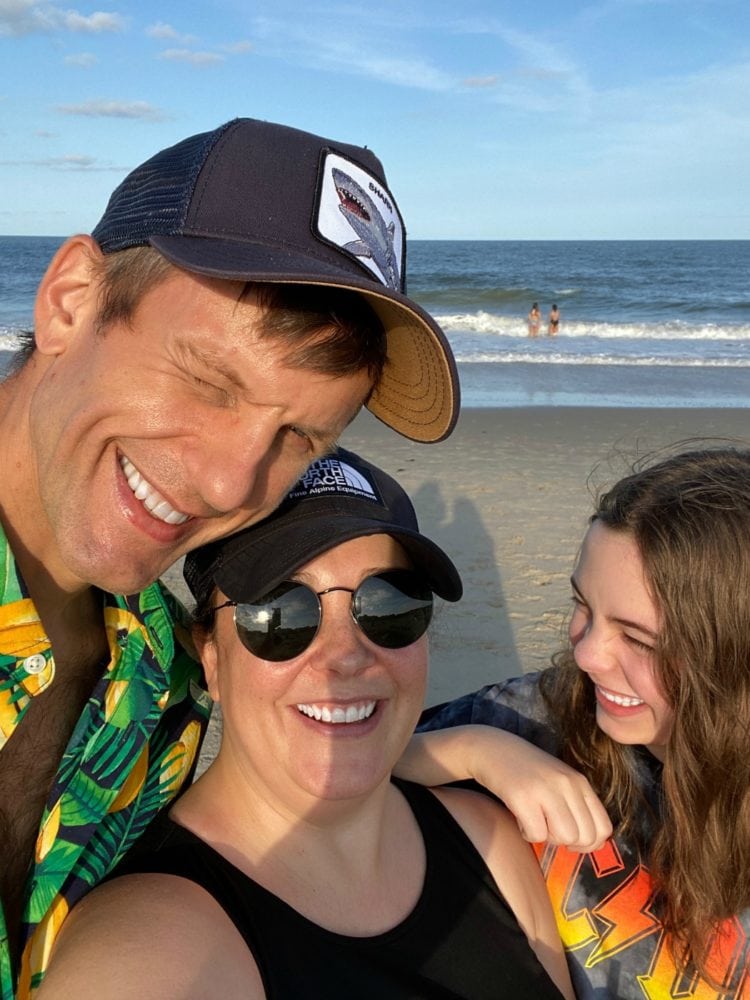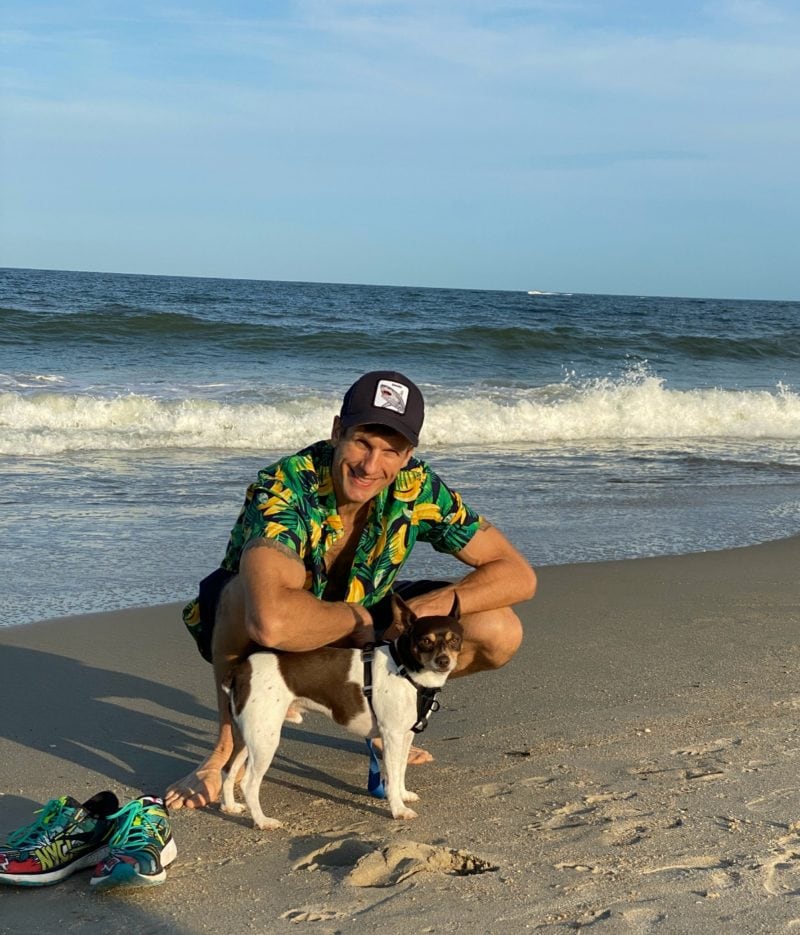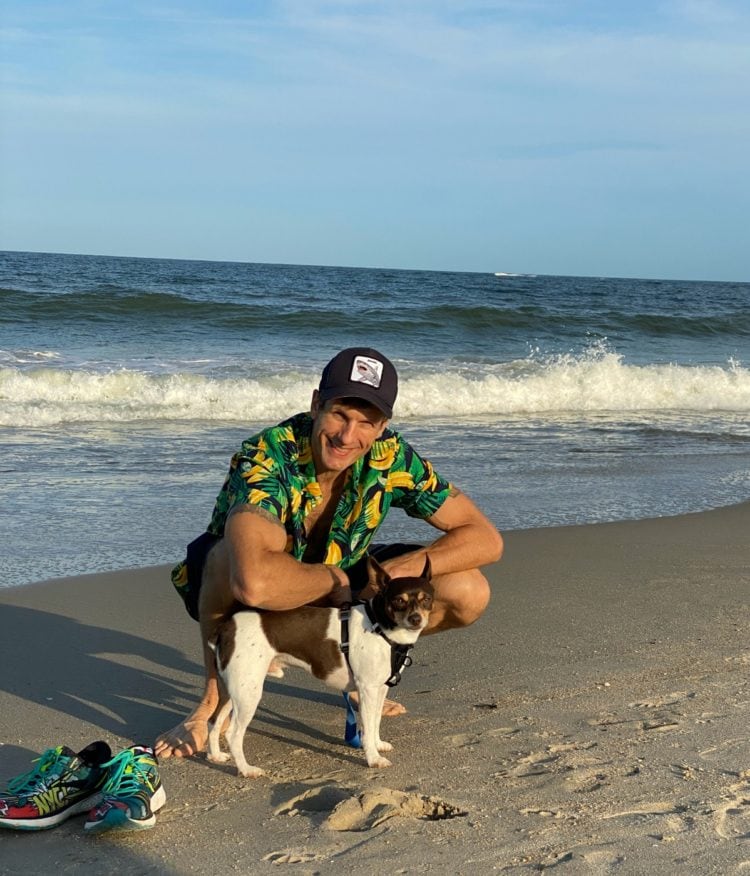 Once unpacked we headed to the beach. It was our dog's first time at the beach so we timed our visit at 5:30 when the beach opens to dogs (FYI the beach is open to dogs at all times of day after September 15, more details below). It was so fun to see all the dogs running around and playing with one another. Our dog is a rescue and we've only had him a year so we kept him on a leash the whole time but let him sniff and romp around with the other pups while also getting our feet in the surf and enjoying being outside while being socially distant from others. Everyone was respecting one another's space on the beach, staying two taut leash distances from one another and spreading apart when passing on a surfside walk. Once the sun started to set, we headed back to the house to make dinner and prepare for distance learning school the next day.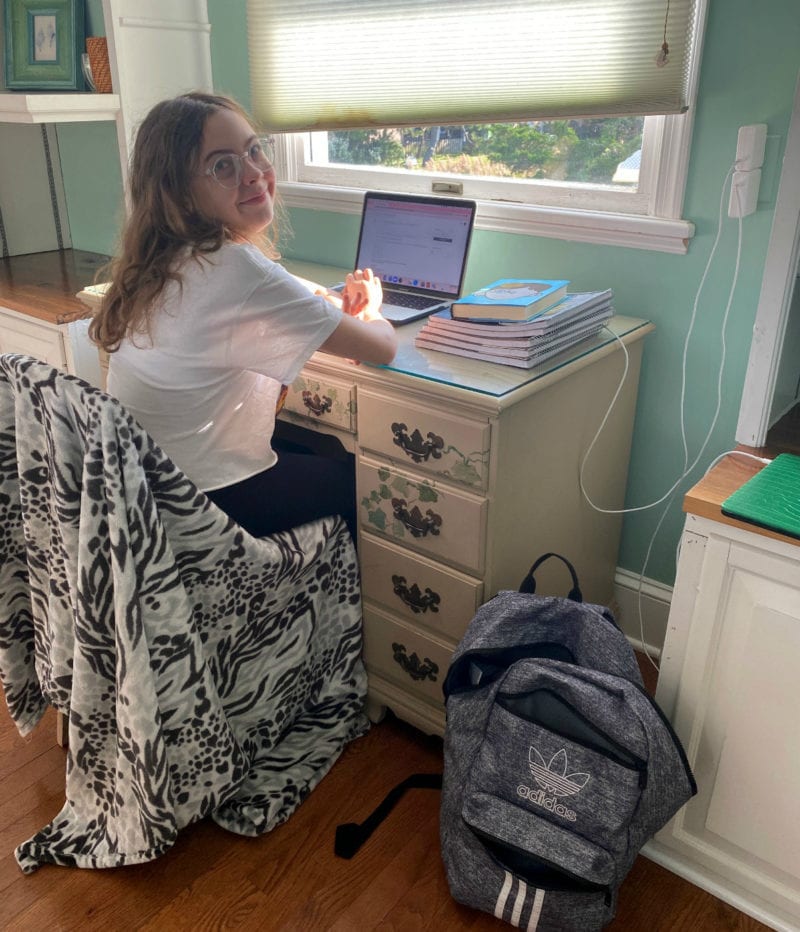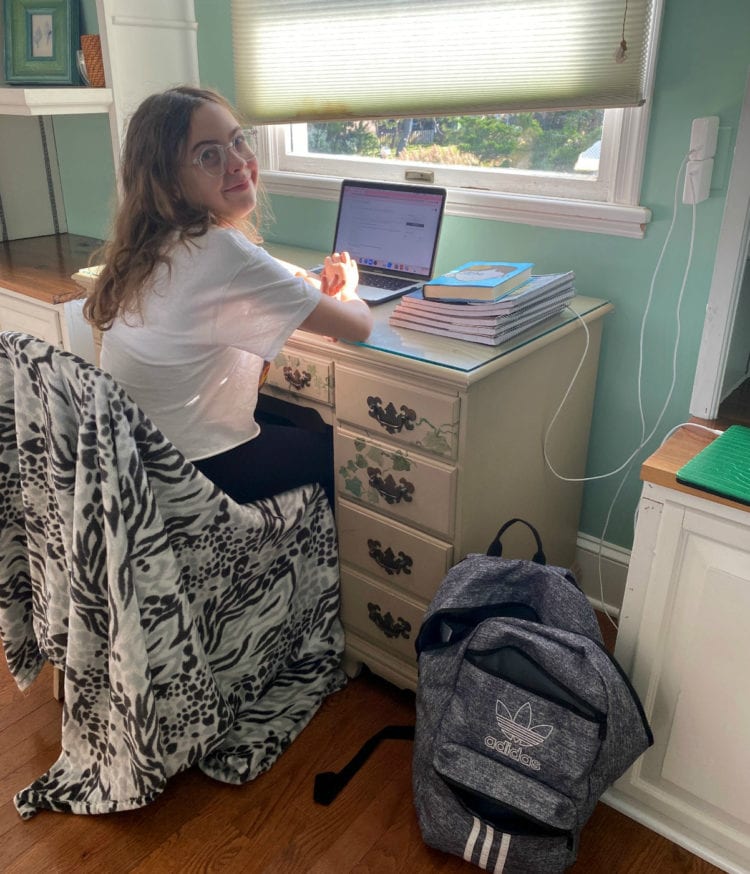 The next morning my husband made banana pancakes while our kid got ready for school. The house had a sunroom with doors to separate it from the rest of the house, and in the room was a desk and chair with outlets and shelves right next to it – perfect to be set up all week for distance learning. We had no connectivity issues and her day of online school was a success with a much nicer view than at home!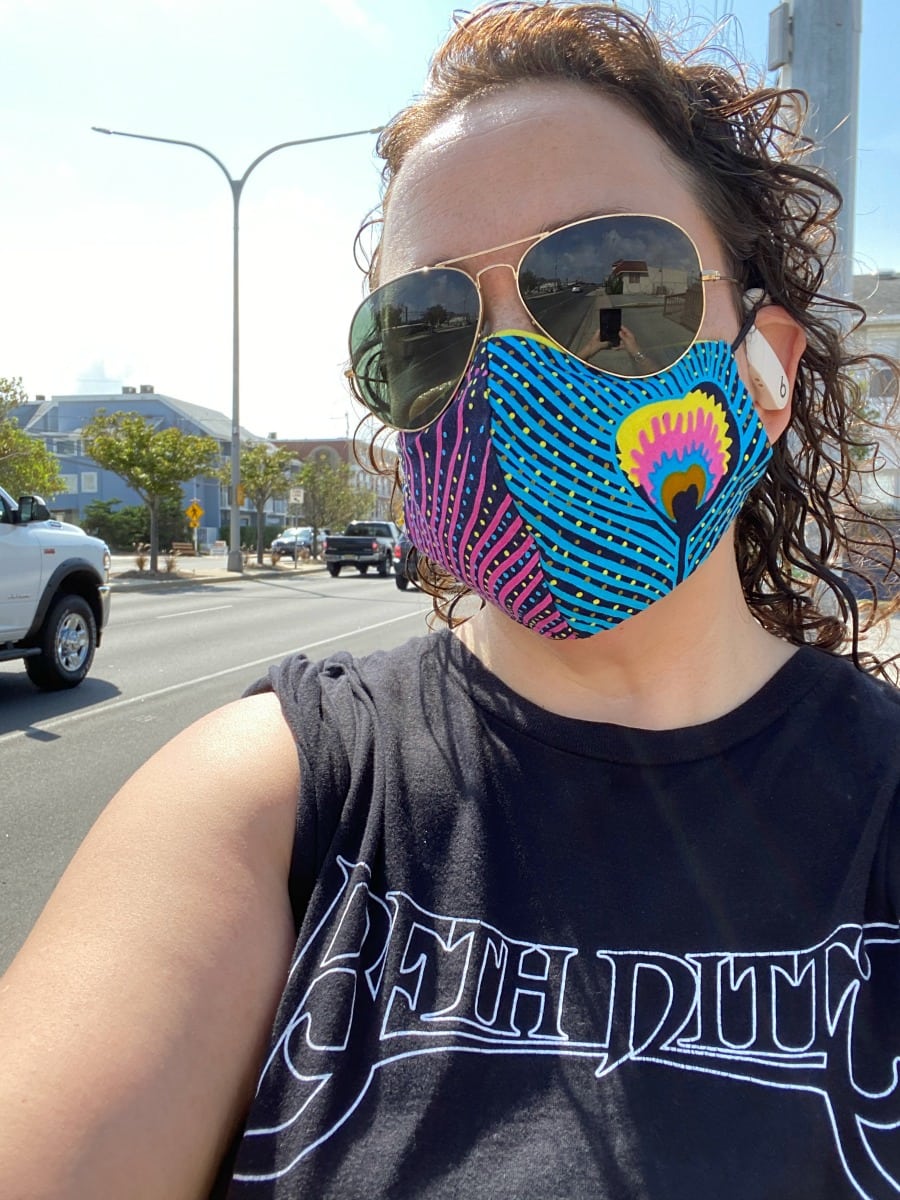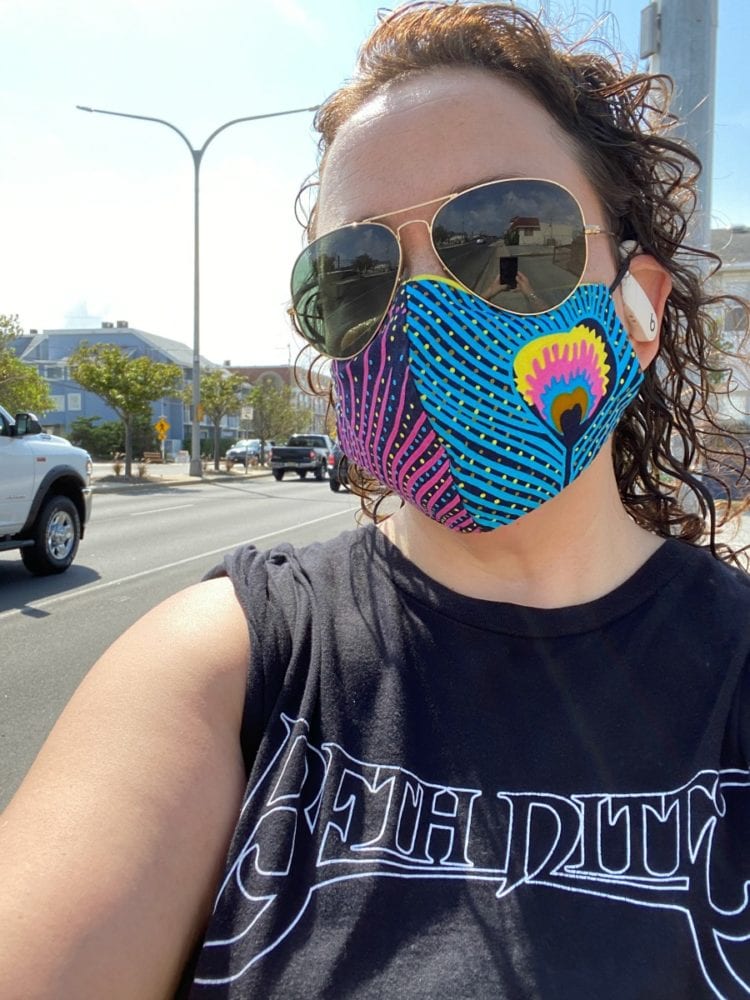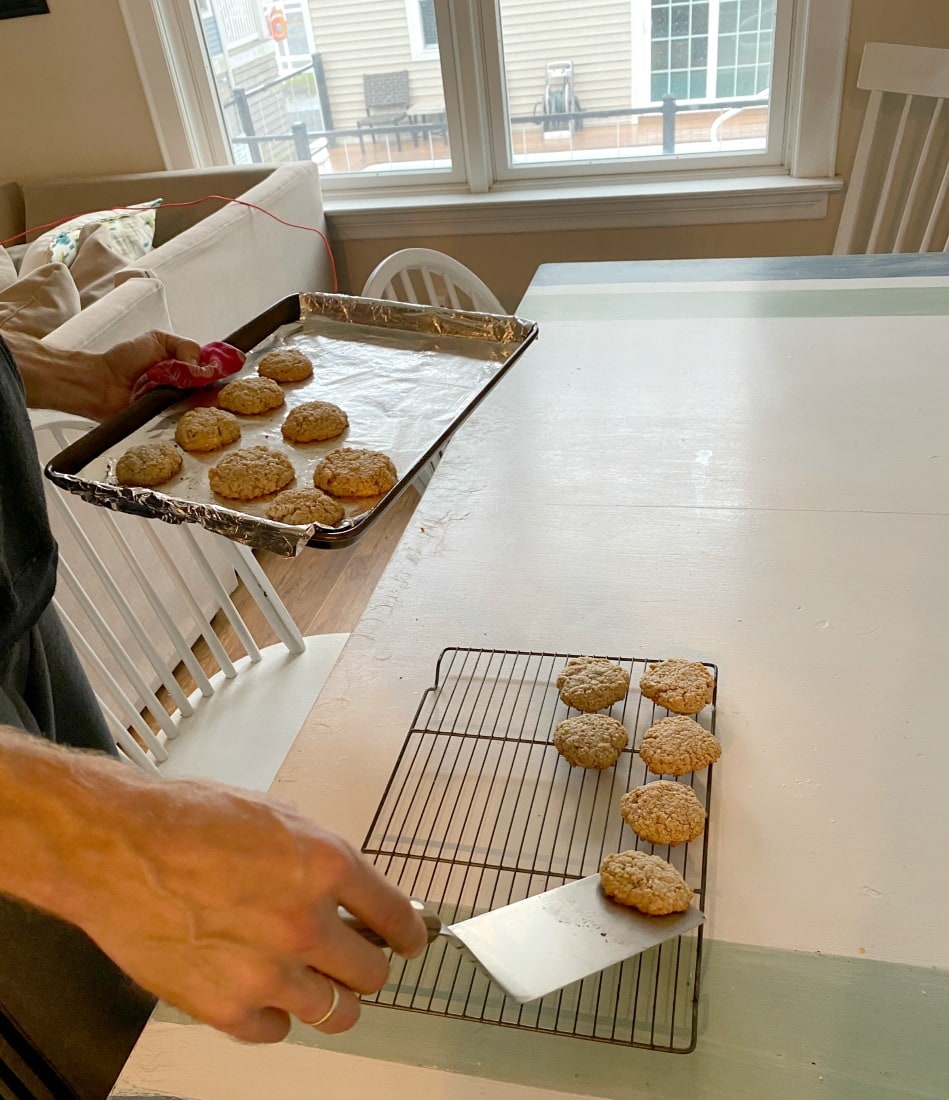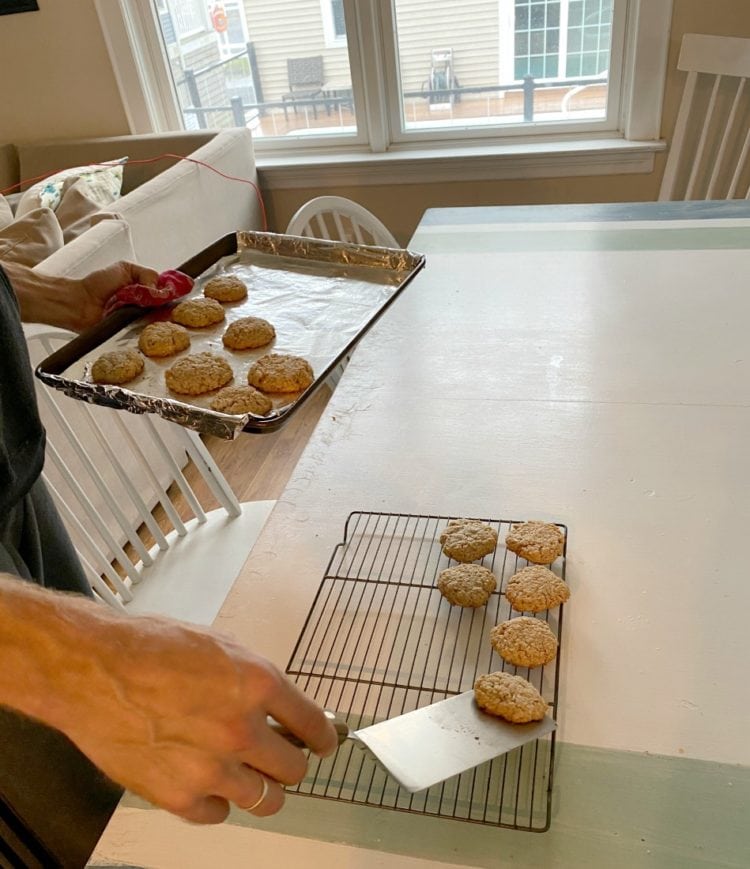 Once our kid was up and running with school, I decided to go for a walk on the beach.  Heading to the beach, I was surprised to still see the sidewalks full of people considering Labor Day was over.  On the beach before noon was quite full and the only way to have a comfortable amount of space to set up camp one would have to be far back near the dunes.  On the surf was worse, people were not moving to let people through and it was hard to take a walk without getting uncomfortably close to strangers.  I headed back to the town thinking I could walk through neighborhoods but found many people out and about without masks, not making space to pass on sidewalks.  Concerned and annoyed, I headed back to our beach house and took care of buying groceries (see below).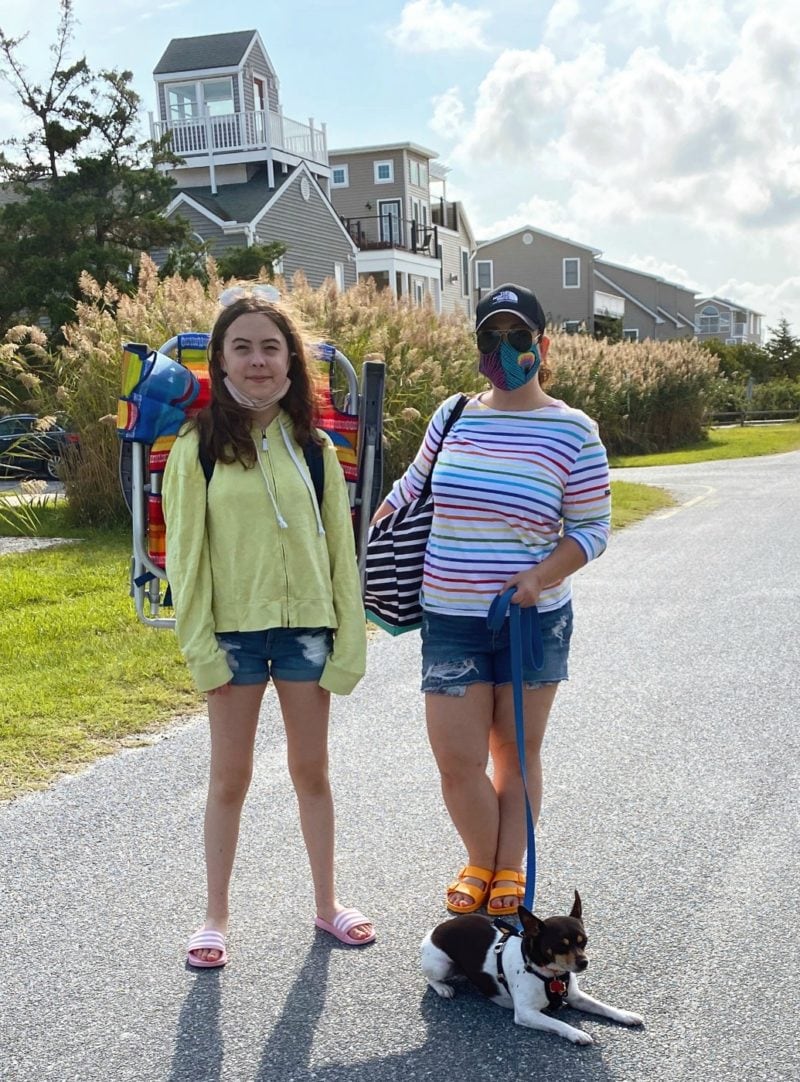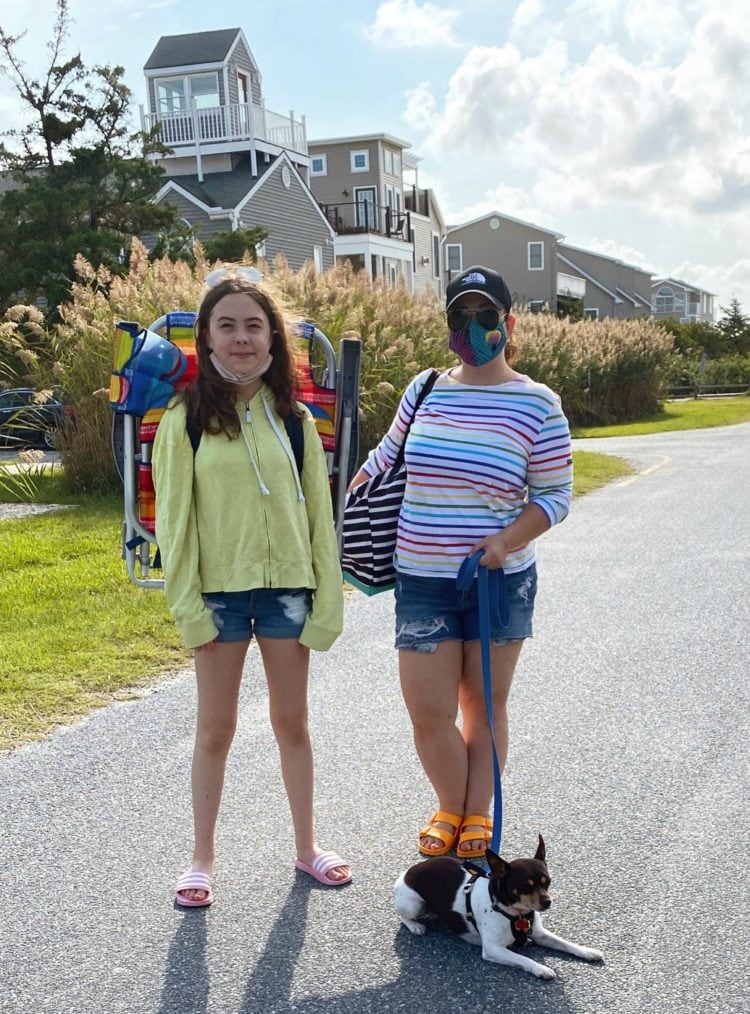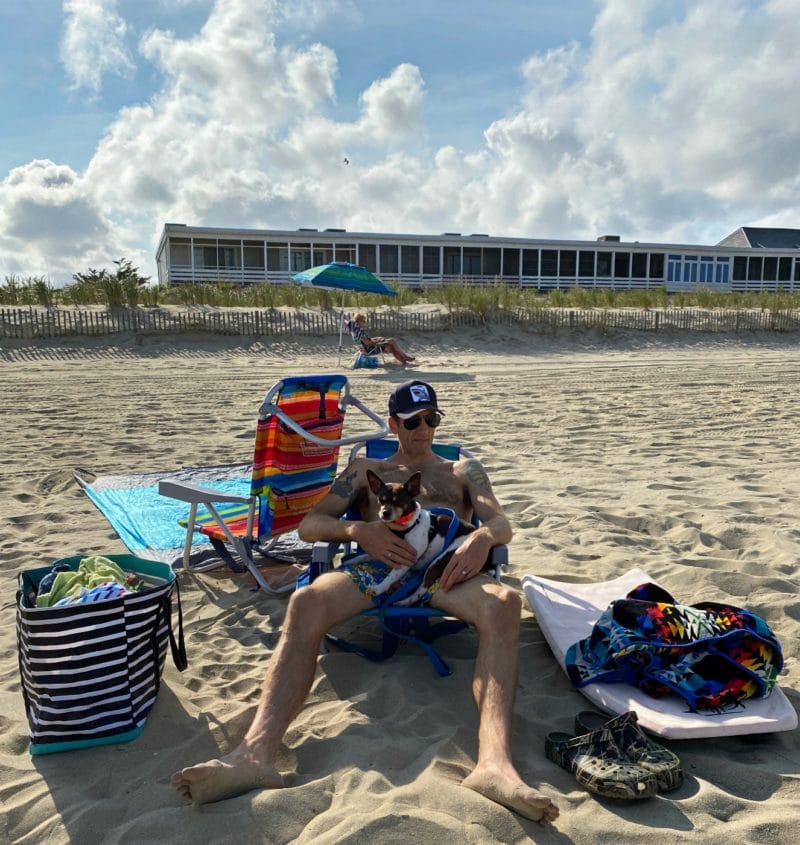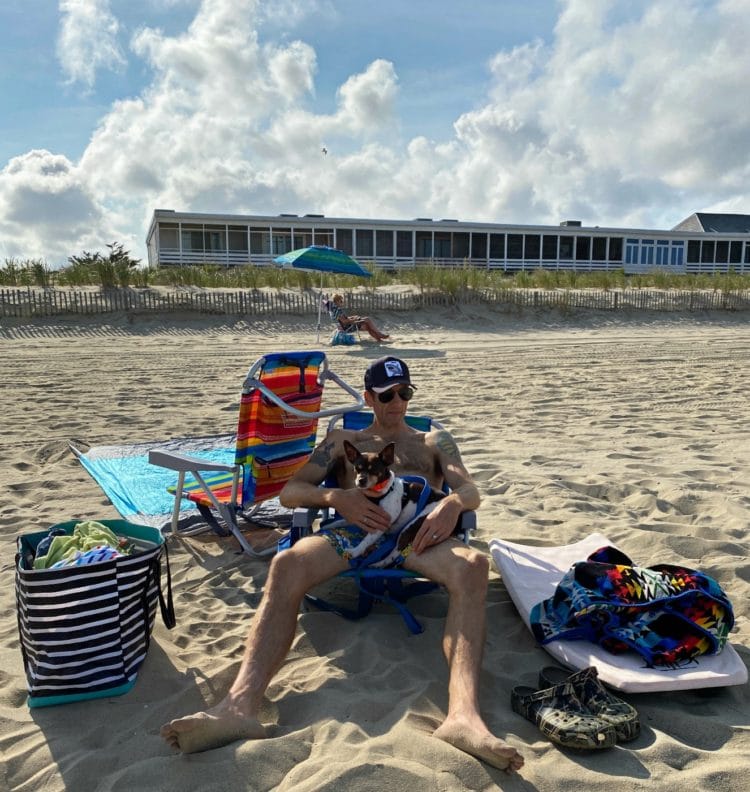 When school was finished for the day (and no homework!) we all got changed and headed to the beach hoping things would be more chill in the late afternoon. We were thrilled to find the beach far less crowded and individuals being considerate of one another's space on sidewalks there and along the shore. The weather was fantastic, and we enjoyed a couple of hours boogie boarding and body surfing. While our dog loved the beach the previous day, this day he was more fearful so one of us stayed at the chairs with him in our lap during our beach visit.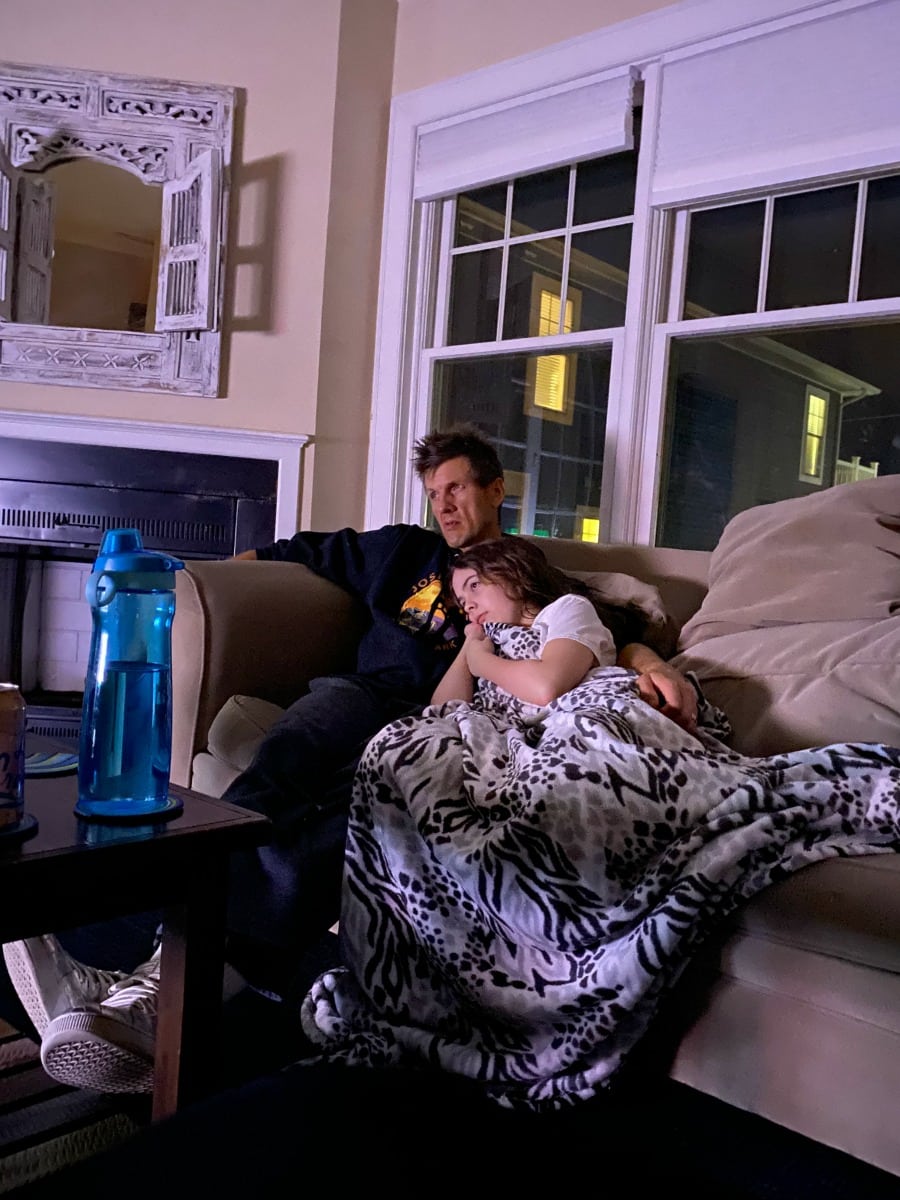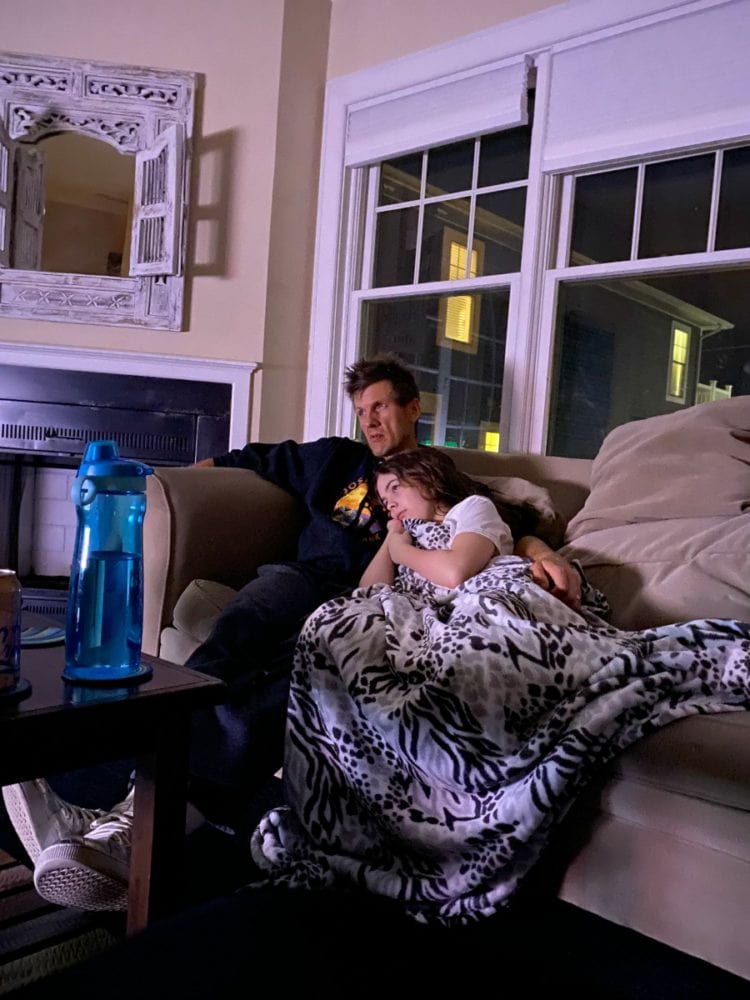 We came home and cooked burgers for dinner and then enjoyed an episode of America's Got Talent on TV as a family.  Just being in a different environment made everyday things feel special.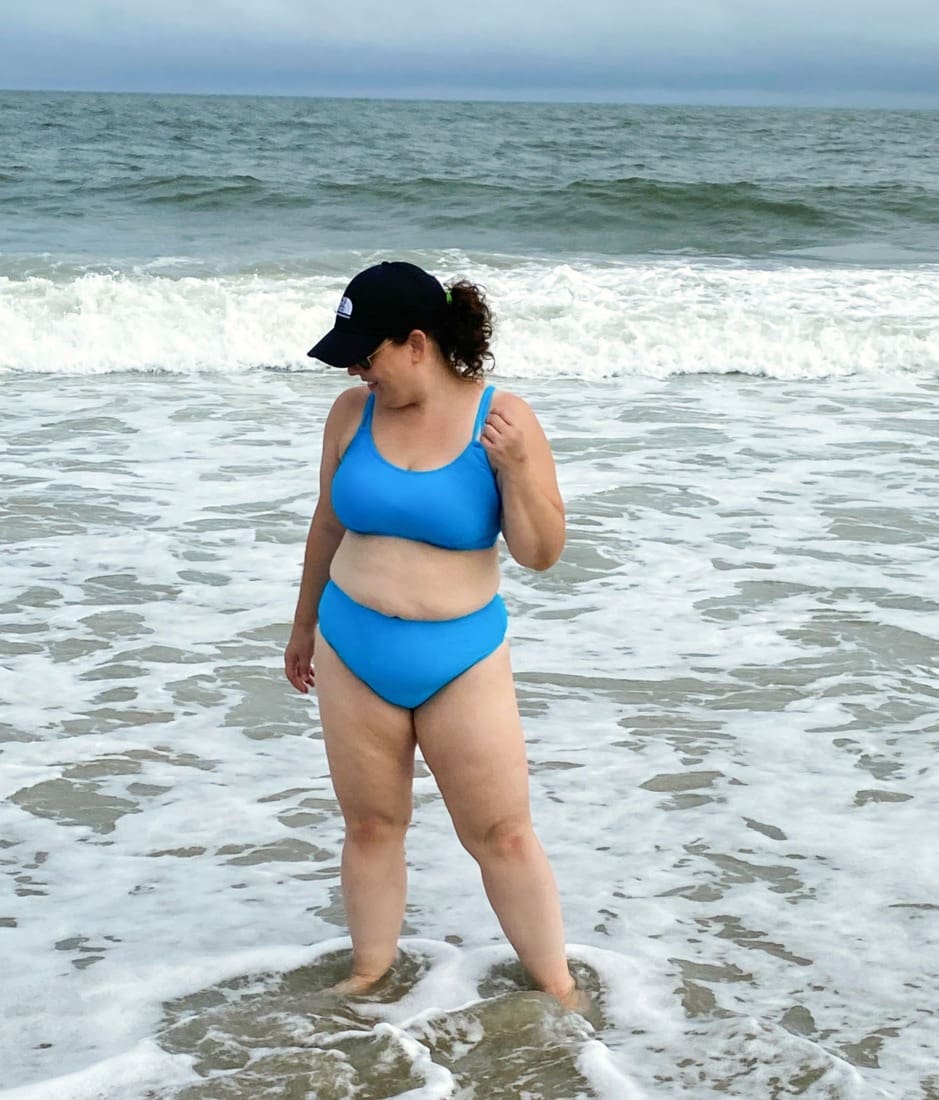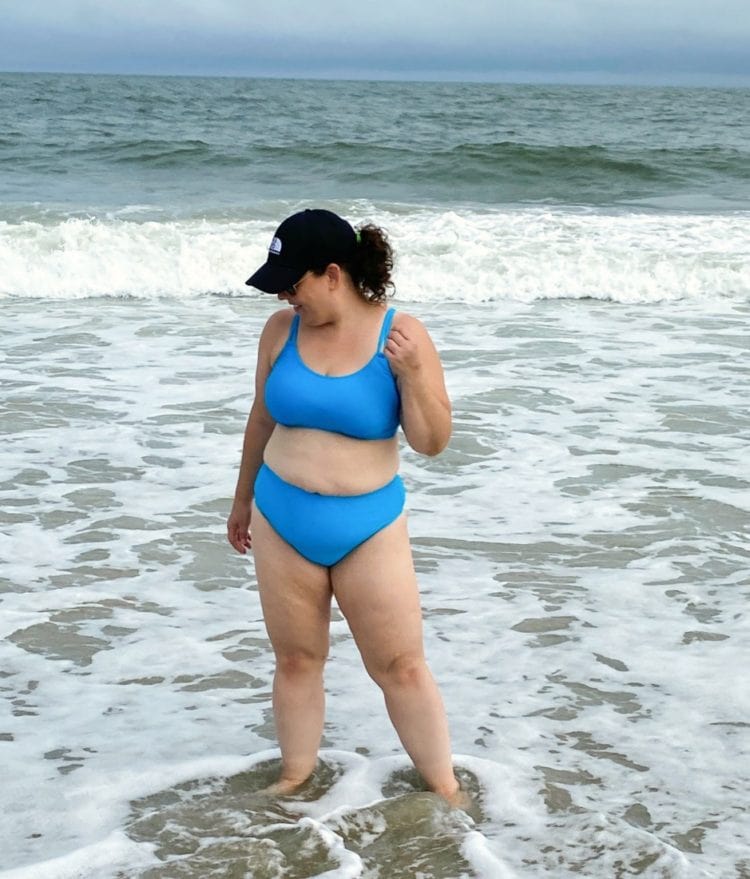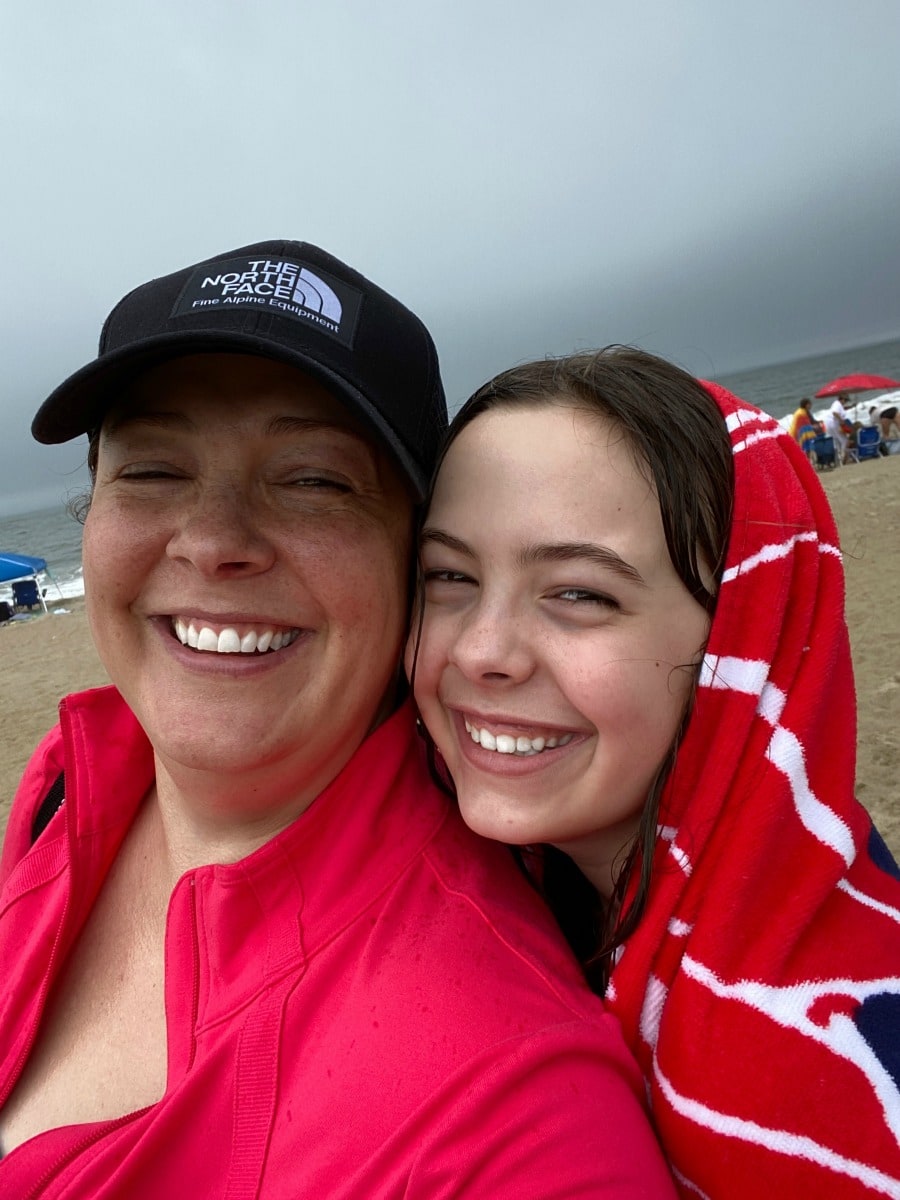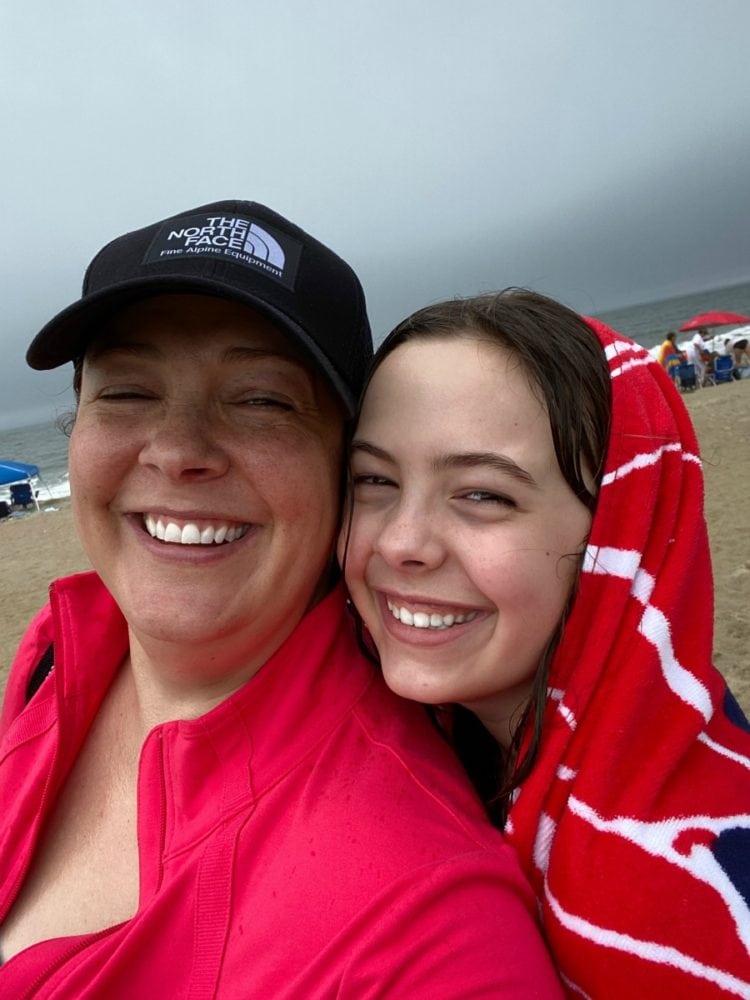 The next morning was gray and gloomy. I went for an early morning walk before the family woke and got caught in the rain so I came home and connected with a friend and we decided to do a Peloton yoga class together in our respective places, and then have a FaceTime coffee date before she headed to work. The rain was too hard to do anything outside so while our kid did school, I did some work and my husband did some Peloton app workouts (we brought our hand weights), baked cookies, and took a nap. When school ended (Wednesdays are a shortened school day), the rain had stopped so our kid and I did a quick change, grabbed just towels, and headed to the beach to enjoy it as long as we could. We got a little over an hour of fun in the surf before it started to sprinkle. We grabbed our stuff and headed home and halfway there the skies opened. We laughed as we hid under towels for the remainder of our walk, took hot showers, and changed into sweats. Our kid did her bit of homework and we had taco night.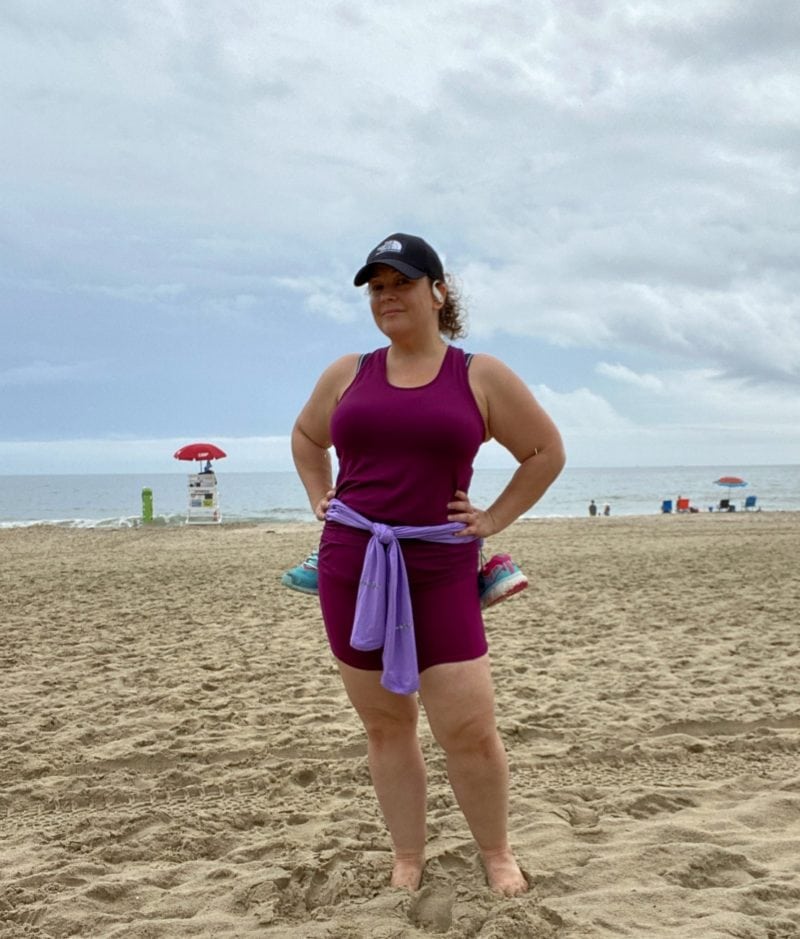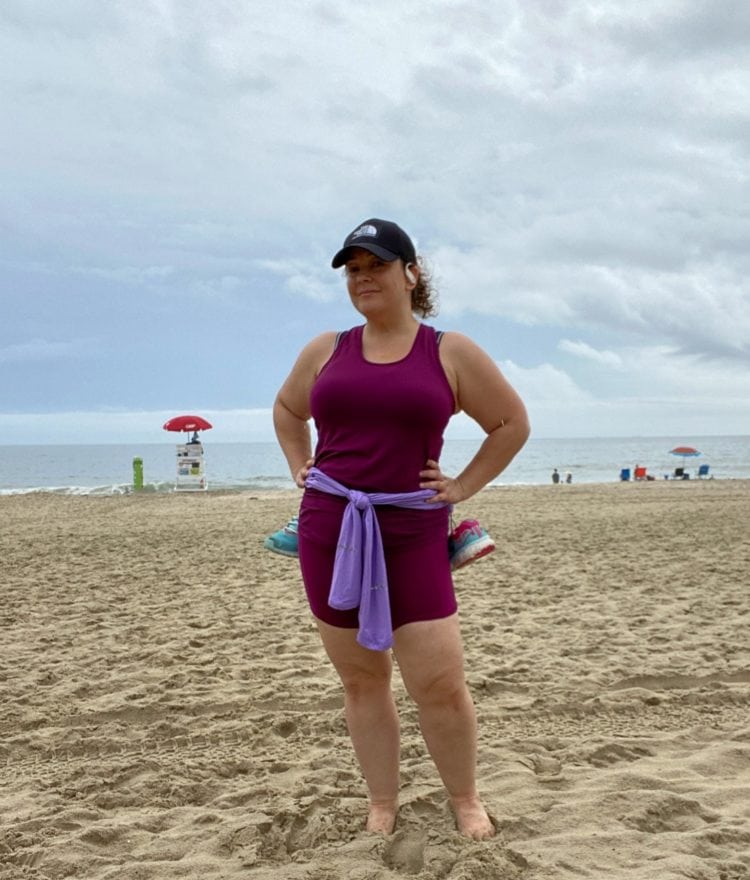 Thursday morning was also gray, but the rain had let up. My husband headed out for a beach run, and when he came back I then went out to enjoy the outdoors. It was a gray and slightly humid day, but it was still wonderful to spend time at the beach. I went for a long walk, did some yoga and stretching on the sand, and did one of my favorite beach pastimes – walking through neighborhoods checking out beach houses and dreaming of which house I'd own if I won the lottery I never play.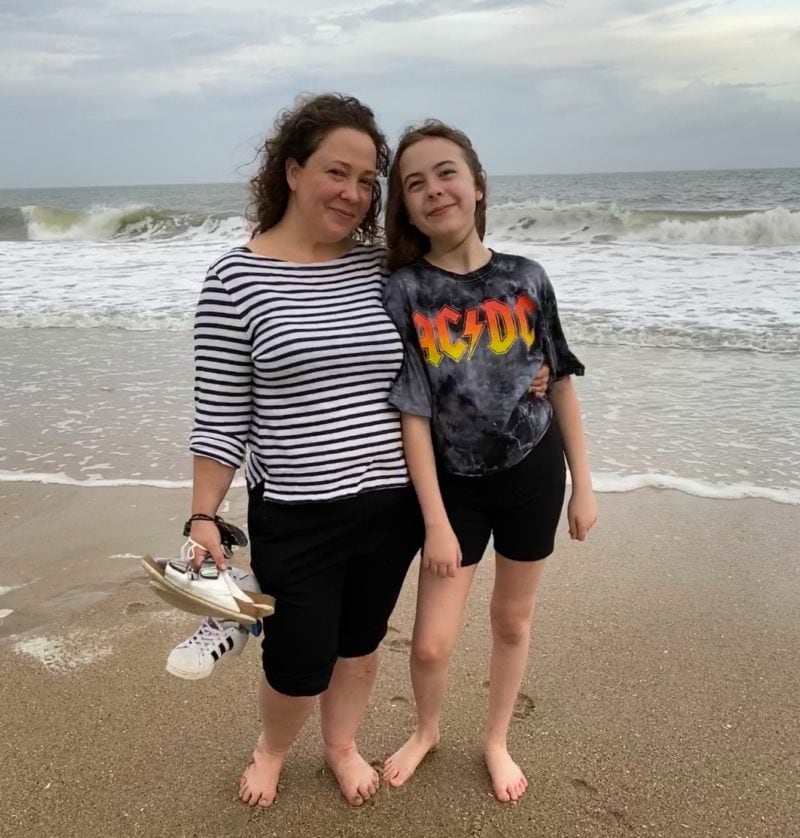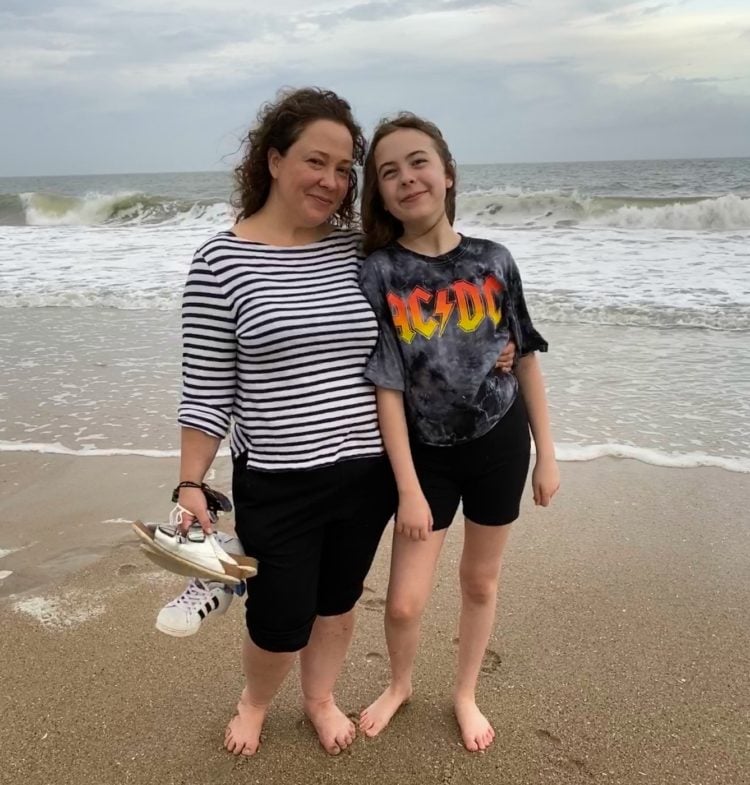 After school, our kid had a bit of homework so we had her do it before we headed back to the beach. Since it was still gray and a little cool, we didn't put on bathing suits and just went to hang out and take a walk. It was still lovely.
Friday, we all went for an early morning walk on the beach before breakfast and school. Our kid did her first class while my husband and I packed up the car, took out the trash, and tidied up the house. She finished her first class right around checkout time and we got home in time for her to attend her last two classes of the day.  While we didn't have perfect weather, we still had an amazing beach getaway!
Contactless Grocery Shopping in Dewey Beach
We brought some groceries with us but needed additional provisions (and sunscreen that we forgot). There are many ways to get contactless groceries and other necessities while at the beach. Several of the stores are part of Instacart and can deliver groceries right to your beach house. Using Instacart at home, I know it can take a long time and get complicated with out of stock items.  As a family with dietary restrictions, it can be a laborious process.  We chose to order groceries online and do a contactless pickup.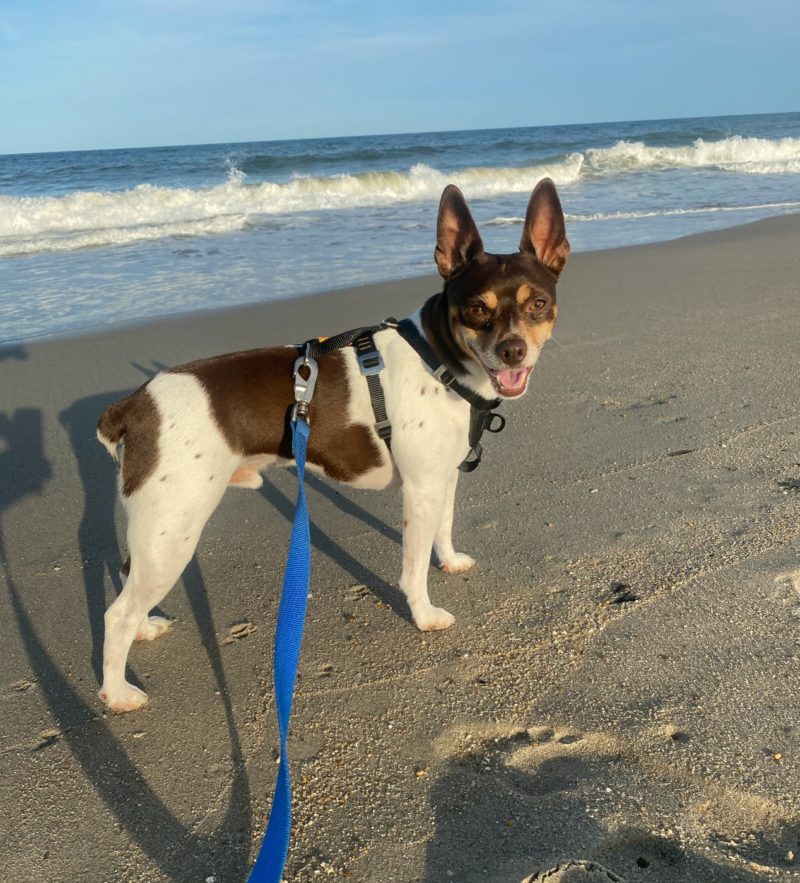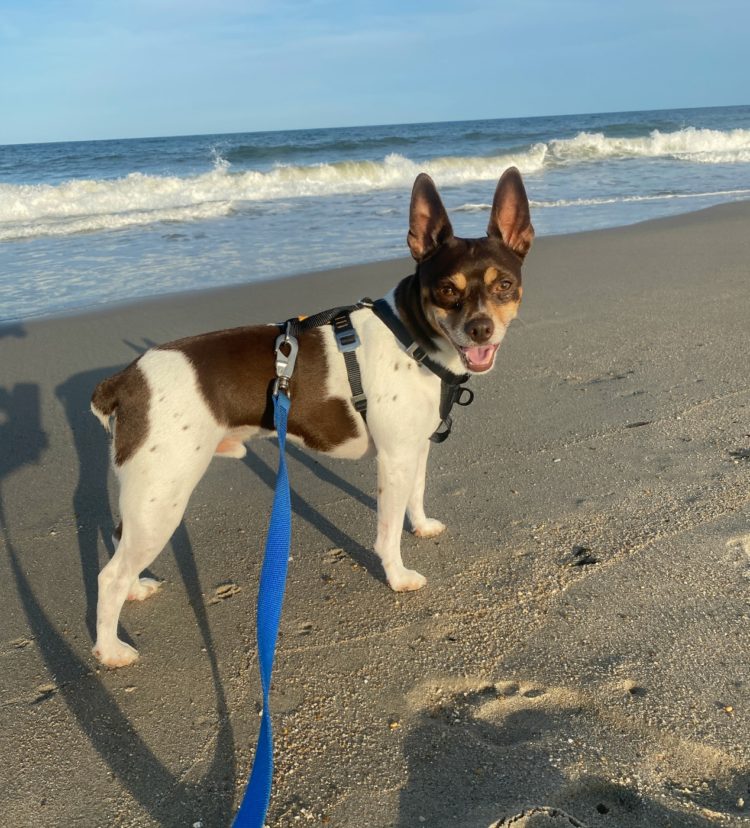 Getting a Dog Permit in Dewey Beach
Dewey Beach, Delaware is one of the few beach towns on the eastern seaboard that is dog friendly.  I didn't even realize that a dog permit was needed in Dewey Beach to let your pet on the beach.  Thank you to the reader who let me know!  She also let me know that the permits are bought at the Dewey Beach Town Hall on Rodney Avenue.  She also provided the intel that you don't need to go into the Town Hall to get the permits.  There is a kiosk in the parking lot; the kiosk looks to be just to pay for parking but from it you can also purchase 3-day ($5) and 8-day ($10) dog permits.  The kiosk is open 24 hours a day and can take credit cards as well as cash (must have exact change). Dogs are allowed on the beach from 5:30 pm until 9:30 am May 15 until September 15; the rest of the year dogs are allowed on the beach at all hours.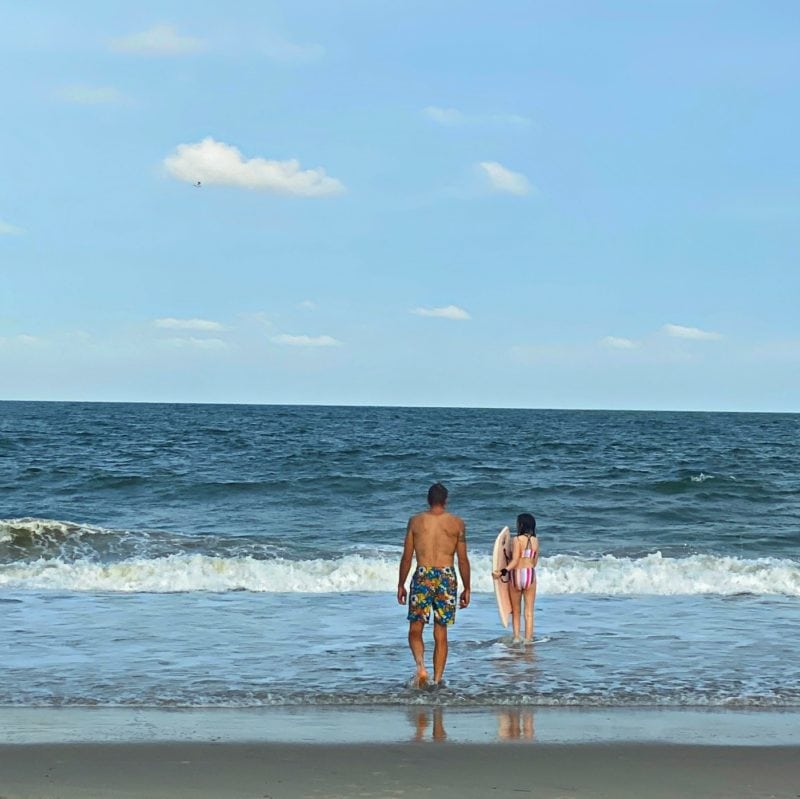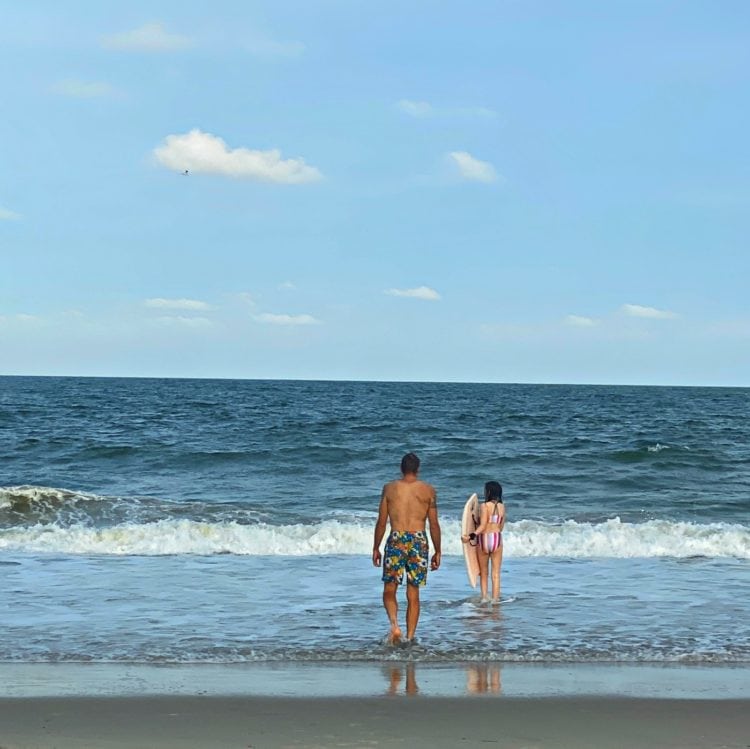 Our Experience at Dewey Beach during COVID
While the first day in Dewey was alarming with the lack of masks and social distancing, I found the rest of our time in Dewey Beach to be very quiet and those I encountered to be respectful of others' personal space. Many when they think of Dewey Beach, Delaware, they think of drunk college kids and young adults. And sure, the summers in Dewey are very much like that but off-season, it's very quiet. The majority of people we saw were couples over 40 and three-generation families with kids young enough to not yet be in school. The neighborhood of our rental house seemed 50% rentals and 50% year-long residents who were quiet individuals and couples. Most of the bars and restaurants in Dewey Beach were open, and several had modified their parking lots and outdoor areas to accommodate outside dining. In general, we found houses in Dewey to be a better value – same price as Rehoboth and other beaches while offering a closer location, more space, or a more recently updated rental.
Our Airbnb beach house was good. It was clean, well-appointed, great location, and the host was phenomenal with communication. While I knew from the photos and previous renter reviews that the house didn't have a deck or porch, I didn't realize how very much I would miss it. Rainy days would have been more enjoyable out on a porch, late nights while the kid was asleep would have been lovely on a deck or patio. The house had a picnic table in the small patch of grass in front, but it was right on the street and the grass and table were soaked from the rain. The kitchen was great, plenty of cooking and baking tools, and the pantry had basics in it so we were able to use them along with our groceries to put together pancakes, oatmeal cookies, and peanut butter cookies and have evening tea even though we forgot our tea bags. The sunroom was our favorite space, with a spectacular view of the sunset over the Rehoboth Bay right from one of the couches. The back door was into the laundry room with a tile floor and next to the outdoor hose so it was easy to keep sand from spreading all over the home. The house can comfortably sleep 10 with a toddler mattress under one of the beds and large comfy couches just in case. The garage had boogie boards, sand toys, beach chairs, and more. While the house says bring your own linens, they did have some extra blankets and beach towels and such in case you're in a pickle.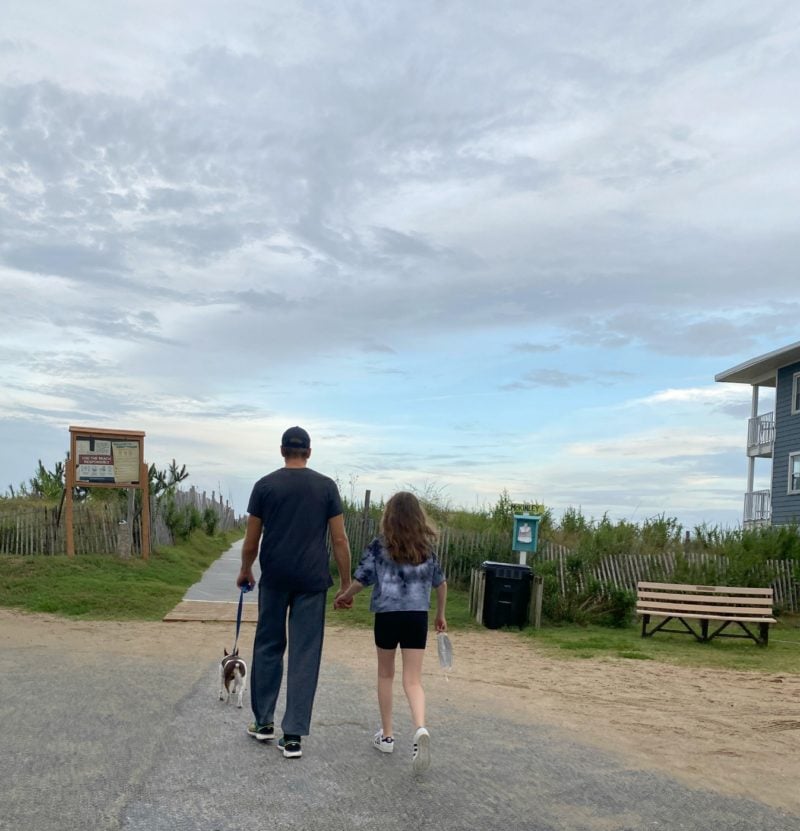 Why We Chose Airbnb for our COVID Getaway
This doesn't sound like an incredibly thrilling vacation, but for the kind of year we're having, it was amazing. Being out of the house and having a different environment was the reset we all needed. Because our school system has 100% distance learning, she can go to school anywhere that has WiFi. You can have a fantastic vacation without having to interact with strangers or be in uncomfortable social or indoor situations. Rental homes mean you don't have to interact with hotel staff or other patrons and have a kitchen to easily cook all your meals (or a place to enjoy delivery or contactless takeout).  We specifically chose Airbnb because I appreciated the details about houses and the ability to communicate with hosts.  I was able to find out when the house was cleaned and how, choose a contactless entry to the home, and read detailed reviews from previous renters sharing their experience with the house, sanitation, and communication with the host.
This is a year of new normals. New ways to work, to socialize, to dress, and also to travel. This experience made me feel hopeful, knowing there is a way to enjoy getaways without putting myself, my family, and strangers at risk. I know this isn't for everyone, and I know some are more comfortable with aspects of travel in 2020 that I am not. But this experience left me feeling renewed, feeling less hopeless, and desiring of another short road trip to a rental home in the future.