This article may contain affiliate links; if you click on a shopping link and make a purchase I may receive a commission. As an Amazon Associate, I earn from qualifying purchases.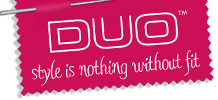 As I mentioned in a previous post, I would soon be providing you with a review of my newest boots from Duo – a company that specializes in all sizes of calf boots. I had purchased from them in the past and was highly impressed with the customer service and the quality of the product (as I type this I am wearing my Bern boots from them!).
Last season I decided with a work bonus to splurge on another pair of boots made for my wide calves. I wanted a sleek and classic tall black leather pair that would look great with dresses and skirts. As with my order of the Berns, I entered my foot size (39) and my calf size (45 – yeah, I am so past the point of department store's ideas of what an extended calf boot should be) and the style that seemed to fit my personal style.
Less than two week later, a gorgeous pink-wrapped box was waiting for me at the post office (do note that orders to the US require signature – if you are not home it will go to your local post office. And from the post office you must be there with ID to sign – not your mom, your roommate, your husband. I have learned now to send the boots to my job where a receptionist is always available to sign). I opened it to find glossy, elegant, fabulous boots… that wouldn't zip up past my ankle bone. What the heck? I held the boots closed and could see that they would fit around my calf bone, but just not from ankle bone to that point. I contacted Duo by email and received a response in less than 48 hours.
The super helpful customer service agent was sorry the boots did not work, and suggested some styles that may be more flattering and fit better on my petite yet chunky legs. I had asked about two styles in my original email, she openly admitted one style would not fit my frame, the second would probably be good, but a third and different style (the Ravenna) is one of the most popular styles for women built like me.
At the time, I decided to return the ill-fitting boots and wait until fall to get a pair. By then, they hay have other styles I like better, trends, may change, my calves may shrink overnight…
A few weeks ago, I received the email that Duo was having free international shipping and I saw that as a sign and ordered the Ravenna boots.
They arrived to my office… they were gorgeous, a classic look, well made. They zipped up past my ankle bone, but not much farther. Holding the leather closed, I could see that they would be plenty roomy in the calf muscle, but the rest of the leg was at least a full inch too thick. Frustrated, I send another email to Duo. Not even two hours later I receive a response:
Thank you for your email. I have had a look at your blog and seen how pleased you were with your Bern boots, so I'm very sorry that you have had these sizing problems since.

We have had feedback in previous seasons about needing more styles with more room in the lower calf area and mid-August we changed to our new 2008-2009 range. I have been trying on boots this afternoon to gauge the fit and there are 3 styles that I would recommend.

The Macerata boots are a straight cut riding style in gorgeous quality leather which do not taper in too much at the ankle and might be a good fit for you in your calf size as they are generous all the way up the leg.

The Potenza boots in black are more of a western style but they are coming up larger in the lower leg according to the feedback that we have had over the past month or so.

Finally, the most generous boots that we have in the lower leg are the Imperia boots as there is lots of room above the ankle in these; even with the 1940s detailing they are still classic with a small heel and very wearable.

If you still have concerns about the sizing, if you can provide me with the measurement of the lower calf area that is causing the problem as well as your upper calf measurement I would be happy to go and measure any other styles that you might be interested in.

I look forward to hearing from you.
Um, how often do you encounter such personalized, caring and detailed customer service from a company? The letter was longer, and mentioned that she visited my blog, saw the Bern boots on me and agreed they were a good fit, looked up the size of the Berns that I kept to ensure I re-ordered the right calf size, and even offered free shipping on the next pair that I ordered.
This is why I return to Duo. I am so impressed with their dedication to their clients, the quality of their product, the variety of styles, and that they seem to really care about me, and not just my money.
I haven't chosen a replacement pair, but do know when I do… you will all get a full review of them!