This article may contain affiliate links; if you click on a shopping link and make a purchase I may receive a commission. As an Amazon Associate, I earn from qualifying purchases.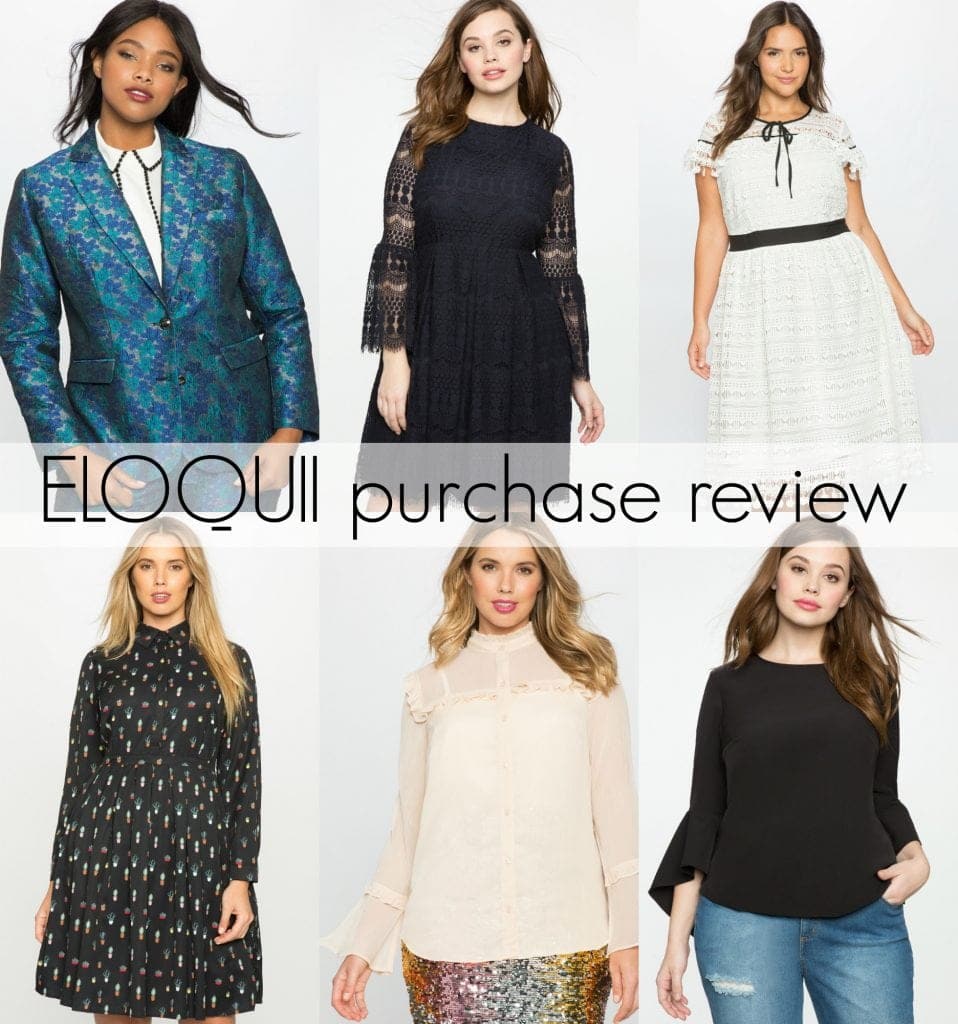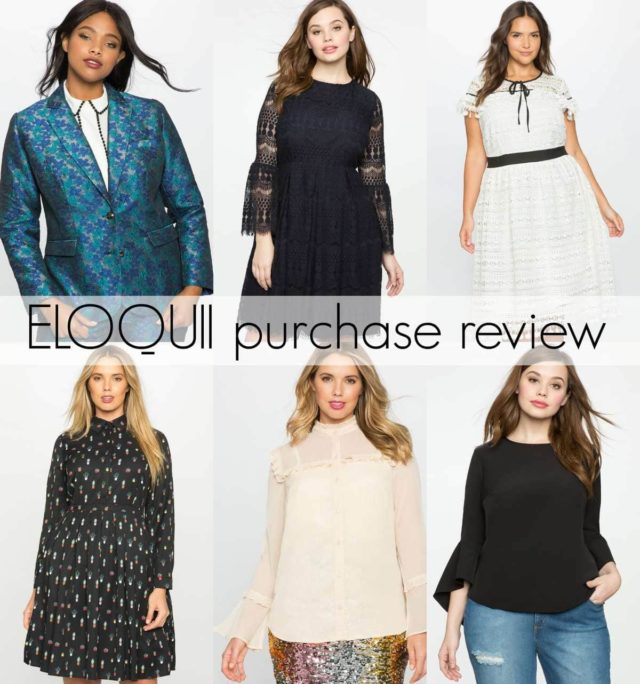 A little weight gain and a little adjustment in the cut and fit of ELOQUII and now I find some styles of their clothing fit (see my first purchase in this post). Since I had success with that dress I've made a couple more orders. I also have connected with the brand and they have sent me a few pieces. This review combines both, I'll state whether one is gifted or bought with my own money but all are completely honest reviews:
The famous Kady pant. So many of you love it, and I see so many bloggers wearing them. I was psyched they had them in 12… but not a single color in stock in short. So I ordered in 14 short, hoping they'd work.
They didn't. These are 14W, not 14R and I am not a 14W on the bottom. They were a tad loose in the waist, but the big issue was the hips and thighs which were just too full and the crotch was too long. I could pull up to my ribcage and not get a wedgie. So while technically they were shorter in length they were not cut petite. I wonder if the 12 short would possibly work or still be too long in the crotch…
That being said the fabric is super nice – heavy, the right amount of stretch to have give but bounce back. Heavy enough to hide what you want hidden but still flexible. And yes, the white is opaque. I tried with light pink lace underwear and couldn't see it! So while these pants were a fail for me, I bet they'd be a hit for plus sized women.
I got this thinking it may make a suit with the Kady pants. This jacket is not the same fabric. It's a soft lightweight suiting fabric while the Kady pant is a heavyweight twill with stretch. The blacks didn't even match. Also, I am not a W in blazers. This was just too big in the torso though the sleeves, waist, and length were all good for my height. If it came in a 12W Petite I think it would be a good fit. Not bad, but for me specifically it was a miss.
ELOQUII has all kinds of cool promos and discounts, sometimes they have select dresses at a discounted price. When I placed an order, this dress was on sale for $39. I didn't need, but it looked cute.
This is a really meh dress. It's very… ASOS under $50. Like, I could justify it, especially if I was going on vacation or it was summer and I had an active social life. It was sexy but not too bodycon, the neckline was flattering, the length was longer than I usually wear but I liked in a vintage-inspired sort of way. The problem was the fabric is very lightweight, the rib looks cheap, and the black wasn't super saturated. And let's be real, where the heck am I going to wear this dress? Miss.
I ordered this blazer after trying the Double Button Blazer, but thought maybe since the brocade would be heavier and stiffer it may work with a bit of alteration. This jacket is utterly gorgeous. It's glam and could be worn with the matching pants to a cocktail party or wedding, or you could pair with a silk cami and black skirt or pants for a more sophisticated look, or style with jeans and a band tee for a cool night out look.
I was right, this fit more snugly than the Double Button Jacket. However, it was a bit too big in the bust, too long in the sleeves, the shoulders a hair too wide, the button a bit too low. I spoke to my stylist friend and she said the alterations would either be impossible or so costly it may not be worth it. I was sad to send this back, it was so utterly badass.
I ordered these after the order with the Kady pants. I knew these would be too big, but figured if the blazer was a winner I could maybe get these altered. I didn't look closely enough to see that the pants are brocade on the front but navy poly satin (they say it's scuba) on the back. I get that the stretchy back fabric likely provides a better fit but it just made the pants look cheap. I asked Karl, I took photos and texted to my best friends, they all said the two-toned pants were weird looking. I was glad the blazer didn't work because I would have been mega sad to not have the matched badass metallic funky pantsuit and I just couldn't carry off the weird two-toned pants.
And now for the gifted items…
ELOQUII and I had a call regarding a brick and mortar store they're opening in DC (stay tuned for details) and offered to send me some clothes in thanks. I placed an order, two weeks later they casked how I liked them and I realized I never got the order. FedEx said they delivered it at a certain time on a certain day but I have Ring.com and there was only one video from that afternoon and it was a girl in town delivering the free weekly paper for our community. Boo on FedEx! Sadly 99% of the things I wanted from ELOQUII were now out of stock (shopping tip: if you see what you like on ELOQUII don't sit on it, it very well will be gone in a week). I chose a few new options:
This is the kind of dress that's great to have in the closet. It's navy lace, so it works three seasons out of the year. It's a conservative dress – hits my knees, not a low neck, has sleeves. However it's not boring. The sleeves are super fun and the lace is really pretty. With a switch of shoes and accessories this could work for a day or evening wedding, a date night, cocktail party, or even a creative workplace. It's a subtle fit and flare so it gives you shape while still fitting and flattering that time of the month or after a large meal. I think adding a dickey/bib underneath would also look cute and give it yet another look. Win!
This is NOT a dress made for a petite woman. This dress is super fun, super cute, and super on trend, but the lace is heavy and stiff, the skirt has a lot of volume, and it made me look as though I was playing dress-up. However a taller and larger woman may look utterly adorable in it. It's well made and with the black accents could work now through October. This is a dress that would work great with a figure that is larger on the bottom. Cute, but for me it is a fail.
This is pretty much the same dress as this dress which I love. Similar fabric (poly silk), similar cut, and similar fit. But instead of a fun combo of colors this is a dress covered in succulents. Yes, a dress with teeny tiny cacti all over it. Even better, it has POCKETS! I've never been the Modcloth/Anthro/New Girl kind of gal though I dig it on others. However this dress appeals to me. I think it's because it's black, a traditional silhouette, not stiff fabric, and the print is hard to recognize until you're right on top of it. I wore the dress this past weekend with black tights and black ankle boots and it really is a conversation starter – so many people complimented me on the dress and then noticed the print was cacti and get even more excited. Great for travel, I wore it on a three-hour car ride and not a single wrinkle. Oh, and it's machine washable! Win!
I love the fun sleeve trend. Ruffles, bells, lanterns, cut-outs, lace insets… it's all fun. And most of it isn't in sizes or styles made for a short round lady. I really feared this top would be too stiff and too long but the sleeves were so darn fun. It's a nice crepe that doesn't wrinkle and looks great for work. This hits me at the hip, which makes me wonder if it runs too short for taller women. The end of the sleeve goes past my hands, but the short part is above my wrist so the ruffles fall to the side and I can eat and type without them getting in the way. I regret getting it in black, it's such a fun top that in a color (there's four others to choose from) it would create a whole outfit with black pants or jeans.
Talk about a Try-day Friday choice! A blouse that gets reviews that it's too sheer, it looks to be the same exact color as my skin, sleeves that likely will be too long for my petite frame, ruffles to emphasize my broad shoulders and a high neck to emphasize my chins. Why in the world did I order this blouse? No idea but I AM SO GLAD I DID! I am wearing it while I type this, tucked into this pair of grey jeans from NYDJ with black ankle boots. I wore this same exact outfit again Saturday night for dinner and a concert (I write these posts in advance then come back and add to them if there's new info). It fits beautifully, it's not too sheer if paired with a skin-toned tee shirt bra. It looks expensive, and the color is enough of a contrast that it doesn't make me look washed out or naked. Two women stopped to ask me where I got my blouse, both were sad that they were too small to fit into ELOQUII (shoe on the other foot, love it!). I think the color makes it, I don't think it would be as elegant in white, black, or a brighter color. I hoped to have Karl get photos of me in this outfit but the day got away from us (as did the weekend) but do expect to see it on the blog in the near future. Win!