This article may contain affiliate links; if you click on a shopping link and make a purchase I may receive a commission. As an Amazon Associate, I earn from qualifying purchases.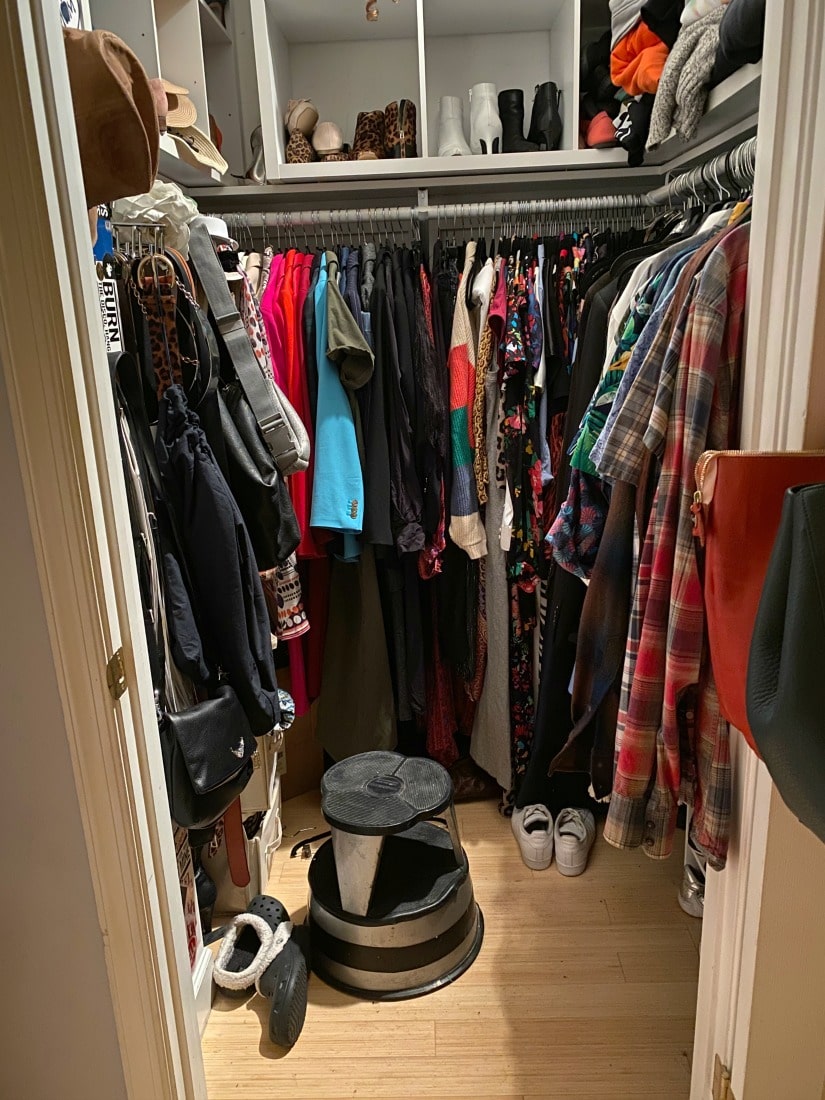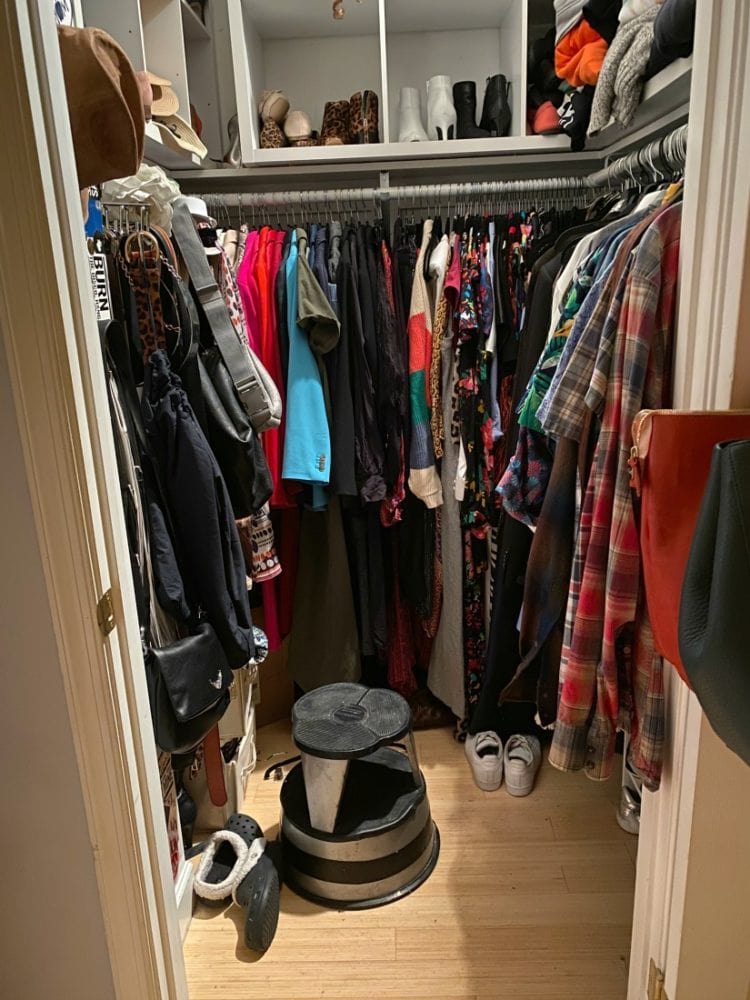 This is my current closet. I took this picture Sunday evening. On the right is my husband's stuff; I have the left and the back. When we bought our 1940's row home in 2000, our bedroom was what is now our home office. That closet was small, and not only was it small, one wall was slanted to accommodate for a stairwell, making it even tinier. We're talking about 4′ of bar with half of it only tall enough to hold shirts and a single shelf above, of course too high for me to reach on a regular basis. This closet is ginormous in comparison. Yet, I don't share it often because in 2019, it wasn't cute.
Oh no you say, who cares what your closet looks like? Let's see the realness. But you say that, but the numbers say otherwise. When I share my "realness" I get fewer views, fewer comments, fewer shares. After
my capsule wardrobes
, the most pinned images from my site are stock photos of big, beautiful closets I purchase for advice posts. Scrolling through Pinterest and Instagram, photos that get the most engagement are those of closets the size of a large bedroom, color-coordinated and well-lit, usually with a chandelier and piece of velvet or leopard-print furniture to sit in while placing on a pair of designer shoes. Cloffices became a thing in the past decade, where individuals would transform a room in their home into an office/closet combo, their Mac sitting on a desk surrounded by bars and drawers of clothing and shoes. Home decor even became about fashion, with people framing Chanel bags, placing orange Hermes boxes along books and knickknacks, and buying prints of past fashion magazine covers or
signs directing you to Prada Marfa
. If a closet is small, it's still hashtag goals. It's dappled in sunlight with vintage silk slips and shifts of delicate linen hanging on padded hangers or it's meticulously organized with labeled storage bins and a carefully edited collection of 33 pieces hanging in a rainbow from white to navy to charcoal gray.
The perfect closet became the American Dream: an example of financial success, knowing yourself, and being organized and efficient.
I decided 2020 would be the year I redo my closet. I researched tools at The Container Store and on Amazon, I checked out the prices for professional companies like California Closets to come and reconfigure the whole damn thing. I decided this was an investment, I am a fashion blogger after all, I need a great looking closet right? I am so glad I hadn't yet made that investment. It seems so unimportant right now.
And then March 2020 happened and our closets became a constant reminder of excess, of lives we can't live right now, of how we feigned confidence and competence with each Amazon purchase and Instagram swipe-up. How we kept thinking that a purchase would fix it, whatever our "it" was and now it's all collecting dust. This weekend I went in my closet to find a pair of hiking boots and went through the rack thinking it would make me sad but actually the opposite.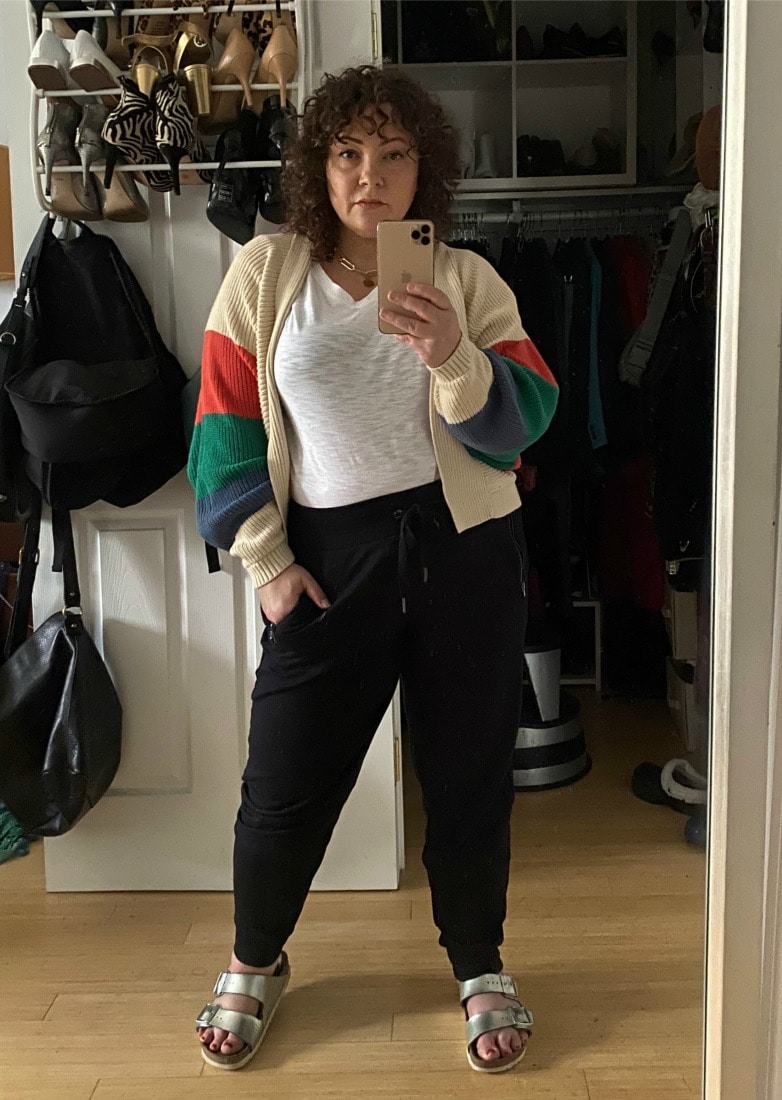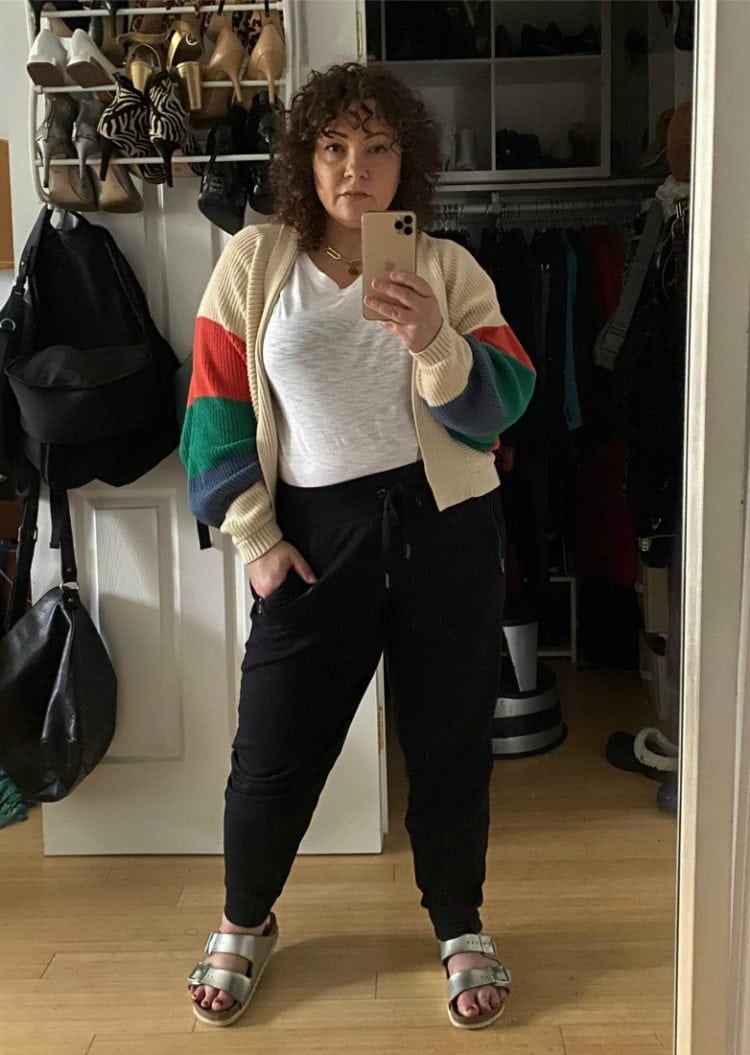 See that rack over my shoulder holding shoes? I wrote about it almost three years to the day in a sponsored post for eBay. It used to be 2/3 longer but less than a month after installing it, it broke. I tried to fix it with tape, with screws, with rubber bands but after it crashing in the middle of the night for the second time I threw that crap away. But now the broken edges become hooks for all my totes and backpacks not being used and who needs more shoe storage when all I'm wearing are slippers, Birkenstocks, and those Bogs boots for the garden?
Inside my closet is one of those fabric gadgets that Velcroes around your closet bar and has shelves and "drawers" to store small accessories. I had an amazing sturdy one I bought in 1998 but you can see in this 2011 post that it was starting to stretch out and be less functional. I ended up replacing it, I see my current one in a 2015 post of my closet. Like my over the door shoe rack, this organizer is a piece of crap. The shelves slide out, the "fabric" is actually plastic and over time has become brittle and cracked. We've heard bangs in the night from the shelves slowly sliding out and the fabric box of scarves or purses slamming to the ground. I had a replacement one in a virtual shopping cart but never pulled the trigger to buy. I'm glad because it seems silly right now to spend money to organize silk scarves and clutch purses, two wardrobe "essentials" that are currently collecting dust.
The closet has a very high ceiling, but only a single shelf above the bars. Last year, my husband went to Target and bought a bunch of white particleboard storage cubes and screwed them together to create makeshift shelving. It was such a sweet gesture and gave me more storage, but the size of the cubes are awkward for shoes and I still felt as though I wasn't maximizing the space available. And it looked better but it still wasn't cute. But now? Now it's just fine. I don't need my shoes to be attractively displayed, I just need them protected for when they will be worn again.
I have a newfound respect for my closet. Its size prevents me from buying more and forced me to regularly assess end edit its contents. Over the years it amassed a collection I love and truly miss wearing. And it's a closet that is doing just fine with broken organizers and awkwardly-shaped storage bins. My closet is like me: it's not especially large, not especially tidy, but full of color and personality. It holds beautiful items, ridiculous items, sentimental pieces, and plenty of "get 'er done" basics. It's a lived-in and loved-in space in my home. Sometimes it gets really messy, even when it's organized it looks chaotic but it's a chaos that I know and I understand. And my closet it for me, not for Instagram or Pinterest or anyone else. Especially now, as we're spending all our time in our homes, it's important to make our homes for us, not for the approval of others.
Instagram Live Closet Edit: Tuesday, April 7 at 1pm ET
That being said… at 1pm ET today I am going live on Instagram with Rosana, founder and chief stylist at DC Style Factory to do a virtual closet edit. I hired her in the past to help me create outfits for a fashion conference, and trust her completely. Her company is now offering virtual closet edits to help us navigate our wardrobes now and for the future, and I think it's a brilliant way to get a true feeling of control without buying another gadget or garment. If you'd like to watch, follow me on Instagram and if you're logged in you'll receive a notification of when it starts. When it's over, I'll try to save it so you can see it for 24 hours. I'll also try to record it so I can upload it to YouTube and will share a quick recap of the experience in a future blog post.
Who would have thought a pa ndemic would be the catalyst for me to accept my closet? And you know what? It IS cute!