This article may contain affiliate links; if you click on a shopping link and make a purchase I may receive a commission. As an Amazon Associate, I earn from qualifying purchases.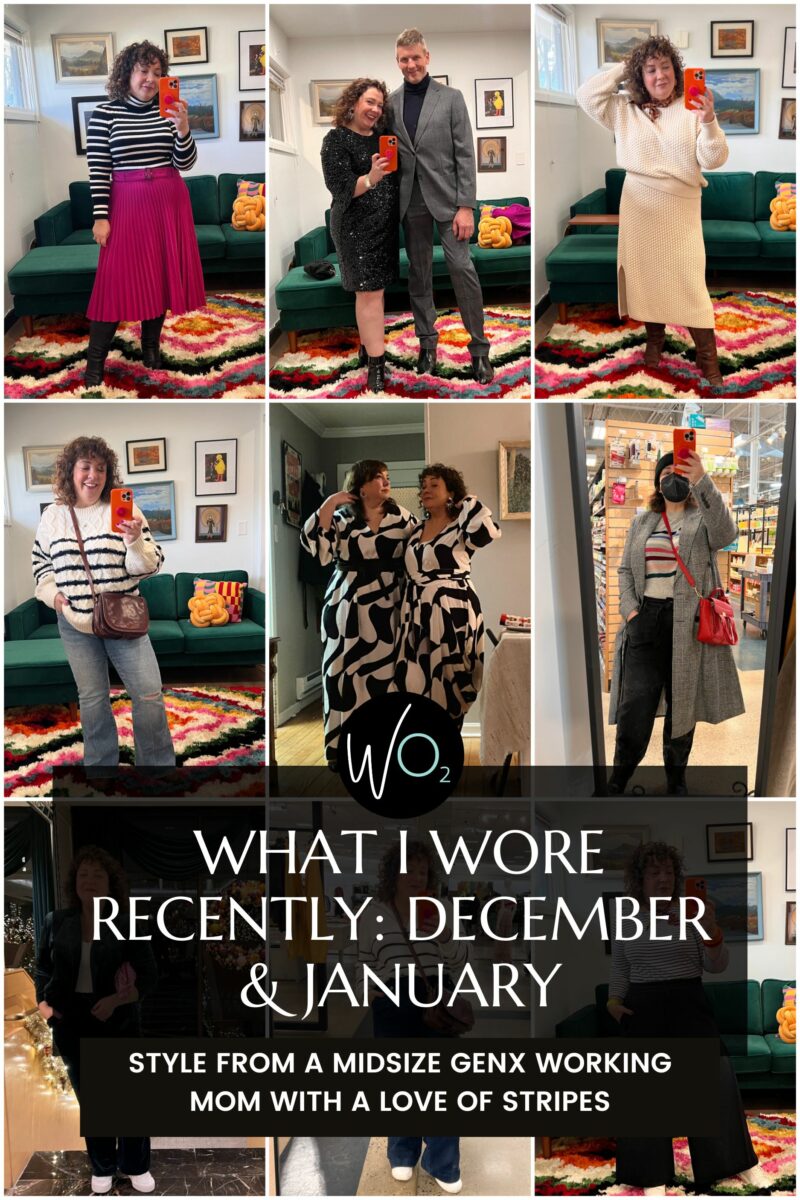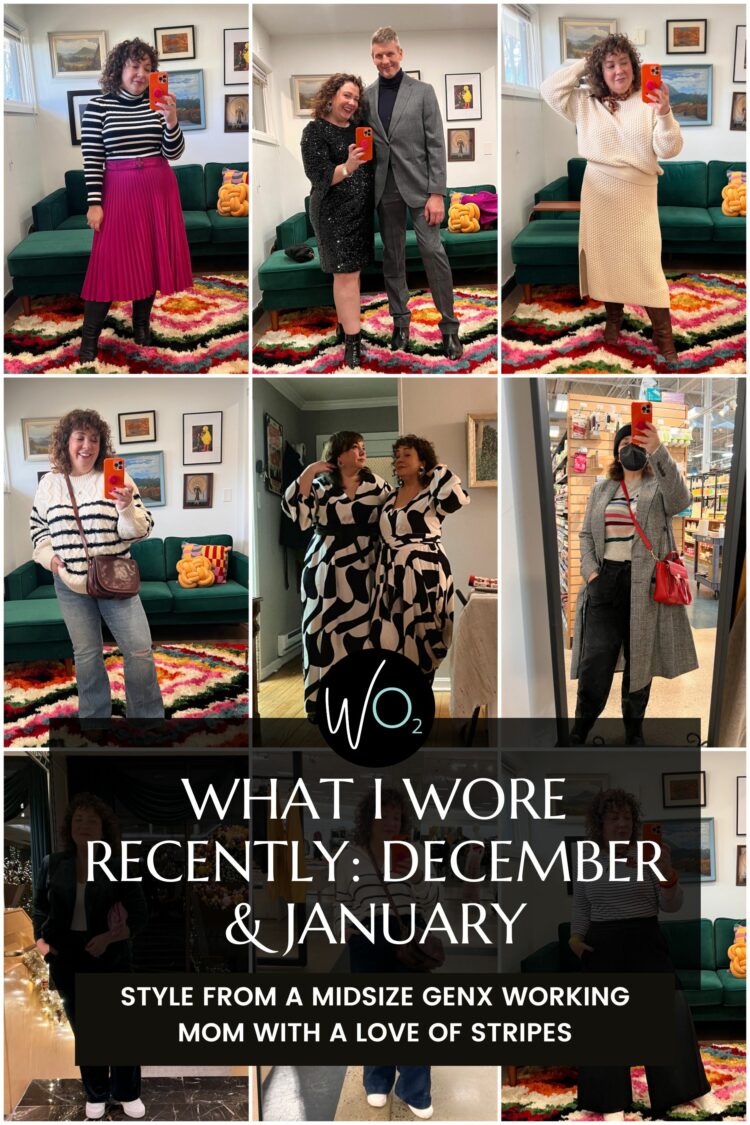 I have been slow in sharing my outfits here on Wardrobe Oxygen; here are some of the looks I've worn in the past month. Holiday looks, office looks, and some casual outfits mixed in and lots of repeats showing you don't need a big wardrobe for big style. And you can have a very specific aesthetic and love for certain colors and prints (say, stripes) without looking like you're wearing the same thing all the time. I have the looks separated by category.
What I Wore For Holiday Events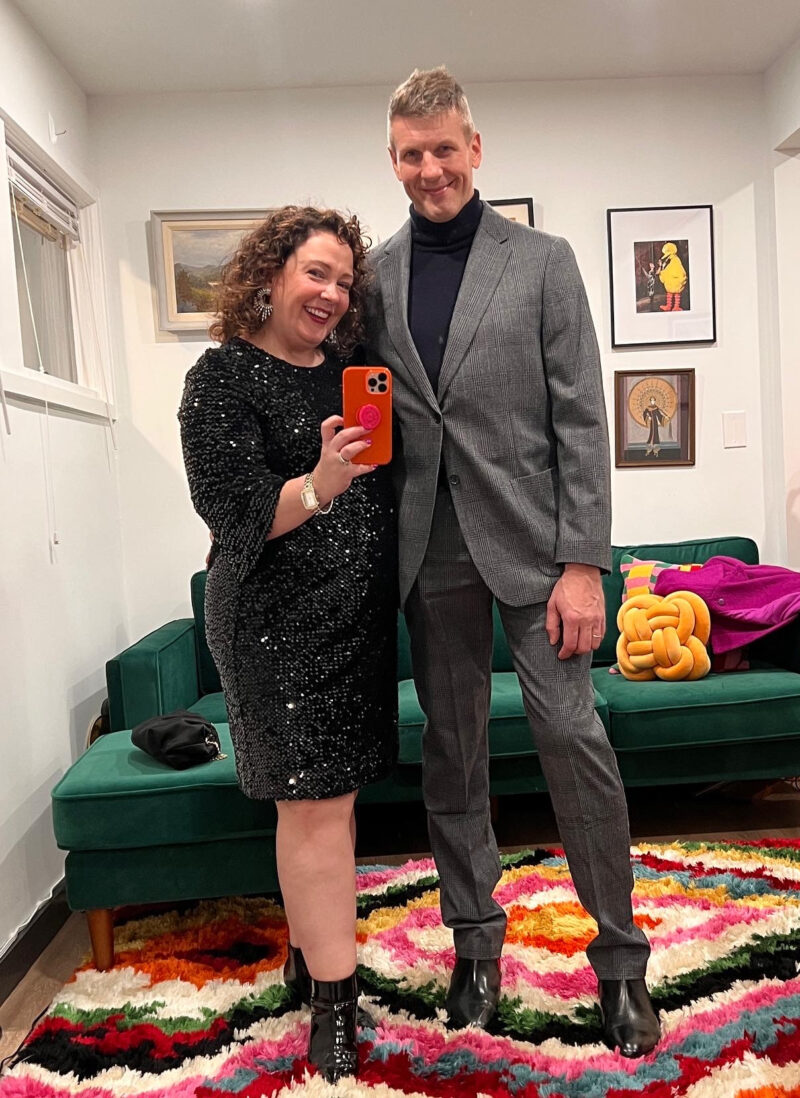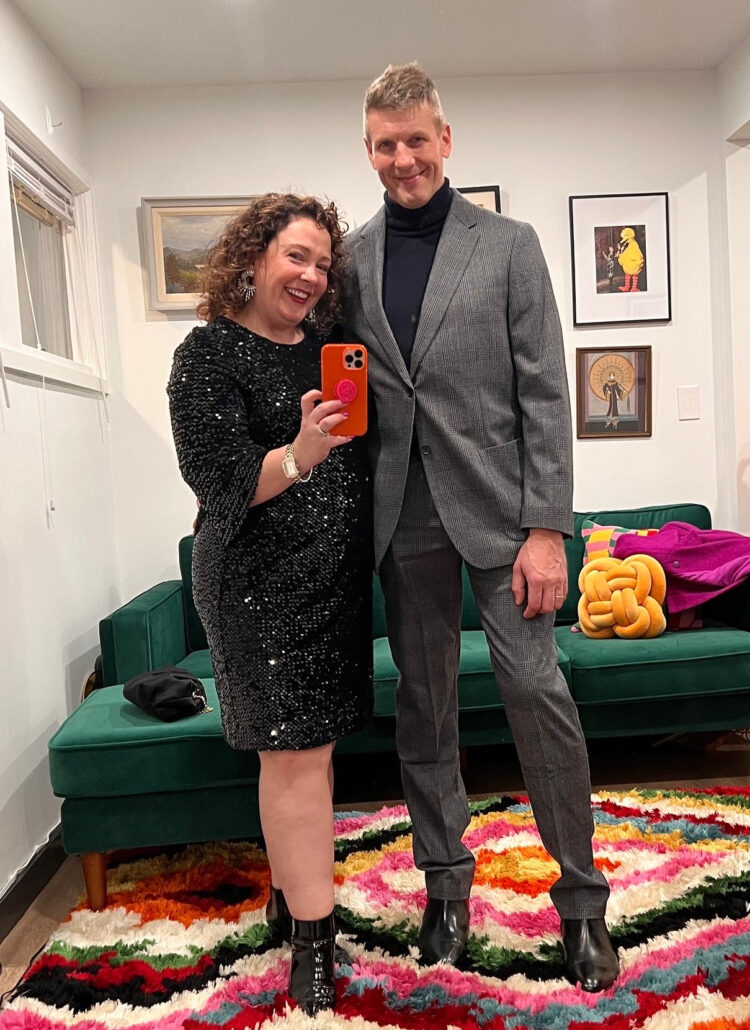 My office had a holiday party. I know the other business owners in my office building would likely show up in nice sweaters and trousers (and since it's Greenbelt, a few Patagonia fleeces and cargo pants) but I'm a fashion lover and I really wanted an opportunity to wear this sequined dress from Chico's so Karl and I glammed up.
Karl is wearing this jacket and these pants from Banana Republic with an older Banana merino turtleneck (this year's version). He also owns the matching vest. Banana Republic is a great place to shop for tall dudes; they have 36″ inseam, long jackets, and tall shirts and knits. Also, Banana occasionally has 40% off which was when I scored this suit!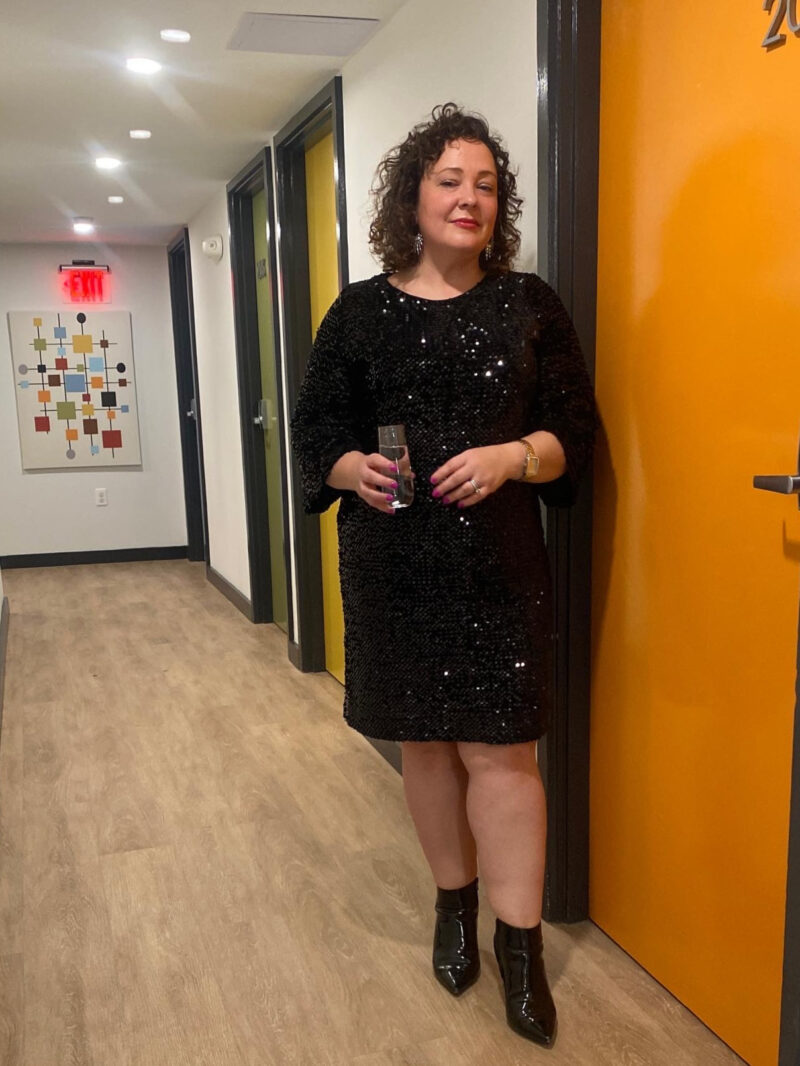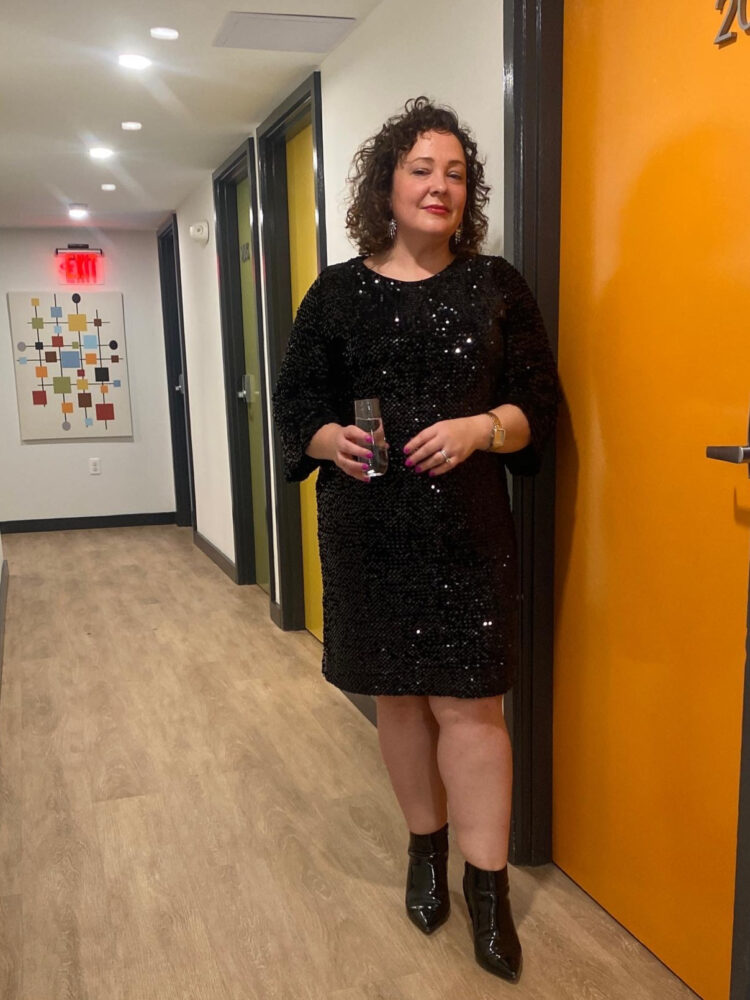 Since it's a month later, this dress is on clearance for less than $60 but very few sizes left. I'm wearing size 2. The watch is also Chico's and I love how it has a nice sized band with removable links; great for those of us without delicate wrists. The boots are from ASOS and I got them many years ago; ASOS is a favorite for trendy wide width shoes and ones like these are comfortable enough that I have kept wearing season after season.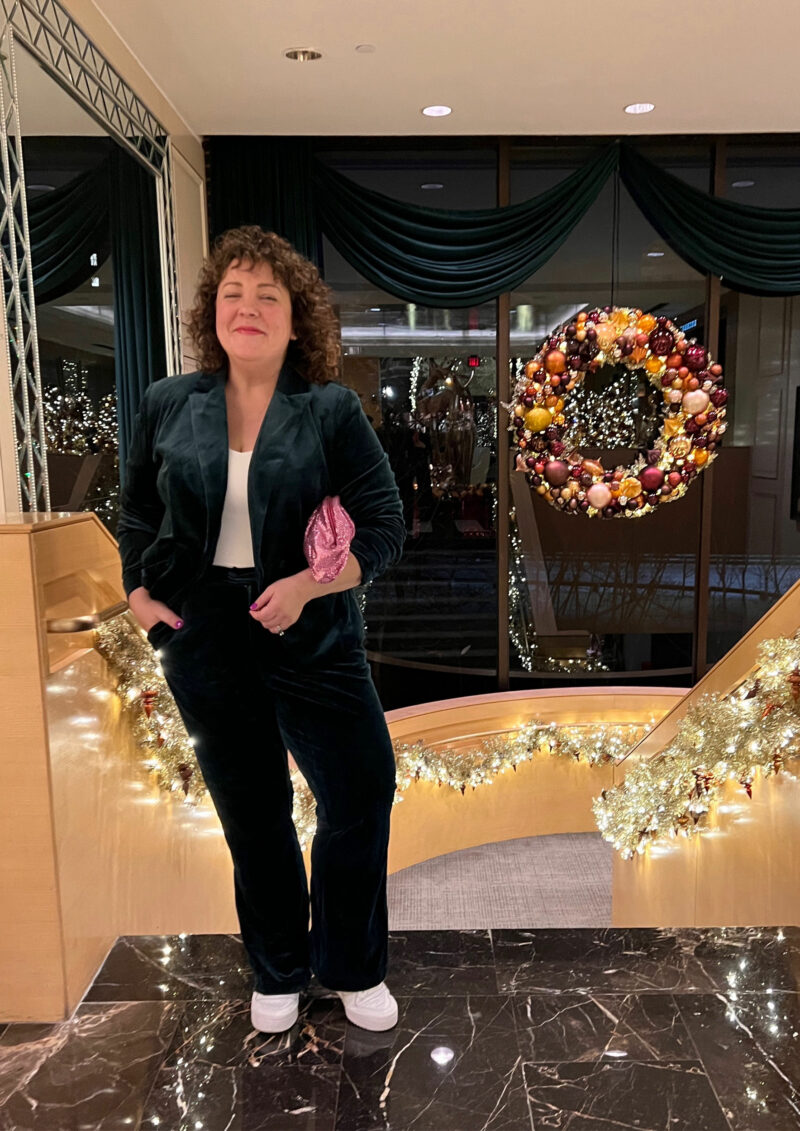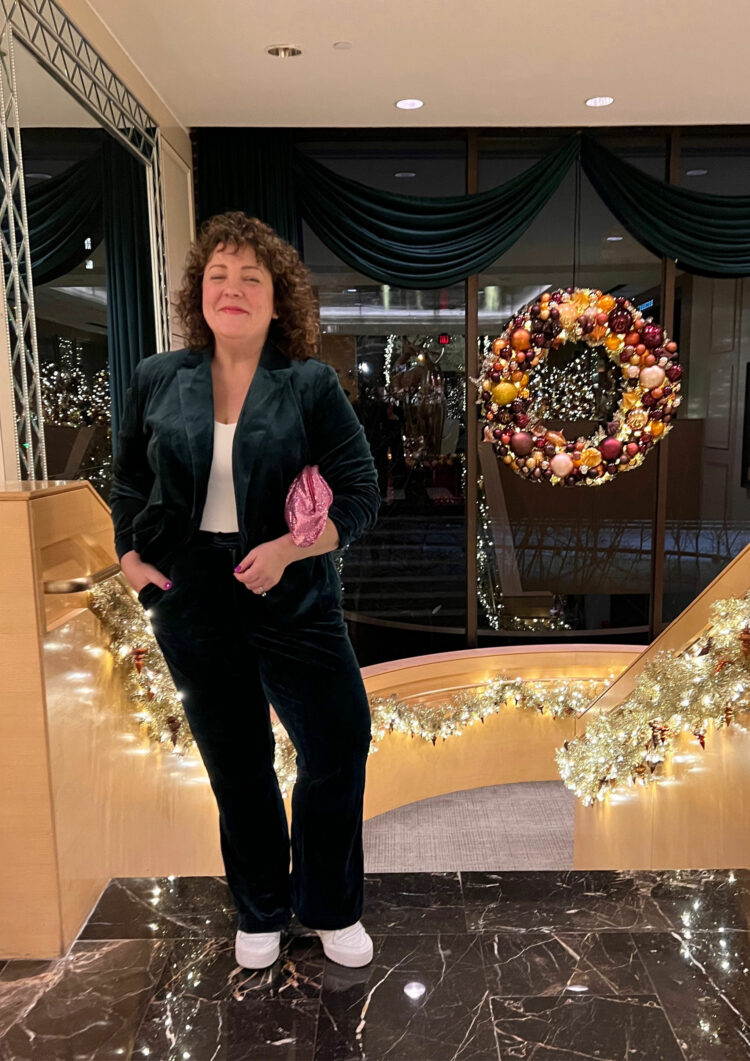 I was invited to a dinner at Bourbon Steak within the Four Seasons Georgetown to experience their chalets. It's an intimate way to dine during the winter and I had a blast with my friends, but getting dressed stressed me out. I wanted something cute and unique and stylish and wintry and tore apart my closet… and then just said keep it simple and grabbed my old Universal Standard velvet pantsuit. You've seen it before here.
Universal Standard has a current velvet pantsuit and it's niiiiice but it's not petite friendly. This one which is no longer available only needed the pants hemmed to work on my 5'3″ self. It's hard to see in this photo but it's green. To keep it relaxed, I styled it with my Athleta white tank and Adidas sneakers. The bag is this one from Nina and it's on sale. And as a random, I was watching New Year's Rockin' Eve and Betty Who was wearing the same outfit just in blue velvet!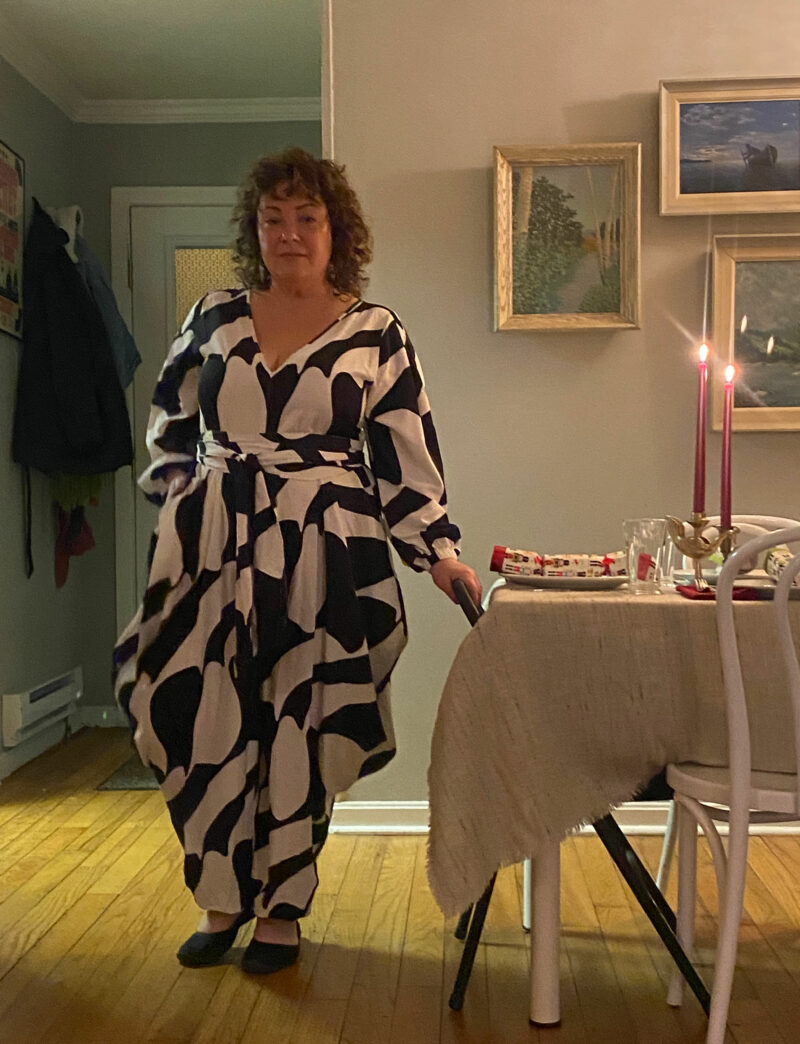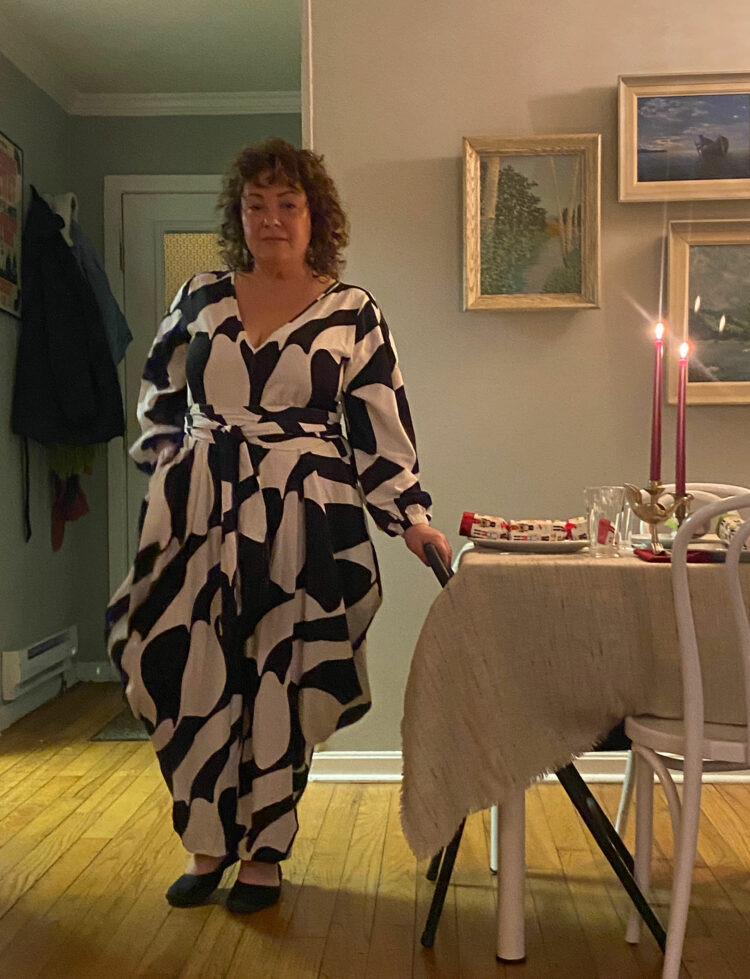 Christmas Eve, we spend at my sister's. It's just a few of us, but we still take the opportunity to dress up. I usually wear my eShakti maxi shirtdress, but had recently gotten this jumpsuit and wanted the chance to wear it. It's from JIBRI's The Drop collection on Amazon and no longer available, but JIBRI carries similar on its website. The shoes are Lissom. They're so comfortable and easy to tuck in a bag if you need to change shoes for the weather (I showed up in snow boots).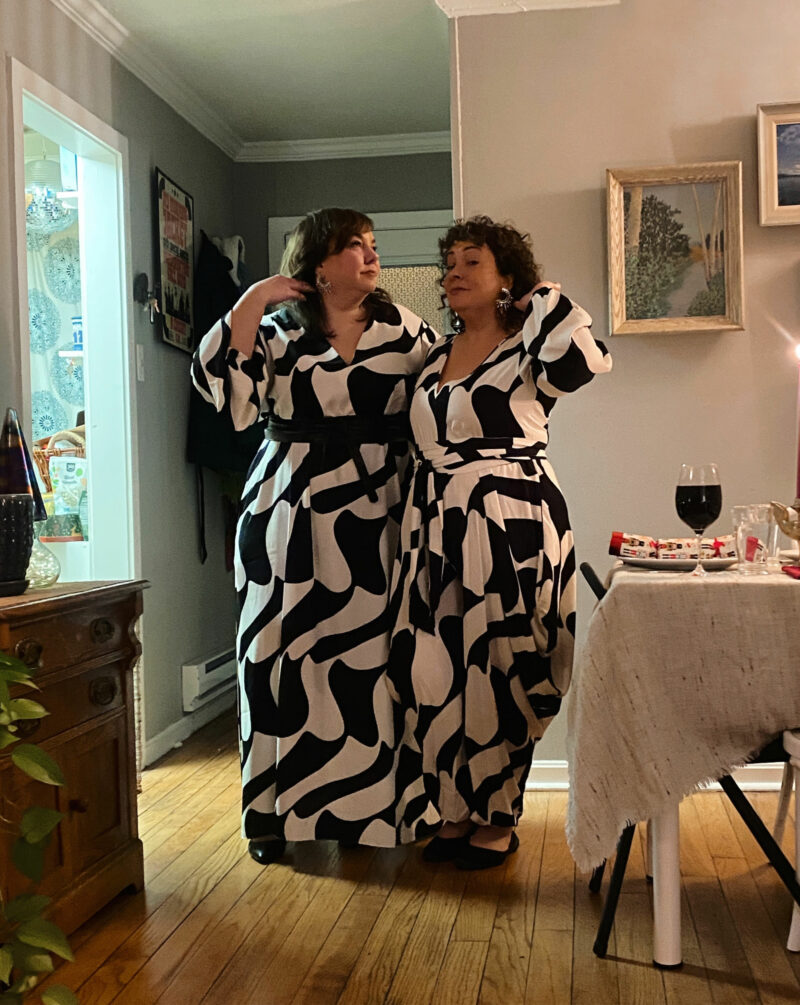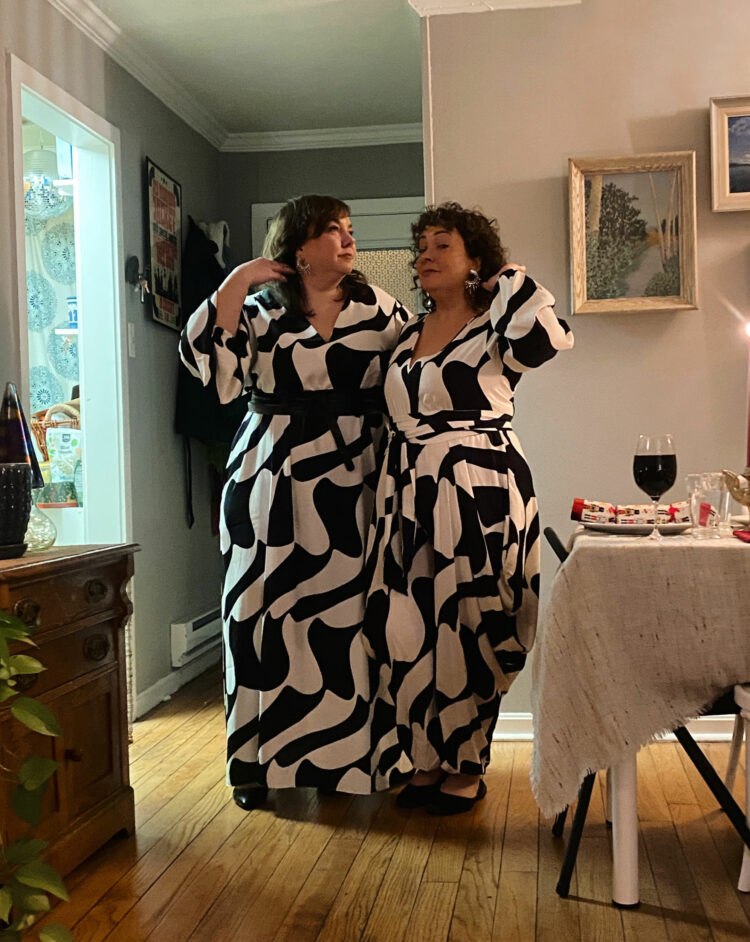 When I shared on Instagram Stories that I bought a jumpsuit from JIBRI's The Drop, my sister replied she also bought from this collaboration. We didn't plan it, but both ended up buying the same print! She got the maxi dress, I got the jumpsuit. When I decided to wear it I texted her asking what she was wearing and she planned to wear the dress! Not only that, totally not discussed or planned but we ended up in the same Chico's earrings (currently sold out).
I may have said I'm over Amazon's The Drop but I think this one was more successful because instead of being created by a random influencer with no experience, it's by a fashion designer and one who is plus-sized and designs plus-sized fashion. This Drop was more like a Target Designer Collab where it's JIBRI style, but done in cheaper fabrics and simpler manufacturing to achieve a lower pricepoint (my jumpsuit was $80 while the brand's jumpsuits are usually over $250).
What I Wore for Casual Everyday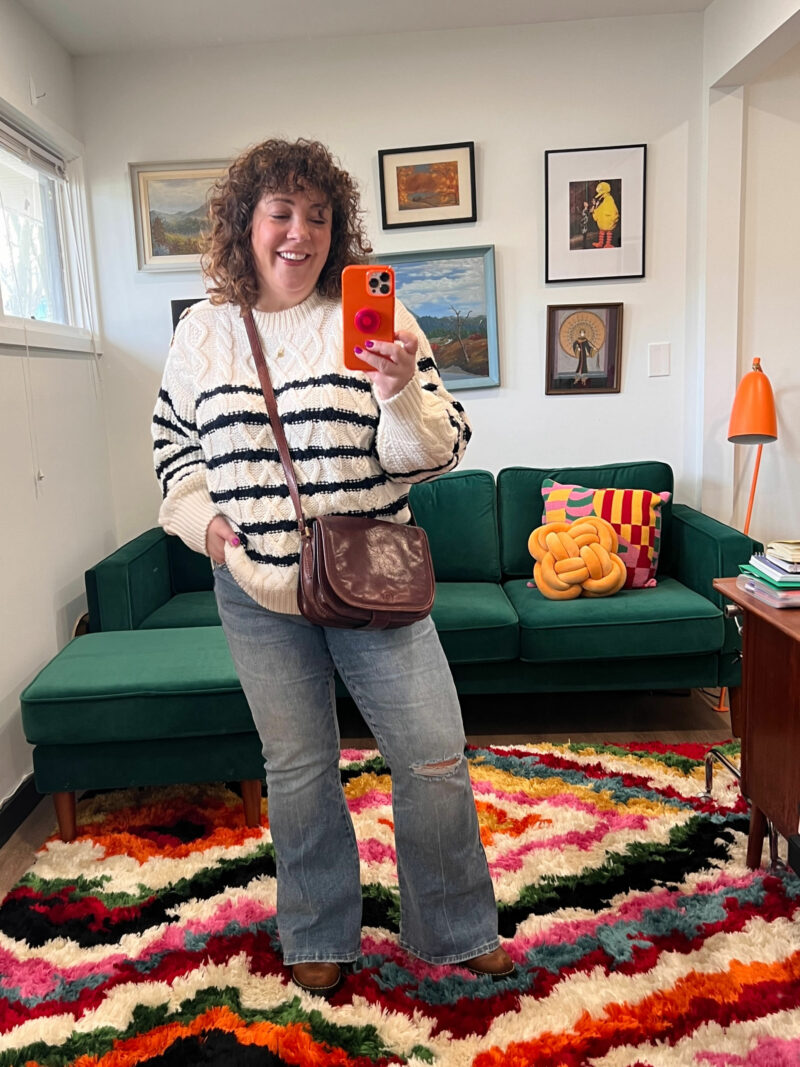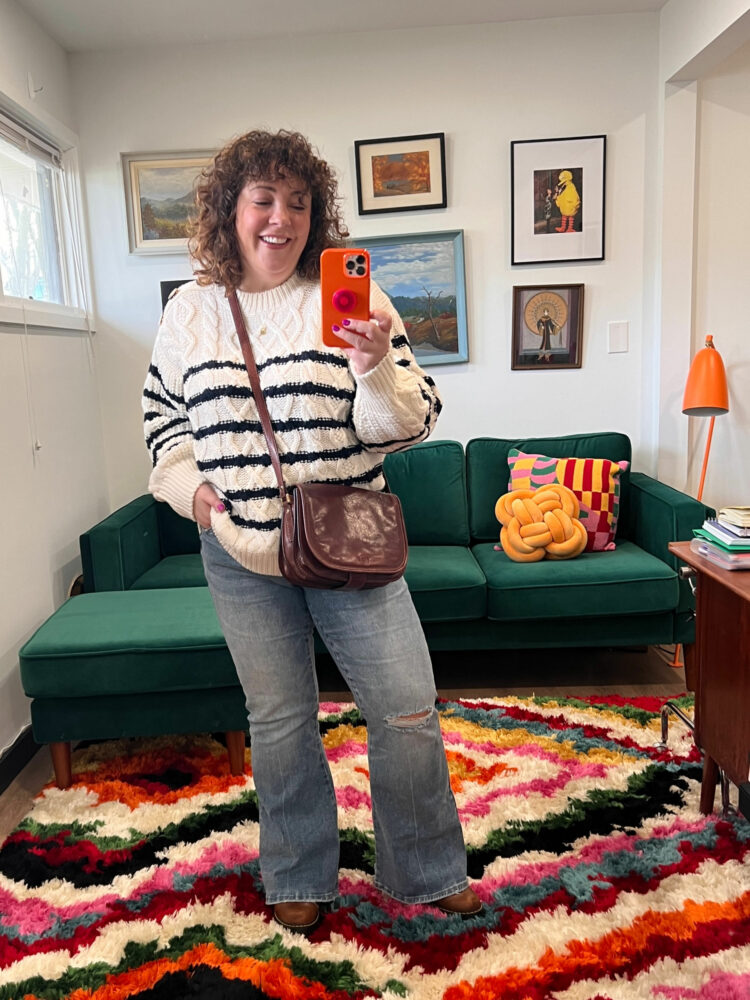 A pretty typical look for me this time of year – a striped sweater, jeans, and boots. This sweater is from Sézane, a brand whose aesthetic I adore but the clothes are hit or miss for me size-wise. I appreciate the brand carries up to 16/XXL but a lot of pieces run very straight (AKA tight in the shoulders and bust). Because I wanted a big, relaxed fit I sized up to XXL but I think XL would have also been quite nice.
The jeans are the Universal Standard Farrah flares, size 12. I think if I went with the darker washes I'd go with 14, but the faded wash is stretchier. The boots are old Docs no longer available. The bag is my many years old Maxwell Scott saddle bag which is totally worth its money for style and craftmanship (ALISON10 gets you 10% off). If you want a budget-friendly yet quality alternative, check out this bag from Los Angeles Apparel or this bag from Etsy Seller Pampora Leather.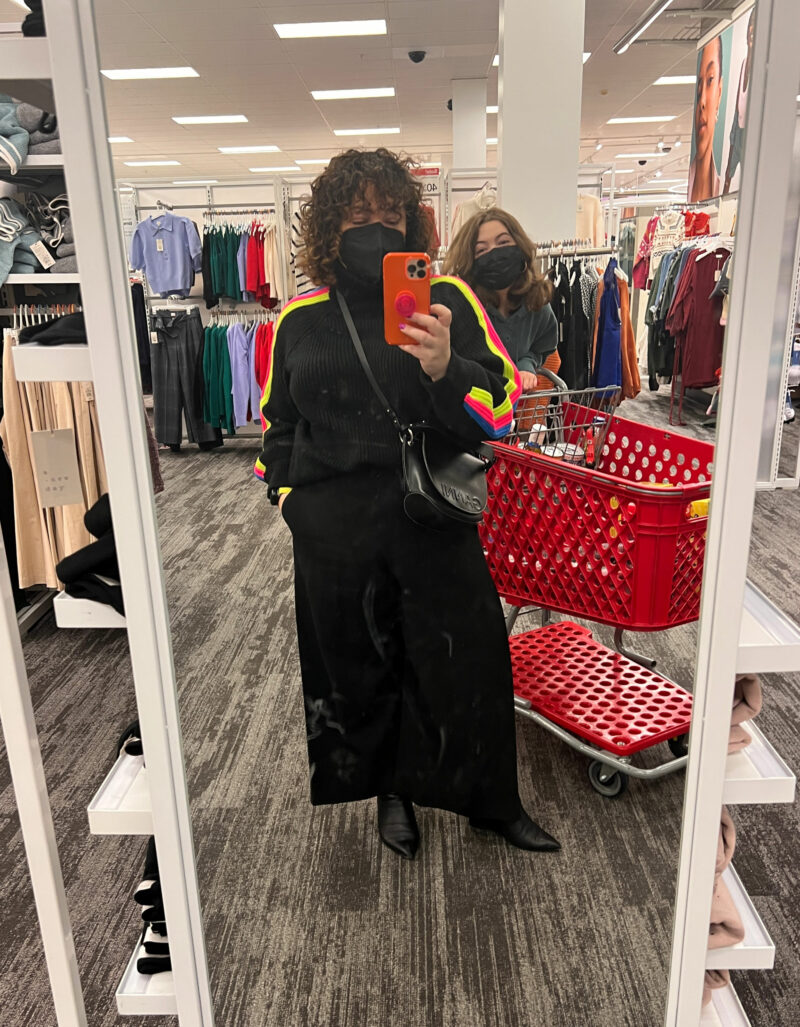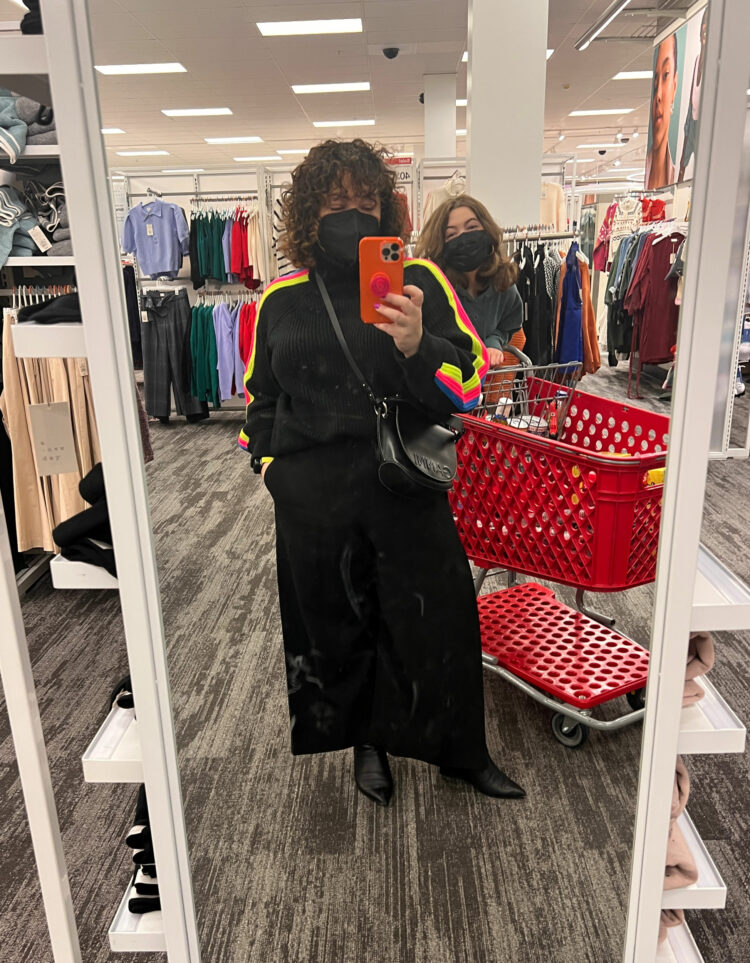 Shopping at Target wearing Target: This is a now-discontinued turtleneck sweater from Target's Future Collective with Kahlana Barfield Brown. I bought three items from this limited-edition Target collection and found them all really great quality and generously sized. A few pieces are still available online and you may be able to score a piece at your local store.
With it I am wearing these pants from M.M.LaFleur in 14. I wear these pants all the time because they look polished while being hella comfortable and machine-washable. They are supposed to be culottes but on me they're just ankle pants. They have a 4″ seam allowance so if trends change I can lower these to full length. BTW I have a code for M.M.LaFleur: ALISON20 will get you 20% off.
The boots are these from Naturalizer and incredibly comfortable and versatile. The bag is from Ganni and from recycled leather; I found it on clearance at Nordstrom this summer and fell in love with how much it can hold for a small size. I looked online and am not sure if I'm finding the same one. On SSENSE and FarFetch they have ones on clearance but it's not the same – much smaller and no second strap. This one at FarFetch may be the same but it's not on sale and that strap looks hella long.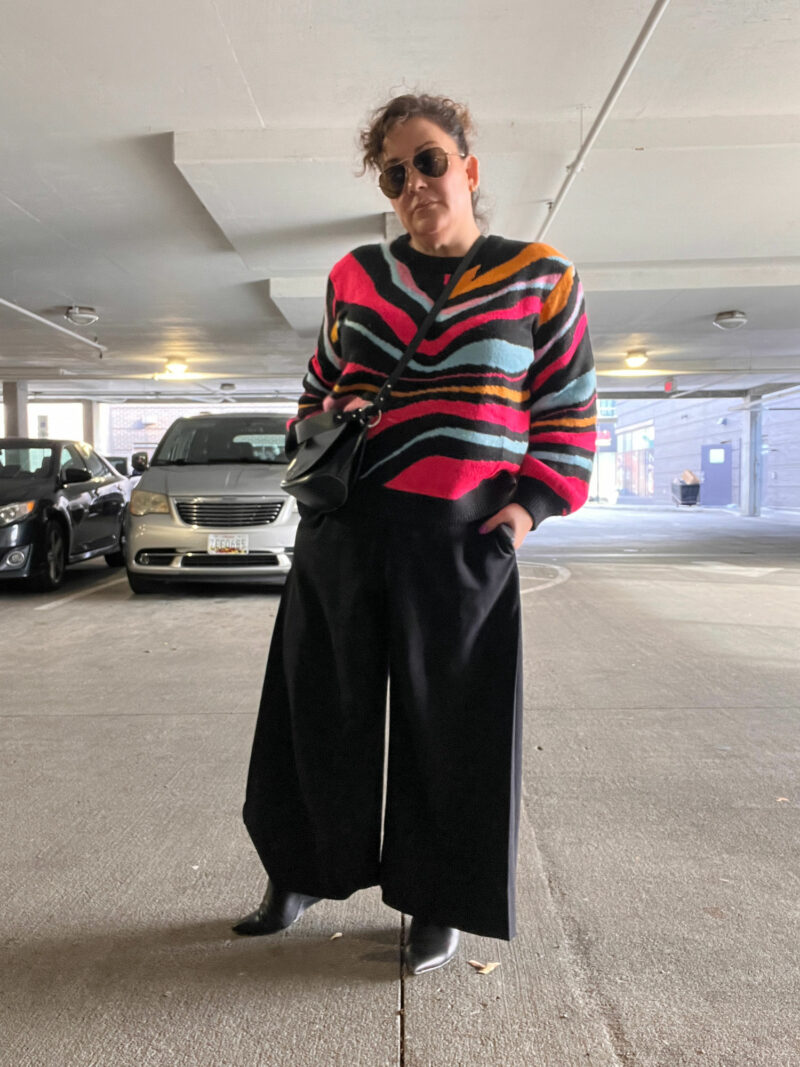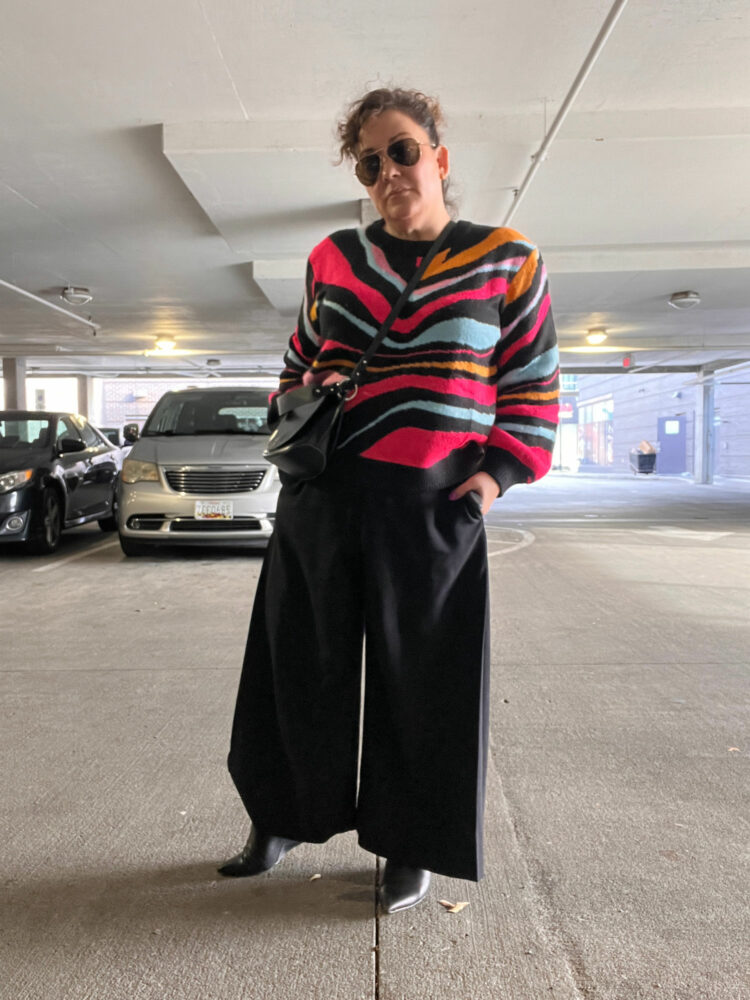 Same pants, same boots, same bag, but a different sweater from the same Target Future Collaborative collection! I was running errands and took a photo in a parking garage on my way home. Not sure why I look so miserable and my hair is thrown up… from what I recall it was a good day and unseasonably warm!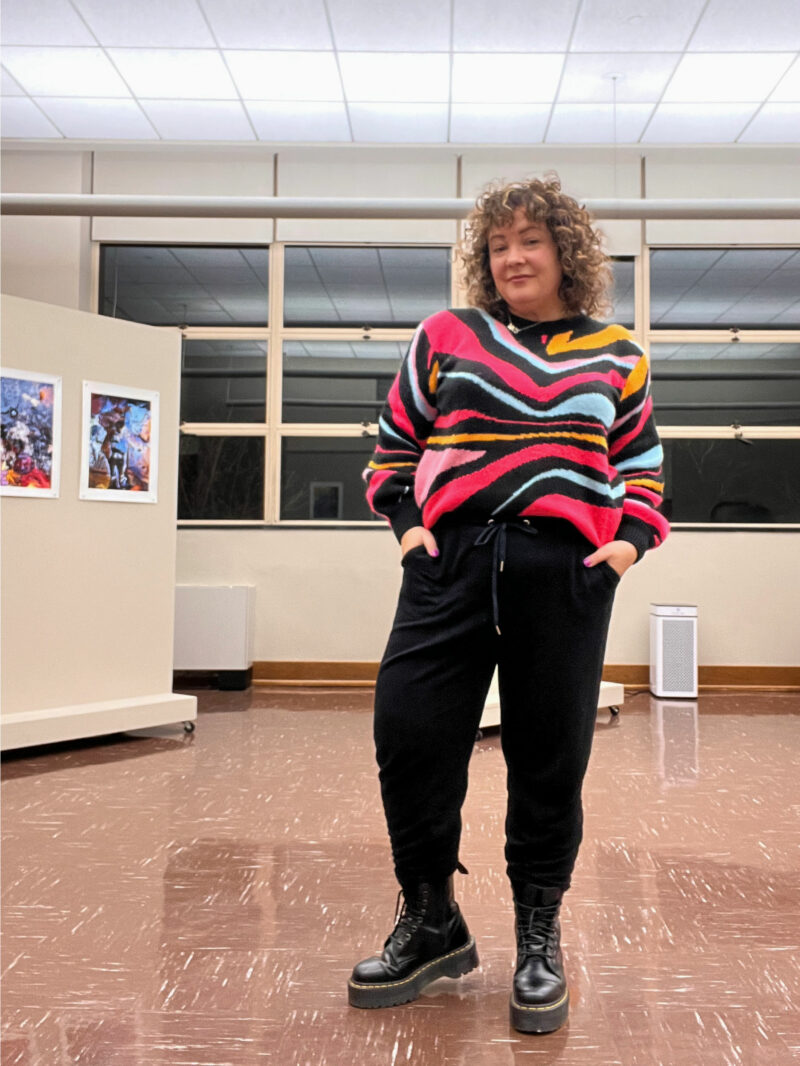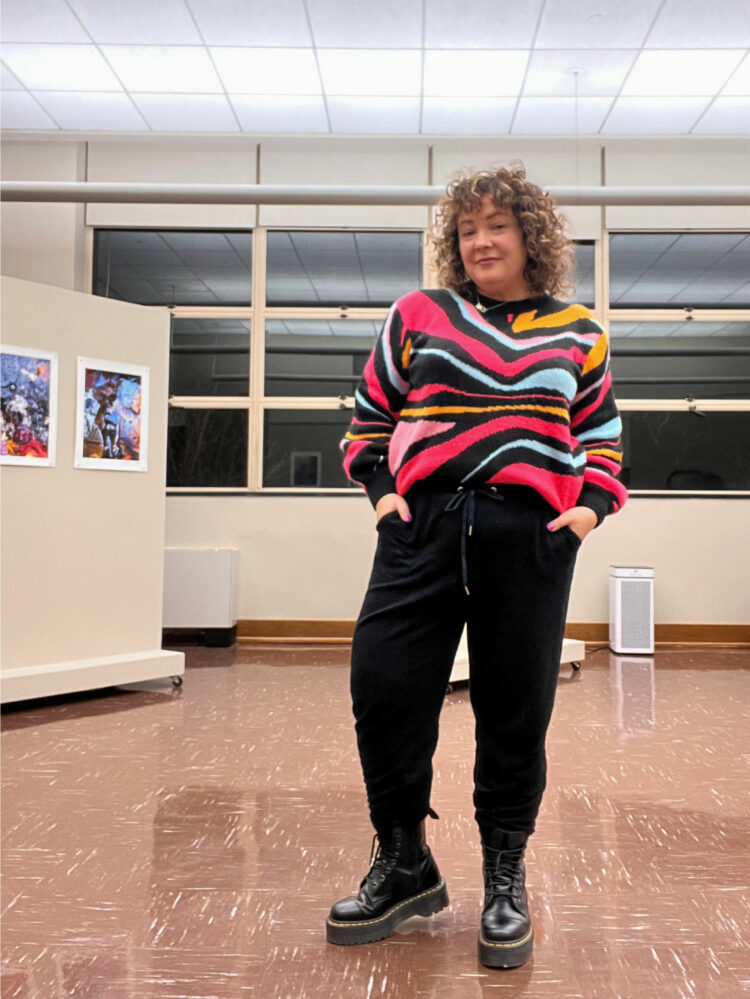 Same now-discontinued sweater with a pair of Soma joggers and Docs. I was the parent volunteer for a Girl Scout meeting and captured a quick OOTD between activities! The joggers are on sale; for reference, I'm wearing size Large and I don't find they shrink when washed. In fact, these have been washed and dried dozens of times!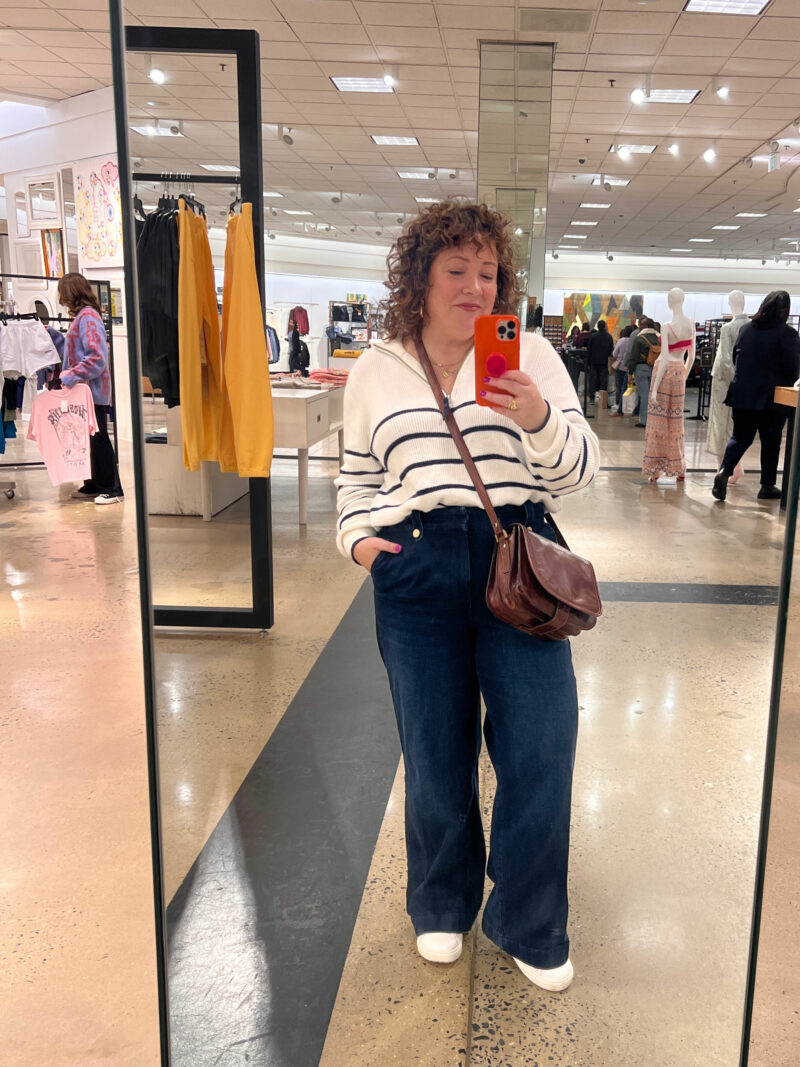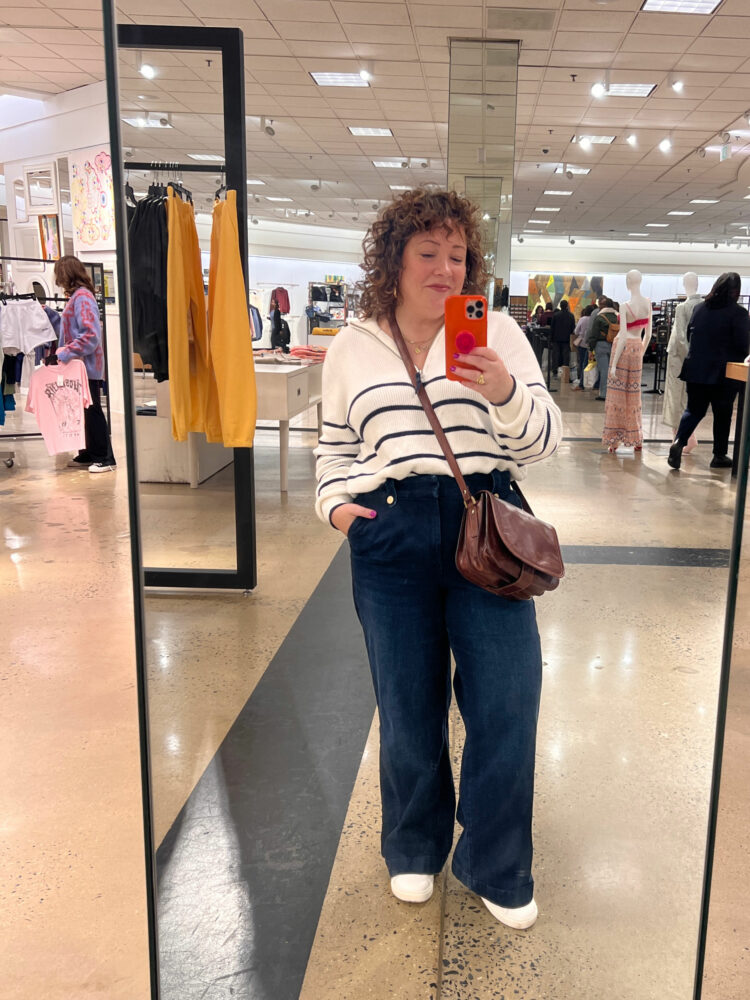 Mall mom style: my daughter wanted to go to the mall for her birthday so my sister and I took her and followed her to all the 8th grade favorites: Sephora, Urban Outfitters, Bath & Body Works, PacSun. In fact, you can see her in the background of the photo with a Billabong shirt she bought. Raise your hand if you too had a Billabong shirt back in the day!
Anyway, I am wearing these jeans from Talbots in 14 petite. I think they're pretty fantastic wide-leg jeans that don't look like I'm trying to relive my Billabong t-shirt days. Not too structured, not too relaxed, a was that still looks like jeans while being polished enough for Casual Friday. The sweater is this one from Joules in 14 and it's on sale. I really like it for a three-season sweater and it's nice to find sweaters like this that are 100% cotton!
The bag is the same Maxwell Scott saddle bag seen above. The sneakers are Birkenstock and I am so obsessed and wish I got them sooner. Same comfort and support as the sandals in an off-white leather that even my daughter thinks look "okay cool." I want to wear them a bit longer before I do a dedicated review but so far I'm a big fan.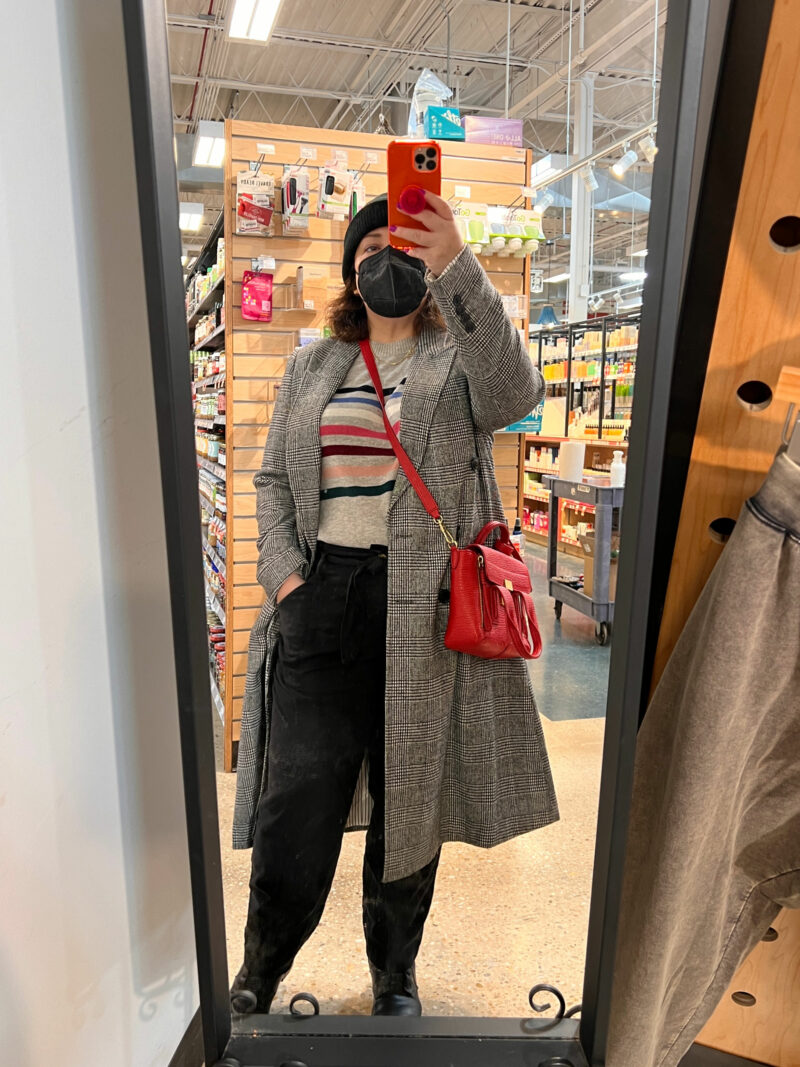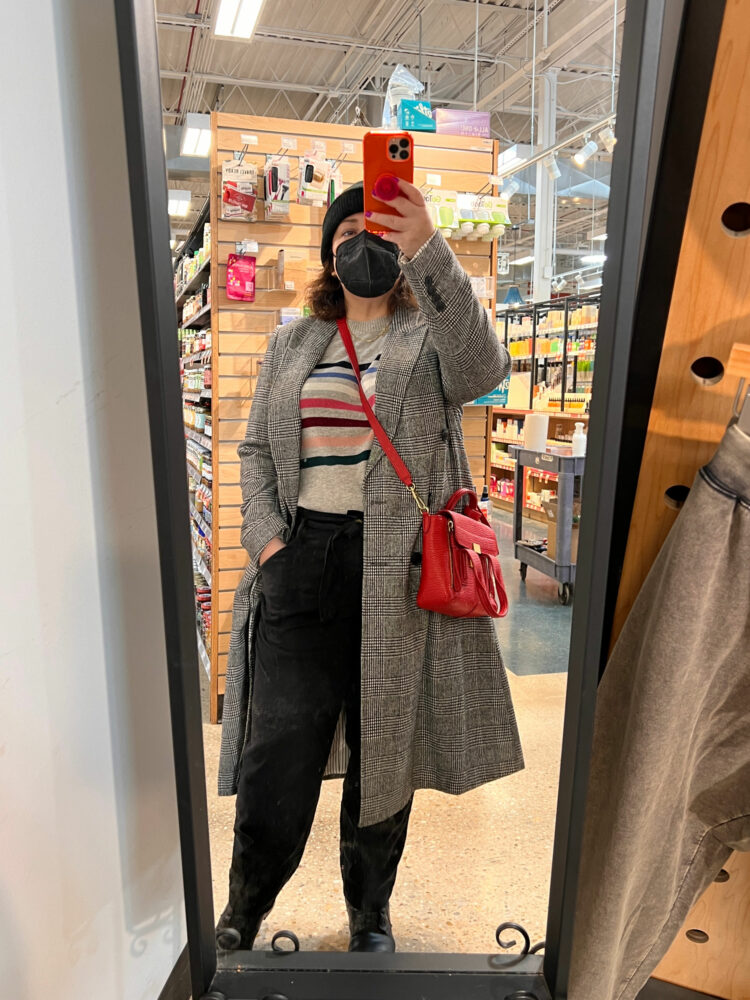 My local organic market has this full-length mirror just for my outfit selfies! J/K the store also carries some apparel and accessories but each time I shop here I take a photo. The coat is from a past Target collaboration; you can see me wearing it in this post. The bag is a 3.1 Phillip Lim Mini Pashli I rented through Rent the Runway; I found the same bag on sale.
The sweater is this one from Summersalt size XL and on sale 40% off; the pants are also from Summersalt, size 14. I have a code for Summersalt: ALISONJS10 will get you 10% off your order. I like both pieces, though I find it false advertising to call this sweater cashmere blend when only 10% off it is cashmere but it is a soft sweater and well crafted looking like it does online. The pants are roomy, a very soft sandwashed twill with an elasticized waist plus button and fly and a removable self-belt.
What I Wore to the Office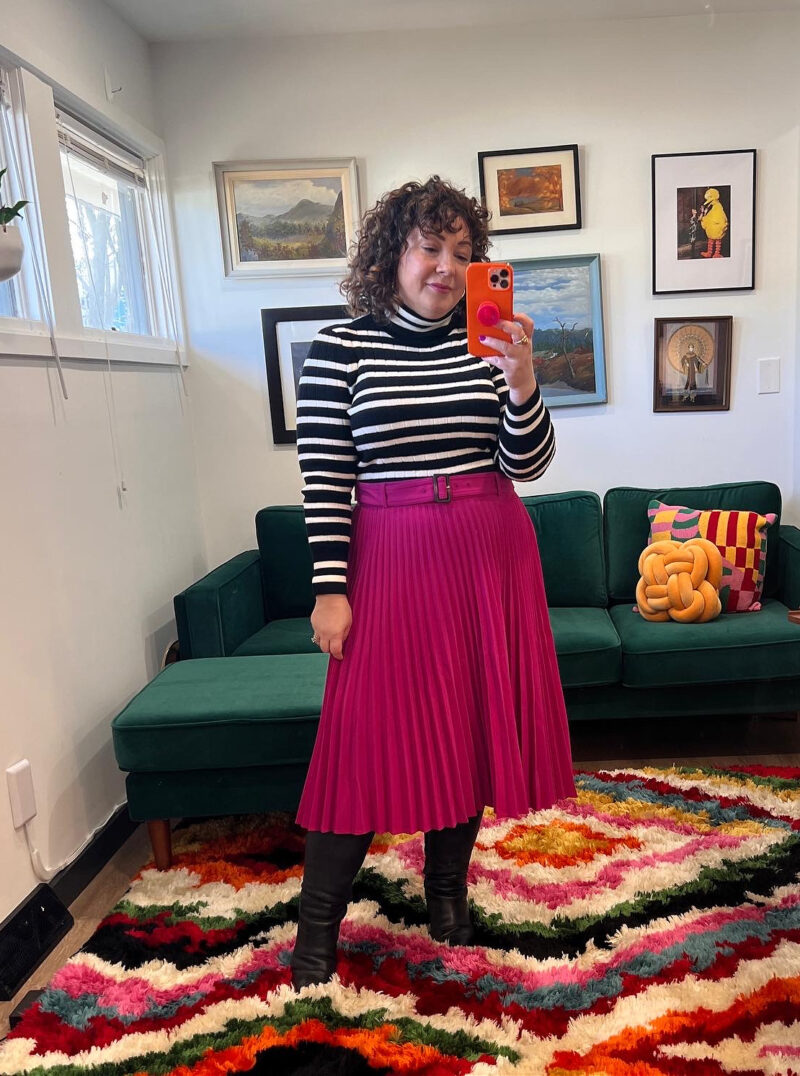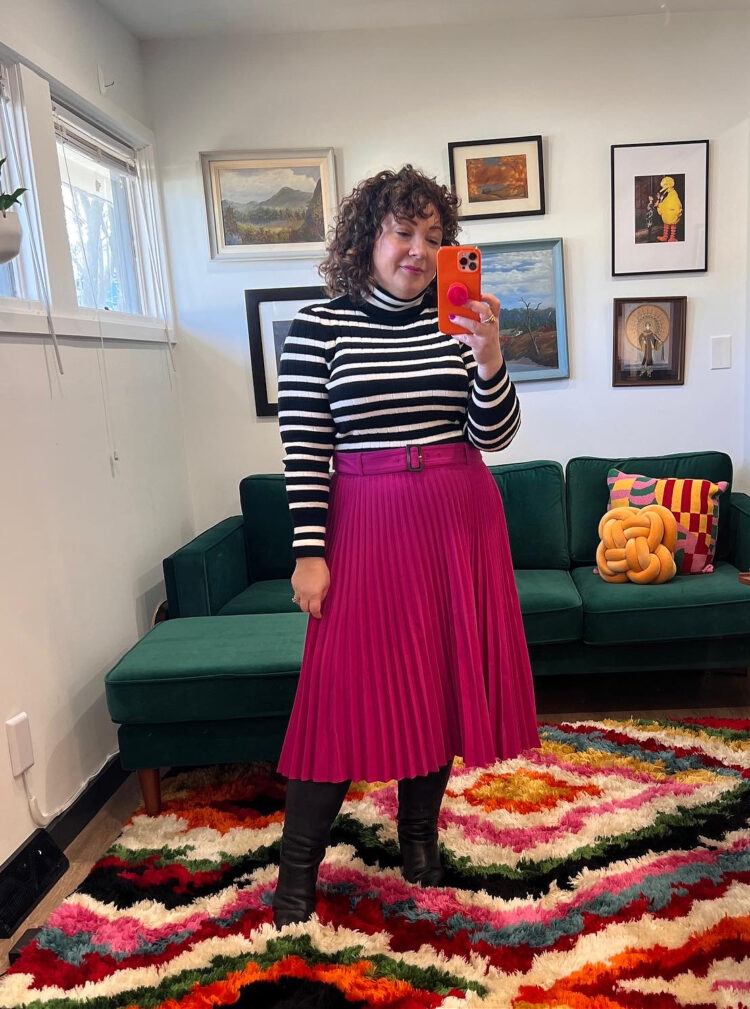 I've worn this Talbots turtleneck a lot this winter. I like the mix of stripes and ribbing, the weight that is great on its own or under layers, and the subtle puff of the shoulders. You can see it in this blog post too. It's on sale and I'm wearing a Large. The skirt is from Ann Taylor; I am wearing a 14 petite and it too is on sale. The boots are incredibly old from Ros Hommerson.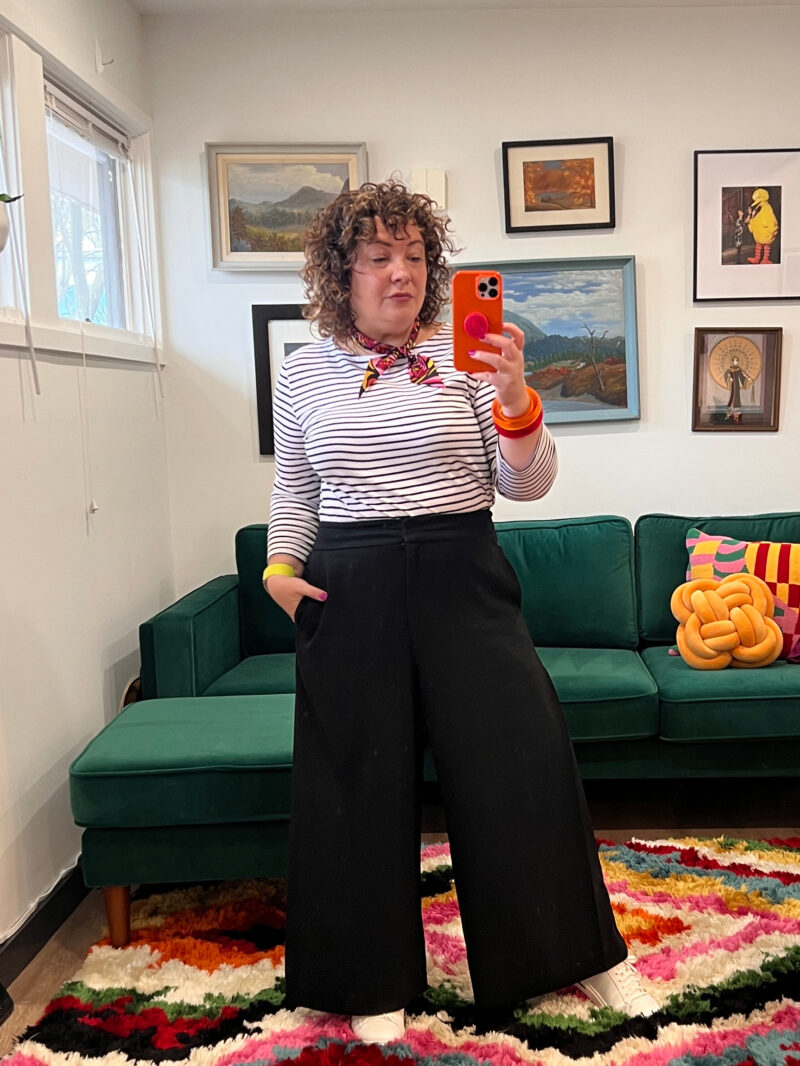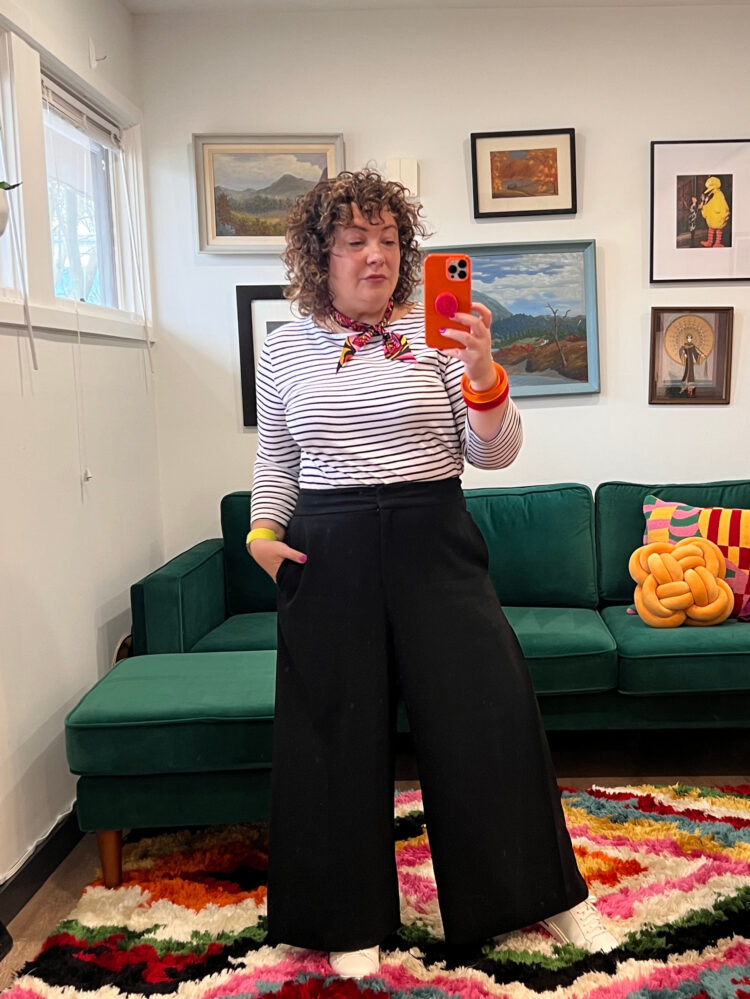 Oh look, it's those M.M.LaFleur pants again! This time I am wearing them with this budget-friendly Breton top in size XL (read my review of this Breton shirt) and the Birkenstock sneakers I previously raved about. The bracelets are of silicone and a Christmas gift from my husband (but I found them online). The Twilly scarf is a Christmas gift from my sister and I know she got it on Etsy; there are so many options to choose from and IMO this style of scarf will be popular in 2023 not just worn the way I have it but as a hair scarf, tied at the wrist, twisted with a thick link necklace, and more.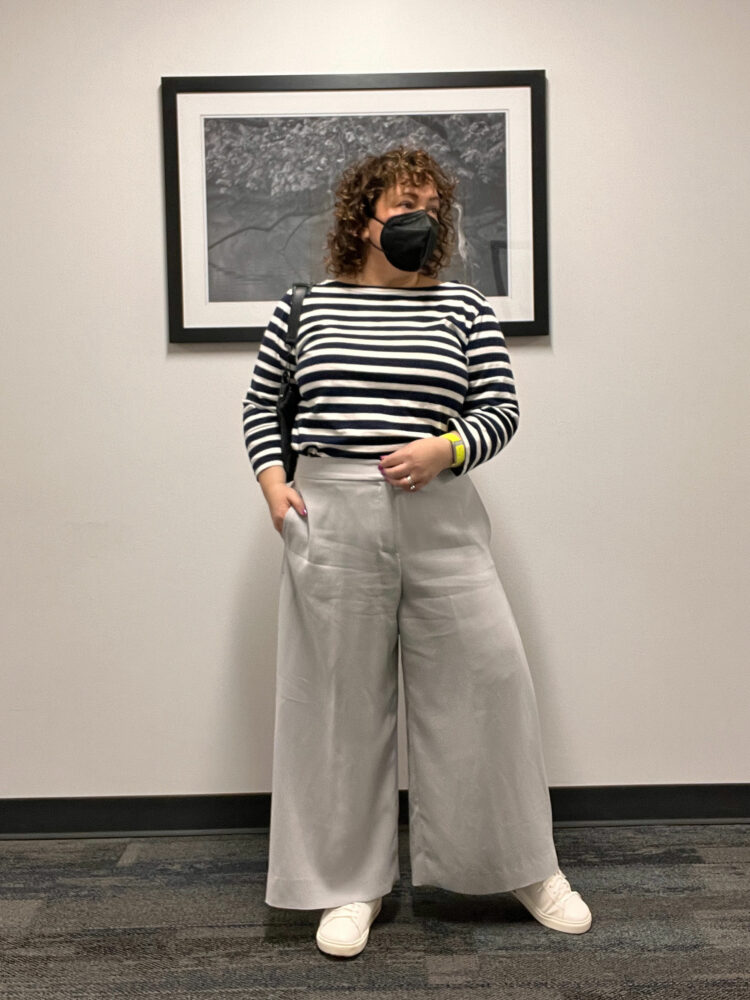 Hi my name is Alison and I like striped tops and wide leg pants. Clearly there is a theme going on here! This shirt is years old from J. Crew, size XL. They no longer have it in this color but they did bring it back in white with navy stripes. And yet again the M.M.LaFleur pants, this time in a now-discontinued pale gray. These pants were actually a 16 and tailored to fit; the 14 fits far better. The shoes are the Birkenstock sneakers (I told you I'm obsessed) and my bag is the vintage City Bag I got last year.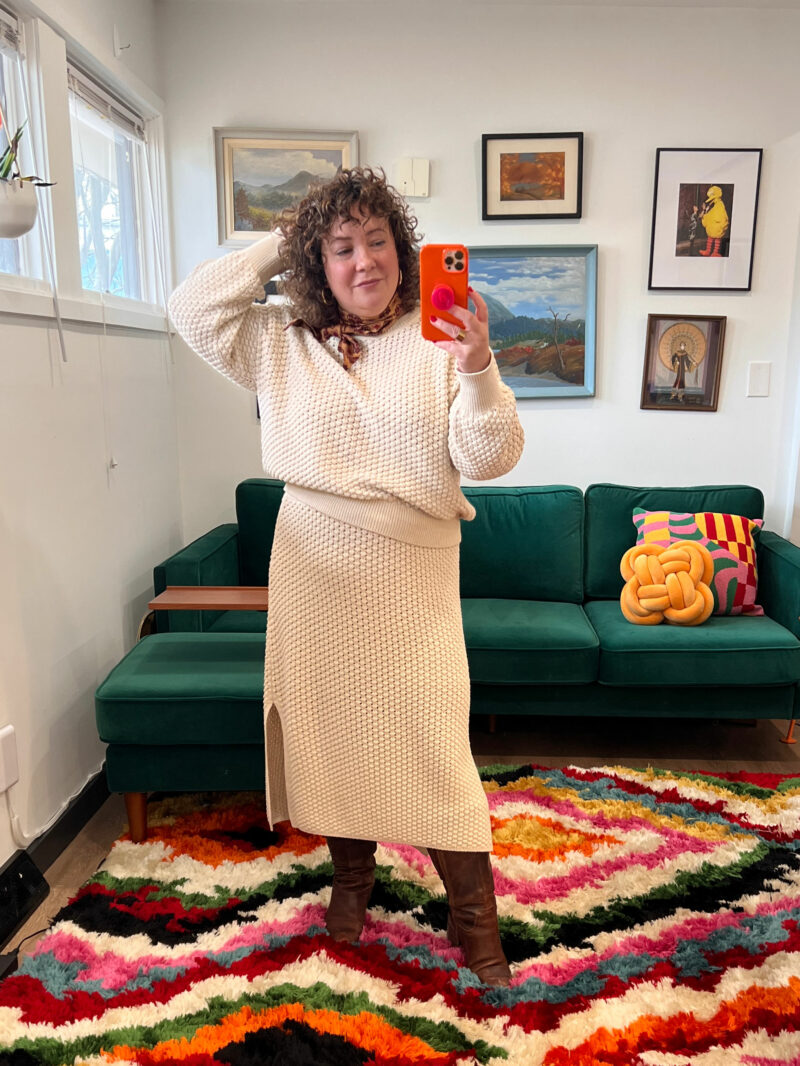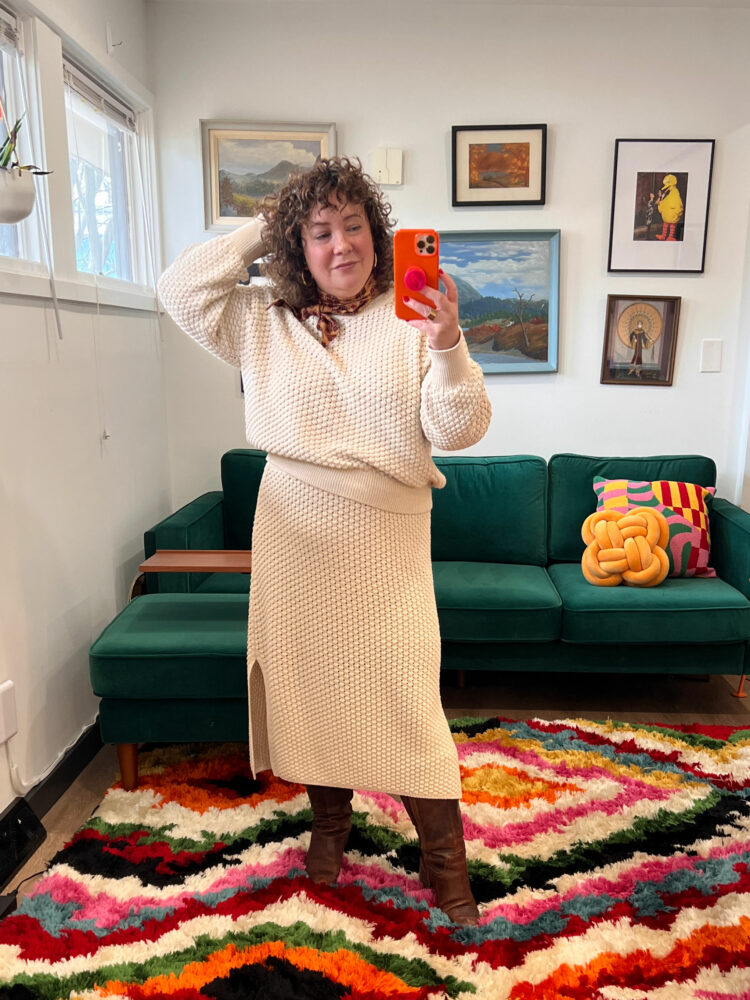 And this is what I am wearing today as I type this! This sweater and skirt set is from M.M.LaFleur and I got it last spring so it is no longer available. You can see me wear it in the summer with sneakers in this blog post. I winterized it with a pair of 9-year-old DUO boots and a cravat that belonged to my dad that likely was worn with a very cool leisure suit. The darker print of the scarf pulled the boots into the look and made it all purposeful.
I added these gold hoops from Chico's to complete it. And seriously, these gold hoops are perfection. So lightweight, look real and match real gold pieces, secure, and they're only $25! I have to wrestle them back from my daughter who also thinks they're awesome. By far the most worn hoops in my collection.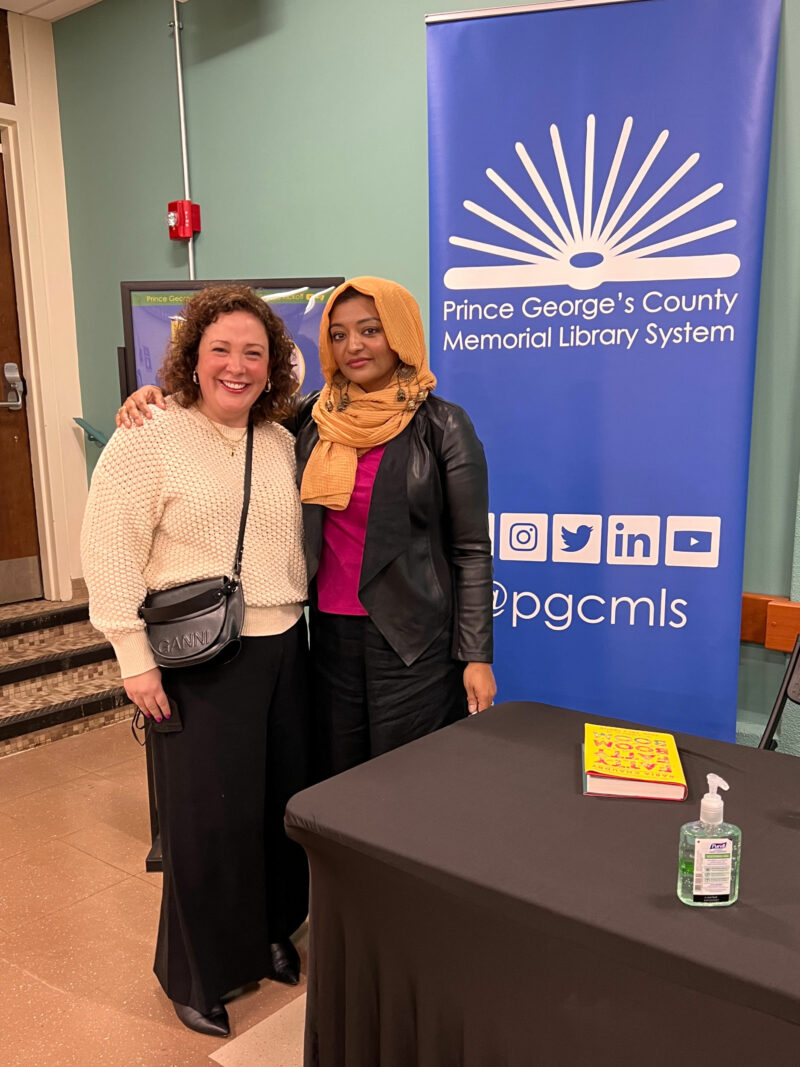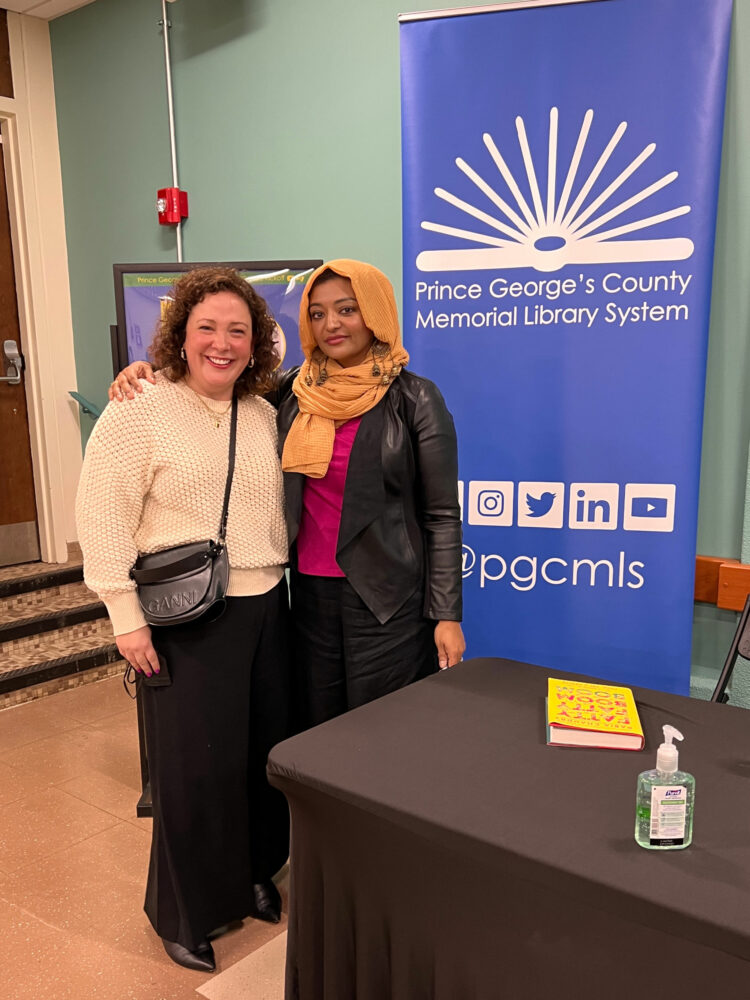 And while I already shared this photo of me with Rabia Chaudry in Weekend Reads, I felt it appropriate here as I am wearing everything already featured – the M.M.LaFleur sweater above, the M.M.LaFleur pants, the Naturalizer boots, the Chico's hoops, and the Ganni bag. I may have a larger closet due to my job, but honestly, I rewear the same things over and over achieving different results. You don't need a big closet to have big style!