This article may contain affiliate links; if you click on a shopping link and make a purchase I may receive a commission. As an Amazon Associate, I earn from qualifying purchases. 
This post is sponsored by Stitch Fix but all opinions are my own and I decided to partner with them after the interest in my first Stitch Fix review.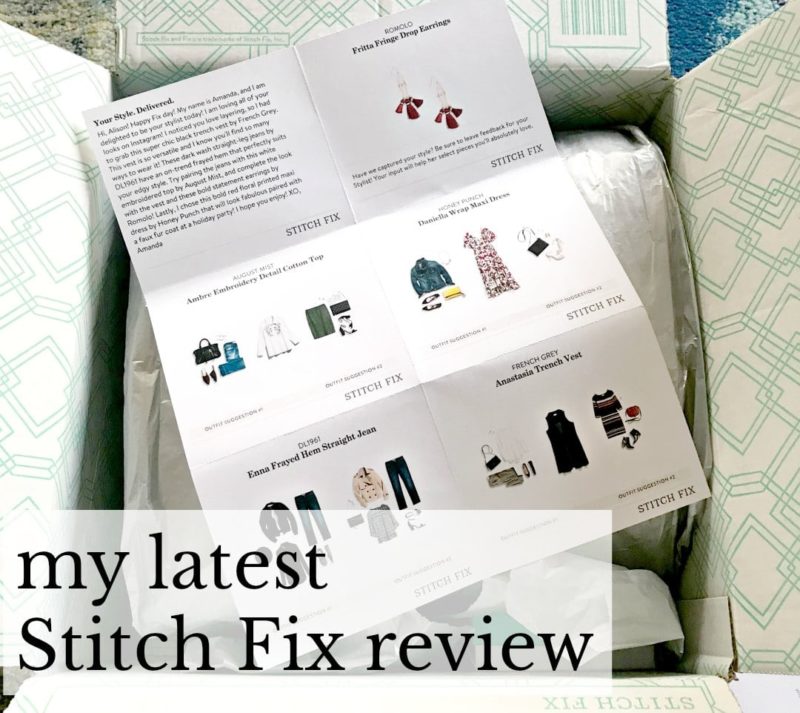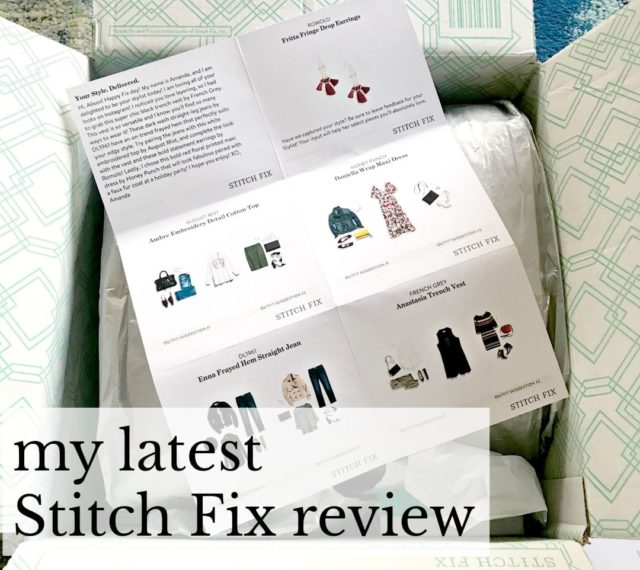 It's been a bit since my last Stitch Fix review, since then I have received two more boxes from Stitch Fix and wanted to share not only my latest box contents but how my experience with Stitch Fix has changed… and how Stitch Fix has helped me better understand my personal style.
For those not familiar with Stitch Fix, it's a monthly online personal styling service (available in straight and plus sizes and also for men). Complete a survey to assess your size, style, and personal preferences, and a virtual personal stylist will curate a box of five pieces of clothing and accessories. Return what you don't like, no cost (pre-addressed shipping bag included!). Buy every single item in your monthly box, save 25% off the total. After you receive your box, you review what you received to improve your future shipments. You can pause or cancel your Stitch Fix membership any time. Stitch Fix isn't an algorithm but actual human stylists there to help you find your personal style. Right now, if you use this link the first month's styling fee is waived.
With my first Stitch Fix box, I was underwhelmed. However, I realized thanks to your feedback that I didn't fill out the form correctly. In my head I thought my style was far more classic than it actually is. I also realized I didn't set price points that were accurate for what I usually spend on fashion. I returned everything from my first box, provided detailed feedback (Stitch Fix has a survey to take after your box to help improve future deliveries) and also updated the questionnaire. My next box was better, with some items that were more my style, but still a bit off. I provided more feedback and updated my Pinterest board that I shared with my stylist. I realized the key is creating a relationship with your stylist – they're not mindreader, and the more information and feedback you provide, the better your results.
My stylist Amanda not only looked at my Pinterest and survey but looked at my Instagram account when deciding what to put in my Stitch Fix box. She noticed that I liked layering, that I like bold floral maxi dresses, and fun accessories. Just like the first box where I didn't realize I wasn't classic, Amanda noticed I liked layering and I didn't even realize I did… but I do!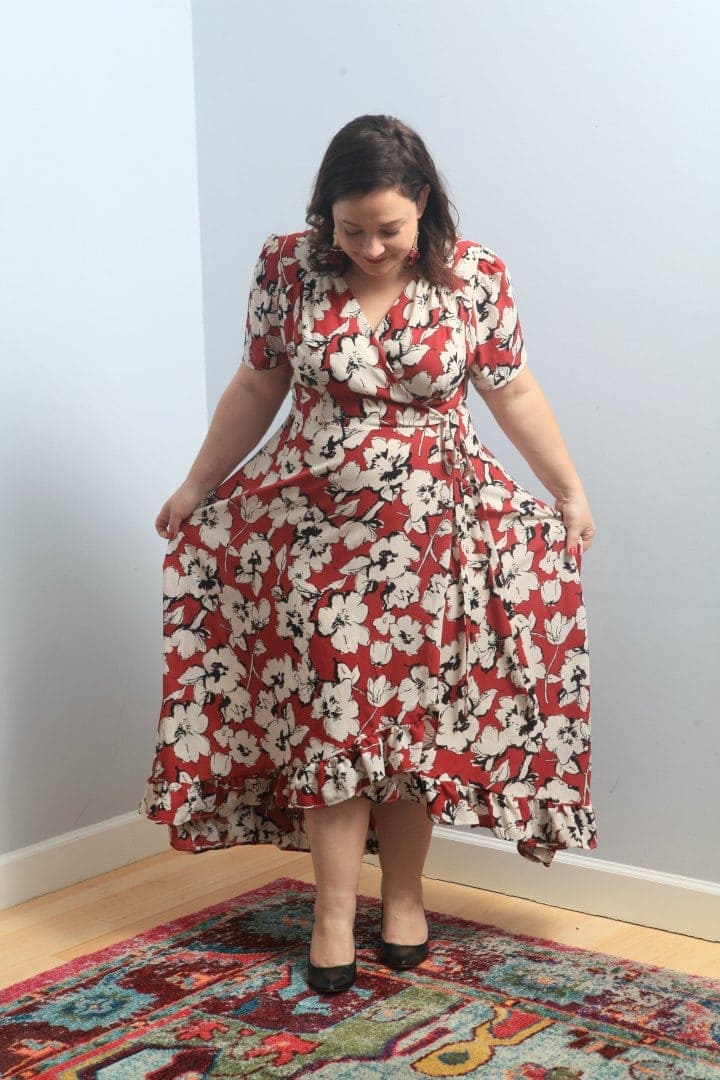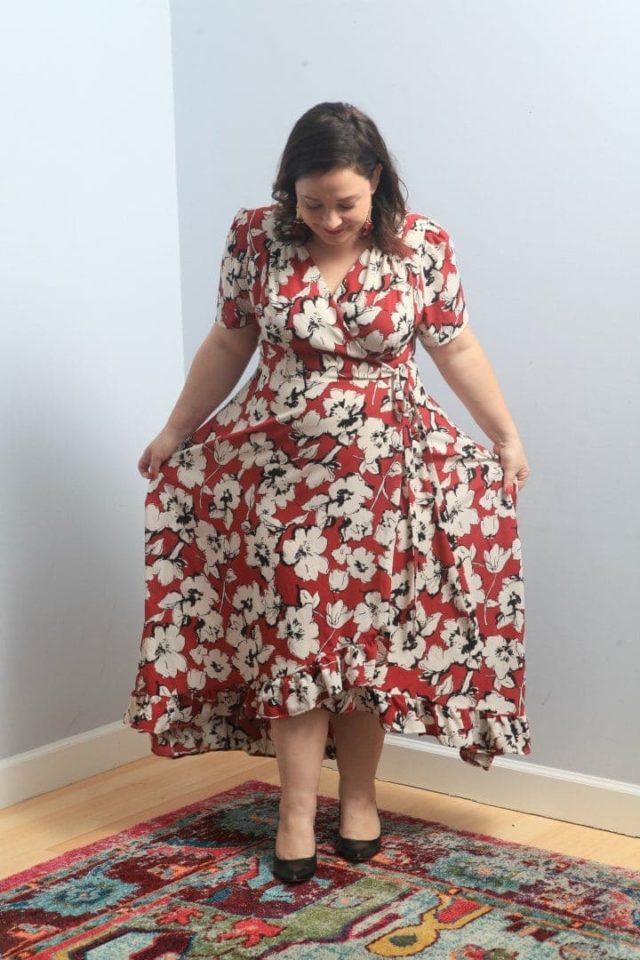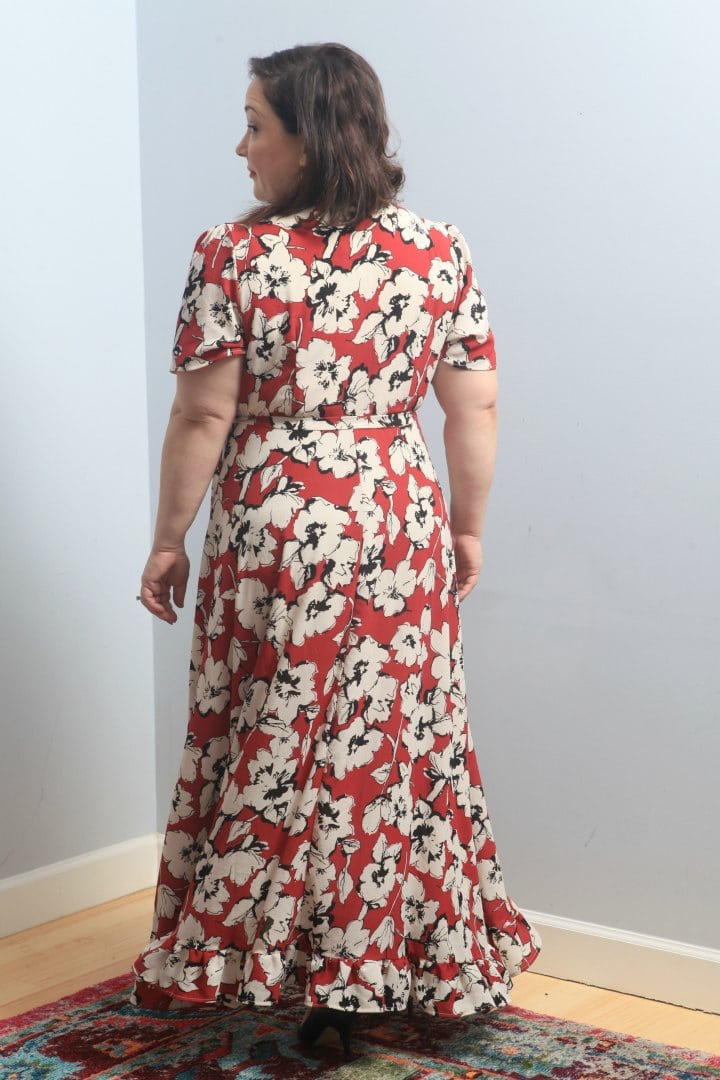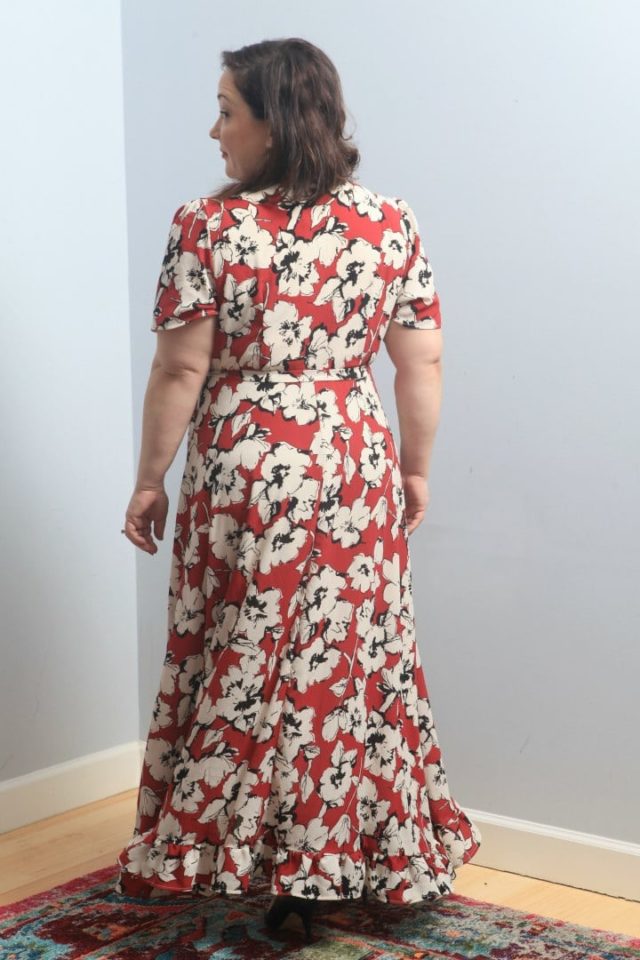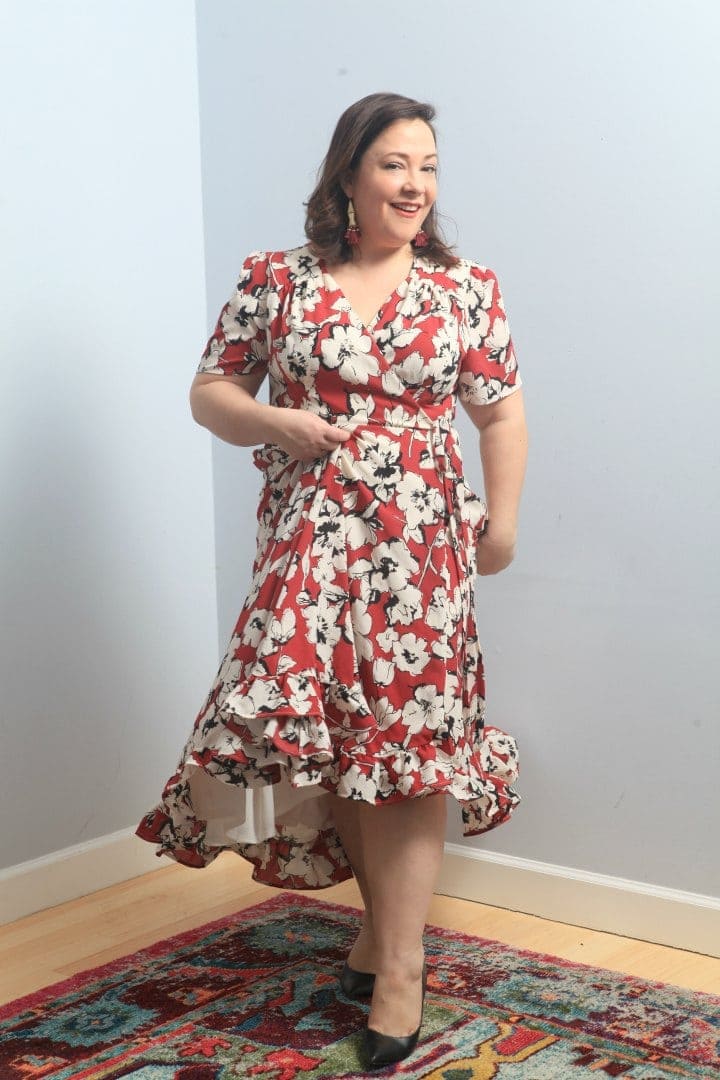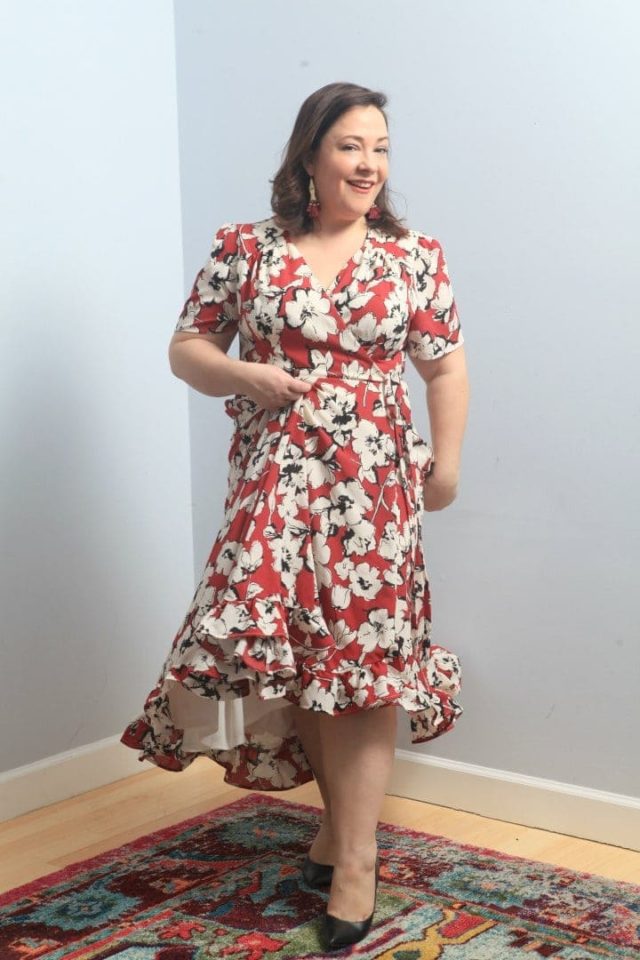 This is the Daniella Wrap Maxi dress from Honey Punch, size 1X. When I first saw the print I wasn't feeling it, but on I really liked it. I think the high-low hem is fun, I loved that it was lined, the sleeves aren't too tight (often an issue I have with non-stretch dresses), the hem wasn't too long, and the neckline was so perfect I don't have a safety pin hidden in there to hide my bra. It has great drape and swishes as you walk – it made me want to go dancing in it! This retails for $78 but I have seen similar quality and style dresses at department stores for well over $100. I'm not sure yet if I'll keep this or not, my hesitation is I'm currently working out and I wonder if my body shape will change by time it's warm enough to wear this.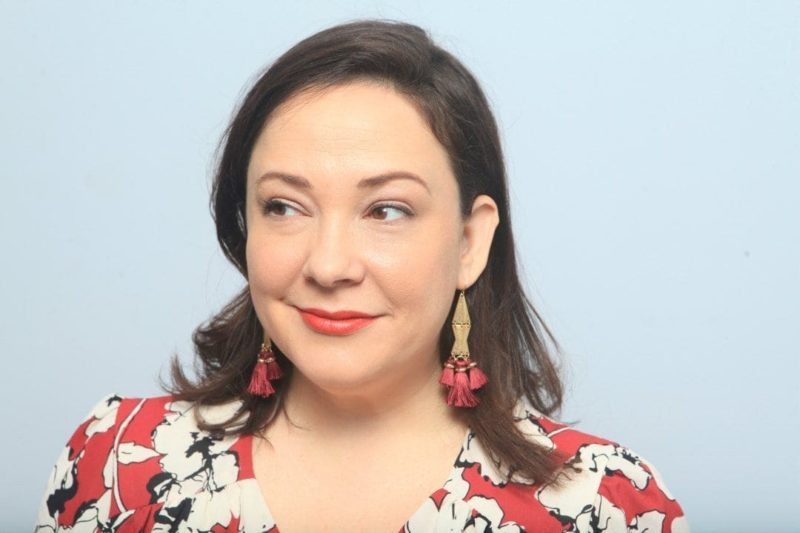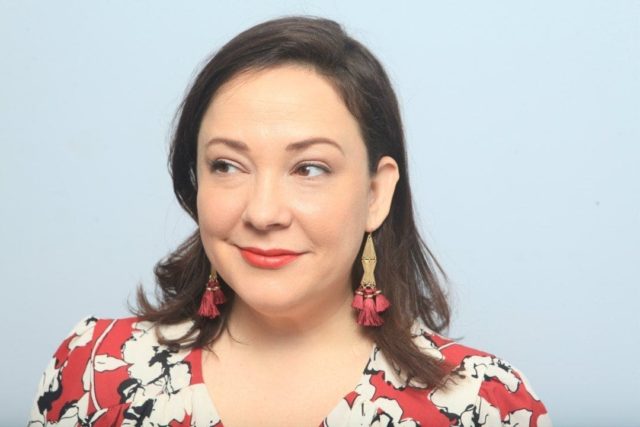 The jewelry I received in this box are these earrings – Frittata Fringe Drop earrings from Romolo. These aren't bad earrings but they are definitely not my style. I didn't like the brass finish, and I have a personal dislike of fabric/thread tassels in jewelry. These retail for $28 and look like they cost $28. I've been buying fewer accessories and have been looking for higher quality ones I can wear now and a year from now. These are fun for a whim and went with the pieces in the box, but will be returned. Close but not quite.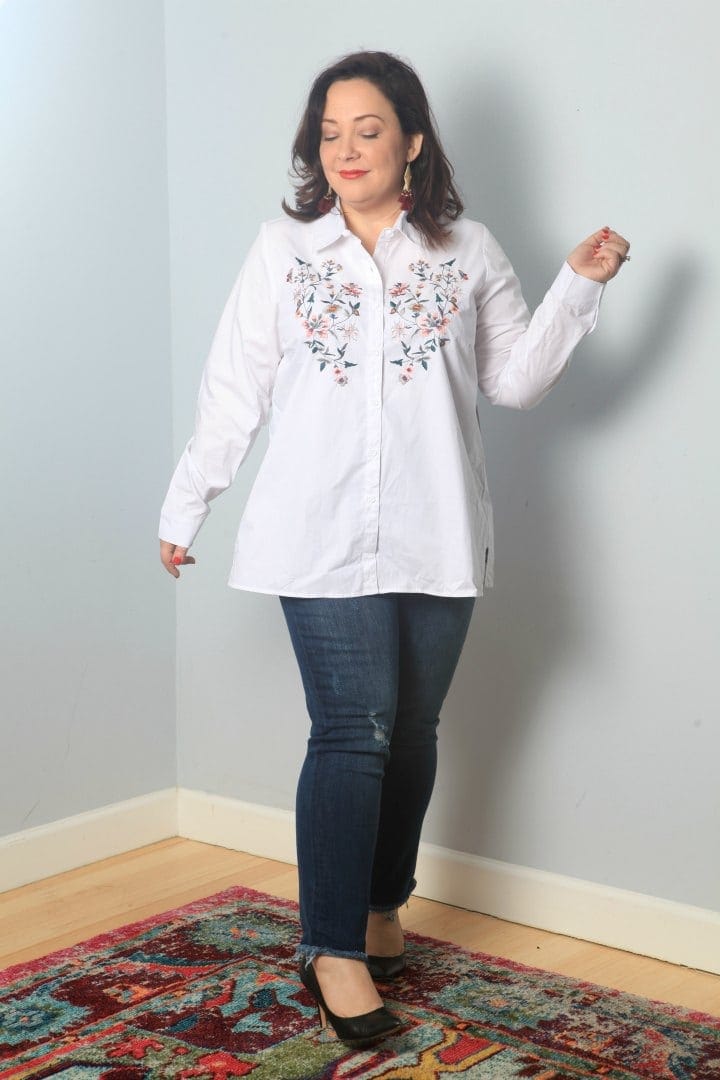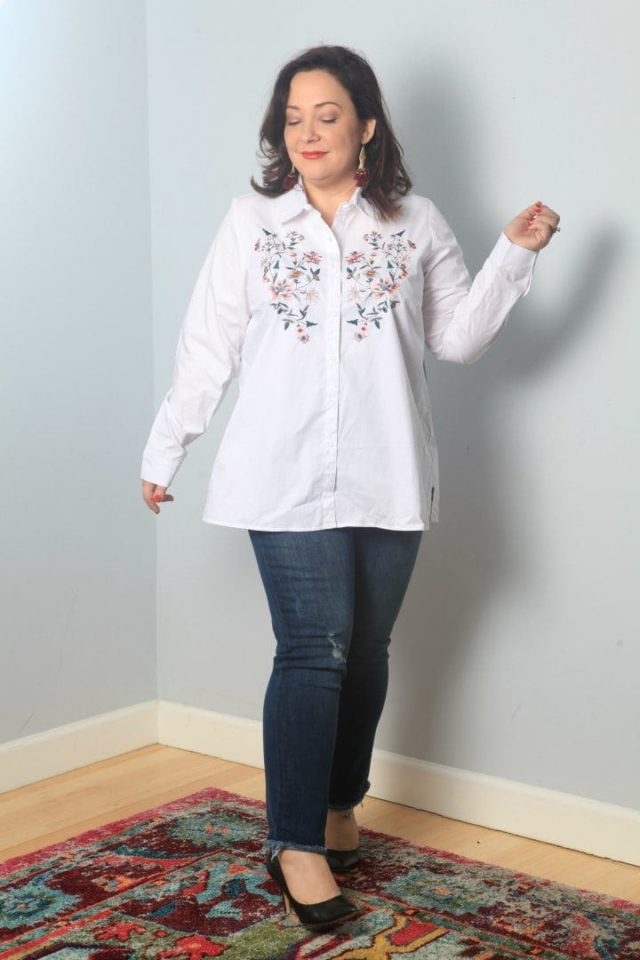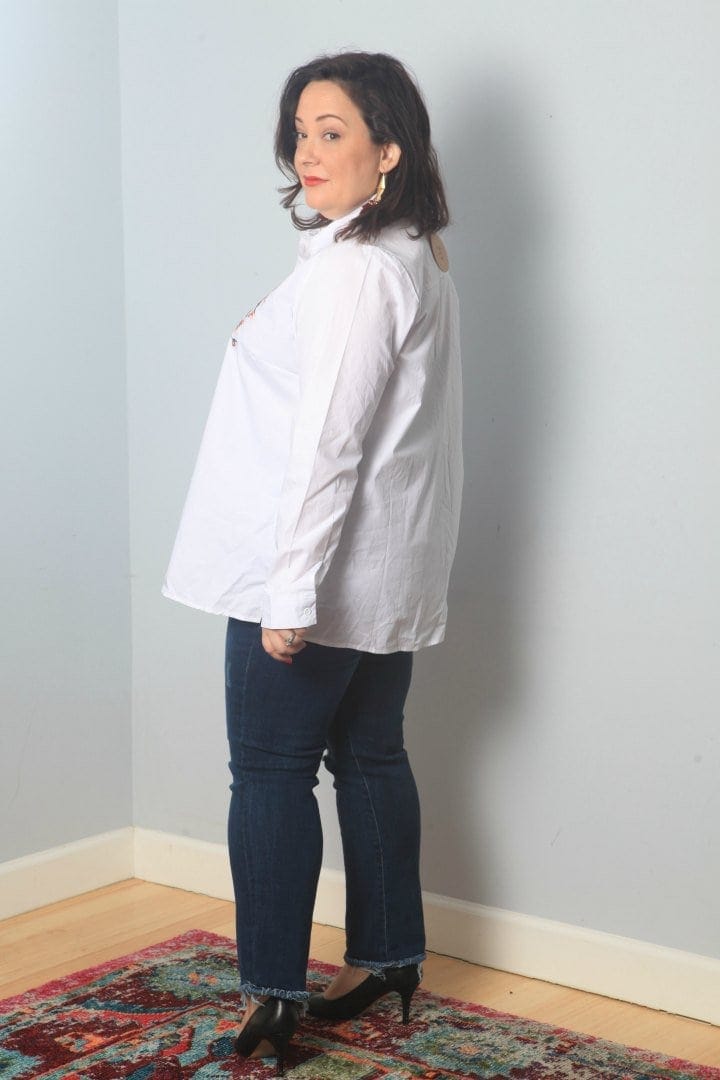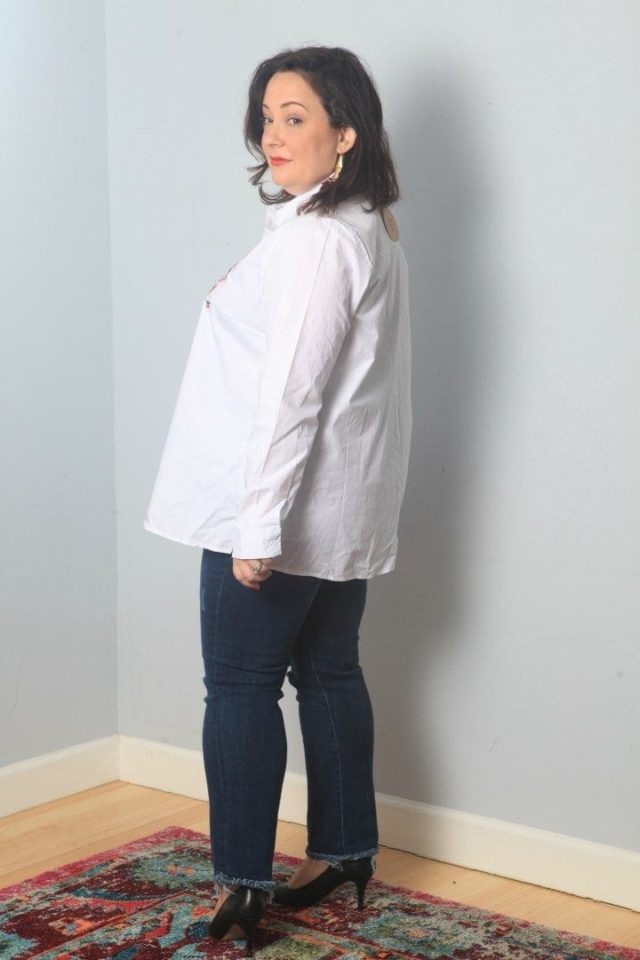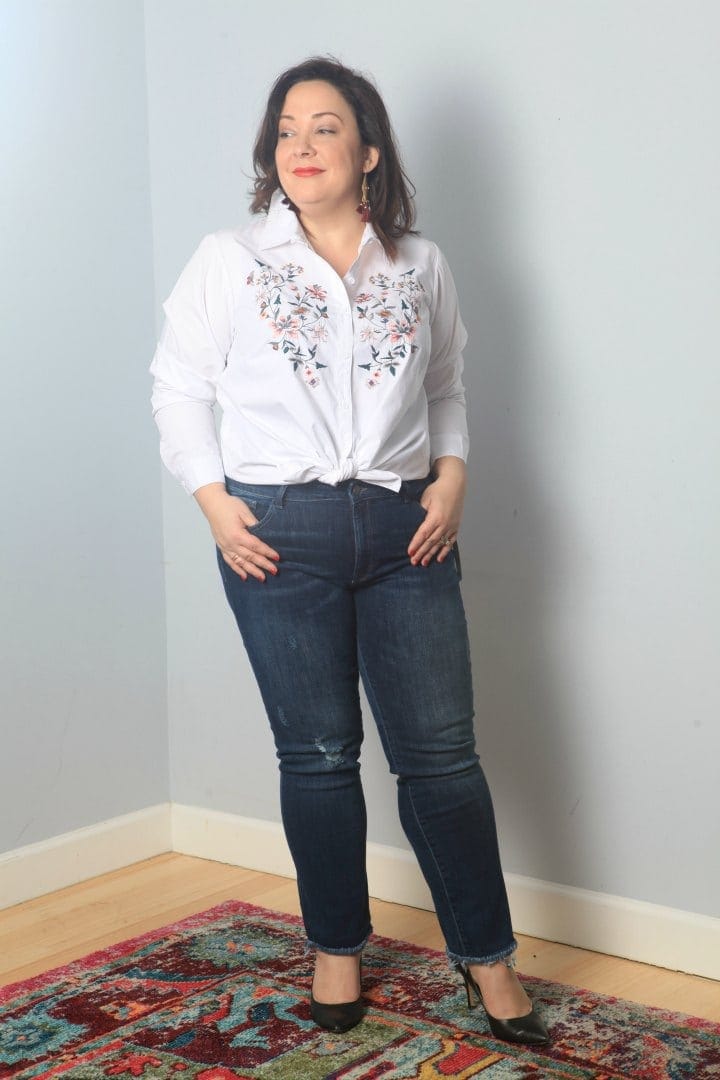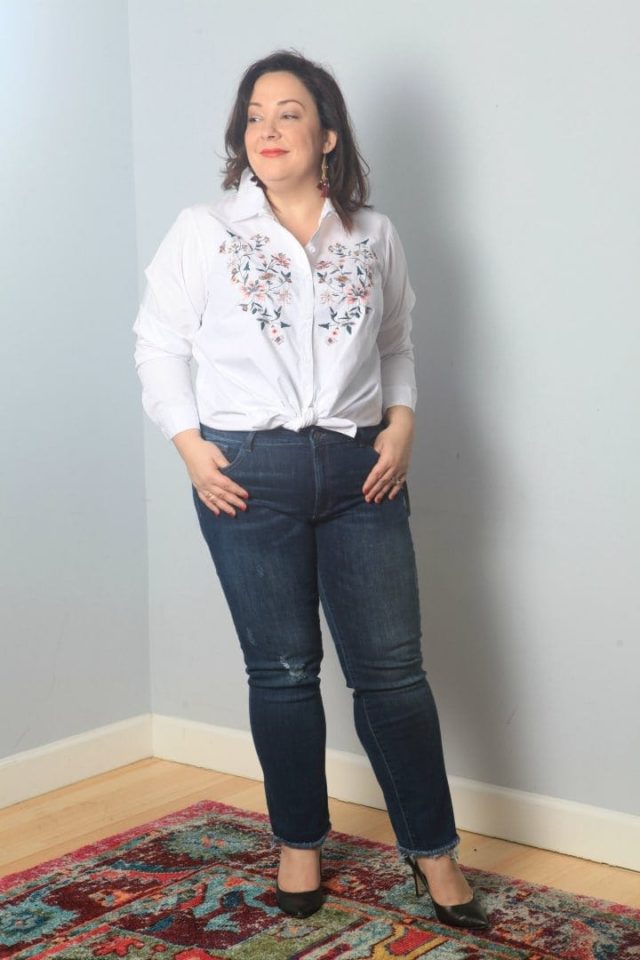 This is the Ambre Embroidered Detail Cotton Top from August Mist. I saw this and though oh heck no, but found it nicer when put on. It's really nice quality cotton, well made, and pretty embroidery. However, this is NOT my style in any way. I even tried to Allie it up by tying it at the waist, cuffing the sleeves, and popping the collar but it. I keep thinking I need a crisp white shirt in my wardrobe and this reminds me that I don't. So while it's not a keeper, it was good food for thought about future wardrobe purchases (and good information to pass on to my Stitch Fix stylist).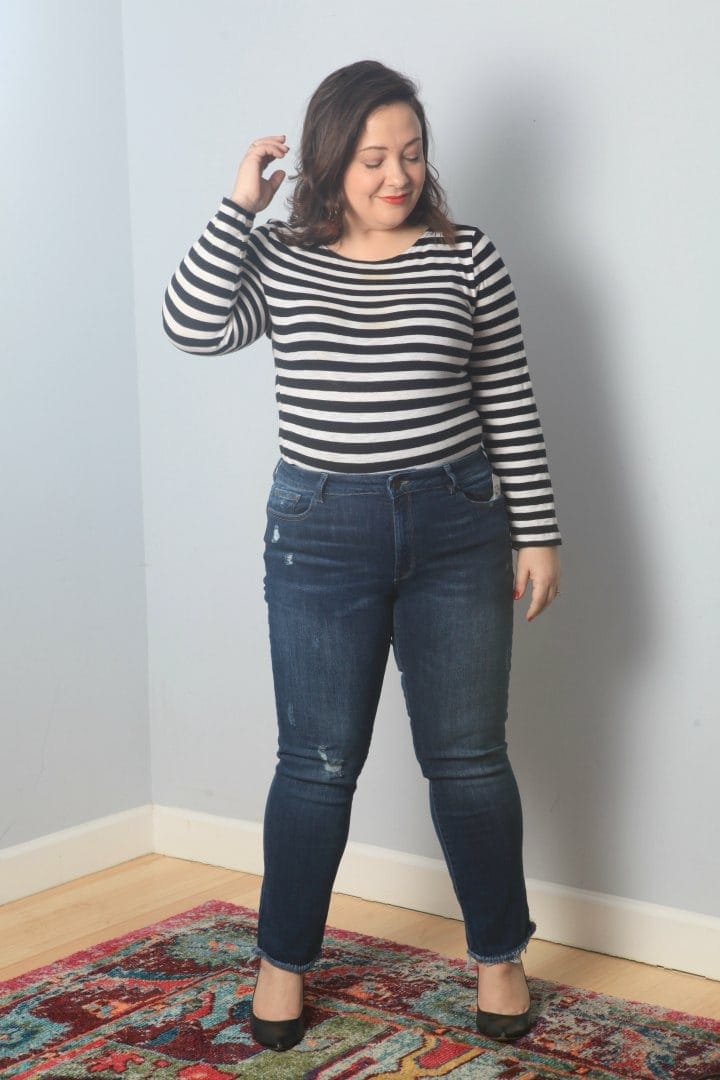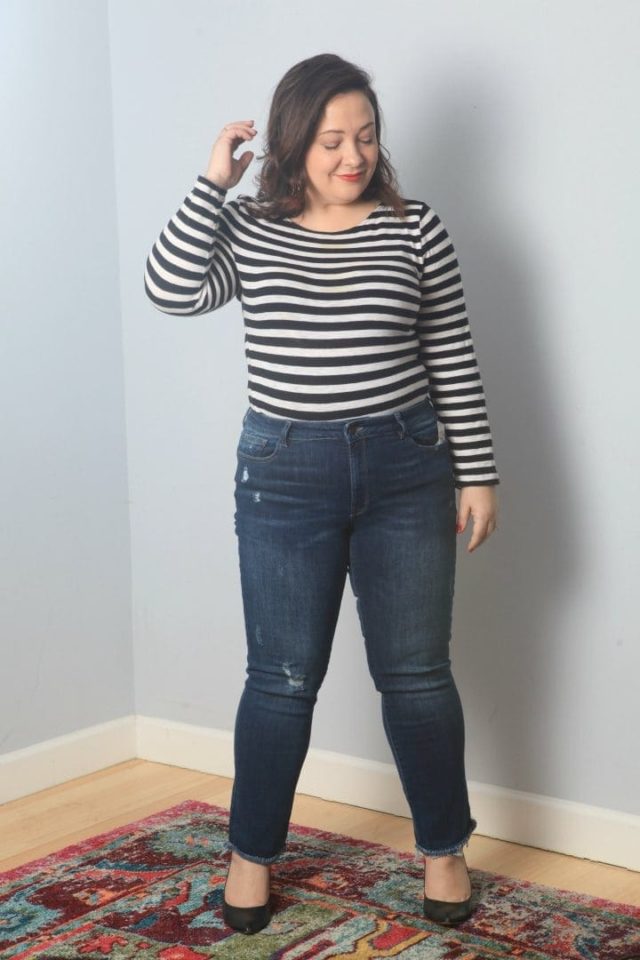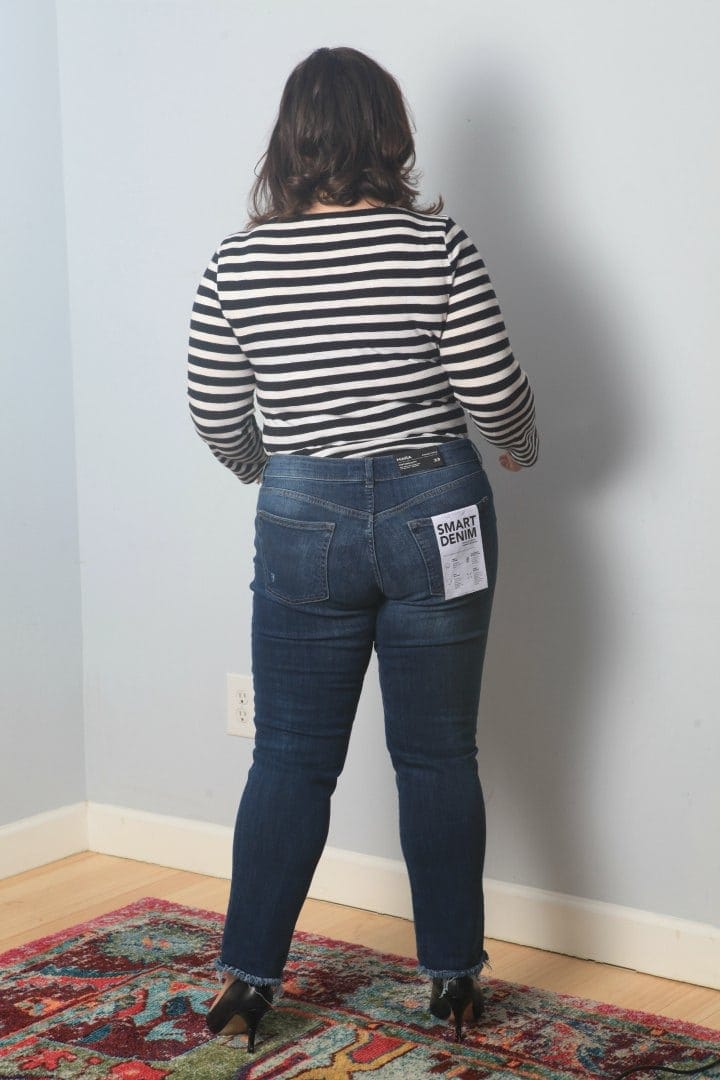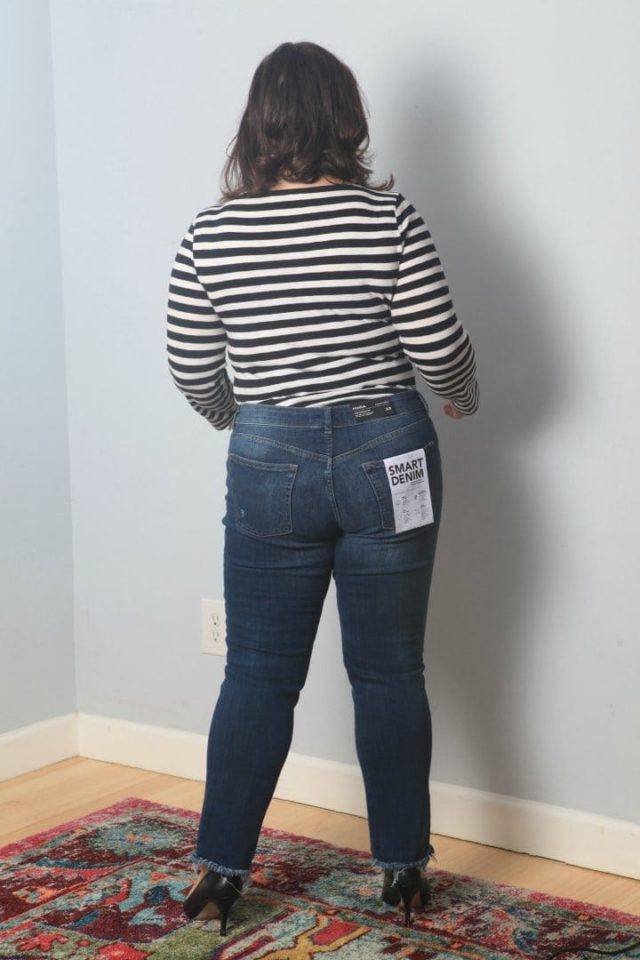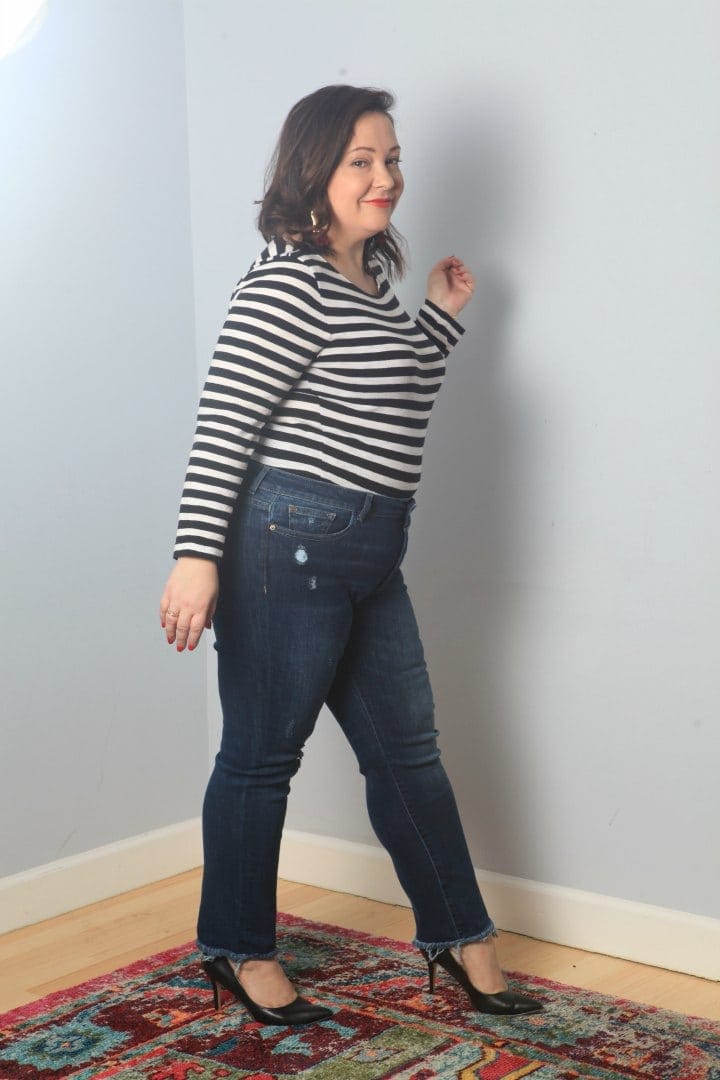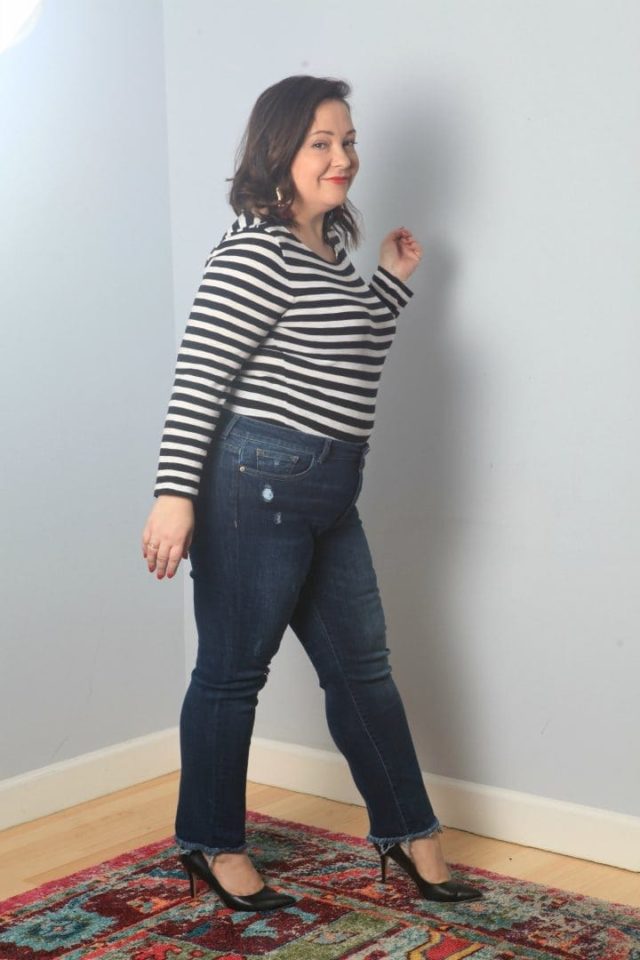 If you were wondering about the jeans I was wearing with the white shirt, these are them! They are the Enna Frayed Hem Straight Jean from DL1961 and if you can't tell from my poses I find these jeans both comfortable and flattering. I've never tried DL1961 before though I've heard of the brand. I didn't know they went up to a size 16/33; in fact the brand goes up to 18/34 and also has petite sizes. Department stores I guess don't want to carry the larger sizes; I never would have known this about the brand if it weren't for Stitch Fix. The denim is super nice quality, I did a lot of squats, lunges, and dancing around and they always bounced back. Karl said they made my butt look good. I would never have considered these jeans if I was perusing online, I would have rejected them purely for the distressing and frayed hem AND the price tag ($198). However, these are some super nice jeans. They make me realize that $200 jeans may be worth it if they fit and are of high quality. I'm not sure if I'll keep these or not; when assessing my wardrobe for the new year I feel I have plenty of denim, and a lot of it is novelty. But these jeans are nicer quality than most I own…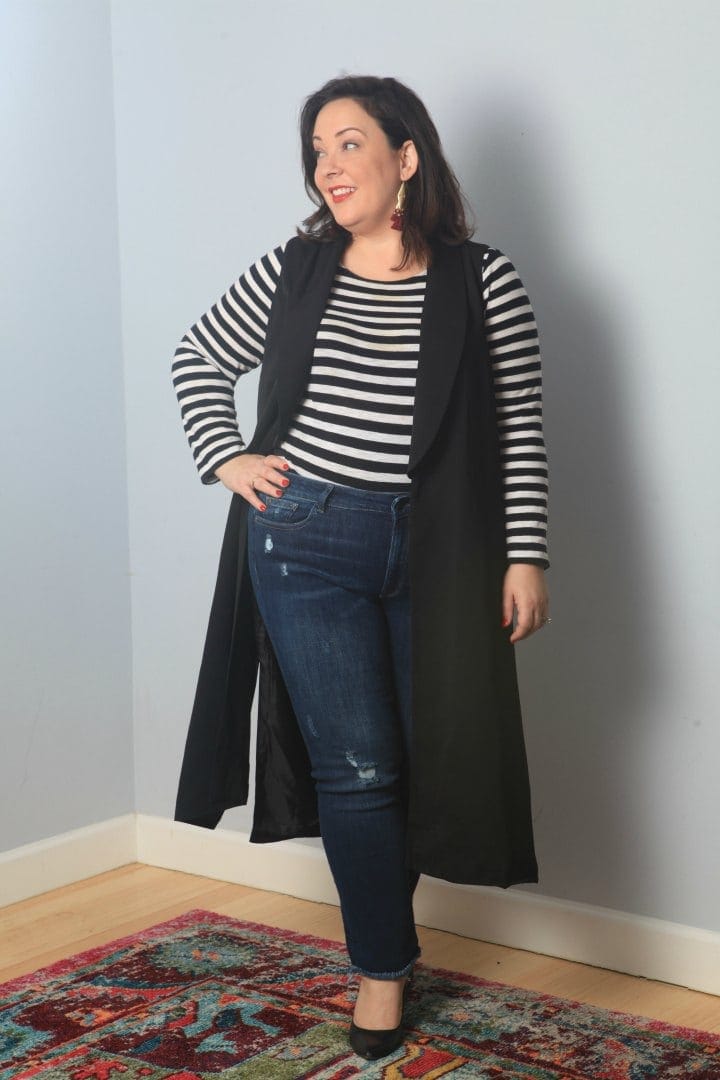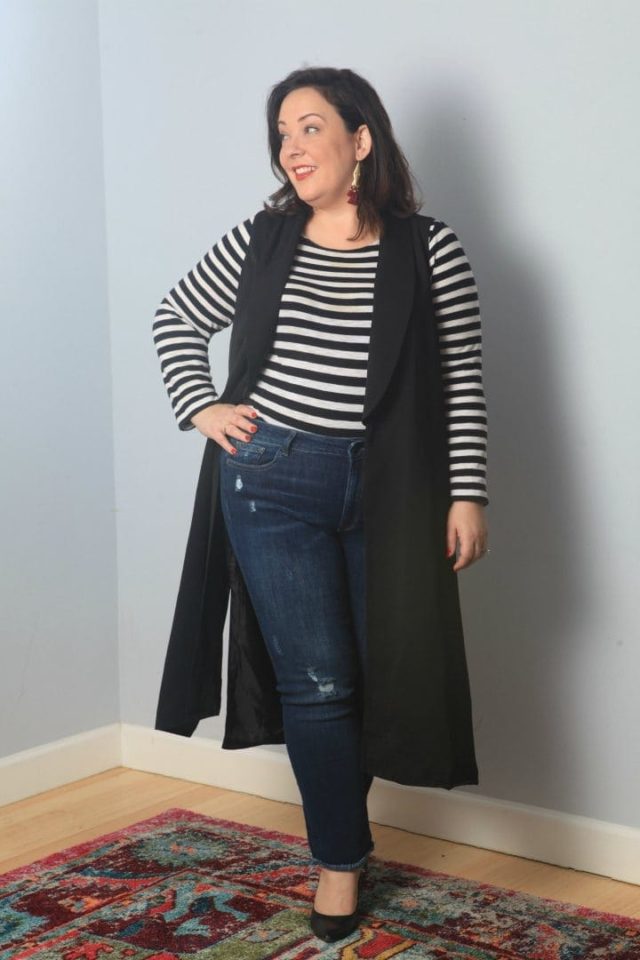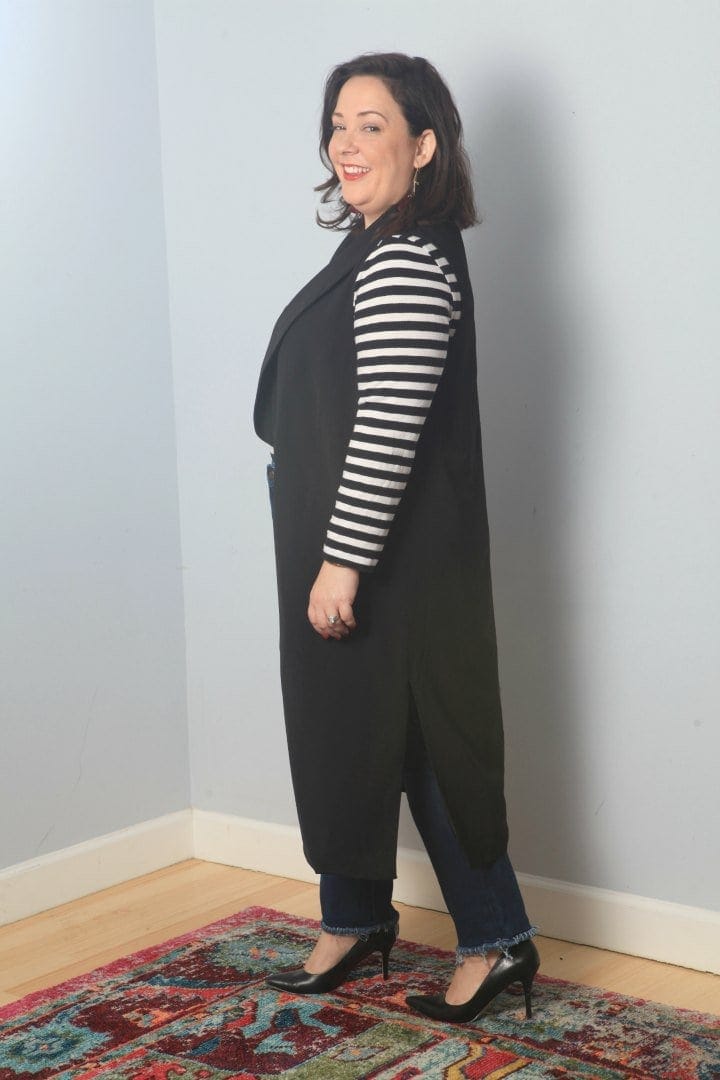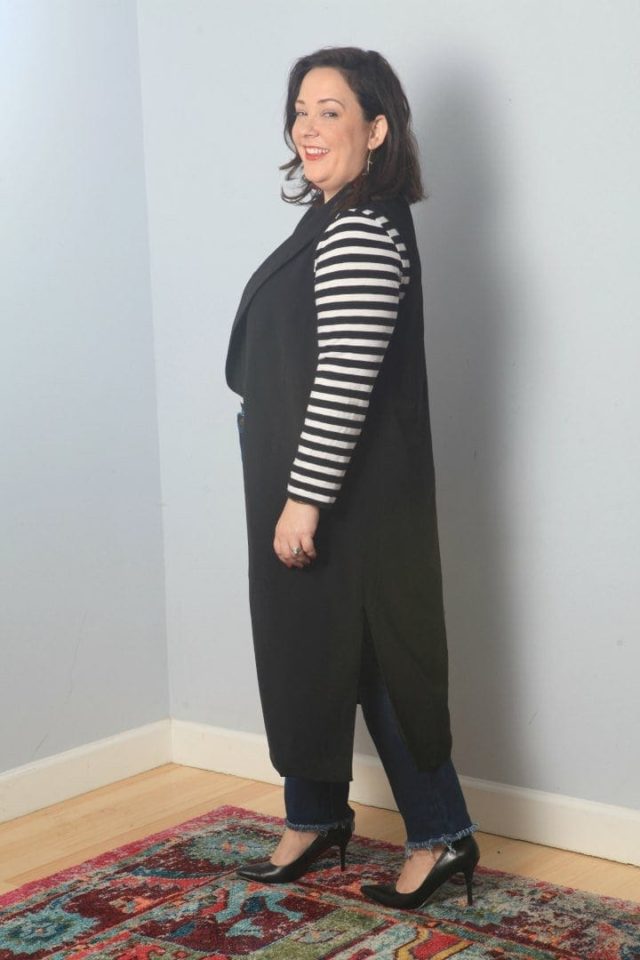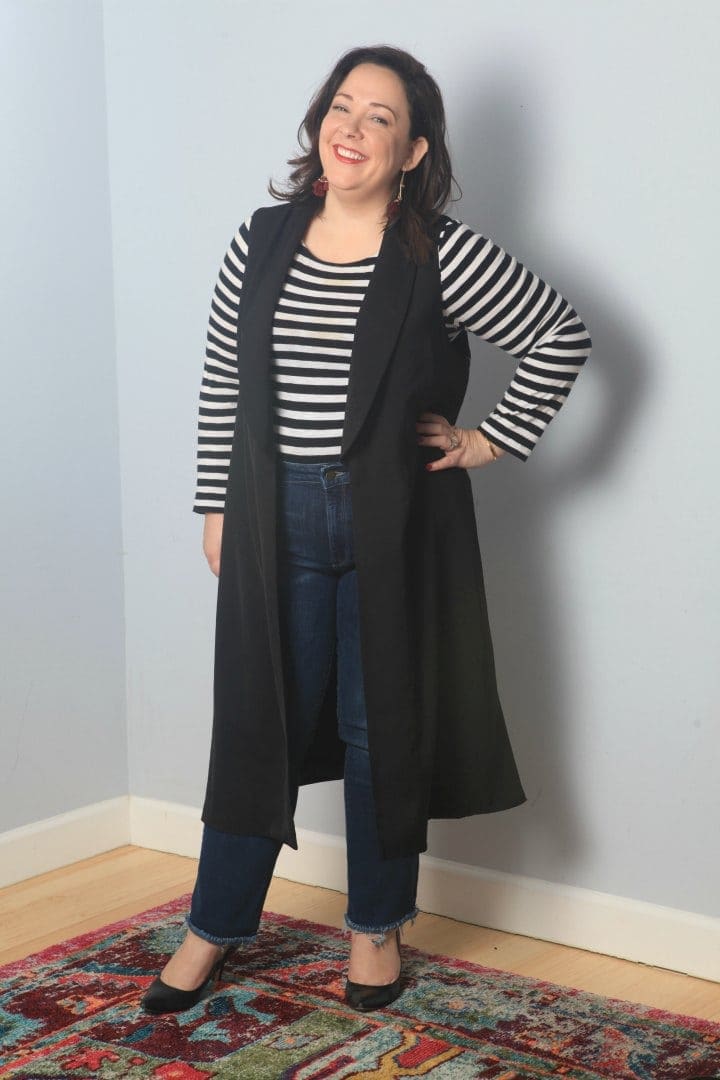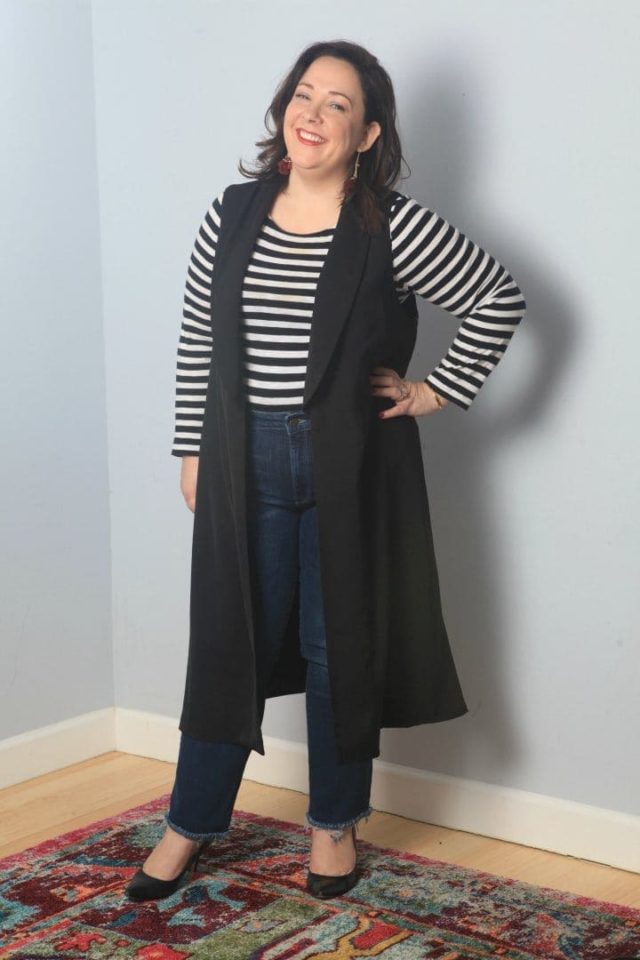 Finally, I received the Anastasia Trench Vest from French Grey. I avoid sleeveless jacket and vests because I think they amplify the size of my upper arms and bust. I was positive that I would hate this… and I didn't. In fact, I plan to feature similar pieces in future capsule wardrobes on the blog because it's such a brilliant way to turn separates into a cohesive outfit, and it's so versatile. While I wore it here with the same jeans and an old J. Crew striped tee, this could be worn over a sheath or shift dress to switch up the look, would be tres chic with a grey turtleneck sweater and wool trousers, or change it up with a wide belt and style it over leggings! The vest is fully lined and retails for $54; the only issue I had with it is that it doesn't have pockets. If I still was at my day job, I'd keep this but for my current daily life I don't think it will get enough wear especially being without pockets.
While I won't be keeping every item from this Stitch Fix box, that's not the point. This box is far closer to my personal style, and by working with my Stitch Fix stylist, she's better understanding my style and I am better understanding it too.
It's a new year, if you're frustrated with your closet, over buyer's remorse, hate shopping, or want to update your look, Stitch Fix may be right for you. If you use my personal link, you can get your first month's styling fee waived so you're able to try Stitch Fix for free!
SaveSave