This article may contain affiliate links; if you click on a shopping link and make a purchase I may receive a commission. As an Amazon Associate, I earn from qualifying purchases.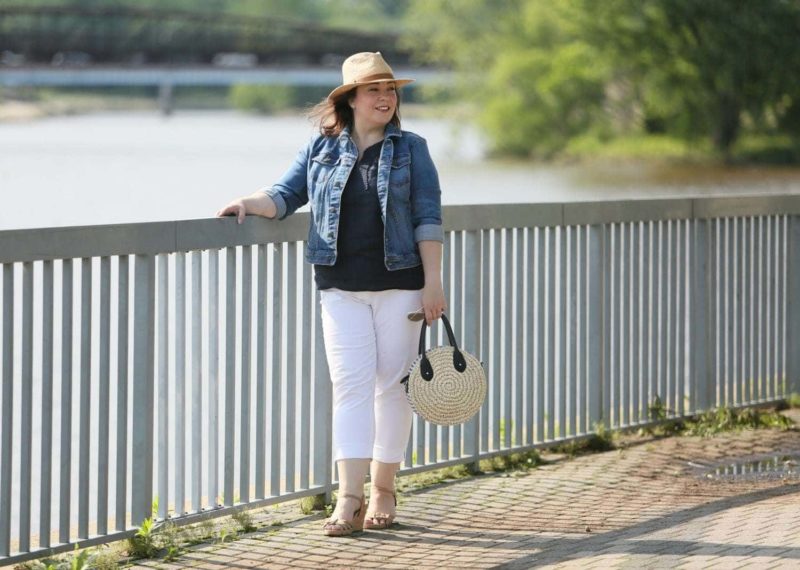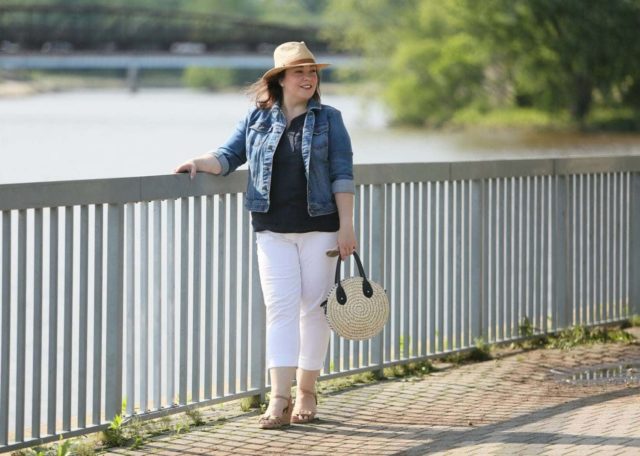 When the temps rise, I'm all about easy dressing.  Simple dresses and separates that are cool, comfortable, and versatile yet not boring. Talbots sent me their summer 2018 lookbook a few weeks ago and I loved how it was full of the kind of warm weather clothing I love. I asked them if I could pick a few pieces from the Talbots Summer 2018 collection, wear them, test them, and share my honest results with you.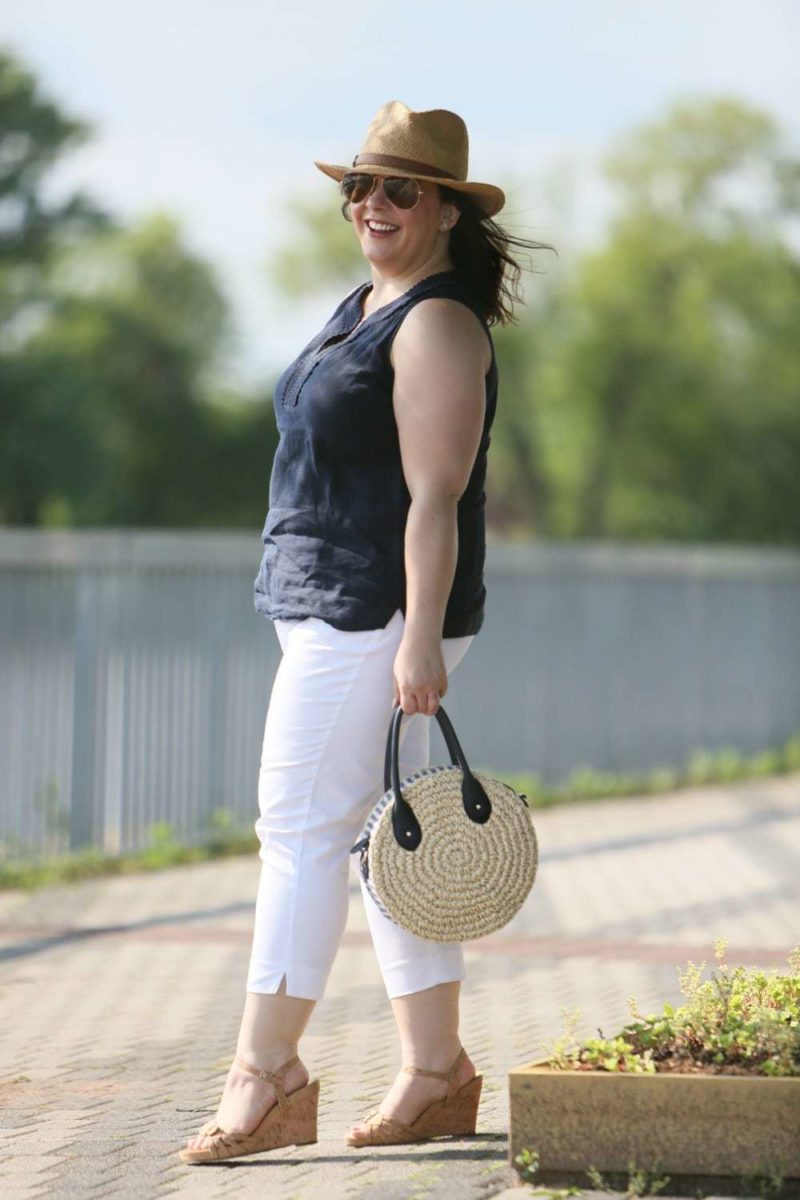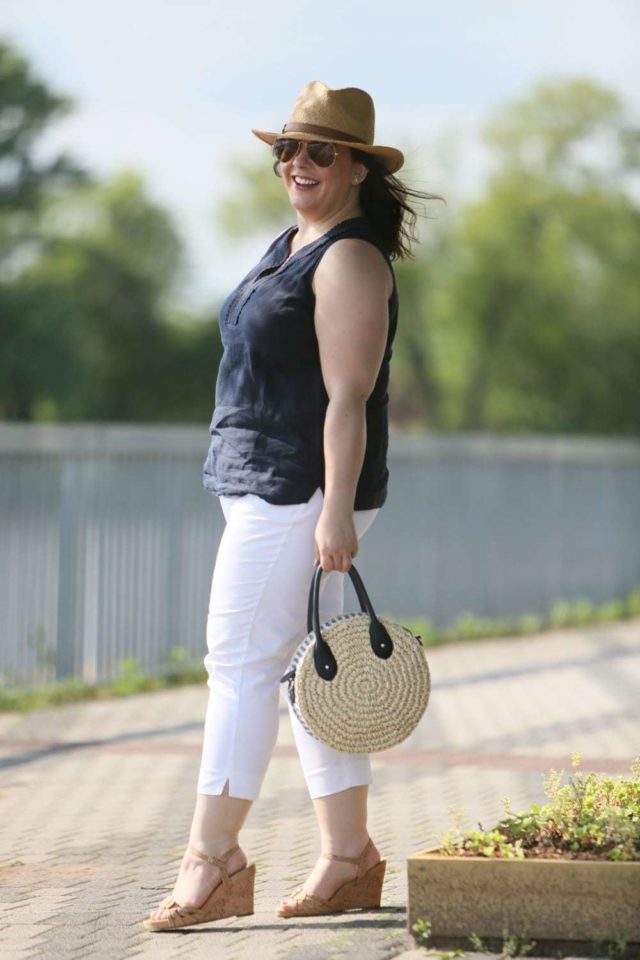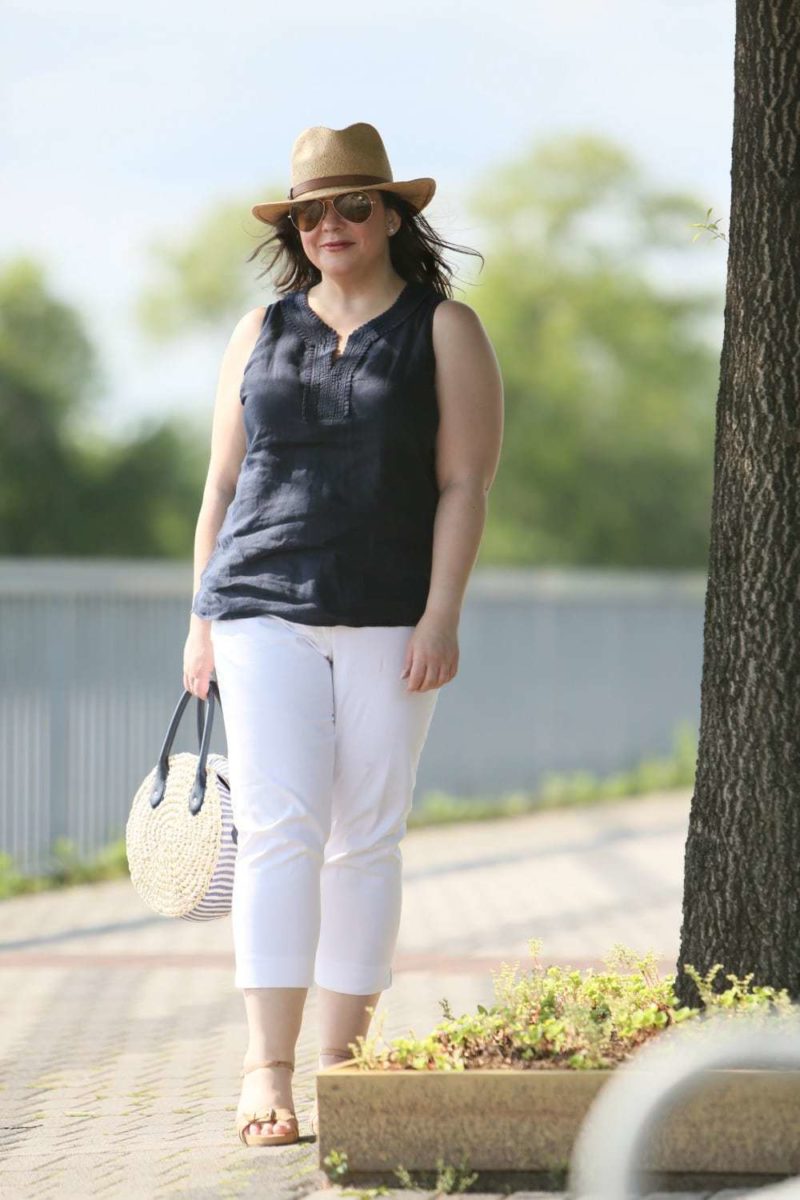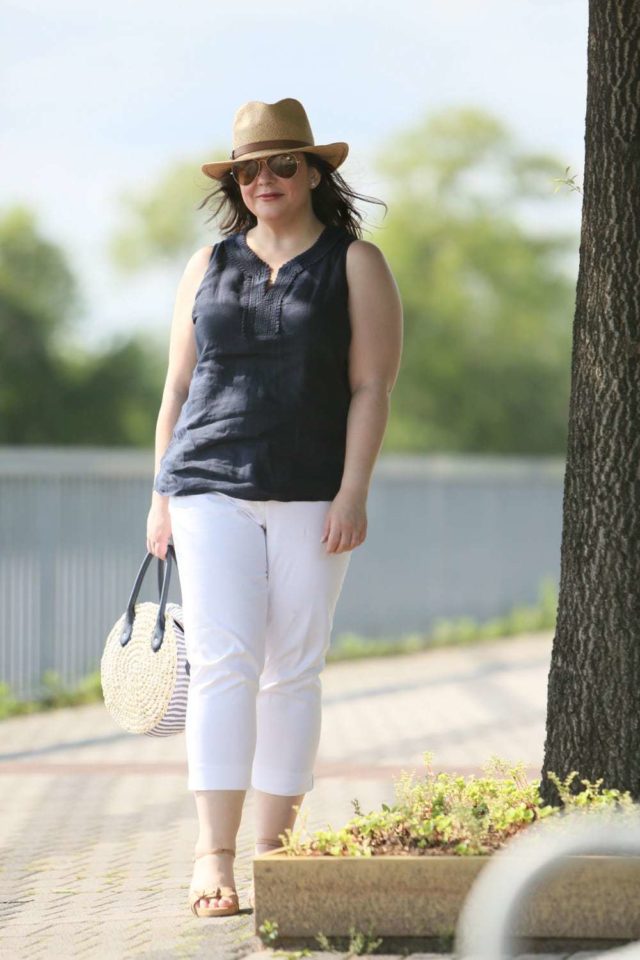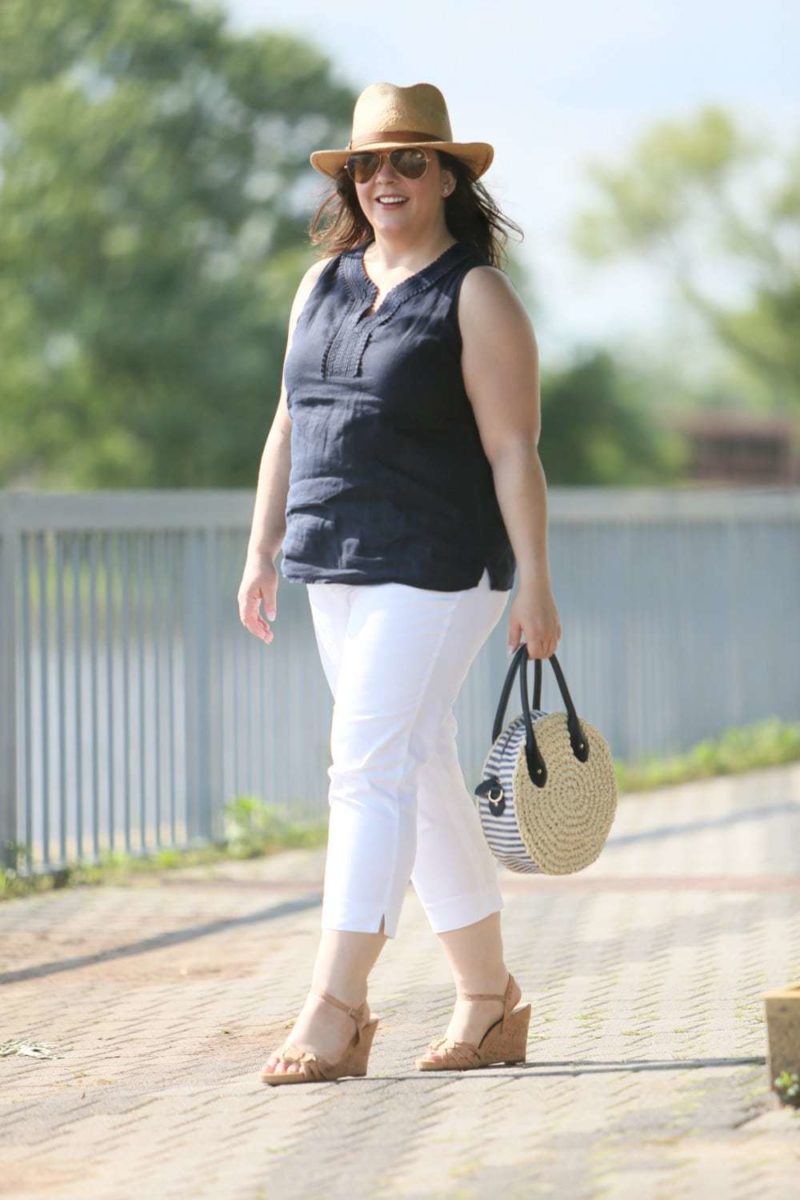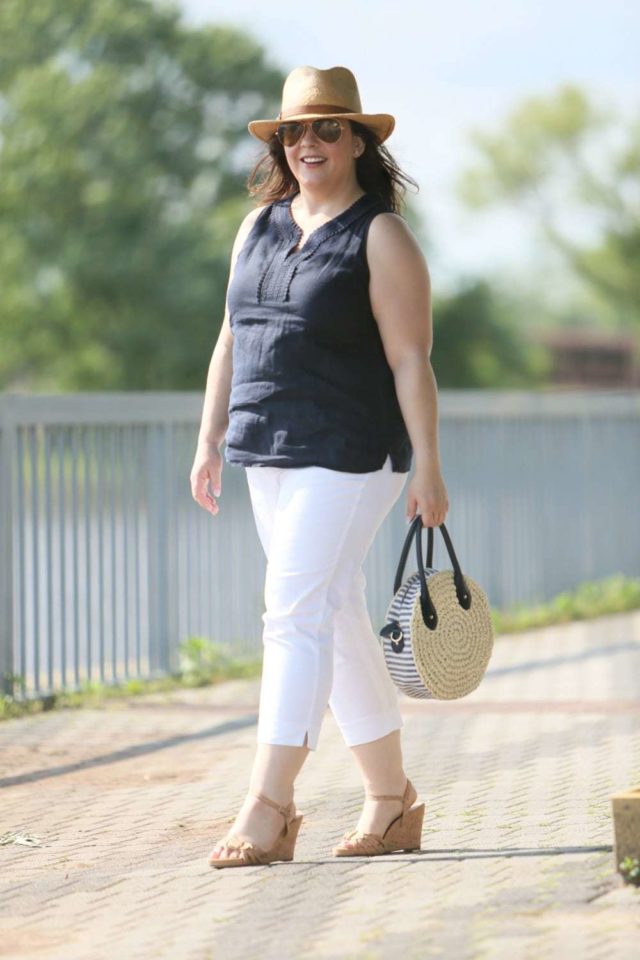 Jacket: Classic Denim Jacket c/o Talbots (LP) | Top: Linen Dot-Trim Shell c/o Talbots (LP) | Pants: The Perfect Crop c/o Talbots (12P) | Hat: Banana Republic (L/XL) | Sunglasses: Ray-Ban | Earrings: Kate Spade | Bag: Crochet Straw Circle Crossbody Bag c/o Talbots (currently sold out; similar) | Shoes: Aerosoles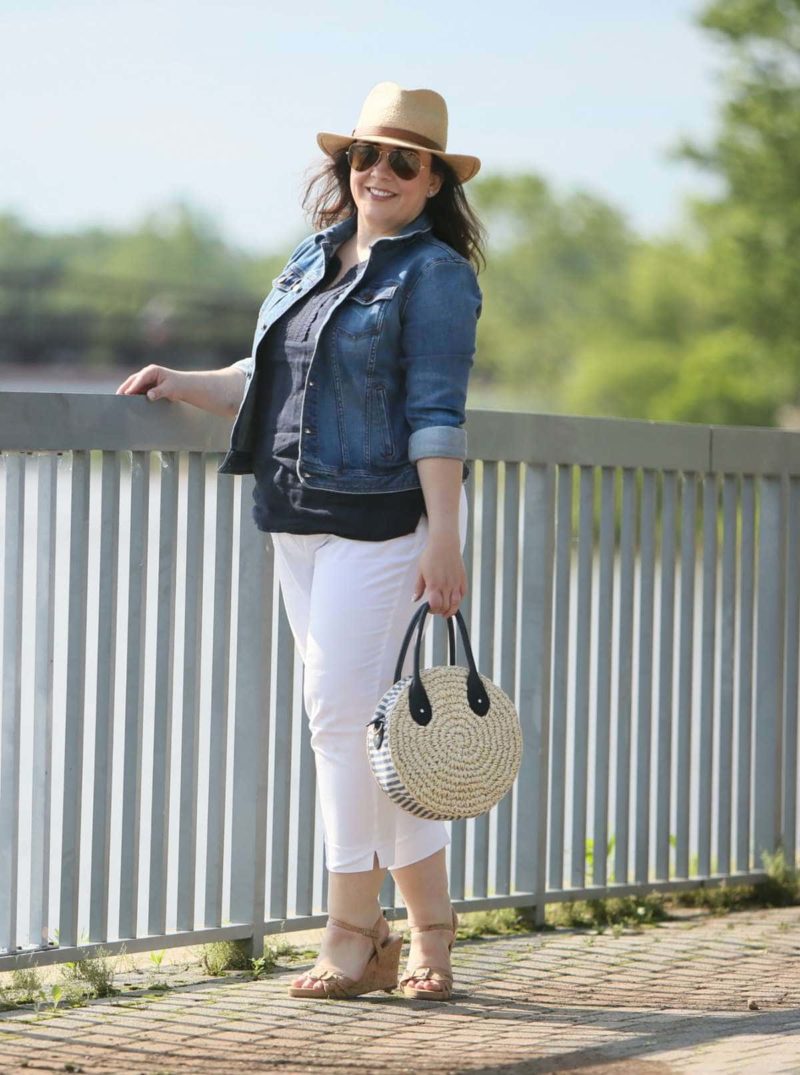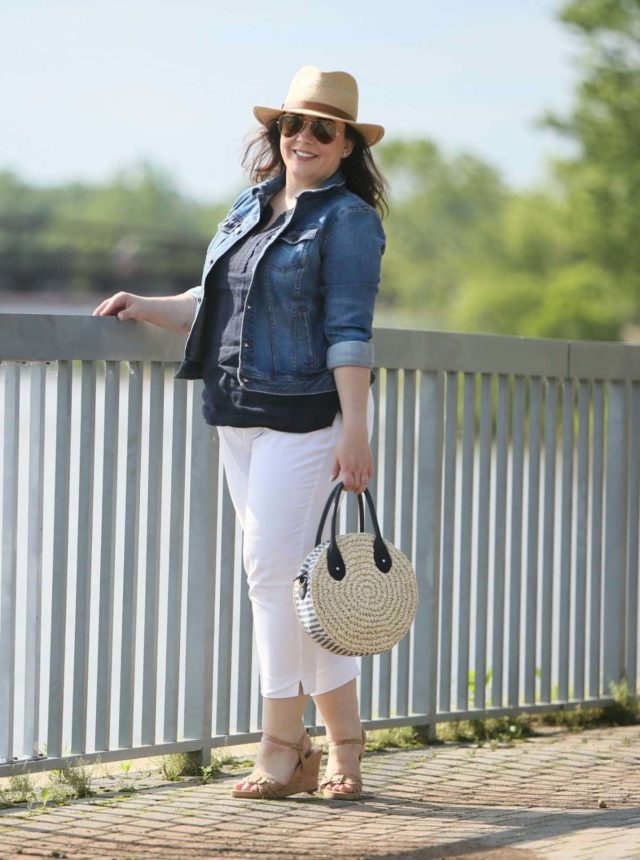 This look was worn for six hours before this photo shoot. It was worn while sitting in my office working on the computer, sitting in a car with a seatbelt, for a short walk around town (to be honest, I switched the shoes for my white EVA Birks), picking my daughter up from school and running a few errands (grocery store, post office). When it comes to linen or cotton, such items can look awesome on the hanger or right out of the shipping bag, but what matters is how they hold up with wear.  I think they passed the test!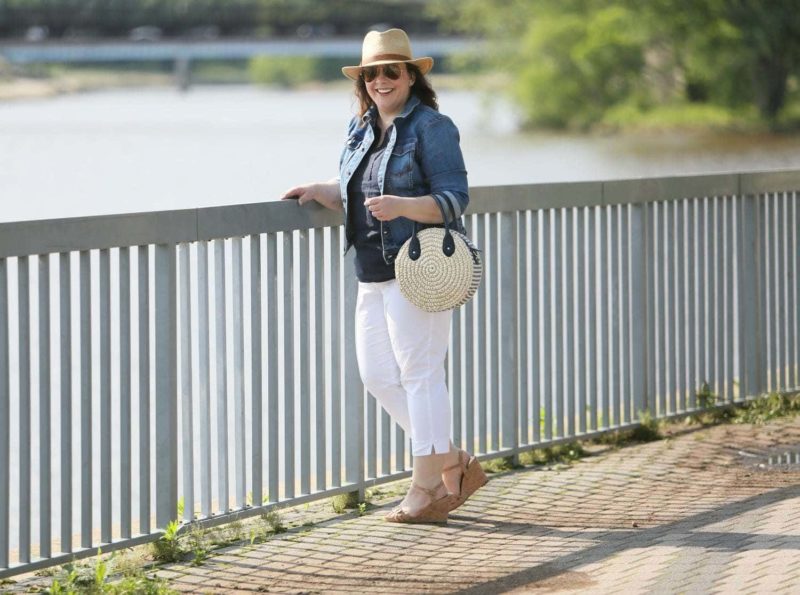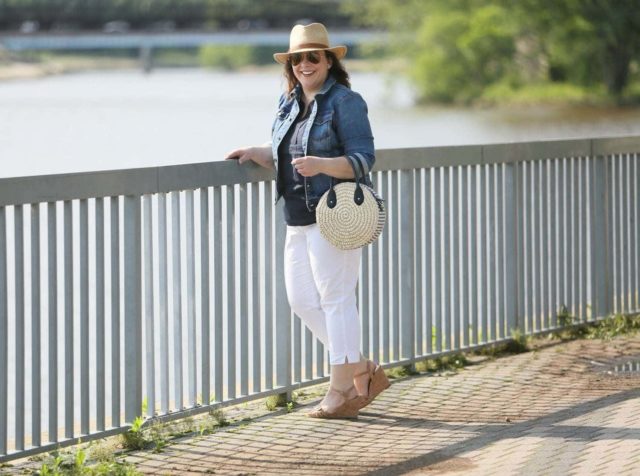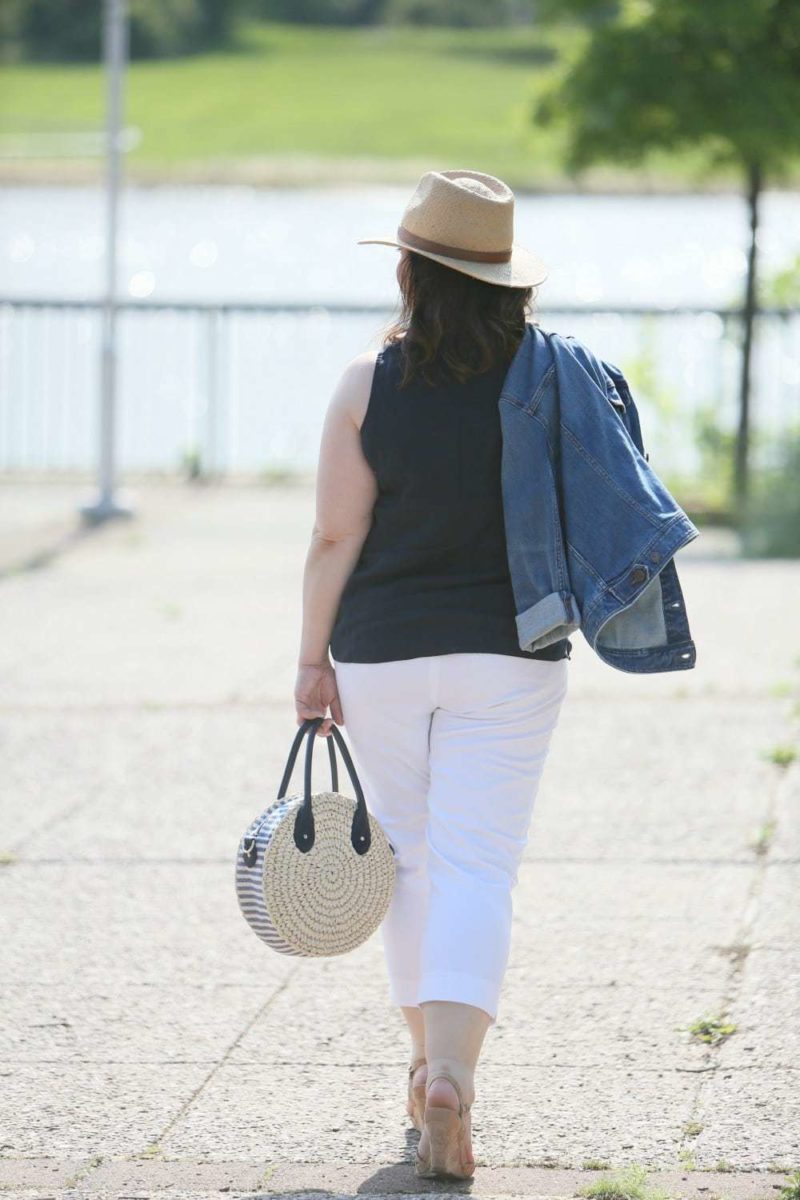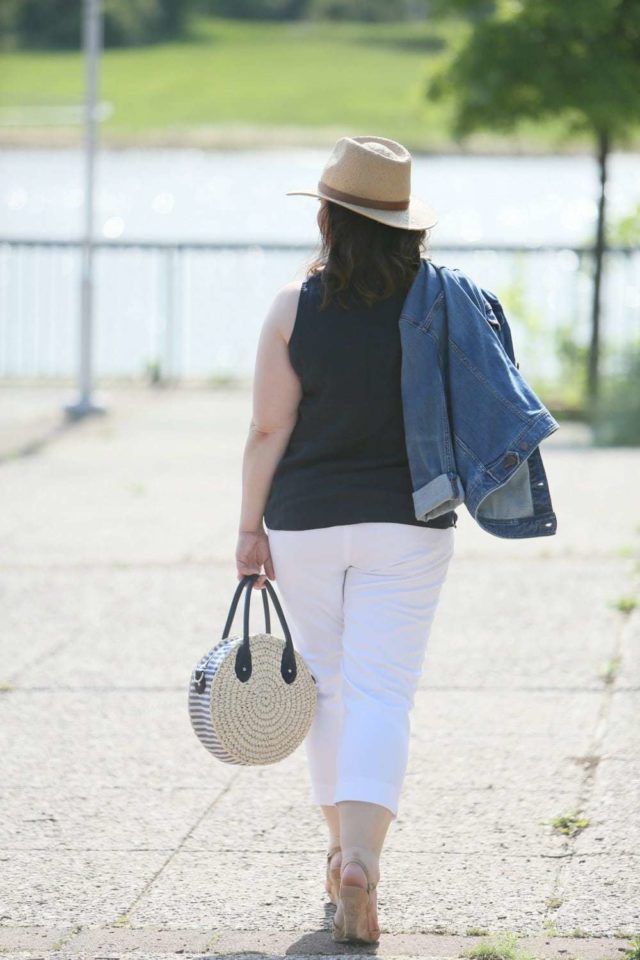 You've seen this jacket before, I wore it with my Trouve knot dress and I've worn it many times in real life. It's a great fit, great wash, and a classic. As for the pants, none of my old summer pants fit properly so I was looking for a basic that could dress up and down.  I haven't laundered these yet, this is the first wear but so far I am a fan. They're a soft brushed twill; while they're not made to be stretchy, the pants have give but haven't bagged out a ton with wear. They come in 10 colors, a curvy fit (this is the standard fit), and all the size ranges Talbots is known for.  This top is the kind I love for summer.  It's super breezy since it's linen, but the detailed notch neck keeps it from looking boring. It comes in three size ranges and three colors. This could be worn with shorts, pants, jeans, tucked in or bloused out. Sure it wrinkles, but because it's such a straight fit it looks purposeful instead of sloppy.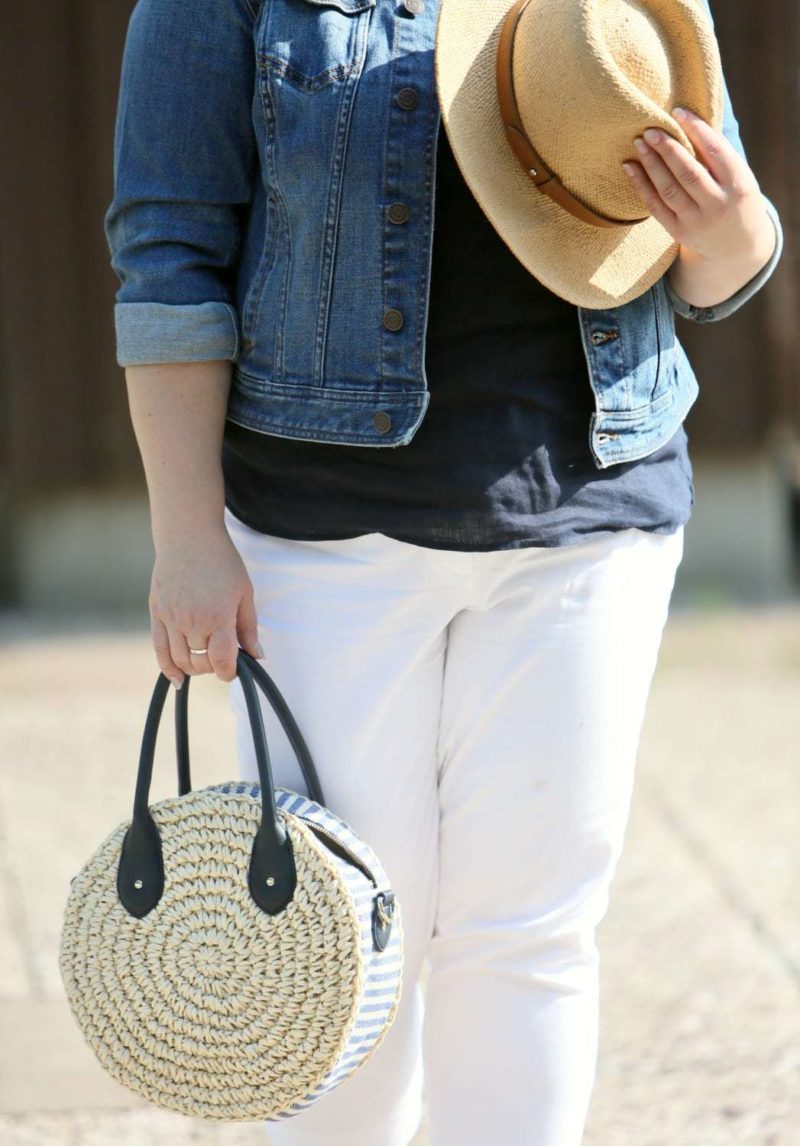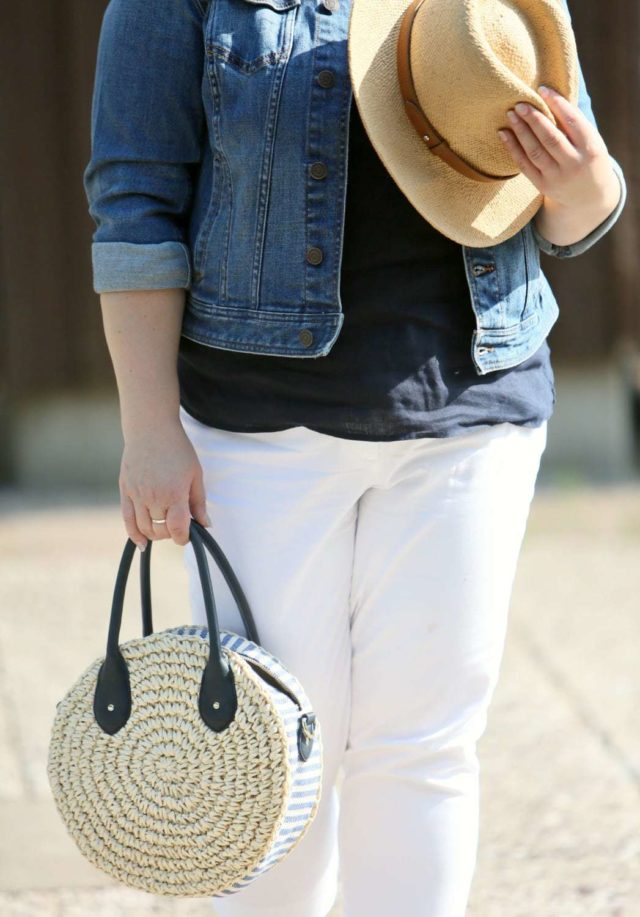 I bought this hat last summer and linked to what looks like almost the same hat sold by Banana Republic this year. I have a big noggin and appreciate that it comes in sizes (and actually fits!).  Unfortunately, at the time of writing this, the bag is sold out.  I linked to a similar one above but Talbots has some other cute straw or straw-detail bags in stock like this two-tone bucket satchel, this paper straw bucket bag, and this cute tote covered in pom poms.  A straw, wicker, or raffia bag is the perfect way to summer-ize spring clothing and dark colors like navy and black. And these shoes… you may be getting sick of seeing them but they're so comfy and versatile don't be surprised to see them in a good percentage of my outfit posts this season!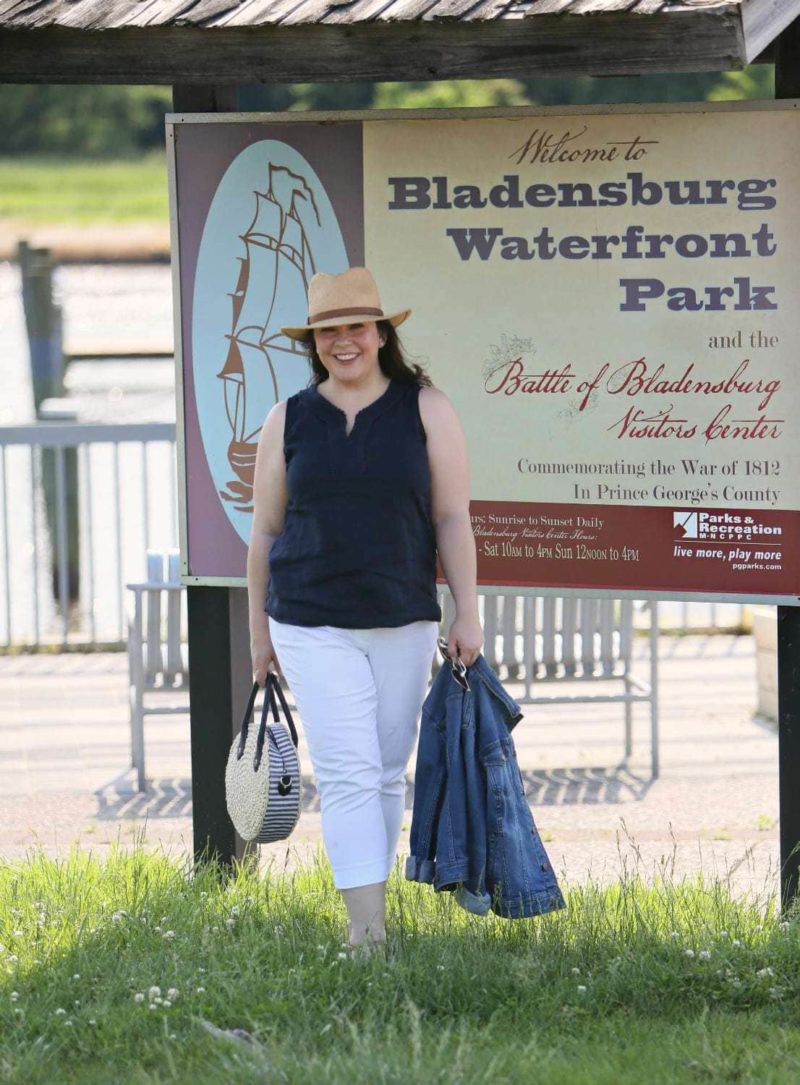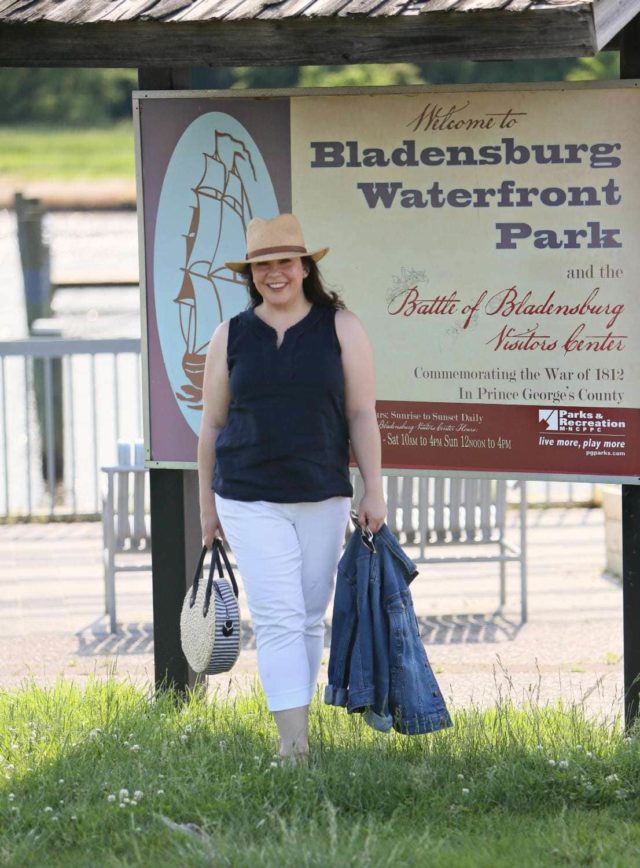 These photos were taken at the Bladensburg Waterfront Park in Bladensburg, Maryland.  Located on the Anacostia River, this oasis in Prince George's County has a paved riverside walk, picnic pavilion, public fishing pier, free boat ramp, community boat storage, playground, B&O railroad caboose, and bicycle, canoe, kayak, paddle boat, and rowboat rentals all at one of the most historic waterways. A seaport during the colonial period, Bladensburg is best remembered for the Battle of Bladensburg (1814) during the War of 1812, notable because it was the only battle in American history in which a sitting president (James Madison) rode into battle. The B&O Railroad ended in Bladensburg; anyone wishing to travel to DC had to get off here and take the rest of their journey by carriage. Now, the Bladensburg Waterfront Park is a popular destination in the DC area. Bring your canoe or kayak and paddle to the National Arboretum. Learn to row with the Washington Rowing School which resides at the park (and was practicing when we visited).  When we visited for this shoot, a few were in the picnic pavilion using it as a beautiful place to telework, many were walking the paths and biking the trails, and plenty of happy children were at the playground.