This article may contain affiliate links; if you click on a shopping link and make a purchase I may receive a commission. As an Amazon Associate, I earn from qualifying purchases.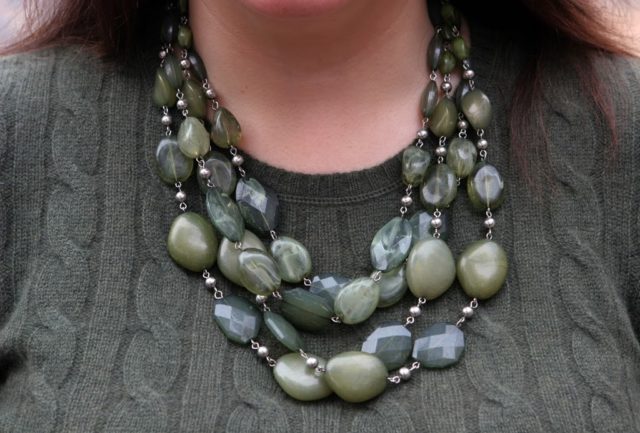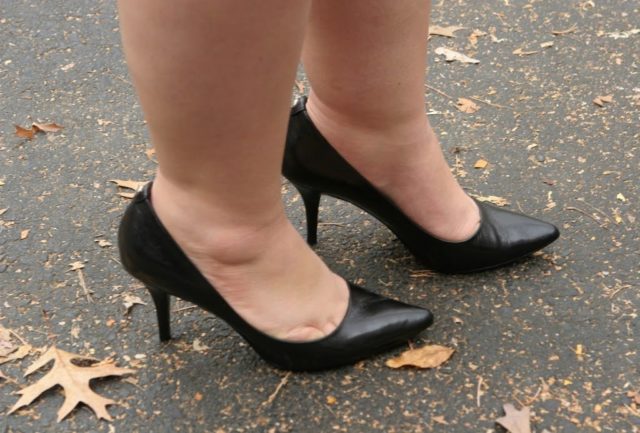 Sweater – Only Mine
Skirt – Halogen (similar)
Necklaces – NY&Co (similar)
Pumps – MICHAEL Michael Kors
Tuesday I went to the doctor regarding my shoulder and she investigated a lump behind my ear. Come to find out it's an infected lymph node. I am on antibiotics to take care of it, and the doctor said things would feel worse before they feel better.
Doc was right. I feel absolutely dreadful. The whole left side of my face is sore, feels bruised. I can't even touch my ear, it's so painful. And then my shoulder pain (which is just muscle pain and the doc gave me muscle relaxers to take at bedtime) is on the same side. I feel as though my body from scalp to ribcage was in a bad street fight. Feels like a day for cashmere, so I decided to wear this baby (by the way, do check out this sweater – it's less than $60, thick cashmere, but only a few colors and sizes left!).
And new shoes – my Nine West 'Madeup' pumps have pretty much kicked the bucket. I have reheeled and resoled them several times, replaced the insoles but the leather has stretched out so much I walk out of them and my pinky toe will slip out. I tried several different brands of pumps – I wanted a pointy toe to elongate my frame (but not too pointy), a 2.5 – 3″ heel that is slim, and no unique finishes, embellishments, or shape details. I almost didn't try these from MICHAEL Michael Kors because of the silver button on the back. However, once I tried them on I knew they were perfect – they are just like my 'Madeup' pumps (which I also have in leopard haircalf), but with sturdier leather (won't stretch out as quickly). I find they run a bit big and pretty wide – I have normal to wide feet and found these very roomy. With a pair of Footpetals in them, they fit great and more importantly… feel great!
Follow Me | Twitter | Facebook