This article may contain affiliate links; if you click on a shopping link and make a purchase I may receive a commission. As an Amazon Associate, I earn from qualifying purchases. 
Boots are hot this season. Pulled over skinny jeans, matched with wool and denim skirts, paired with gauchos, it seems that a pair of tall boots is a necessity for any woman's wardrobe.
What do you do when your calves aren't slim? A childhood of playing soccer, a more zaftig figure than most models, a tall woman with proportional appendages, whatever the reason, purchasing boots when you have larger legs can be very frustrating.
Most knee-high boots in stores have a 14" or 15" circumference of the widest part of the boot shaft. Before you go shopping, take a tape measure to the widest part of your calf. You can buy boots that are a half-inch smaller than your measurement because leather stretches and many styles have elastic gussets.
Many chain brands like Naturalizer, Eddie Bauer, Ann Taylor Loft and J. Crew offer extended-calf variations of their popular styles. Do check the size, for many brands consider larger calves to only be a half to full inch larger. This may be all you need for comfort, or you may require more space.
Wide Widths may not be the most elegant name of a website, but the collection on this site is amazing. They explain the sizes of the boots and give you hints when you should go up or down a size. The customer service is excellent – if you have to call for assistance or for exchange/return approval, you will speak to a very knowledgeable and passionate salesperson who will offer alternatives based on your style, lifestyle and size.
Wide Calf Boots has a lot of the same styles as Wide Widths, but a few new styles, such as cowboy boots. They separate their boots by style and like Wide Widths, they have a link to wide width shoes too.
Torrid is a brand that sells trendy clothing in larger sizes. They have a great selection of reasonably priced boots as well. Though the boots may be faux leather, they are well made, stylish and look more expensive than their ticket price. This is a great site to visit if you are looking for a more funky/trendy style of boot. They do not have extra-large calf sizes, but their standard size is larger than many of the "extended-calf" sizes found at the stores above.
Silhouettes is also a company that sells plus-size clothing, and larger-calf boots. They carry a variety of brand names and styles. Be warned – if you order from them you will be inundated with catalogs from them and every other plus size clothing brand in your mailbox for the rest of eternity (or until you call and beg them to be taken off their mailing list)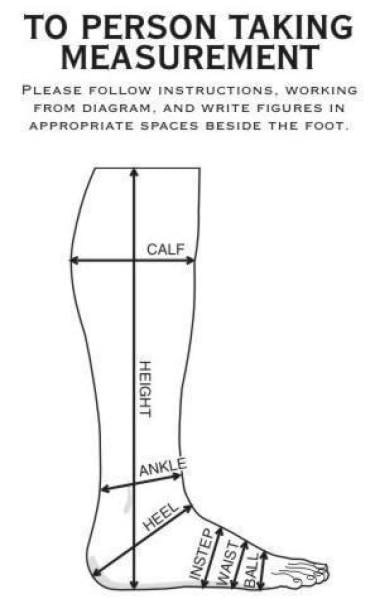 Looking for biker boots, harness boots or riding boots to fit your calf size? Check out Friedson Bros. Their prices aren't cheap, but the quality is impeccable and they will custom make your boots to fit you perfectly. The price may make you balk, but a well-made boot should last you for decades if you care for them properly. Friedson Bros. offers a measuring chart to fill out to ensure the boot has the correct fit.
Once you have a pair of boots that you love and love your calves, how do you know they are a good fit?
They should not gape at the top. Legs should not be swimming in the shaft.
They should not dig into the leg. There is nothing more unflattering than your knee pouring out of the top of the boot like a split sausage casing.
They should not dig into the back of the knee. Sit down in your boots. Do they hit so high that they cut into the back of the knee? If so, return them and find a shorter style.
Where on the calf do they hit? Like skirts, if your boot hits at the widest part of the calf, it will make your legs look even bigger. There is no point in investing in tall boots when they do not look good on your figure.
And how should you store your boots?
Either store them back in their box or standing straight up. Use packing paper to stuff the shafts and maintain good shape
Use proper leather cleaners and protectors for your boots. Caring for these boots properly will have them last for years.
Invest in non-skid pads for the soles. Tall boots are popular because they can keep your legs warm in the colder months. You won't be warm if you slip and fall on the ice and snow.