This article may contain affiliate links; if you click on a shopping link and make a purchase I may receive a commission. As an Amazon Associate, I earn from qualifying purchases. 
I'm trying to be better about photographing all my outfits, not just the ones I'm wearing when my husband has his fancy-dancy camera with him.  Here are some of the most recent outfits I've worn out and about: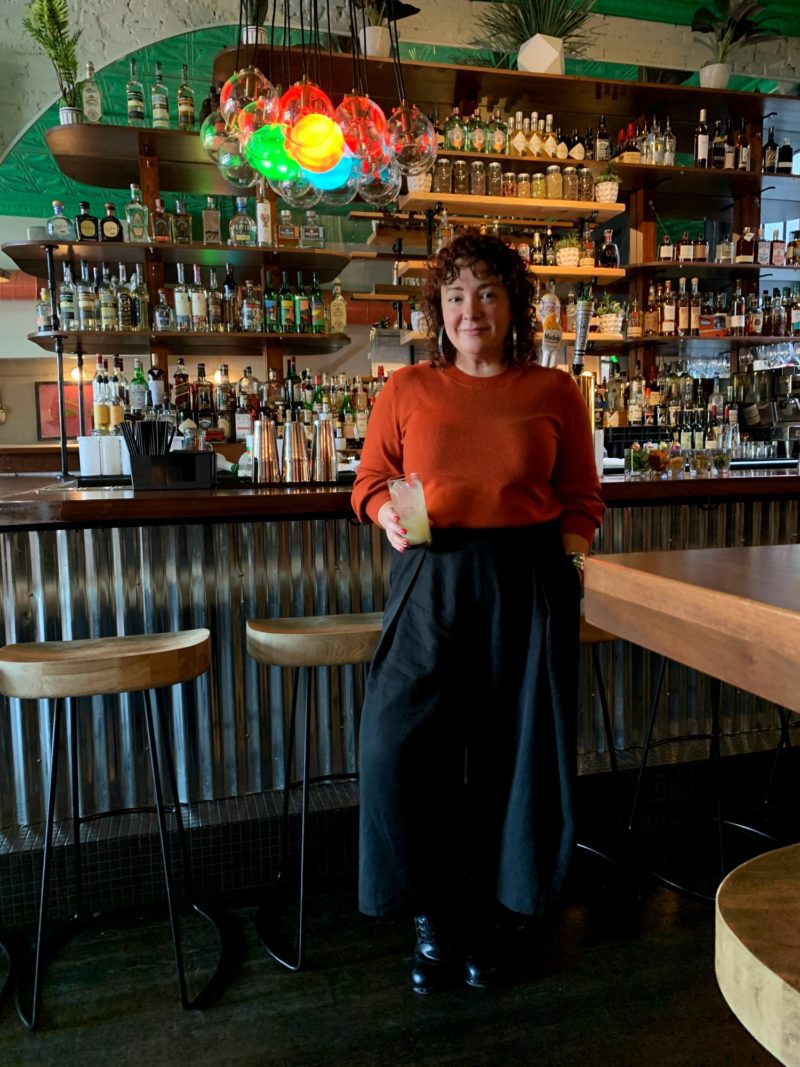 Sweater: Everlane (L) | Pants: The Pleated Culottes c/0 And Comfort (0X) | Boots: La Canadienne | Earrings: Cober Hoops c/o Jenny Bird
Last week, Karl and I had a day date to check out a new Mexican restaurant on 14th street NW in DC and this is what I wore.  To be honest, it's also what I wore the day prior and a week before that, same boots and culottes and a different sweater.  I've had these culottes for a while (here's the last time I featured these And Comfort culottes on the blog) and love how they swish when I walk, they're not heavy but lined, have deep pockets, and are that ugly-cool length that's so popular this season.  The sweater you've seen before in this blog post; it's cropped just to the bottom of the waistband and looks good tucked or untucked. The boots are waterproof, insulated, have laces and side zips and are comfy even if I'm on my feet all day.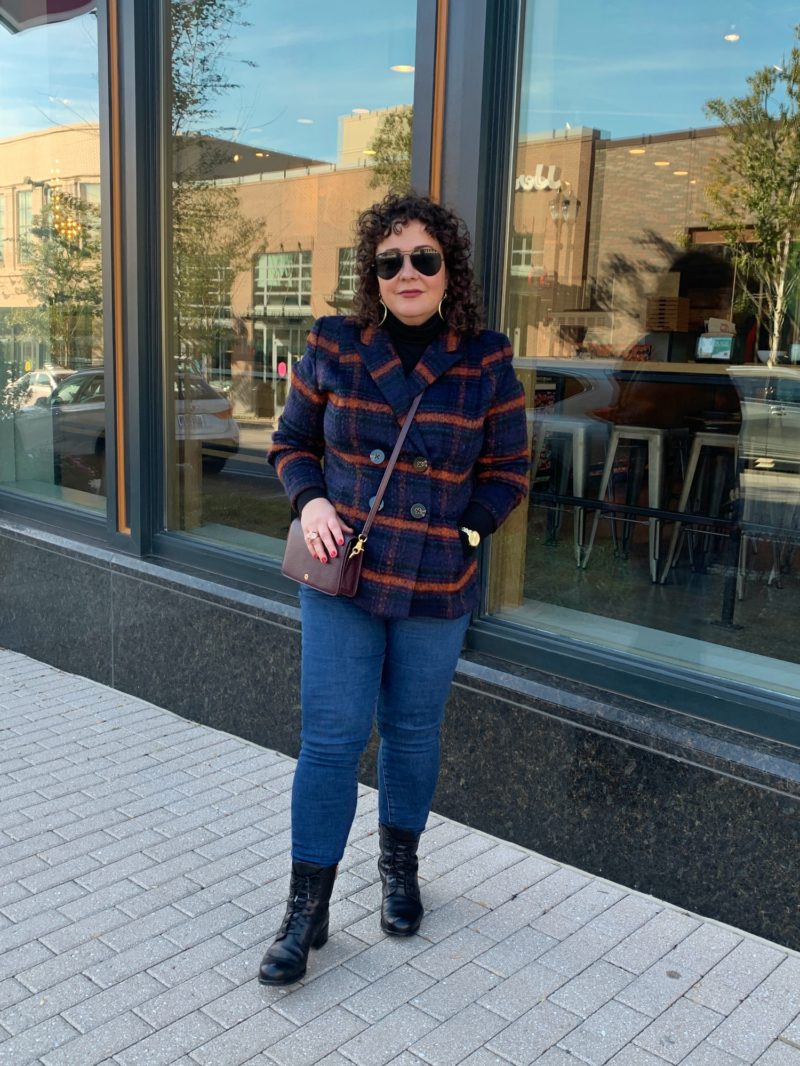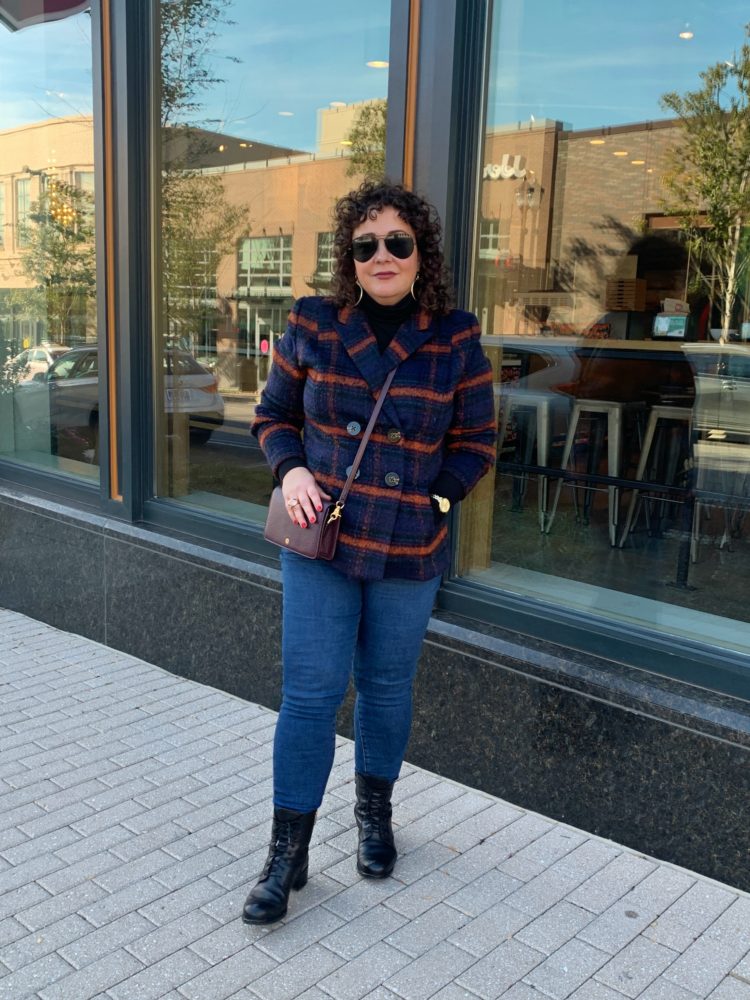 Blazer: Checkmate Jacket c/o cabi (L) | Turtleneck: Foundation Turtleneck c/o Universal Standard (XS) | Jeans: Authentic Stretch High Rise Skinny c/o Everlane (32 Short) | Bag: Small Andra Crossbody c/o Dagne Dover | Boots: La Canadienne | Sunglasses: Ray-Ban | Earrings: Domain Luxe Portrait Hoops c/o REALM 
I wore this for a day of running errands and a lunch.  It was chilly; this blazer doubled as my outerwear.   The turtleneck underneath is a favorite, I also have it in white.  It's silky knit, opaque, and not heavy.  I get hot easily but I am comfortable wearing this as a layer.  These jeans are newer and on repeat; they're so stretchy with such great bounce-back I wore them on a redeye flight.  And again the La Canadienne boots!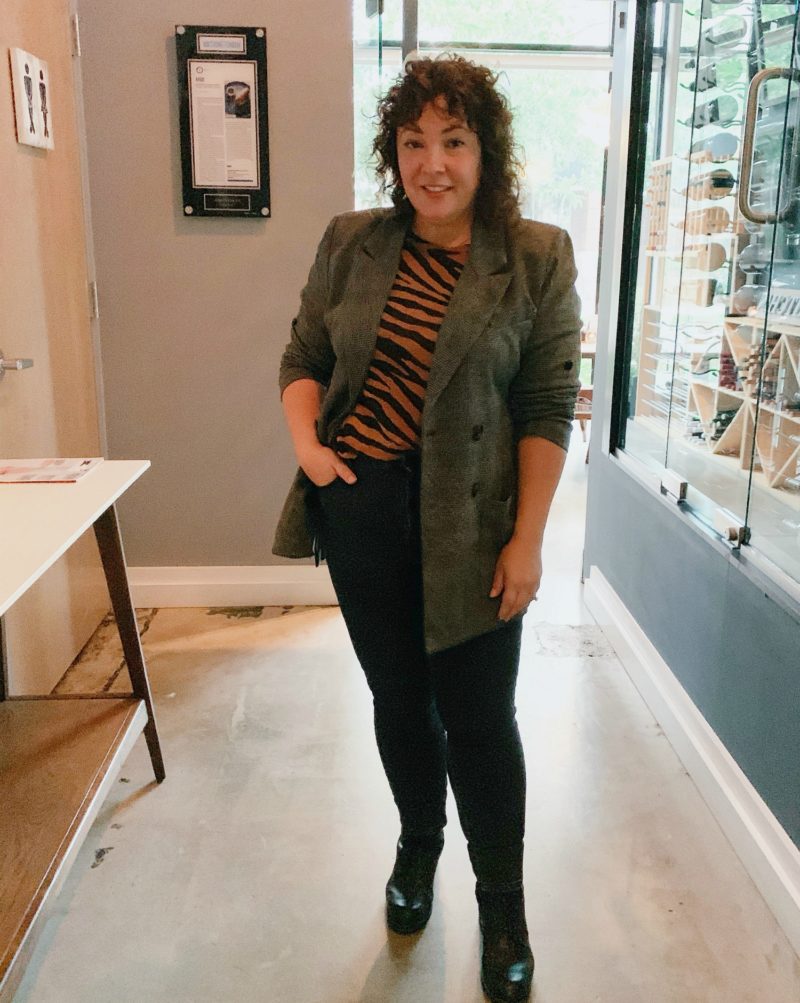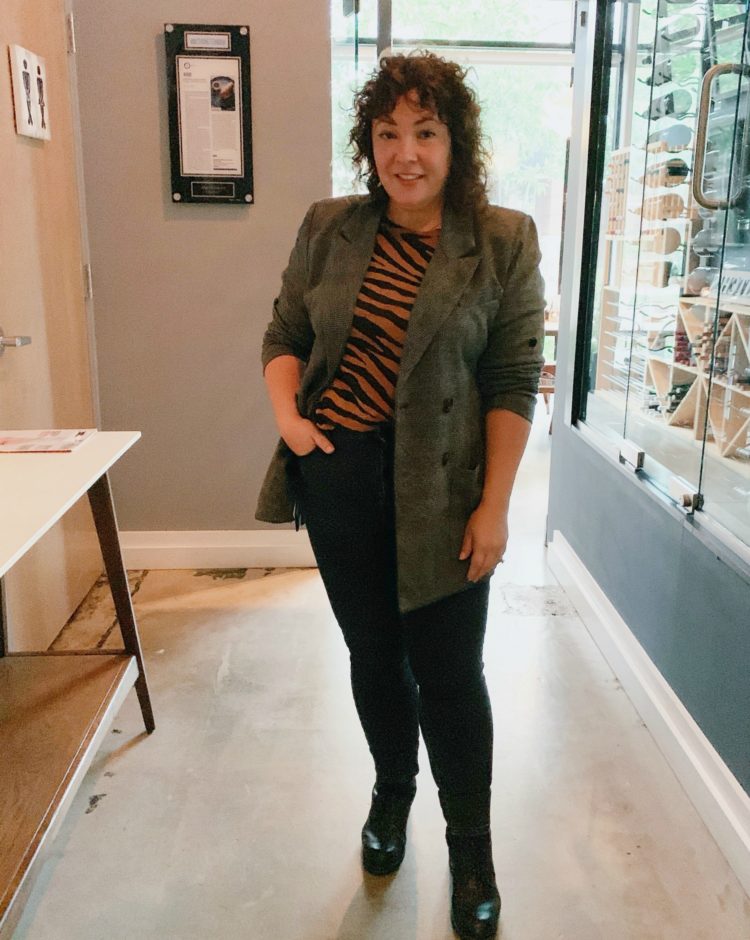 Blazer: Bond Blazer c/o cabi (L; belt removed) | Tee: Banana Republic (L and almost sold out, this shirt is very similar though blue) | Jeans: Authentic Stretch Skinny Button Fly c/o Everlane (32 Short) | Boots: La Canadienne
I'm kind of embarrassed to share such a poor quality photo, but I thought this outfit was fun.  I like the mix of a black and gray glen plaid with a warm zebra print. I wore this look to a fall festival and then a nice dinner after without having the chance to change clothes.  The blazer (which was seen in this cabi capsule wardrobe) is ponte knit, so it stretched and moved like a hoodie over the t-shirt.  The jeans are also super stretchy, and as I mentioned above, the boots are great for wearing all day.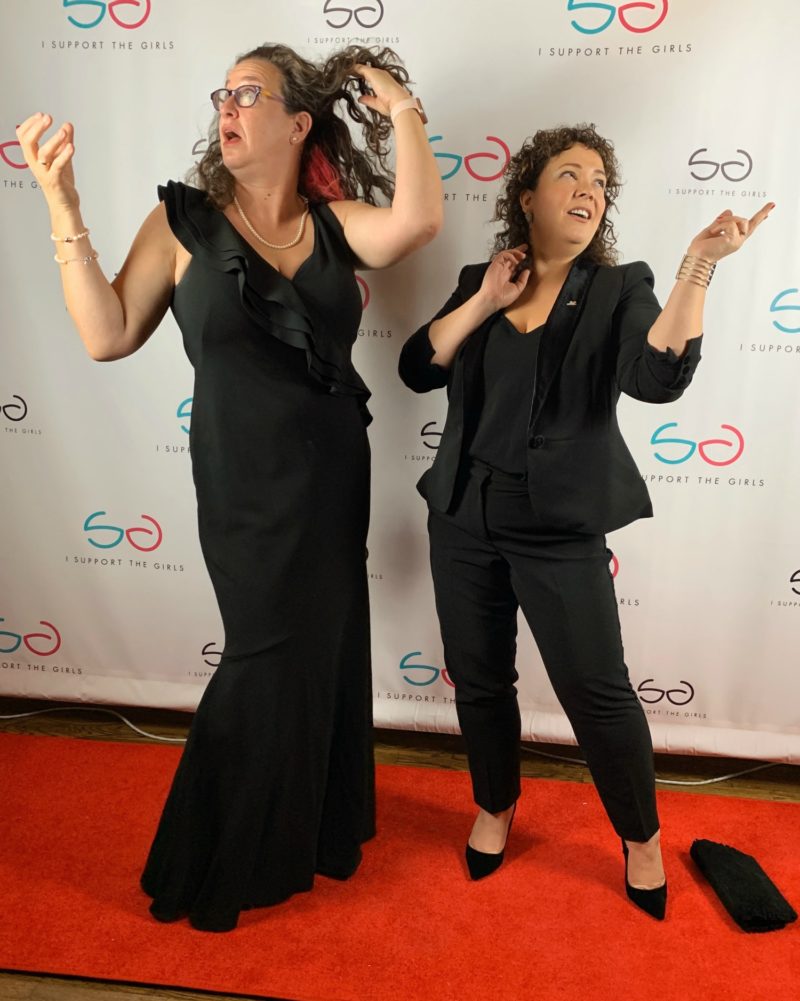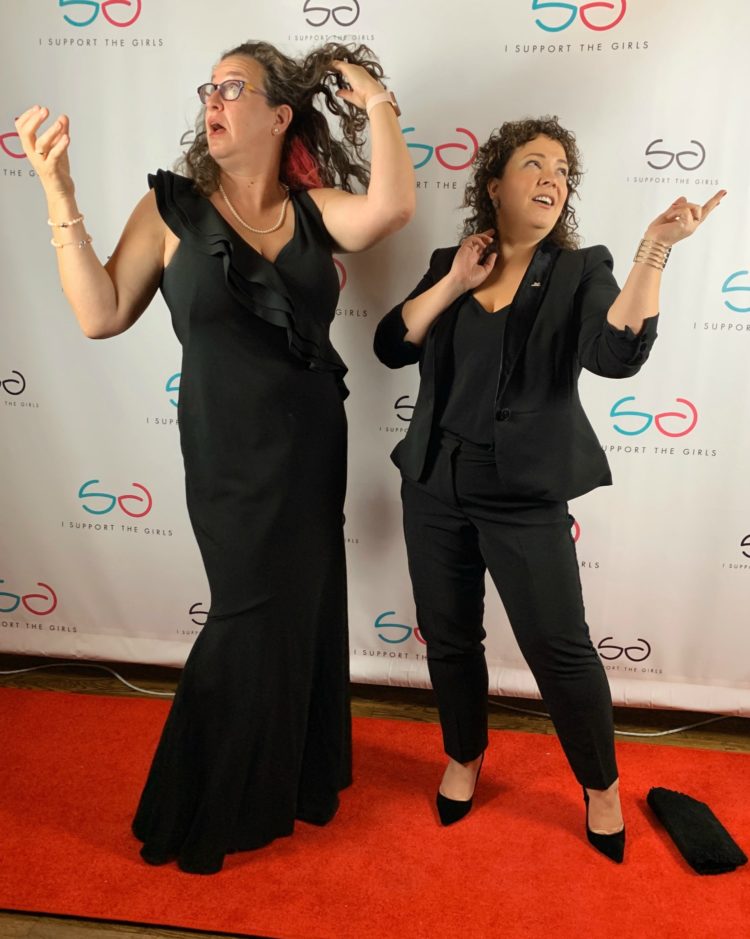 Blazer: Stretch Crepe Tuxedo Blazer c/o Talbots (14P) | Pants: Stretch Crepe Tuxedo Pants c/o Talbots (14P) | Camisole: J. Crew (L) | Shoes: c/o WHBM (old; this year's version) | Clutch on the ground: c/o Talbots (old; similar) | Earrings: Kenneth Jay Lane (old; similar) | Bracelet: Sceptre Linea Luxe Corset Bracelet c/o REALM
My friend Dana and I joke about posing for photos.  We say you need to look nonchalant, play with your hair, hold an imaginary glass of Chardonnay. That is what we're doing here on the red carpet for the annual awards ceremony for I Support The Girls, the charity she founded.  A couple of weekends ago I had the pleasure of attending this event for this phenomenal organization.  I didn't realize that when I featured I Support the Girls back in 2015 for Giving Tuesday, that the charity had JUST begun! I am so glad to have given it more attention, and seen how it has grown to over 56 affiliates across the globe that have distributed almost 5 million bras and menstrual products to women in need. The invite said "Cocktail Attire" and I felt this lady tux from Talbots was the perfect choice.  I have an older version of the Talbots Lady Tux (seen here and here) and it has done me so well for all those situations when you need to dress up but don't want to be too dressy or too casual and you don't want to deal with hosiery and control garments and a fancy bra.  This year's version of the lady tux has a single button and the lapels of the jacket and side stripes on the pants are made of velvet. I didn't have to get this tailored, this is the fit right out of the box.  This will not be the last time you see this suit, I plan to style it in a variety of ways all through the holiday season and beyond.  The shoes I've worn before in this post, the earrings are old (seen here and here), the clutch was used several times such as here and here, and this bracelet?  This bracelet is utterly badass and beautiful and makes such a statement you don't need anything else.  It's so gorgeous and high quality and every time I wear it (seen here and here) people stop me to comment on it!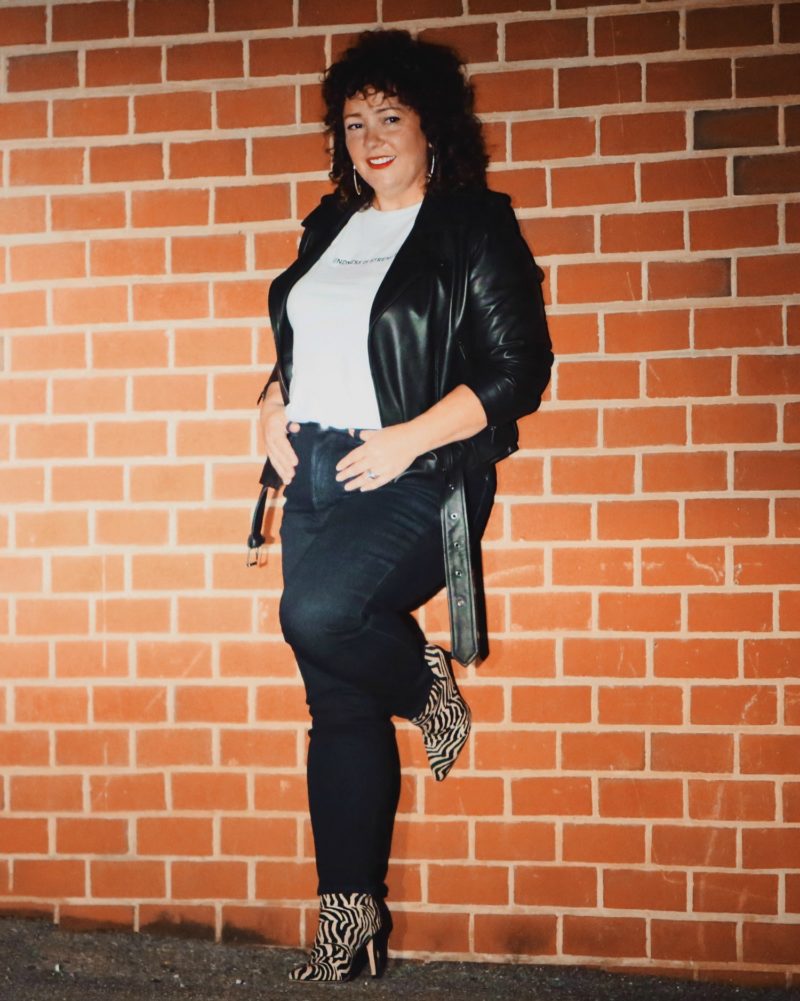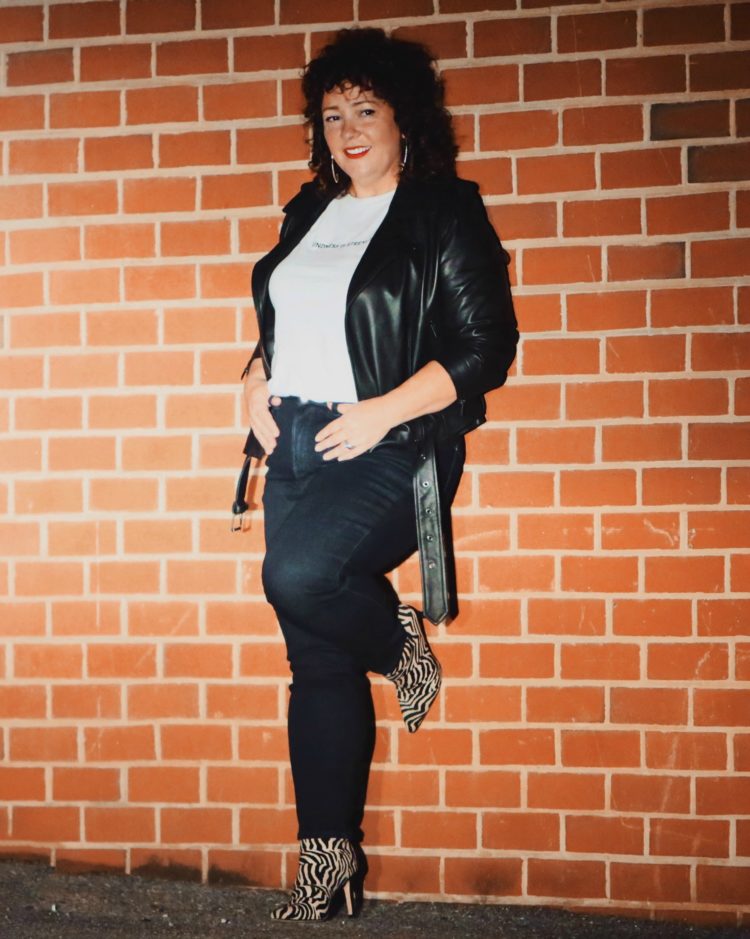 Jacket: Leeron Leather Moto Jacket c/o Universal Standard (XS) | T-Shirt: Christian Siriano for J.Jill Compassion Tee c/o J.Jill (L) | Jeans: Siene High Rise Jeans c/o Universal Standard (27″ length, size 10) | Shoes: MIA (on sale!) | Earrings: Sceptre Linea Lux Exclamation Earrings c/o REALM
I wore this outfit during the day with my La Canadienne boots, but switched to these booties (previously seen here) for this photoshoot.  We tried to get all creative on the brick wall at the back of the grocery store, with the car's headlights lighting it up.  I think maybe three photos turned out, the rest were terrible and deleted so it never became a post (though I shared it on Instagram here and here). But I liked this outfit, and wanted to share.  I previously reviewed the Universal Standard leather moto jacket and still adore it.  The t-shirt was seen before in this blog post.  And the earrings I wear pretty often, the most recent time was on Instagram.  This looks so retro, like I'm the cover of a Joan Jett album or something and I love it.  The shadows also make my hair look really full, LOL!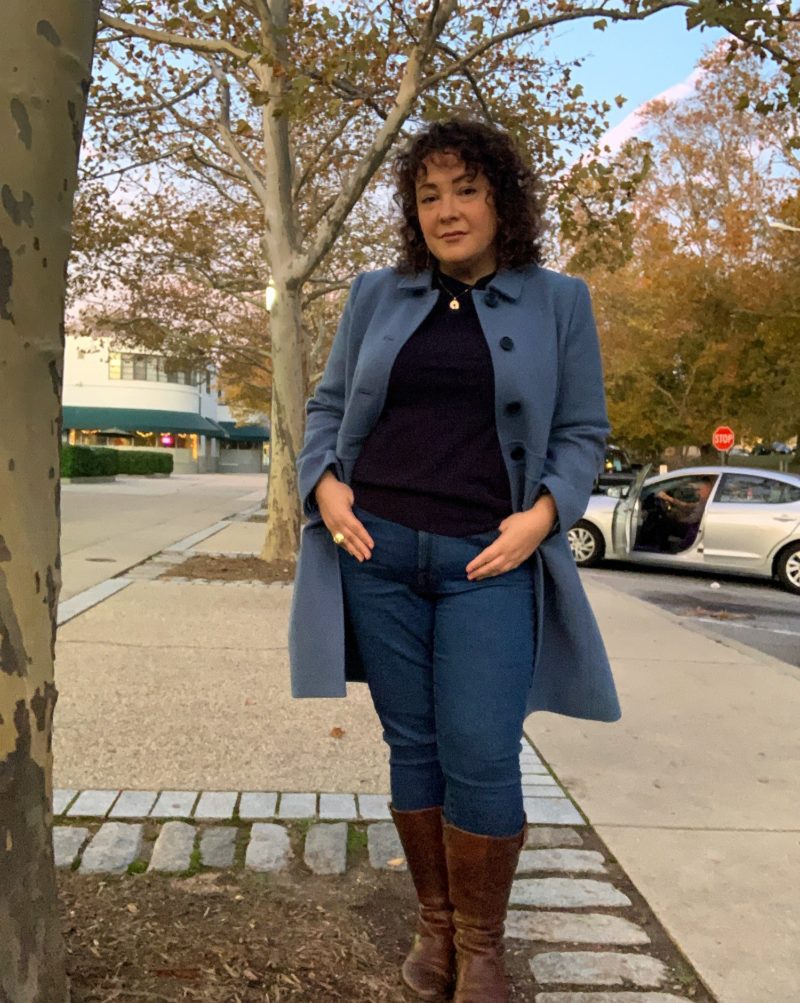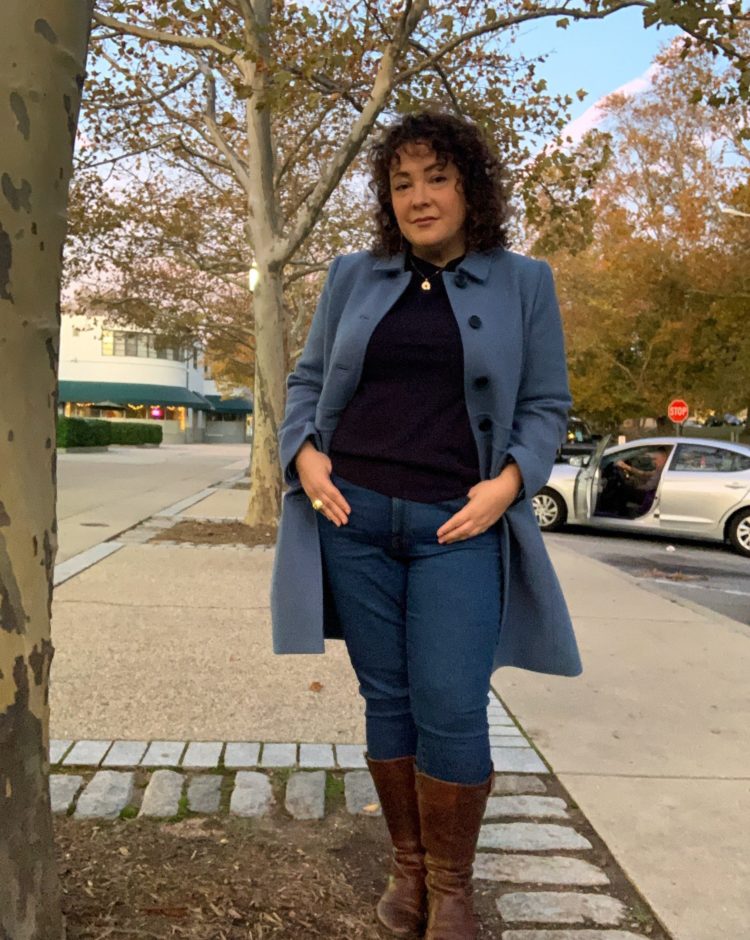 Coat: Italian Wool Lady Coat c/o Talbots (14P) | Sweater: Audrey Cashmere Sweater c/o Talbots (L) | Jeans: Authentic Stretch High Rise Skinny c/o Everlane (32 Short) | Necklace: Modernist Monogram Pendant c/o Jenny Bird | Ring: Empress Insignia Luxe Ring c/o REALM (available up to size 11) | Boots: c/o DUO Boots (old; similar)   
I'd like to thank my PopSocket, a recycling can, and my phone's self-timer for capturing this photo while my daughter was at karate. This is a pretty typical "mom" outfit for me – sweater, jeans, boots, and a couple of little accessories to add interest.  The coat was previously seen in this post, the sweater is from last year and seen in this post and this post.  The jeans are on constant rotation, and I've had these boots since 2014. The ring has become a signature piece for me, one I wear almost daily.  I don't have delicate slim fingers, a lot of trendy rings look ridiculous on me.  I love this one, it's classic yet bold and seems to go with everything.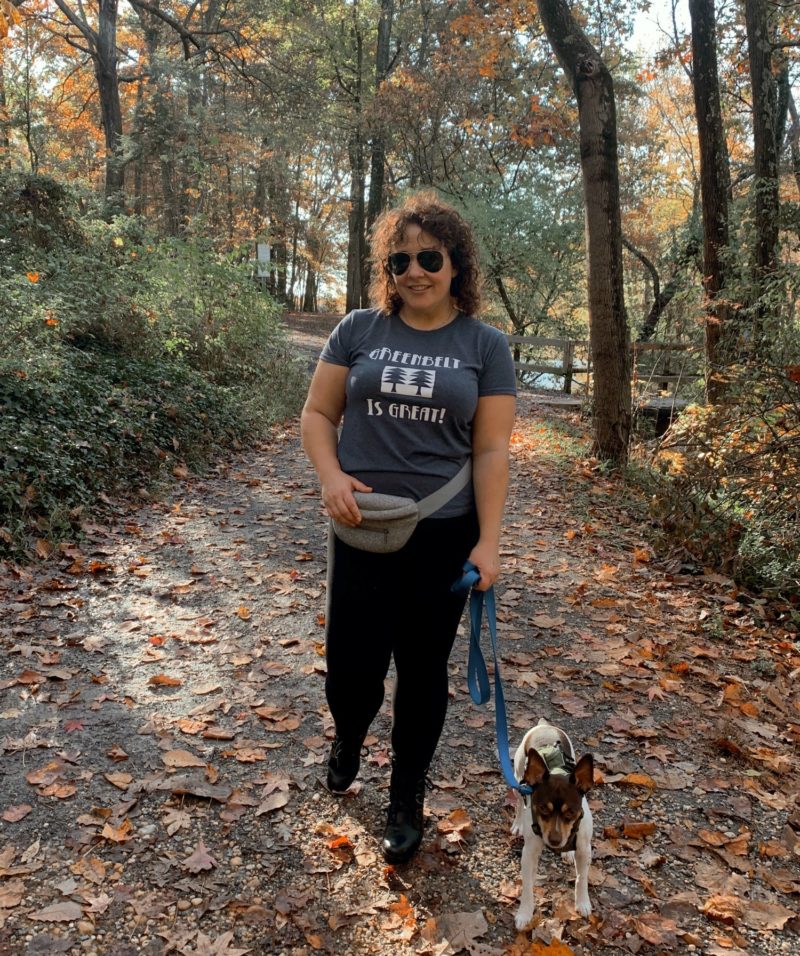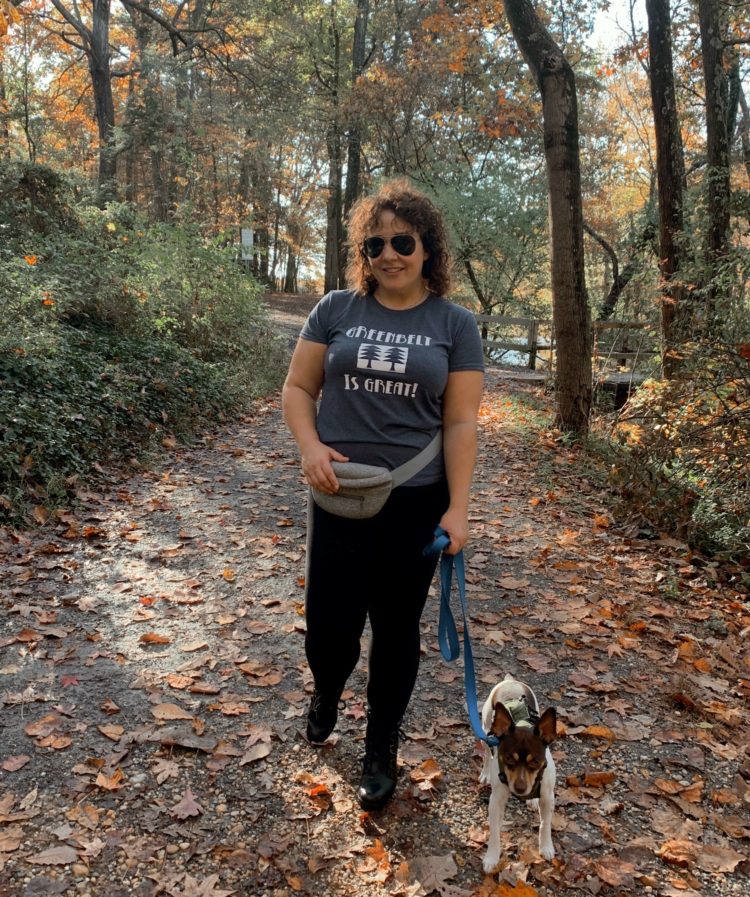 T-Shirt: Bought at a nursery school fundraiser (M) | Leggings: High Legging c/o cabi (M) | Boots: Sorel | Hip Bag: Ace Fanny Pack c/o Dagne Dover | Sunglasses: Ray-Ban
Some days I am glam, other days I'm pretty ordinary.  It was a warm fall day and we went for a walk around the lake in our city of Greenbelt.  I had recently gotten my new Sorel boots (previously seen in this blog post) and wanted to see how they held up with a long walk (about two miles in total).  I got one small blister on the back of one ankle but otherwise was comfy! A hip bag (I know those of you in the UK aren't too keen with the US term for these) is perfect for holding my phone, lip balm, small wallet (I use this card case as a wallet) and such.  Oscar's harness has a little pocket to hold his waste bags or else I'd also tuck them in the bag. This bag has been good to me, it was previously seen in this blog post.  I have washed it maybe three times now (gentle cycle in a lingerie bag, line dry) and it looks great.  It has a small interior pocket and exterior pocket on the back.  I only wish it came with a longer strap option. I like how high-rise these leggings are, no chance for muffin top or exposing my back or underwear when I bend down and they're thick enough that I don't feel exposed.  And the t-shirt, well I agree with it!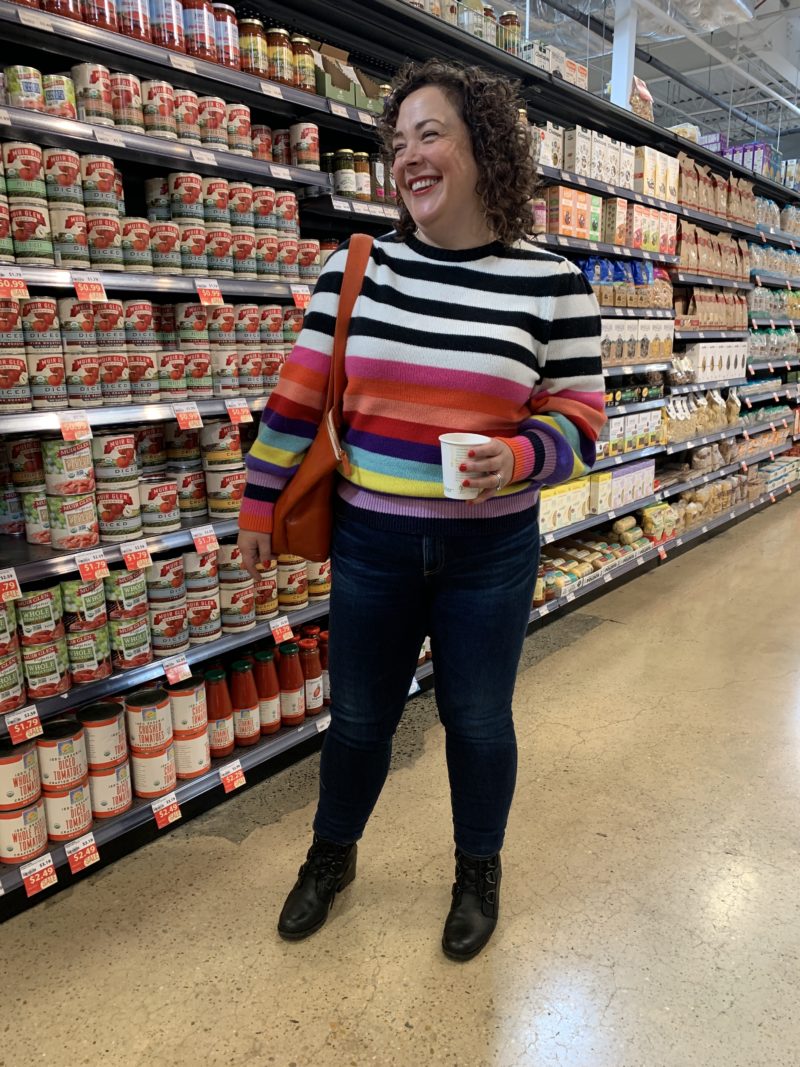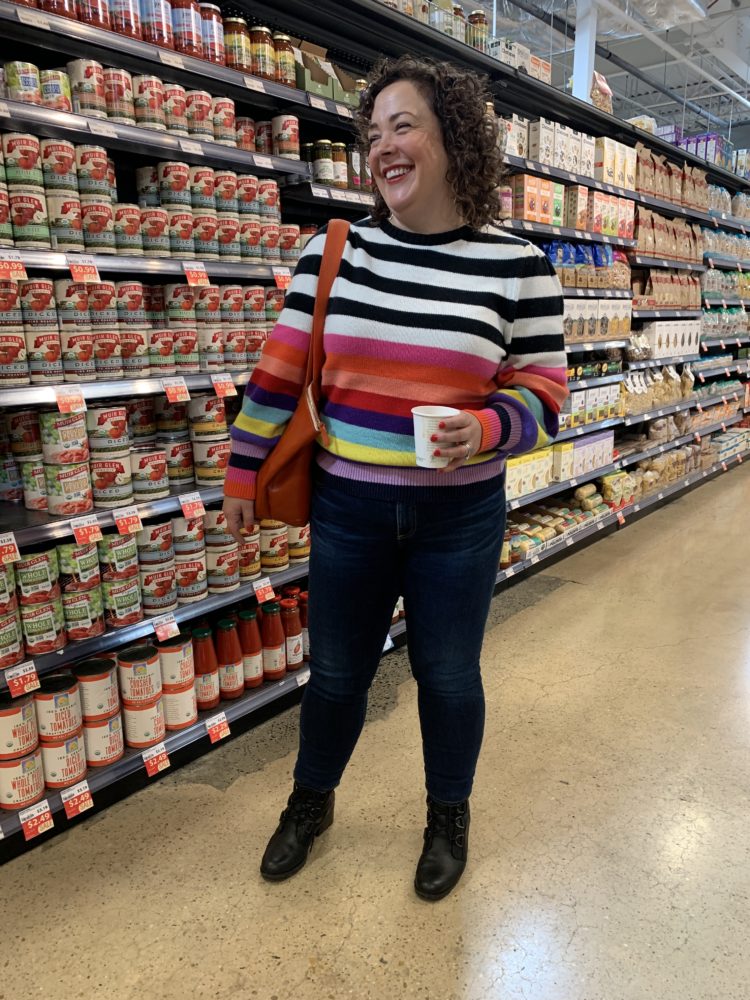 Sweater: Gap (XL) | Jeans: AG (32) | Boots: Sorel | Bag: Clare V. (same in different color)
Clearly I wore this grocery shopping!  I shared this sweater in this blog post; in fact, that post inspired me to buy this sweater.  It's thicker than their "Crazy Stripe" sweaters from seasons past.  Reviews said it ran small so I went with XL and am glad I did.  If smaller, I think it would be itchy and bulky looking. I paired it with jeans I've had for a while (previously seen in this post) and my new-ish Sorel boots.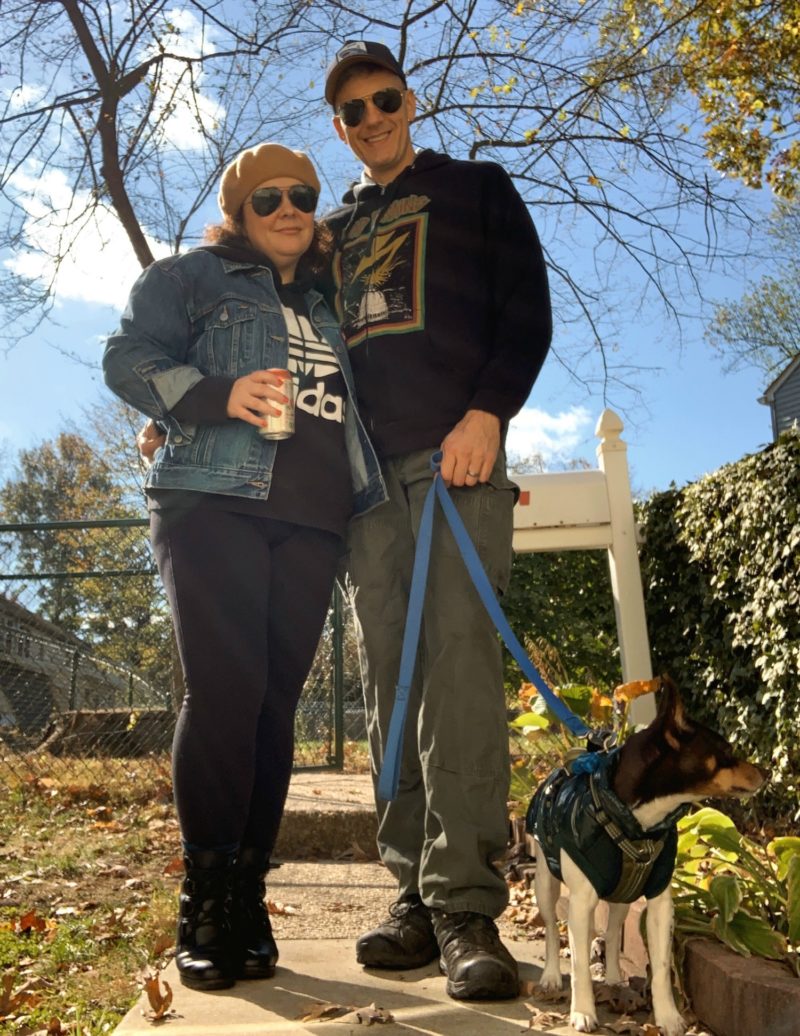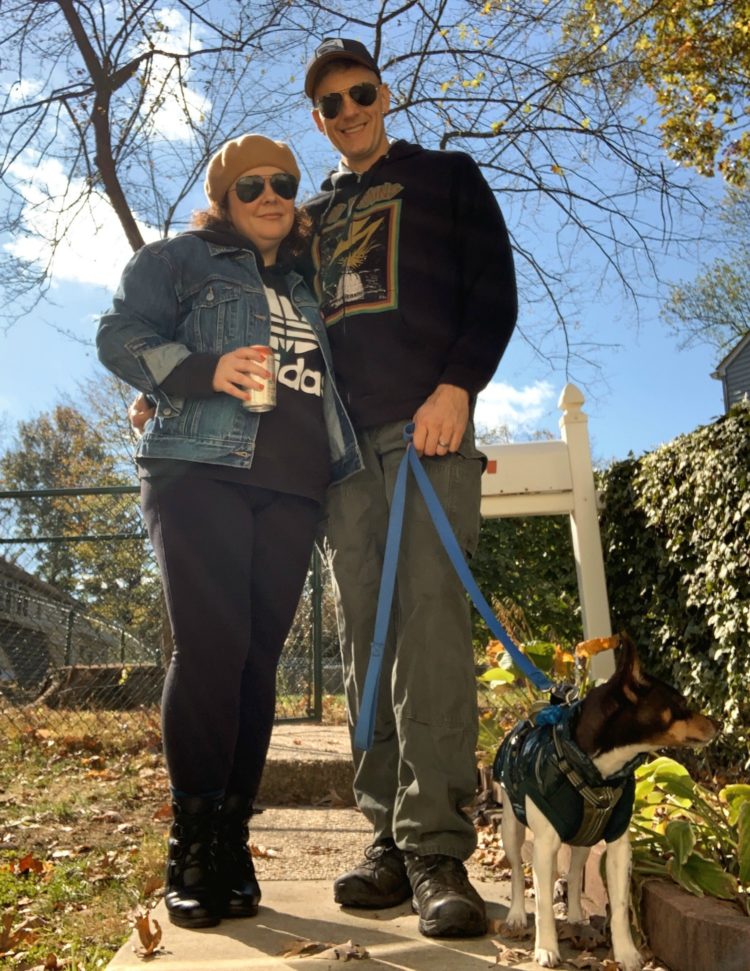 Jacket: Levi's (thrifted; similar) | Sweatshirt: Adidas (XL; this year's version) | Polartec Leggings: L.L. Bean (old; similar) | Boots: Sorel | Sunglasses: Ray-Ban | Beret: Halogen | Oscar's Jacket: Amazon
Getting suuuuper casual here!  We walked to our plots at the community garden where we did some gardening, then walked around the lake.  It was a bit chilly, but I knew I'd get warm with activity so I chose layers that I could tie around my waist if I so desired.  I'm sad L.L. Bean no longer makes these leggings, they are fantastic.  I bought them in… 2015 I think.  I wore them to the Women's March.  I wear them on super cold days as regular leggings.  My friend borrowed them for a trip to Iceland.   They have a good shape so they don't sag, they're thick enough to stay super warm without looking bulky, and the thickness prevents you from feeling exposed.  They have a little tie at the waist to keep them up and a nice high rise.  I hate when companies discontinue nearly perfect items; the reviews on their version for this year show that they are nowhere near as awesome.  The reviews make me think these from Athleta may be a decent alternative.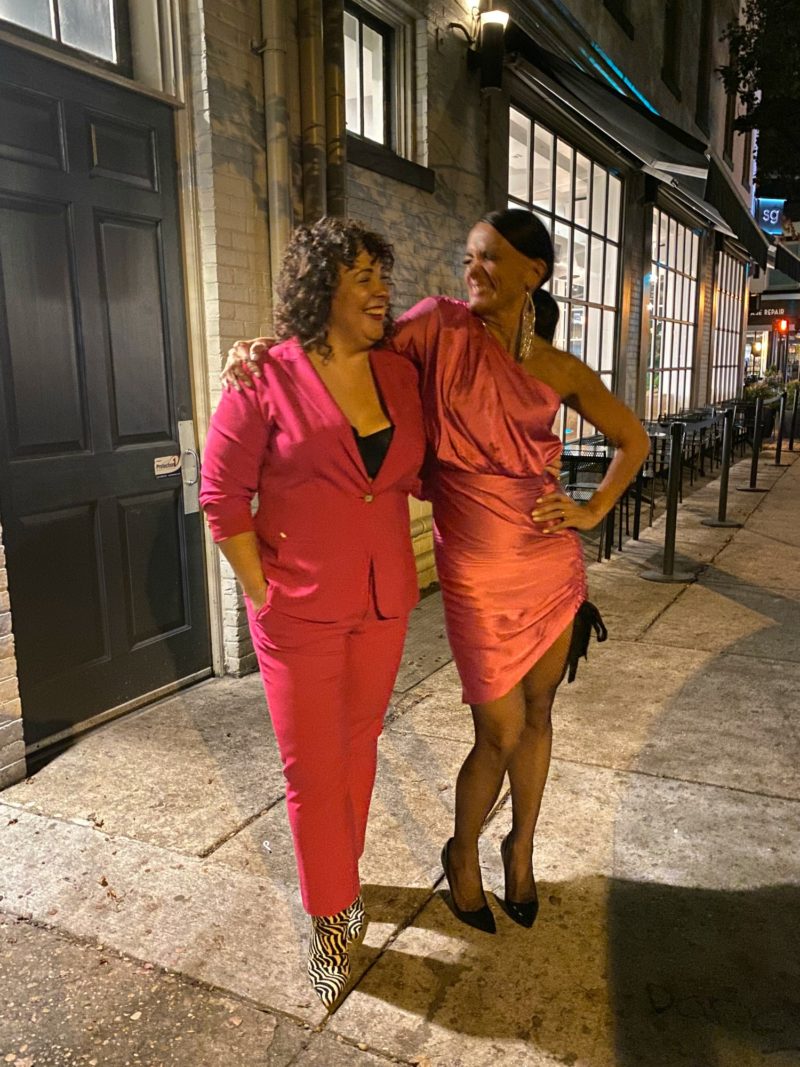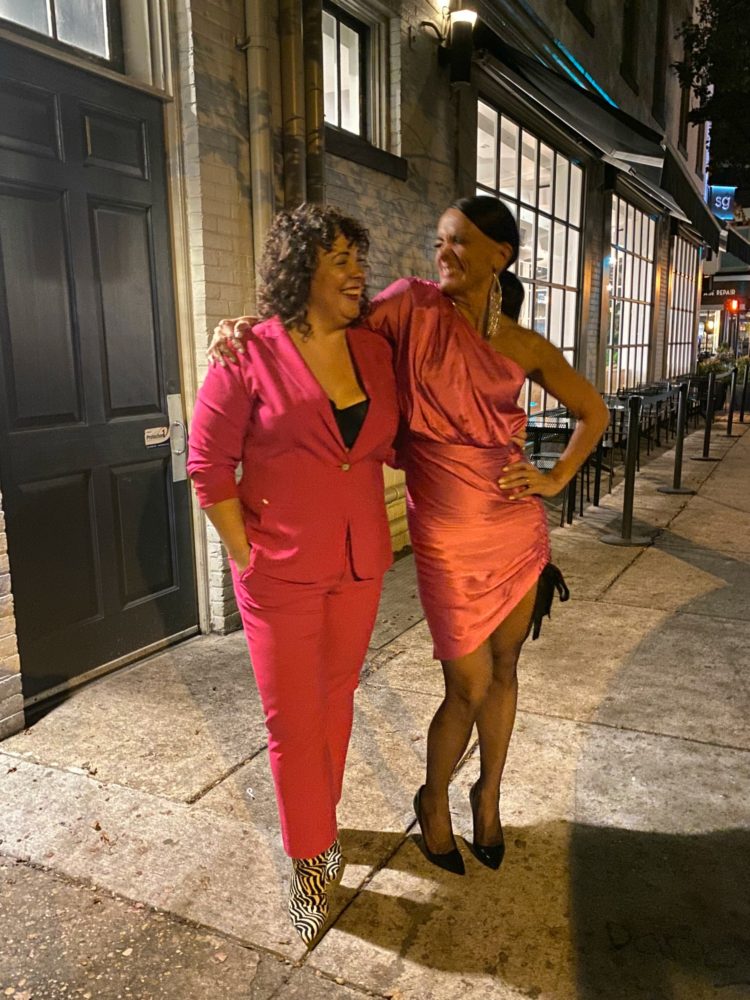 Blazer: Banana Republic (14P; similar) | Pants: Banana Republic (14P; similar) | Bra: Soma | Shoes: MIA 
My friend Dani from Blonde in the District was celebrating five years of her blog and brand with a pink-themed party.  I whipped out my beloved hot pink pantsuit from Banana Republic (previously seen here and here) and since it was a Friday night, I decided to go sans top and just rock my bra.  I thought the zebra-printed booties made a nice statement with the look!  I'm here with my friend Sylvia who also rocked the pink theme.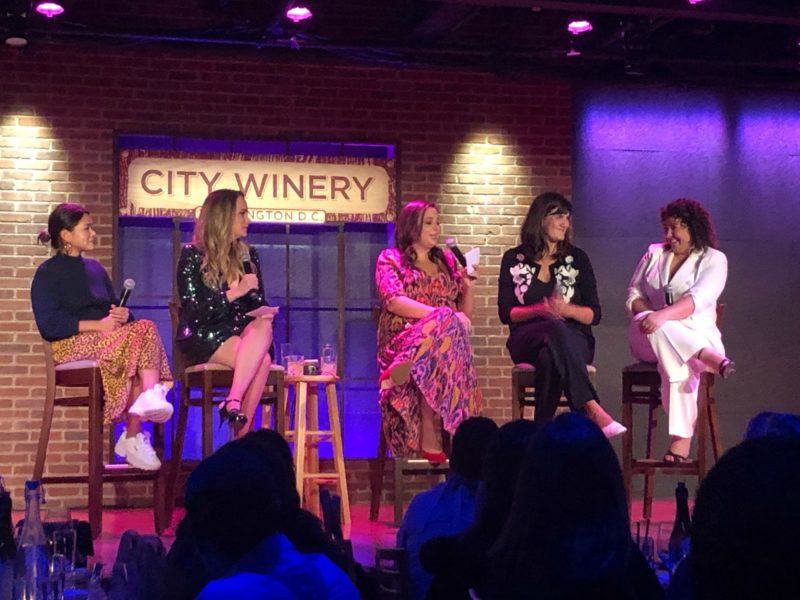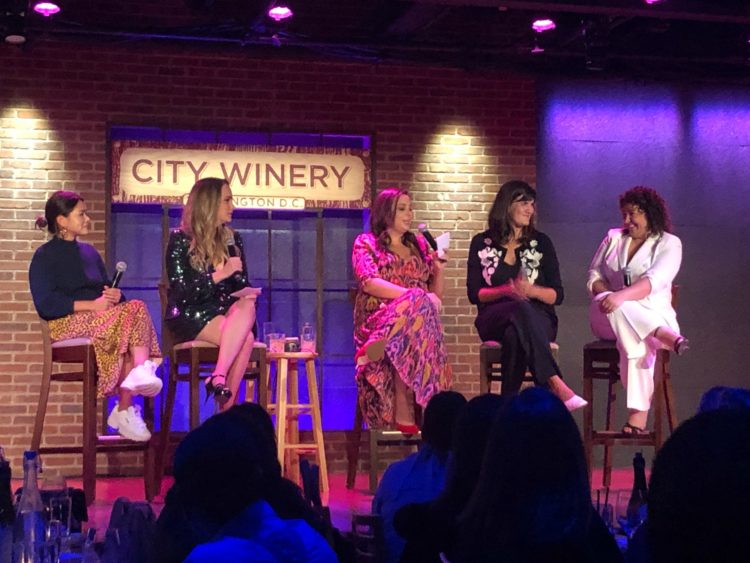 Blazer: Zara (XL; similar) | Pants: Zara (XL; similar) | Bra: Soma | Shoes: ASOS (old; similar)
I was invited by Grace and Becca of the podcast Bad on Paper to be a guest when their live show rolled into DC.  The event was at City Winery which is a bar, restaurant, and event venue.  I knew from Grace's shares on Instagram and her blog that she often wears a sparkly dress to these shows.  I didn't want to be sparkly (that's left for the hosts) but I wanted to look festive, a bit dressy, and make a good impression on an audience that very well may have never heard of me before but may end up liking me and wanting to follow me.  I decided on my trusty white pantsuit from Zara that I wore to the RebelleCon cocktail party and more recently to a blogger event at a fancy hotel. The way the jacket closes, you can't truly tell it's a bra and nothing else unless you really examine my boobs.  I liked the neckline it gave me and since the jacket is double-breasted and longer, it wouldn't gape and bunch when sitting.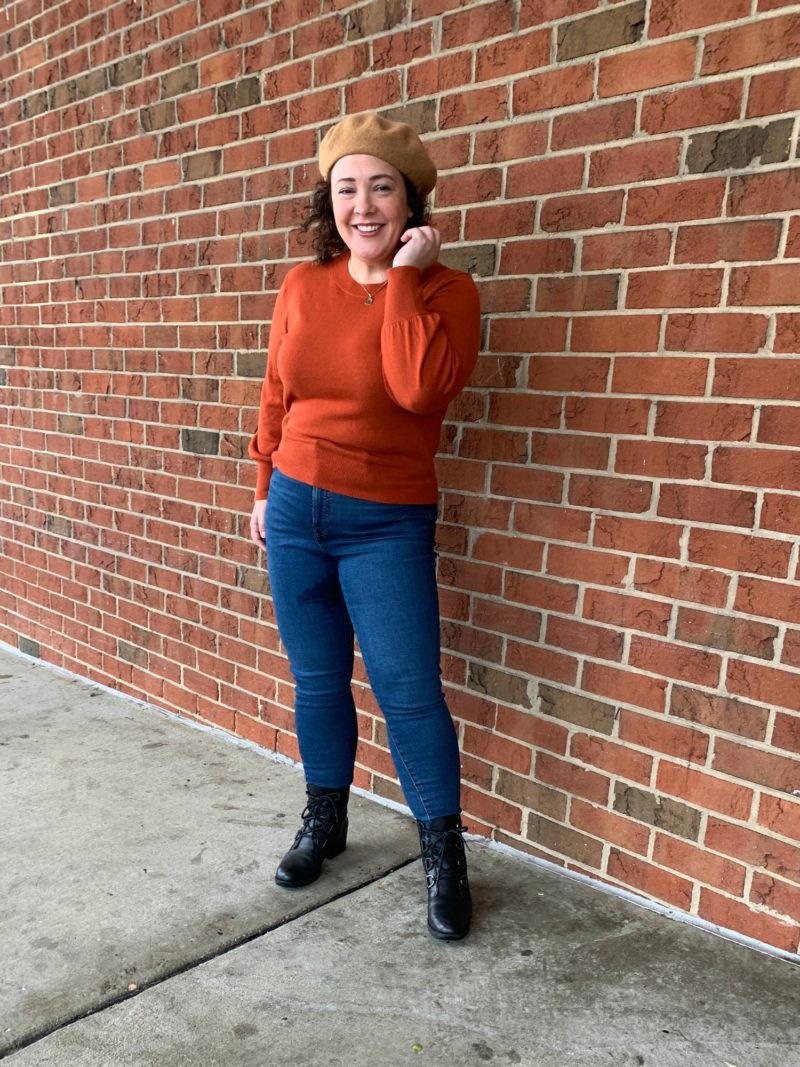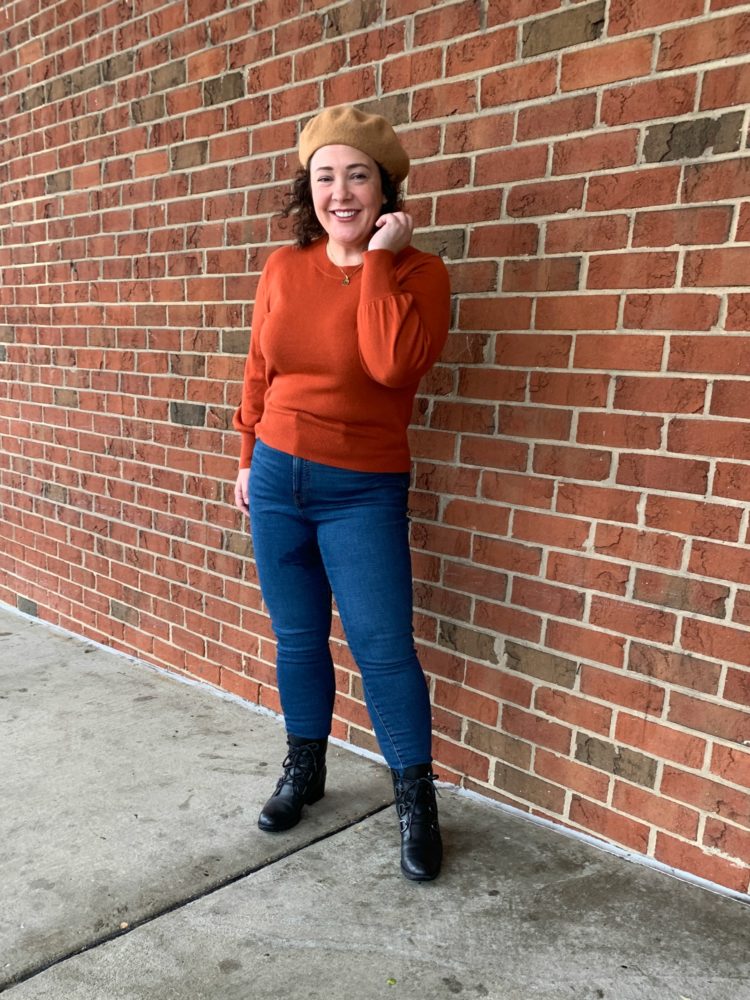 Sweater: Everlane (L) | Jeans: Authentic Stretch High Waist c/o Everlane (32 Short) | Beret: Halogen | Boots: Sorel | Necklace: Modernist Monogram Pendant c/o Jenny Bird
I wore this look on a weekend doing typical weekend things; in fact, this photo was taken outside Petsmart! I thought it would be fun to end this post with the same sweater I wore in the first photo!  In fact, every single item in this look was previously featured.  I truly believe you can have big style with a small closet, and I think this post of so many different looks reusing the same pieces or pulling items from past outfits proves it. It's just important to shop with intention – will that item work in three different ways?  Does it work with your body and your lifestyle? Do you really see a purpose for it?  The more thoughtfully you shop, the less you need but the more versatility you will achieve.
Shop the Looks: