This article may contain affiliate links; if you click on a shopping link and make a purchase I may receive a commission. As an Amazon Associate, I earn from qualifying purchases. 
The Weekend
Friday was exhausting – work was busy, so many personal things to attend to… got home and had to deal with Verizon AND activate the husband's new Blackberry (I own the account) with a tech who had no clue what she was doing. Had a seat on the couch and next thing I knew it was midnight and I hadn't eaten dinner or anything.
Saturday started with yoga at home, then ran a few errands, and then we shot a wedding. It was an outdoor event – ceremony and reception so I wore a steel gray jersey dress from Old Navy (will see again soon), silver jewelery and my nude heeled sandals from Callisto. Hair was wash and go with two clips due to the humidity; makeup was thin line of liquid liner, mascara and Clinique's Black Honey so I could sweat and run around and still look semi-polished.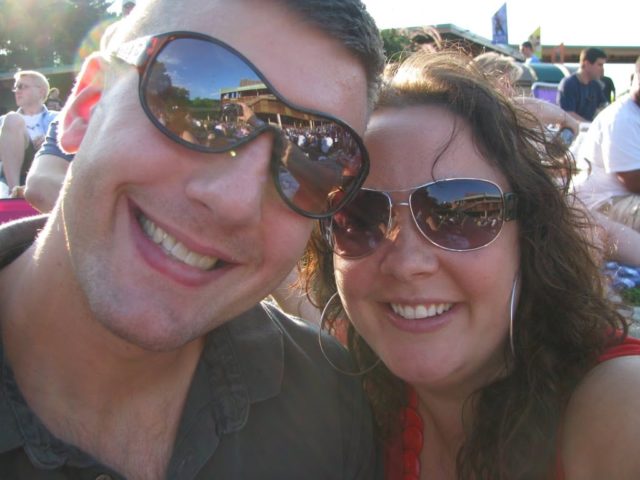 Sunday was also pretty busy. Started with breakfast out with family, then my husband had a photo shoot at a farmer's market. Did shopping there and then at the grocery. Headed home to clean and cook up some dishes for dinner that evening.
We then headed to Wolf Trap in Virginia for a concert – Black Crowes and Grace Potter & The Nocturnals.
We had a picnic dinner at Wolf Trap – my sister made chicken and corn bread, I made a Greek pasta salad and brownies, our friends made a couscous and veggie dish and cake, we had plenty of wine (and sparkling lemonade and water for me).
The concert was great – Grace Potter's set was too short to savor but the Black Crowes were phenomenal and Chris Robinson's voice was amazing. Grace Potter was signing autographs for over two hours after her set – we got to meet her (and take a pic with her where we both look like major goofballs). She loved my necklace and we chatted about good places to get jewelery and told me my husband was hot. 🙂
For the first half of Sunday I wore my black Bermudas from Old Navy Maternity (previously said they were Gap – incorrect), a black crew maternity tee from Gap, my Liberty scarf and black flops and an updo. Second half of the day, I wore my red dress from New York and Company with silver jewelry and black flops and air-dried hair.
Monday:
As I was switching a load of towels my husband tossed in the washer to the dryer, I saw a purple print cotton garment… the Kohl's top I was thinking of returning with the tag (now wet and shredded) still attached! I guess it got stuck in with the laundry… well I tossed it in the dryer and it came out pretty well – softer fabric and no grody smell. Guess I am keeping it! 🙁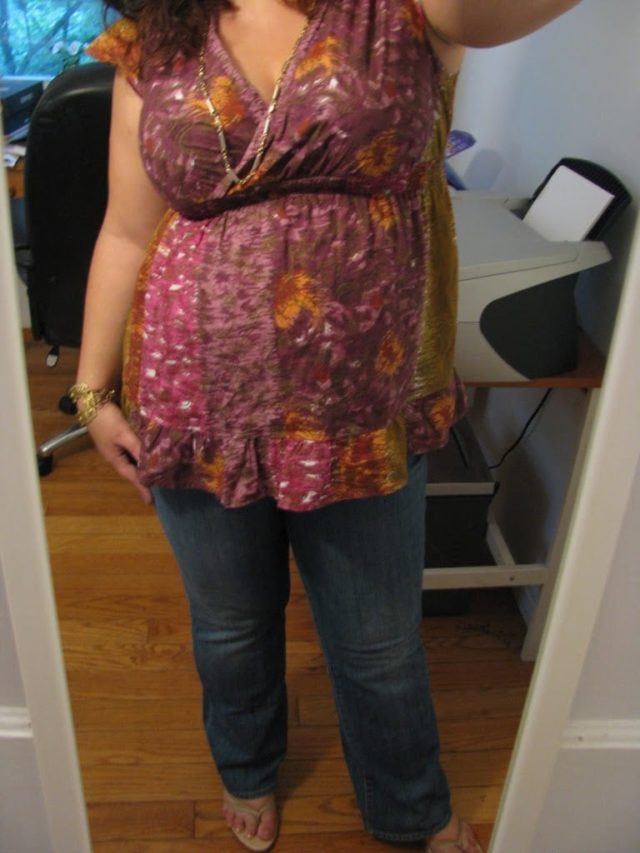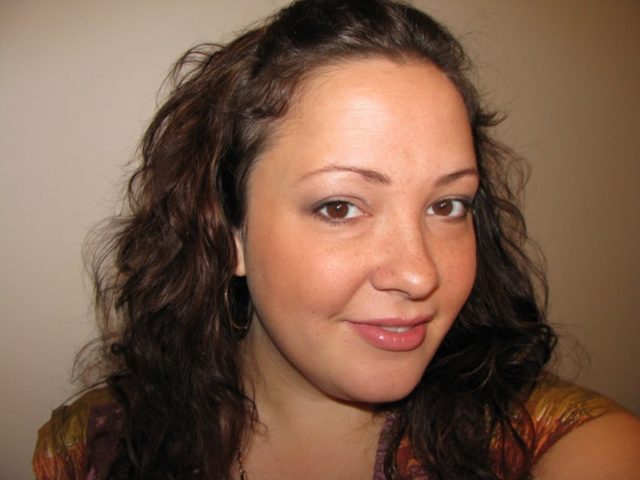 Attire:
Oh Baby for Motherhood/Kohl's – Cotton babydoll top
Gap Maternity – Bootcut jeans
Callisto – Nude heeled sandals
J. Crew – Gold Necklace
Twisted Silver – Gold Bracelet
Ann Taylor – Gold Hoops
Hair:
Air Dry
Pulled back with two barrettes.
Beauty:
Philosophy – The Supernatural Color Correctors in Light
Cargo – Matte BeachBlush in Tenerife
Maybelline – Shine Seduction in Blushed Bass, brow powder in Dark Brown
Body Shop – Eye Shimmers in Warmth
Imju Fiberwig
I didn't get to bed until 1:30am and woke at 5:30 to get my morning routine finished… however it didn't go quite as planned and I was running a little late. Jiffy hair and makeup… but I guess it's good because I am getting my hair cut tonight so it will be properly cleaned and styled then!