This article may contain affiliate links; if you click on a shopping link and make a purchase I may receive a commission. As an Amazon Associate, I earn from qualifying purchases. 
What do you feel is worth saving after weight loss? I have never used a tailor outside of formal dresses. I am in the midst of losing weight, but as I start dropping the pounds, I am curious as to if it is cheaper to tailor old clothes or just buy new ones.

-M




I am on a program of diet and exercise and have lost ten pounds. None of my pants or skirts fit (I have few dresses), and I don't want to buy new ones until I reach my target weight. Do you have a suggestions for how to look professional during this transitional period? Safety pins are not working very well!

Thanks!
In the past year or so I have removed over 30 pounds from this frame, so I can really relate to both of you! I personally found it frustrating to have my wardrobe stop fitting – I couldn't very well afford a brand new wardrobe, so it almost seemed to make sense to stop dieting to keep my pants from falling off.
Fear not, there are ways to extend your current wardrobe without sacrificing style or breaking the bank. Keep up the great work with caring for your body, and hopefully these tips will help you care for your style!
Find a Seamstress or Tailor
Alterations can be pretty costly, but so is a brand new wardrobe. A skilled tailor can alter most skirts and pants easily and for not a lot of dough. A little nip and tuck and simple cuts of pants and skirts will fit your shrinking figure for far less than a new garment. I have also had a tailor easily take in some of my shift and sheath style dresses to have them less baggy on my torso. With weightloss I found that while many pants and skirts still fit in the body, they were now far too long – even your local dry cleaner can do a pretty good job of hemming garments (be sure to bring proper shoes with you, try on the piece in the store so they can help find the right length).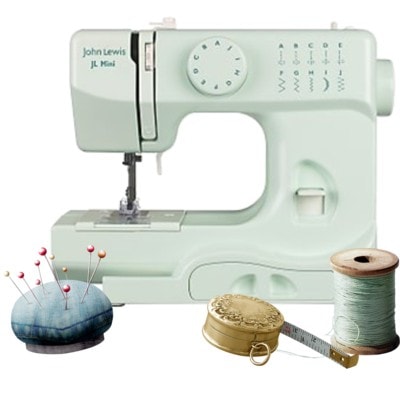 Some pieces can be pretty costly to alter – blazers and jackets, fitted pieces of delicate fabrics like chiffon, garments with decorative seaming. Also, many pieces will lose their shape and drape with extreme alterations. It is important to decide if the garment is worth it – can you find an equivalent that will cost around the same amount and fit better off the rack? If it's a one-of-a-kind garment or a Holy Grail piece, of course it is worth it. However if you didn't adore it in the first place or can find something similar at a reasonable price, it may make more sense to go shopping.
If you don't currently have a tailor or seamstress, I have found the best way to find one is word of mouth. If your town has a listserv, ask on there. Contact someone from your community theater company and ask who does their costumes. Ask a fashion blogger in your city. Also troll the bridal boards for your area – those who alter wedding dresses often also alter streetwear. Once you find someone, have them alter a piece that you won't cry over if it gets ruined. Test out the tailor, see the quality of work, how he fits you, how long it takes to get a piece back. If pleased, take in another piece or two.
Once you have a tailor or seamstress you trust and you have a good honest relationship, then you can better tell whether it's more cost-efficient to alter that which you own or purchase new. Along with this, having a tailor means you can purchase thrift or clearance items that aren't quite right, have them made to fit for a fraction of the regular retail price!
Belt It!
As recently as last week I used a belt to disguise the fact that a garment was too big. Since giving birth to Emerson I have had a wide black elasticized belt in my closet. I can cinch dresses at my smallest point for a retro look, can cinch blouses and cardigans to hide the fact that they are a bit too large, have even belted blazers to show off my slimmer waist and disguise the fact that it's a size too big.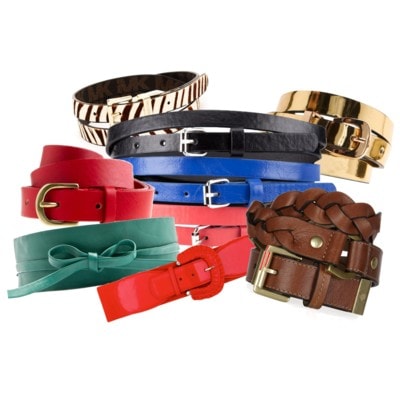 A wide belt can hide far more than a skinny one – it can gather fabric in the back in a flattering manner, hold up pants that are a hair too large, smooth a skirt waistband that buckles from being safety-pinned smaller. Such belts can be found at most any retailer and pricepoint. Since falling in love with one in black, I added purple, brown and even a tan rope-looking one to the collection and still use them on pieces that are just a bit too big.
Purchase Transition Pieces
Purchasing a few key transition pieces can make all the difference. A well-fitting jacket can make slightly big sheaths and shifts look tailored, a new pair of trousers can offset slouchy sweaters, a fitted crewneck sweater will make large pants look like they are menswear-inspired. The current trend is mixing boxy with fitted, slouchy with tailored so by purchasing one or two tailored pieces, you can make the too-big pieces seem purposeful. Check sale racks, stick to neutrals so they are more versatile and can be worn more often without people thinking, "Oh THAT sweater again?".
When I was losing weight, I bought clothing that was very simple, very classic, even boring. This way, I could jazz it up with accessories that would fit me now and 15 pounds from now. It may not be "fun" to purchase such basics, but they will be far more versatile now and in the near future, and you will get more miles of style without spending as much. I got far with a pair of black sale pants from Gap, a black 3/4 sleeve shift from Target, and a fitted black merino crewneck I had from my thinner days – if you look back at the two years after Emerson was born, you will see I wore such pieces over and over, but with different garments and accessories to always make them look new.
See the Glass Half Full
Your body is changing, and for the better! As with any change, there will always be some growing pains, and unfortunately this time the pain is in your closet. Stick with your healthy new lifestyle, and see new clothes as a prize when you cross the finish line (or at least hit milestones). While you may get sick of those same black pants or that same blue dress, it's not a savvy decision to blow your wardrobe budget now. Take baby steps – a transition piece here, an alteration there, and soon you will become familiar with your new body and know better what pieces are worth it to buy.
Follow Me | Twitter | Facebook