This article may contain affiliate links; if you click on a shopping link and make a purchase I may receive a commission. As an Amazon Associate, I earn from qualifying purchases. 
Hi Allie!

I really trust your styling advice, so I'm wondering what your opinion is of casual flat chocolate brown boots in a wardrobe void of brown. Can they be worn as black boots with a black skirt and sheer or opaque tights if no other brown appears in the outfit? Does the rule of brown belt with brown shoes still apply?
Thanks, Katie
In a word, yes.
I don't wear brown. I believe I own one brown piece in my entire wardrobe, and it's a v-neck merino sweater that each time I wear I wonder why I still own it. I just don't like me in brown… but I love brown leather accessories and that includes boots.
Brown boots are a fantastic neutral that can work with any color in your wardrobe. I have a pair of light brown boots that I have worn with a black dress and black opaque tights, have worn come spring with a navy dress and brown belt, have worn with a black turtleneck sweater and skinny dark jeans tucked into the boots. The key is to know that if there isn't any other brown in your ensemble, that the brown ends up being an accent color – don't pretend it's something that it is not.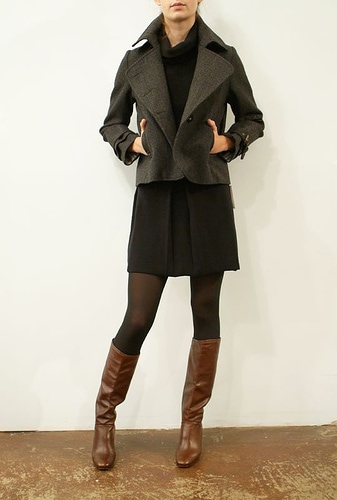 Brown boots with black and gray
I find that when you are adding brown boots to a non-brown wardrobe, it's good in winter to stick to pretty monochromatic ensembles – if you wear a black sweater, red skirt, gray tights and brown boots you will look a mess; however if you choose a gray sweater, charcoal skirt and tights with the brown boots, the ensemble looks cohesive and purposeful. Come warmer weather when tights aren't needed, brown boots look fantastic with vintage-inspired florals and prints, as well as monochromatic ensembles.
As for your belt matching your boots, it's not necessary but it's important to have a good eye for detail – this isn't a black and white situation. While a weathered black belt over a black dress with brown boots may work, a black patent belt probably would not. When I wear brown boots I usually wear a brown belt (even if it's not the same shade, though I try to have a similar texture/weight of leather), or a belt with a color (usually muted and/or weathered to balance the look of the boots).
Hi! I have a shoe dilemma. I'm a college student, my campus is pretty hill and I walk everywhere. Whenever I wear heels, even though they feel pretty sturdy, my feet end up hurting ten minutes into my journey (especially on the ball and arch of my foot). I bought insoles, but it doesn't negate the pain. I was thinking about taking the shoes to a cobbler and seeing if the heels could be shortened. You seem to wear heels a lot, what do you do to make them more comfortable?

While we're on the subject, I also wondered if you had any tips for walking more quietly in heels. I always feel self conscious when my heels make noise in hallways or on the pavement, which may just be psychological, because I'm probably not all that loud.
-Jess
I remember being a student at the University of Maryland, trekking from my off-campus sorority house to the Math building to the English building and then back to the house. I figured I clocked two miles a day just getting to two classes each Tuesday and Thursday. And though I was far more casual in my attire as an undergrad, I still liked to look nice each day, and that often meant wearing heels.
Truly walkable heels are a rarity – many I wear I claim to be comfortable, but few would get me through a day on a college campus. Here's some suggestions on how to realistically wear heels when you have to do a lot of serious walking:
1. Do your homework. While it is possible to find a pair of amazingly comfortable and supportive shoes at DSW (or Last Call Neiman Marcus as I did with my Miss Sixty booties), you often need to research brands and find retailers who sell them at brick and mortar shops so you can really find a brand that works for you and your feet.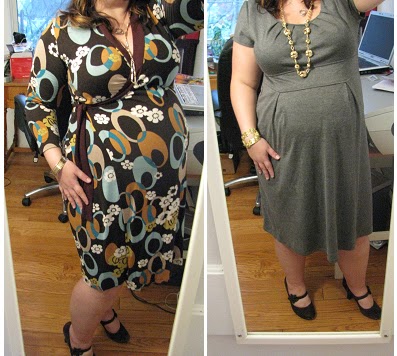 Me in my Sofft heels when pregnant
When I was pregnant, my feel became extremely sensitive – while I could walk in 4" stilettos a few months prior, by the end of second trimester I could hardly deal with a 2" wedge. I did some homework about comfortable yet stylish shoe brands and started hitting the mall. And I fell in love with Sofft. Sofft shoes had style I desired, but tons of cushioning, a heel height I could deal with, and that heel was strategically placed to not have hotspots of pain (often the ball and arch in heels). The very specific design of the shoes meant my swollen tootsies could still look cute but be comfy all day long, even with a walk to the office and back. It's worth it to find the brand that works best for your feet, and your personal style.
2. Have Attention to Detail. Where is the heel placed, on the very back of the shoe or more in the center of the heel? This detail can determine whether your feet are screaming in pain in an hour or happy campers all day. How wide is the top/base of the heel? Again this affects the comfort – a wider base helps distribute the weight better. How stiff is the sole? A softer (especially rubber) flexible sole will be kinder to feet. You also will want to look for arch support – if your arches aren't supported you'll have pain in that part of your foot as well as other locations.
3. Add support. There are different types of insoles out there, and you don't need to spend an arm and a leg to get proper comfort. The Dr. Scholl's 16-Hour Insoles can add a nice layer of cushioning to shoes that already have good arch support and I have found they really make a difference. I can even fit them into sleek pumps without an issue. KIWI makes a great insole specifically for women's boots – I replace the insoles in my boots every fall with a new pair of these – they are more solid of a shape with great arch support and heel cushioning.
4. Quality, not Quantity. A great pair of comfortable heels is rarely cheap. Expect to pay more for true comfort and support. Go for more classic styles that will be stylish for many years; keep them looking great by reheeling and resoling when needed, replacing the insoles, and polishing them. It's easy to have a great pair of heels be part of your wardrobe for a decade or longer if well maintained.
Also, once you know what brand you love, you can often find them cheaper online. Sites like 6pm often have amazing prices on quality shoe brands, and I have known to find brand new shoes on eBay for a fraction of the retail price.
As for cutting the heels of your current shoes, you will want to find a reputable cobbler who will be honest with you (check sites like Consumers' Checkbook and Yelp for suggestions). While heels can be cut, they can sometimes affect the structure and shape of the shoe, creating additional discomfort. However, I have a neighbor who does this regularly – taking an inch off shoes she loves to make them more wearable all day (she is a school teacher).
In addition, for walking quietly in heels, I find it is best to take smaller steps and be very conscious of the heel-toe movement. When you walk quickly and with large steps, you end up making more noise. When walking downstairs, put the ball of your foot down first, having the weight there which will prevent the sound of heels. You can also take the shoe to a cobbler and he can put rubber on the bottom of the heels to mute the sound.
A feature of today's shoe looks I think is rather dreadful (unless worn by skinny long-legged women are the shoes and boots that come up to just below/at ankle and form a strong horizontal line across the leg. Legs are shortened and widened….I don't get it. Thoughts?

Charlotte
I didn't get this look for a very long time. Who would want to wear shoes that cut off the leg at one of the slimmest points? And then I bought a pair.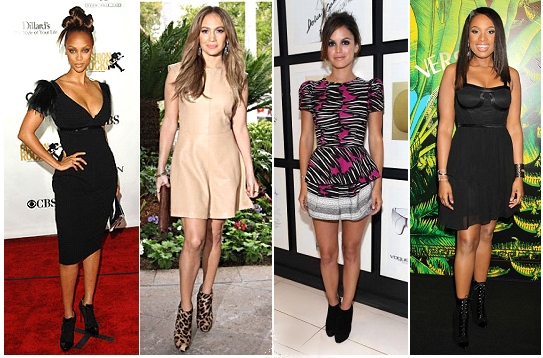 Ankle booties worn by Tyra Banks, Jennifer Lopez, Rachel Bilson, and Jennifer Hudson
You're right, they are NOT flattering. But there are many other trends that honestly are not too flattering (boxy shift dresses, very short skirts, jeggings on 90% of the population, boatnecks on 75% of the population, fur vests on many figures, I could go on and on…). The reason the bootie has gained popularity is because it is an easily-accessible trend that quickly makes a simple outfit look fashionable.
The thing is, there are ways to make this trend work, and few people look for these details before buying booties.
1. Balance the bulk with a high thin heel. While your front view will still look the same in an ankle bootie, your side view will look far more balanced by counteracting the severe cut of the boot with a delicate heel.
2. Have a detail to distract the eye. A peeptoe, cross straps, studs, cut-outs – have something to keep your foot from looking like a horse's hoof.
3. Wear matching legwear. Whether it's a pair of jeggings or opaque tights, if you have your leg the same color as the bootie, you won't look cut off at the ankles.
4. Accept your body. Not everyone can wear every trend, and one is never stylish if she blindly follows fashion without giving a thought to her figure and lifestyle. If you desperately want a pair of booties, consider instead a caged heel, one that dips down in front, or one that ends below or higher above the ankle bone to allow the curve of the ankle to be visible.
Hey Allie,
I'm about to start interviewing for a new job, so I went out and got a suit. I do have an appropriate pair of black pumps to wear with it, but I know me…I can't wear heals all the time. What kind of flats would you recommend for suits? Thanks for your help!
While pumps will help you stand taller and look polished, they aren't always the most comfortable. Luckily there are a ton of styles of flats and near-flats that look professional and quite lovely with suits. What I have found to make the difference between a casual or fun flat and a corporate one is the addition of detail at the vamp. The addition of a buckle, bow, or even a pointed toe makes it go from ballet flat to a full-fledged shoe. This also gives the shoe some weight to look appropriate peeking out from a trouser hem. Here's some styles under $100 I think would be great for a suit: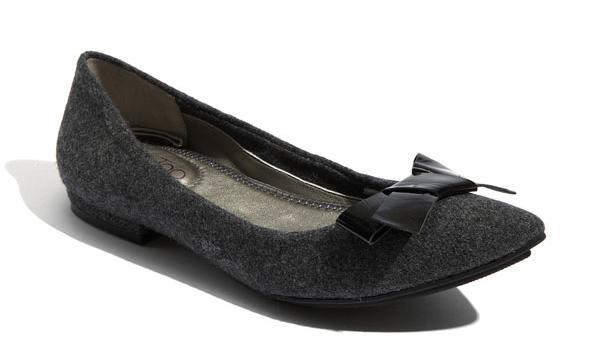 Follow Me | Twitter | Facebook