This article may contain affiliate links; if you click on a shopping link and make a purchase I may receive a commission. As an Amazon Associate, I earn from qualifying purchases. 
There were so many folks in emails, Instagram DMs, and especially in the Wardrobe Oxygen community on Facebook who were curious about Short Story Box, a subscription service dedicated to petite women 5'4″ and under, I asked if a member of the community who tried it would write a Short Story Box review for the rest of us to know more about this new service. Mary Moore, a reader of Wardrobe Oxygen is a paying customer of Short Story and offered to share her honest thoughts with us.
Short Story Box Review
Did you know that half of the women in the United States are under 5'4″ tall? Yep, half of us are petite yet you wouldn't know it by shopping the mall or your favorite online retailer. With most brands offering inseams of 31″ to 32″ in length and rarely offering petite cuts, you would think we were a country of leggy ladies (or women who have a passion for platform heels).
But needing petite fashion goes beyond the inseam of a pair of trousers. We shorter folk need shorter rises in our trousers, shorter torsos in our blazers, blouses, and dresses, and even narrower shoulders. Short lengths don't cut it; petite women need a completely different fit model for their fashion.
On top of that, while there are many retailers these days that carry petite fashion, there are few that offer petite fashion over a size 10. I was intrigued that Short Story currently offers sizes 00P-20P and is in the works of extending that size range further. Mary is a size 16/XL and below shares her experience with what she received in her size from Short Story.
Short Story Box Pros
Short Story is a personal styling service for petite women 5'4″ or under. Think clothing subscription programs like Stitch Fix, Short Story has you complete a style quiz and with that and your feedback, the style experts will curate a box of apparel that you receive a box on a schedule that fits your needs.
This is awesome as it is hard to find stylish petite apparel. Many retailer do not carry petite fashion, or think that "short" options will suffice. Short Story Box curates a selection of petite-cut apparel in sizes 00p-20P.
Short Story Box Cons
I have shared before my frustrations with subscription box programs for apparel. I know not every program is problematic, but I am skeptical of any subscription program like this. While I know Short Story Box says they are looking to extend their size range, I really wish that they already offered more than just sizes 00-20 petite.
How Short Story Box Works
I'll break down below how Short Story Box works so you can determine if this subscription box program is a good idea for you prior to reading Mary's personal experience below.
How Selections for Your Short Story Box are Made
Once you complete the style quiz, Short Story will match you with one of its stylists who will handpick pieces that fit your taste, needs, and budget—and mail your picks to your door. Each box contains a curated selection of 5-6 pieces of clothing and accessories for you to try on at home.
How long do you have to try your Short Story Box?
You have 5 days from the date of delivery to decide what to keep. Then, checkout online and mail back anything you want to return. You will only be charged for what you keep. Shipping and returns are always free.
How Much Does Short Story Cost?
Each Short Story subscription box costs $25 and is charged when your stylist curates your box of clothing items. After you receive your box with the items that the stylist pick for you, you only pay for pieces you decide to keep, and that $25 styling fee is credited towards anything you keep from that box. That means if you buy a $100 garment, you will only pay $75 additional.
The styling fee can only be applied to purchases from your current order. It cannot be rolled over to your next curation and is non-refundable. This means if you do not keep anything from your Short Story box, you will still pay the $25 styling fee.
The pieces Short Story offers in the curated boxes in the price range from $35 to over $150. When you fill out your style quiz, you share with Short Story your budget so your stylist will send you items based on that range.
Can You Customize a Short Story Subscription?
Just as with other subscription programs, the default delivery schedule for Short Story is monthly. However, Short Story lets you customize your delivery schedule so you can get boxes more or less often. Also like other subscription boxes, you have the ability to communicate with your stylist, providing feedback, requesting specific items, etc.
How Do You Cancel a Short Story Subscription?
Unlike some subscription programs that require you to jump through hoops to pause or cancel the service, Short Story keeps it relatively simple. To cancel, log into your profile and go to the Settings tab in the top right corner. Then click stop receiving automatic shipments and select "Let me schedule my own boxes". This means you won't receive another Short Story subscription box until you request one.
Short Story Box Brands
Short Story has petite tops, pants, pairs of jeans, jackets, dresses, jumpsuits, and accessories in a variety of styles and price points. You will find clothing brands like:
Joe's Jeans
Vince Camuto
Vero Moda
Amour Vert
Good American
Liverpool
Short Story's in-house brand Petite Principle.
Short Story Box vs. Stitch Fix
I think most think of Stitch Fix when thinking of a clothing subscription box, and I know many of you have tried this service over the years to mixed results. Some of you love Stitch Fix, some of you have been underwhelmed. Since my Stitch Fix review, Stitch Fix has increased their selection and size range. Stitch Fix carries petites in sizes 0-16P and you can complete your style guide to reflect your needs for petite apparel. Short Story Box has a more extensive petite size range.
Short Story Box says they have clothing that goes up to $150+ in price; Stitch Fix states they offer apparel up to $500+. If you are looking to stay on budget, Short Story Box may be a better choice for you. If you are looking for more elevated apparel, Stitch Fix may have the options you desire.
Stitch Fix charges $20 for their styling fee, Short Story Box charges $25. Both companies use that styling fee towards the cost of what you choose to keep, and both charge you the styling fee if you do not keep anything in your delivery. Stitch Fix offers a discount on your order if you keep everything sent to you; Short Story does not.
The biggest difference I think that matters to those considering Short Story Box is that the company's stylists are focused on petite customers and only petite customers. Stitch Fix offers fashion for women, men, children, and those who are pregnant. With Short Story Box being so specific, I can only imagine petite individuals will have a better chance finding clothing that actually fits their body and their tastes and finding a favorite item (or more) for their wardrobes.
---
Before I pass the baton on to Mary, I want you to know that Mary has been paid a fair rate by me in thanks for this Short Story Subscription Box review, but she paid for the subscription herself. Short Story is not aware of this review at the time of publishing as I wanted this to remain honest and unbiased.
Embracing Change with a Short Story Subscription: A Confidence-Boosting Wardrobe Experience by Mary Moore
From virtual work and time alone to reflect on what truly matters, the past few years have been a whirlwind that was challenging and transformational. Now I find myself embarking on a new journey, including a move to a new part of my state and leaving a great career at a community college. This also means a new job search. As a 61-year-old with a newly-embraced grey hair and a pandemic pudge, I really needed a wardrobe makeover that would boost my confidence during interviews and reflect my style.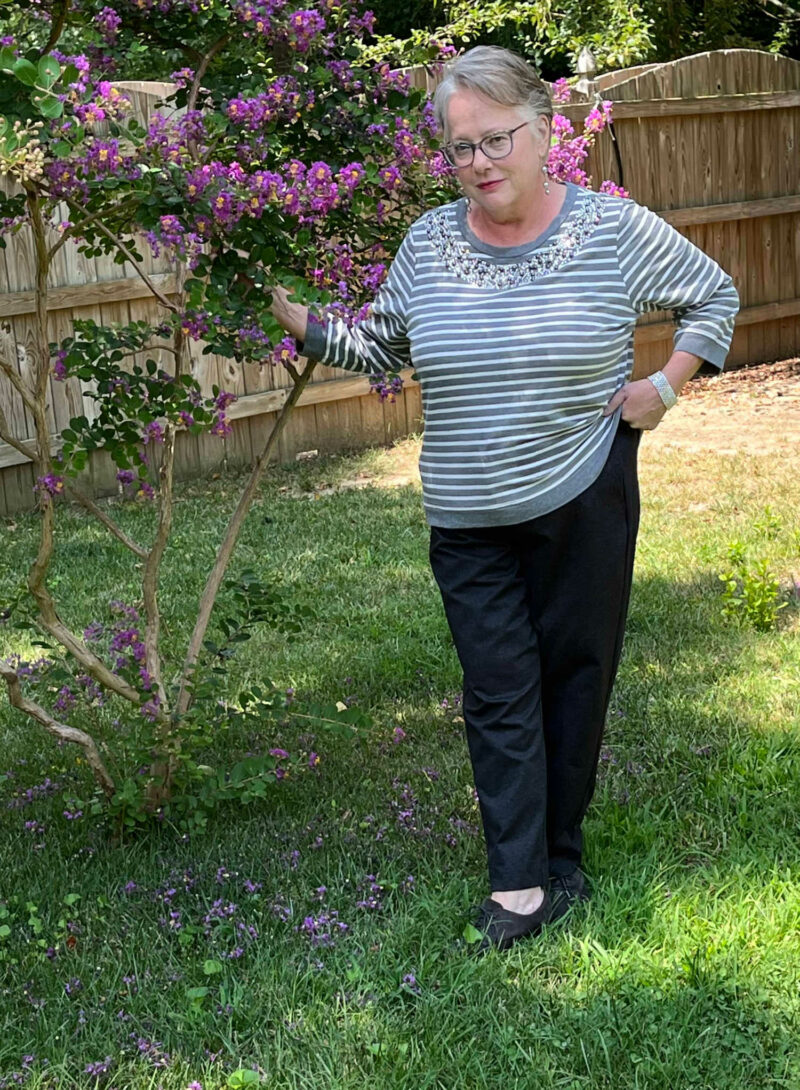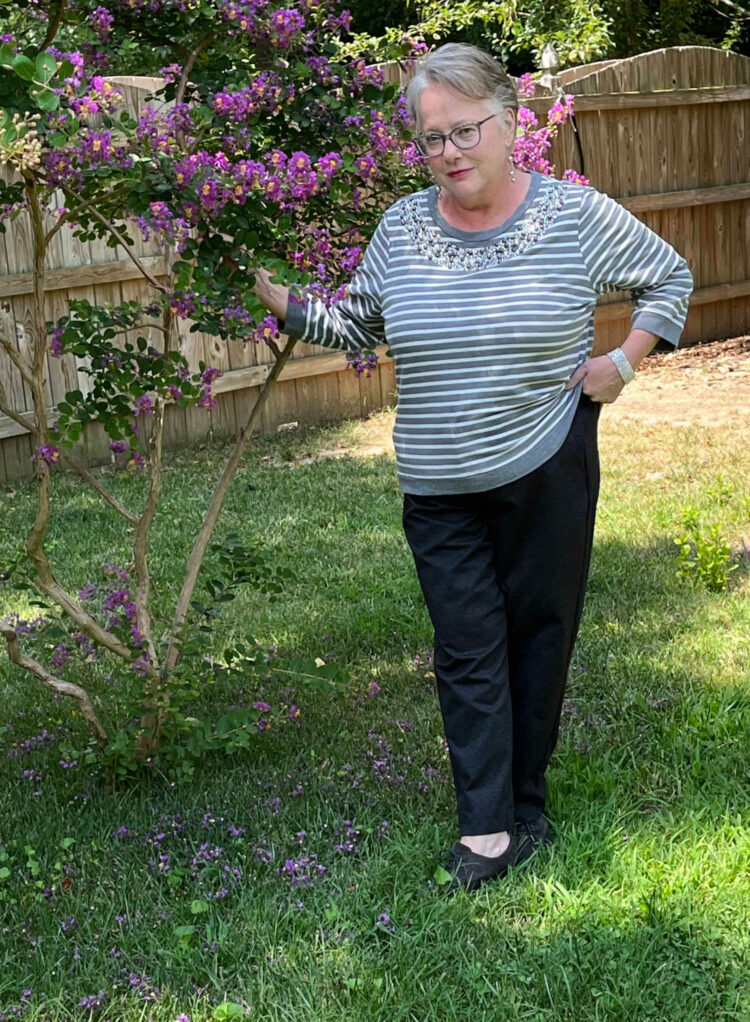 On the Hunt for Petite Fashion Beyond a Size 10
I was particularly anxious about finding comfortable, cute and well-fitting petite sized items in 16, or XLP, that were versatile and would fit in an education or business environment. My work requires me to wear a lot of hats: meeting with students, interdepartmental team projects, and meeting with employers and local government officials. Sometimes I am doing all three in the same work day.
Petite clothes have always been a bit of a challenge to find. When I find something I like it's rarely available in my size. If I can find it in my size, petite fashion is either frumpy or super dressy, neither which fit my style or lifestyle. I like to pair classics with casual and highlight my own jewelry work in silversmithing and bead weaving crafts. My go to brands are Coldwater Creek, Chicos, and Universal Standard, but sometimes the vibe is too casual or too dressy for my needs.
I was on a mission after applying for several job positions and spent two weekends on a hunt at local malls with very little success. I found either the size or style selection was limited. Falling back on ordering online, I had great difficulty finding petite 16 or XLP jackets and pants even from from Macy's, Belk, and JCPenney. I was disappointed and nervous that I wouldn't find the right items to help me feel confident in interviews.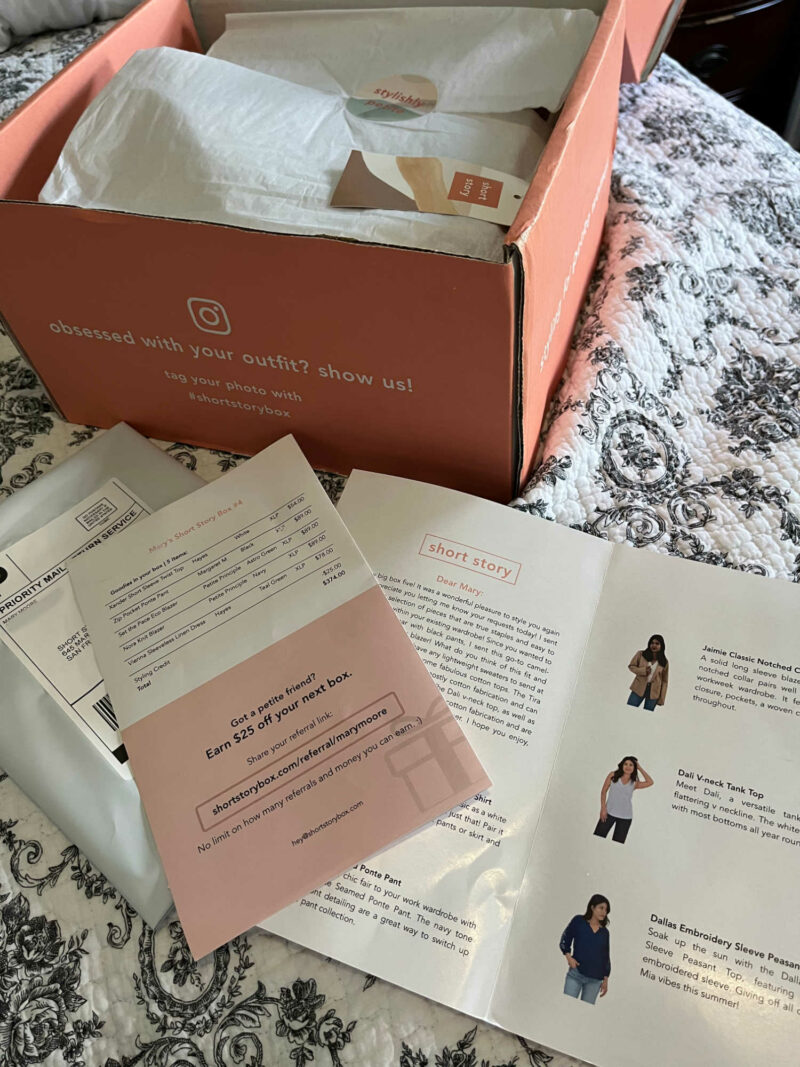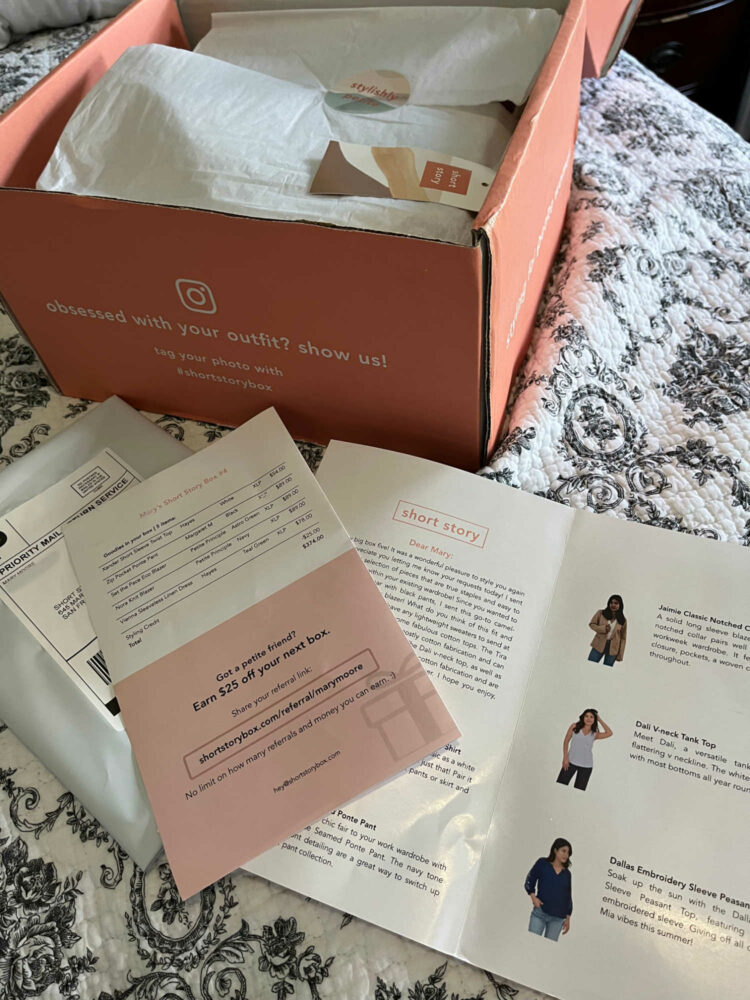 Discovering Short Story Box
During my plan for a wardrobe refresh, I saw Short Story boxes advertised on social media and TV commercials. I was initially hesitant about styling and pricing, as previous subscription boxes for me have been hit or miss. However, I finally decided to try a Short Story Box, seeing it as an investment that could save me endless shopping trips and returns.
Completing my Short Story style quiz, my styling request focused on business formal outfits to build up an interview-ready wardrobe. I provided my sizes, color preferences, and some specifics about what I considered my casual, unique and a little funky style.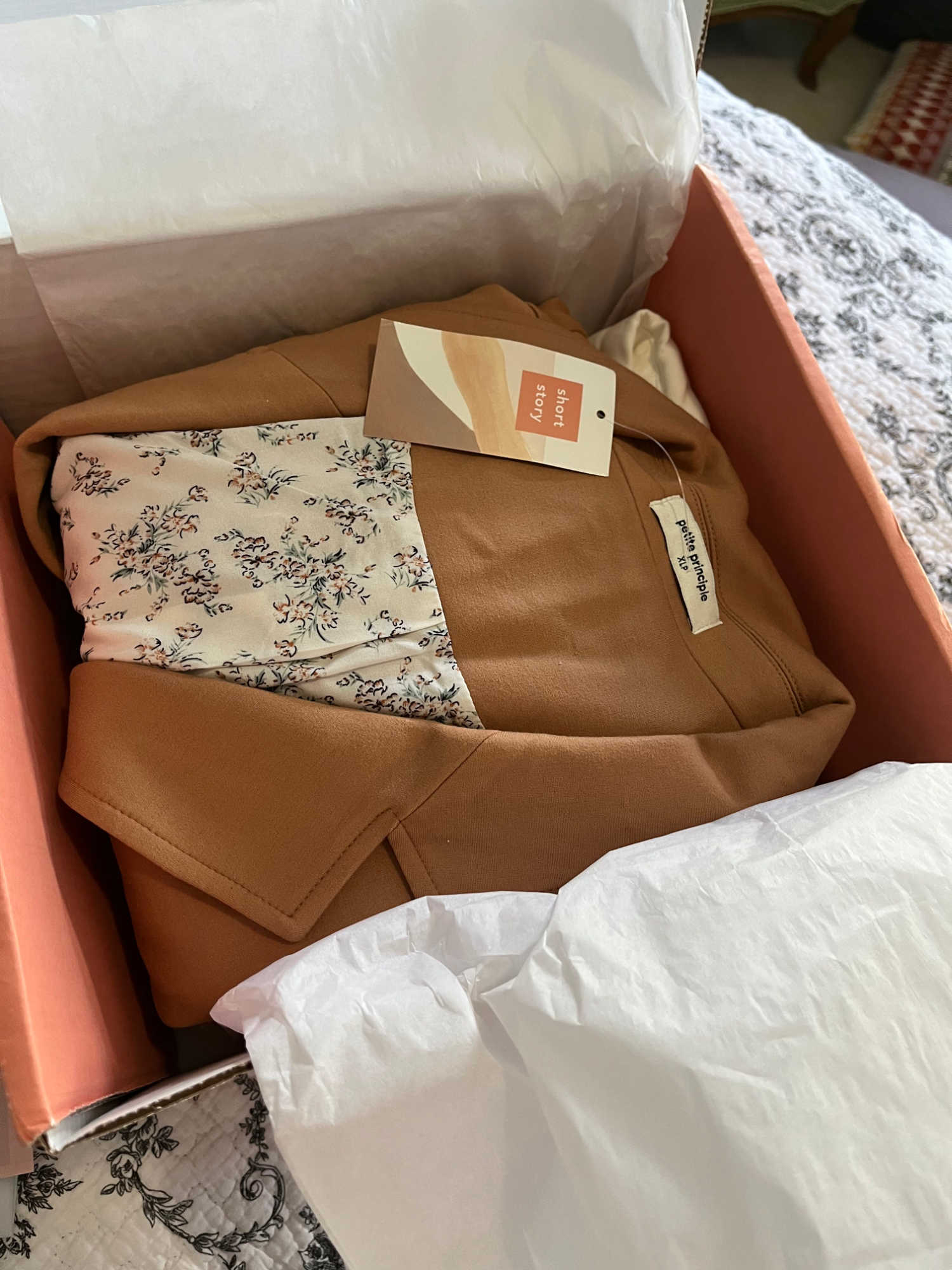 Unboxing as Self Care
I received an email notification two days before the Short Story box arrived. The box arrival, and the unboxing experience is a much-needed self-care treat. Even the boxes are well designed, with a great brochure with images, brands, descriptions, and costs of every item in the box.
Through my Short Story subscription, I have now discovered new favorite brands like Liverpool and Margaret M, alongside the in-house brand, Petite Principle. It was lovely to realize that Petite Principle's pieces, such as a grey suit jacket, blended comfort, and style perfectly, matching my preferences for classics with a touch of casual flair.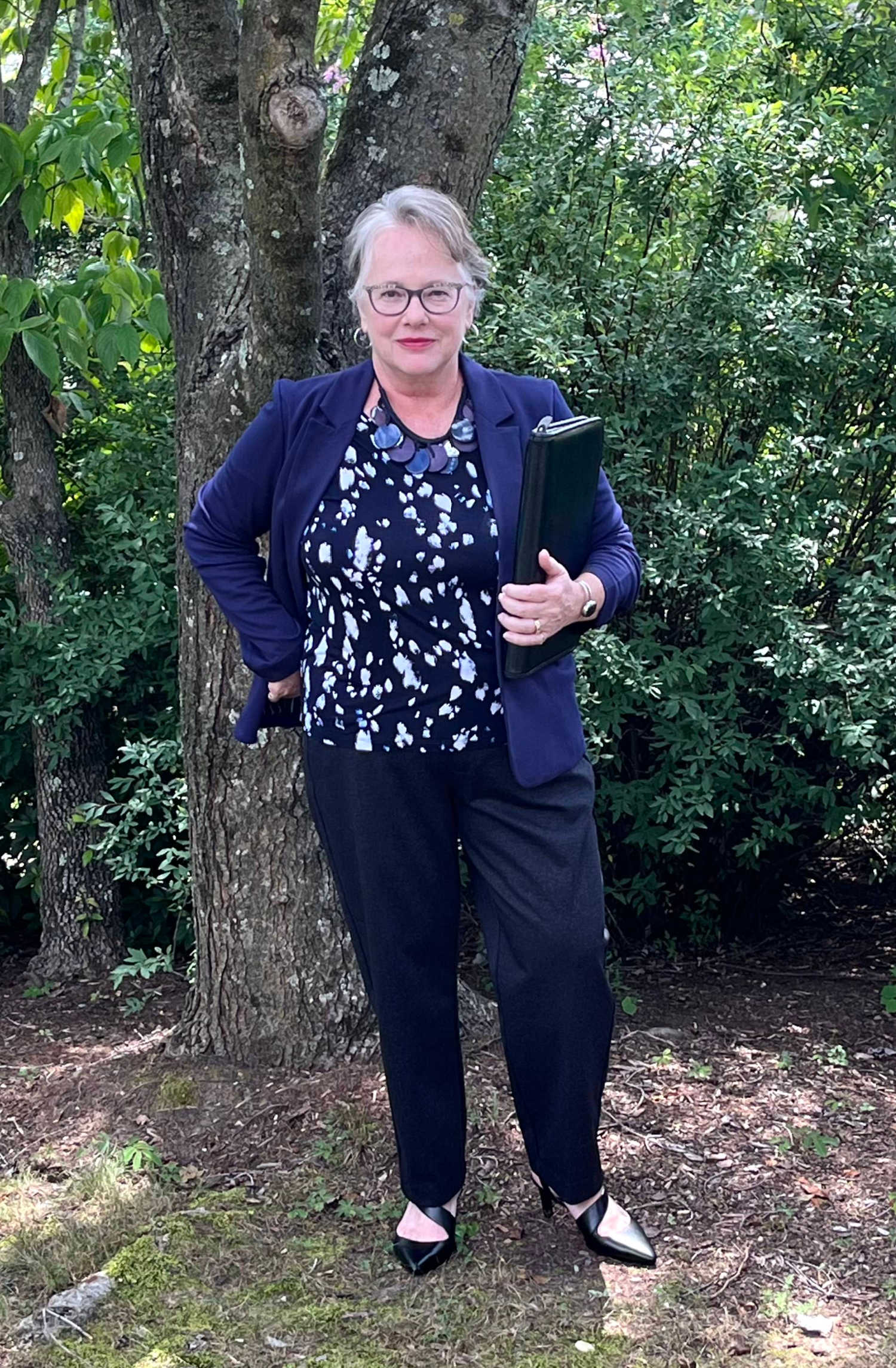 A Transformation Thanks to my Short Story Box
The wardrobe transformation through my Short Story Subscription Box has been invigorating and empowering to me. I now have several interview outfits that make me feel confident and comfortable, seamlessly transitioning from business formal to business casual settings. The new sparkle in my eyes reflects the assurance I now feel about showcasing my skills and talents during interviews, free from concerns about my appearance.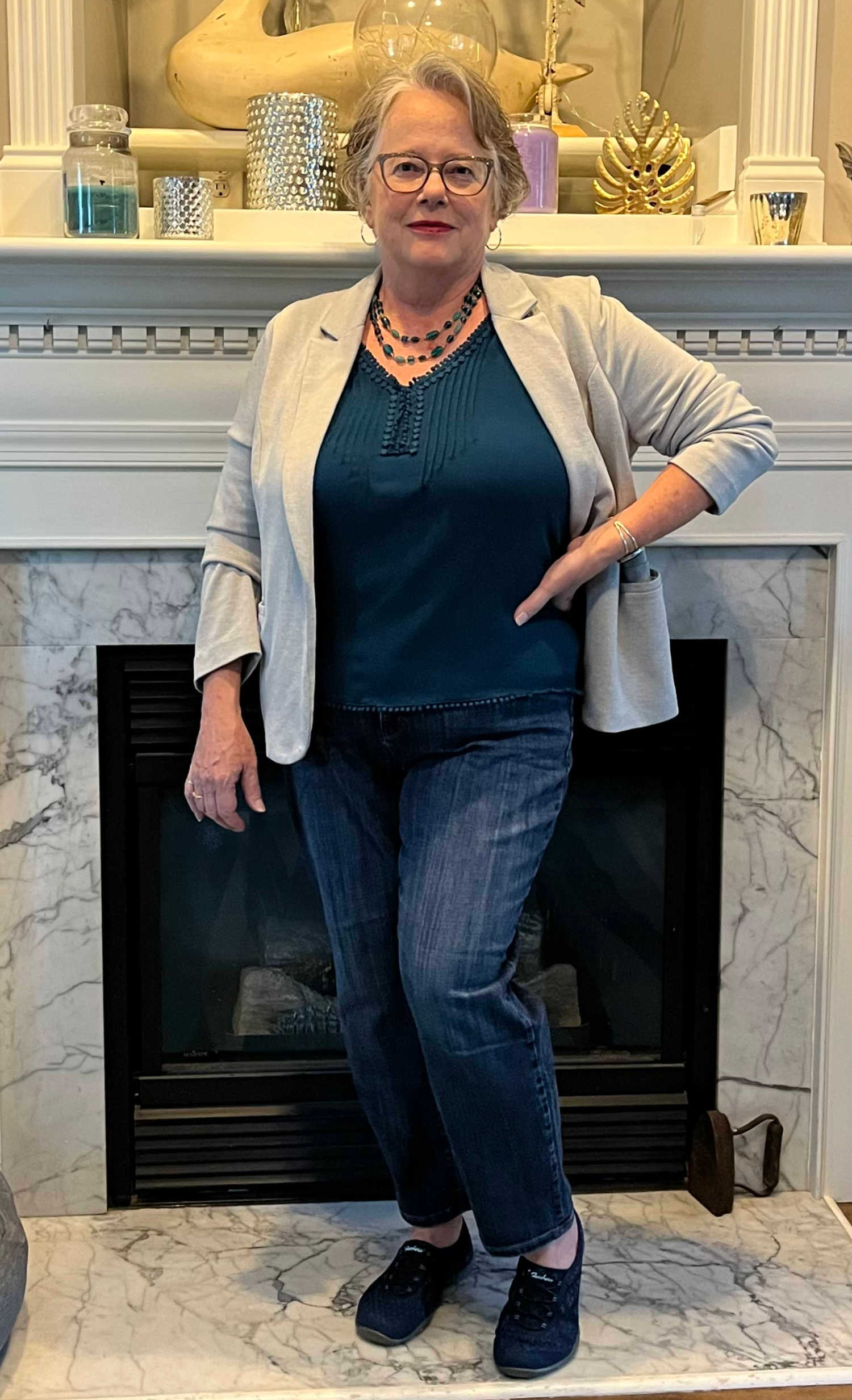 Hits and Misses from my Short Story Box
As with any subscription box, there were some hits and misses. While I purchased around 50% of the items sent to me in my Short Story Boxes, I returned the majority of the shirts, finding them either flimsy or too trendy. I have kept two tops: a turquoise shirt with pom-poms and a plain white tank. I haven't had any luck with dresses as they didn't fit comfortably over my chest.
Returning items not selected from a Short Story subscription box is hassle-free. Short Story gives you a five-day window to try on items and decide what you want to keep. Each delivery comes with a postage-paid envelope. I just drop in what I don't want and drop it in my mailbox. You aren't charged by Short Story until you notify them what you want by completing checkout.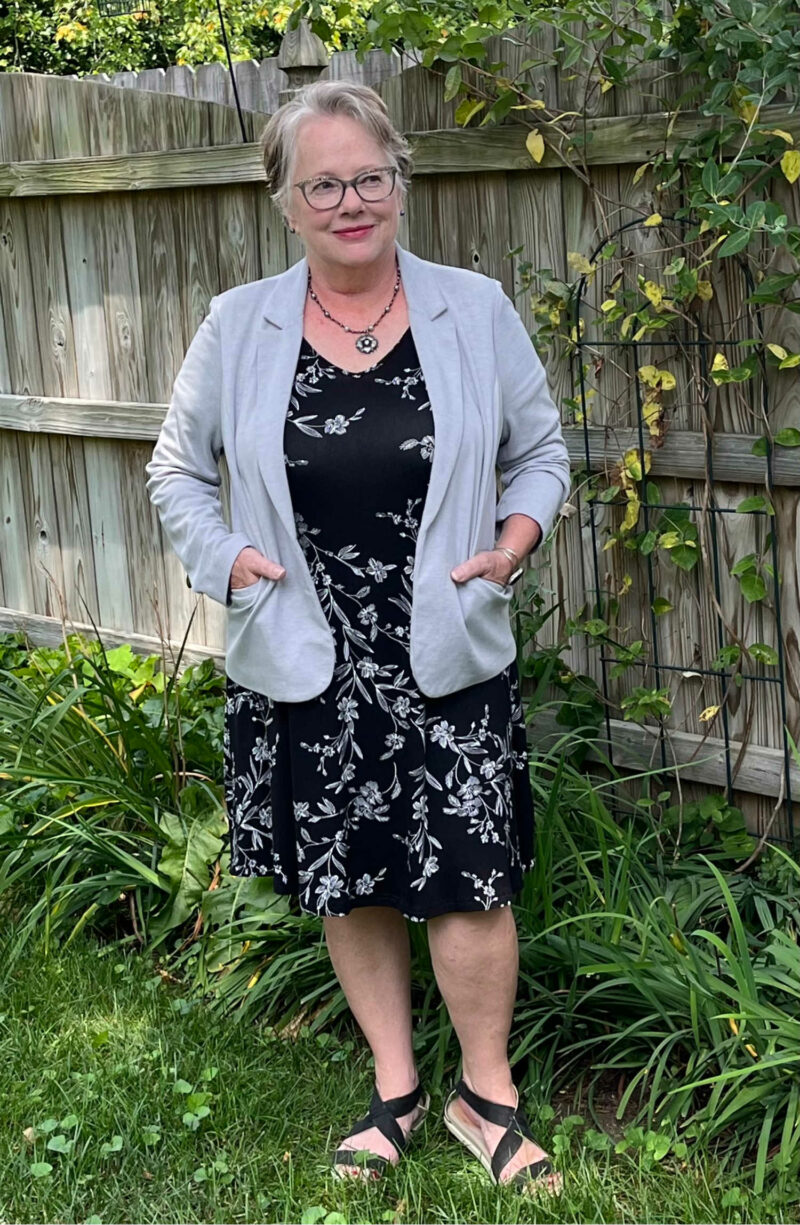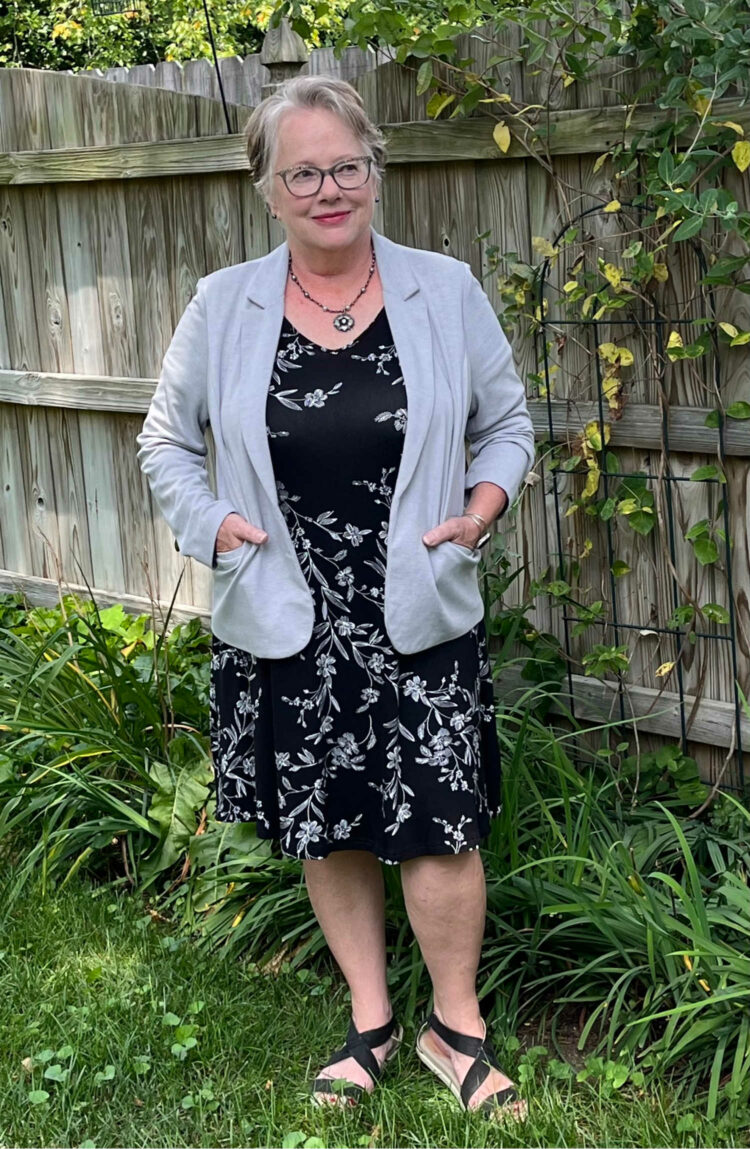 A Confidence-Boosting Success
My greatest successes with Short Story are petite pants and jackets. Previously, my closet lacked interview-appropriate options, but with Short Story's assistance, I now have a versatile collection of dark maroon, dark grey, black, and navy pants that have proven comfortable and suitable for various occasions.
Most of the style of jackets in my closet all have a touch of flair, such as rhinestones, embroidery, and denim. While I enjoy wearing them, these weren't what I needed to be interview ready. However, the Petite Principle jackets are exactly what I needed to elevate my interview outfits. The light grey jacket, in particular, had become a fast favorite.
As a petite person, I am used to alterations. So far, the only alterations I have had to make from any Short Story box purchase was with a moss green jacket sleeve length for a perfect fit.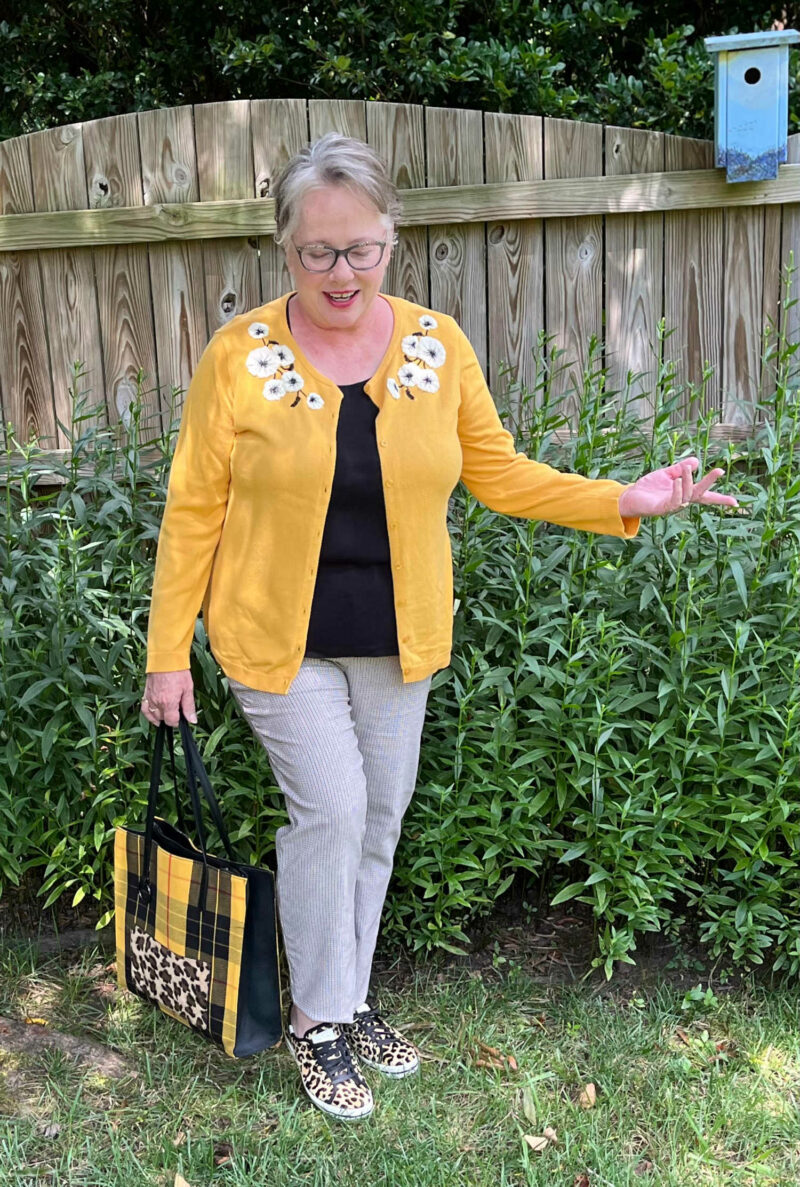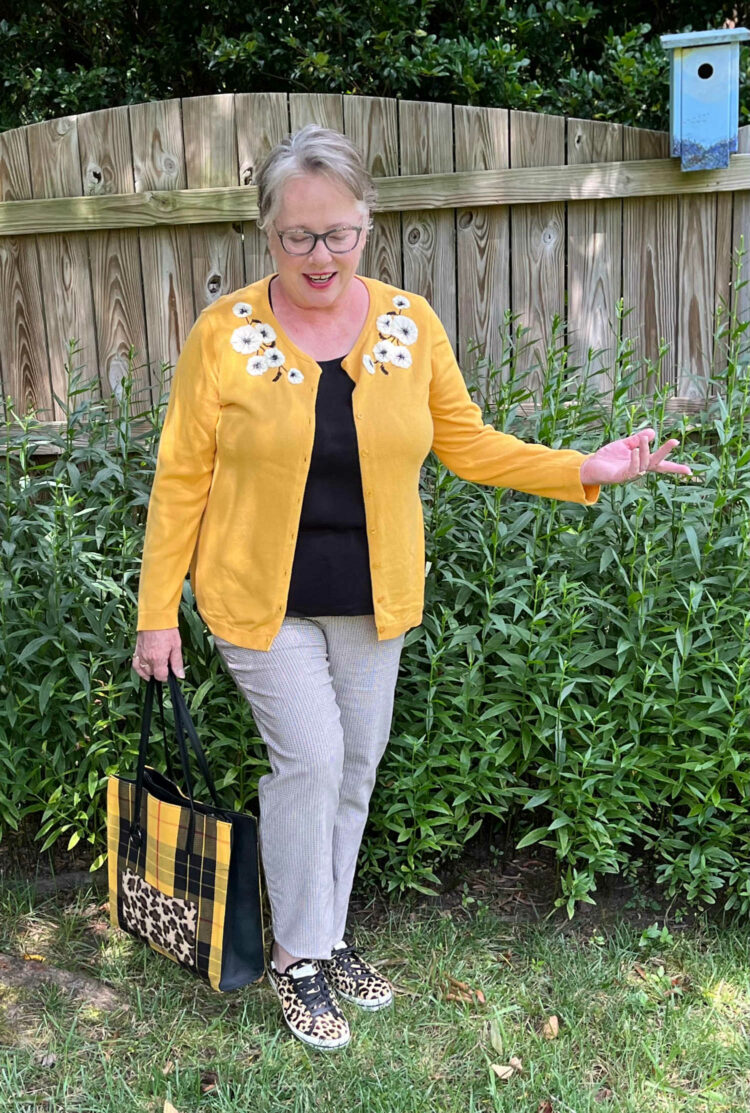 Embracing Change and Moving Forward
Taking the plunge with Short Story was undoubtedly a great relief. The curated subscription box provided me with business wardrobe staples and adaptable pieces that fit both business formal and business casual settings. Alongside my newfound wardrobe, I also rediscovered hidden treasures in my own closet, now pairing them with Short Story's selections for a refreshed and confident style. As I continue my job search, I'm excited by the prospect of finding a new opportunity that appreciates my talents and passion for Workforce Development, with the added boost of confidence that my wardrobe refresh has given me.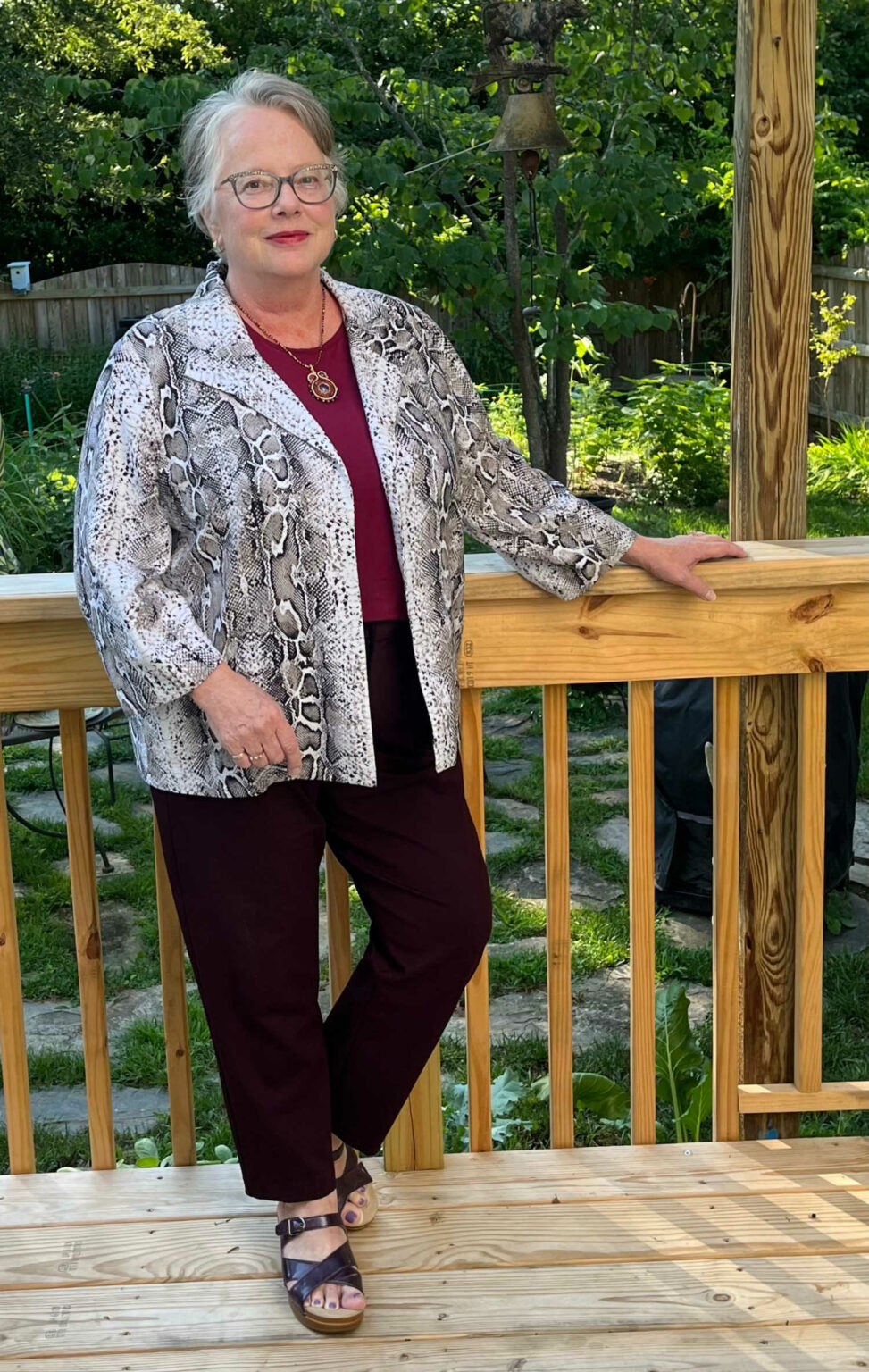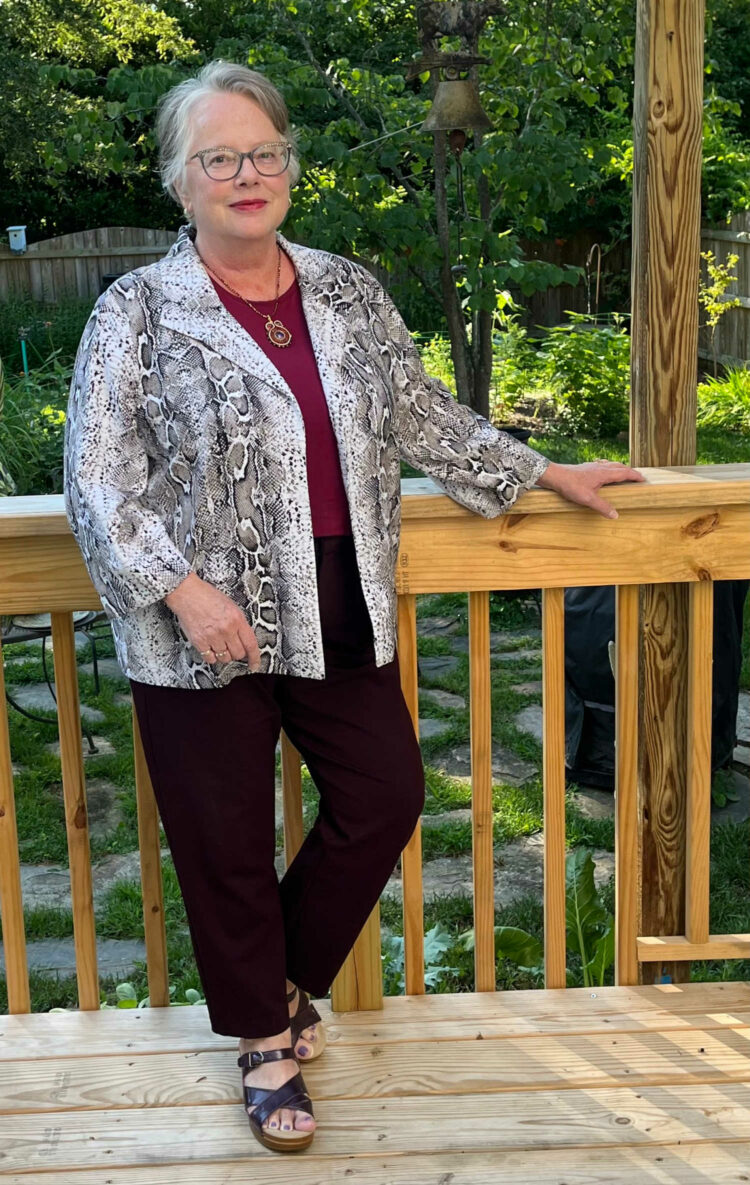 Is the Short Story Box Worth It?
My experience with Short Story has been a positive one. Amidst major life changes, the wardrobe refresh brought me confidence and I helped me reevaluate many pieces in my own closet. It has been worth the investment and I feel ready to take on new opportunities. Short Story's styling and selections have matched my preferences and requirements for business wear, allowing me to focus on my applications and interviews.
Now that I have great options for interviews, I changed up my Short Story Box styling requests to business casual and look forward to seeing new items and brands. I am working to embrace change and all the adventures that lie ahead, and now feel supported by a wardrobe that reflects my unique style and personality. Wish me luck!