This article may contain affiliate links; if you click on a shopping link and make a purchase I may receive a commission. As an Amazon Associate, I earn from qualifying purchases. 
The ever-inspiring Une femme d'un certain age wrote a post on her blog about the two personalities in her closet. I think this is something many women deal with and find to be a fault as they seek out their personal style. The thing is, we women are complex creatures. We are not robots, we do not feel the same every day, look the same every day, or want the same things every day. While it is important to find your personal style, it is also important to realize that your style should support all aspects of your personality, and to do that rarely can you have one "personality" in your closet.
Une Femme has a very defined personal style – she knows herself, her life, her tastes and yet she admits, "There are two women sharing space in my closet. Both are actually me, which used to cause no end of consternation as I stumbled and bumped along toward that milepost known as Signature Style™. But I'm learning to make peace with this split style personality, and find balance and harmony between the two. Les deux femmes have arrived at a mutual understanding, and even step out together on a regular basis."
I too have multiple personalities in my closet, and I find that with the beginning of each season those personalities become more defined, change rank, and sometimes move out to make room for a new tenant. However over the past decade, there are a few women who have kept residence in the penthouse suites of my wardrobe: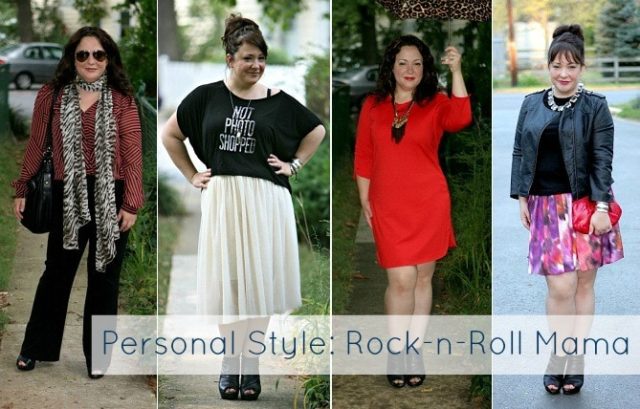 Rock-n-Roll Mama
This lady loves the color black, bold silver hardware, lots of leather, and tee shirts with the necks cut out. She's heavy handed with the kohl liner and loves a shoe that can double as a weapon. She doesn't feel that one can wear too many accessories and an exposed bra strap from time to time can be kinda sexy. She'll mix a girly skirt with an old tank top and a leather jacket and finds her hair often looks best the morning after a late night out on the town.
Hippie Chick
This is the girl who attends music festivals and loves spinning to feel her skirts float around her ankles. She loves tie dye, batik prints, and patchwork. She finds cool accessories at festivals, craft shows, and on trips around the world – nothing is better than a garment or accessory with a story. She wears white cotton voile tunics with cutoff denim shorts, maxi dresses with flat sandals, an arm full of bangles, a cross body bag decorated with embroidery and/or fringe, and loves her hair best when it air dried and decided to do what makes it happy.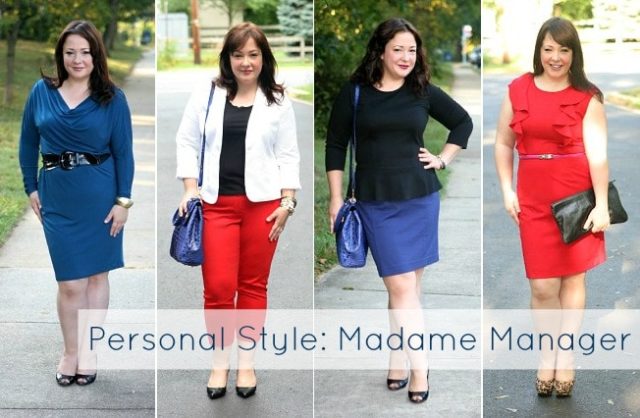 Madame Manager
This woman feels power with her pointed-toe pumps, pencil skirts, and silk blouses. She finds strength in classic pieces with a bold touch. She'll wear jeans, but they will be paired with a blazer and heels. While she loves strong colors, she balances them with classic silhouettes and steers clear of prints (unless they are of the leopard variety). On weekends she likes Breton stripes, merino crew and boatneck sweaters in dark neutrals, dark crisp jeans, and heels. She loves a statement accessory, be it a bag in a bold color or a large sterling silver cuff. She feels best with sleek hair with lots of shine and control.
All three like the power and versatility of black and dark denim, how accessories can transform wardrobe staples into an intriguing ensemble, aviator sunglasses, and a fun shoe. All three have an aversion to pastels, feminine floral prints, and anything that binds or constricts the body. All three find her breasts to be one of her best assets and prefers hair that is long.
Thank you to Une Femme for this exercise, I found by defining the personalities in my closet, it made it clearer what my personal style is, and what pieces do not belong in my closet. This season, I plan on reminding myself of my three personalities to stay on track and not be swayed by trends. Now I ask you readers, do you find multiple personalities in your closet? Have you taken the time to define them, and have you found benefit in such and exercise? Who are the women in your wardrobe?
Follow Me | Twitter | Facebook