This article may contain affiliate links; if you click on a shopping link and make a purchase I may receive a commission. As an Amazon Associate, I earn from qualifying purchases.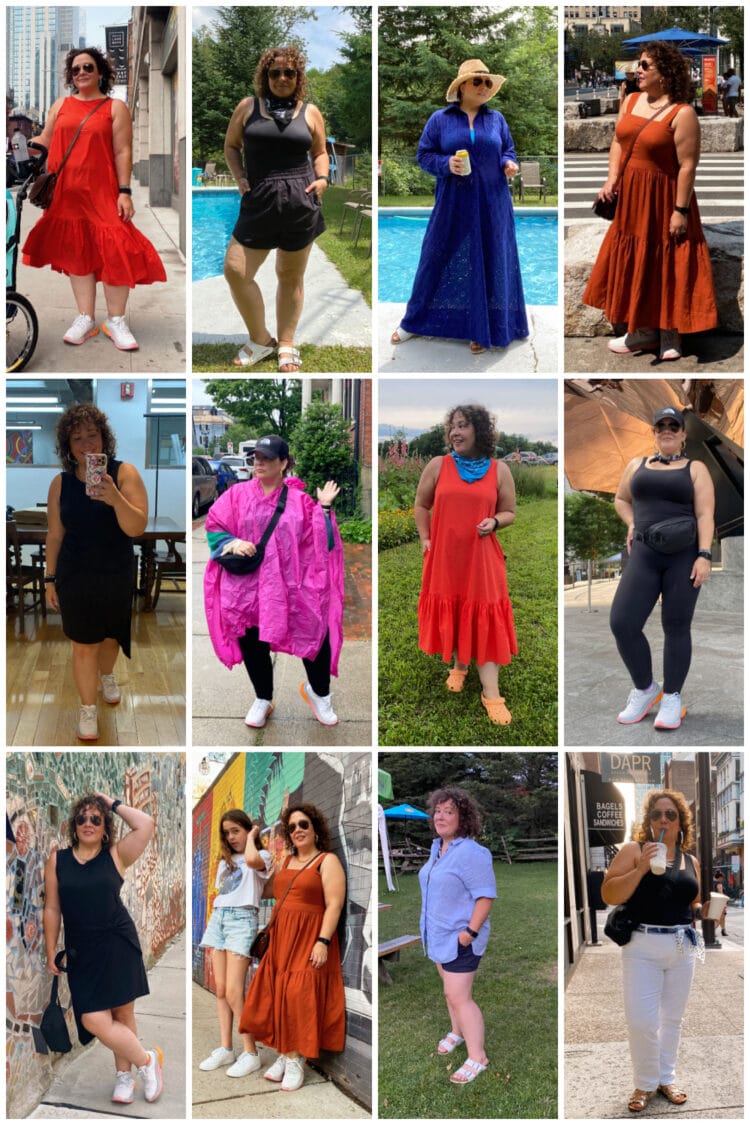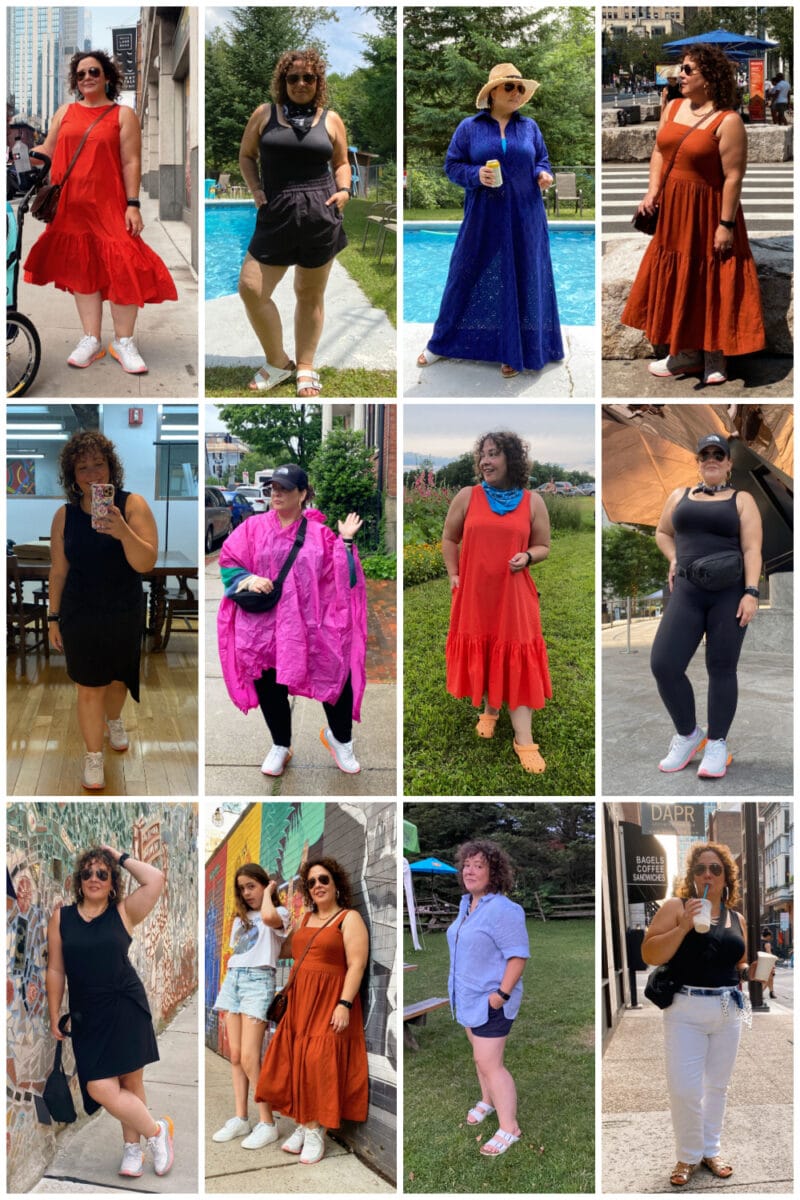 I just got home Saturday afternoon from a 12-day road trip my husband, daughter, our dog, and I took starting July 6th. We started from the Maryland suburbs of Washington DC and spent two nights in NYC, two nights in Salem, Massachusetts, five nights in a cabin in Vermont, and then two nights in Philadelphia before driving home.
We had a chance to do laundry once in Vermont, and while we brought our car with a rooftop box, we didn't want to overpack, be comfortable in the car, make it easy to carry luggage in and out of hotels, and pack relatively simply. That being said, I AM a fashion blogger so you know I wouldn't be happy wearing cargo shorts and a quick-dry dress over and over for almost two weeks. So below I share a glimpse into what I wore on a 12 day road trip!
What I Wore on a 12 Day Road Trip
While I will share a complete capsule wardrobe of what I took and wore during our road trip, for now a few photos of what I wore while on the road. We went to nice restaurants, walked miles seeing the sights, saw a ballet in the field of a farm in Vermont, picked wild blueberries, went swimming, got caught in a rainstorm, and did it all while maintaining my personal style and staying comfortable.
NYC: Hot Hot Hot
We stayed near Chelsea, walking to see the Empire State Building, Hudson Yards, The High Line, but also just the vibe of the city. It was incredibly hot out and we did a lot of walking (averaged 20K steps/day) and I wanted to be comfortable while still looking "me."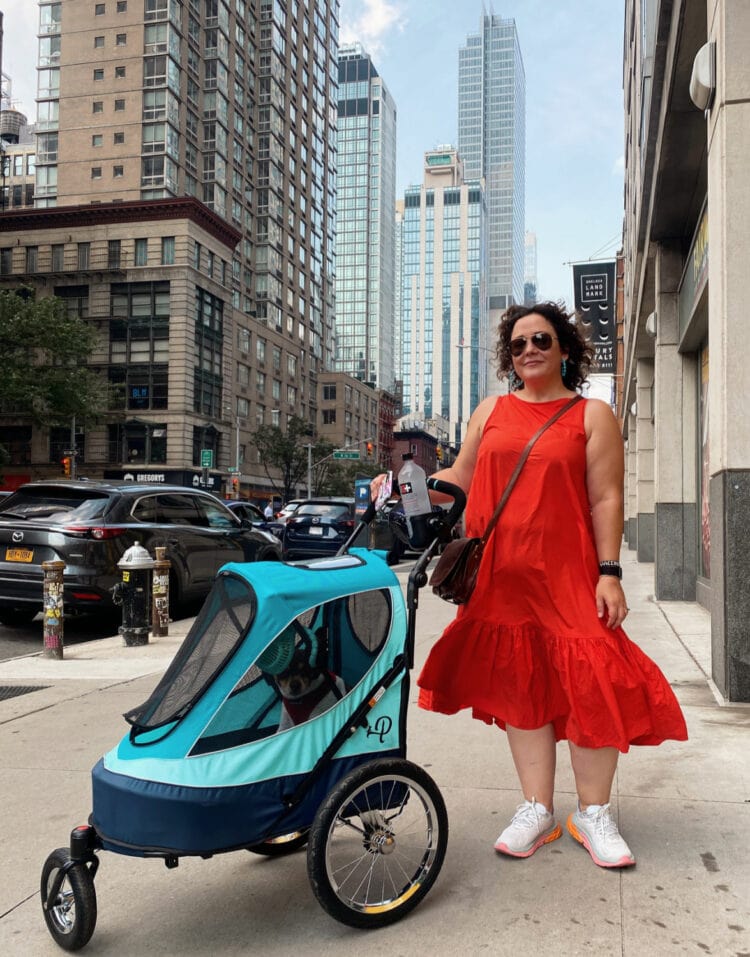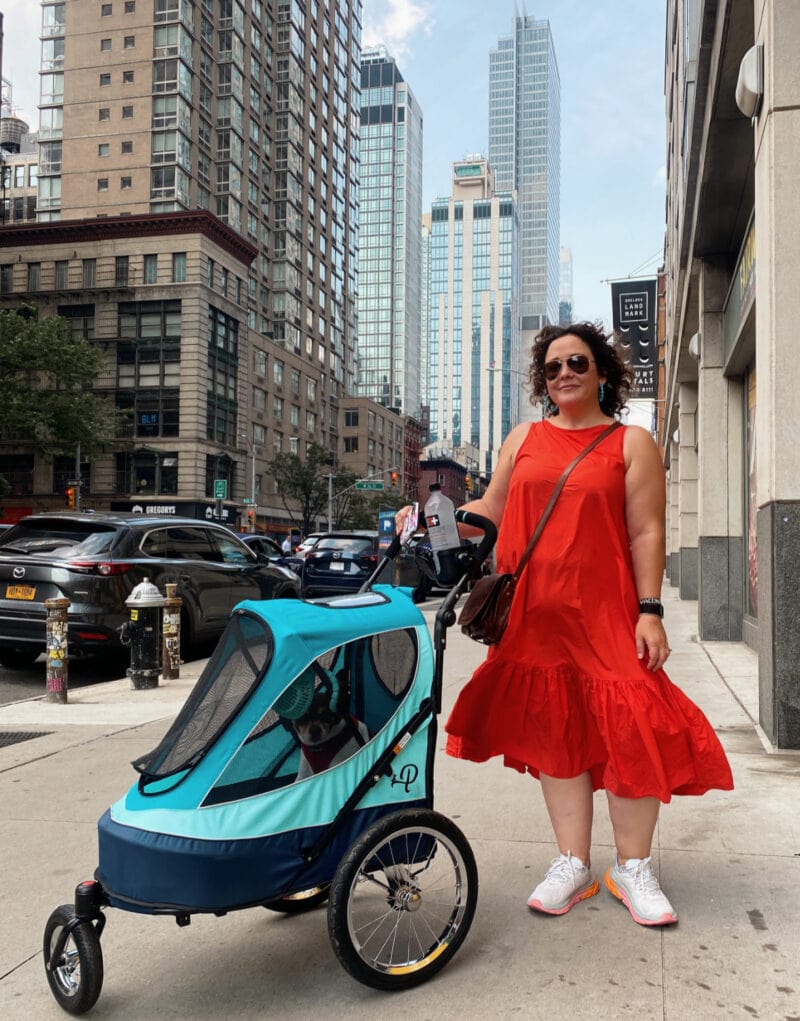 For the first day, I wore a dress from the Christopher John Rogers for Target collection I featured in this blog post. With it, I wore these sneakers from HOKA which were comfy right out of the box. My bag is this one from Maxwell Scott (use ALISON10 at checkout to get 10% off) and my sunglasses are from ROKA. I'm also wearing this awesome bracelet from Chico's and old earrings from J. Crew (these are a cool alternative). Under the dress, I am wearing these cooling slipshorts in size L/XL (use WARDROBEOXYGEN15 to save 15%).
This outfit was perfect for walking around the Big Apple. The dress has pockets, and the cotton poplin kept the dress from clinging in the heat. The bag was big enough to carry most anything I needed (hand sanitizer, wallet, face mask, Tide to Go pen, hair pick, this for sunscreen touchups, bandana to wipe my face, lip balm, etc.). And by the way, this is the dog stroller we took!
The dress is no longer available but below I've gathered similar styles at a similar low price: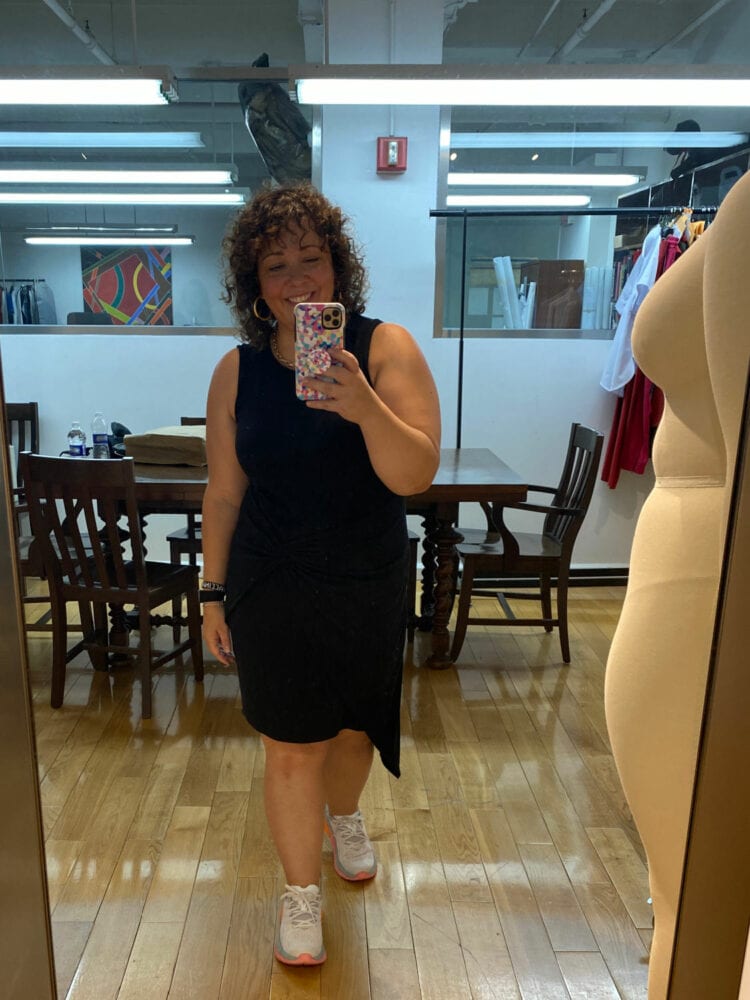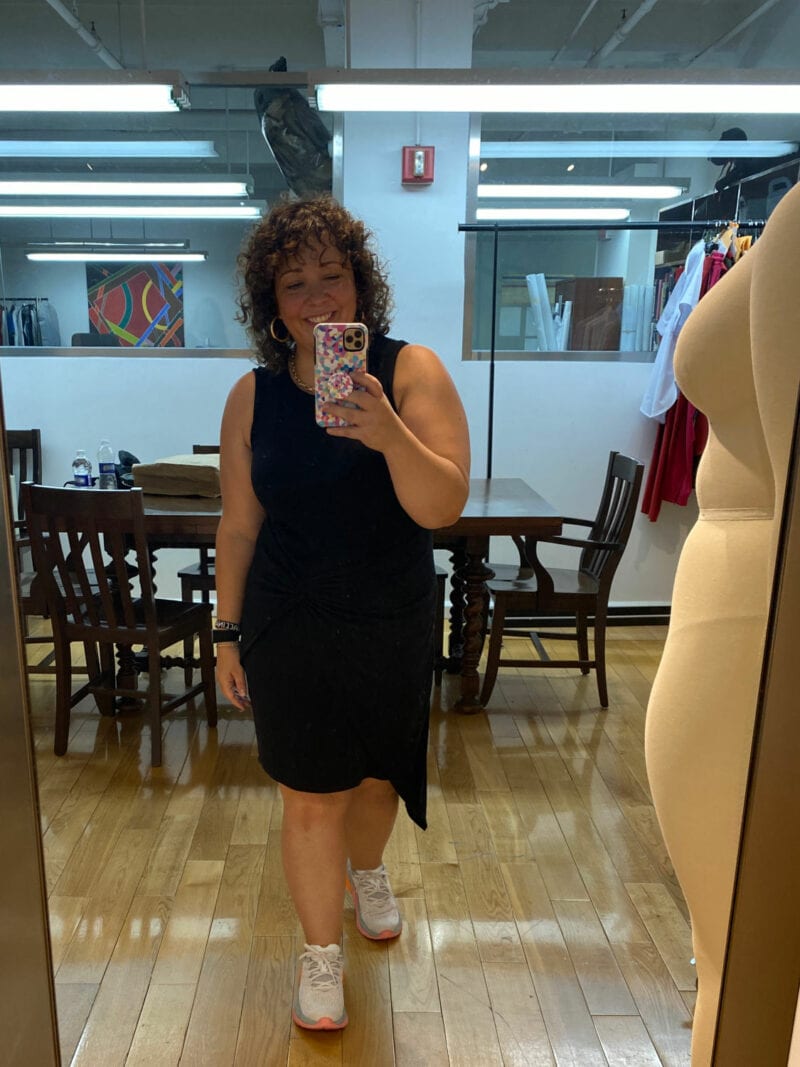 You may recognize this dress from this post in 2018 and this post from last month. This knit dress is a workhorse and a great choice when traveling. While I wore it with sneakers to walk to the garment district to visit Pari Passu and then wear to lunch, I have worn it with metallic sandals to nice restaurants, Birkenstocks for casual errand running, and in the fall have styled it with a denim jacket and leather flats.
I dressed it up with gold hoops from Baublebar and this sale necklace from Banana Republic. For this look I used my Girlfriend Collective belt bag as a crossbody purse.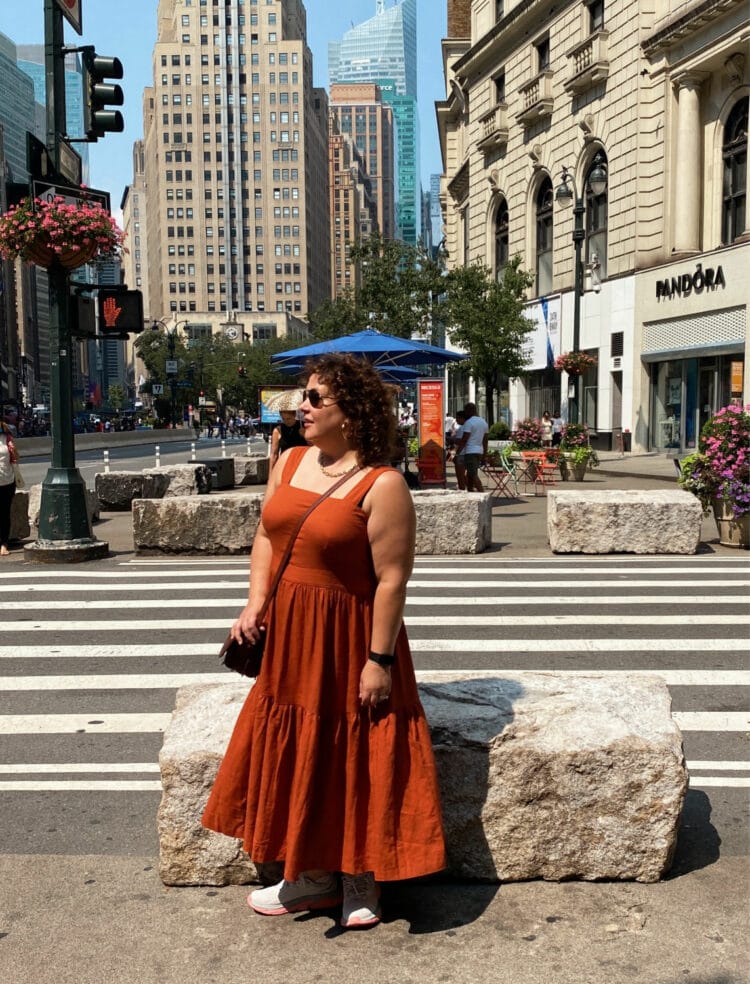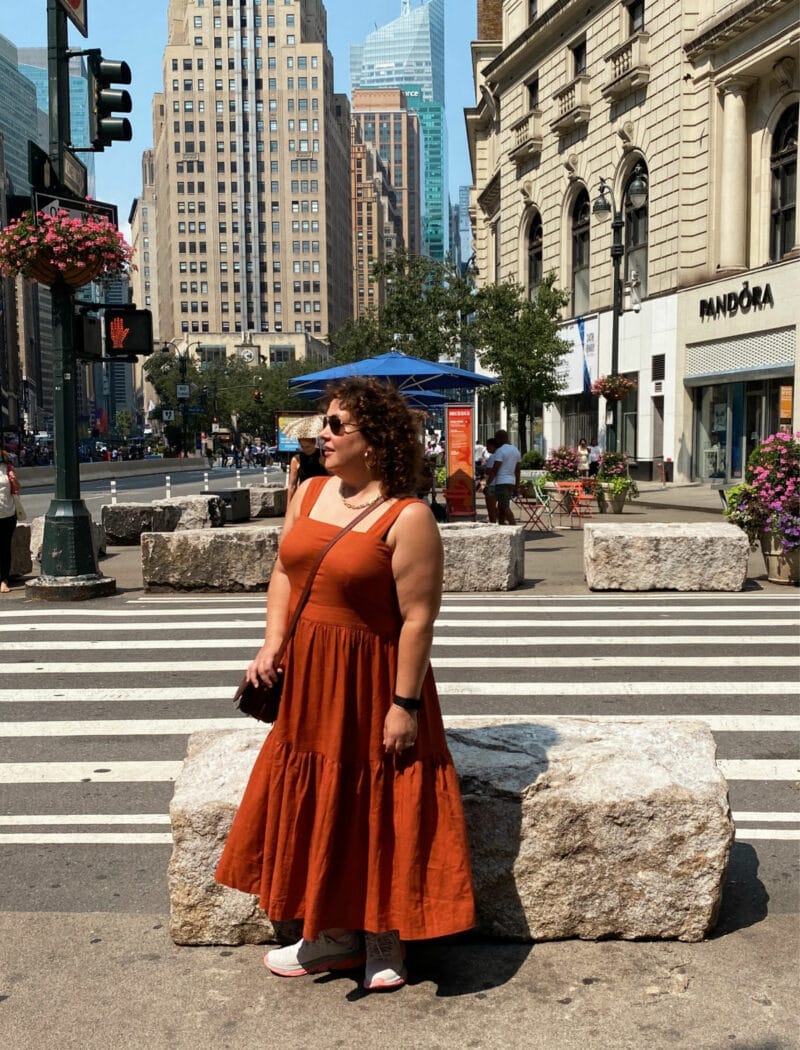 The second day in NYC was just as hot so after lunch, we came back to the hotel to cool off and I changed into this dress from Ann Taylor. If you follow me on Instagram Stories you know I wasn't sure about keeping this dress but I am glad I did. It was great in the heat and held up beautifully even when being washed with all the things and thrown in an industrial dryer once we got to Vermont. If it's out of stock check again in a few days; it has already restocked at least once!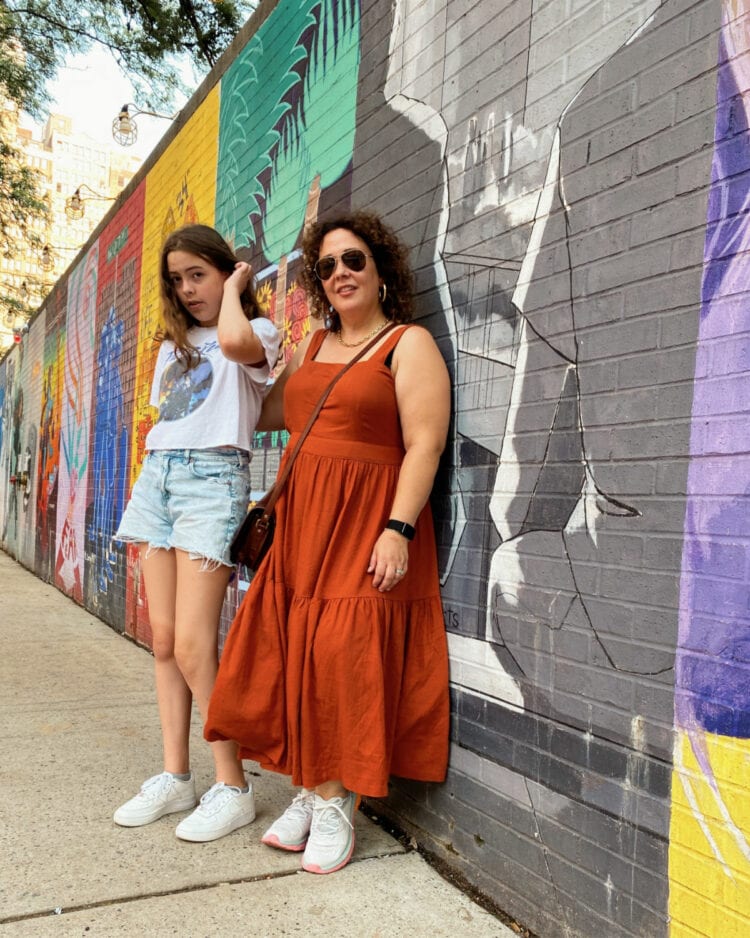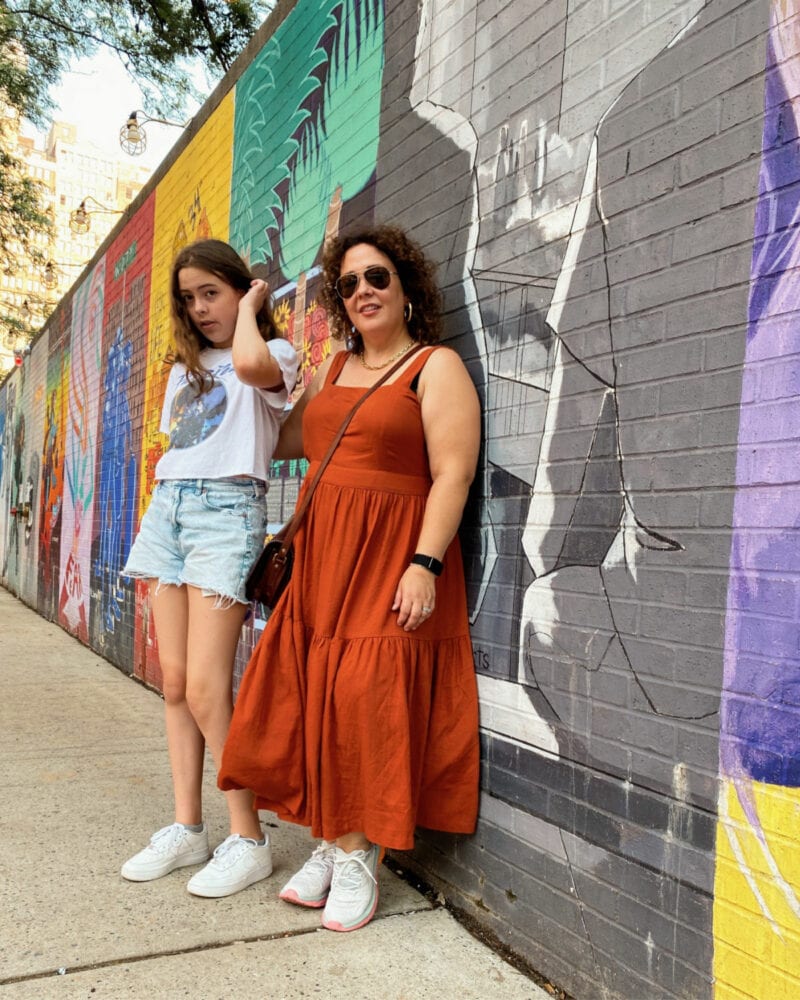 I kept the same earrings and necklace from earlier, and switched my essentials back to my Maxwell Scott saddle bag. This look was so comfortable, I wore it into the evening when we went to dinner in Chelsea. Do note sweat did make the straps stretch a bit causing my bra to show, but that wasn't until hours of wear and it bounced back once laundered.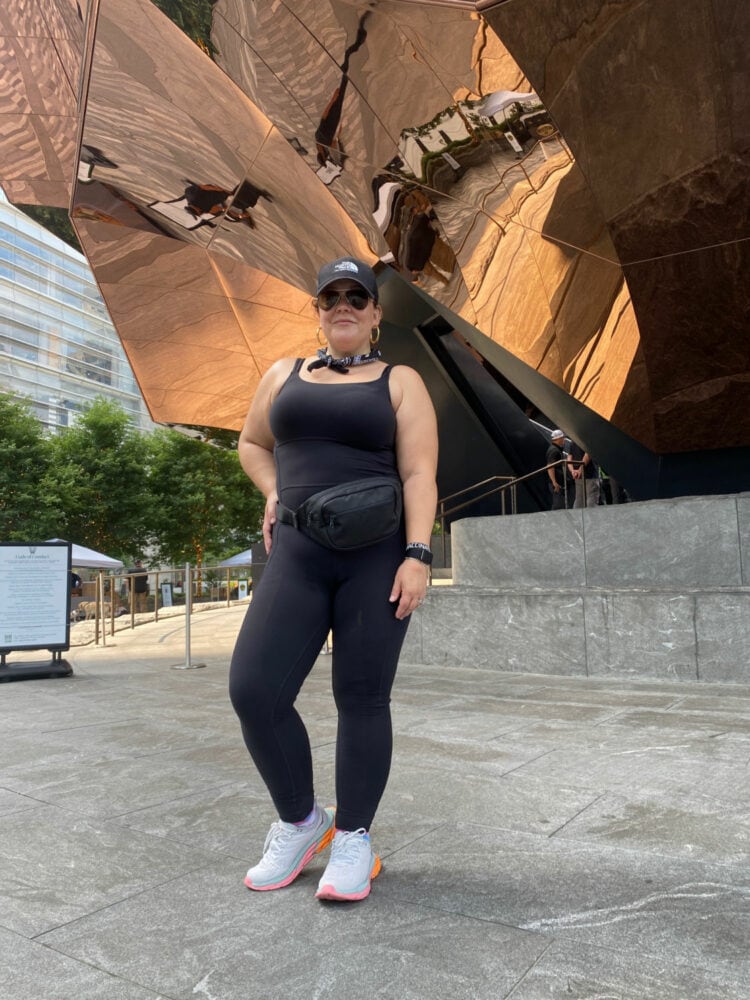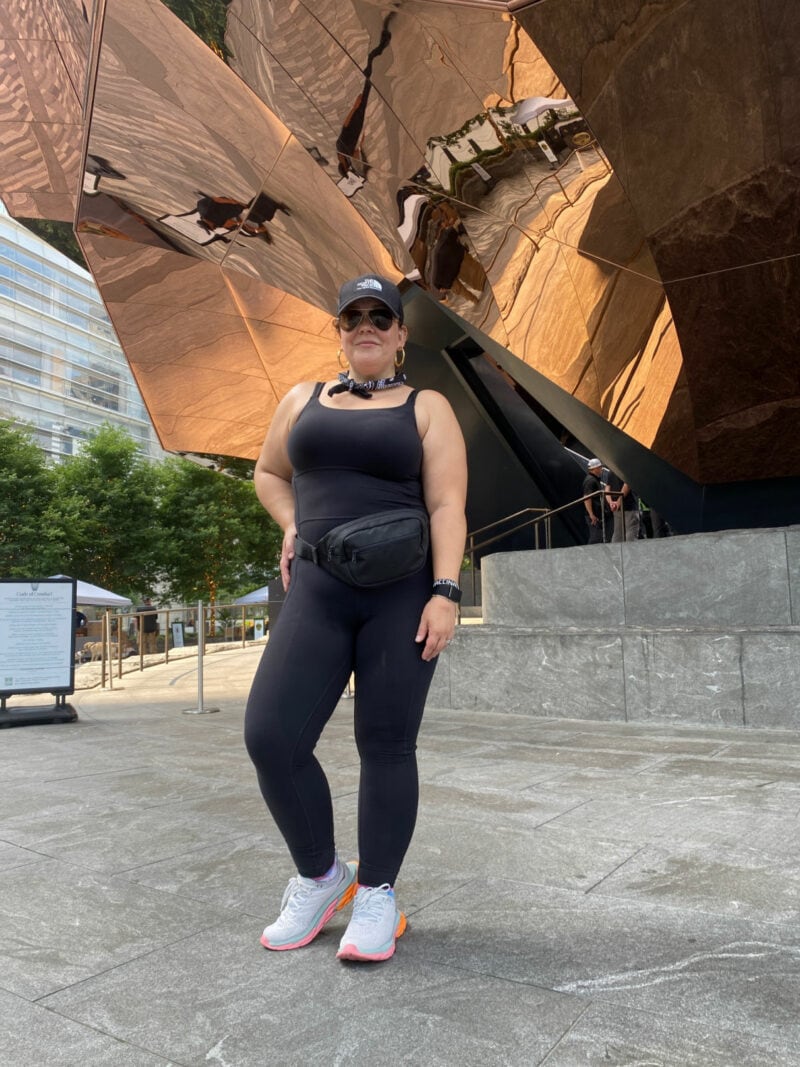 Our last day in NYC, I dressed not just for sightseeing, but getting in the car and driving to our next destination. Nothing comfier for a road trip than the Universal Standard Next to Naked Bodysuit which I reviewed here and styled here.
For this day, I didn't even try to get my curls to work in the heat and the hard NYC water, and just put on a baseball cap. I wore a black bandana around my neck for style… but to also be there to mop my brow. I added the gold hoops to make it look purposeful, and the Girlfriend Collective belt bag was worn around the waist. Again the HOKA sneakers and ROKA sunglasses.
Salem, MA: Rainy and Chilly
For the drive home from the road trip, I again wore this bodysuit with a white graphic tee knotted over it.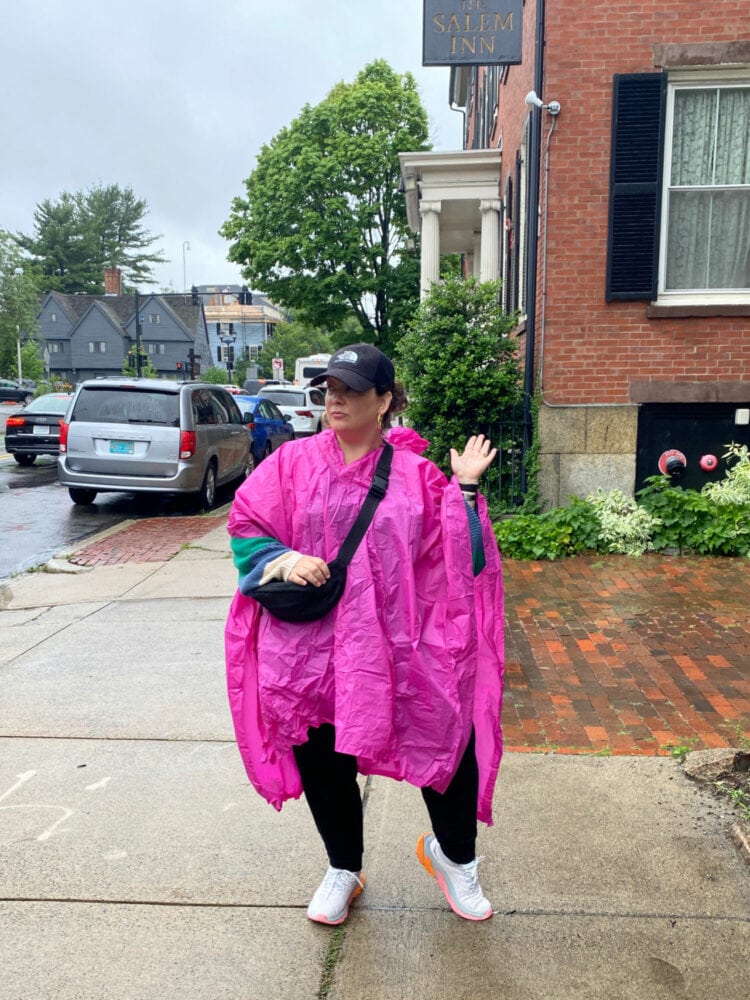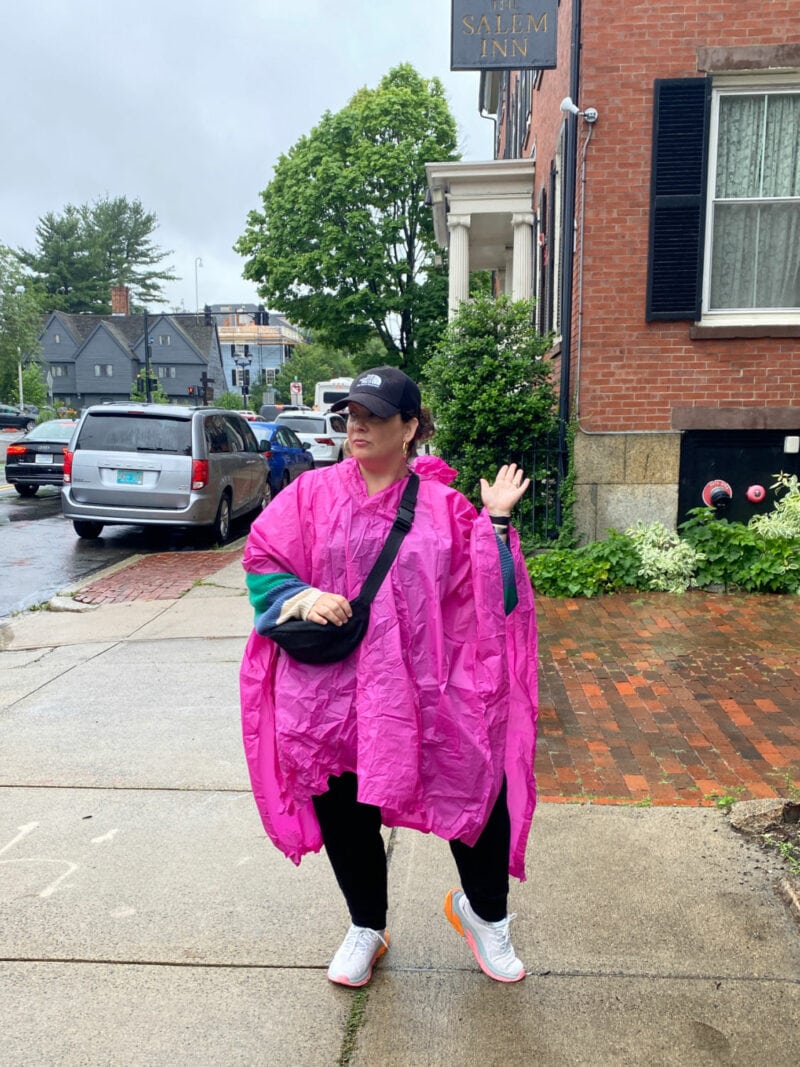 I was terrible at taking photos while in Salem. The first night we went to dinner and I wore these white jeans with this blue linen shirt, gold metallic sandals (no longer available but these are similar), gold hoops and necklace, this scarf as a belt, and the Maxwell Scott bag.
The next day I wore this black tank with these black joggers, the gold jewelry, the Girlfriend bag as a crossbody, and the HOKA sneakers. It was a bit chilly so I added a shaker knit cardigan I have from cabi (at least a year ago, you can see it in this photo on Instagram). I added a baseball cap because it was occasional drizzles and there was no point in doing my hair. It then began to rain so I added a packable poncho I've had for over a decade (this one is similar).
That evening, I wore the same outfit minus the cardigan which got drenched, and the poncho, since it stopped raining. Instead, I took a lightweight Breton sweater from Chico's (you can see it in this post; I think this is the same sweater in neutral stripes) which I wore over my shoulders until it got chilly, and then wore it half-tucked over the tank.
Vermont: Casual Vacation Mode
Once we reached Vermont, things got far more relaxed.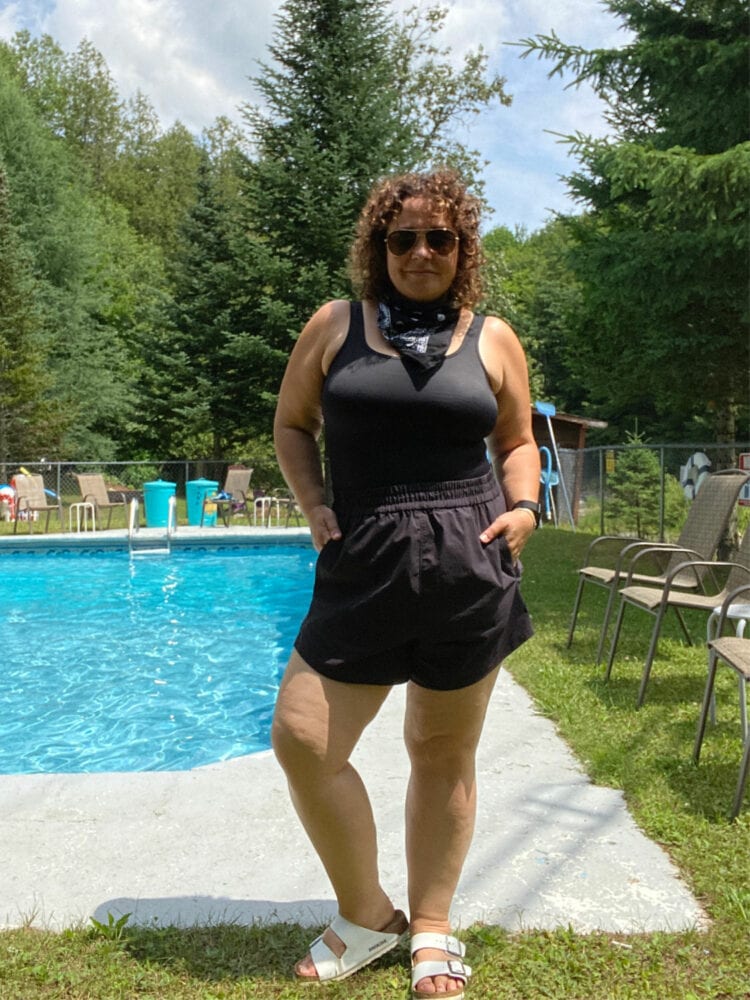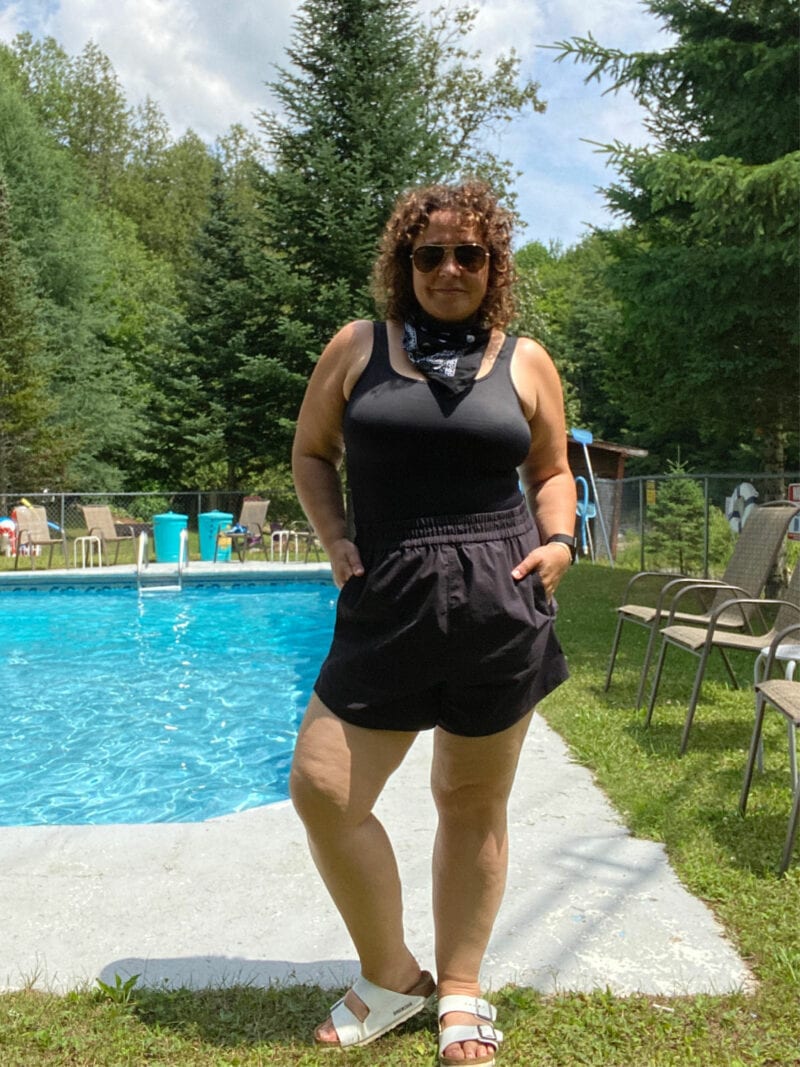 Wearing the Universal Standard Swim Shorts I reviewed in this post with the Lands' End Tugless Tank I reviewed in this post. Again the ROKA sunglasses and my white leather Birkenstocks. I also wore these shorts with a black tank and the Girlfriend belt bag, and wore these shorts with a white graphic tee and sneakers.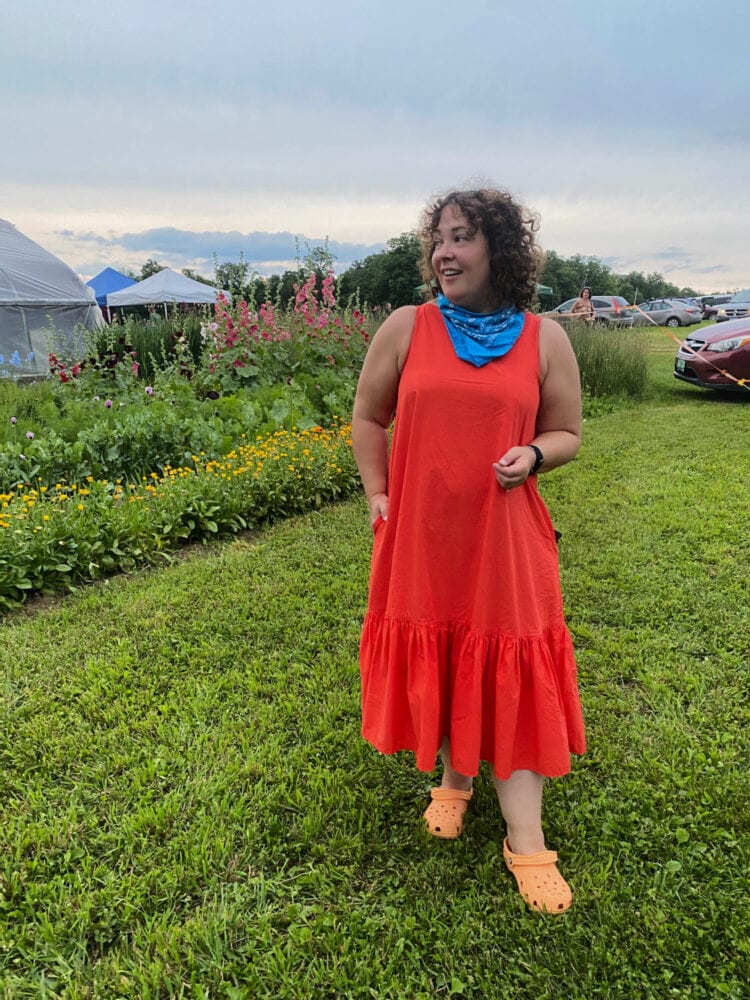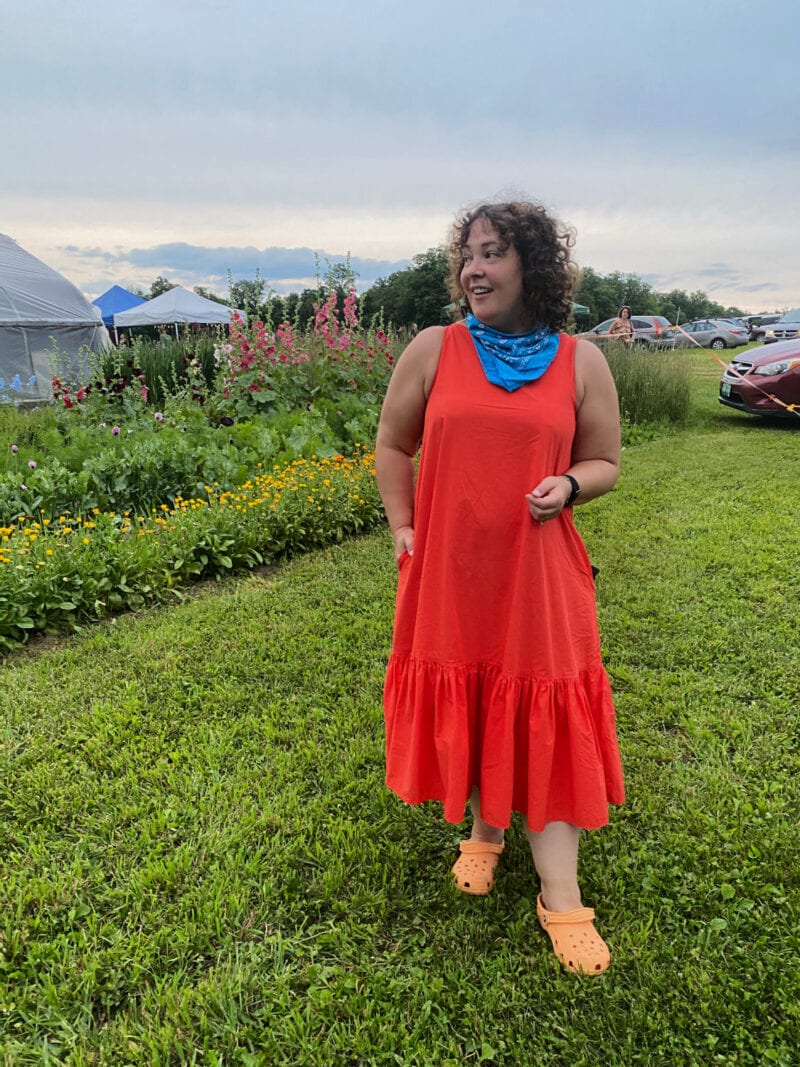 When we went to Farm to Ballet, I wore the same orange Target dress I wore on the first day of NYC. I added a turquoise bandana at the neck for style but also sweat/keep away the flies. And yes, those are Crocs! Sometimes Crocs are the perfect shoe and I packed them thinking of muddy/soft ground, canoeing, going in the river, etc. They were great for visiting a farm and easy to slip off to dance and feel the grass between my toes.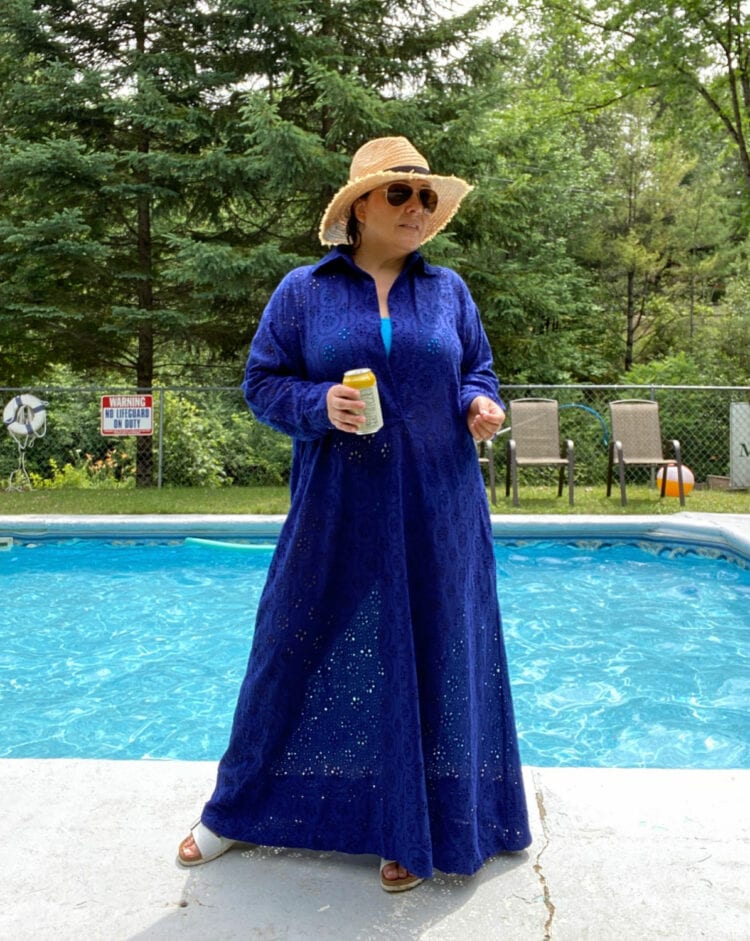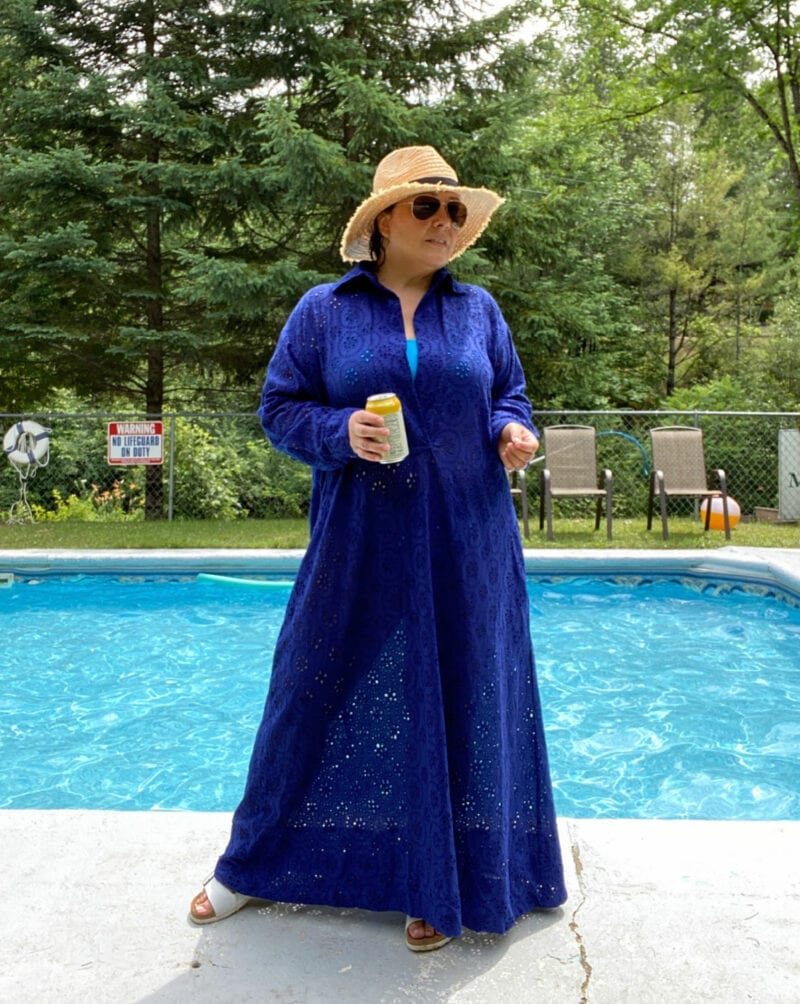 Gotta bring the glamour! When I visited Pari Passu, the founder Shanna gifted me this gorgrous dress caftan. Stay tuned, I plan on showing how to style it beyond the pool. If it wasn't so hot I would have totally worn it over my NTN bodysuit with the gold sandals and jewelry for dinner out. But here I am wearing it with this swim top and this swim bottom and again my white Birks. BTW use WARDROBE20 for 20% off full-priced items at Pari Passu! The hat is from Chico's (no longer available, this is similar), the sunglasses are ROKA.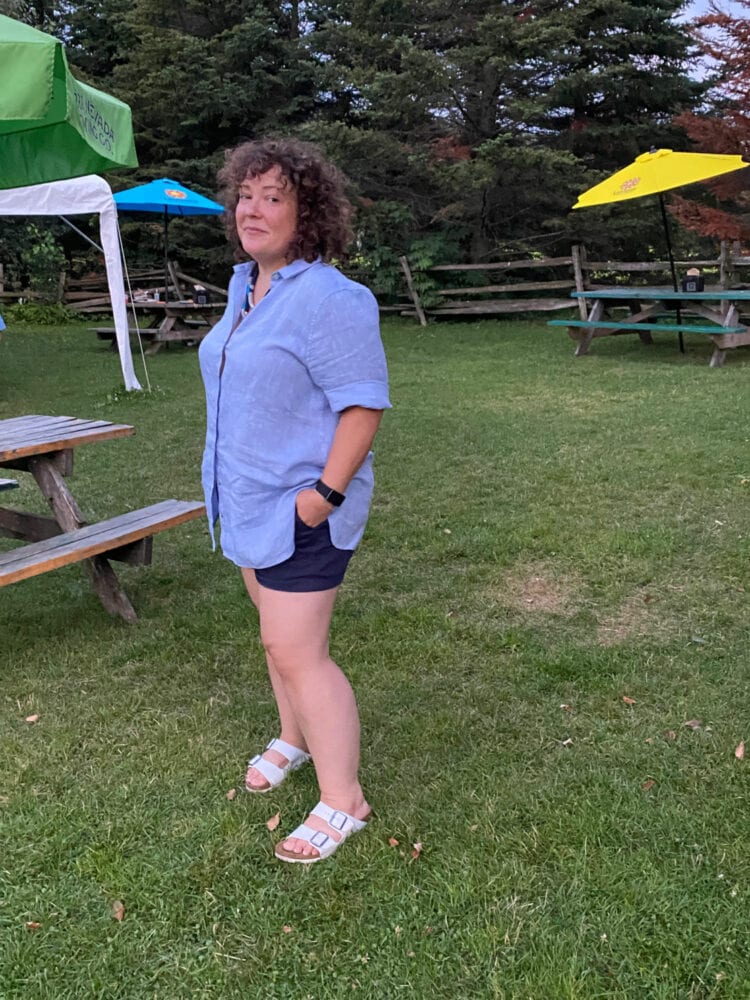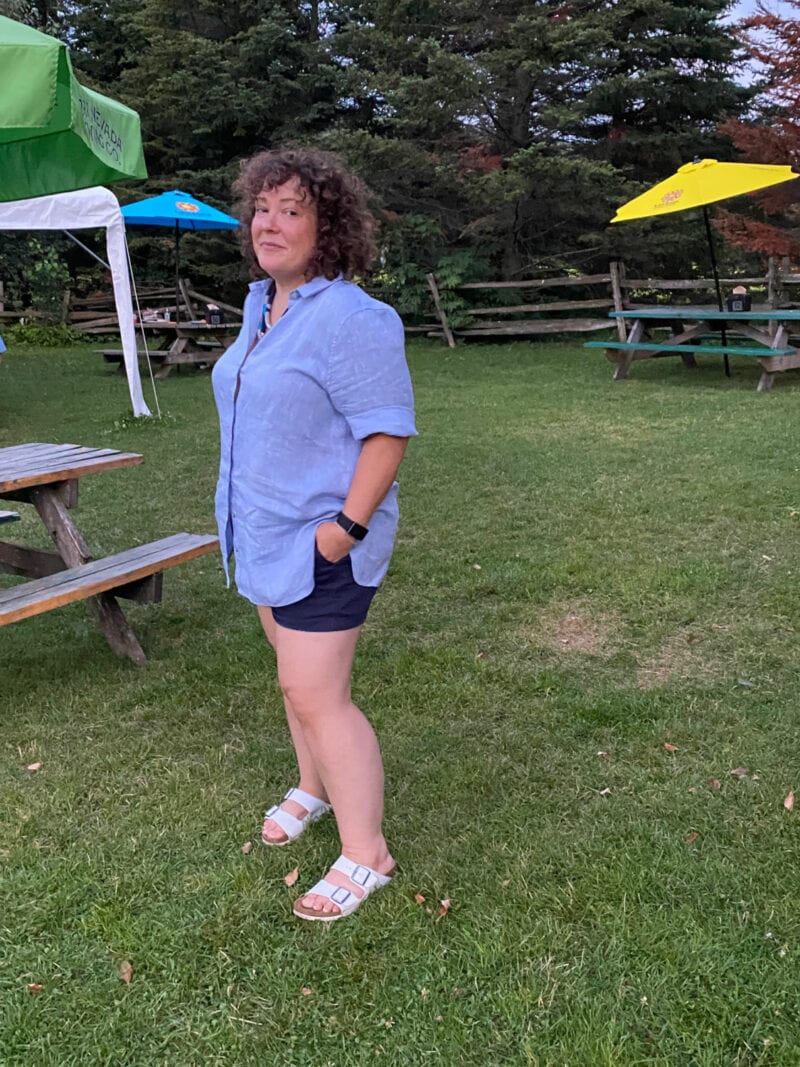 I was also bad at capturing photos while in Vermont. This was the last night, we went for dinner at a casual restaurant that has an outdoor dining area with picnic tables, tire swings, and hula hoops. This is the blue linen shirt from Chico's I mentioned I wore in Salem, with these shorts from J. Crew. Not seen, I'm wearing this necklace from Chico's. I also wore these shorts with the previously mentioned lightweight Breton sweater.
Philadelphia: Hot and Humid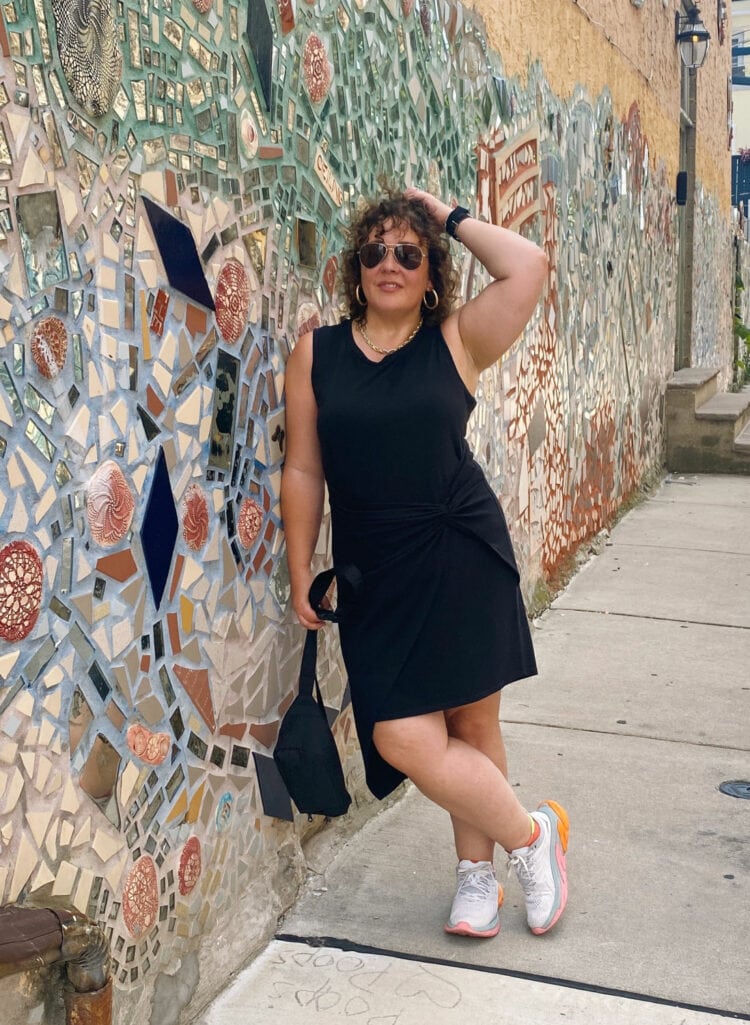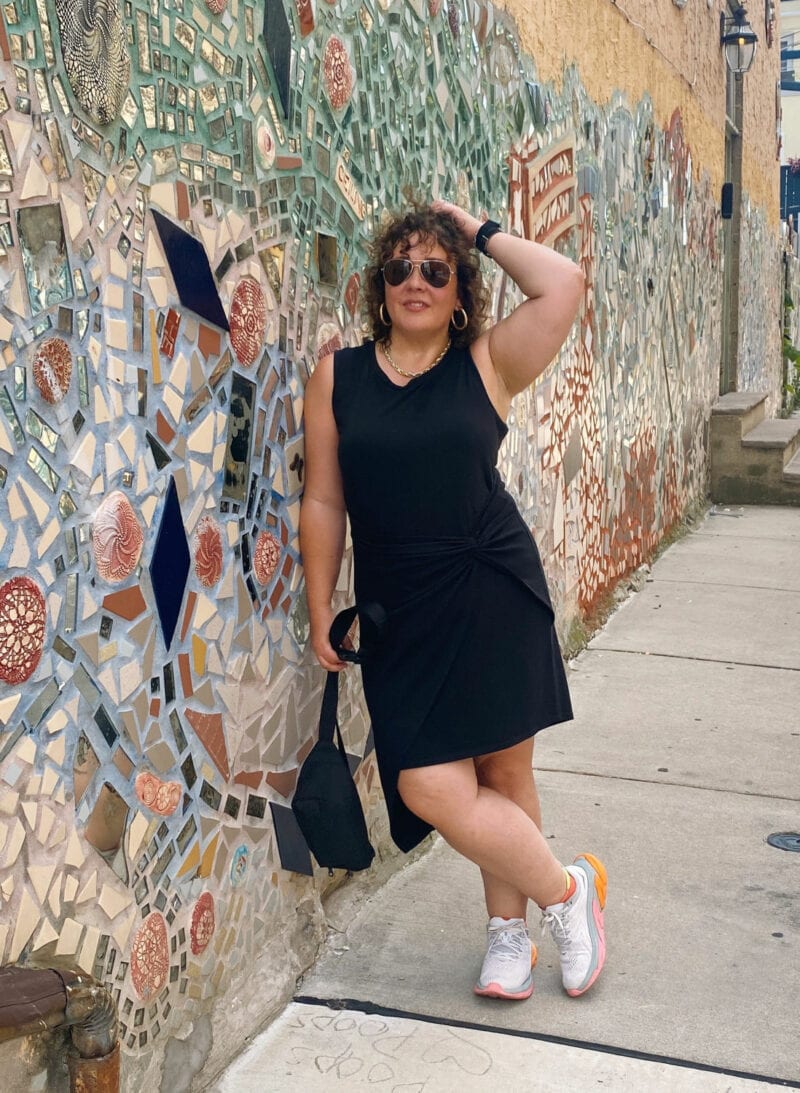 In Philadelphia, I ended up wearing the same black dress I wore visiting the Garment District in NYC. I think I also wore this in Vermont!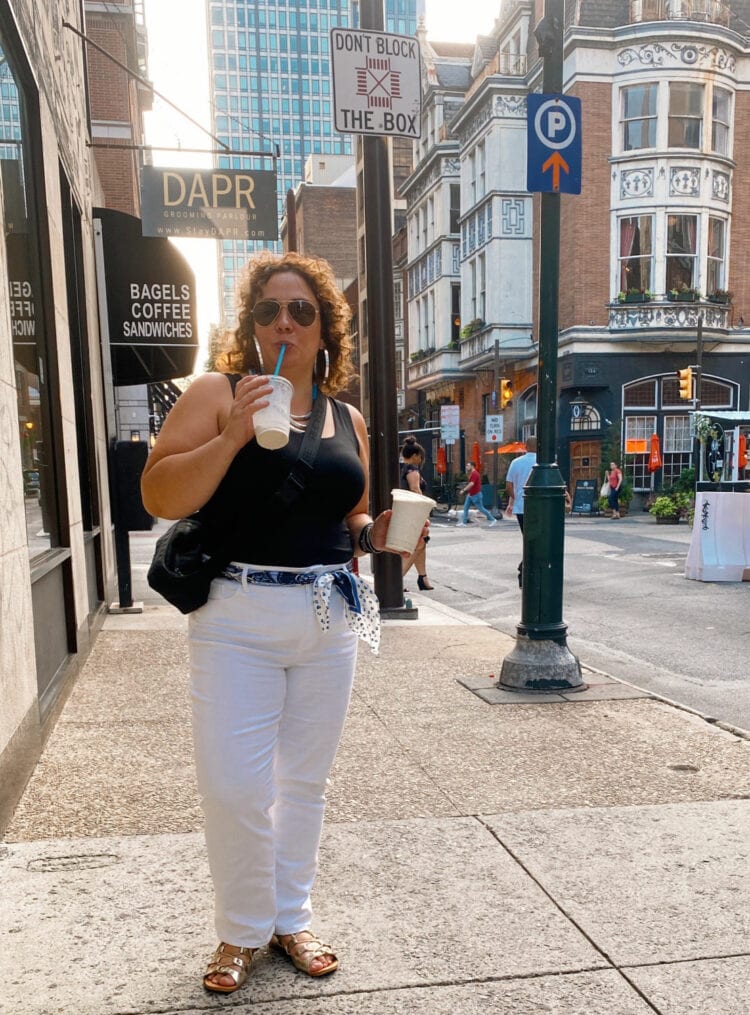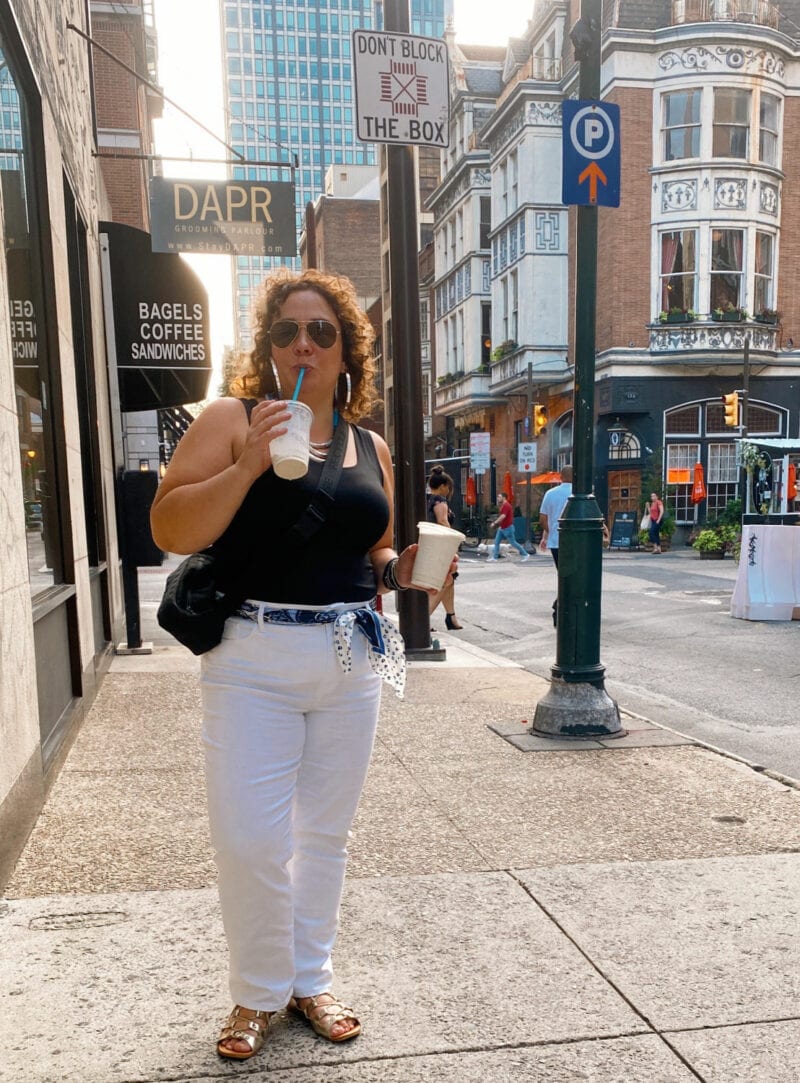 The last night in Philadelphia, I again wore this tank and these white jeans with my gold metallic sandals. I'm wearing the same blue Chico's necklace I wore in Vermont, and this scarf around my waist as a belt. I'm using the Girlfriend bag as a crossbody.
Clearly, not every outfit was captured, but I hope this shows how you can wear and rewear items to maximize looks without packing a lot of clothing!
Shop the Post: