This article may contain affiliate links; if you click on a shopping link and make a purchase I may receive a commission. As an Amazon Associate, I earn from qualifying purchases.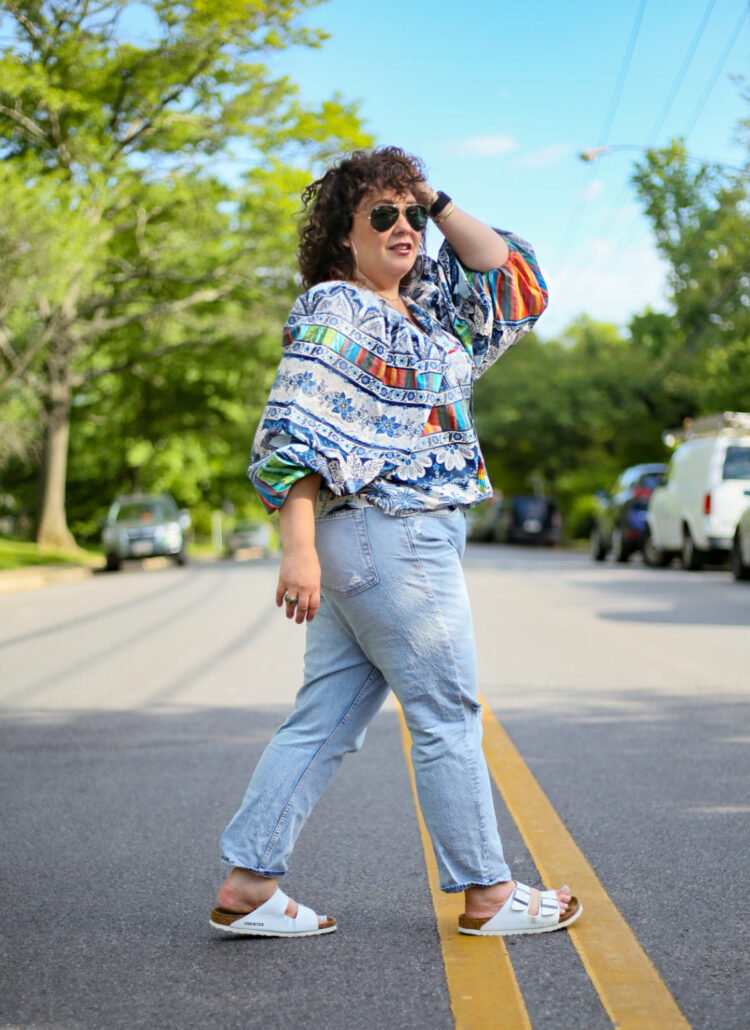 If you see me in person this late spring, there is a good chance you will see me in this outfit or a variation of it. Relaxed jeans that offer some airflow and flexibility, a lightweight cotton or linen top with interest, and Birkenstock sandals.
My Late Spring Uniform with a Farm Rio Blouse
This past year has taught me that more isn't better. You don't need a packed closet; in fact, more clothing creates more confusion. When it comes to colorful breezy tops like this I own three. One I bought last year (the colorful wrap top with flutter sleeves in this post), one I got from Universal Standard (this floral top from their collaboration with Erdem; I have it in XS), and the FarmRio one I am wearing today.
Totally not related to the topic, but this top also comes in a maxi dress; I just HAD to share it!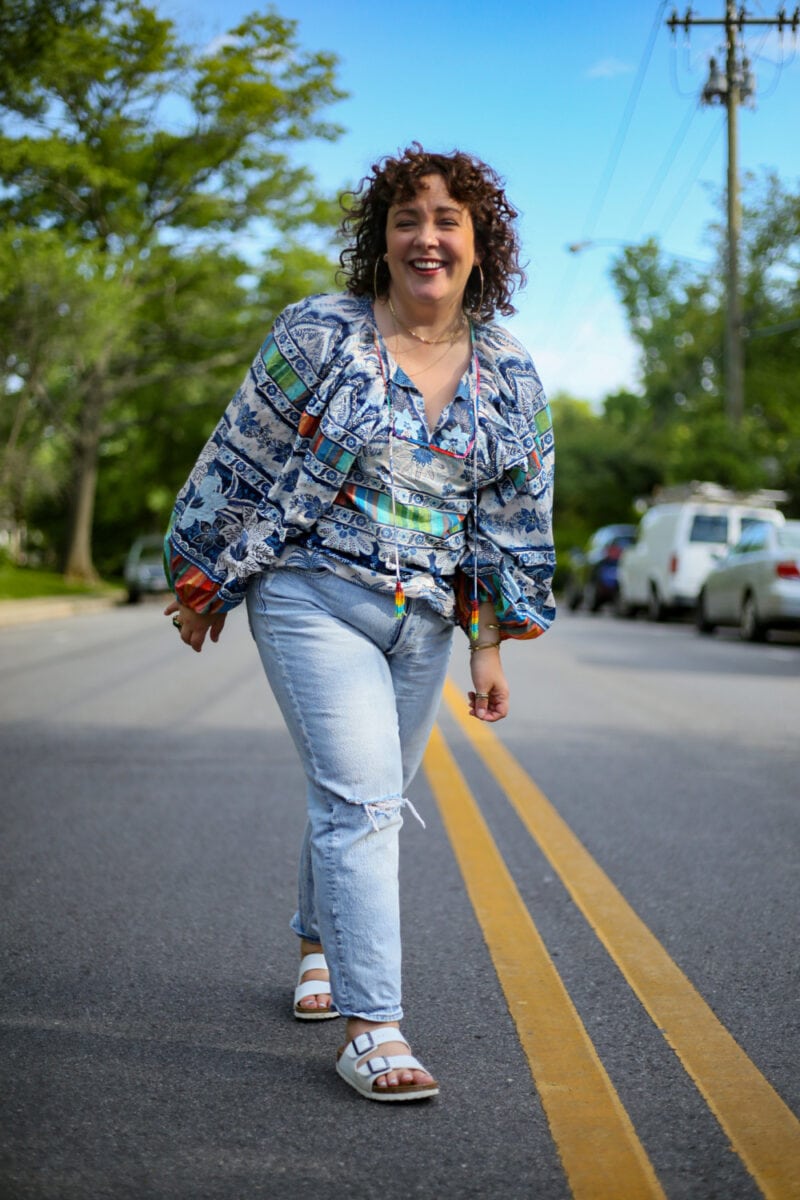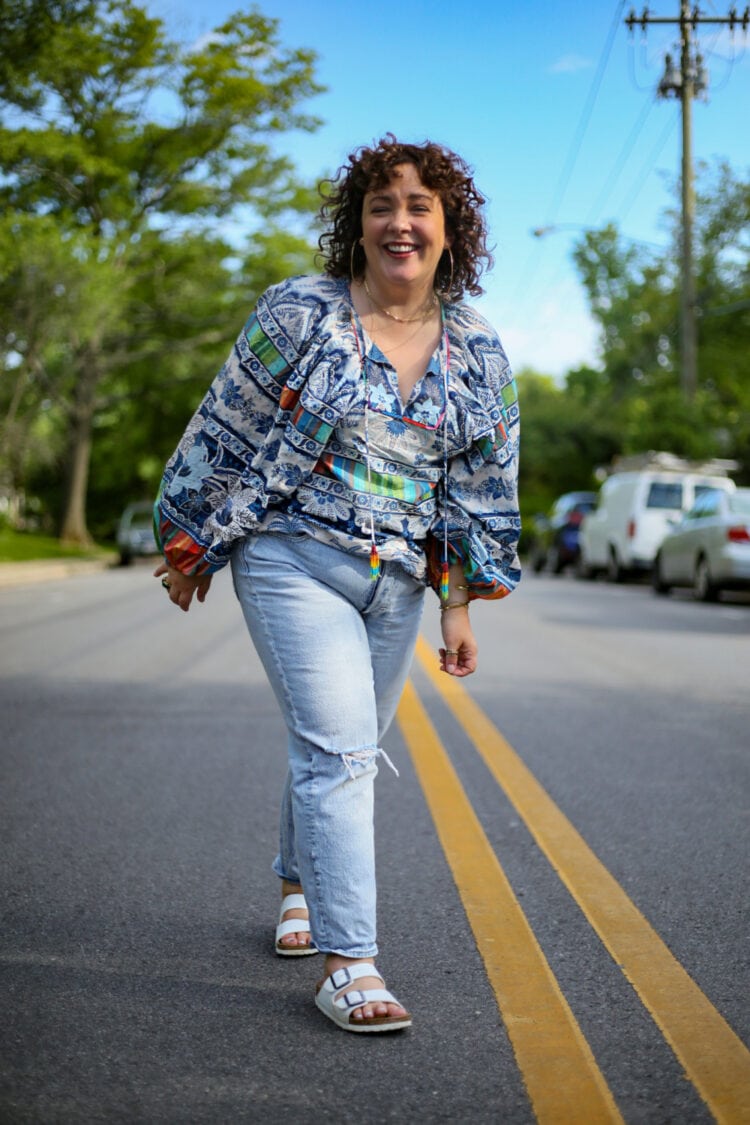 Outfit Details:
Top: Farm Rio (size Large) | Jeans: Gap (size 32 Regular) | Shoes: Birkenstock | Sunglasses: Ray-Ban | Hoops: Jenny Bird (gift of brand from many years ago) | Short Necklace: Rellery (gift of the brand almost a year ago) | Date Necklace: Etsy | Larger Gold Bangle: REALM (gift of the brand) | Smaller Gold Bangle: Metal Marvels
Having lunch with a friend at a restaurant with a patio? Going shopping? Inviting relatives over to our house for our kid's Zoom piano recital? Visiting relatives for the first time in a year for a casual lunch and get-together? You can bet it's going to be one of these tops with a pair of my looser jeans (which could easily switch out for linen pants, relaxed chinos, or a pair of shorts).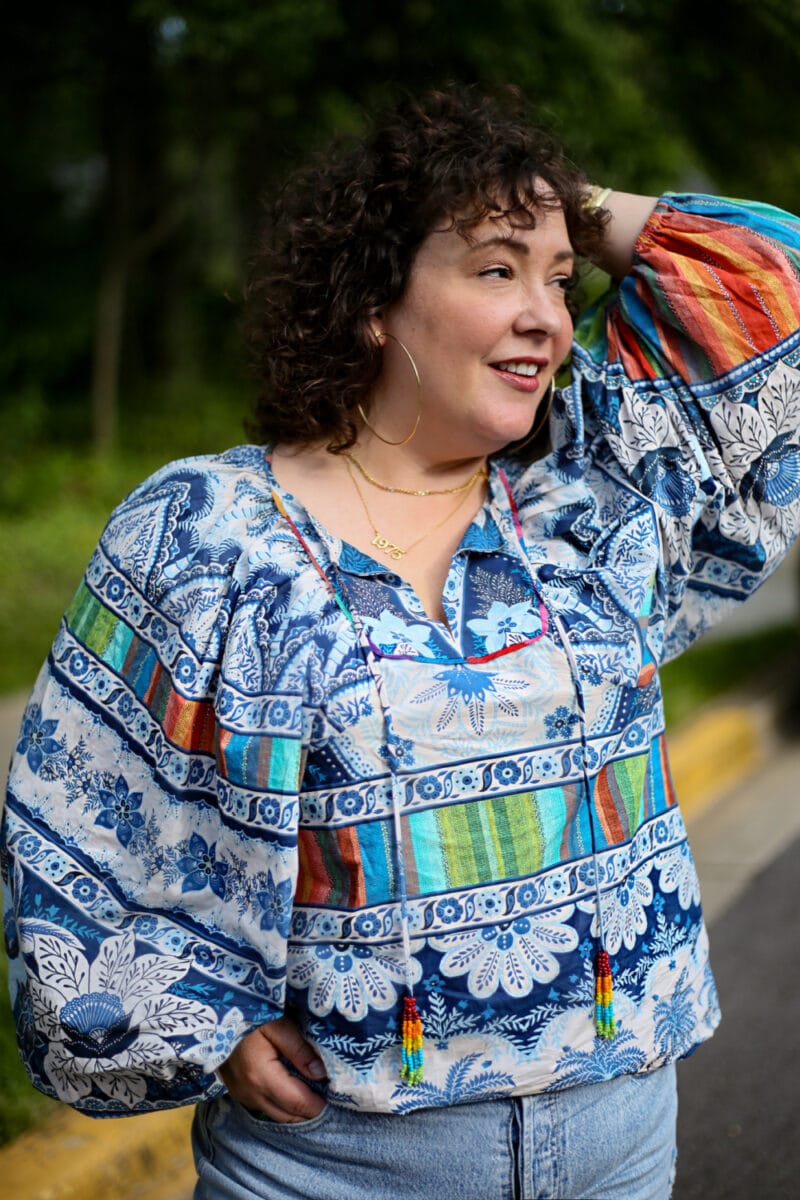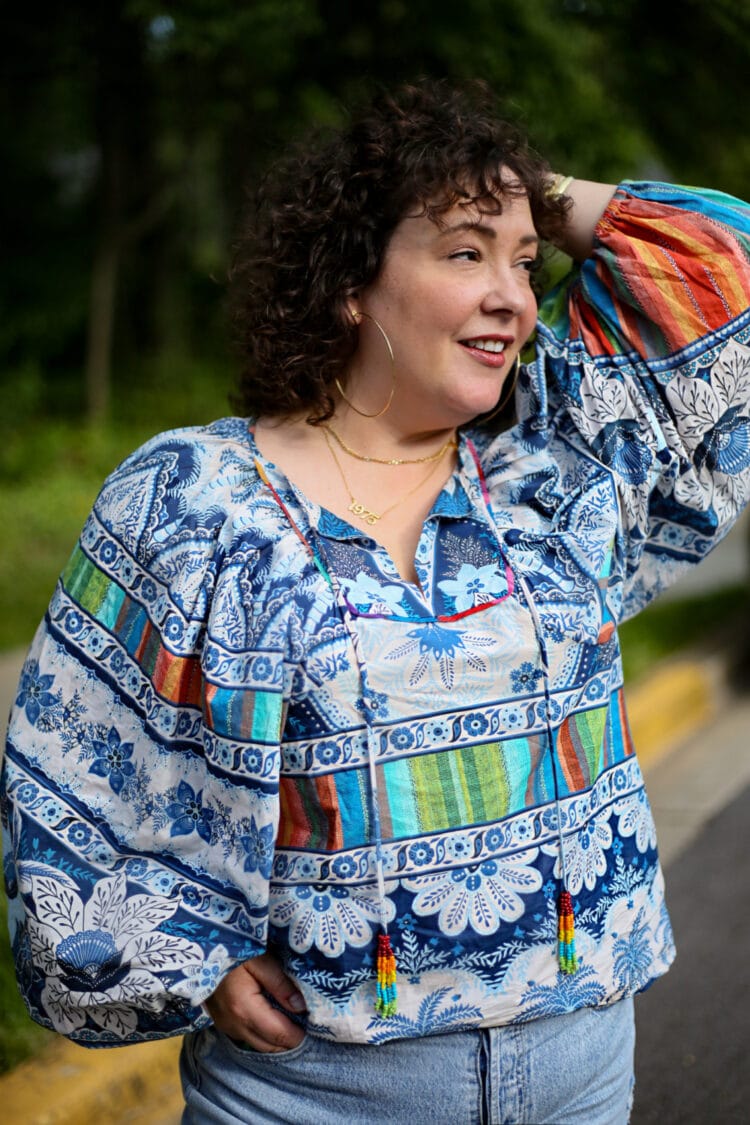 It's okay to wear the same thing again, even with the same crowd, if it's something special. I mentioned in this Friday Shop when I bought this top from FarmRio that I felt it was special, and it does "spark joy" each time I wear it.
For reference, I am wearing this top in a Large. I find FarmRio runs big; I have even rented dresses from the brand at Rent the Runway in size Medium and they have worked for me.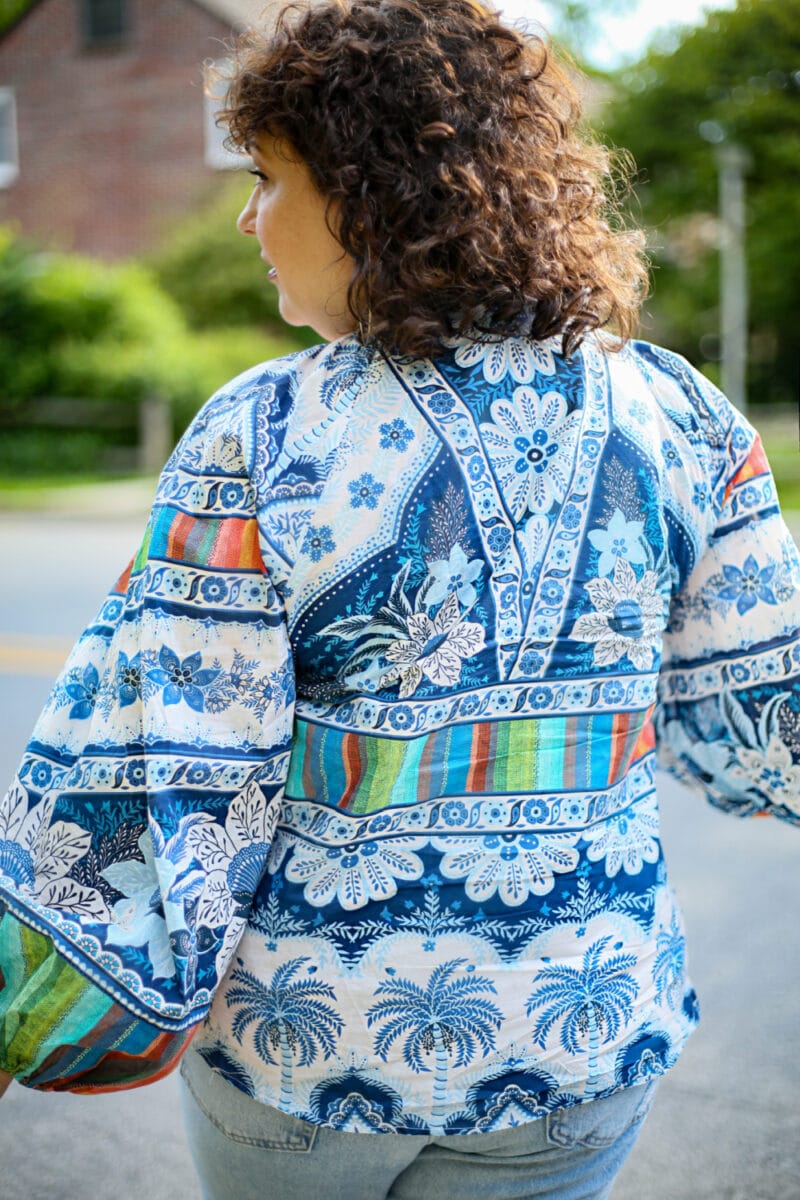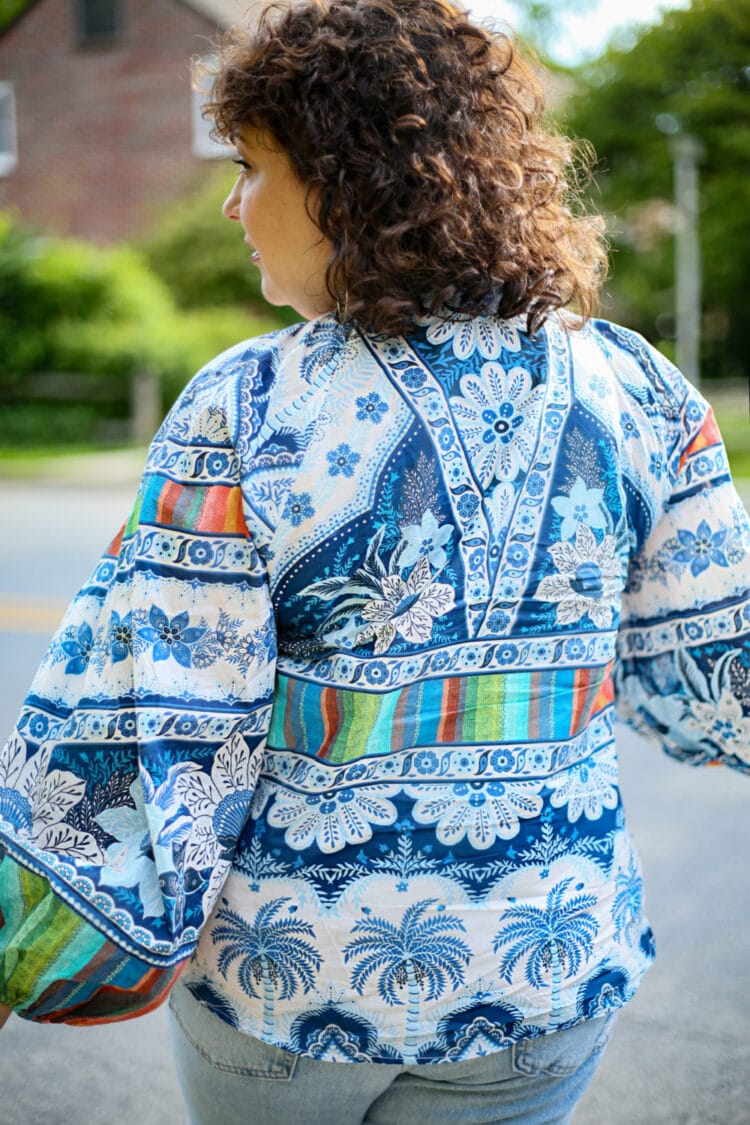 Confidence doesn't mean running around town in rhinestone cat-eye glasses and purple hair, or rocking a crop top and hot pants. Confidence means doing what is right for you, no matter what others may think. And for me, a 46-year-old woman, that is comfort while still enjoying getting dressed. And I so enjoy wearing this top!
I've gathered a few other tops that have caught my eye lately and have them below in the carousel. Use the arrows to scroll through and if you tap on one of the images, the page where it is sold will open in a separate browser window.
Shop Breezy and Fun Tops for Late Spring: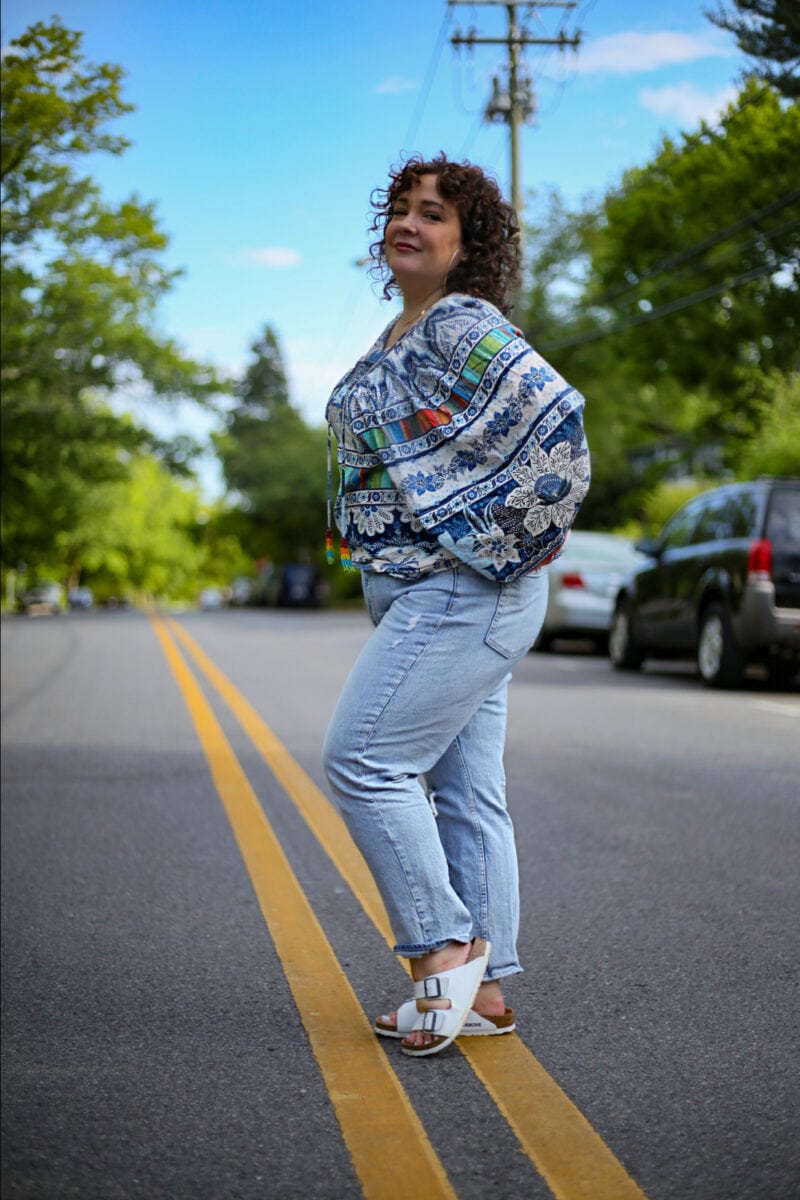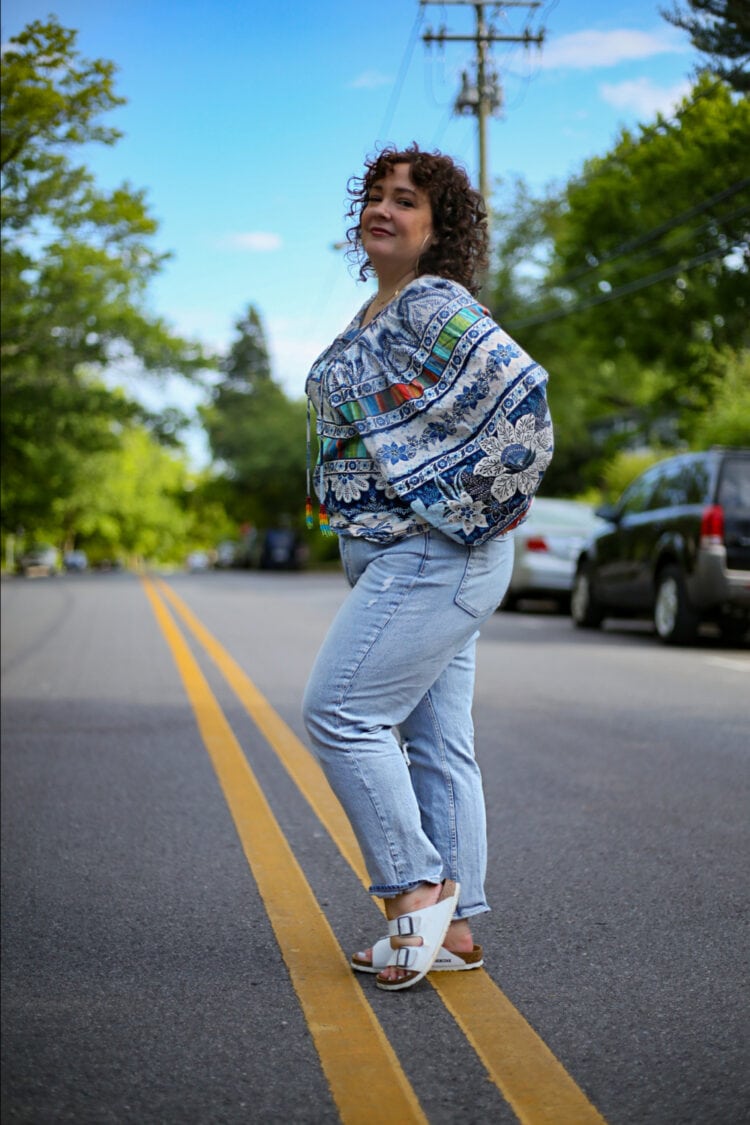 Gap Sale: 40% off (and that includes these jeans!)
These are the same jeans I wore in my what to wear to get the vaccine post. They are the high-rise cheeky straight from Gap and are exactly what I was looking for when I did this Madewell denim haul and when I was discussing the three denim trends for 2021. And right now they are 40% off.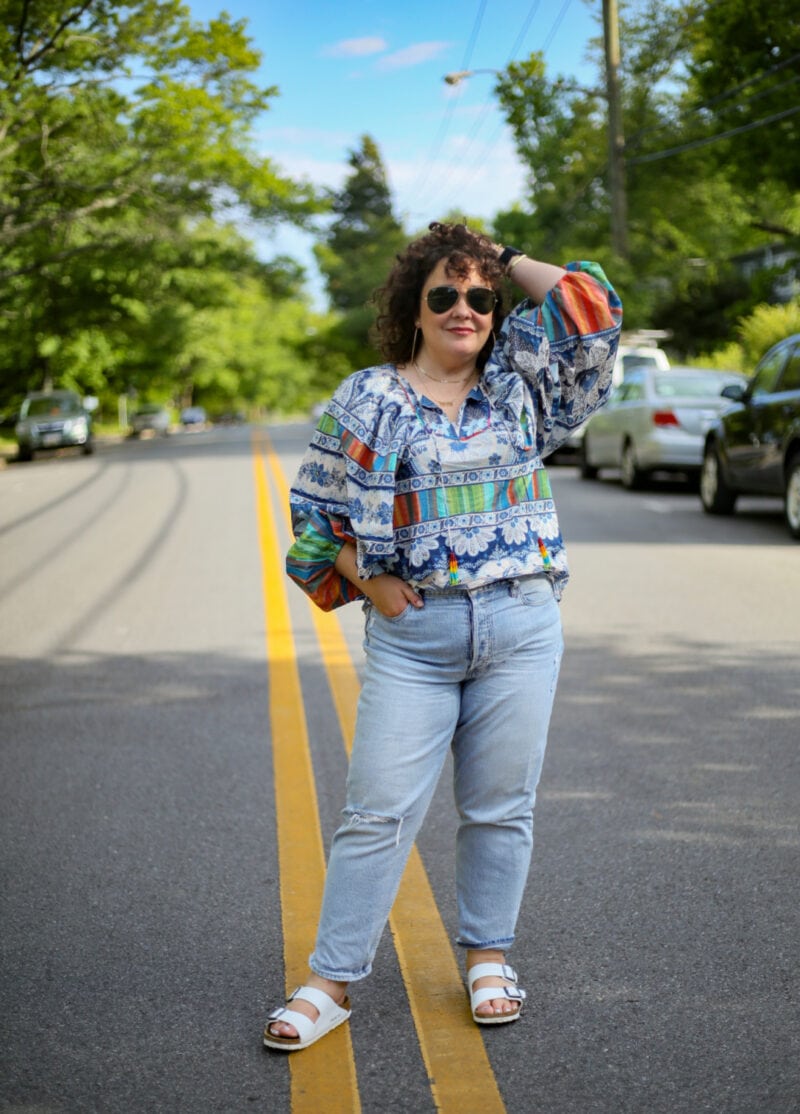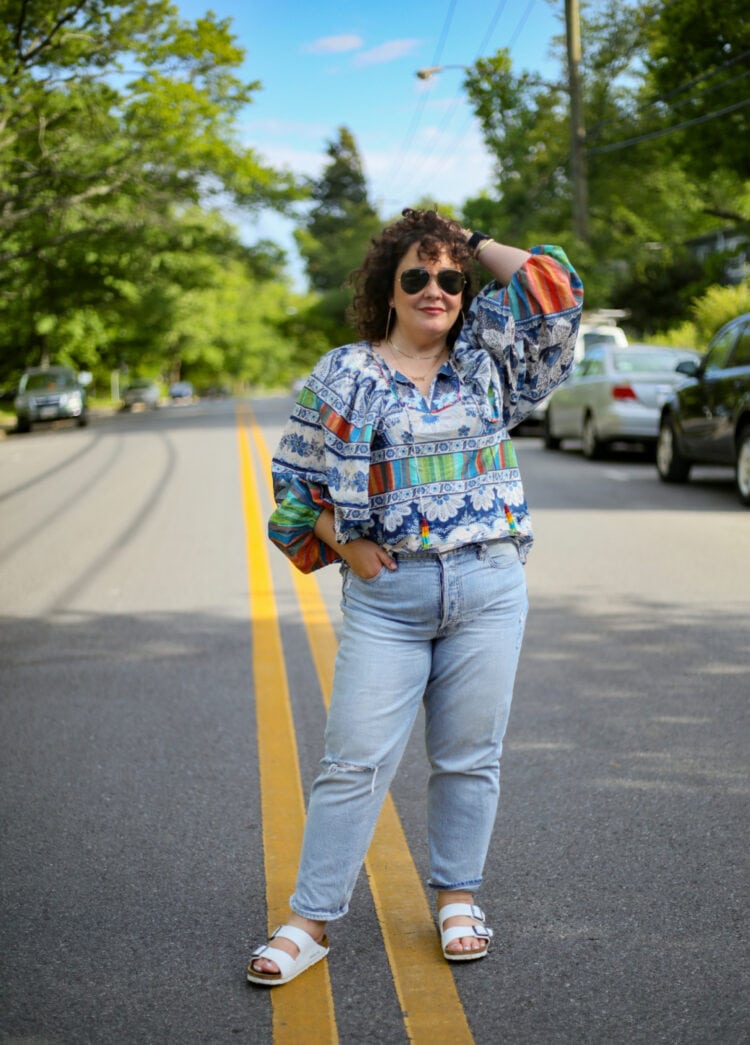 I got them in 32 regular, they have been washed at least four times and I still love them. This is the Light Indigo Destroy color, but Gap has several washes and distress levels of this style of jean; I have shared them below in this carousel:
Shop Gap High Waist Cheeky Straight Jeans:

The Gap 40% off sale is through the 18th. Use promo code FRIEND to get 40% off full-price items, and at least at the time of writing this, use COOL to get an extra 30% off sale items.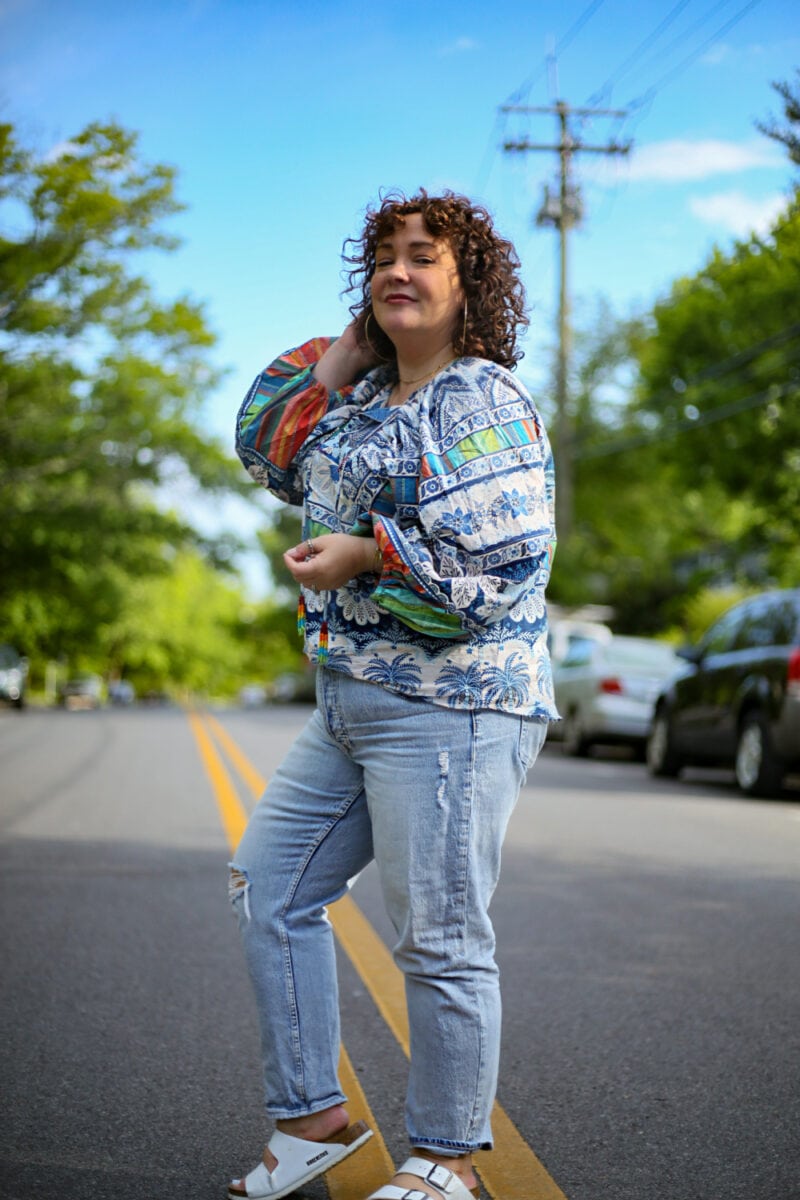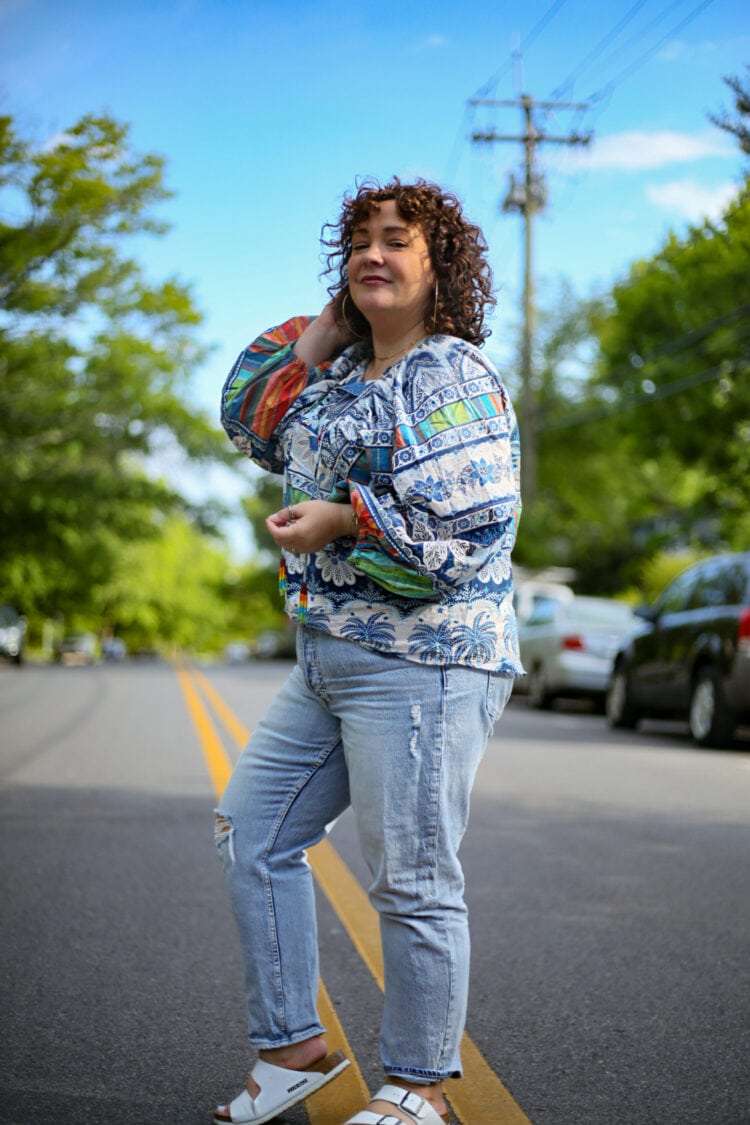 Anyway, back to the outfit. I may be a Grown Ass Woman who knows what she wants… but I am also still learning and changing and growing and trying to figure it all out. Right now? I want comfort and fun and color and ease.
I wore this look to lunch with my friend Sylvia last week to a very "scene-y" yet casual restaurant and had several compliments on my top and two women compliment me on my shoes… and I saw they were wearing the same ones. I was thinking about what I wore the last time I went to this restaurant; it was this look that was far more restrictive and far less fun. Still appropriate, but not anything I'd wear in 2021.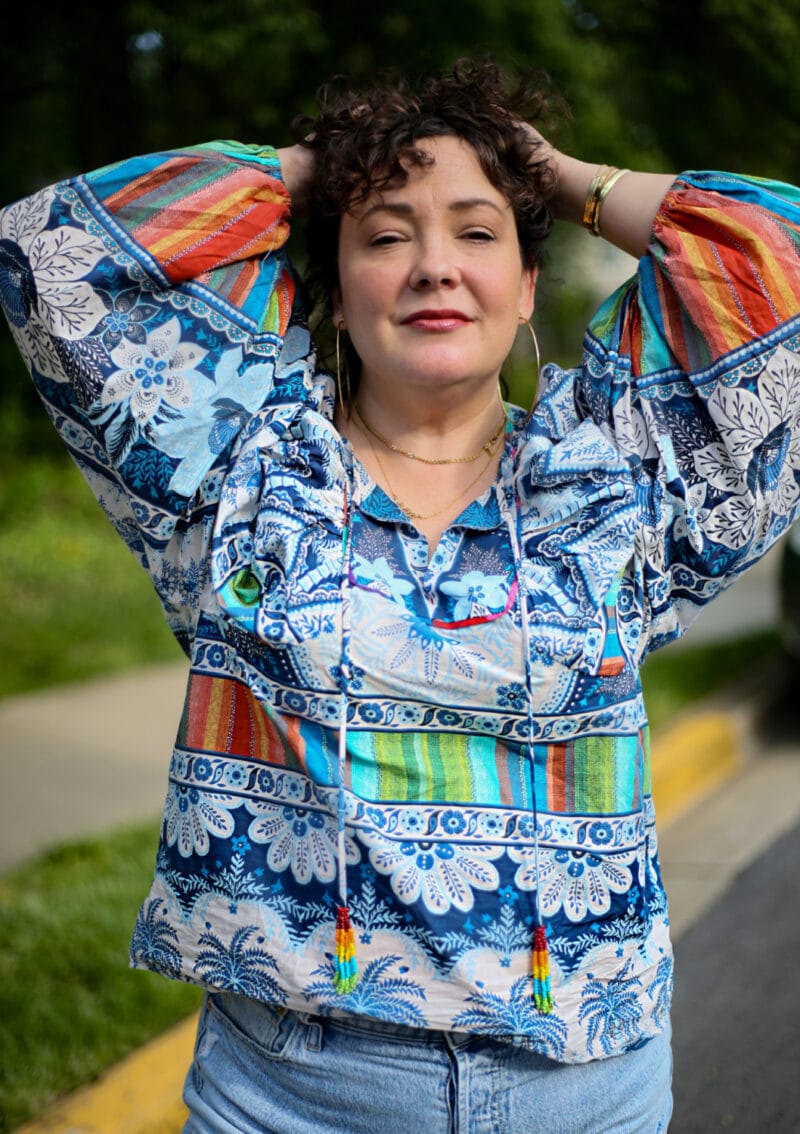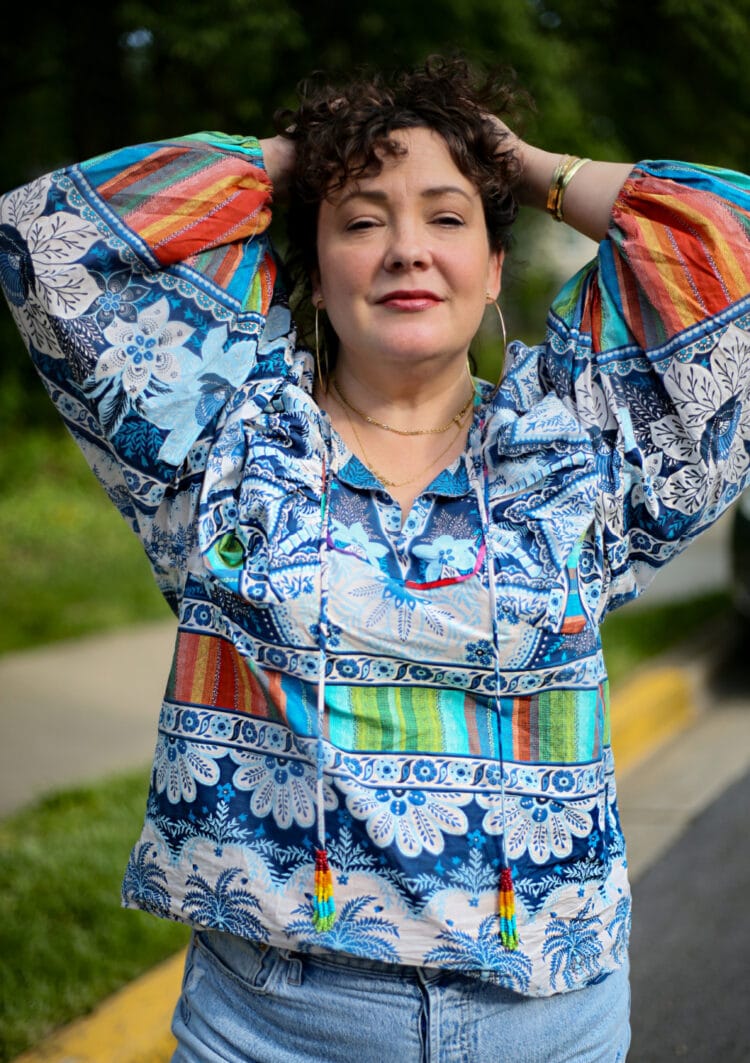 The world changed this past year; if you are heading back into it don't think you have to head back to old ways if they didn't serve you well. You'll find you're not the only one, and your choice to put your desires before those of "everyone" may inspire another to also follow that path.
Shop the Post: