This article may contain affiliate links; if you click on a shopping link and make a purchase I may receive a commission. As an Amazon Associate, I earn from qualifying purchases.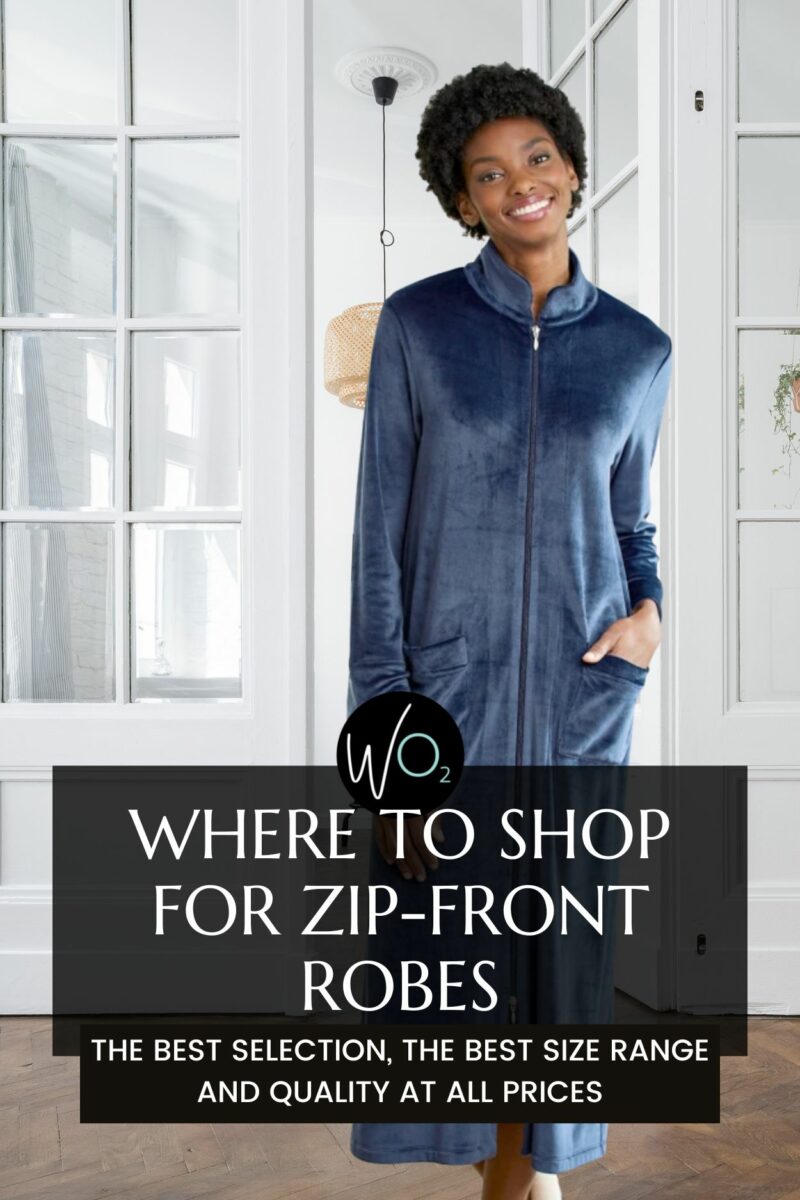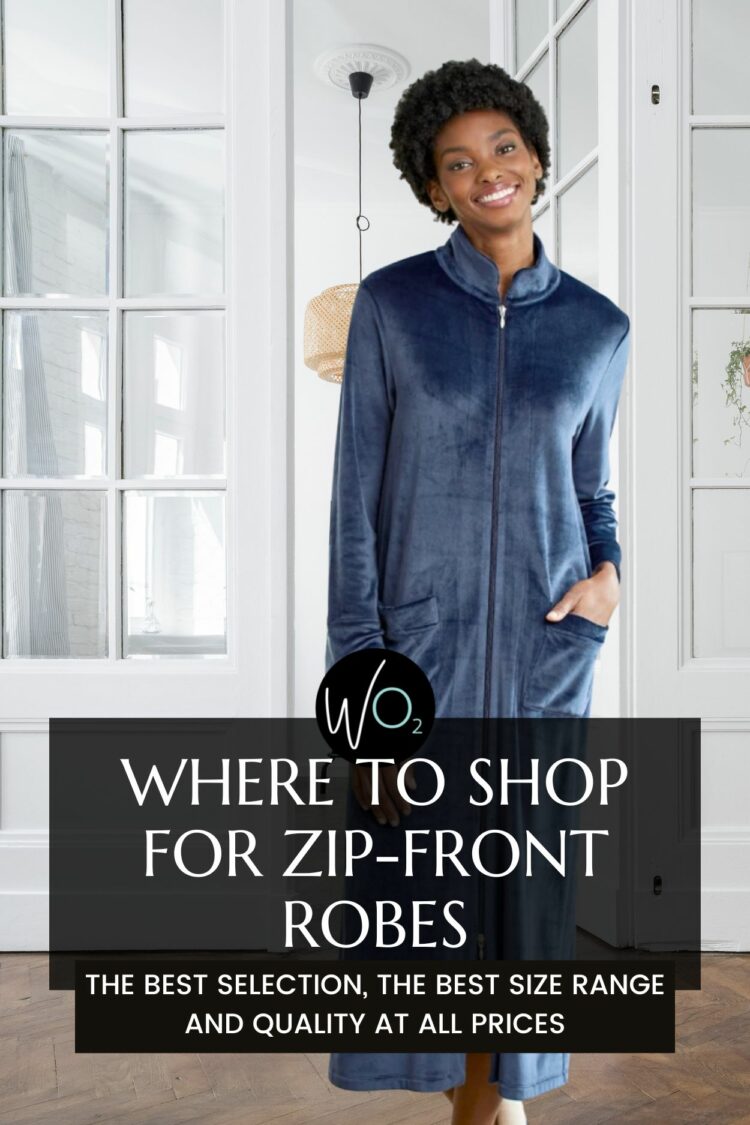 In the Wardrobe Oxygen Community on Facebook, a member asked about zip-front robes. She preferred that to a tie front, and I get it. Especially in the winter, I want full coverage and ultimate coziness that often is lacking in a robe that falls open when you sit and leaves your collarbone cold. These are the coziest zip-front robes I found:
The Coziest Zip-Front Robes
One thing I have learned with robes is that in general, you get what you pay for. This is even more true for zip-front robes. While I don't see any need for something like a $500 robe, you will find that design, fabric quality, manufacturing, and durability will improve if you're willing to pay a bit more. A robe is a piece that will get laundered often and comfort is paramount; I recommend sticking with the robe you have now and saving up for the right robe rather than trying to find a bargain.
Follow laundering instructions and if in doubt, be even more gentle. Zip closed before tossing in, wash inside-out, line dry when possible. Robes are large and bulky and can easily stretch out, get caught on other items, and get damaged in the machine. The more you care for your robe, the longer it will last and the better it will look and feel.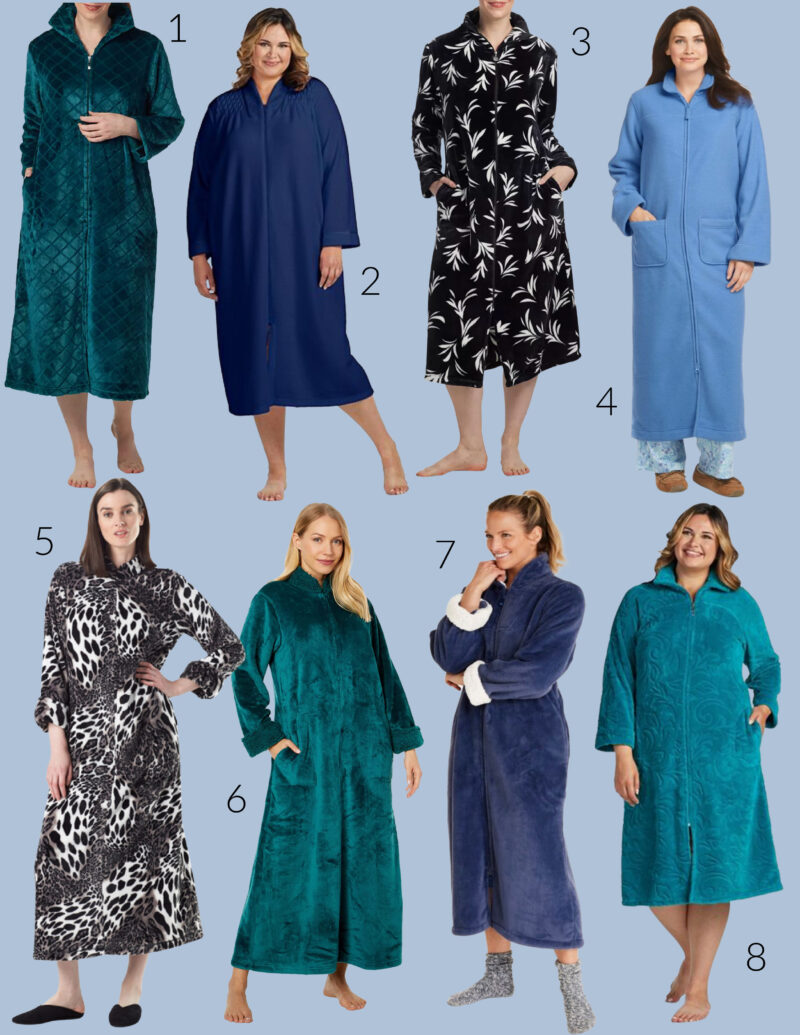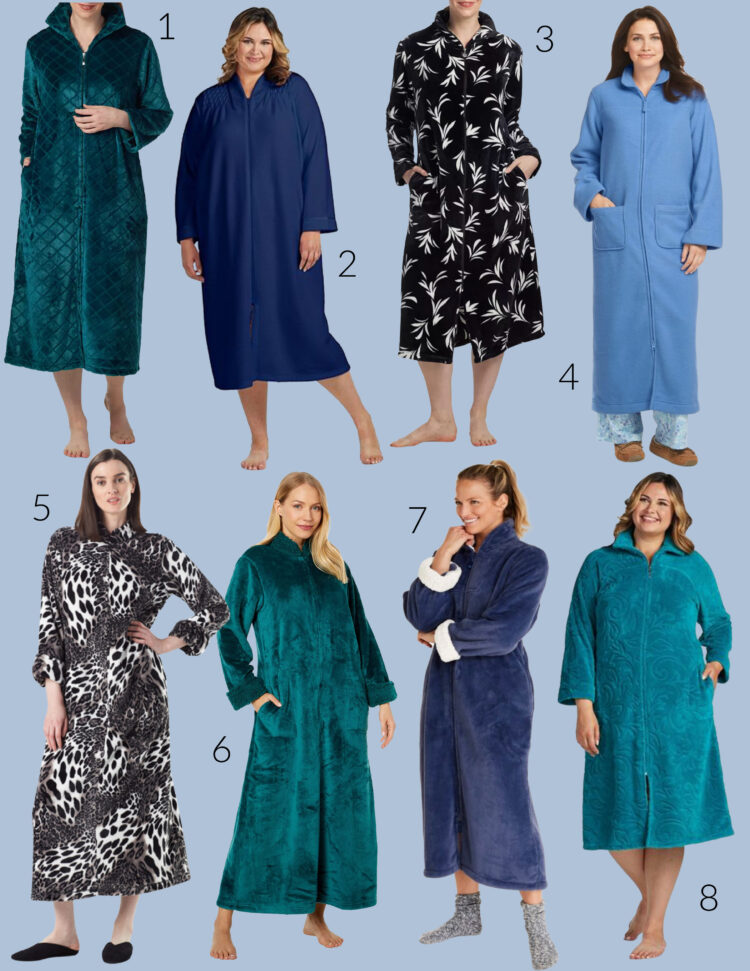 one (S-XL; link for petite and link for 1X-3X) | two (1X-3X) | three (S-XL) | four (XS-3X & petite)| five (XS-XL) | six (XS-XL) | seven (XS-3X & petite) | eight (1X-3X)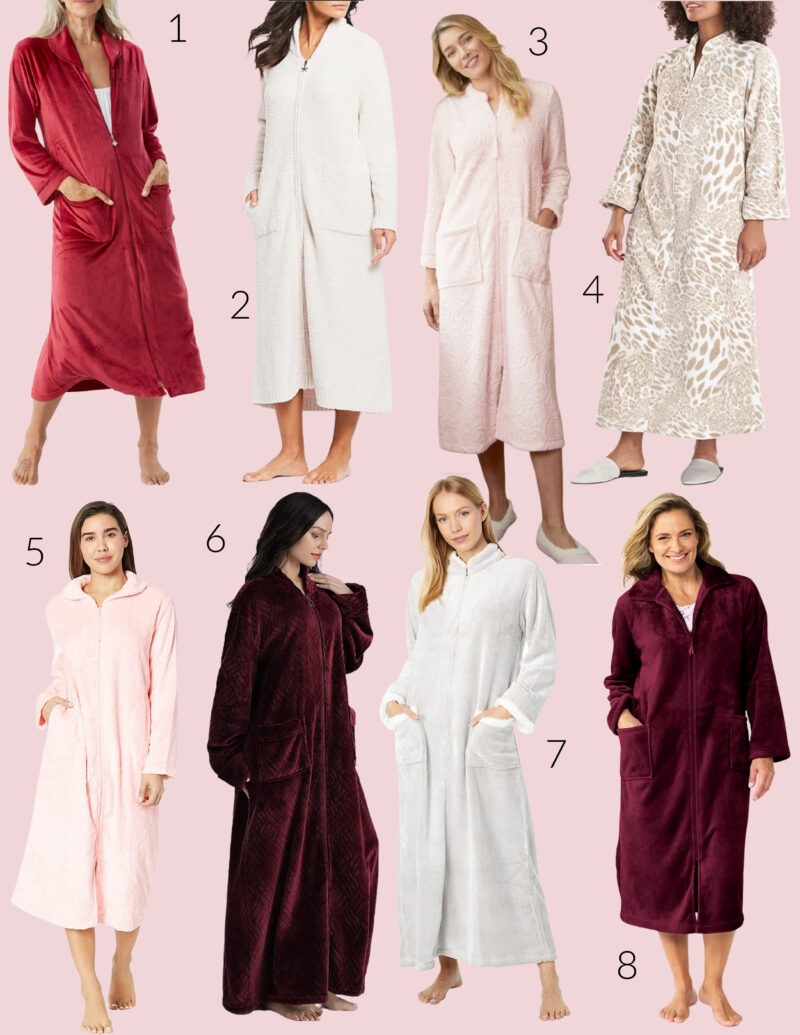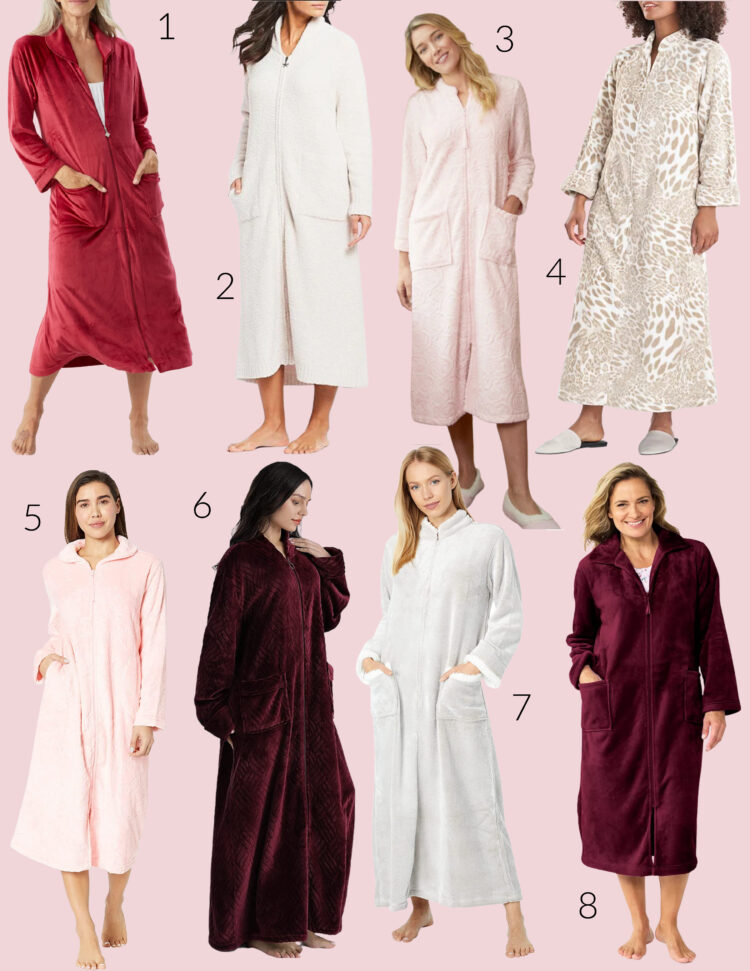 one (S/M-L/XL) | two (S/M-L/XL) | three (S-3X) | four (XS-XL) | five (S-XL) | six (M-XL) | seven (XS-XL) | eight (S-XL)
Again, just because this is a pink/red/cream color palette does not mean the robes featured only come in these colors. For example, the burgundy robe (six) from Youbuy comes in 14 different colors.
For the folks who think zip-front robes are only for the elderly, know that brands like Barefoot Dreams makes robes (two) and it's sold at all the major department stores. Not only that, this robe sells out FAST!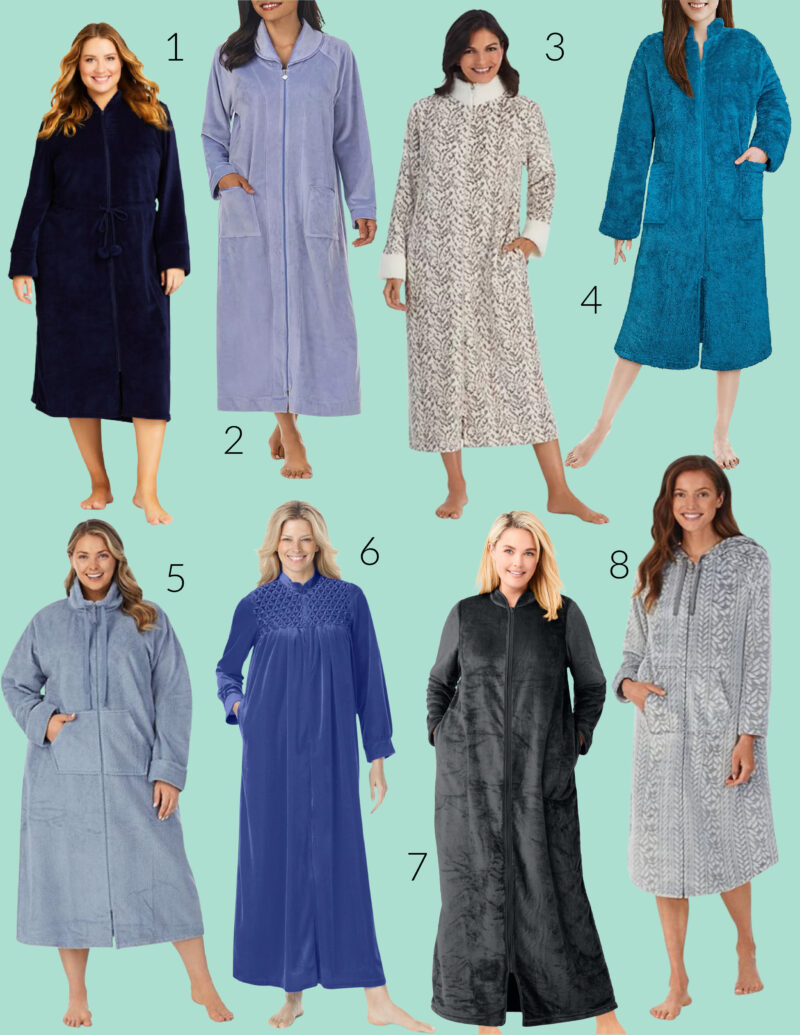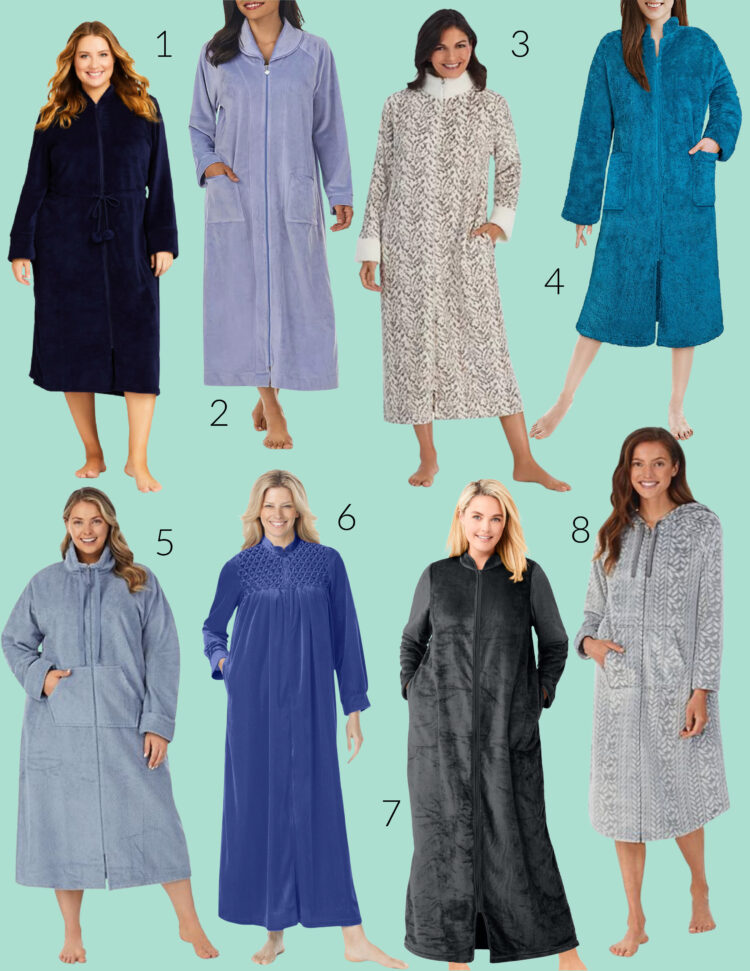 one (2X-6X) | two (S/M-L/XL) | three (S-XL) | four (S/M-L/XL) | five (1X-5X; link for Misses) | six (14/16-38/40)| seven (14/16-38/40) | eight (XS-XXL)

Zip-up robes are cozy, and available at most every major retailer. I found them at intimates stores like Bare Necessities, department stores like Kohl's and Saks Fifth Avenue, multi-channel site like Zappos and Amazon, and reputable retailers like L.L. Bean and Vermont Country Store. They sell for $25 and for $250 and come in a pretty good range of sizes. If I missed a super cozy zip-up robe, do share it in the comments!