This article may contain affiliate links; if you click on a shopping link and make a purchase I may receive a commission. As an Amazon Associate, I earn from qualifying purchases. 
The Little Black Dress, a term used so frequently it has its own acronym (LBD). Every celebrity stylist states a woman should have at least one in her closet. Who knows when you may be invited to the White House, to a gallery opening, the Oscars?
Let's get real, most of us do not have lives that revolve around cocktail parties and gala events. To add to that, most of us do not have the bodies or lifestyles that warrant that little of a black dress.
However I agree with the celeb stylists – it IS good to have a simple black dress in the closet – but more for the events that REAL LIFE throws your way. A wedding, a company holiday party, a Bar Mitzvah, cruise to the Bahamas, PTA silent auction, an evening church event, your son's college graduation, a night where the kids are at grandma's and your husband wants to take you out on the town.
Most of the events arrive suddenly on our radar, and the last thing we want to do is head out to the mall and search for an ensemble that "will do." And, no matter how hard you try to kid yourself, these are not usually affairs where chinos and a button-down will look good (and a knit top with bedazzlement does not make a tee a formal garment). The easiest thing to do is already have that not-so LBD on hand. If made with the right fabric and silhouette, it can work from day to evening, from summer to winter. Here's a few gems I have seen around the Internet…
The Plus-Sized LBD
Even if you aren't a perfect size 6, you still can look utterly feminine and stylish in a simple black dress. Black is slimming, it doesn't look dated quickly, and cheaper brands can look far more expensive and elegant when in this color. If the dress fits and flatters, no one will be looking at your arms or tummy – they will be checking out the whole glamorous package!
It's better to go up a size and pay for alterations, than be tugging at your bum or bustline all evening. When shopping for a dress, wear the undergarments you plan to wear oce you own the dress – this will ensure a better and more realistic fit.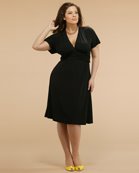 The Lola Ruched Dress from Kiyonna is a winner. The fabric is a poly-lycra blend which make care easy (gentle cycle and line or flat dry) and wrinkles non-existent.
The gathered waistband whittles the middle, and the sleeves make it comfortable for those who don't love their upper arms but still want a feminine and modern silhouette.
Check out the reviews on the site to hear real women's experiences with this awesome dress!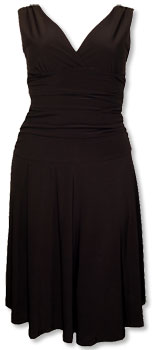 The Nina Dress from b&lu is a classic style that works on almost every shape of woman.
This is the same poly/spandex blend as the first dress; this means it will work every season and dress up or down with ease.
The full skirt will be fin on the dance floor, and the crossover neckline/gathered waistband will flatter your figure.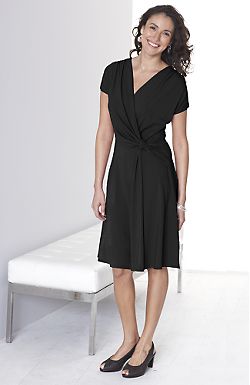 The Wearever Knotted Wrap Dress from J. Jill is a simple yet elegant style that is available in Misses, Petite, and Women's sizes up to 4X.
The crossover neckline elongates the neck and torso, and the slightly a-line skirt skims over hips giving an elegant feminine shape.
Pair these dresses with leather pumps or flats and nude legs for day, strappy silk or crepe heels in black, metallic or a fun accent color for night. Your personality can shine through with accessories – pearls, metal chains and hoops, colorful baubles – almost anything goes with these sorts of dresses. Keep it simple and daytime appropriate with simpler pieces and bring out the bling for evening. A simple shawl or pashmina can provide warmth for evening; a cardigan in cashmere or a silk knit will work during the day.
The Petite LBD
A dress is a garment that really needs to fit the body well – if you are petite or short-waisted, you will rarely find a non-petite sized dress that fits well, or can be worn nicely without many expensive alterations. Often the petite selection of dresses in the mall is scarse, and pretty boring. However the Internet has a larger selection and can usually provide every style of woman with a dress that fits her petite frame as well as her sense of style.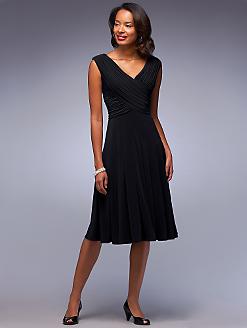 The Matte Jersey Party Dress from Talbots is as classic as one can get for an LBD. The ruched crossover bodice is slimming and flattering and adds just the right amount of detail and interest.
The fabric is easy care (can spot clean at a moment's notice) and will travel well (nothing better than an LBD for a vacation!).
Such a silhoutte will not be going out of style any time soon – this is a great dress to have on hand for whatever life throws your way!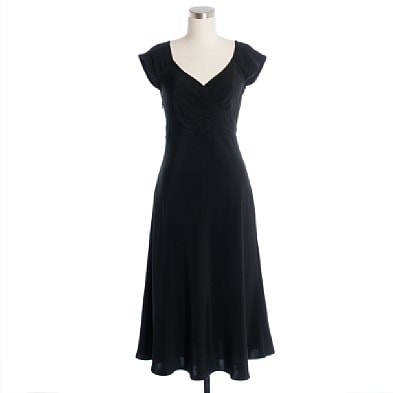 The Petite Silk Tricotine Cecelia Dress from J. Crew is so elegant in its simplicity. The cap sleeves and crossover bodice is flattering and works for day or evening. The dress hits right at the knees so it works with most any shape of woman.
This fabric is a bit more formal, but can still work beautifully for day with simple, minimal accessories and sandals or flats.
Though the dress is of silk and dry clean only, it is a classic fabric that will withstand time and trends for many many seasons.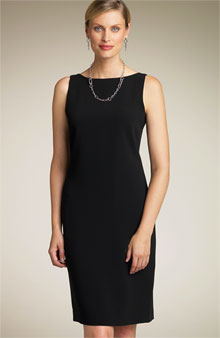 The Louben Sheath Dress from Nordstrom is LBD perfection. Such a simple dress can be worn to work, or to a cocktail party with ease. Fully lined and of the versatile Triacetate fabric, this dress will last for years and work for most any occasion, any time of year.
As with any other LBD, formality is gained by accessories – strappy heels or D'orsay pumps in silk will make any of these dresses after five worthy; switch out your day handbag with a clutch purse to dress up the look. Nude legs work for day or night, but very sheer black hose can add a dramatic look to an evening ensemble.
The Seasonless LBD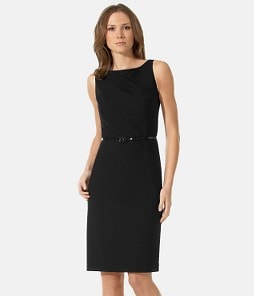 The Tropical Wool Bateau Neck Dress from Ann Taylor is a surprisingly versatile dress. In tropical wool, it works all year long. With the patent belt, it's great for work or even a day wedding. Switch the belt to a beaded or pave belted number, and it would work for many evening affairs.
Purchase the matching wool jacket and you have the perfect 9-5 ensemble – go from boardroom to dinner with such a classic combination.
Available in Misses and Petite up to Size 16.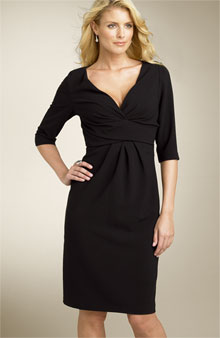 The Donna Ricco Crepe Sheath Dress from Nordstrom is a perfect style for the woman who isn't terribly comfortable with her arms, but wishes to show off her feminine shape.
The crepe is made from polyester which means it will have stretch and work with a woman's figure. It also means it is a frabric that will travel well, wash easily, resist wrinkles and transtion with ease from day to evening.
This style could be made to be more conservative with a black matte jersey camisole tucked underneath, or leave as-is for an evening affair.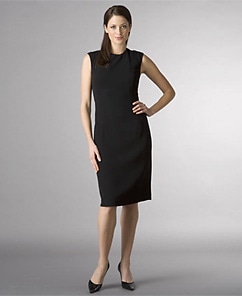 The Calvin Klein Jewelneck Dress from Lord and Taylor has the same classic styling as the Louben sheath, and the same versatile and forgiving Triacetate fabric.
Pair with pearls and pumps for work, switch to a bit more glitz and some strappy heels for evening.
You may also wish to visit:The Power of Accessories
Expensive Doesn't Always Equal Appropriate
The Staples For Every Woman's Wardrobe
How Does One Get the Polished Look?