This article may contain affiliate links; if you click on a shopping link and make a purchase I may receive a commission. As an Amazon Associate, I earn from qualifying purchases.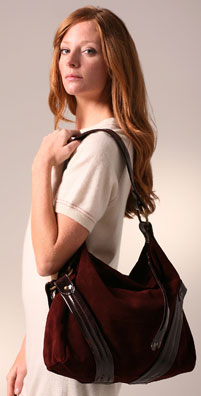 The Boy Scout motto is "Be Prepared." This is a great motto for all people, all situations, and for all women's purses.
Nothing is less chic than an overstuffed, overwhelmed handbag, but having the right tools in your purse will help make your life simpler, easier and more stylish.
Tide to Go Pen: There are many products on the market that help rid your clothes of stains while on the go… personally I have found that the Tide to Go pen is the easiest to carry, gets the job done more often than not, and doesn't seem to dry out as quickly as many towelettes.
Safety Pins: A couple in varying sizes are great in a pinch – a dropped hem, bulging buttons on a shirt, any wardrobe malfunction.I love to collect the tiny gold safety pins that hold tags to clothing – they are small enough to be practically invisible on your clothing.
I find that safety pins take up less space and is far more versatile and realistic in a pinch than a mini sewing kit. I have a mini sewing kit in my travel kit, but for day-to-day activities, you rarely have the opportunity or location to sit down and sew up a loose button or hem. When it comes to buttons, visible ones rarely fall off during regular wear – they always seem to fall of when changing clothes in haste. If in a pinch, put your button in your change purse and use a safety pin from the inside of the garment to hold the piece together until you can get home to remedy the situation.
Dental Floss: Never to be used in public, dental floss can be a necessity after a meal out in the privacy of the ladies room.Dental floss can also be a quick fix to tie things together (broken necklace or shoelace, wardrobe malfunctions) because it is a surprisingly sturdy mint-flavored twine.
Purell: Great when you can't get to a bathroom to wash your hands.My mom has used it on her feet after going barefoot through the airport metal detectors, and I have used it on a plane on the pull-down tray.
La Fresh Dental Finger Mitts: These are handy little pads do a quick brushing and freshening of your whole mouth (I used to swear by the Oral B Brush Ups but they surprisingly discontinued them – these are a great alternative).For heading out after a day at work, this is a quick way to cleanse your mouth and breath without bulky travel brushes and paste.
Sunglasses in a Hard Case: Protect your eyes, the delicate skin around your eyes and always look chic with sunglasses.Even in winter, it's wise to don shades when going outside.If you have them with you in your bag, you're more likely to put them on more regularly.A hard case will protect your eyewear from being scratched or smashed against other purse contents.No matter the price of your sunglasses, if you care for them they will last you a long time.
Glass-cleaning Cloth: These little cloths are tiny and will clean your sunglasses and glasses quickly and without scratching or smearing.They are often given away free with eyewear, and once you use these instead of the hem of your shirt, you will see the difference.
Lip Balm with SPF: Again, you need to protect your skin.I always apply lip balm instead of my lipstick when I get in my car for my commute home or as soon as I get in the car headed to the gym or yoga studio.I apply it under lipsticks for a more sheer (and more hydrating) lip color, and re-apply regularly at the pool or beach.Having it in your purse means it will be on hand at all time, and you'll be more likely to use it.
Tiny Comb: This isn't a comb to style your hair, but more to fix flyaways, comb out sweaty pieces near your hairline, to smooth out ponytails and updos, to comb out tangled ends.Of course, if your hair style is the type that never needs to be brushed or combed, this is not a necessity in your purse. A comb is better because it is more precise.No need for anything fancy – I have one that you often get free at a school photo shoot or with a new pair of clippers or a large brush.
Translucent Powder or Blotting Papers: When it's hot or stressful, your face often shows it with sweat or excess oil production.Sarah Jessica Parker may head to the rest room and use part of a toilet seat cover, but having this on hand will ensure you're looking calm, cool and collected no matter where you are.
Nail File: I think this is a given – nothing is more aggravating than a jagged nail or a rough cuticle.
Pain Reliever: Again, a given but oh so often we get a head or back ache and we're sans Advil or Tylenol.Drug stores often carry a small cylinder or box made perfectly purse-size and are refillable.
Of course depending on your lifestyle, you may need additional items in your kit. To keep things simple and organized, I keep all these necessities in a small cosmetic bag. If I switch to a beach bag or different purse, I can easily transfer all my necessities. If I am going out and using a smaller bag or clutch, I will pick out the tools I need for that evening (usually the powder, the Tide to Go pen, one or two safety pins) and put them in the purse, remembering to put them back in my Purse Survival Kit when I return home.
Some purse tips to keep things organized, efficient and tidy:
Only Carry Retractable Pens – It seems that caps always fall off pens and you end up with ink marks all over the inside and outside of your new bag.
Use Bags Within your Bag – your Purse Survival Kit in one, your makeup for touchups in another.
Assign Seats for Everything – if you know that your cell is always in the little pocket on the left, you won't waste time digging through your handbag for it.I have a hobo-style bag with a few pockets – the front pocket holds my work ID badge, the card to ride the subway and my keys (all things I need to grab in a jiffy).The inside small pocket holds pens, hand cream, my lipstick – all the small things in my bag.An outside pocket that isn't super accessible holds my iPod because it's padded and protected.There are two little pockets without zippers inside the bag – one holds my cell, the other my business cards.Then in the hobo space is the larger items – my wallet, my Purse Survival Kit, my planner, my Blackberry, my sunglass case.
Pare Down – Dump out your entire purse, get rid of all crumbs and fuzz at the bottom, and assess each item before you place them back in the bag.Do you really need six pens, two pencils and five highlighters in your bag?How about three packs of gum and two tins of mints?I often find that by the end of the week I have about a dozen lip glosses and lipsticks rolling around my bag.Toss the receipts that don't have importance, file the ones that do in your house.Look at all those plastic scan cards on your key ring – any place you haven't patronized in the last six months either toss the card or put it in a pocket or your wallet.Toss those stained and raggedy Kleenex, the fuzz-covered candies and the expired coupons.
Clean it Up – use some Murphy's Oil Soap, leather conditioner or Tide to Go to clean up and condition the inside and outside of your bag.Use cuticle scissors to trim off any loose threads or frayed fabric.If it's good quality leather and is damaged, take it to an expert to have it repaired.If it's past it's prime, accept it and head to your nearby discount big box retailer (Marshall's, TJ Maxx, Ross, Gabriel Bros.) before hitting the mall to possibly find your dream bag at a great discount.They say people judge men by their shoes, well they also judge women by their purses.We often forget our bag because it's a part of us.Look at it with fresh eyes and see if it is giving the right impression to others.