This article may contain affiliate links; if you click on a shopping link and make a purchase I may receive a commission. As an Amazon Associate, I earn from qualifying purchases. 
I believe in purchasing quality instead of quantity when it comes to beauty products as well as clothing. Almost a decade ago, I received a major promotion that would require me to travel for my job teaching people about my company's line of clothing, how to pair it with other pieces and how to merchandise it in the store. This required me to be very polished and I thought a makeover was in order. I visited the Trish McEvoy counter and left with a whole new palette of colors, and an arsenal of wonderful, high-quality brushes to accomplish most any look. I really feel that with the right tools, you can achieve wonders and often those wonders can be accomplished with a lower-end product. I use my Trish McEvoy brushes to this day, often with drugstore brands of eyeshadows, bronzers and lipcolors.
Thanks to Coutorture, I recently received Sephora's Smokey Eye Kit – a cute metallic wallet holding Sephora's idea of the tools necessary to achieve the proper smokey eye.
Like me, they saw the necessary tools to be brushes, not shadows. The kit contains four brushes, a brow and lash groomer, a tube of Sephora Brand Volume Mascara and a how-to card. I was interested in trying this – makeup styles come and go but a few trends (matte red lips with simple eyes and a smokey eye with lighter lips) seem to endure.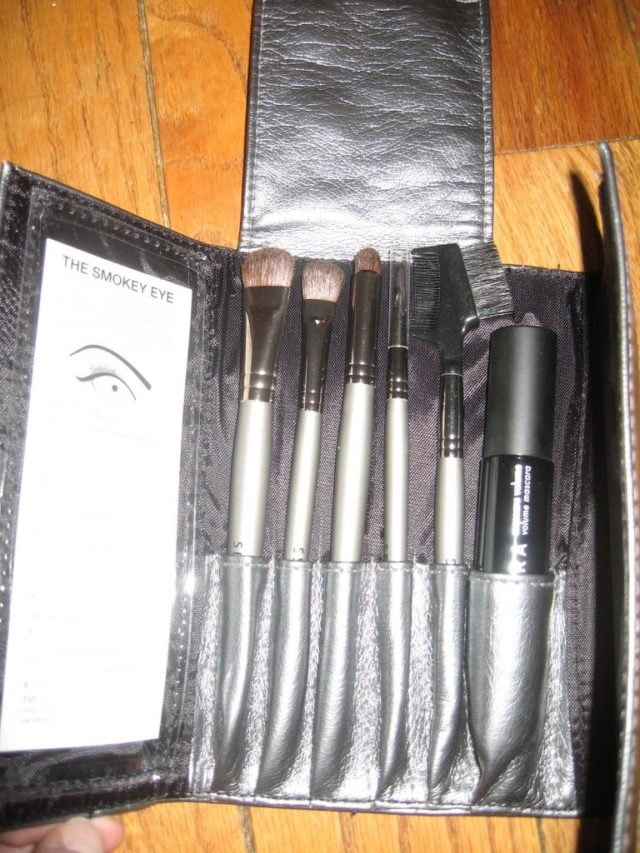 The case is well made, beautiful gray metallic leatherette with a black nylon interior that is made to not just be pretty, but to properly protect the brushes and make the kit easy for travel. The case does not have extra compartments, so it really is meant to only hold this ensemble. The left flap had a clear pocket to hold the how-to card.
The brushes are quite nice – larger than most kits have (almost "regular" size), nice weight in the hands, easy to hold and maneuver, and soft bristles. I have a Sephora Brand bronzer brush that I love; these seem to be of the same material and quality. Each brush has it's name (small dome, all over shadow, etc.) so it is easy to know which tool .to use to achieve your desired look.
This morning I decided to try out the kit and follow the how-to to the letter to see how it actually works. Is this Smokey Eye Kit worth the $42 price tag? The appearance says yes yes yes, but will the experience match?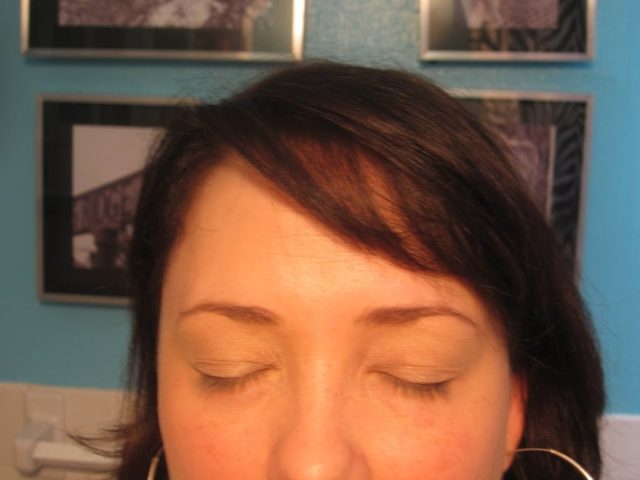 The kit says first step is to use the Allover Color brush to apply a shimmery light shade from brow to lash line, concentrating on the brow bone area. It also suggests the Sephora Brand champagne shade.
I do not have that shadow, instead I used my Pop Beauty shadow set for Brown Eyes – the sparkly beige shade. The shadow picked up pigment nicely without scratching up the shadow, application was good – these are not natural hairs in the brushes so the application wasn't as perfect as say with sable/squirrel; but a very excellent job for a synthetic.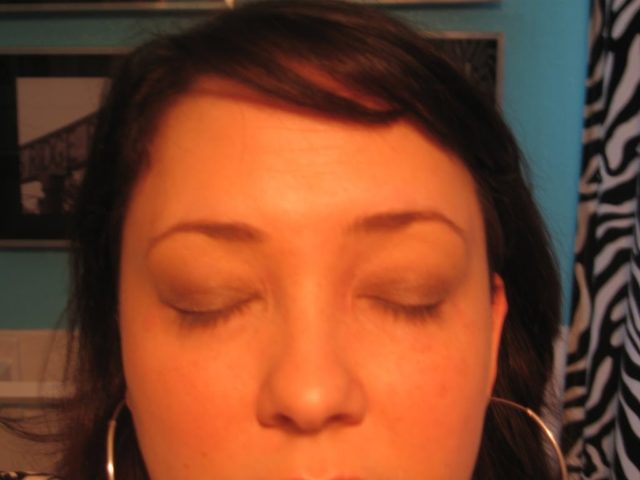 Next, I was to use a darker shade (again a Sephora Brand shadow – charcoal, was suggested) and apply with the Wide Crease brush from lash line up to crease. I chose to mix the dark brown and soft black of the Pop Beauty kit for my own version of a warm charcoal. This brush I wasn't as happy with. The shadow didn't seem to "grab" onto the brush and even with a very gentle hand, dark shadow flicked off the brush and everywhere – in my eye, on my temple, under my eyes. I knew it was not the shadow as that I had used it several times before with my Trish brushes. The size also was a bit awkward for my personal lid shape, and it was hard to maneuver from lash up, instead of from side to side. This ended up with me brushing away shadow and re-applying powder so I didn't look as though I had been in a fight.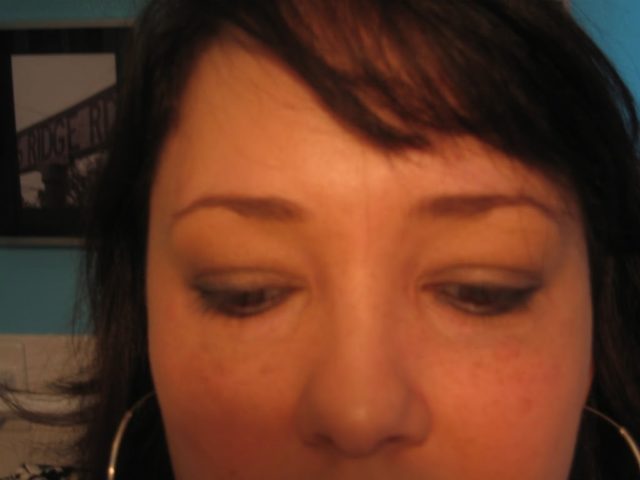 Next step was a tad confusing – the kit instructs to use the Detail Brush with a dark color and line both top and bottom of the eye AND to use the Sephora Brand black pencil (not included). It does inform you to make the line heavier on the outside part of the eye, but doesn't explain HOW to apply the line and WHY to use powder and pencil. It also doesn't explain how thick said line should be for either the top or bottom lash line. I tried applying my black shadow with the liner brush and it went on well, though faint. Again, this is an issue with synthetic brushes and powder. By moistening the brush (not mentioned in the kit but I know from past experience) I was able to get a stronger line of color along both lash lines. As for pencil, I used my Black Eye Definer from Body Shop, and just ran it along the lower lash line, for fear of ruining the line I made with the powder already. For a makeup newbie, I found this step of the directions confusing and if in the wrong hands, leaving a very 1980s raccoon-eye look instead of a smokey finish.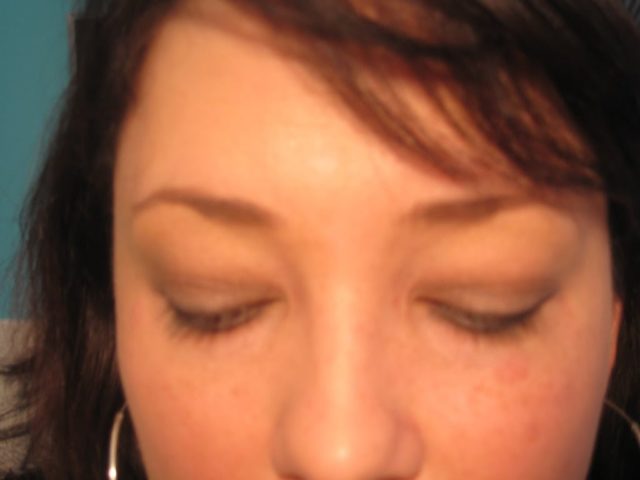 The next step was to take the Small Dome Brush and smudge the line you made, from lash up toward crease. This worked, and I really liked this brush – the angle was well done, the bristles were packed enough to give some oomph without ruining the finish. I have always done this step with my finger – this gave a far more refined finish and helped blend all the layers of color nicely.
The steps then instruct one to curl lashes (with the Sephora Brand lash curler, natch) and apply the Sephora Brand Volume Mascara (included). I instead used my Shu Eumura curler, and tried out their mascara. It's not bad… not really volumizing (especially in comparison to my believed DiorShow mascara) but it applied well. It has a brush that has four mini combs to apply the product – I found it went on relatively well – few clumps but it was a bit sticky/gooey. It dried well, but to add a second layer of product, I definitely needed the Dual Sided Brow Brush/Comb (included) to separate my lashes.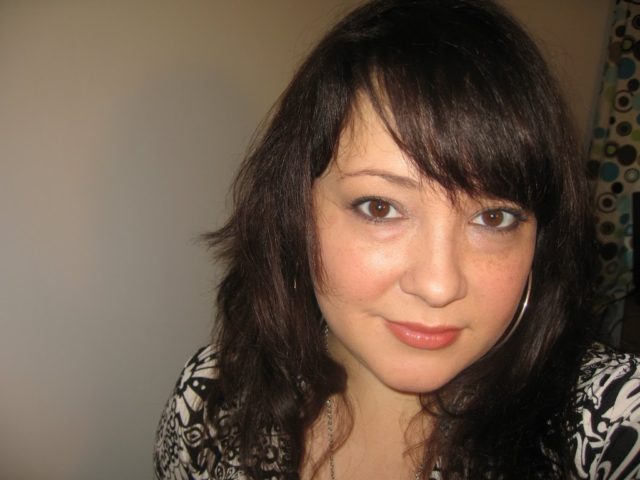 Final opinion? This kit is an amazing value for someone who does not have the tools to achieve this look. For $42, you are getting decent quality of synthetic brushes, a decent mascara for day wear, and a great carrying case. This is a wonderful shadow brush starter kit for someone who is considering starting a brush collection or has none. The All Over Color brush is one you would probably use every day, and the Detail Brush is a very good tool to make your eye shadows double as a liner. By using other references for shadow application (check the net, some beauty blogs, and my favorite resource are the books by the late Kevyn Aucoin) you will be able to have steps that may be clearer and more appropriate to your lid shape and personal style.
And if you are considering investing in this, right now Sephora is having their Friends and Family promotion. Use code FF2007 at checkout (until November 21, not applicable in Canada) and you will receive 20% off your entire order!
Have a smokey eye day!
(all photos can be clicked to enlarge. I apologize for the quality – hard to photograph yourself with your eyes closed on a mediocre camera!)