This article may contain affiliate links; if you click on a shopping link and make a purchase I may receive a commission. As an Amazon Associate, I earn from qualifying purchases. 
We all know by now I love and regularly write about Colleen Rothschild Beauty. I have used this skincare line since 2016 and my skin has been all the better for it. It has taught me the benefit of sticking to a skincare routine and that time and quality spent on my skin is worth it for less irritation, fewer breakouts, and glowing, soft, happy skin. But I have had this weird habit of when I travel to go minimal and use samples and travel sizes tucked in my linen closet versus using what is tried and true good for my skin.
This post is sponsored by Colleen Rothschild
Colleen Rothschild has travel kits of their bestsellers called the Discovery Collection and once I got one, it was a travel gamechanger. Now I can have TSA-friendly sizes of the skincare proven to keep my face happy in a chic and convenient travel bag. Not only that, most of the containers are refillable. I just fill them back up after each trip and have them ready for my next adventure.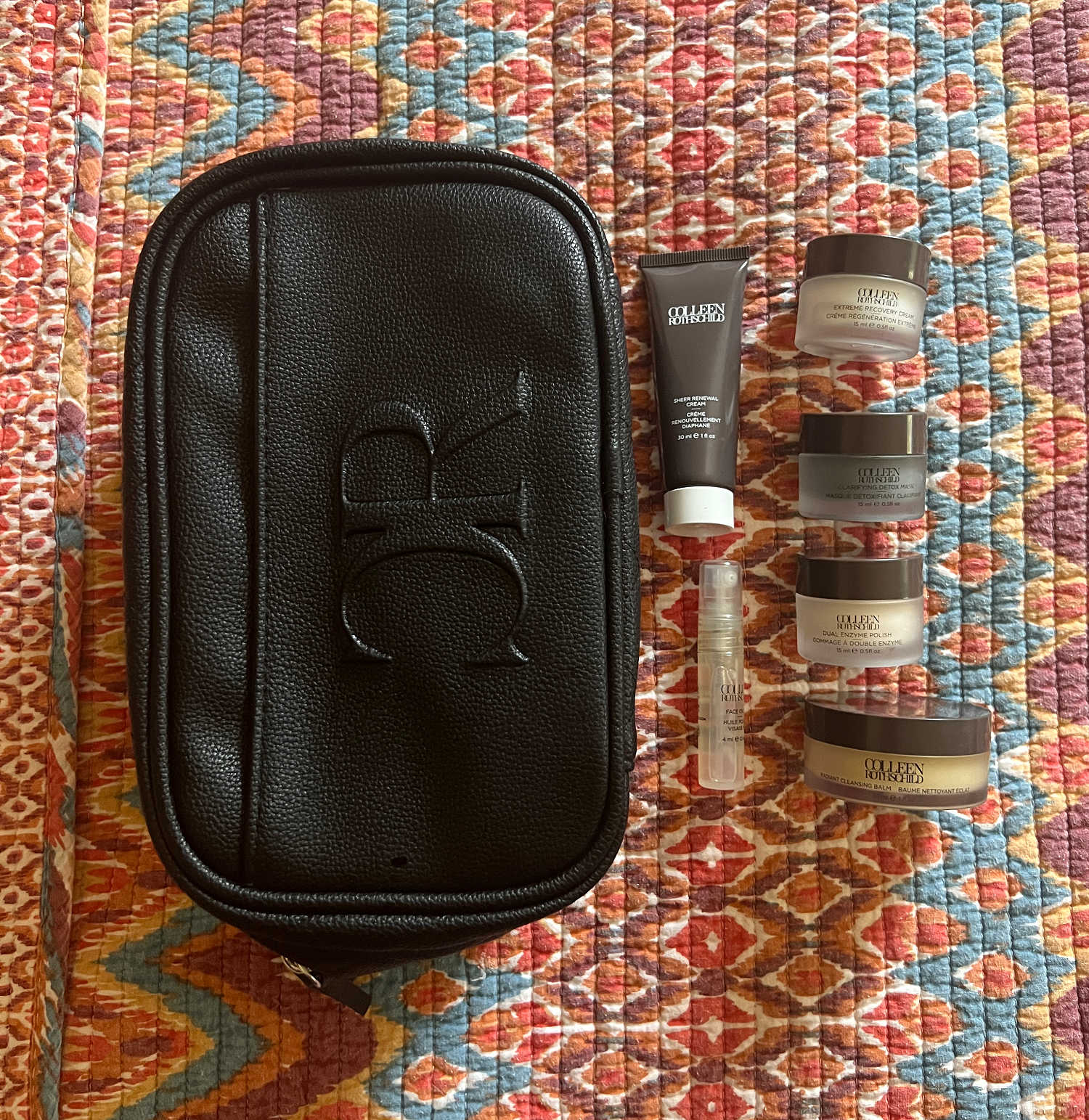 I am writing this while on travel; my friend and I went to North Carolina to a relative's house and I packed my Colleen Rothschild beauty travel must-haves which include the Discovery Collection but also a few others. I'll share what I packed and why I think they're so great for travel.
If you're interested, you can find all of my Colleen Rothschild reviews at this link.
My Beauty Travel Must-Haves from Colleen Rothschild
Colleen Rothschild Discovery Collection
I've been recommending the Colleen Rothschild Discovery Collection for a long while. If you want to test out this beauty brand's skincare bestsellers, it's a great way to go. It also has everything you may need for a getaway in containers that adhere to TSA specifications but also hold enough for at least a week's vacation.
Containing a cleanser, exfoliators, mask, day cream, night cream, and skin oil, your skin will be cared for without taking over your entire suitcase. We all know by now I love the Colleen Rothschild Radiant Cleansing Balm and that's included in the Discovery Collection. It also has the Dual Enzyme Polish, Clarifying Detox Mask, Sheer Renewal Cream, Extreme Recovery Cream (another favorite of mine), and Face Oil N°9 (something I use almost every evening with this gua sha).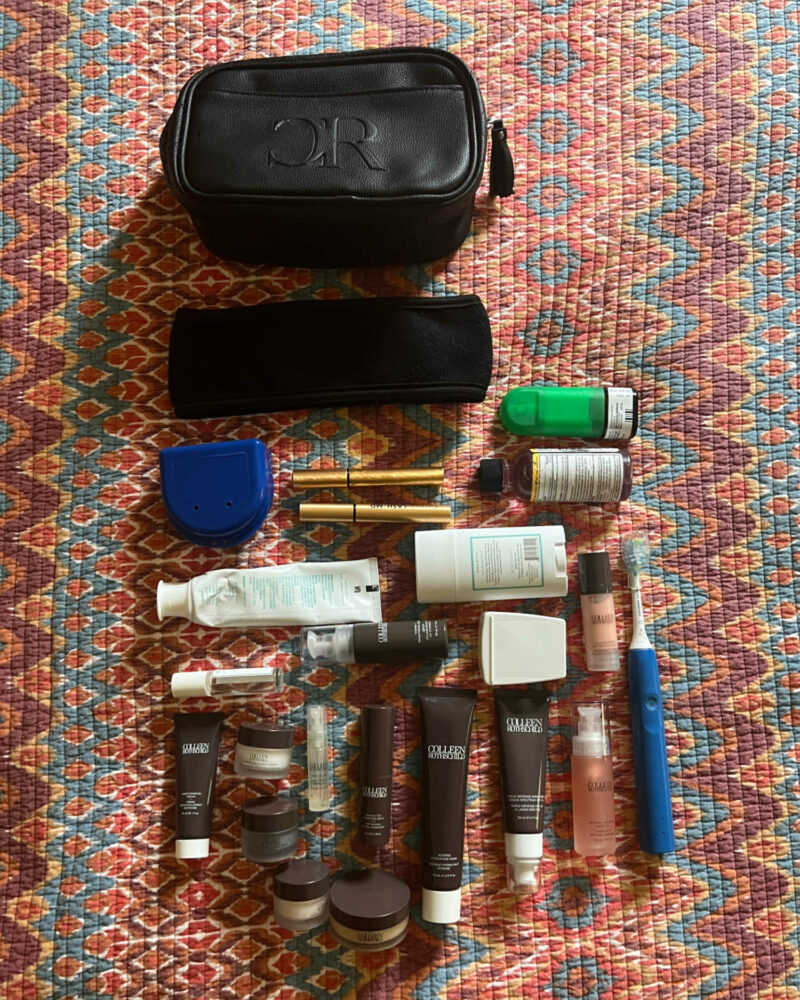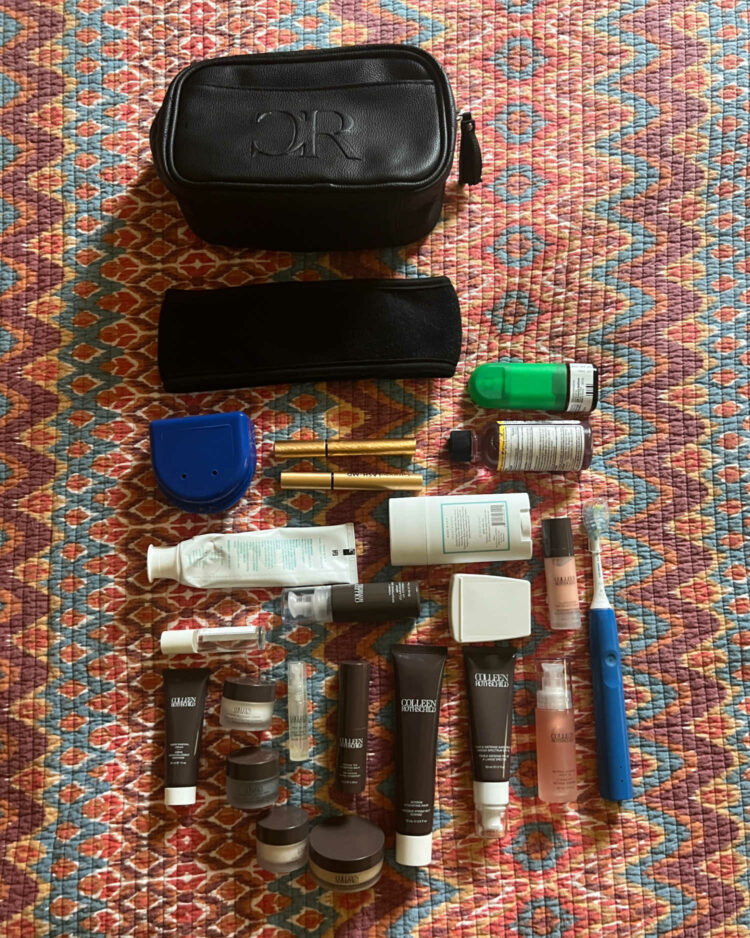 Also included in the Discovery Collection is a muslin cleaning cloth to use with the cleansing balm. Everything arrives in a dark brown vegan leather dopp-kit-inspired bag that is big enough to hold all my needs for this getaway.
Colleen Rothschild Illuminating Tinted Eye Cream
When I travel, if I am not headed to a city, I usually go makeup-free, maybe adding a bit of brow gel. Even though I may get good sleep while on vacation, I have had dark circles all my life. This eye cream is phenomenal. It is thick, and it highlights and glows. A tiny bit goes a long way under the eyes and anywhere else you'd like moisture, glow, and a refreshed effect. I put some on my cupid's bow too. This also plays nice with makeup.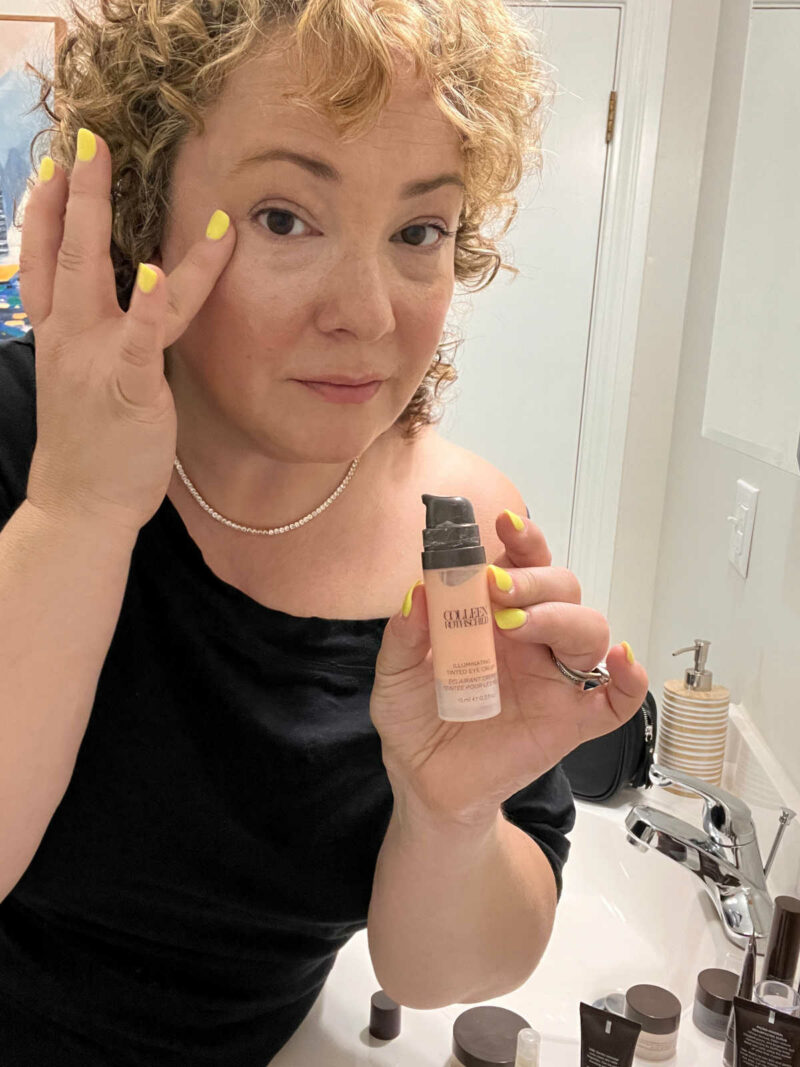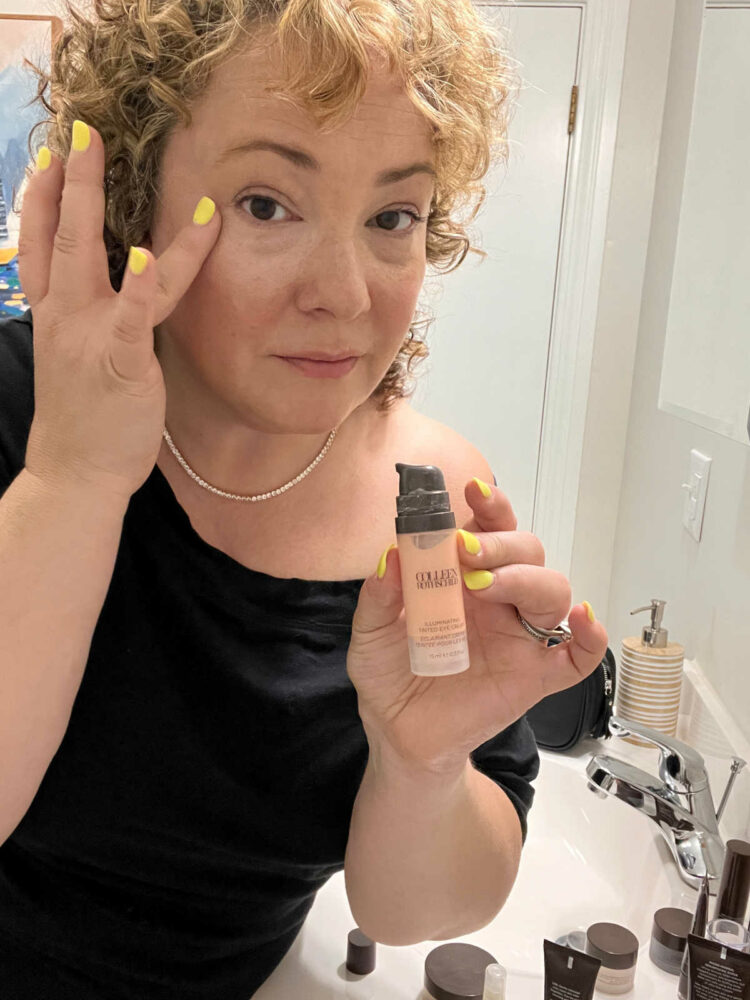 I am not sure how the Illuminating Tinted Eye Cream works on skintones darker than mine. There is one review on the site of someone who wished they would carry a darker/peachy version but still gave the product 5 stars for delivering brightening, and leaving the eye area looking and feeling hydrating.
Vitamin C Brightening Serum
I still like to be a bit more minimal when traveling to save space, so when it comes to treatments that go under my moisturizer, I stick to Vitamin C because it can be used in the evening or morning. The Vitamin C Brightening Serum is powerful with 15% stabilized Vitamin C (THD Ascorbate), Niacinamide, Superoxide Dismutase, and Pomegranate Extract yet I never have had a reaction to using it, even twice a day.
Unlike retinol and a lot of acids, Vitamin C isn't as photoreactive so you don't have the added worry when having a sun-filled getaway. While I still wear sunscreen and a hat when in the sun, my skin isn't as sensitive when using Vitamin C but I still get benefits of even skintone, brightness, and happy healthy skin.
My Flight Must-Haves from Colleen Rothschild
Colleen Rothschild Intense Hydrating Mask
If you plan on going on a plane, this face mask is amazing. I will head to the airport with no makeup (sometimes I will do brows). On the flight I will slather this on my face. Then depending on the length of the flight and what is happening once I land, I will do my makeup before we land or once I'm at the airport. No need to rinse off the mask, it will absorb and also plays nice with cosmetics.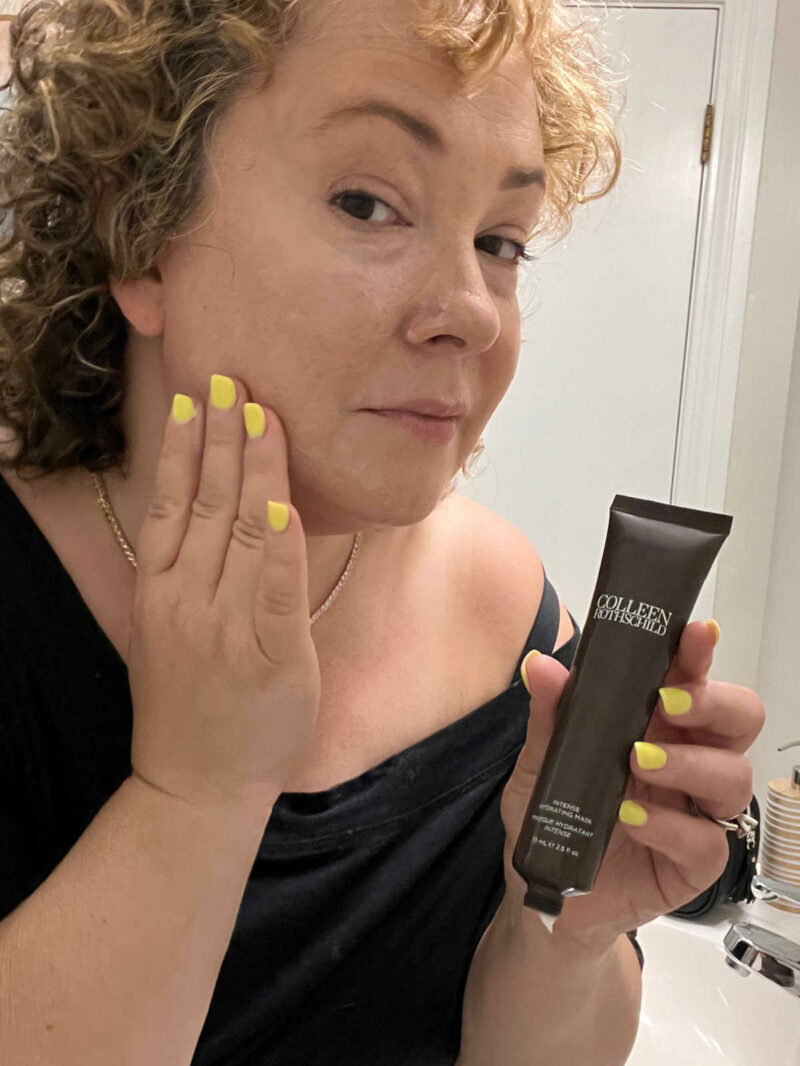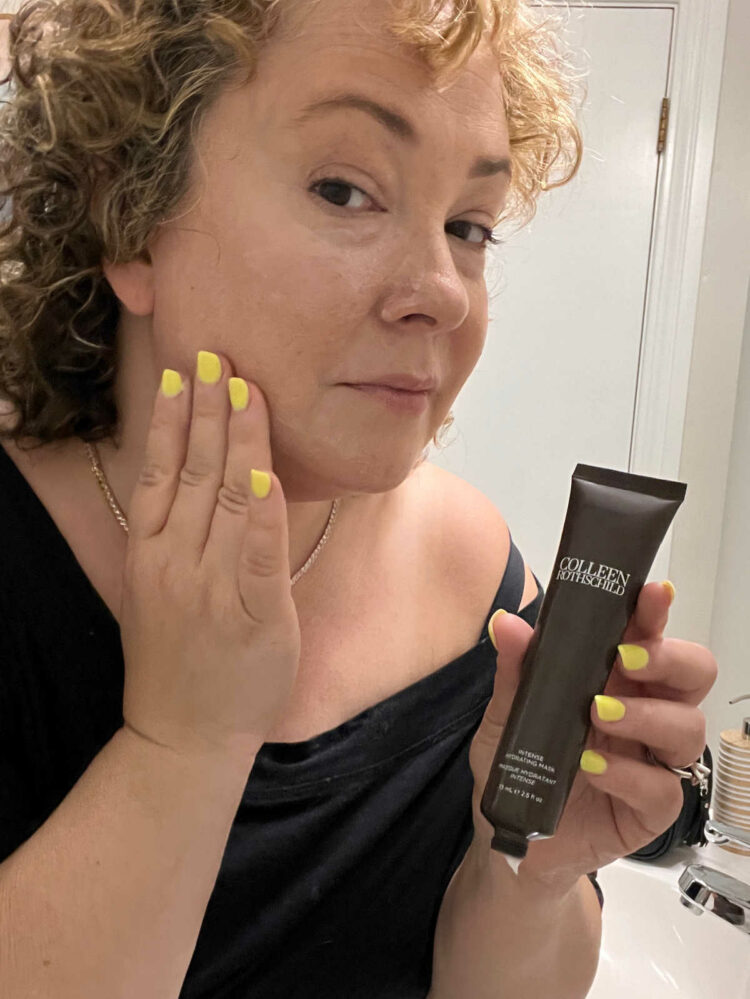 The Intense Hydrating Mask is also great for long days in the sun or wind, to wear as an overnight mask for added hydration, or any time of the year at home or away when you want to get extra moisture without being greasy or sticky.
Colleen Rothschild Matcha Tea Hydrating Balm
When I first got this balm stick I didn't really understand it. But after playing with it, I am a big fan and it stays in my handbag. This is a Jane of All Trades sort of product and perfect for travel.
I like the Matcha Tea Hydrating Balm for on the go cooling and hydration. I deal with seasonal allergies, which can leave my eye area feeling hot and irritated. I will swipe this around my eye area and it will cool and hydrate without being greasy or visible. I use it as a lip balm. I've rubbed it on my cheeks and forehead if it's later in the day and my makeup is looking dry to revitalize it. I often rub it on my hands and my fingers when they look dry.
Colleen Rothschild Vitamin E Lip Moisturizer
I'm a lip balm collector. There are always some at the bottom of each bag, several on my nightstand, and you'll find them in bowls and drawers all over my house. Colleen Rothschild sent me the Kiss & Tell Lipcare Trio when it launched and I love all three products but the Vitamin E Lip Moisturizer has become a favorite.
I have one of these lip balms at my Peloton bike, one next to my bed, one in my day bag, and one in my toiletries kit ready for my next getaway. It has a delicious scent/flavor that's called Brown Sugar but tastes like a fantastic elegant cupcake. The squeeze tube is very well designed and doesn't get goopy or lose its cap. And the formula is thick enough that it will stay on even if I eat and drink through an entire flight. BIG fan!
Additional Travel Stars from Colleen Rothschild
We don't all have the same hair, skin, or tastes so my favorites may not be yours. Also what may not be right for me may be perfect for you. As a Colleen Rothschild ambassador, I get to try everything from the line and while I have some travel items that may not work for me right now, I can attest to the quality and results for others.
Colleen Rothschild Quench & Shine Travel Essentials
If I didn't have curly hair that only performs with certain hair products for curly hair, I'd be using this collection of products from Colleen Rothschild on the regular. Instead, I let my family be the testers of this collection of luxury haircare products.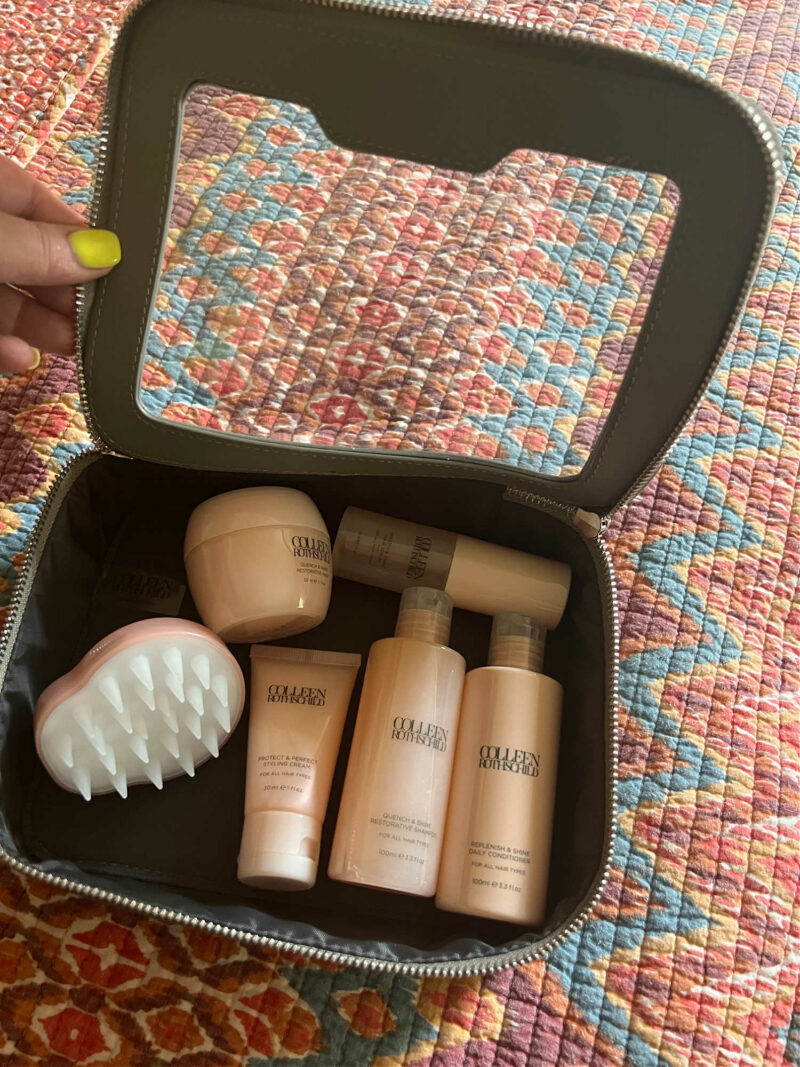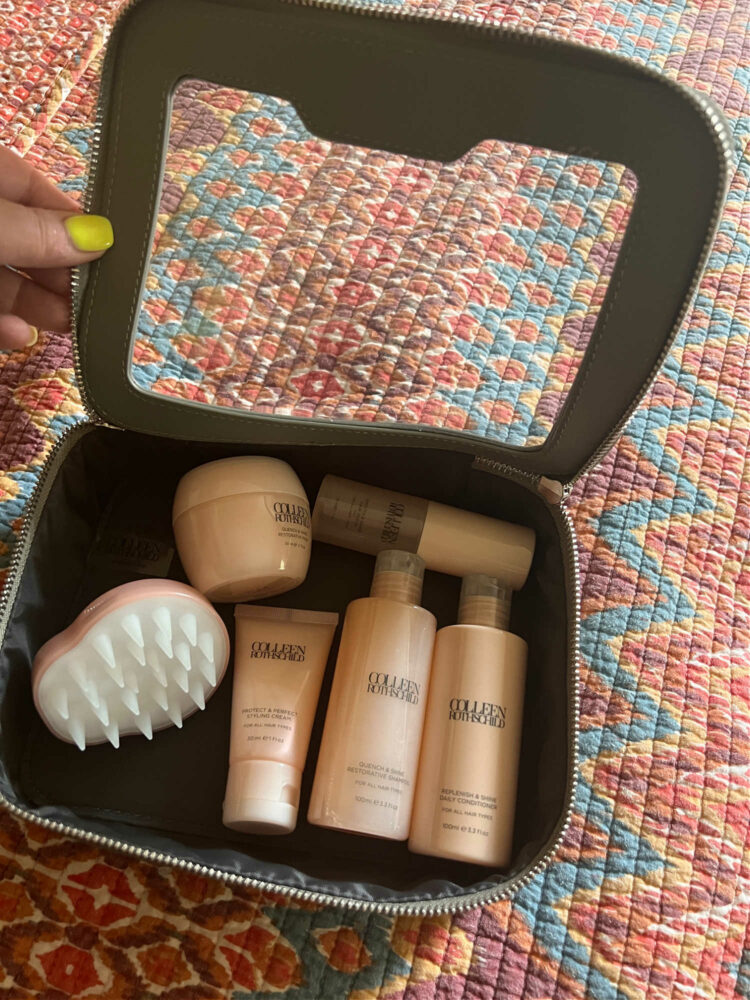 In the Quench & Shine Travel Essentials, shampoo, conditioner, mask, serum, styling cream, and a scalp massager all come in a chic and sturdy travel case that can carry far more than just these products. This collection makes my daughter's hair look so shiny and smooth, it is now in her toiletries kit for travel (I brought it with me to photograph).
Colleen Rothschild Exploration Collection
Like the Discovery Collection, The Exploration Collection kit provides TSA-friendly sizes of popular products from the skincare brand. It includes minis of the above-mentioned Intense Hydrating Mask and the Micro-Mineral Resurfacing Scrub which I have previously reviewed. It also has the Balancing Gel Cleanser and Matcha Tea Toner which aren't right for my skin, but my daughter likes.
This kit comes in a clear water-resistant bag my daughter snagged for her makeup; she also uses the spa headband. If you don't like an oil-based cleanser and appreciate the benefits of a non-drying toner, this is a great set to try some additional products from Colleen Rothschild.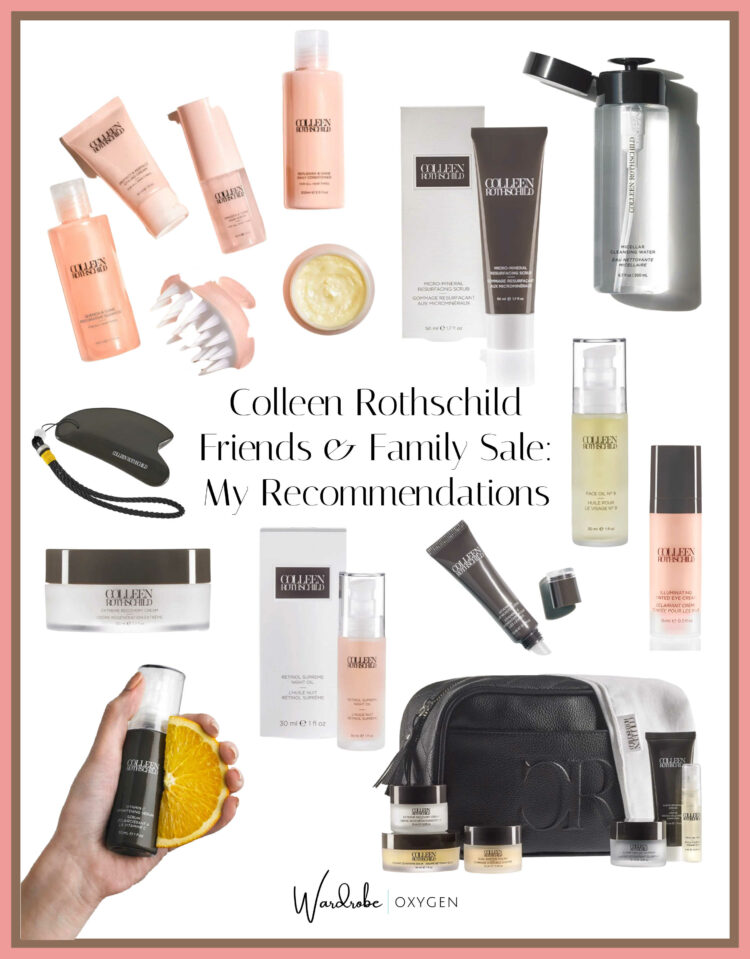 Colleen Rothschild Friends & Family Sale
Even better, from May 9 to May 15, 2023, Colleen Rothschild is having its Friends & Family Sale! Save 25% off Colleen Rothschild sitewide. This is the biggest sale of the year for this beauty brand and a great time to stock up. What's also exciting is that this year, the Friends & Family sale includes the travel and trial kits. Usually, they are excluded from this great discount. Do know no promo codes can be combined with this sale.
Shop My Picks from Colleen Rothschild: