This article may contain affiliate links; if you click on a shopping link and make a purchase I may receive a commission. As an Amazon Associate, I earn from qualifying purchases.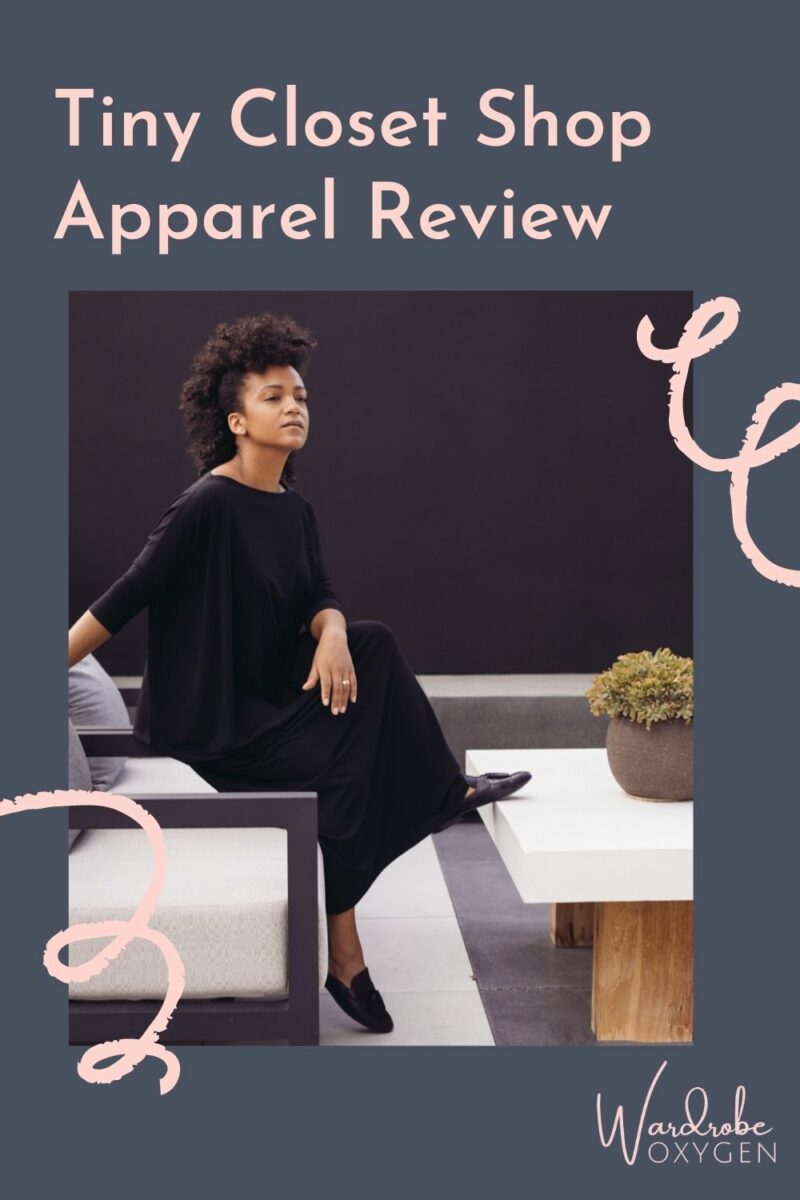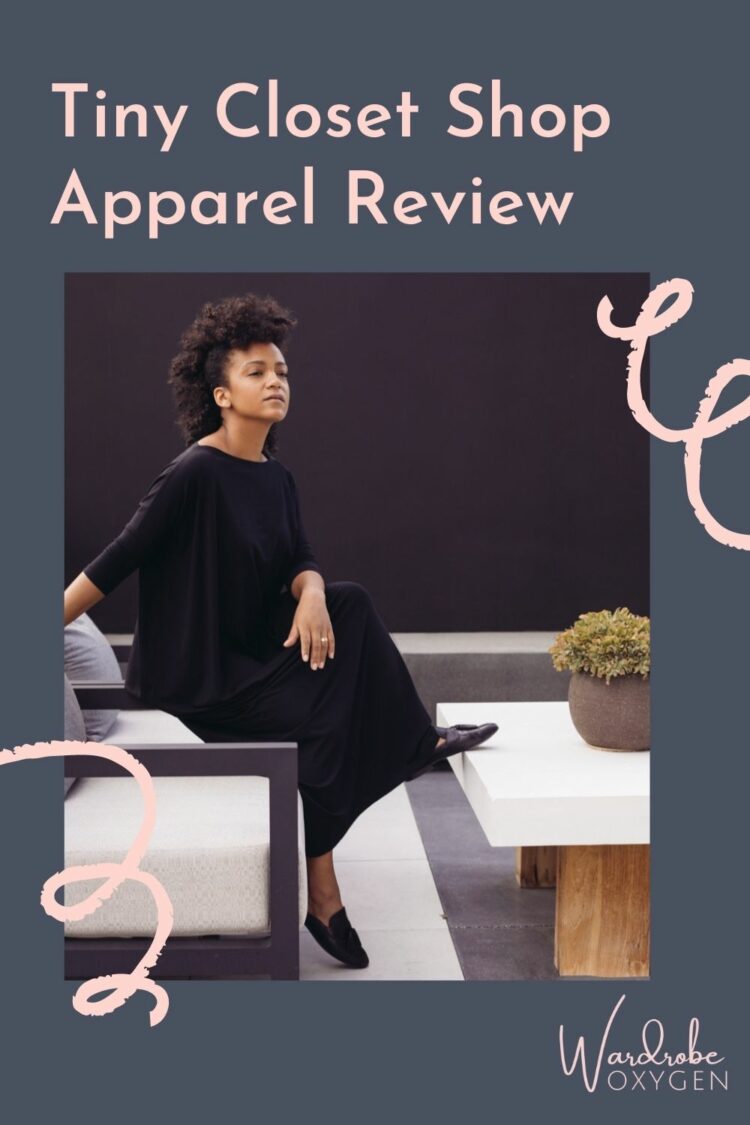 Over the past year, many of you here at Wardrobe Oxygen and in the Wardrobe Oxygen Community have been desiring reviews on smaller fashion brands, sustainable fashion, women- and Black-owned clothing retailers, and lesser-known size-inclusive apparel companies.
In an effort to offer a variety of reviews of quality brands, I have reached out to members of the Wardrobe Oxygen community to share their thoughts on such brands that have inclusive sizing. My hope is their detailed reviews, plus the variety of hearing from people with different sized and shaped bodies, having different lifestyles, and living in different climates will prove helpful to you.
I look forward to hearing what you think about this series. We start it with Lissa who has been an active member of the Wardrobe Oxygen community (you can find her on Instagram). While she wears the same clothing size as me, she has a different shape and is a different height. She recently tried The Tiny Closet Shop and offered to share her thoughts. Thank you, Lissa, for your great feedback!
Your Reviewer: Lissa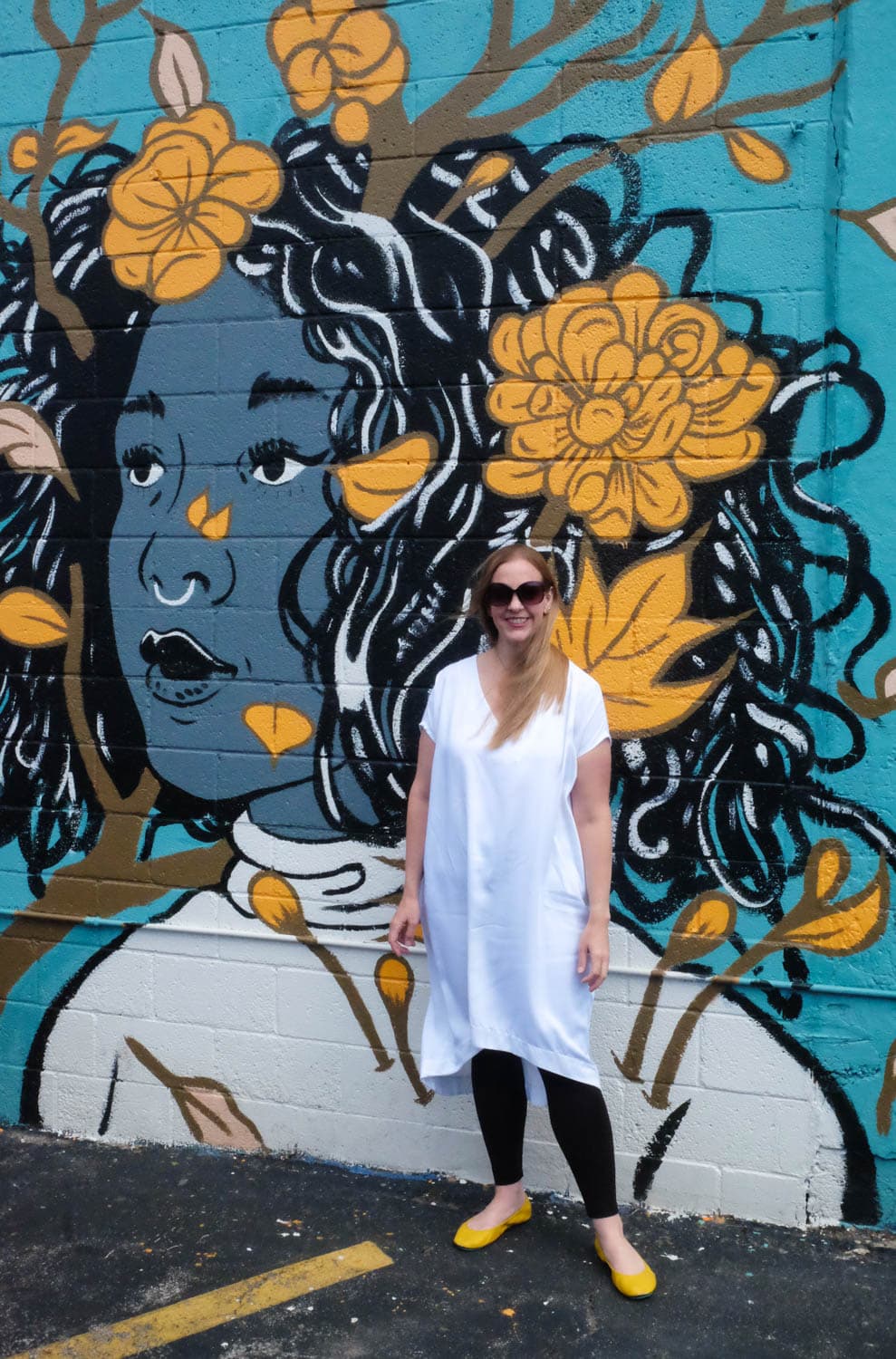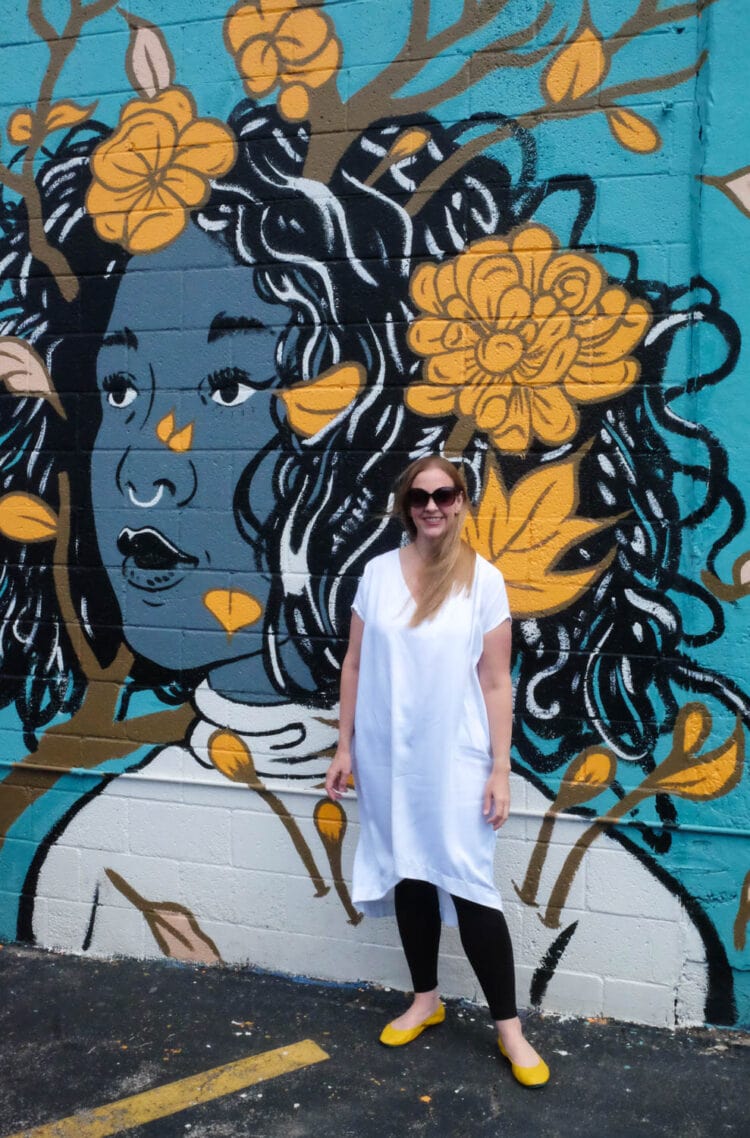 About a year ago, towards the beginning of This Pandemic Life, I made the decision to switch (almost) entirely to ethical/sustainable clothing options. The world is basically on fire (both literally and figuratively) and I figure that I can do my own small part to encourage sustainability.
My body has changed a lot in the last few years (and continued to change through the pandemic) and I found myself purchasing clothing more regularly than I have in the past. When I think of ethical/sustainable clothing, I think of pieces that are purchased second hand, or new from a company with transparent supply chain information, including the wages and working conditions of the garment makers and sourcing fabrics that are made in sustainable ways (e.g., recycled products, deadstock, cotton that meets the global organic textile standard, etc).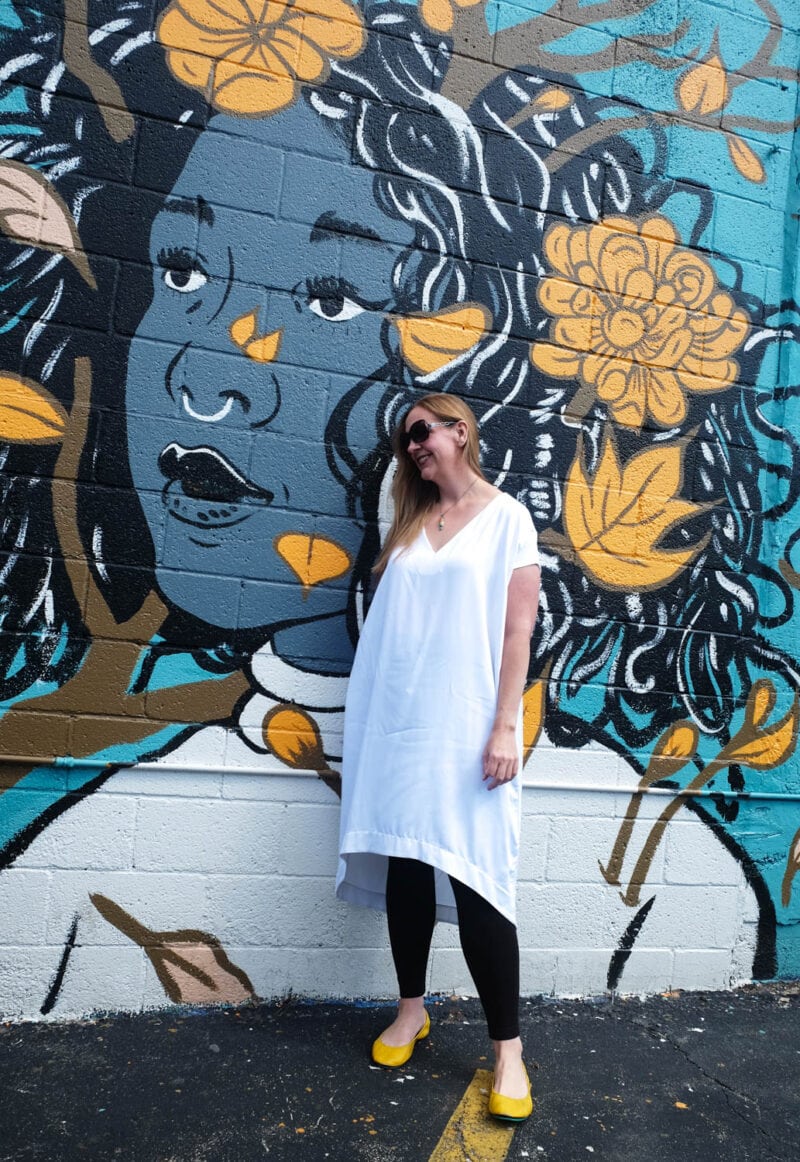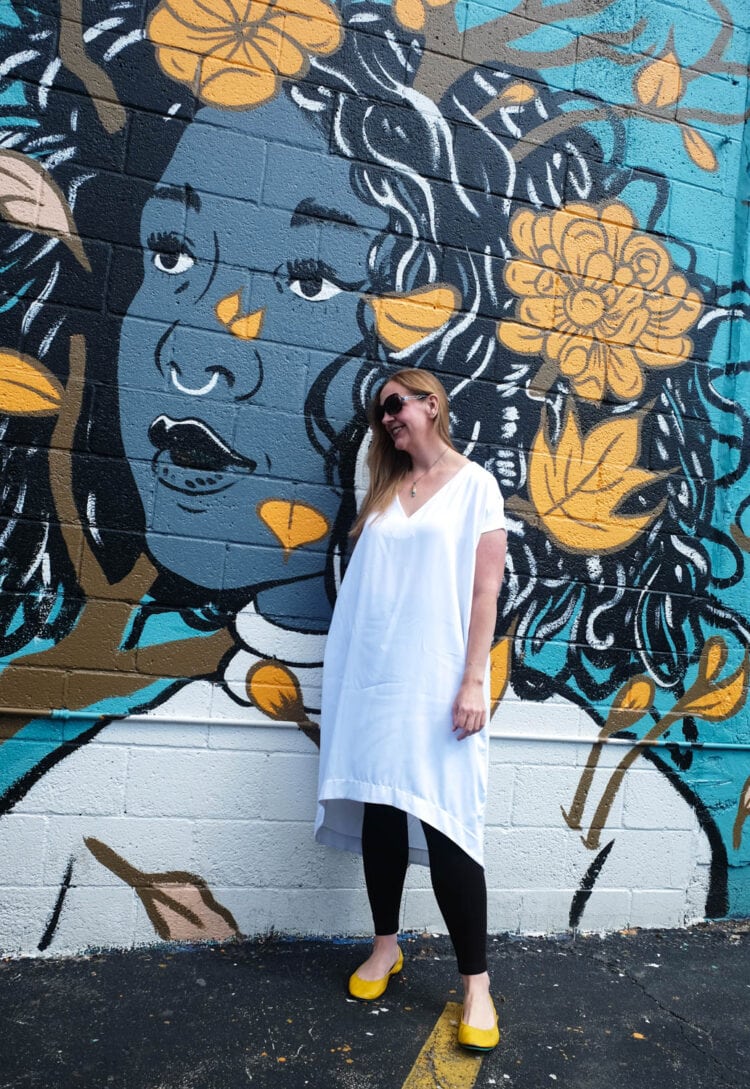 I typically wear the same size as Alison does in most brands but my body shape is quite different. I am a pretty classic pear shape – in most brands, I wear a straight size 14 in pants, and I usually take a 10 or a 12 in dresses depending on the cut. In Universal Standard, I'm usually an XS. Also, I am 5'10" and sometimes I find tall sizes fit me better than the regular lengths. Today, on the day I am writing this, my measurements appear to be 38-32-45.
What is The Tiny Closet?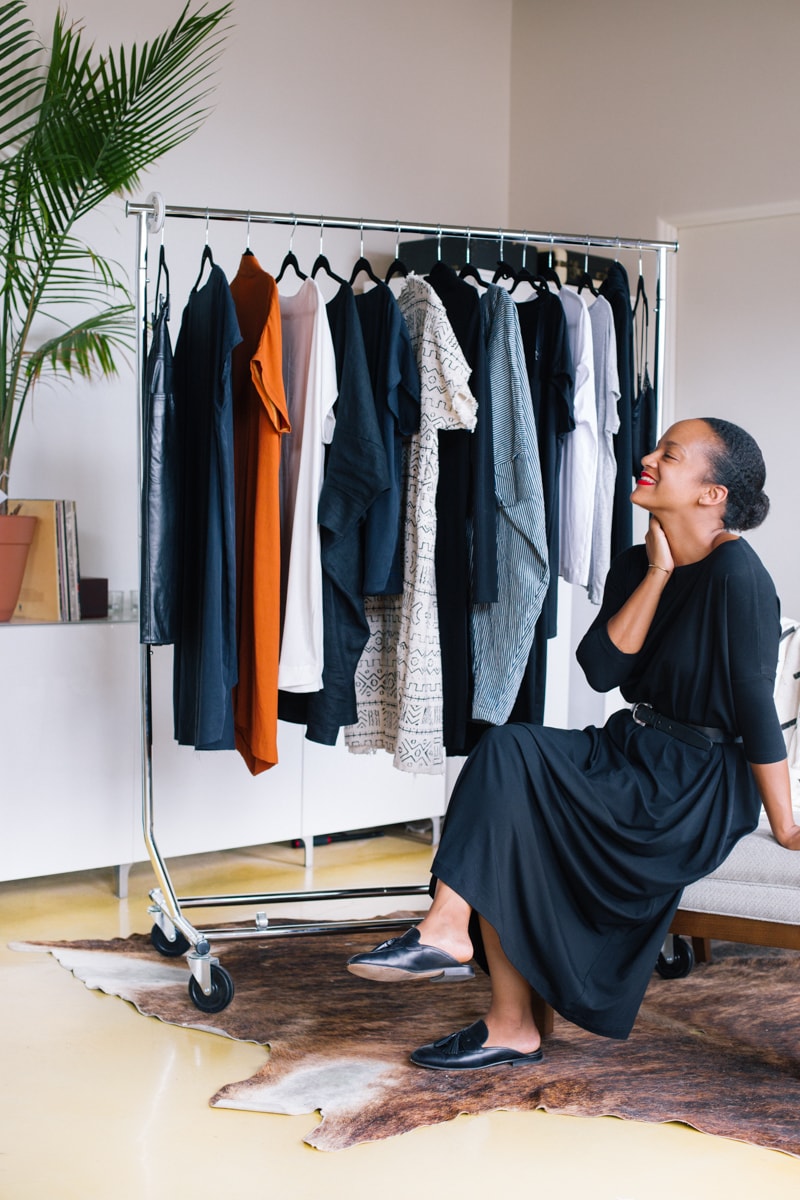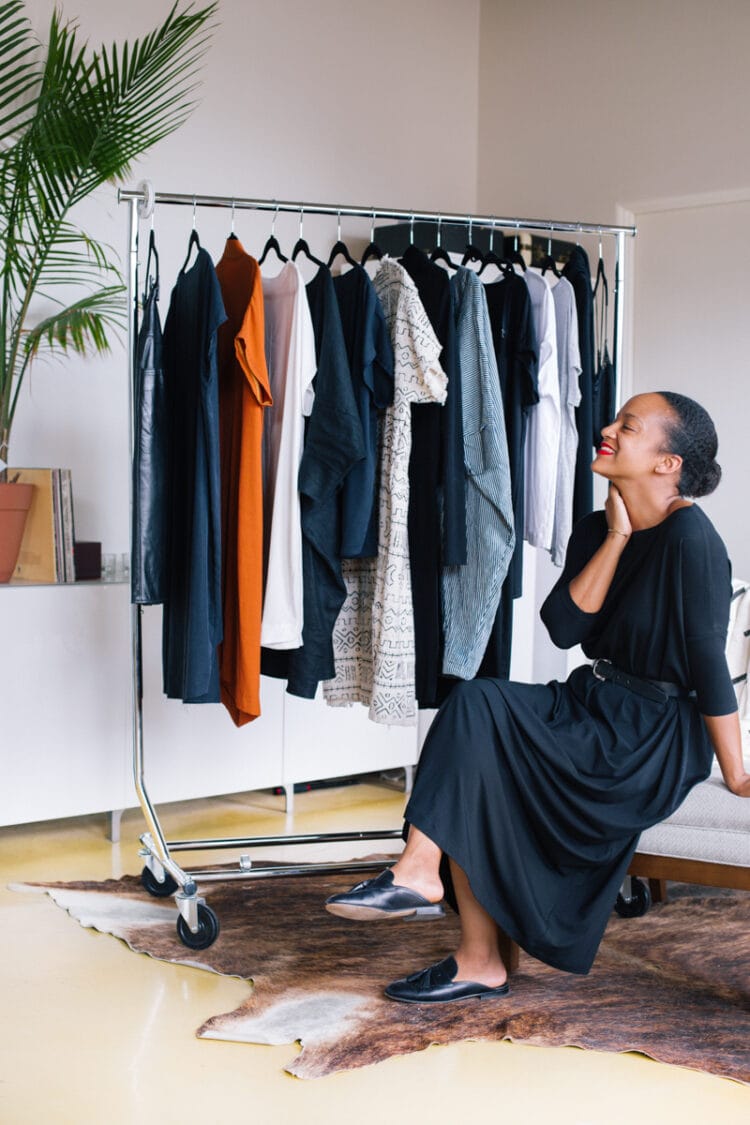 The Tiny Closet began in 2011 as Natalie Free's blog. She started the blog after getting laid off, and used it as a chance to revamp her life – shopping less, choosing organic, living more simply. On her blog, Natalie recapped bits of her life with her ultra-cool style that she achieved with a relatively small wardrobe, and over time more of those pieces she sewed herself.
In 2013, Natalie got her business license and began sewing more regularly. Friends loved her clothes and asked her to make some for them. The pieces she created gained more and more interest and come 2016 she launched The Tiny Closet Shop. Within eight months, Natalie was selling so many of her pieces she was able to quit her job and focus on it full-time.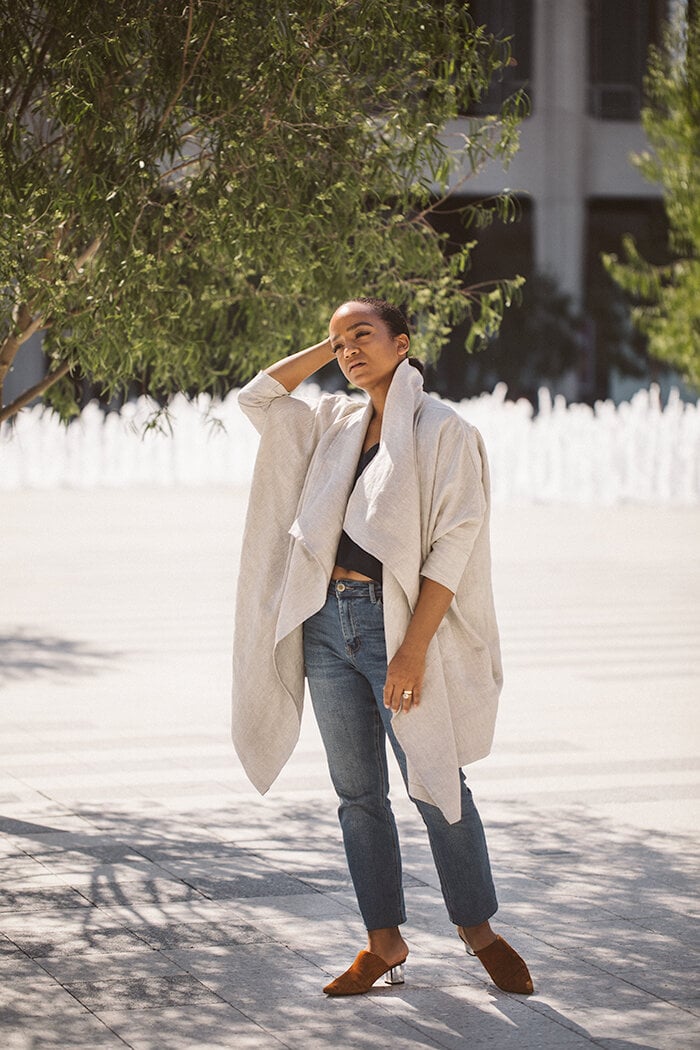 The Tiny Closet Shop is a California-based Black woman-owned fashion brand that offers new clothing from outsourced/deadstock fabric to reduce waste. All pieces are made to order; there is no inventory to again reduce waste. Hardly anything is thrown away – Natalie sells her samples, and she uses fabric scraps for drafting new patterns and creating dye samples.
Everything is made by hand, and as The Tiny Closet Shop expands, its focus continues to be on ways to reduce waste, be sustainable, and kind to the environment. The Tiny Closet offers free shipping on orders $150+.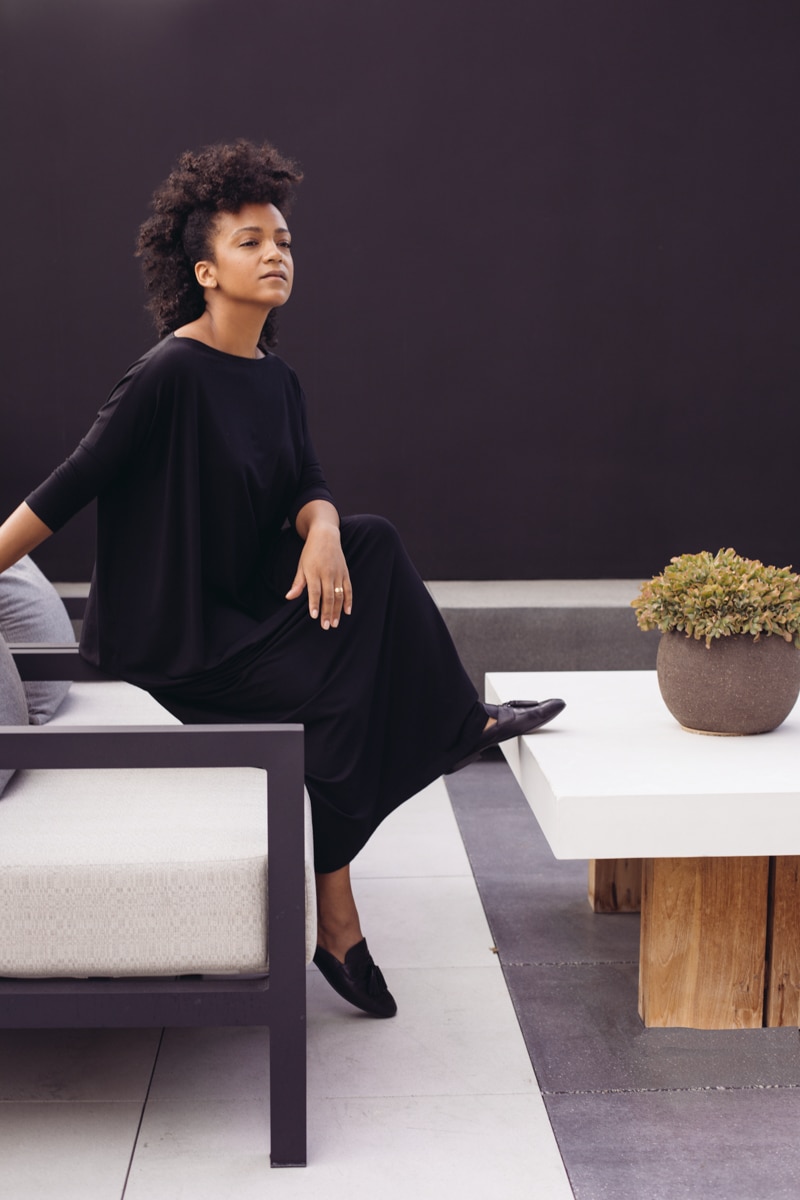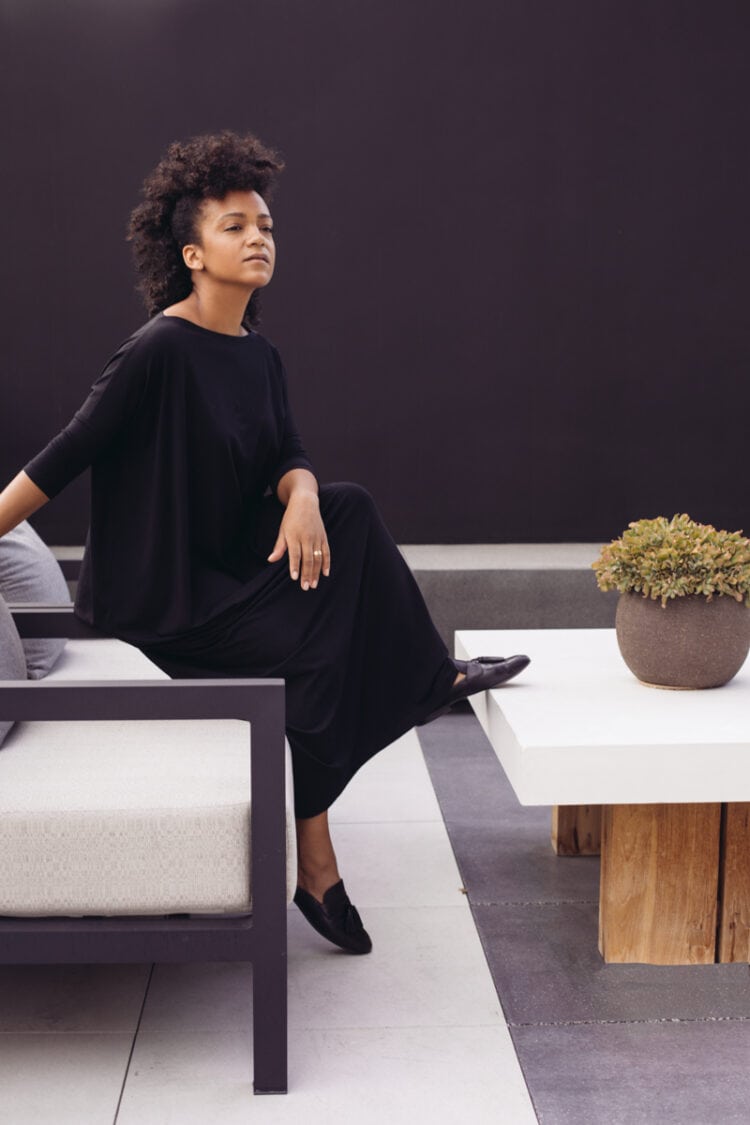 The look of The Tiny Closet is minimalist, modern, architectural, comfortable, yet chic.
The Tiny Closet Shop offers fashion in US sizes 2-18 with petite and tall sizing available. Each garment has its unique size chart and extensive details about the fabric, the size of the model, the garment measurements, and even styling tips.
The Tiny Closet Review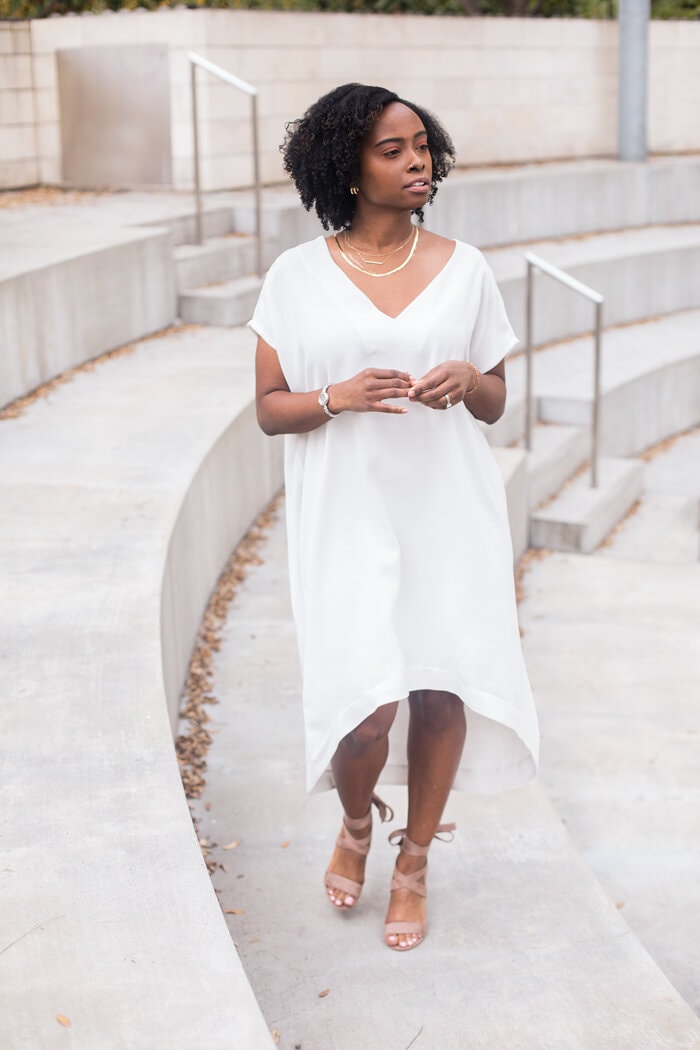 When someone on Facebook suggested the Tiny Closet Shop, I was intrigued. For this shop, all garments are cut and made to order so there is no excess inventory, and the owner uses all deadstock fabrics for her collections. All of her collections have this relaxed, cool-girl vibe to them that I find very appealing.
I chose three pieces from the capsule collection to try: the Tourist Dress in bone, the Tourist Tunic in indigo, and the Lounger Midi Pants in black.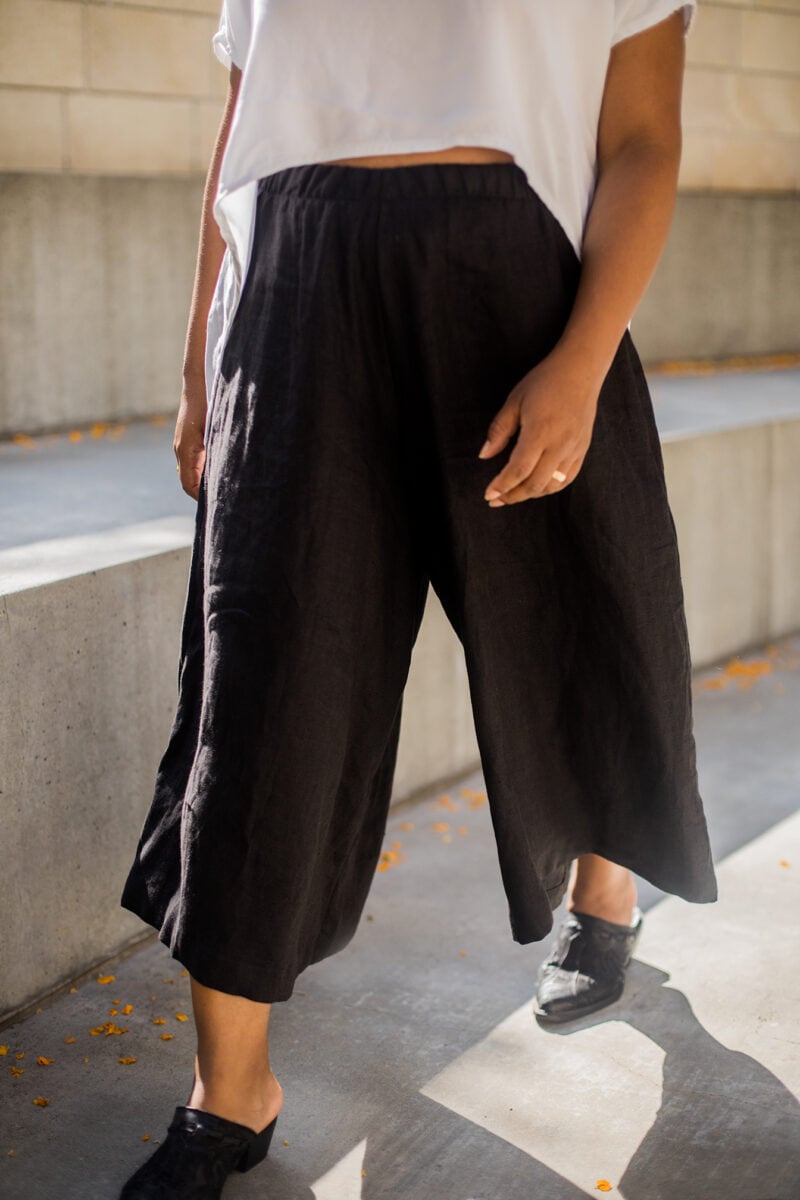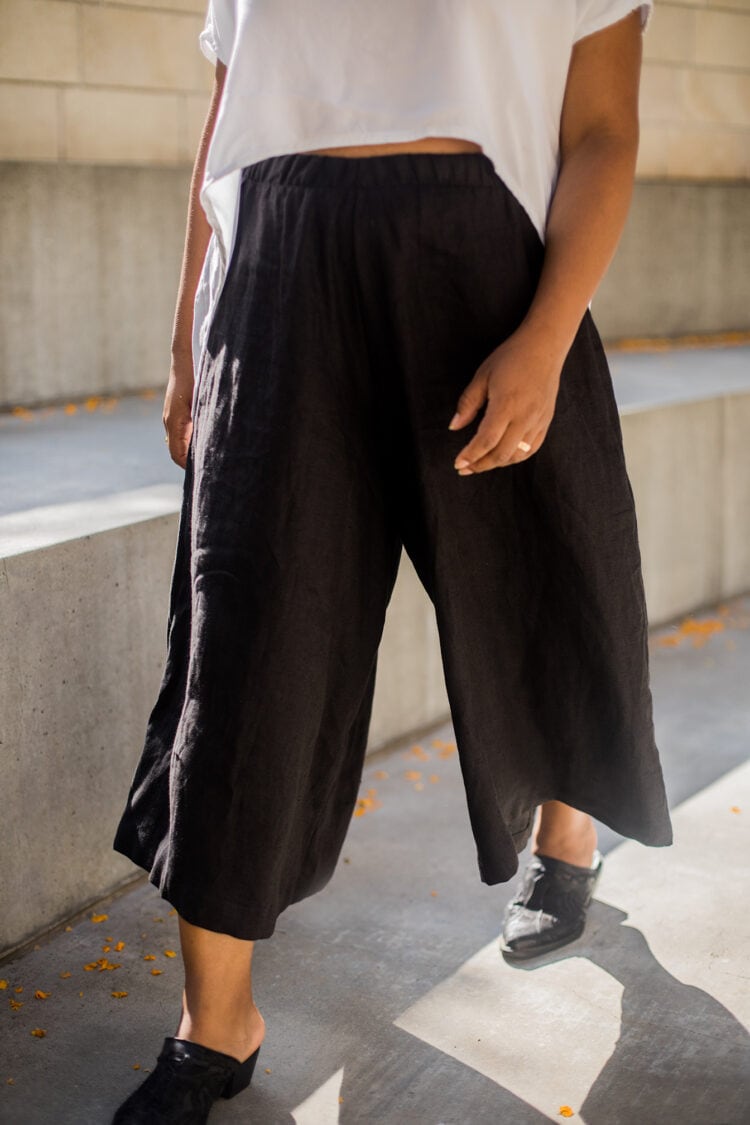 For the dress and the shirt, I chose size medium (listed as 8-10 in the dress, and 10-12 in the top) and for the pants I chose size large (12-14). For both the Tourist Dress and Tunic, I selected the deep v-neck option and for the pants, I chose the tall option.
I chose these three pieces as they seemed really versatile. I could imagine wearing each piece to work, but also to run errands or even dressed up for a nice dinner (once it warms up enough to eat outside again). Also, I thought that all three pieces would travel well. Prior to This Pandemic Life, I traveled quite frequently and I hope to be able to go back to that lifestyle when it is safe for everyone.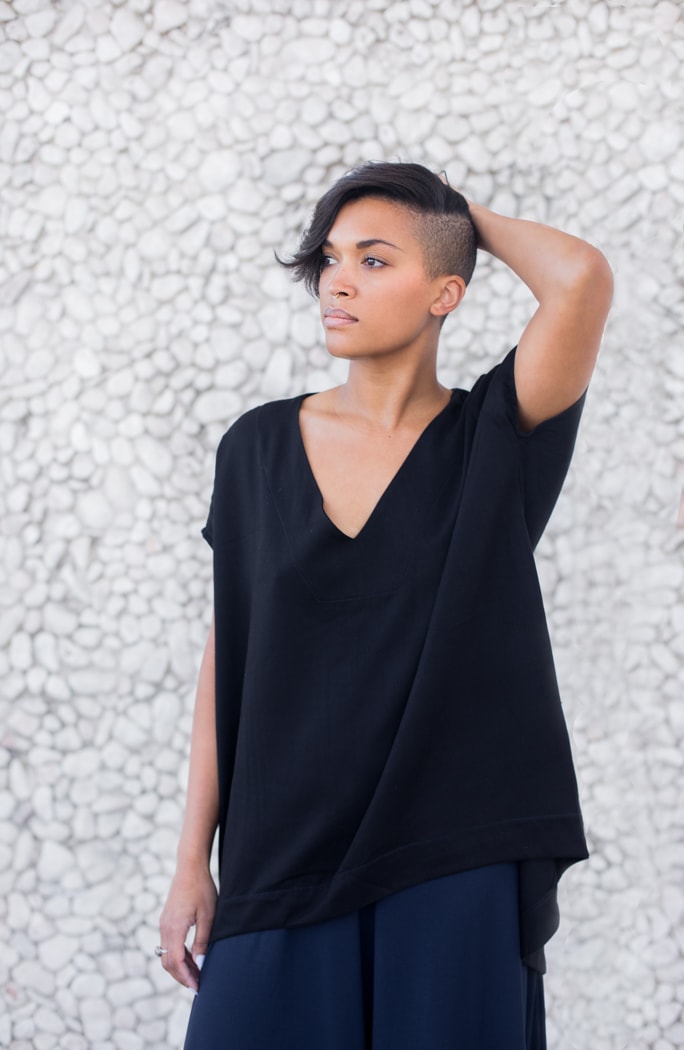 While the Tiny Closet Shop additionally bills all of these as part of a "year-round wardrobe", I think this is very climate-dependent. I am sure I would wear these sorts of clothes year-round in Los Angeles (where the Tiny Closet Shop is located) or even in San Francisco (where I grew up), but winters in the Midwest require fabrics made of sterner stuff.
I ordered the beginning of February and received my clothing in two shipments the first two weeks of March. Everything was packaged beautifully, but I do wish that they had held shipment of my pants and top until the dress was ready to minimize the environmental impact of mailing.
The clothing came in regular priority mail envelopes and wrapped in plain white tissue paper, all of which I saved for reuse. The first shipment also came with another code for 15% off my next purchase, which I thought was very nice! But do I like the clothes enough for there to be a "next purchase"?
The Tiny Closet Lounger Midi Pants Review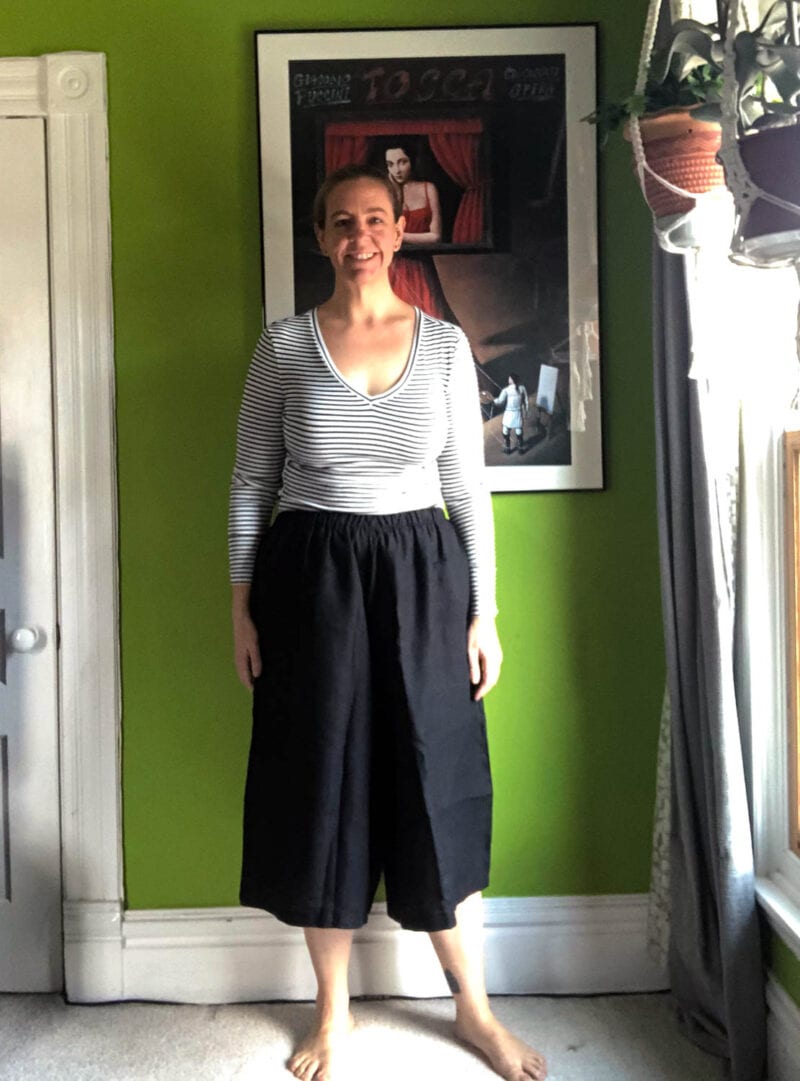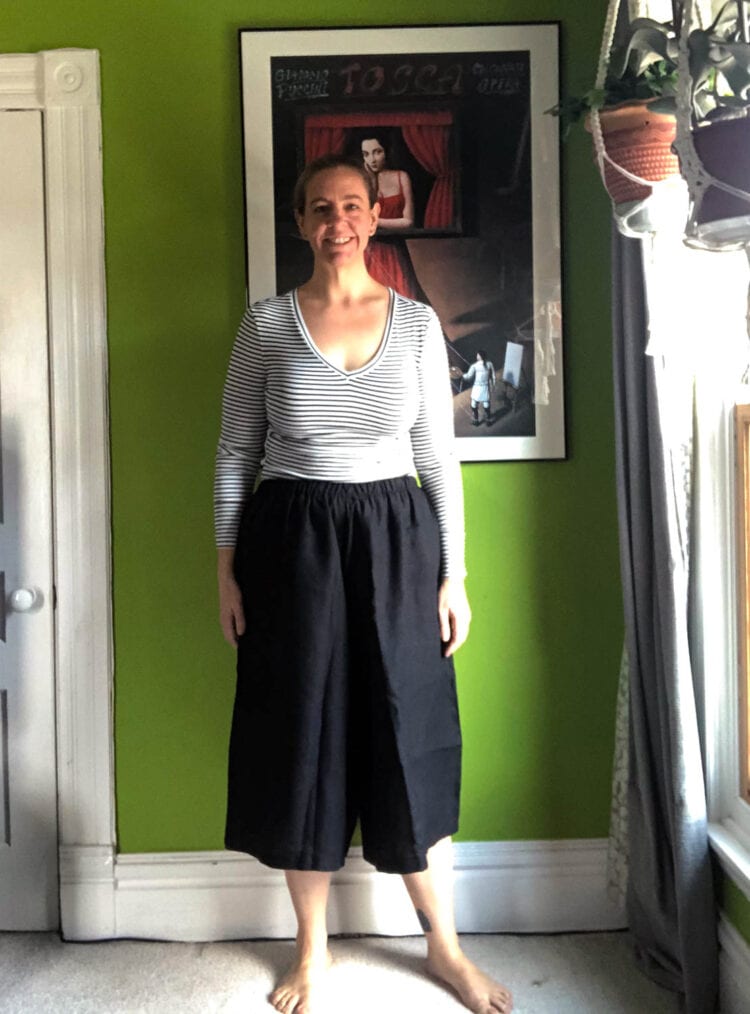 On the models online, these look like the cool "beach pants" that I like to live in all summer long. The linen is a mid-weight linen that felt a little scratchy on try on, but I am sure that it would soften in multiple washes.
On the positive side, the pants have a simple silhouette, but everything seemed to be finished well and the elastic waist is tacked down periodically so that it would not turn during washing and wearing. The length and rise in the tall size were perfect.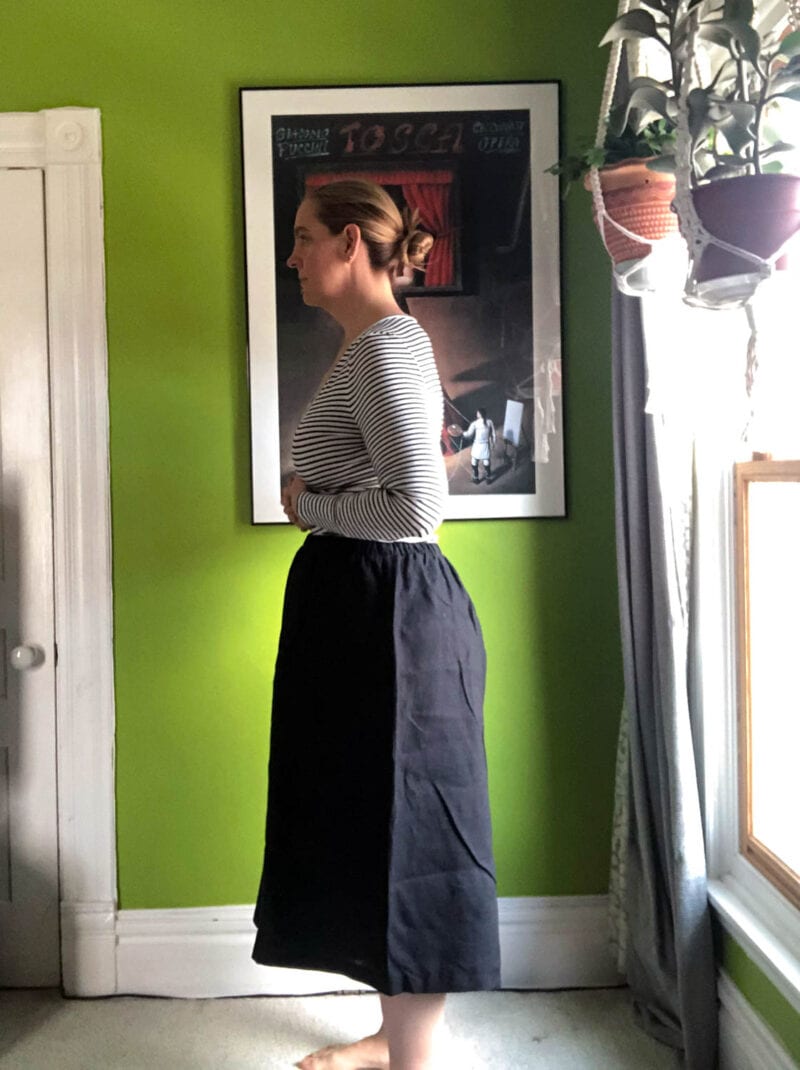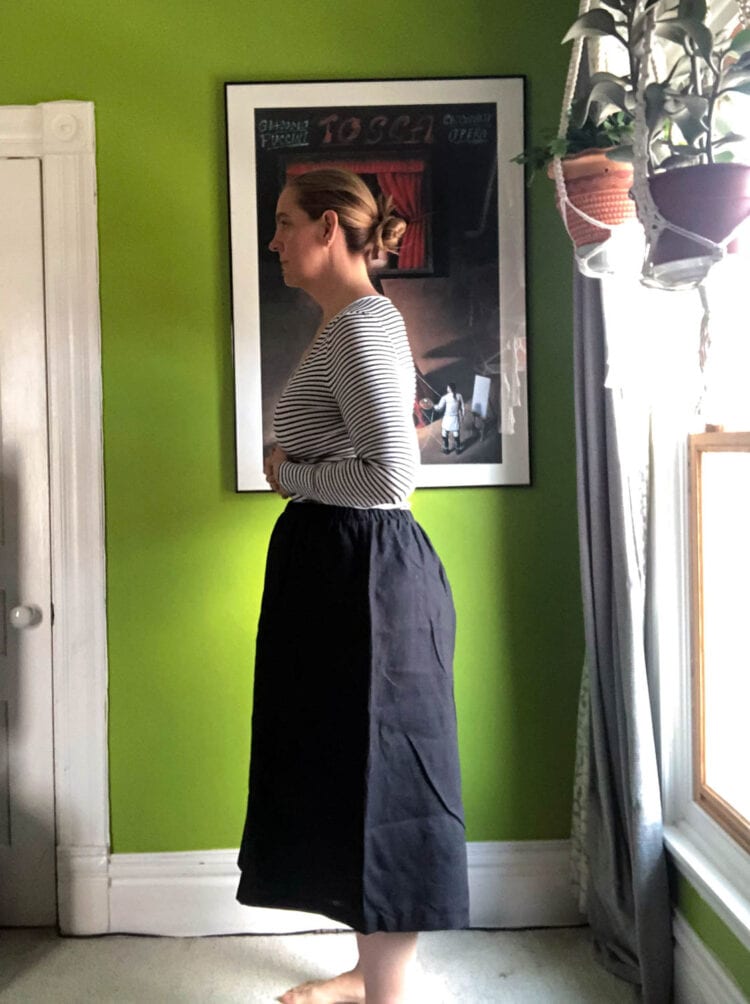 However, these pants were absolutely enormous. From the front, they are not that bad, but from the side it looked like I was wearing a full midi skirt. These are the culottes of my nightmares. I honestly felt enveloped in fabric, and not in a stylish, cool-girl way. I think I could have easily sized down to the medium.
Also, these pants have no pockets. I am at a point in my life where a tiny piece of my soul dies every time I wear a skirt or dress without a pocket large enough for the keys to my office. For pants, pockets are an absolute must.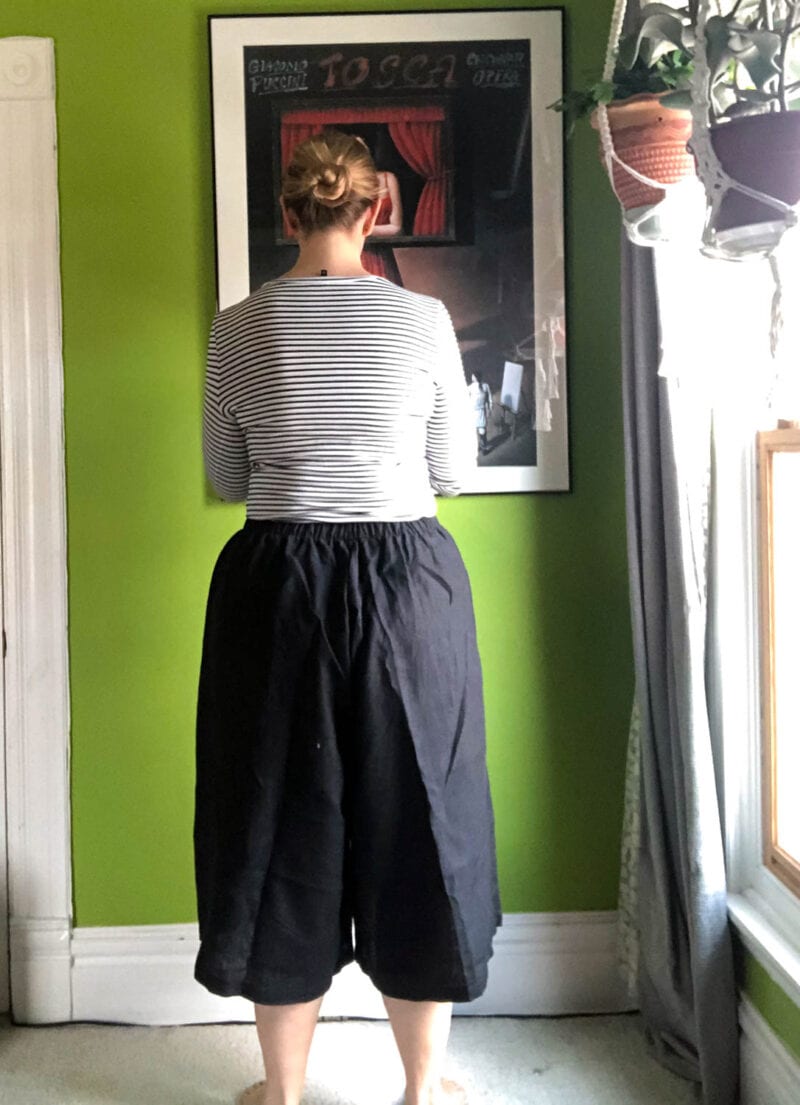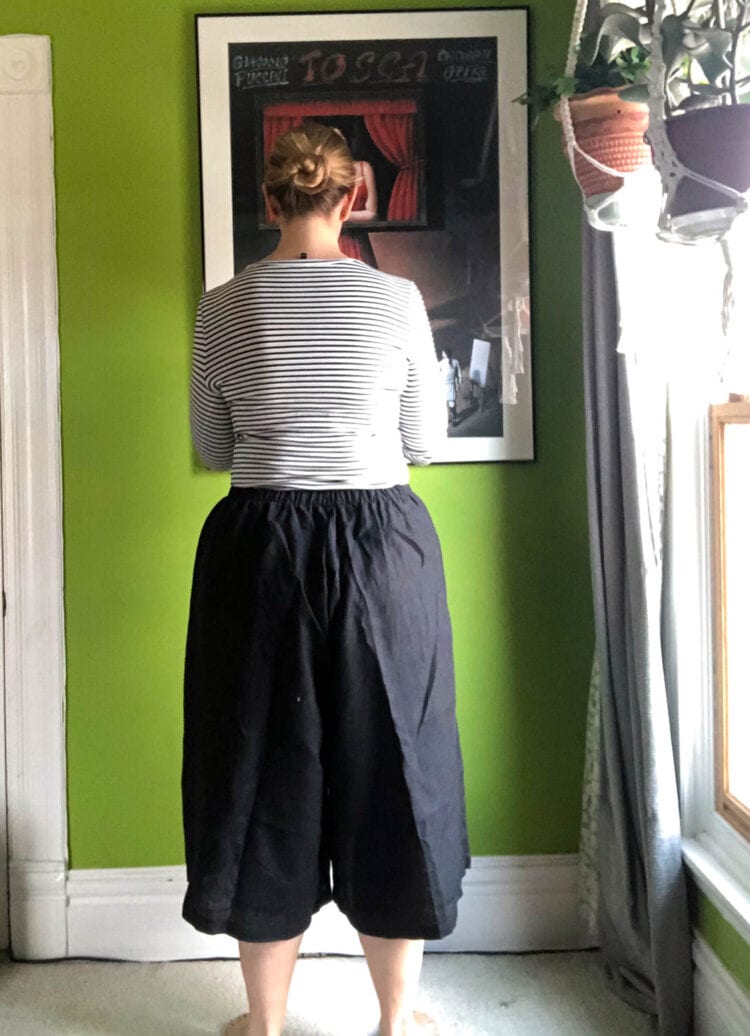 Tiny Closet Shop allows you to return within a week, so I snapped a couple of quick pictures at home and dropped them back in the mail the next day. [I am wearing these with a foundation v-neck from Universal Standard (size XS).]
The Tiny Closet Tourist Tunic Review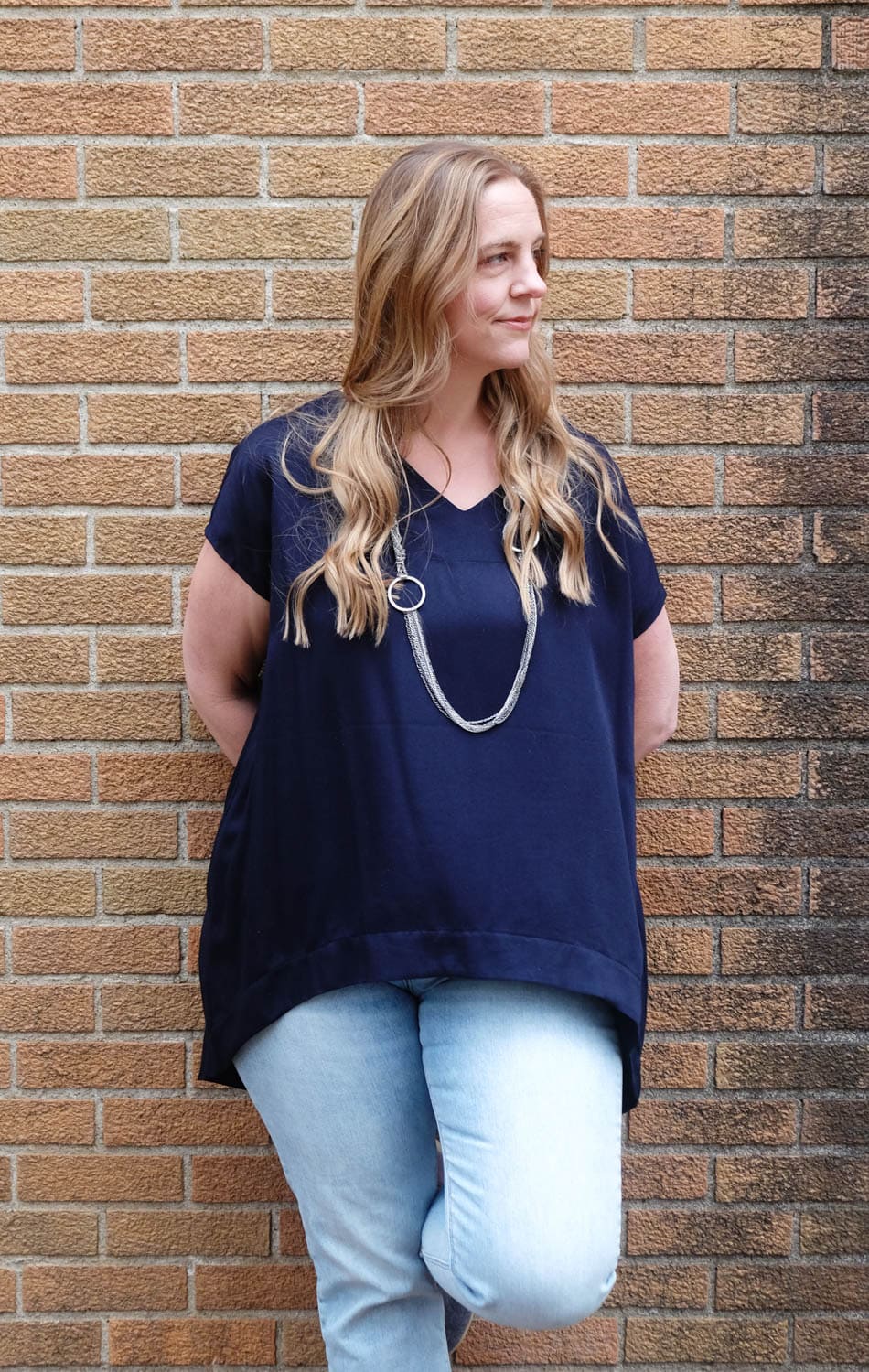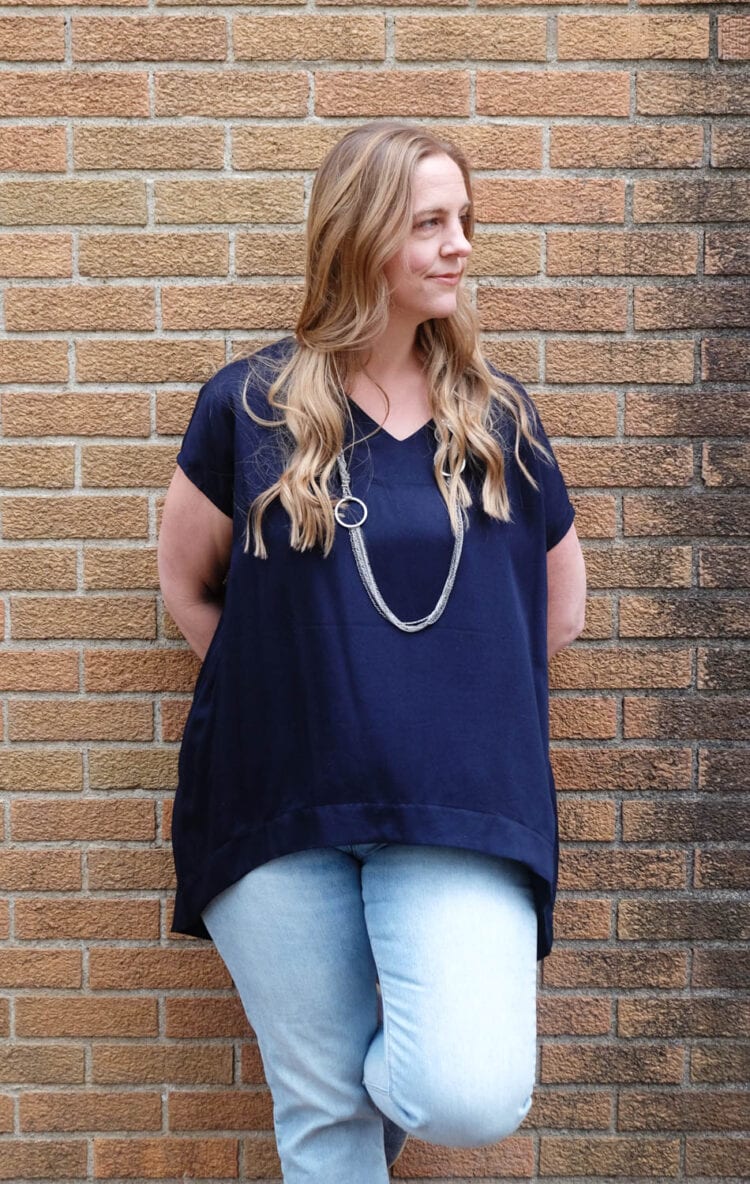 I really like the Tourist Tunic and did not find the deep v-neck to be particularly revealing even with my 32G-sized bust. I did consider returning this as it is quite voluminous and if I were going to order in another color, I think I would actually size down to a small.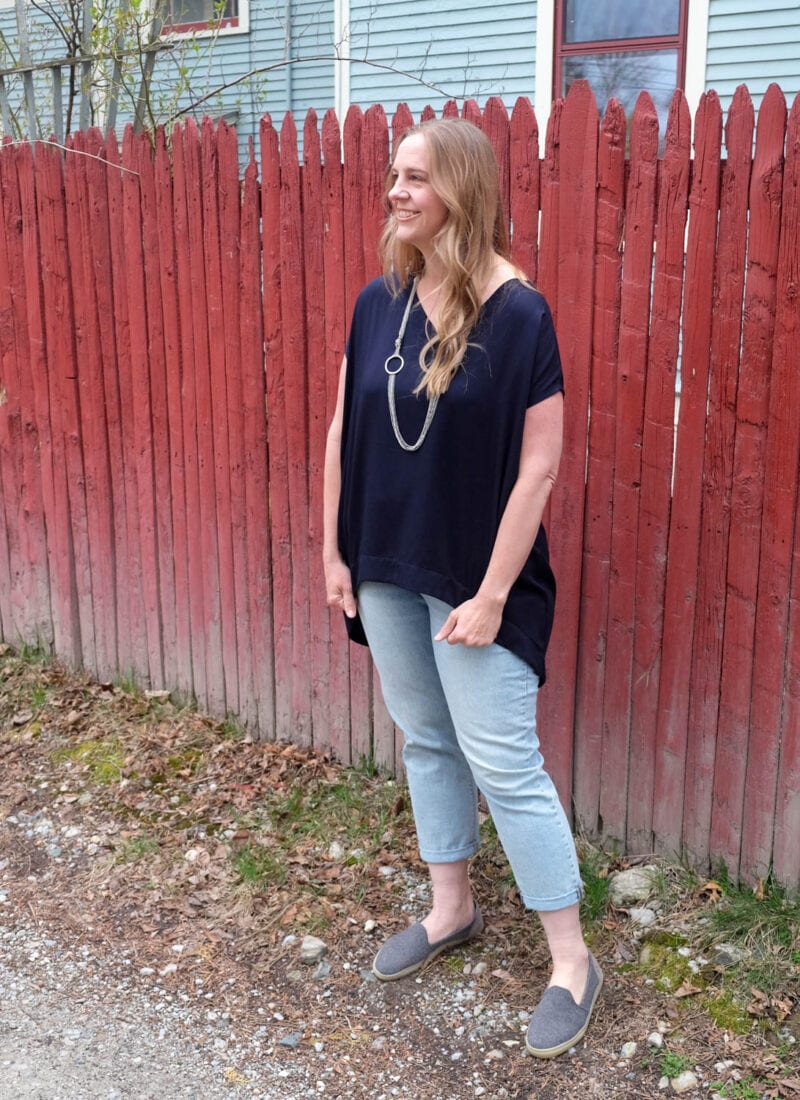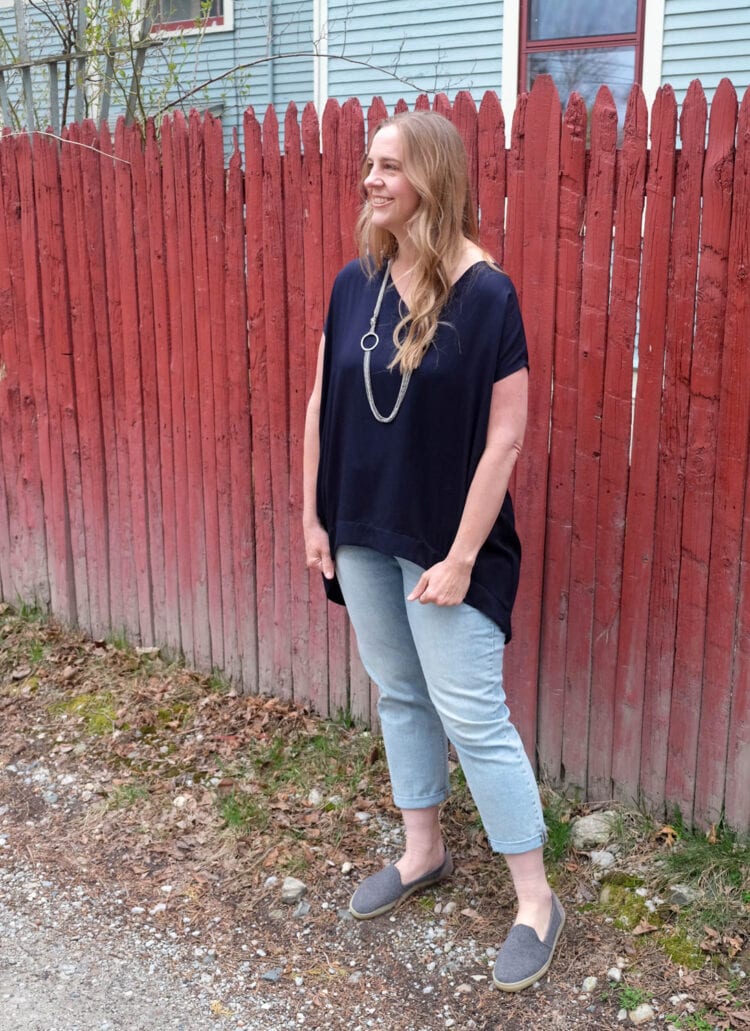 That said, the armholes on the Tourist Tunic are not very large, and the fabric has no stretch to it, so I'm not sure my arms would fit the size small. The Tencel fabric does have a wonderful drape to it and feels amazing.
When I bought this tunic, I had envisioned wearing it with leggings or ponte pants since the asymmetrical hemline comes past my butt, but I actually found the difference in volume between leggings and the top to look unbalanced.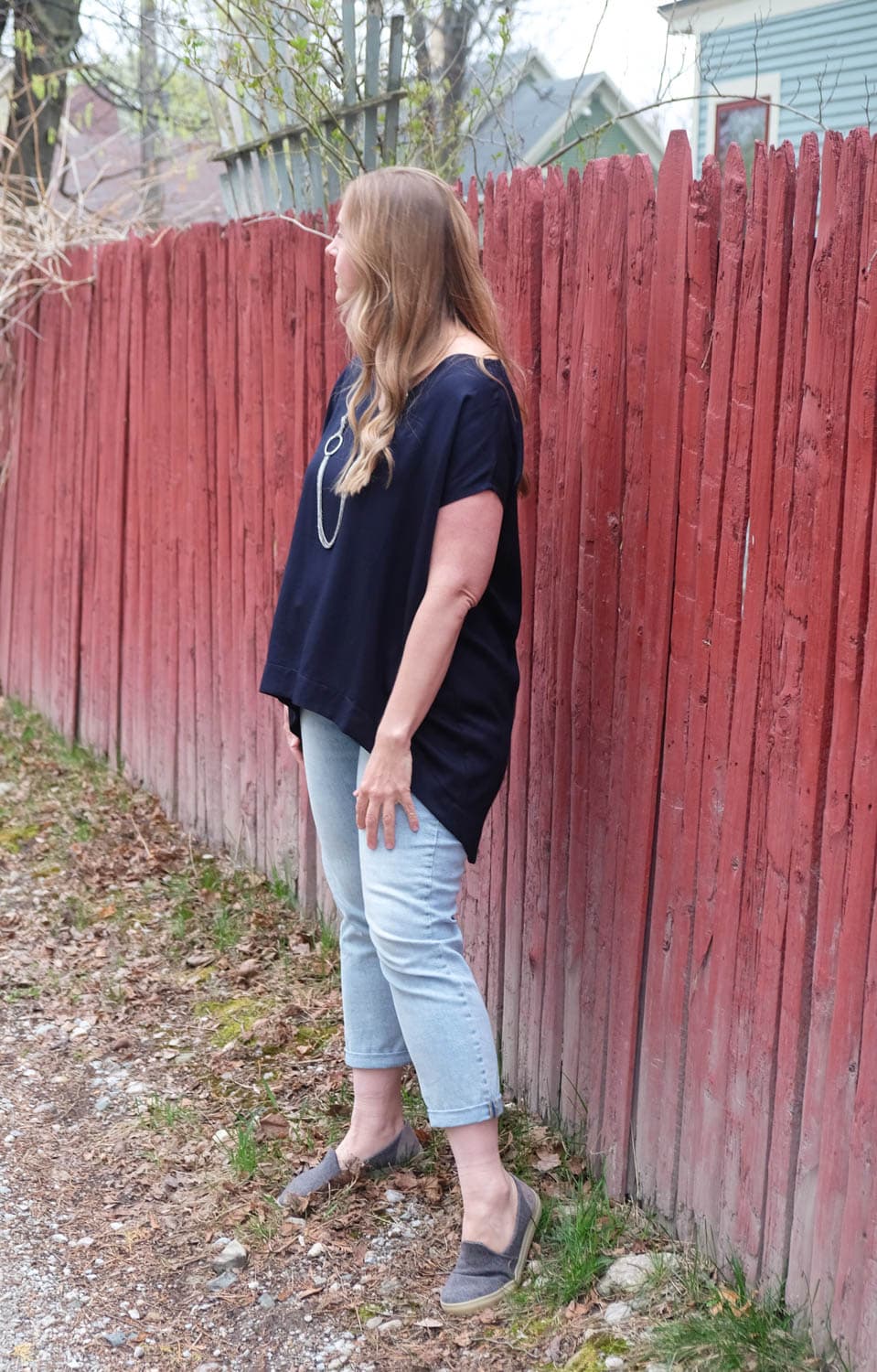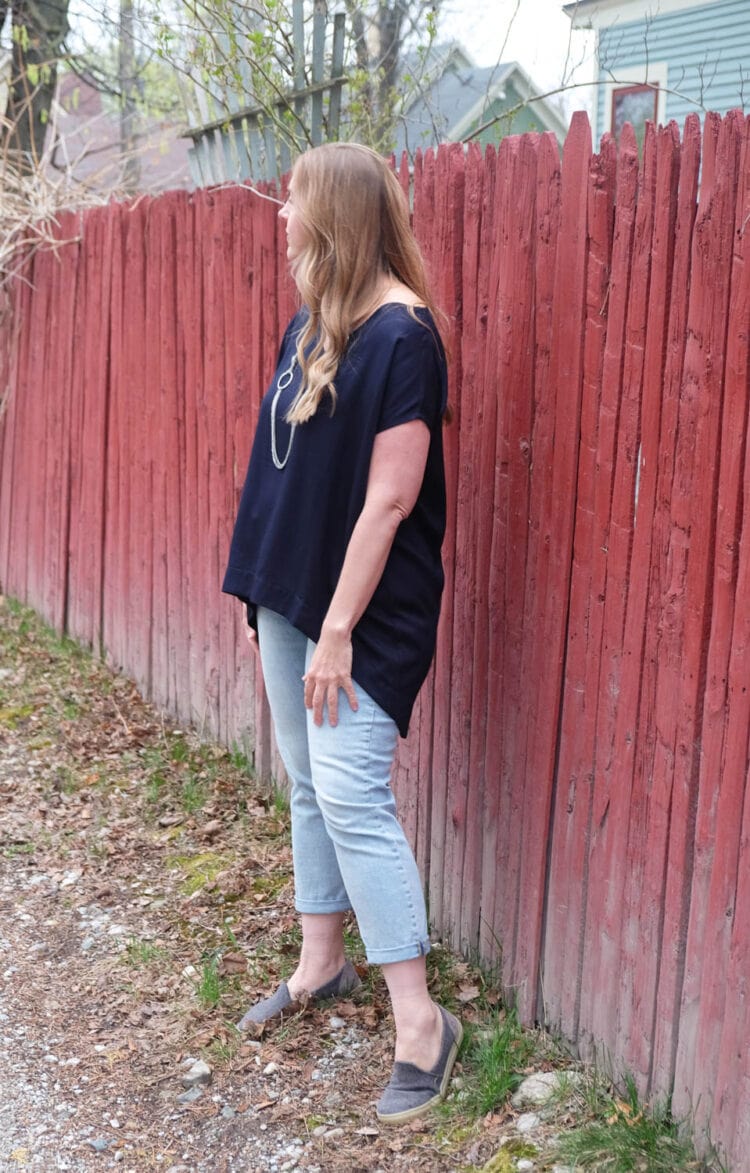 I settled on pairing this tunic with a pair of faded boyfriend-style jeans and loafers, with a statement necklace. I have a casual workplace, so I wore this outfit to work the next day.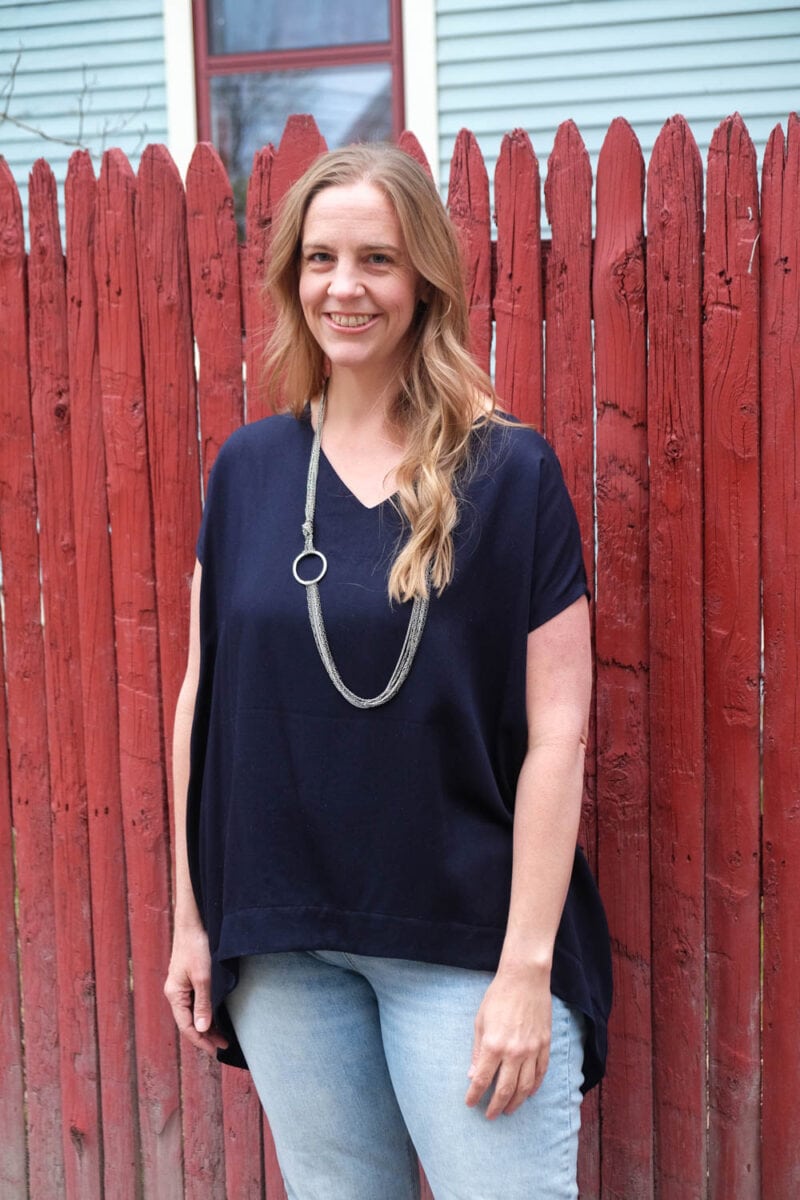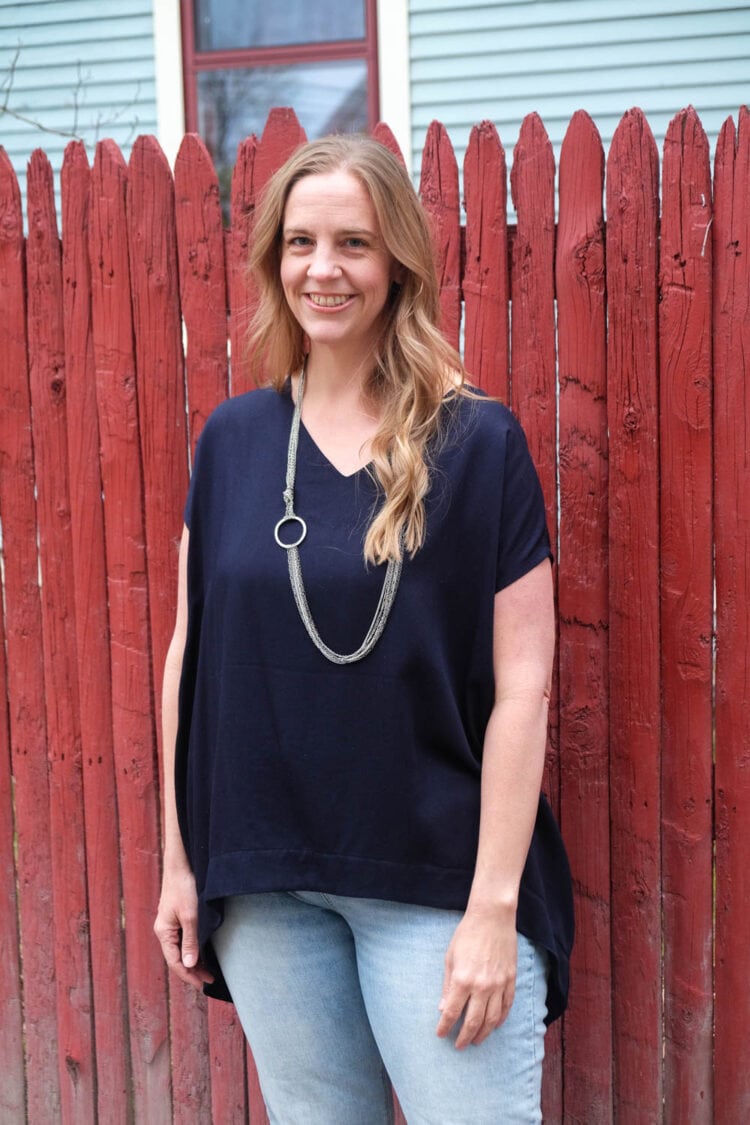 I could also imagine styling the Tourist Tunic as Natalie did on the website, with a pair of wide-leg linen pants if you wanted a more bohemian look
The Tiny Closet Tourist Dress Review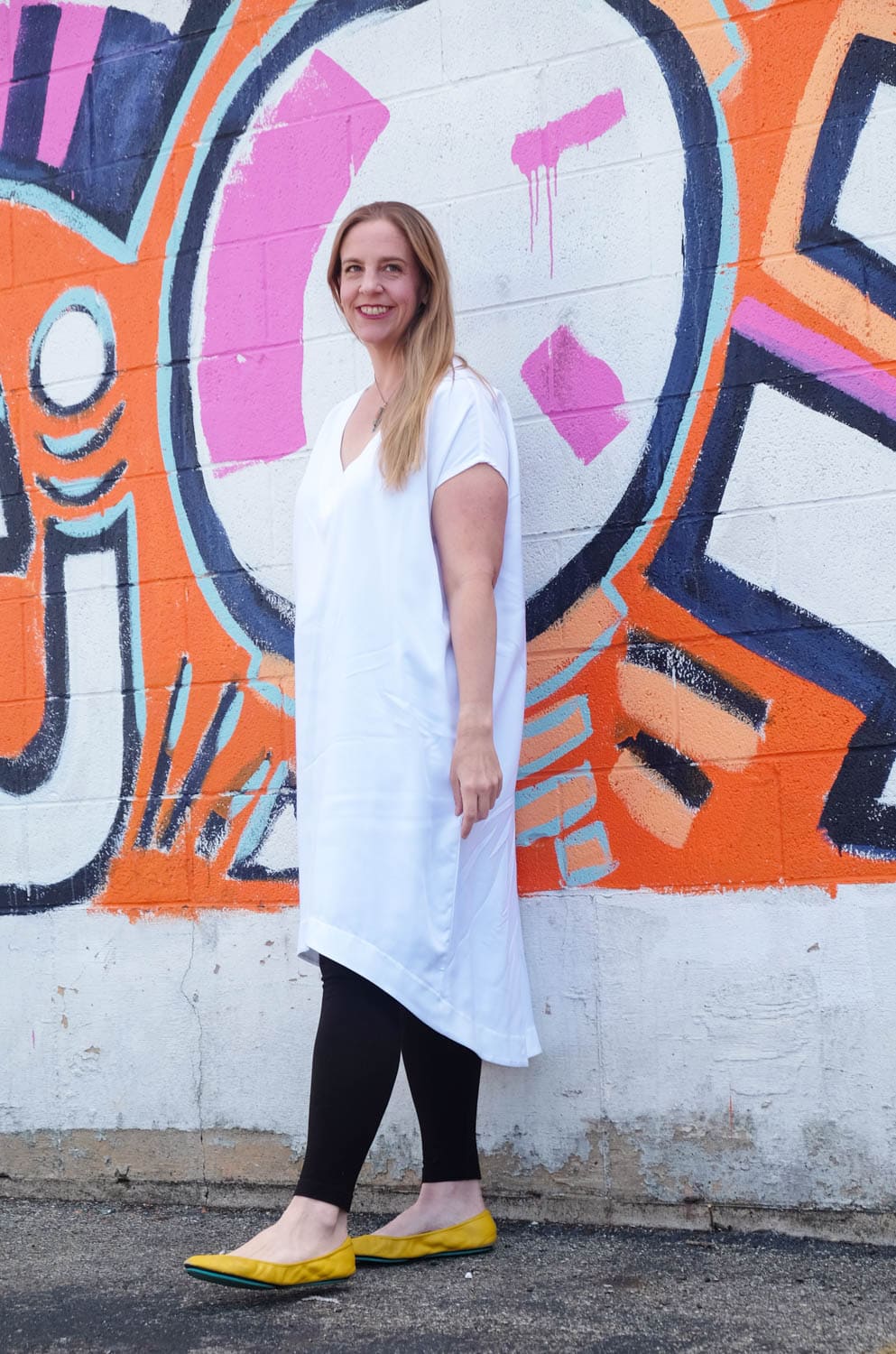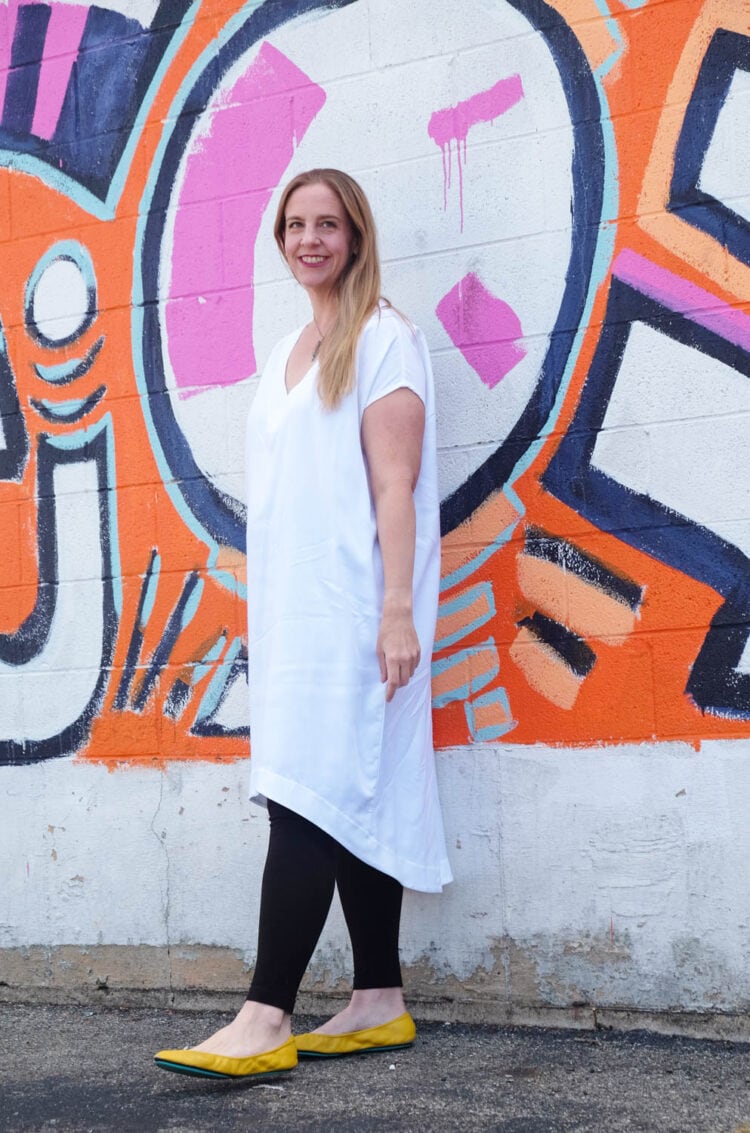 The Tourist Dress is the cool-girl dress of my dreams. It has a super relaxed silhouette, but the double-facing and tall hems give it an excellent drape.
This dress is made of the same Tencel fabric as the tunic with the same smoothness. I tried styling it with a belt or with a blazer for work, but with the drape of the dress both options bunch the fabric up strangely.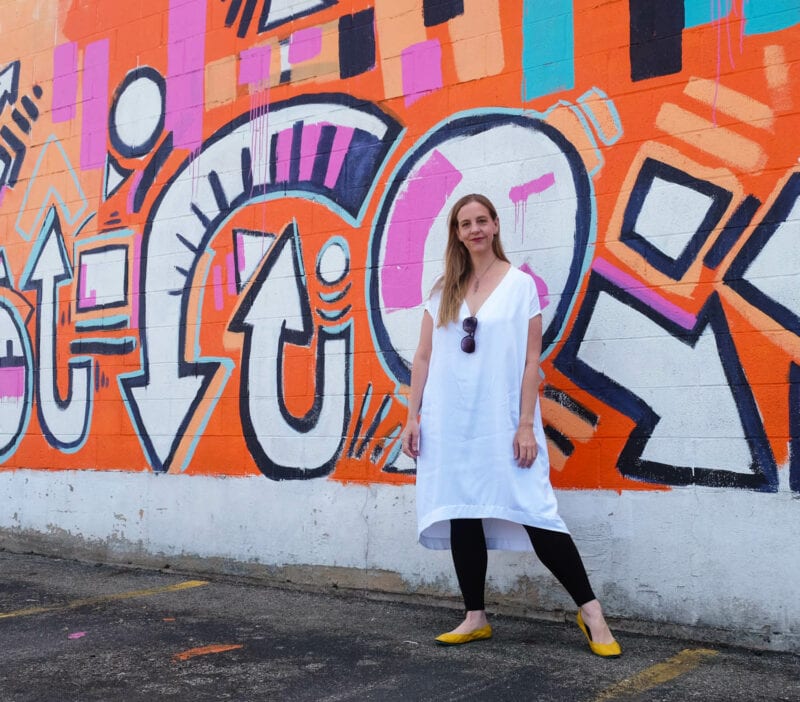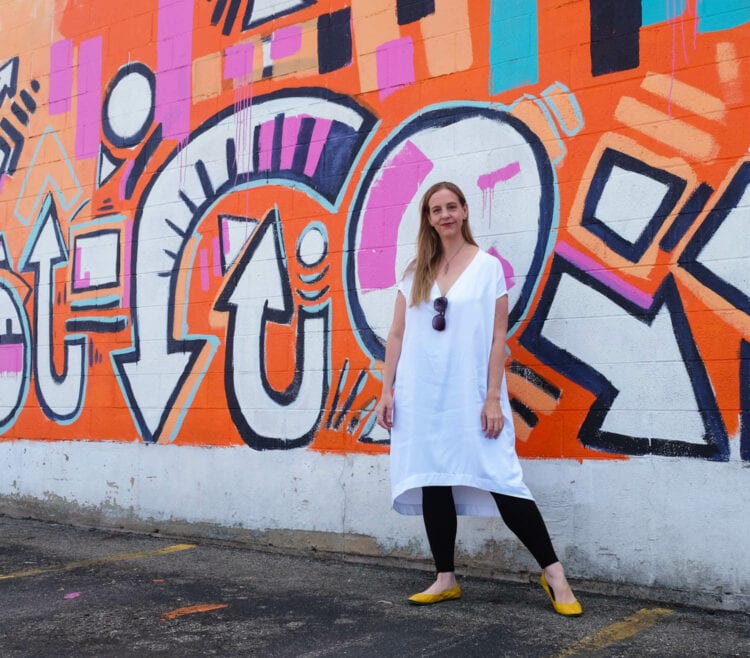 Honestly, this dress is everything I wanted the Geneva dress from Universal Standard to be on me – slouchy and effortless, yet also polished. I do not think I will wear this for work, but I would definitely wear it around on the weekend to run errands, or go to brunch, or dress it up to go out in the evening.
This would be a perfect dress to take on a trip as it truly could go from day to night. The bone color is just off-white enough to avoid that "wedding dress" vibe that I always worry about with white dresses.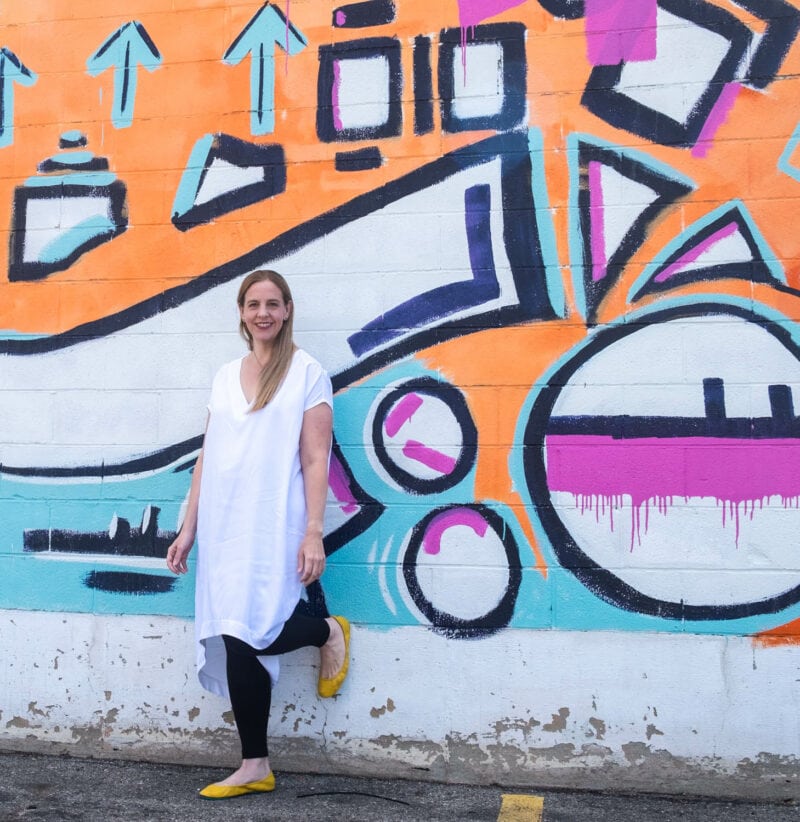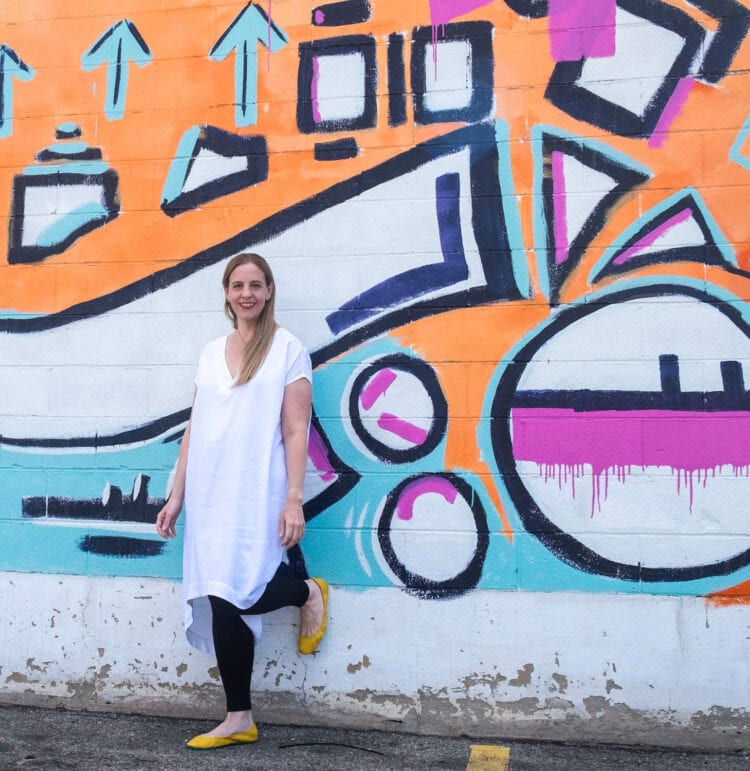 In the spring, I would style this dress as I have here, with leggings and flats, and maybe a long drapey sweater, but in the summer, I would ditch the leggings and just wear a fun pair of sandals.
The Tiny Closet Shop Recap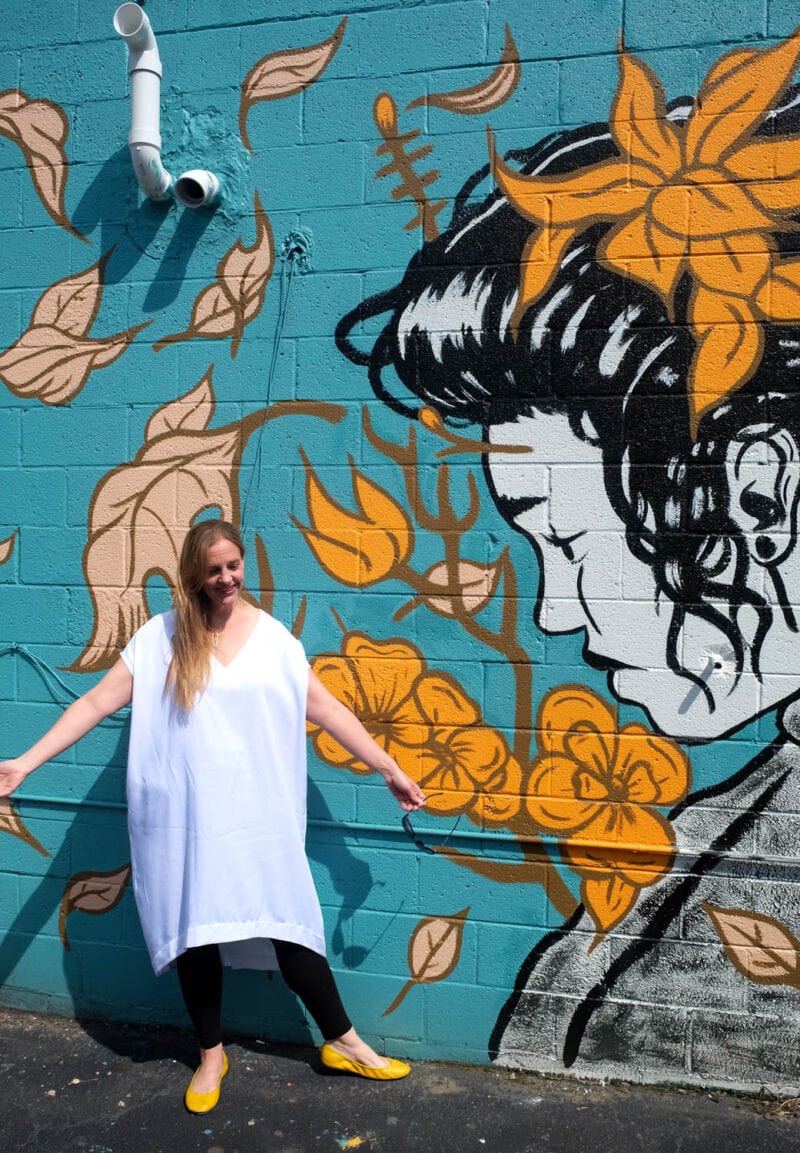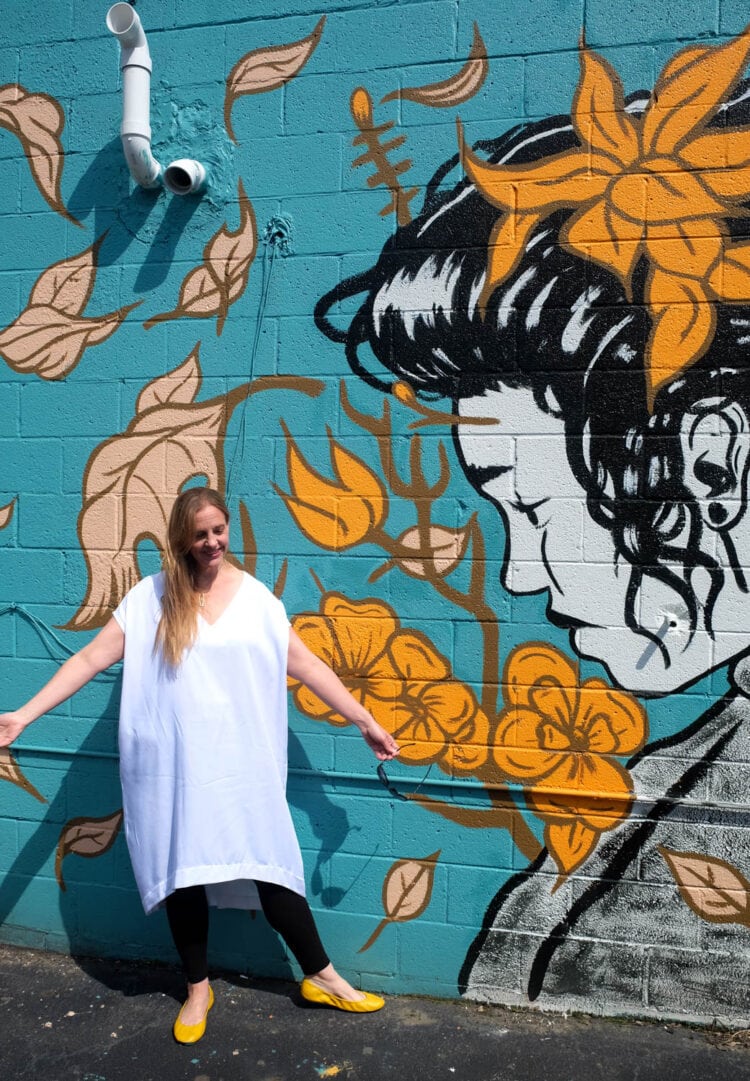 Overall, I was really happy with my experience and I would happily order from The Tiny Closet Shop again. If you sign up for her mailing list, you get 15% off of your first purchase!
Did you like this review? Have you tried The Tiny Closet? Would you like to see more reviews from members of the Wardrobe Oxygen community? let me know your thoughts in the comments below!