This article may contain affiliate links; if you click on a shopping link and make a purchase I may receive a commission. As an Amazon Associate, I earn from qualifying purchases. 
So on here I have a list of staples for every woman's wardrobe. Often I am asked why I didn't include X or Y, or that I may have missed A or B. Many items are considered staples in books and websites. The thing is, most books are not geared for every shape. They don't consider those with a very slight or "boy figure," they don't consider those who are plus-sized and not just bigger but curvier. They don't consider things like large busts, small busts, thick appendages, short torsos, cankles and booties made for rap videos. I made this list several years ago, and haven't had much need to change it drastically (do know it's being renovated with fresh pictures that don't disappear and verbiage for all items) because as a woman who has been large and small, friends and relatives with women who are tall, shorter than I, heavier and smaller and all sorts of lovely shapes… I know there are some "staples" out there that do not work on the majority of society – those of us who do not relate to the sample sized women in the fashion mags. And so, the "staples" I feel do not work for everyone:
1. Classic white shirt. Oh this one is almost on everyone's list. If you are a regular reader, you know I posted about this before. If you have a very slight figure, if you are like me with large bust and shoulders and short neck, you know this item rarely looks good on you. If you're tall you may have to order a specialty shirt (costing more, offering less selection) to get it to not be a belly top. Those with busts often have trouble with it fitting across your chest and not being too big elsewhere (yes there are custom shirt companies that sell by bust size, but the often assume you are a straight size elsewhere and the prices are quite high). And let's got get into the fact that a huge percentages of complexions just don't look good in white.
If you are not trying on a white shirt in a fitting room and finding yourself looking crisp, classic and elegant, then don't buy it no matter what the how-to books tell you. I have owned one white shirt in the past couple of years and today I donated it because I realized that my figure has changed and again it is a shape where it just doesn't look right in a white tailored shirt.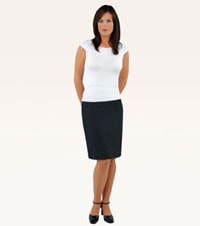 2. Black pencil skirt. If you have a belly, large legs, no curves, a large bum or an athletic figure, chances are you don't look good in a black pencil skirt. If you are not a "skirt person," you will feel utterly awkward in this garment. If you like soft neutrals, a black skirt will stick out in your wardrobe like a sore thumb. Wrong cut, and your skirt isn't classic – it's only appropriate at a night club or else terribly dowdy.
I own a black skirt, and it still has the tags on it. It was an amazing steal and matched my suit jacket perfectly so I bought it if I ever had the type of client where a skirt suit would be more appropriate than pants. A skirt is a good thing to have in your wardrobe, but often your black dress or your printed skirt will be more flattering and just as versatile.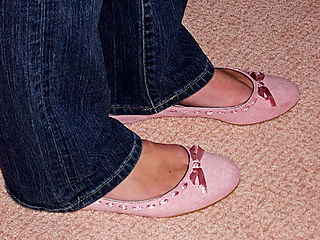 3. Ballet flats. Ah, if we all were built like Audrey Hepburn, we could all sport skinny black trousers and ballet flats and be utterly chic and comfy. But we are not, and some people just shouldn't own this type of shoe. First thing, they are small and round. If you are not-so small and round, a tiny flat shoe like this will make you look even bigger and quite top-heavy. If you feel more yourself in loose styles, ballet flats may easily make you look as though you don't have feet. Feet help balance out your look and your figure, that's why I recommend at least a slight heel and considering pointy toed shoes. Finally ballet flats are often lacking good support. You may consider flats for comfort but find that a ballet flat is actually painful after a bit of time. The foot is more naturally comfortable with some arch support, cushioning and a very slight bit of lift. Consider slight wedges, kitten heels, or if a flat – something with an interesting toe to complete your look. And if you are channeling Audrey and have the figure, then I say go for it! Ballet flats are adorable and classic.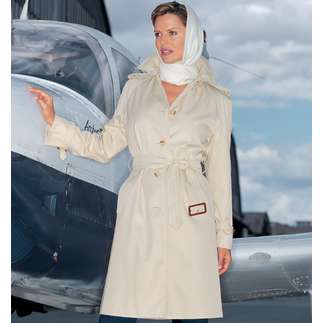 4. A classic trench. Take it from someone who looks like crap in trenches and lives in a rainy part of the country – this is NOT a necessity. Trenches often have flaps, double-breasted buttons, a self-belt and all sorts of other things that can make a curvy or petite woman look as though she has wrapped herself in cardboard. Be it black, taupe or a fun color, a trench can be bulky, overwhelming and a non-essential in most climates in the United States. I live in The Land of Summer or Winter and No In-between so my jacket wardrobe is a rain slicker for torrential downpours, a pashmina for breezy nights and a couple heavy winter coats. If you live in an area that has more mild of climate, you may need a coat for cool and sprinkly days. Consider a Macintosh – these are single breasted, sans belt and a bit more figure-flattering. I say brighten up the rainy days with a cheerful color, a robin's egg blue or candy pink can be a surprising complement to the majority of your wardrobe and will bring a smile to your face on the gloomiest of days. If you have a more casual lifestyle, consider a twill jacket – anywhere from mid-hip to mid-thing, with a zipper or buttons it can be fun and keep away the wind very nicely. There are great coats out there, but honestly the classic trench looks beautiful on some, but dumpy on many.
5. Pearls. Really, if you are not a pearl person you know it. And that's okay. Accessories are great for expressing your personality and individuality; I don't believe in classic accessories or trendy accessories. If you love it, it usually works. This also goes for diamond studs, cameo pins, Tiffany-logo necklaces and bracelets and Hermes scarves. If it doesn't scream out to you, don't buy it. Good accessories are those that you love to wear over and over and make a basic sweater or dress YOU. Now if you like pearls and diamond studs, that's lovely and I say wear them even with jeans and tees – they always say that pearls lose their luster when not worn!
6. A black cashmere turtleneck. If you have a short neck, a double chin, a large chest, I say stay away from the turtlenecks. They are not flattering. Also if you get claustrophobic or itchy with things on your neck, do not become a slave to fashion. You can be totally toasty in other styles.
7. Knee-high boots. Yes they are lovely and a good pair with the right wardrobe can become an item in regular wardrobe rotation for years… only if that is your style. I personally cannot wear tall boots because I have very large calves. Styles made for large calves do fit, but I see that the boots then hide any shape to my legs making me look heavier and shorter. Maybe you are not a skirt person, then tall boots are pretty much pointless in your closet. If you have very slender legs, you may feel that an elegant pair of leather knee-highs look more like Wellingtons on you. Very tall or petite people may feel that they hit at an unflattering point on the leg. As with pearls, you know if you like this style – and if you do, look at yourself in a full length mirror with both pant legs rolled to skirt-length or in a skirt to REALLY see how they affect the whole picture. Nothing is chic or stylish if it ruins your shape.
8. A great watch. Maybe your signature is funky watches you have picked up around the globe. Maybe your signature is never wearing a timepiece. My mom has a wonderful watch that she has worn for years and has the band replaced every so often to keep it fresh. Where did she get it? At Target. It's a classic white face with silvertone trim, she wears it with a black leather band and it's small and unassuming. She loves it, and it fits her body and her style. Me personally, I don't own a watch. I have no problem asking others the time or checking my cell phone. But that is just me. As with any other accessory, buy what you really love, make sure it fits your lifestyle and is of quality that makes it a worthy purchase.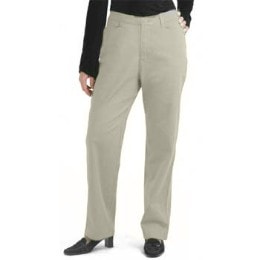 9. Khaki pants/chinos. Unless you are the casual Lands End/L.L. Bean style of woman, these pants are NOT a necessity. The heavy fabric often adds bulk and is unforgiving to curves. Pleats and slanted front pockets do horrible things to a woman's figure, and worn with a simple tee or polo often makes a lady look as though she works at Blockbuster. Khaki can be a great neutral, but so can black, beige, winter white, ivory, camel, brown, gray, olive and many other shades. Lighter weight stretch poplin, cotton sateen or versatile soft fabrics like crepe, triacetate, wool and linen blends are often more flattering and can easily look great with a tee or polo for casual events and dress up with a jacket or sweater for work.
So if you love these items and love the way you look in the mirror, by all means purchase them. However if you try and try and these items just don't seem to work with your body type… it's okay. It is more important to be true to you than be a slave to fashion. Just as one man's trash is another man's treasure, so it is with fashion. If you are looking for help for some basics to begin a wardrobe, try my list in the sidebar. And if you find that items on that list do not work for your body, send me an email. I really appreciate feedback like that, because my goal is not to force everyone to look a certain way, or "my" way, but to be happy, comfortable and stress-free in their wardrobe.