This article may contain affiliate links; if you click on a shopping link and make a purchase I may receive a commission. As an Amazon Associate, I earn from qualifying purchases.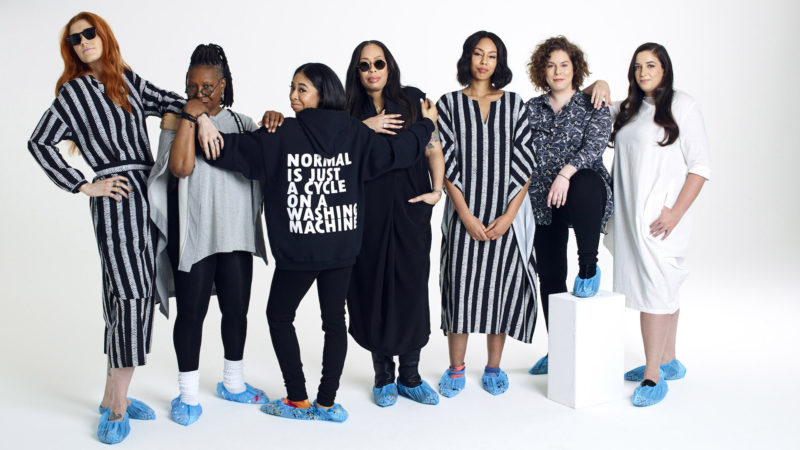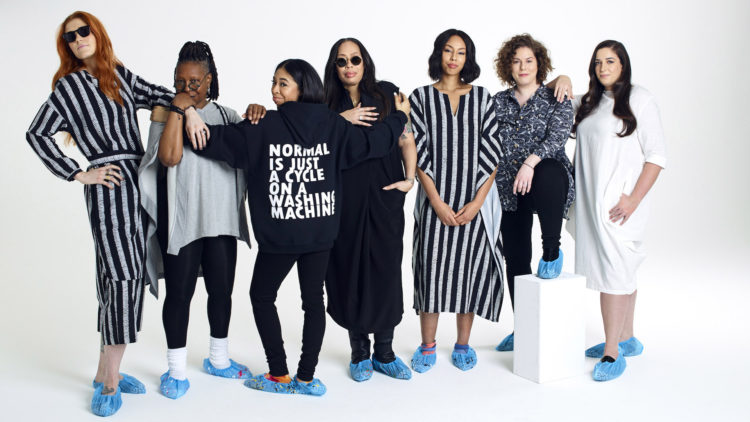 Have you heard of DUBGEE, a new clothing line by Whoopi Goldberg? The concept is great – clothing for everyone. No number sizes, from XS to 3X, clothing that is comfortable and made so you won't feel bad about anything in your closet. Quality, comfort, versatility, and timeless. I loved this idea, and I am always on the hunt for new clothing lines that have a great size range and provide comfort and quality along with style. DUBGEE is available at Neiman Marcus, Amazon, Ashley Stewart, and will eventually be at Macy's. Seeing that Amazon had some of the collection and was offering free Prime shipping and returns, I decided to order a few pieces to do a DUBGEE by Whoopi review.
Heads up: Neiman Marcus has the same exact pieces but they are $100 more than at Amazon. And Ashley Stewart's prices are cheaper than Amazon but they only carry 1X-3X. If you like this brand, shop around for the best price.
The selection is slim pickings on Amazon.  Lacking a size chart anywhere but figuring the cut of these pieces and the usual size I wear in clothing, I figured I was a size Large in DUBGEE.  There were three things available in Large on Amazon at the time of my order.
Since one was a sweatshirt and I didn't really feel that would give a good example of DUBGEE, I ordered what has been the signature piece in all marketing – the long button front belted tunic, as well as the cocoon dress.  They arrived quickly, shipped in traditional Amazon fashion (which means a box too big, plastic bags that look as though they were reused, and some air pillows to fill the void). 
The print of the tunic is black with ivory. It is a 100% polyester fabric that feels like a heavier challis or a lightweight poly crepe. This is definitely opaque. The sleeves have a button cuff, the button is shaped like a flower. It has a notch neckline with the same flower-shaped dark wood buttons down the front, and a self-belt held in place with two sturdy knit thread belt loops. There are on-seam pockets.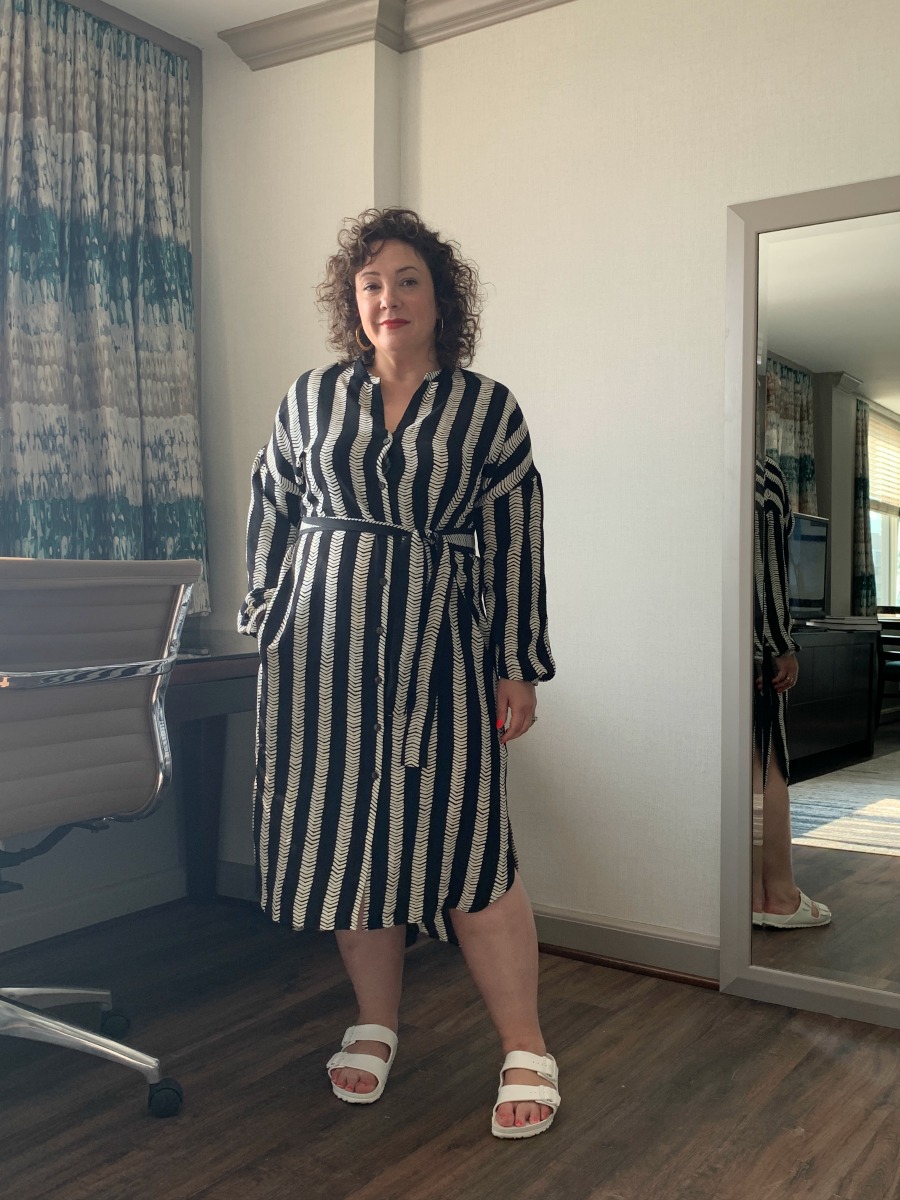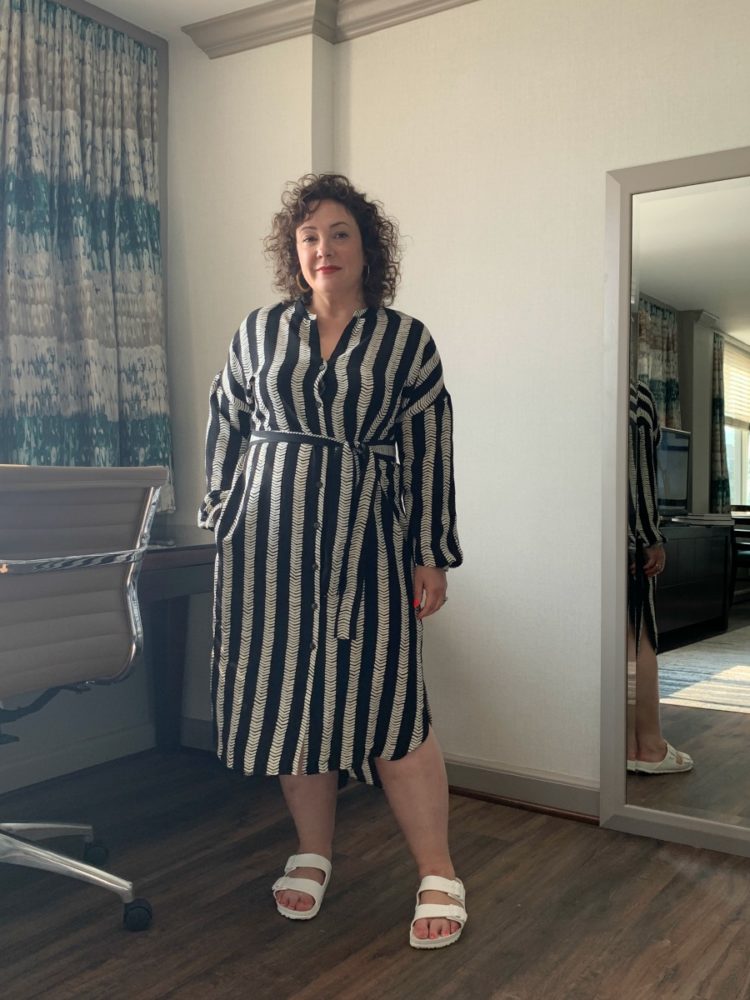 I thought this would be cute as a dress, maybe over leggings with flats or Birkenstocks, possibly open like a jacket or trench over a black tank dress.  I was surprised to find I didn't like the print in person.  I love graphic prints, especially black with white or other neutrals.  This felt very… aggressive.  Not versatile.  This isn't a print you can easily dress up. 
I found the belt to be placed quite high on the body.  While I have a large bust I am short waisted and the belt was right at the bottom of my ribcage.  I also wished the belt was a bit longer so I could be more creative with it; the current length all you can do is knot it. The slits are a good height to be worn as a dress or a tunic over pants and to have it work when walking and sitting.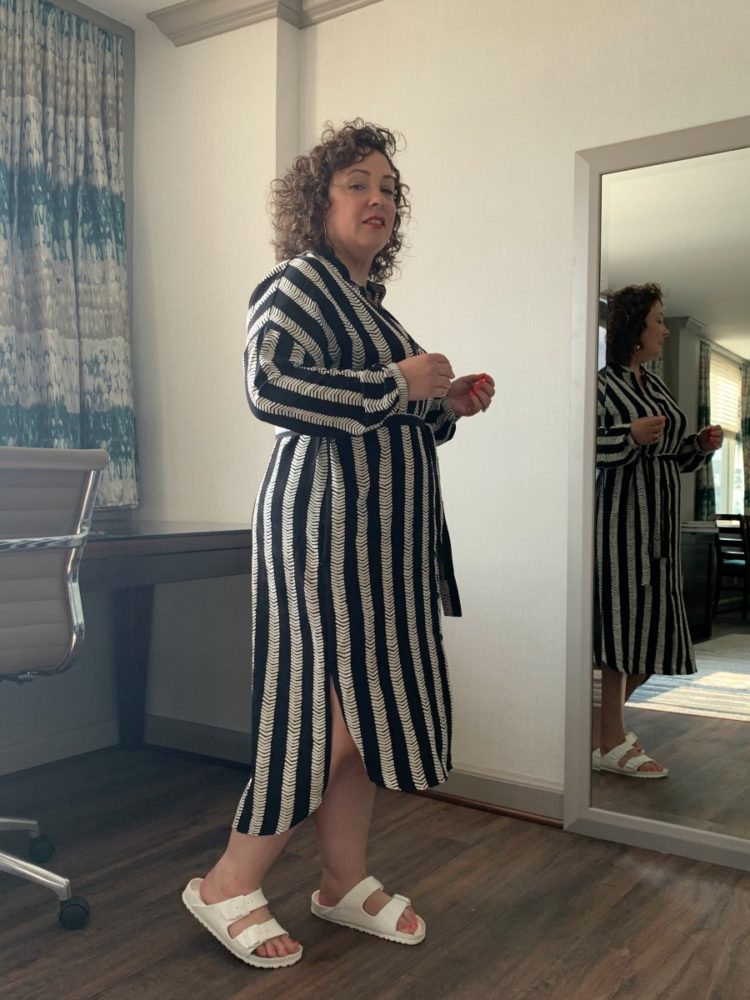 The thing that surprised me the most was that this was way too small in the bust. The buttons gape, even when I readjust the piece to have the fabric all in front. In general, this piece ran very straight, not having a shape to accommodate curves. While it has full sleeves, the opening to the sleeve was a hair snug, restricting movement. I wonder if other sizes are cut differently to allow for curves and comfortable movement?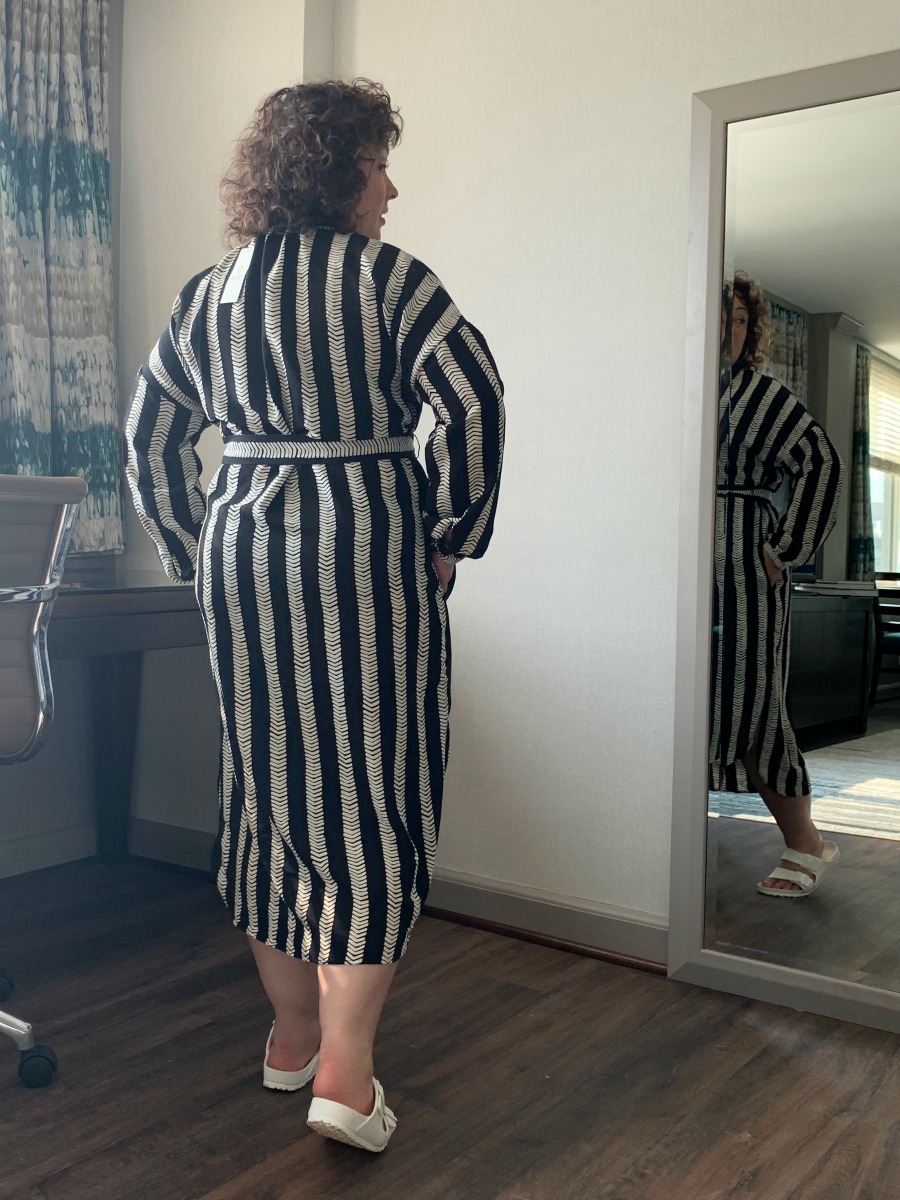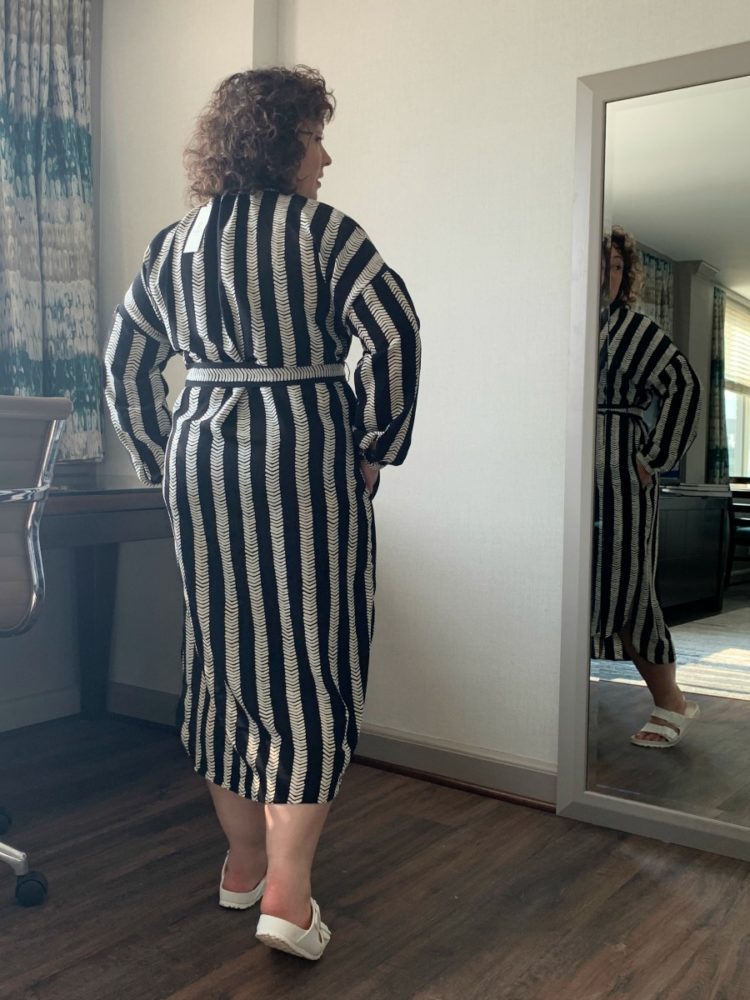 This tunic retails for $158 (it's $69 at Ashley Stewart and for some reason, at Neiman Marcus, it's $248). I don't see anything remarkable about this piece that justifies the cost except that it is machine washable and able to go in the dryer. Such fabric is usually the type that will shrink and shred when in the machine. I didn't wash it to test how it fares.
I love architectural details in clothing, and the shape of this white cotton dress appealed to me. I saw it with chunky jewelry, my silver or white Birkenstocks, or maybe switch it up by belting it. The fabric is 100% cotton with a visible texture/weave that makes it almost look like linen. The 3/4 sleeves have a built-in cuff. There are no pockets.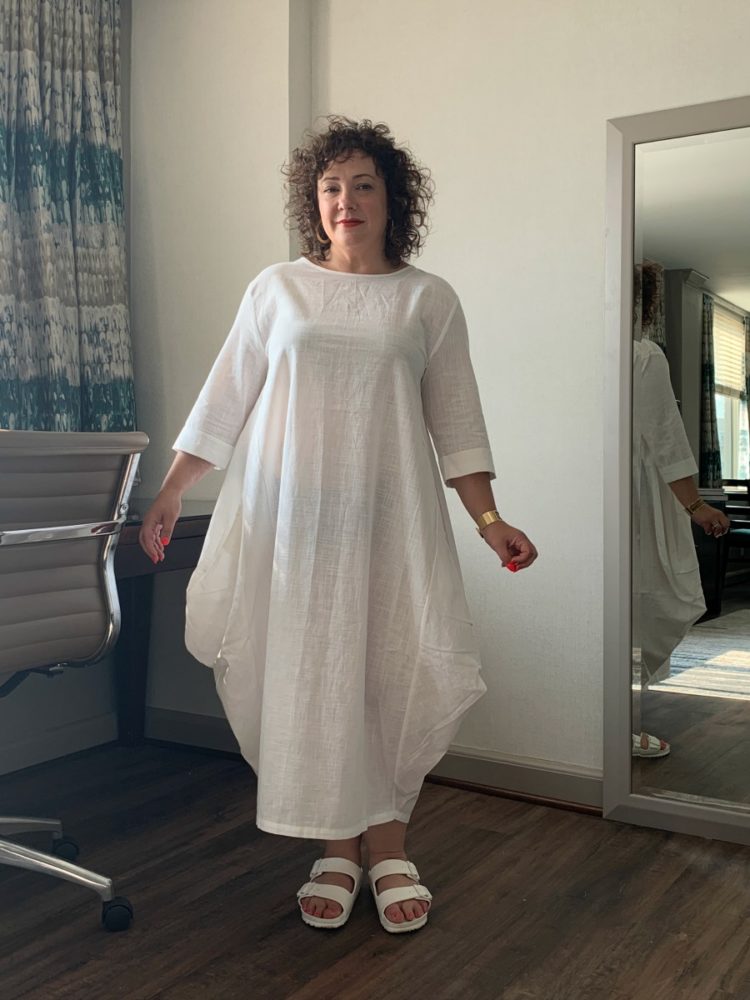 This dress is sheerer than the paper gown I donned when getting my pap smear. Under this dress, I am wearing a t-shirt bra that is only a hint darker than my skin, and a pair of gray-blue underwear.  But I really didn't need to tell you that since it's so visible just in natural light. There is no way this could be worn without a slip, which would not only ruin the breezy aspect of the dress, but also ruin the silhouette.
I also found it weird to have seams in the back to essentially point to the bottom of my ass.  I don't think most people, especially those who are interested in a brand like this, would want an arrow pointing to their rear.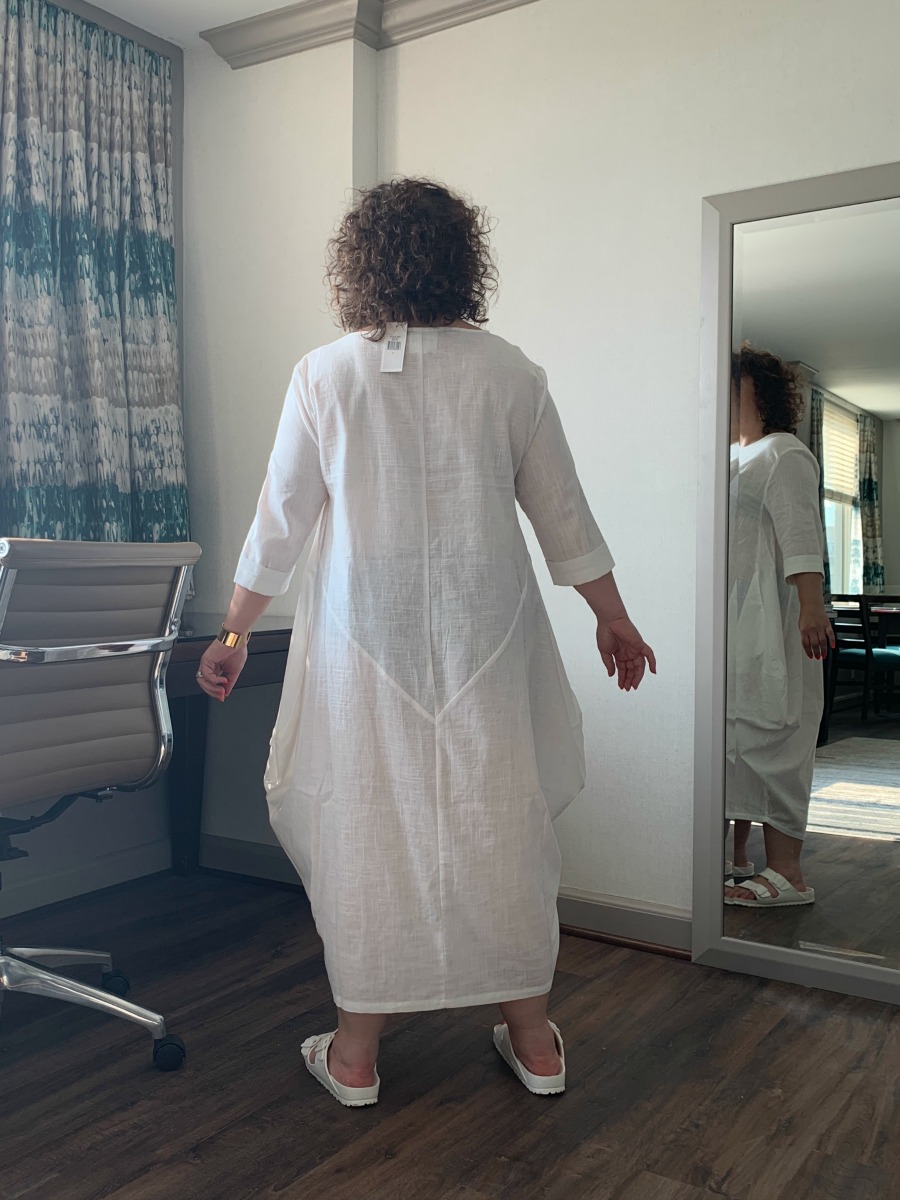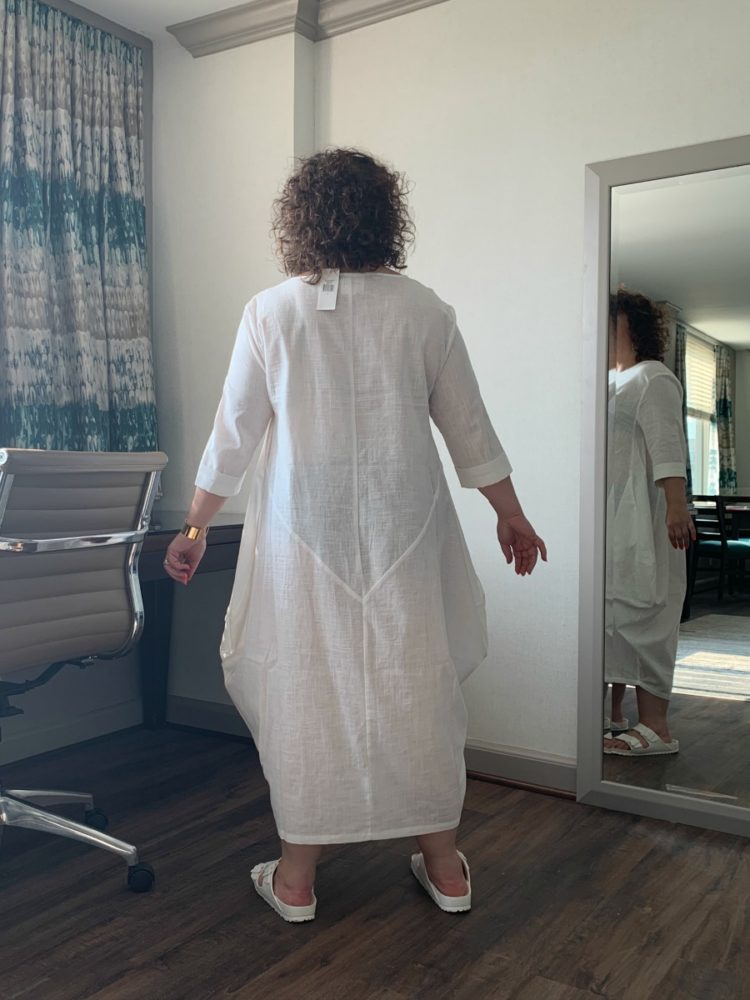 But the weirdest thing I found was that the sleeves were snug. This is an issue I find with many designers who only offer straight sizes – they don't seem to realize that not all women have twigs for arms. I would think a brand that is created to make fashion work even if you have a fluctuating figure would have more generous arms on the clothing.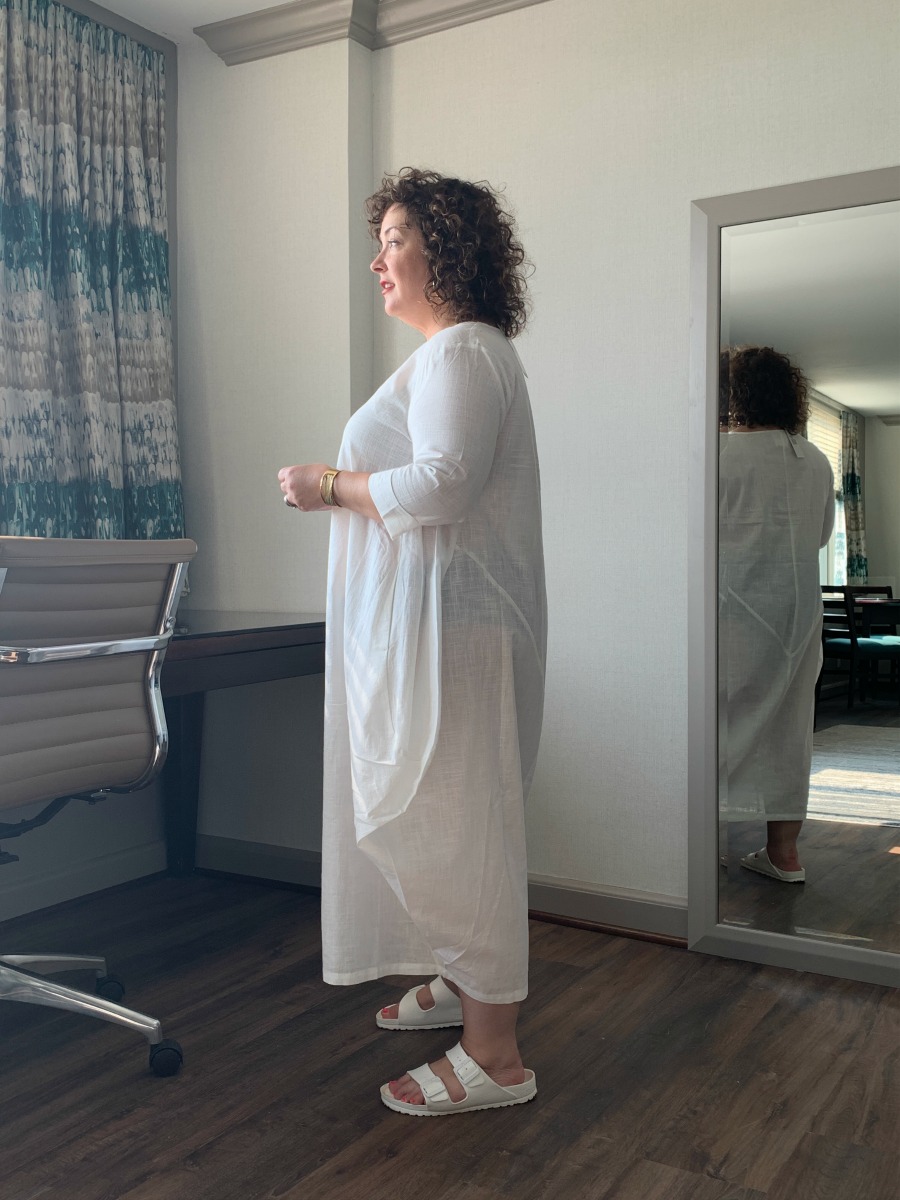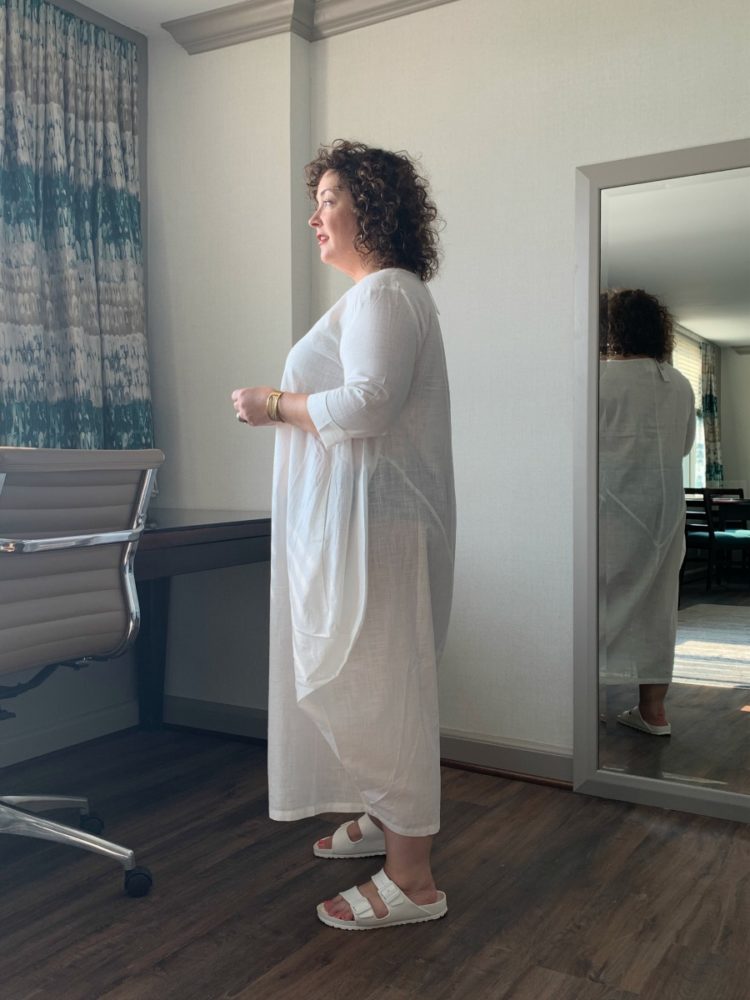 This dress retails for $128 on Amazon (it's $79 at Ashley Stewart and $298 at Neiman Marcus). Considering it is made in Vietnam and doesn't claim to be sustainable, ethical, or doing anything to benefit the world I find the price ridiculous. You can find exactly the same dress for a fraction of the price from a random seller on Amazon that ships from China.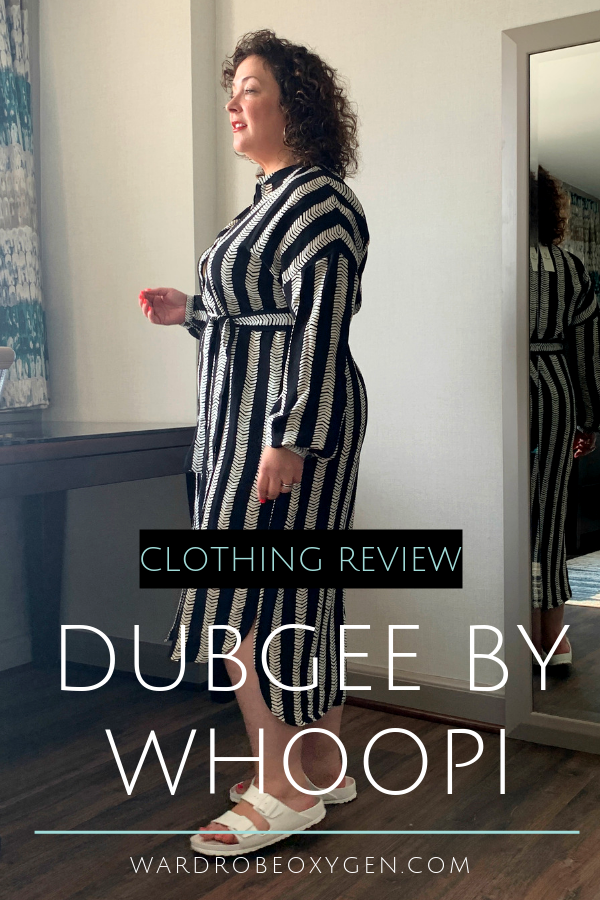 DUBGEE by Whoopi Review
"DUBGEE has no race, creed, age or size. It's meant to make you feel good about how you look and feel." The concept and the message of DUBGEE by Whoopi are awesome.  Women have bodies that fluctuate, and fashion isn't always forgiving.  Some days we just don't want to be buttoned up, sucked in, and feeling as though we are on display.  I appreciate offering clothing that feels good, has personality, and doesn't focus on the body. But I feel this line misses the mark. 
The prices are quite high for mediocre quality and style that isn't revolutionary.  For a brand that is to make you feel good about what is in your closet, I am surprised to find it run so straight and not accommodate curves. While the line is designed in the US, all the pieces are made overseas.  I also find it amazing that in 2019, a brand would have a site with absolutely no information about how the brand came to be, what is the inspiration for pieces, styling tips, or even a size chart. I'd say it's because the line is new, but the brand has been doing promotion all month on social and through new media (see this review on Man Repeller and this article at InStyle from early May). 
I appreciate the messages on the sweatshirts and t-shirts, but with the sweatshirts retailing $70-$100 and the t-shirts hovering near $50, I'd love to know that a portion of that money from poly blend made in Vietnam knits is going to something philanthropic.  I may sound like a hater, but in this day and age, a brand like this needs to back up their message with something – sustainability, philanthropy, or at least room for some boobs. 
If you have tried DUBGEE by Whoopi, let me know your thoughts. Maybe I got bad batches? Maybe proceeds are changing the world but it's not being marketed enough for me to know? Maybe it fits better in different sizes? I'd love to hear from you and I'd love to be told that when it comes to this brand, I have it all wrong.