This article may contain affiliate links; if you click on a shopping link and make a purchase I may receive a commission. As an Amazon Associate, I earn from qualifying purchases. 
Not a ton of pictures lately… I hate taking the pictures in the office because the lighting is so poor. I keep saying I will get to Target for another mirror to put into the bedroom, but I just haven't had the time. SHOCKER! 🙂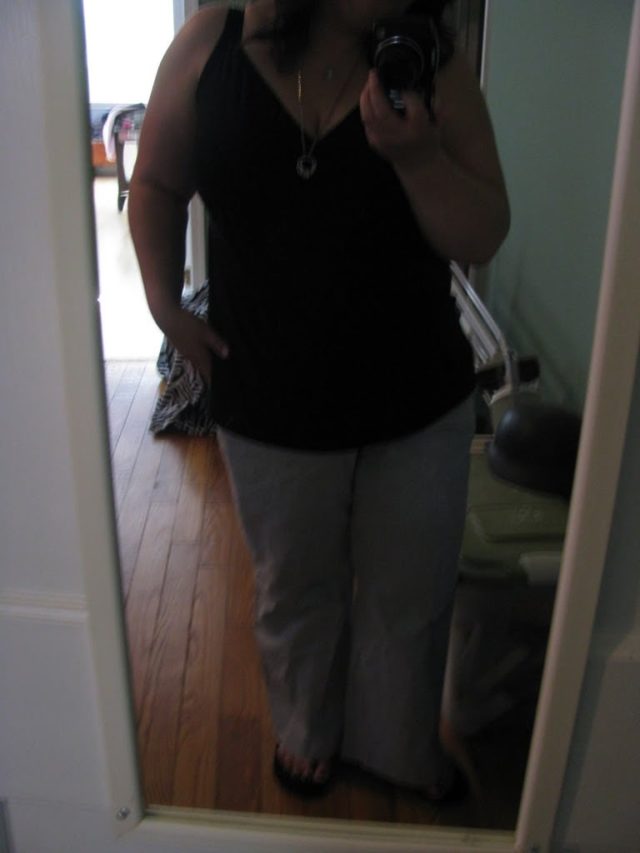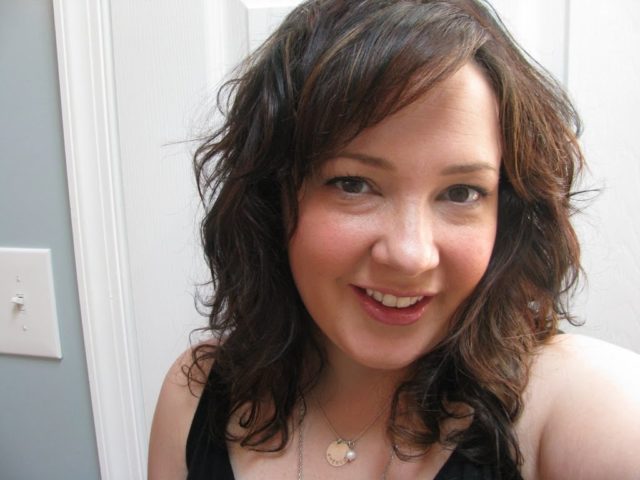 Anyway, this is me on Saturday. On Saturday, we had a cookout to celebrate my husband's cousin's daughter's graduation from high school. It was a wonderful reunion of families, some we haven't seen since his dad's memorial service. The weather was fantastic, we ate outside and also played a few rounds of Bocce Ball. Emerson enjoyed the great weather trying to roll over on a blanket on the grass.
I wore a black knit nursing tank from Gap. I sewed the straps shorter to fit my petite self. With it are light blue-gray low slung flare trousers from Gap. Black flip flops from Reef and my silver jewelery.
My hair was second day – on Friday I washed it and let it dry naturally (with a combo of Matrix Curl.Life Contouring Milk and Jonathan Silky Dirt). For the hair in this pic, all I did was smooth the bangs with my curling iron and fingercomb out any bedhead.
Makeup is Laura Mercier Tinted Moisturizer in Sand, Cargo Matte BeachBlush in Tenerife, Nars Blush in Orgasm, Stila Lip Glaze in Fruit Cake, Revlon ColorStay shadow quad in Neutral Khakis – the ivory in the corners and on the brow bone and khaki on the lid. Maybelline UltraLiner super thin on top lash line and a coat of Cover Girl LashBlast waterproof mascara in Rich Black.
That evening we had two couples over for dinner and drinks out on the deck. I switched into the same pants in khaki linen blend because the others got dirty from being in the grass.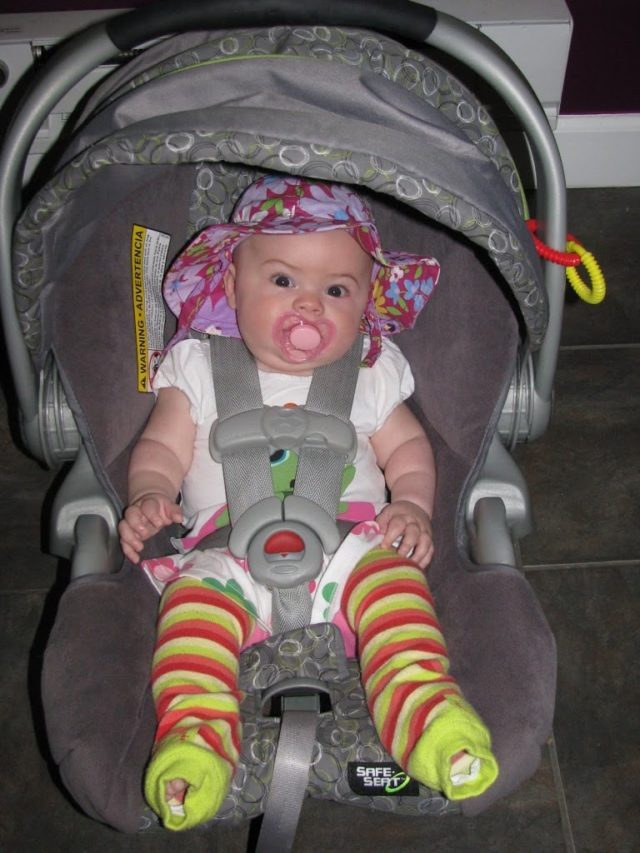 Sunday my husband had to take some photos at the local Farmer's Market for their Web site and I needed some provisions. We walked down with Emerson; another gorgeous day. I wore the same tank, but a different one (they were on sale when I just gave birth so I got two in black and one in white!), with my Essential Jeans from Gap and flip flops. Hair was third day, a bit pulled back with an elastic, the rest with my Ray Bans aviator sunglasses. Just tinted moisturizer and mascara.
No picture of me, but here is Little Miss E all decked out in her Punky Brewster finery ready to get some local produce!
Anyway, on a baby fashion side note – I love BabyLegs. They are lightweight so I am not heating up poor E while wearing them and they are great for sun protection on days like this. She also wears them to bed often because she wears a bulky wool cover over her cloth diaper and pants don't fit over it well. They will grow with her – right now they are obviously a bit long on her, but they will work as she gets taller under dresses or later on as arm or as classic legwarmers. We probably have six pairs of these, either brand name or from an Etsy seller and they are a must-have in our diaper bag!
Anyway on Sunday, despite Emerson looking so darn cute in her Gap sunhat and citrus-striped BabyLegs (and shirt from H&M and skirt from Carter's) I woke up feeling a bit icky. I thought maybe I didn't drink enough water the day prior. We walked down to the town center and once we got there my stomach was unhappy and my back was aching. By time we got home, my whole body was achy, my head hurt, my jaw felt stiff and swollen and I just KNEW I had a fever. Sure enough, I had a fever of 99.8.
We were to go to a cookout but I was in no shape for it, so I stayed at home. I slept, stayed hydrated, but the fever went up to 102.4. Some time last night my fever broke. I have a very low-grade one today, still feel crappy but not NEARLY as crappy as yesterday.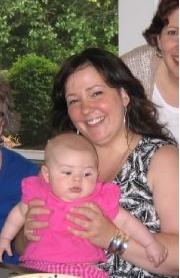 So today my hair was air dried because I had no energy to use any styling tools on it. Makeup is only tinted moisturizer, my Cargo Matte BeachBlush and some mascara and lip gloss. My outfit isn't bad – this top from Ann Taylor (love it when I can find nursing/pumping appropriate clothing with some style!) with a black cami from H&M under it, black twill pants from Gap, and I hate to say it but flip flops – there was no way I could get my achy self in real shoes today.
I actually wore this same outfit (but with kitten heeled sandals from Banana Republic) in this picture to the left, which was taken Memorial Day weekend. Not the best pic of me or E, but something semi-recent with that blouse. I actually just ordered it in solid black as well because it's a nice price point, can really dress up nicely, great for work or play and is mama-friendly!