This article may contain affiliate links; if you click on a shopping link and make a purchase I may receive a commission. As an Amazon Associate, I earn from qualifying purchases.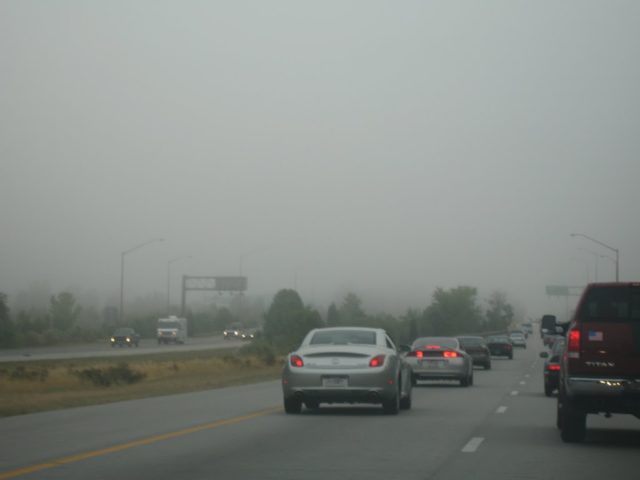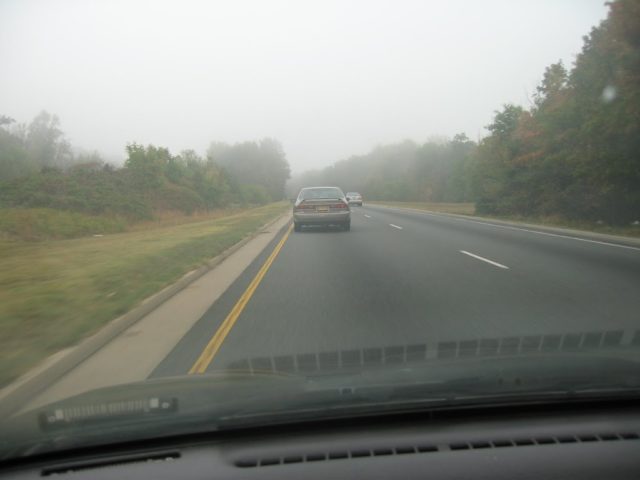 What an icky foggy morning. I walked out the door and the air felt like soup. No wonder my hair was acting so crazy! The traffic was AWFUL because in the DC area, you can have a drop of rain and people are slamming on brakes left and right, skidding into medians and freaking out all over. This fog made people either speed and dart between cars, or slam on their brakes in each valley and go about 20 MPH. A 30 minute commute ended up taking almost an hour. Thought I'd share some lovely shots of MD 295 for you…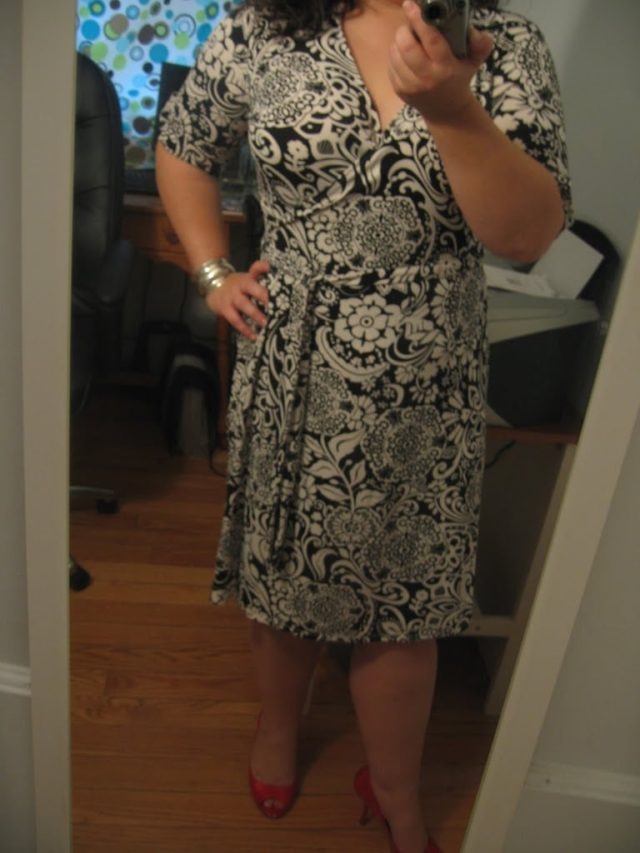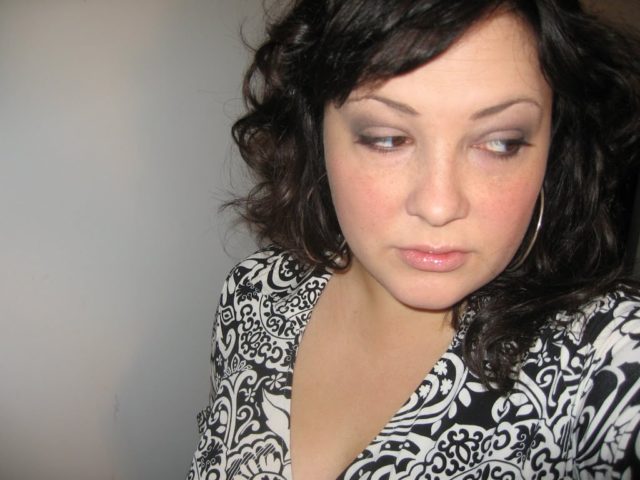 Black and ivory print synthetic wrap dress from Ann Taylor. A couple weeks ago I saw a friend who is a manager for Ann Taylor and she was wearing this dress and I LOVED it on her and went back to my computer and ordered it same day. It has been sitting in my closet for a bit… I am not sure if I love it on me. I am always wary of bold prints with all my curves. I have gotten tons of compliments today, but often people compliment something that is eye catching more than flattering. Not sure about this one…
With it, red patent croco peeptoe pumps from Enzo Angiolini, my silver hoops and cuff. I considered wearing my ivory cami underneath for work-appropriateness, but said forget it – it ruined the line. It's not like I am popping out, just a bit lower of a neckline than I usually wear. Oh well, I'm in a cube, who's gonna see me?
Hair is second day. Last night I showered and didn't bother with putting it up, but didn't try to get it all wet so it was 50/50 resulting in weird curls and fluff this AM. I hit a few pieces with the curling iron and used the iron to straighten my bangs, then added some BioSilk and left it as-is.
Makeup is L'Oreal true Match concealer in W4-5, laura Geller Fabulous Foundation in Light, a touch of Chanel pressed powder in Natural to set, Nars blush in Orgasm. Lips is Victoria's Secret Beauty Rush gloss in Strawberry Fizz.
Smoky eye – it has been a while. Body Shop's eyecolors – Slate on lid, Soft Black in crease and along lash lines. A bit of black Eye Definer from The Body Shop along lash lines, curled lashes and a few coats of DiorShow mascara in black.
Product Review: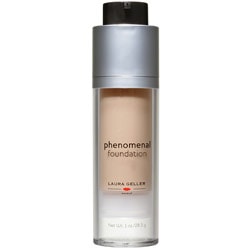 Laura Geller Phenomenal Foundation – I got this as a sample from Sephora. Thrilled to find it was a great match to my skin (a rarity with samples) and that the container had enough for 2-3 wearings. However, I don't think I will wear this stuff again.
It smells like acrylic paints and has a similar consistency. It did not blend in well, not with fingers, and not even with a moistened cosmetic sponge. The coverage was very obvious, though I applied with a light hand. And I can feel it on my skin – it feels the way colorfast lipsticks feel – a bit heavy, a bit dry, a bit… THERE. And four hours after application, it still has the weird paint smell. It does stay well, it has buildable coverage like the website claims, but it gives a very false and "done" finish that I do not like for myself or on any woman that is not on the stage. I bet it is long-lasting – I still have the same coverage I did this morning and I don't feel it has caked, creased, faded or smeared… but it doesn't fell good. it feels like the first foundation I tried in middle school and well, the cosmetics industry has made great strides since the 80s. there are many more foundations on the market that are long-lasting, smooth and provide good coverage while feeling and looking more natural.