This article may contain affiliate links; if you click on a shopping link and make a purchase I may receive a commission. As an Amazon Associate, I earn from qualifying purchases.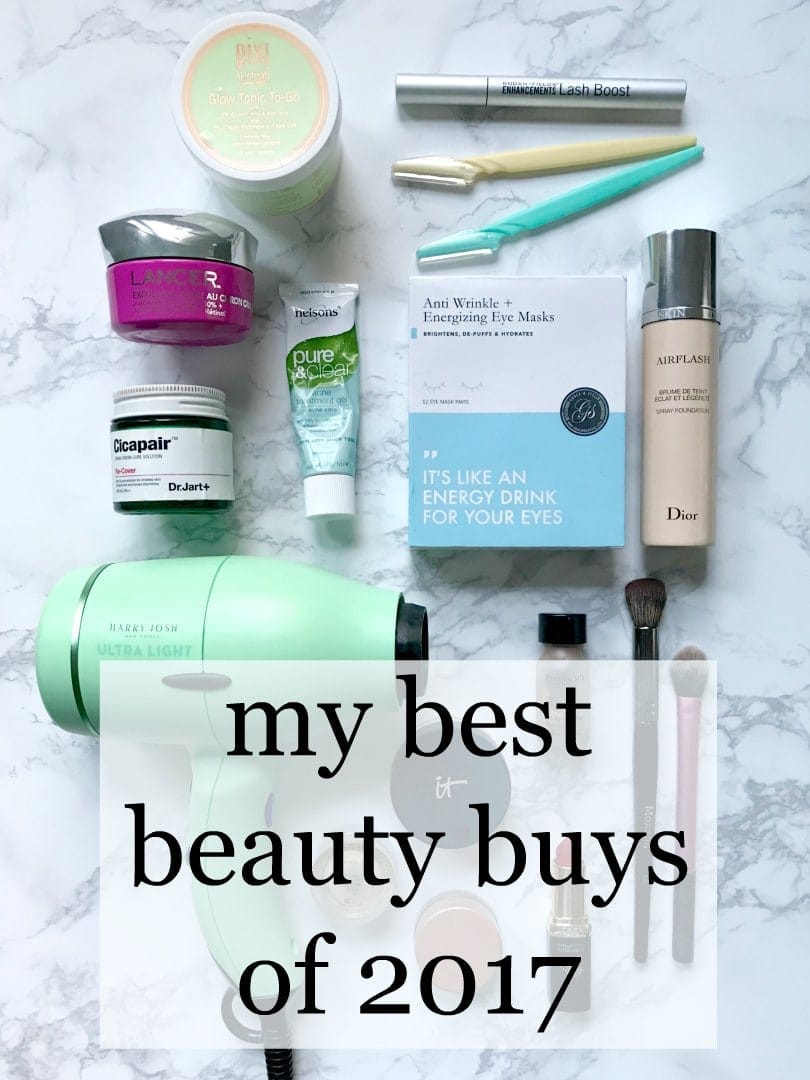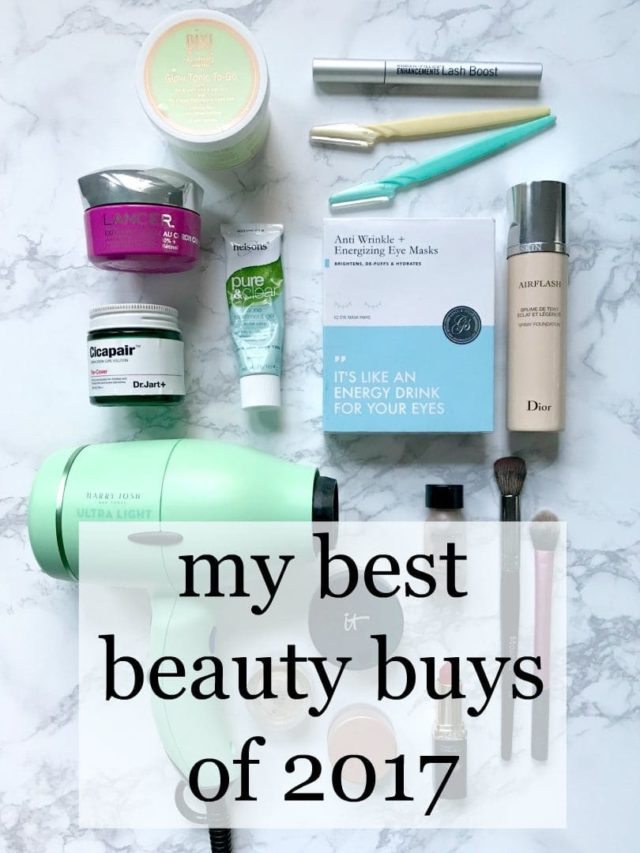 This year, I focused more on my skin. At 42, life is catching up to my face with dryness, uneven skintone, fine lines, loss of elasticity, dullness, and increased sensitivity. This year I really think I dialed in my skincare to get the best results. I dialed it in so much, I refused a few different sponsored posts and campaigns because I worried that changing up my routine wouldn't be good for my face and wouldn't be worth the money. A new dress or pair of shoes is nice, but your face is the one thing you wear every single day and deserves the most care and is worth more of your budget.
Skincare doesn't have to be expensive to be effective. Drugstore brands have really upped their games and indie brands like The Ordinary are providing powerful ingredients for a very low price. Below are the best beauty buys and medicine cabinet additions over the year:
Best Skincare Buys of 2017
Cicapair is at the top of the list because it is by far the most revolutionary product I purchased all year. I wrote about it before, I've raved about it on Instagram Stories, and I'll continue to preach the fabulousness of Cicapair in this post. Cicapair is a cream that is slightly green and looks like a mud mask, but when you rub it into your skin, it transforms to skin tone, evening out your skin, smoothing it, minimizing pores, and creating an airbrushed effect without being as heavy as a foundation. Cicapair has SPF30 and ingredients that can heal skin and reduce redness.
I apply Cicapair after my entire morning skincare routine. I like to apply it while my moisturizer is still a bit damp, it helps it blend. You can layer Cicapair, maybe a bit more under your nostrils or over dark circles to better airbrush those areas. Cicapair is also a great primer for foundation and other cosmetics, helping them stay in place longer throughout the day. Before Cicapair, I didn't feel comfortable going completely bare faced; now you can often find me with just Cicapair, brows, a bit of mascara, and lip balm.
I doubt I'm the only one who is swayed by the recommendations of certain celebs and bloggers. Like, Angelina Jolie and Kristen Stewart and Kerry Washington can all swear by some product and I don't care but then if Victoria Beckham also loves it, I'll buy it. Well Posh recommended this peel and I bought it. And I don't regret it. Sure, it's pricey, but this stuff is actually effective. Since I am not wealthy like a Beckham, I only use this at most once a week. When I wake I'll put it on and wear it while making breakfast and putzing around downstairs. After 15-30 minutes, I wipe it off and do my morning skincare routine as usual. This stuff smells like lime Skittles and it makes my skin look as though I got 10 hours of sleep, a gallon of water, and maybe shaved a couple years off my driver's license. It minimizes pores, makes my skin glow, look plump and taut and super happy.
Okay, I first bought these in 2016 but they're so awesome I'm sharing them again (original post about shaving my face). Whether you have a bit of peach fuzz or something heavier, these little razors make it so easy to manage it on your own. I keep them in my medicine cabinet and do it a couple nights a week before my nighttime skincare routine. They not only remove hair, but they remove the very top layer of skin, providing gentle exfoliation and prepping the skin to better absorb treatments. You can get them at Amazon, I usually pick them up at the beauty supply store in a nearby strip mall for $1.25 each.
This summer, I spent 24 hours in California. I had an early flight, just a few hours to get ready and take an hour nap, had an evening event where I would be meeting a room full of strangers and be photographed, flew home the next morning and had to go right to work. The only reason I didn't look like death warmed over was because of these eye patches. They are my go-to before an evening event, they're always in my bag for travel, and a lifesaver after a night of insomnia. They're these rubbery crescent-shaped pads covered with a slimy goo. You put them under your eyes, they'll stick to your face and leave them on as long as possible. They really do depuff and minimize dark circles, hydrate without being greasy or causing breakouts. They claim they're anti-aging but I haven't experienced that. However, they're pretty awesome and the price is much lower than the similar patches celebs promote all the time on Instagram.
I wrote about this lash growth serum before, but it's so good I need to add it to this list. I had short stubby lashes, but within six weeks my lashes were twice as long. I've continued to use this serum every other night all year long and continue to have longer, thicker lashes. I went from needing a lash primer and multiple coats of volumizing mascara to being able to wear just Maybelline Great Lash.
A couple years ago, I bought a bottle of Pixi Glow Tonic after seeing so many beauty gurus rave about it. I didn't get the hype, I didn't see a difference, and soon it was collecting dust at the back of my medicine cabinet. This year I got on Pixi's mailing list and they started sending me product every so often, including a jar of pads soaked in their Glow Tonic. I was out of Thayer's Rose Witch Hazel, a product I use every morning to cleanse my skin so I decided to try these pads. I became a convert.
Pixi Glow Tonic has glycolic acid, which helps increase cell renewal. This is especially important for older skin which doesn't renew that well on its own. It also has some other ingredients like aloe and ginseng which soothe and brighten. This is super gentle – I haven't had any redness or irritation, yet I do believe it has improved my skin's appearance and resilience. I recommend buying the bottle of the tonic over the wipes as the wipes have too much product on each pad and create more landfill waste (consider using reusable cotton rounds). Do note you shouldn't mix retinol and glycolic acid, so if you use retinol at night only use this in the morning.
This is a cheat, I didn't buy this product this year but it's so darn good it needs to be highlighted. I am allergic to Salicylic Acid, it causes a rash on me when used more than one night. I was looking for an alternative to help with the occasional breakout and found this recommended on Makeup Alley. It's a metal tube, the formula is a clear gel that smells strongly of tea tree, and it works. It won't give you completely clear skin overnight, but it gets pretty close. It works on full-fledged whiteheads, zits that popped and are now healing, little bumps that want to turn into something nasty, tiny white bumps, and everything in between. I put a good dollop on at bedtime, and when I wake it is much smaller, less red, less gross. No peeling, no burning, no negatives unless you have a strong aversion to the scent of tea tree. And yes, I've tried plain tea tree oil and this works far better.
UPDATE: While writing this, after taking the photos, I found out that this product has been discontinued. You can still find some on eBay and natural health stores and the occasional Whole Foods.
Best Makeup Buys of 2017
I was never a red lip person, but last year Lancome sent me their lipstick in Le Carmin and I loved it. I felt like Snow White when wearing it, but when summer came I felt it looked weird with a bit of a (faux) tan. While in CVS one lunch break, I picked up this lipstick and it ended up being my signature lipcolor for the rest of the year. I'm wearing it as I write this! It's matte, but not super dry, it's red but has a bit of a warm tone which makes it look more natural, it fades away nicely without leaving a ring around my lips, it blends nicely with lip balm for a softer effect.
With my skin being older, I find heavy foundations to look too obvious. I thought I found a pretty good foundation that was light but had more coverage than a tinted moisturizer but at dinner with my sister one day she let me know the color was off and it wasn't settling nicely on my nose and forehead. It's so nice to have friends who aren't afraid to be honest and know a lot about makeup! We finished dinner and headed to Sephora where she had me try AirFlash and I've been using it ever since.
This is an aerosol foundation, but I don't spray it directly on my face because that would be a mess. Instead I spray it on a brush or a moistened Beauty Blender and pat onto my face then blend. It covers, but doesn't cake on, looks dewy, blends beautifully, and sticks around for several hours. I'm only 1/3 through my second canister and have been using this since spring. I find 300 to be a perfect match for my complexion.
With a red lip, I like to keep my eye makeup light. Mascara, a very thin line of brownish-black liner right at the lashline, and a clean brow. Shadow can make my eyelids look very dry and emphasize fine lines; no shadow and my lids show veins, redness, and look unfinished. Perricone MD's No Eyeshadow Eyeshadow is like a concealer for eyelids; it hides the veins and redness but isn't heavy, doesn't crease, doesn't look dry. If you do wish to wear eyeshadow, it makes for a wonderful primer helping the shadow last longer. Read my initial review of Perricone MD No Eyeshadow Eyeshadow.
I was looking for a solution to concealer creasing under my eyes and found a video from YouTuber Hot and Flashy. She recommended this powder and I got a jar of it off Amazon. I hate powder, I don't like my skin looking matte, and it can quickly look dry or weird with most powders. However, if I use this brush from Real Techniques with just a tiny bit of the powder right after applying concealer, it not only prevents creasing, it prevents mascara smudging and makes the concealer last longer. I will sometimes put a bit go the powder in my T-zone and like how it doesn't look powdery, doesn't look dry and dull, just keeps me from looking too shiny. I sprinkle a bit in the cap and a little goes a long way; I bought my jar in January and I'm not even a third through it!
This is my original review of Glossier Stretch Concealer. I am still using the same jar of concealer almost a year later. A little goes a very long way. I used to pat on with my ring finger, but this fall I went to Sephora and got a mini makeover where she applied a jar concealer with a brush. I loved how it patted in place and I got a better effect with less product. I bought this brush from Morphe which is a similar shape but a much lower price (the brush itself is fine but the metal part disconnected from the handle and I had to glue it together, I guess you get what you pay for). The woman at Sephora used NARS concealer on me and I bought it thinking it may be better than Glossier's. Nope, I like the consistency, wearability, and the non-cakiness look of the Glossier and returned the NARS. However, the brush method makes both concealers much better especially if you have fine lines and saggy skin around the eyes!
Lara at the Glossarie recommended this stuff right when I was doing my annual birthday purchase at Sephora. I'm always looking for a way to reduce darkness under my eyes without heaviness. I got the jar, tried it, and hated it. It was so sticky and cakey and obvious and such a weird silvery pink color. Fail. But then when I went to Sephora and they applied concealer with a brush, they first applied this same product with a brush. Gamechanger. I tap the same Mophe brush into the jar. No need for a lot of pressure or swishing, you don't want a lot of this product. Then tap it under the eye area in a bit of a triangle from each corner of the eye down a bit to the top of the cheekbone. Then gently tap/lightly blend it in place. Then add your concealer over it, and set with concealer.
Reader Kathryn said she uses this product as a highlighter and it does also work great for that. Again, a little goes a very long way, but a little bit on your cheekbones and other places that catch the light can really brighten up your face without making you look like a disco ball.
Best Haircare Buys of 2017
Okay, this one I didn't pay for, it was a gift from Dermstore. But this hairdryer is a major game changer. First thing, it's super lightweight and easy to hold. If you're upside down trying to straighten those pesky hairs at your nape having a lightweight dryer that feels secure in your hand is pretty awesome. It has a very long cord, and the thick type that doesn't get twisted and tangled. Multiple speeds, multiple heats, attachments that make sense and direct the air even if you have no hair drying skills. Oh, and I didn't even realize my old hairdryer was frying my hair until I used this one and found my hair dried faster, looked smoother even with my subpar hair drying skills, I had fewer baby hairs poking up around my hairline and fewer split ends. My old hairdryer wasn't a crappy one, but it made me realize that even if my dryer isn't broken, it may be breaking me. Since switching to this hair dryer, I don't feel a need to repair, add shine, or smooth with products, thereby saving time and money.
I originally wrote about Ghost Hair Oil in this blog post. I love this stuff. You need a tiny bit, not even a whole pump to add softness and shine to dry hair. I like to add it to damp hair and let it air dry for a tiny bit of separation and reduction of frizz. It doesn't make my hair greasy, isn't heavy, no strong scent. I use it more when my hair is curly because it gives that little something to make airdried curls look more purposeful and polished.
I also received this product free, but I had it in my Amazon cart when they offered it to me so if they hadn't I still would have bought it. A few of you recommended it after my post about hairloss, a friend mentioned it, and I saw many positive reviews online. This stuff is pretty fantastic, and the best product I have tried for hiding thinning hair.
The fibers are a powder, and come in a shaker canister. You choose the color closest to your hair color (I went with Dark Brown). You can shake it right into your part, but I recommend for an additional $20 to get the Spray Applicator which has a nozzle so you can direct the fibers to a specific location (the nozzle only needs to be bought once and can be put on future cans of fibers). The nozzle also helps you get the fibers at the crown of your head where you can't see what you're doing. Pat to secure. They also have a spray to set the fibers but I haven't tried it. But this stuff stays in place, it doesn't look obvious, it doesn't make your hair greasy or sticky or dull looking, it doesn't get all over your hands if you run your fingers through your hair, and it doesn't run down your forehead if you sweat or get caught in a rainstorm. I know many of you asked for an updated post on products for hairloss and thinning hair, I'll be writing one next month and be sure TOPPIK will be in it!
And now it's your turn… what are the best beauty buys you made this year? Anything that deserves to be shared? Let us know in the comments!