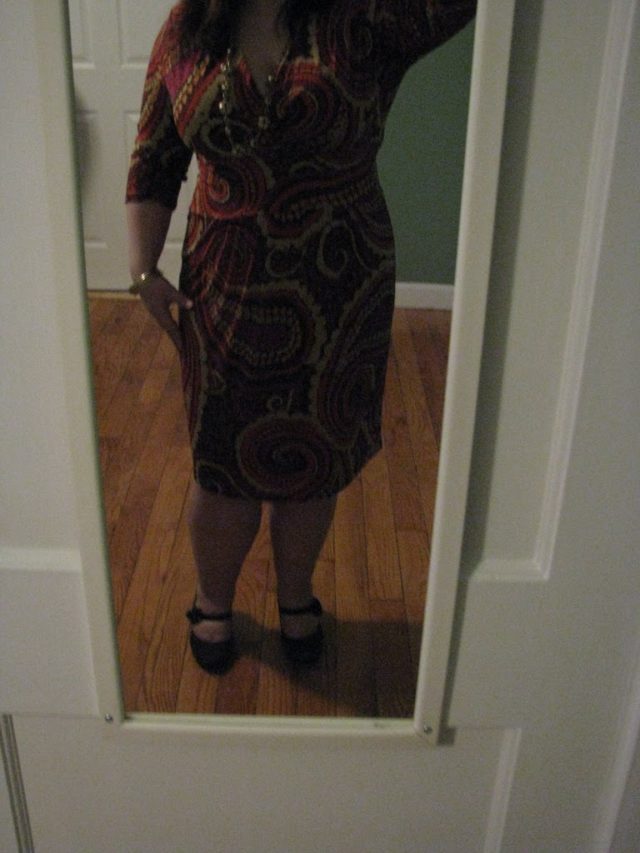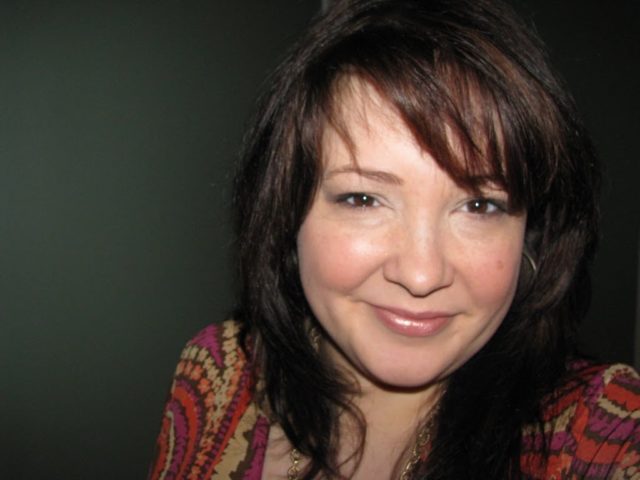 Attire:
Talbots – Matte jersey surplice neckline dress
Sofft – Brown suede Mary Janes
Ann Taylor – Gold necklace and hoops
Ralph Lauren – Gold bangles
Hair:
Next day, just brushed
Beauty:
Philosophy – The Present, The Supernatural Color Correctors in Light
L'Oreal – True Match foundation in C3
Cargo – Matte BeachBlush in Tenerife
Benefit – Lipstick in Bouquet Dive
Revlon – ColorStay shadow quad in Neutral Khakis
Cover Girl – LashBlast mascara in Rich Black
One of my new dresses – depending on how the shoes work that are en route to my house, I may wear this one on Saturday. I love matte jersey, and this neckline works jsut fine for feeding or pumping.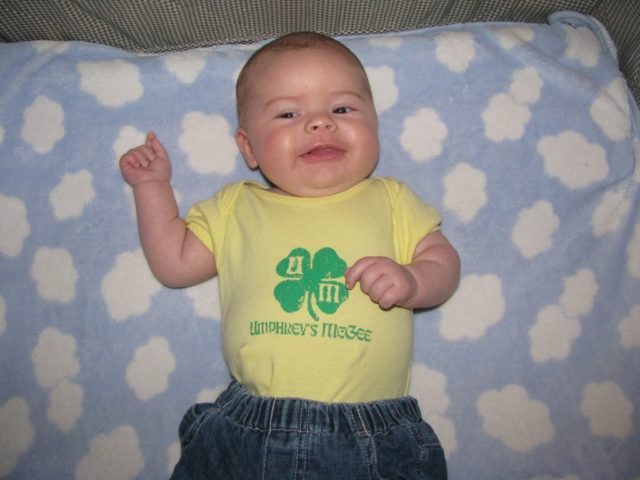 And I haven't had an Emerson picture lately… here is one of her from this morning. Happy little baby is sporting one of her newest onesies.
A couple of days ago we received an unmarked brown shipping envelope addressed to Emerson. Inside was nothing but this onesie, which has the logo and the name of the band Umphrey's McGee. No invoice, no card, nothing.
"Emerson has a secret admirer who likes jam bands!" We figured out pretty quickly which friend of ours sent her the onesie. He was the one who saw this band with my husband in Jamaica and with both of us when I was in my last trimester. We gave him a call to thank him. But it was pretty funny. This picture was taken so I could put it in his thank you card. 🙂