This article may contain affiliate links; if you click on a shopping link and make a purchase I may receive a commission. As an Amazon Associate, I earn from qualifying purchases.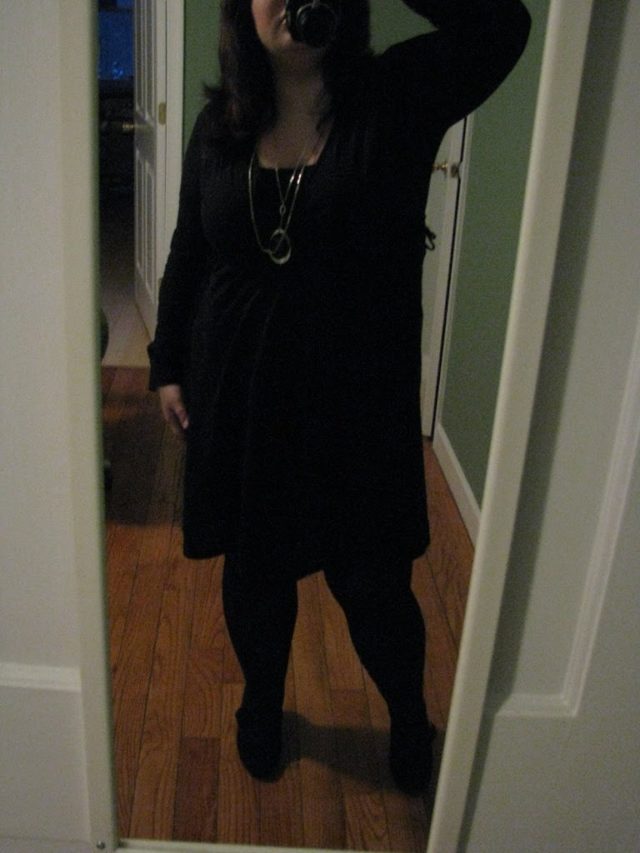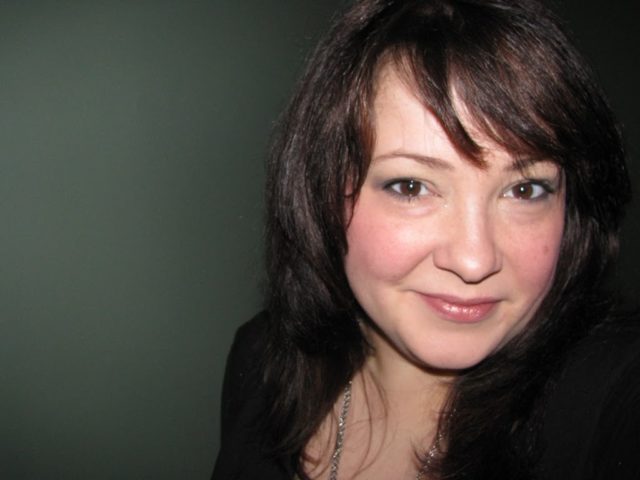 Attire:
BOOB Maternity – Black jersey dress
Banana Republic – Black knit camisole
? – Black tights (found them in the attic and was so glad since all retailers think it's 90 degrees out and I can't find tights anywhere)
B.P. for Nordstrom – Silver necklace with black stone pendant
MD Ren Fest – Silver necklace
Silver hoops and cuff
Sofft – Black suede Mary Janes (found the black version of the brown ones that saved me during pregnancy at Marshalls for like 1/4 the price at Nordstrom!)
Hair:
Washed and conditioned with Pureology Volumizing
Redken – Satinwear 02 applied while damp
Dried with round brush to smooth
Matrix – Sleek.Look Water Lockout Spray
Beauty:
Philosophy – The Supernatural foundation in Beige
Nars – Blush in Orgasm
Laura Mercier – The concealers from the Flawless Face Kit
Pop Beauty – Shadow palette for brown eye – celadon and khaki blended on lid, black in crease and along lash lines
Cover Girl – LashBlast mascara in Rich Black
Benefit – Lipstick in Bouquet Dive
Avon – Eye Liner in Black
So funny how the bod keeps changing every day. I wore this dress at five weeks to the hair salon with these shoes and bare legs and though I looked cute as a button. Now the dress looks too long and loose and dumpy. Problem is the one pair of black pants are dirty… The gray dress I wore like crazy pre-Emerson I tried on and it would look cute… if I cut off 4″ from the hem. I think I may just do that because that dress is phenomenal – can be washed and dried and is good for work (would wear bike shorts underneath so when I pump I won't be completely nekkid in my office) or play, winter or spring. I went up in the attic and found a few more sweaters I can wear to work… so tempted to purchase a pair of non-black pants but really want to "shop from my closet (and attic)" until the next season at least.
By the way, the photo doesn't show it but I am having a FANTASTIC hair day. It takes about two weeks post-cut for it to really come into its own; also the Redken product really made blow drying easy – really held the shape I made with the brush while looking and feeling soft and healthy. I will use it a few more times before I post an official review of it.
And for those breast feeding moms I bet you can relate… Emerson woke up a bit before 5am for a feeding and the alarm was set for 5:00 (guestimating her next feeding from how she is usually around three hours between each one). She decided this morning was a good time for a multi-course gourmet feast and fed for almost an hour. This made me run late (had a meeting at 8:45 and would have to pump beforehand), so I dashed through a shower and getting dressed and dashed out the door. Got all the way to the Metro and realized I left the cooler bag of pumping bottles in the freezer. Had to go all the way home to get them. Go back to the Metro, get on and three stops in I feel something wet on my shirt… yeppers forgot the nursing pads. Glad I am wearing two layers of black knit and that I had my ivory pashmina on as a scarf. Got to work, made do with a few carefully folded Kleenex and have left the pashmina on all day (and got a compliment on how well I wear scarves). Happy Thursday! 🙂